Axios World
March 16, 2023
Welcome back to Axios World.
We start tonight's edition (1,828 words, 7 minutes) in Iraq to mark 20 years since the U.S.-led invasion. We've got stops in Paris, Pakistan, Micronesia and more.
New arrival? Subscribe.
1 big thing: Corruption and disillusionment 20 years after invasion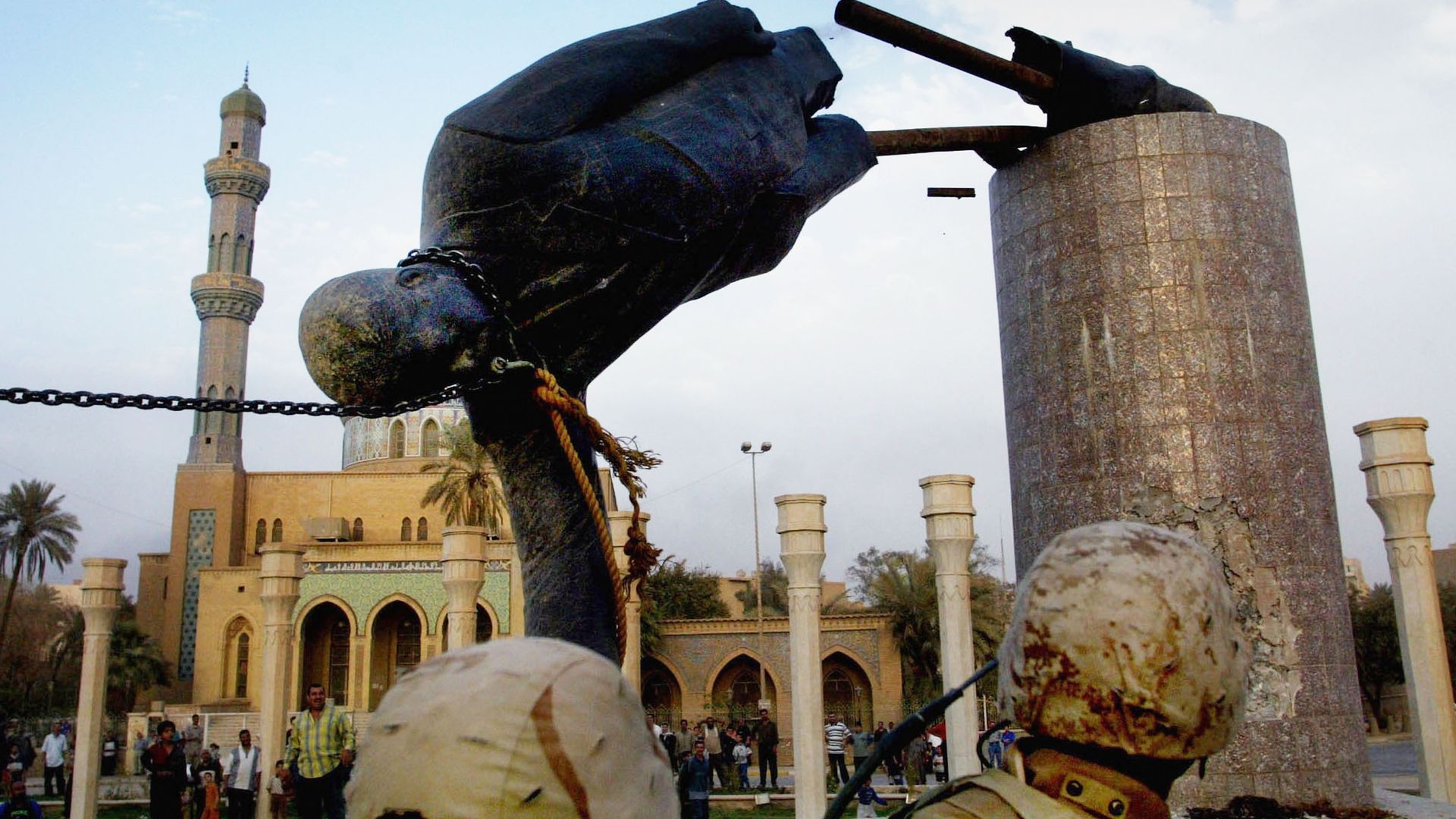 Two decades after the U.S. launched Operation Iraqi Freedom, Iraq is "not free," at least according to the latest Freedom House analysis.
The big picture: The U.S.-led invasion that began 20 years ago this week and swiftly toppled one of the world's most repressive regimes did not, as its architects in the George W. Bush administration hoped, herald a new dawn for democracy in the region.
Rather than the anniversary, most Iraqis are focused on "the frustrations of current reality: the kleptocracy, the lack of services," says Omar Al-Nidawi, director of programs at the Enabling Peace in Iraq Center.
The invasion elevated a new class of politicians, many of them exiles who returned to vie for power and continue to do so today, Al-Nidawi says.
"They got their foot in the door, they acquired resources, they acquired positions. So when the country transitioned to a democratic system, they had an advantage," he says. Patronage networks, state resources and militias helped entrench their power.
State of play: Corruption and sectarianism have been endemic to Iraqi politics since the invasion, with Shiite, Sunni and Kurdish parties divvying up the top jobs and government ministries, and using their share of the budget to enrich themselves and employ their supporters, says Jonathan Lord, director of the Middle East security program at CNAS.
That budget is almost entirely funded by oil. "There is almost no private sector economy to speak of in Iraq," Lord says.
Around half of Iraq's population was born after the invasion. But young Iraqis unable to secure a job in the government or oil industry have few options for work.
A Gallup index of global sentiment ranks Iraq as the third most unhappy country, behind only Afghanistan and Lebanon.
Flashback: U.S. troops withdrew after eight years of war — in which an estimated 200,000 Iraqis died along with nearly 5,000 U.S. troops — but returned in 2014 to help confront the rise of ISIS. Around 2,500 U.S. troops remain in the country to help prevent a resurgence.
They also keep an eye on Iran, which grew increasingly powerful inside Iraq as Saddam fell and the U.S. withdrew. Powerful militias inside Iraq have links to both Tehran and to political parties in Baghdad.
Yes, but: Even by surviving this long, Iraq has defied many expectations, notes the International Crisis Group's Joost Hiltermann.
"Iraqi society came to enjoy a modicum of freedom. The country has a multiparty system for the first time in its history, repeated and relatively fair parliamentary elections, and a free (but easily intimidated) press."
But plunging voter turnout and waves of protest, often driven by a lack of basic services like reliable electricity, underscore the disillusionment with the current system.
The latest: Current Prime Minister Mohammed Shia al-Sudani took office in October 2022 following a long and volatile post-election power struggle. Sudani was backed by a bloc of pro-Iran parties, but he has tried to dispel claims he's loyal to Tehran and referred to the U.S. this week as a "strategic partner."
In addition to balancing the outside powers, he's trying to quickly demonstrate progress at home, particularly in the power supply, Lord says. "He understands that he doesn't have long before he's going to be facing protesters in the streets again."
What to watch: Al-Nidawi doesn't believe the old guard will change its stripes, but he's encouraged that an unusual number of new parties and independent candidates won seats in the 2021 elections.
"I don't expect much good to come out of this government, left to its own devices," he says. "But I am optimistic about what ordinary voters can do."
2. Macron gambles by forcing through pensions plan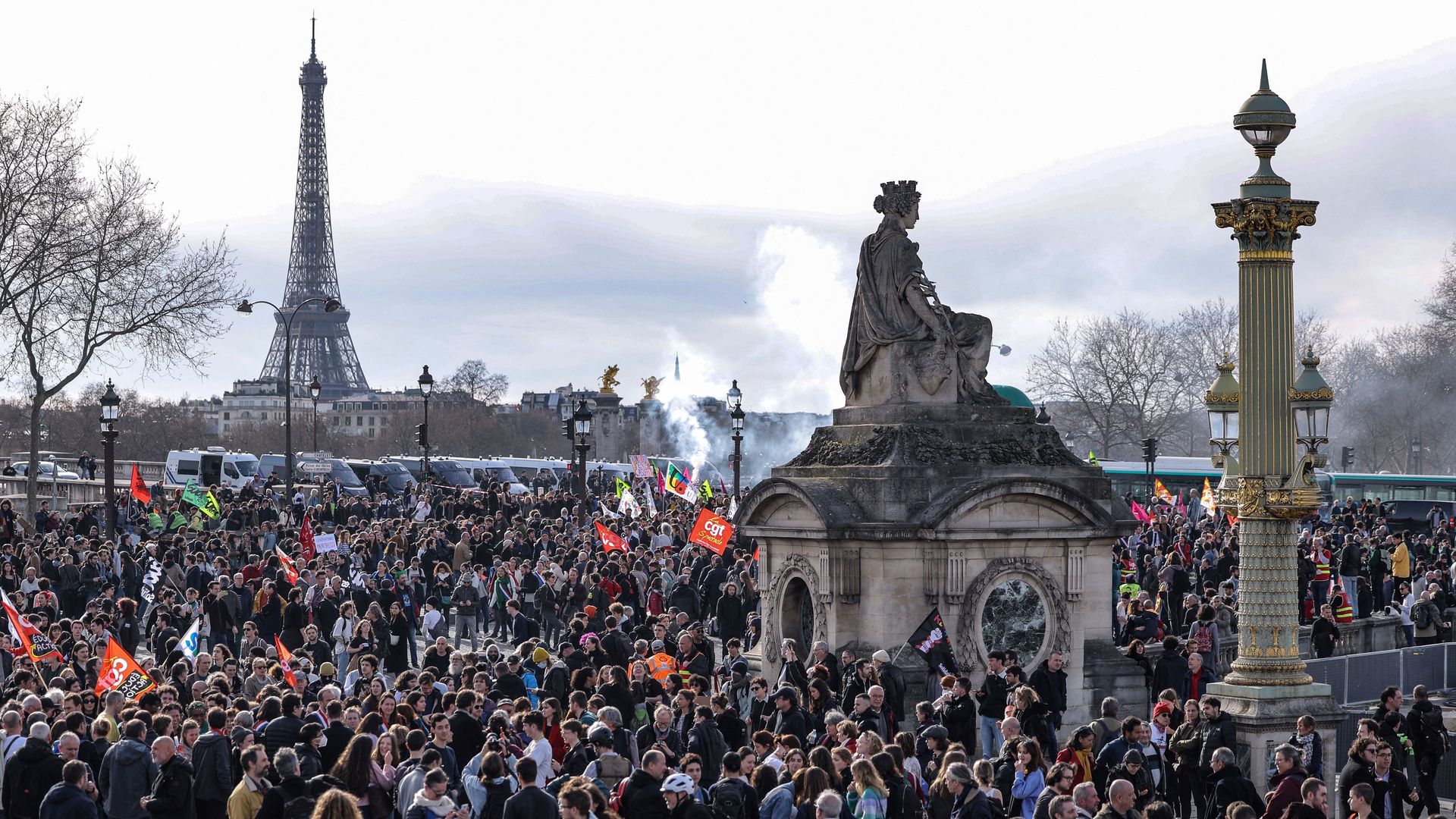 French President Emmanuel Macron today forced through highly unpopular pension reforms, which will raise the retirement age from 62 to 64, without risking a vote in the National Assembly that he was set to lose.
Driving the news: The pensions plan has sparked weeks of strikes and demonstrations. Tens of thousands of protesters poured into the streets of Paris, Marseille and other cities after the announcement, and some clashed with police.
When Prime Minister Élisabeth Borne invoked the constitutional power allowing the measure to proceed without a vote, opposition members drowned her out and sang the national anthem.
Macron's move is risky because the constitutional provision allows opposition parties to immediately table a no-confidence motion in the government. Far-right leader Marine Le Pen has already promised to do so, and it could well pass.
"Success would annul the pension reform, prompt Ms Borne's resignation, and probably (though not automatically) force Mr Macron to dissolve parliament and hold fresh parliamentary elections, less than a year into the current National Assembly's five-year term," the Economist notes.
What to watch: The unions aren't giving up. Trash has already been piling up on the streets of Paris due to the strikes, and the mess doesn't seem to be over.
3. Global news roundup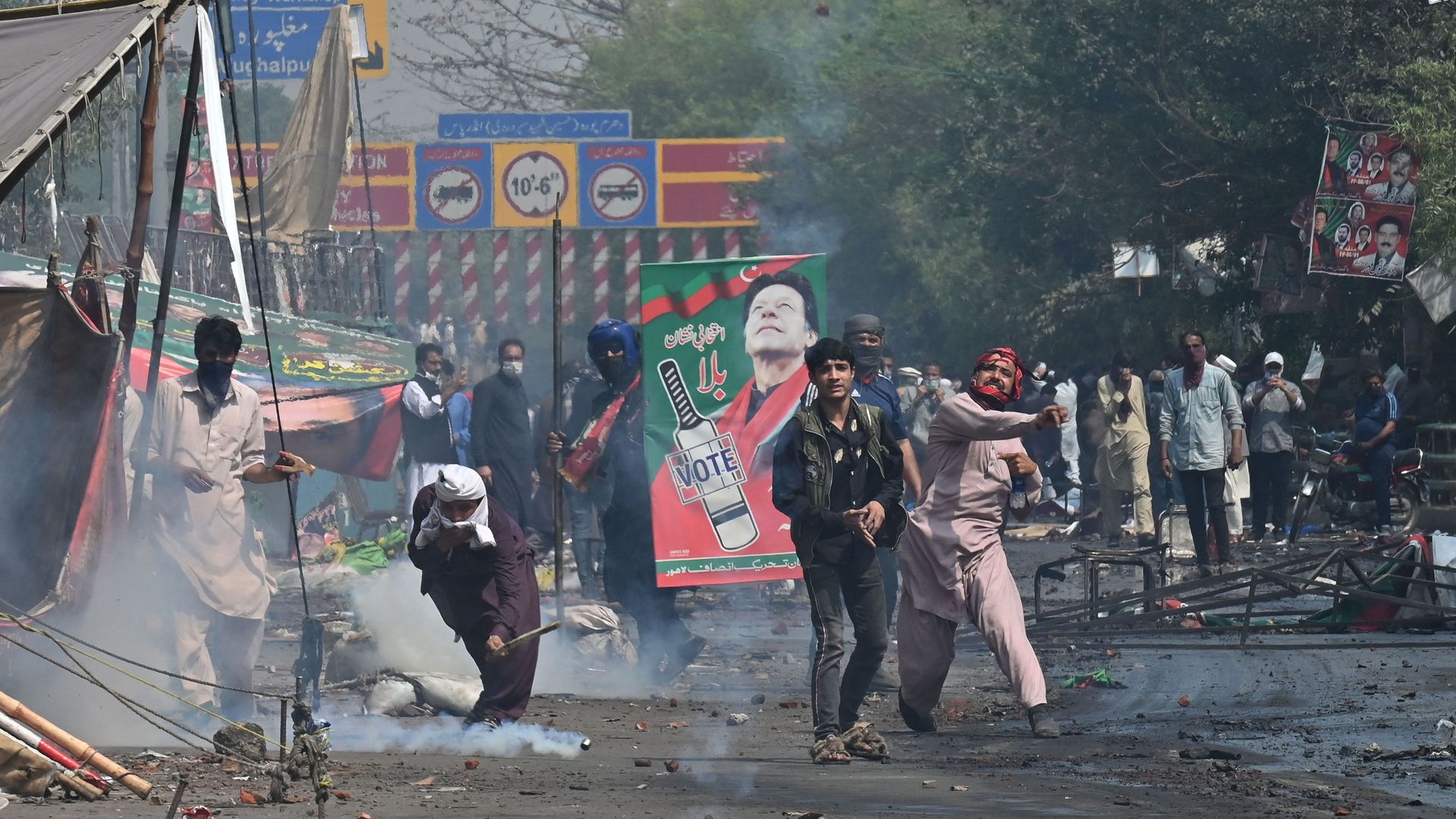 1. Supporters of former Pakistani Prime Minister Imran Khan surrounded his home and used roadblocks, stones and improvised weapons to prevent police from executing an arrest warrant.
Today, a court rejected Khan's bid to suspend the arrest warrant, setting up a potential new showdown. The warrant was issued when he failed to appear before a judge.
Khan was removed from office last April and now faces charges his supporters say are politically motivated.
2. German Chancellor Olaf Scholz expressed concern over Israeli Prime Minister Benjamin Netanyahu's judicial overhaul plan in a meeting today in Berlin, and called on Netanyahu to reconsider a compromise proposal he rejected yesterday from President Isaac Herzog, Axios' Barak Ravid reports.
Herzog warned that Israel could face a "civil war" over the right-wing government's plan to dramatically weaken the Supreme Court.
3. In the first such summit in 12 years, Prime Minister Fumio Kishida of Japan and President Yoon Suk-yeol of South Korea met in Tokyo today and pledged additional cooperation on trade and security issues.
Despite deep historical grievances, Yoon has made strengthening ties with Japan a priority.
4. Secretary of State Tony Blinken said during a visit to Ethiopia yesterday that while the peace deal that ended the war in Tigray has not been fully implemented, "by and large the guns are silent, humanitarian assistance is flowing, services are being restored." He stopped in Niger today, a first for a secretary of state.
5. The sprawling camp in Bangladesh that is home to 1 million Rohingya refugees is set to receive less than half of the funding needed to run it, according to the UN and the Bangladeshi government. They say that's largely because of the international focus on Ukraine.
6. The controversy-prone son of long-serving Ugandan strongman Yoweri Museveni tweeted that he's running for president in 2026. Gen. Muhoozi Kainerugaba, the son, previously tweeted a threat to invade Kenya, then said he was kidding.
Bonus: Where in the World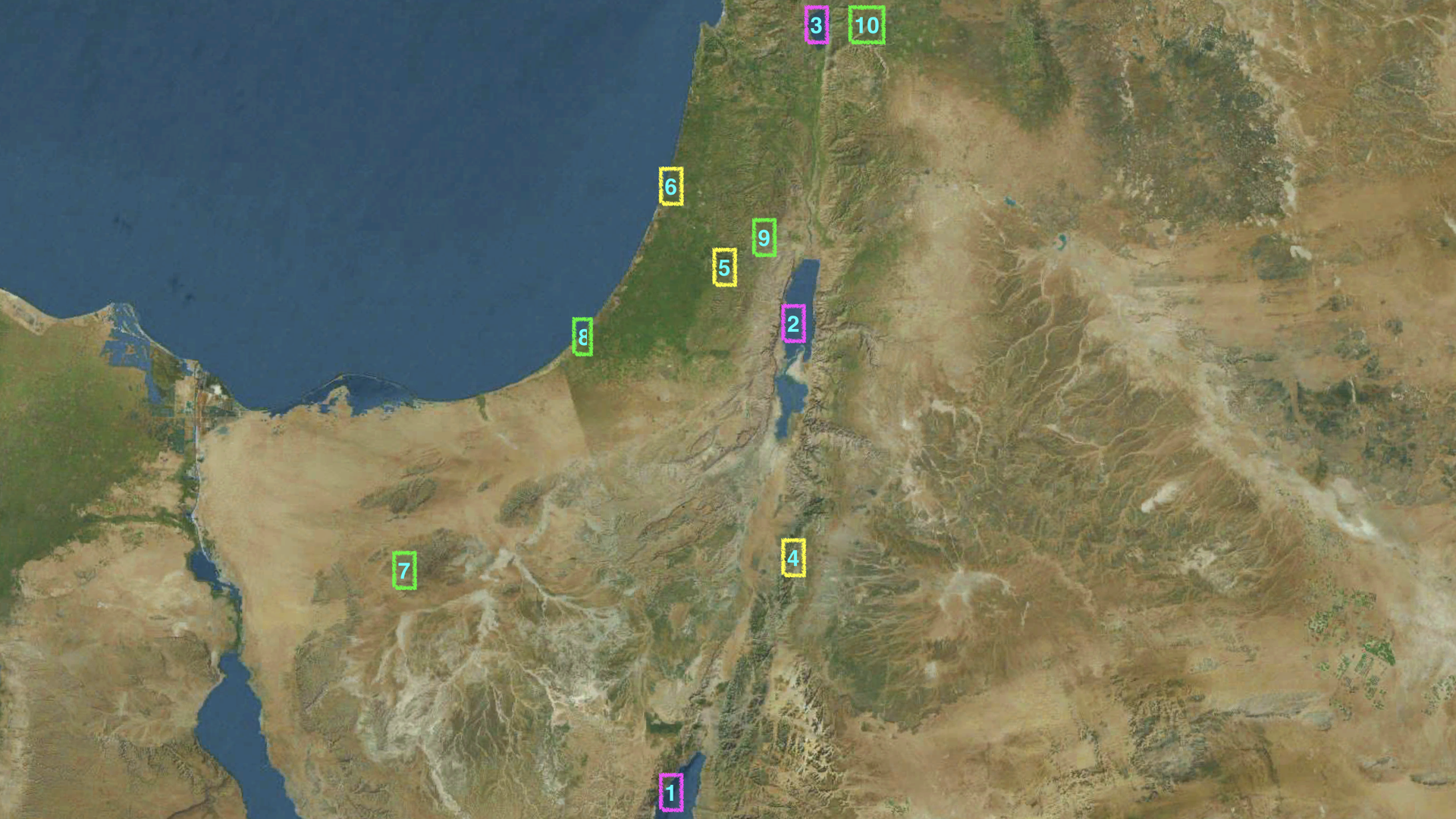 Today we're taking a trip to the Holy Land.
1-3 are "seas." 1 extends far to the south and 2 is quite salty.
4, "a rose-red city half as old as time," is one of the seven wonders of the modern world.
5 is a holy city for the three major monotheistic faiths.
6 is a modern city known for its nightlife.
7 is a peninsula.
8 and 9 are Palestinian territories.
9 and 10 are occupied by Israel, as 7 used to be.
Scroll to the bottom for answers.
4. Taiwan and China: Cash, threats and recognition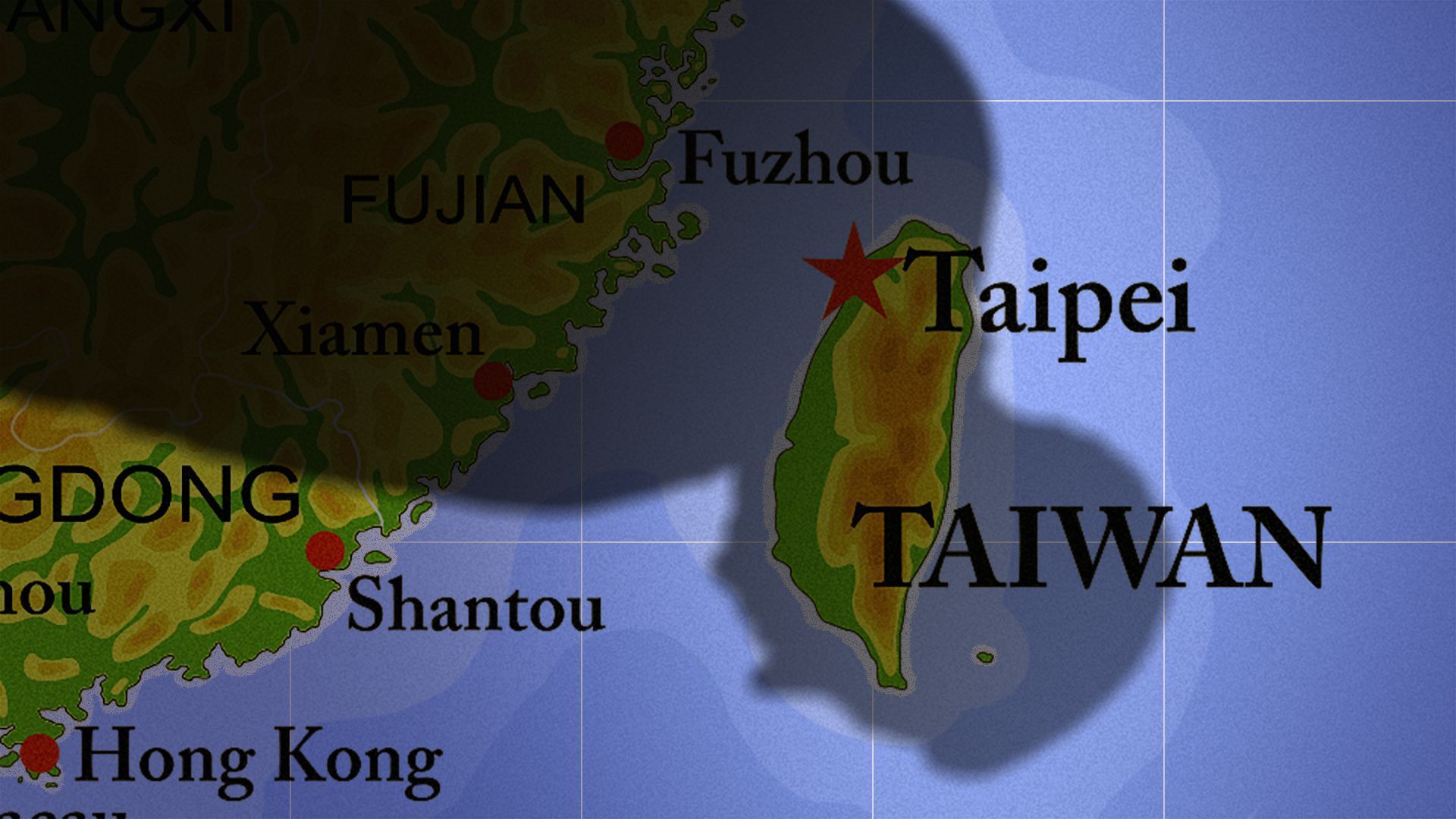 Honduras President Xiomara Castro announced Tuesday that her government would drop its recognition of Taiwan in favor of China, leaving Taipei with just 13 remaining diplomatic partners.
Between the lines: "China, which is building a massive dam in Honduras, generally uses trade and investment as incentives for switching ties, as it has done successfully with Costa Rica, Panama, El Salvador, Nicaragua and, most recently, South Pacific nations including the Solomon Islands," the AP notes.
Meanwhile… Micronesia President David Panuelo claims Chinese officials have attempted to intimidate him — including making physical threats — as he considers switching diplomatic recognition in the other direction, according to a letter obtained by AP.
"One of the reasons that China's political warfare is successful in so many arenas is that we are bribed to be complicit, bribed to be silent," Panuelo writes. Beijing denied making any such threats.
Panuelo also writes that he told Taiwanese officials what it would take for Micronesia to recognize Taipei: $50 million in a national trust fund.
My thought bubble: While the balance of diplomatic recognition matters deeply to both countries, the balances of economic and military power seem far more relevant when considering a possible Chinese move on Taiwan.
Go deeper: Submarine deal shows new resolve to counter China
5. Data du jour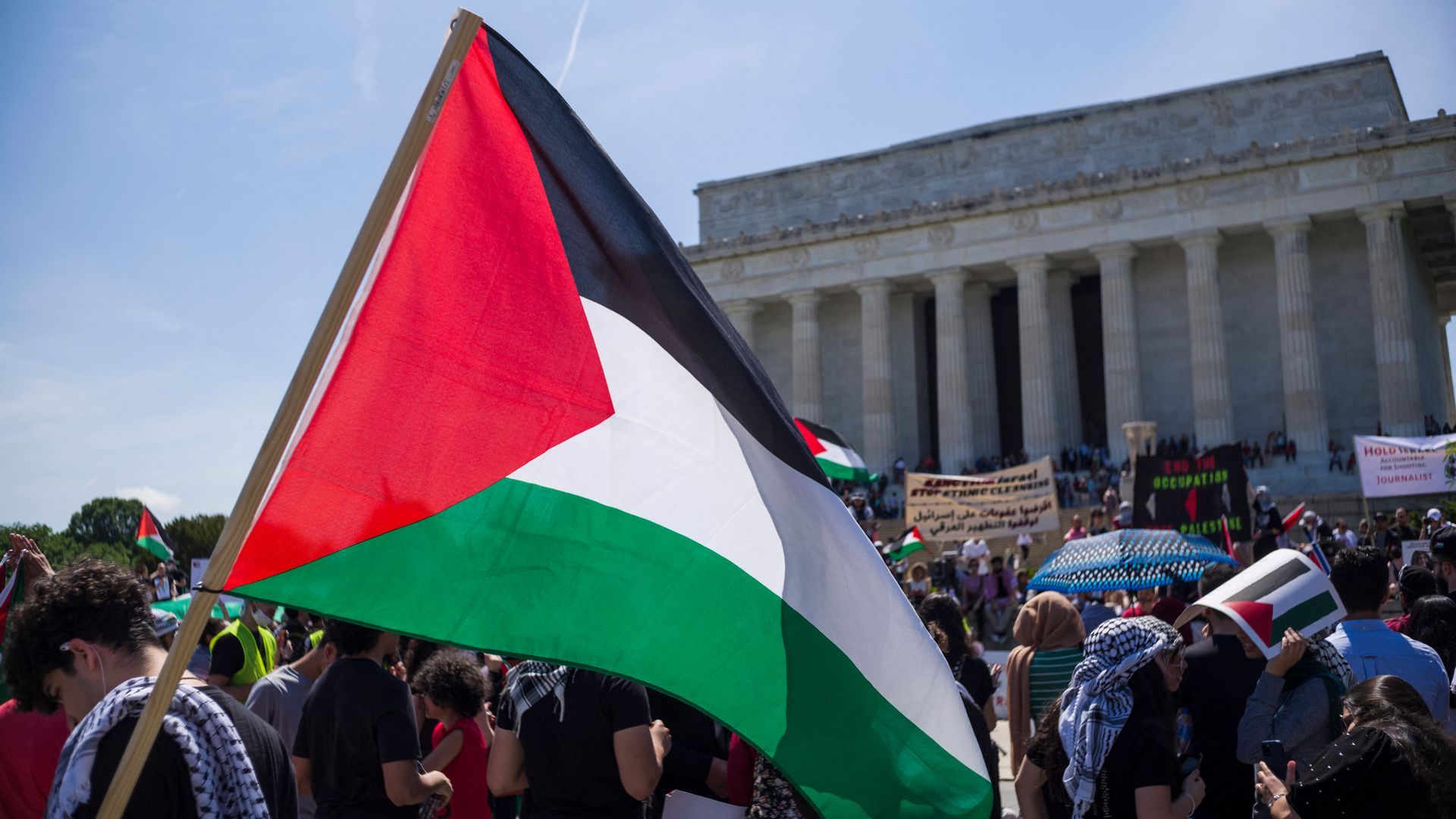 Three fresh findings that jumped out to me …
1. Just 42% of Republicans now say they support sending U.S. weapons and money to Ukraine — compared with 79% of Democrats and 60% of independents, according to the Axios-Ipsos Two Americas Index.
Driving the news: Florida Gov. Ron DeSantis said this week that "getting further entangled in a territorial dispute between Ukraine and Russia" is not a vital national security interest of the U.S., aligning himself with his fellow front-runner for the GOP presidential nomination, Donald Trump.
2. 61% of Germans now view Russia as an adversary, according to a poll from the European Council on Foreign Relations. Back in 2021, just 23% viewed Russia as an adversary while 36% saw Russia as either an ally or necessary partner.
3. Most Democrats and most millennials both now sympathize more with the Palestinians than with the Israelis in the Middle East conflict for the first time in an annual Gallup survey.
6. One to watch: Poland to send planes to Ukraine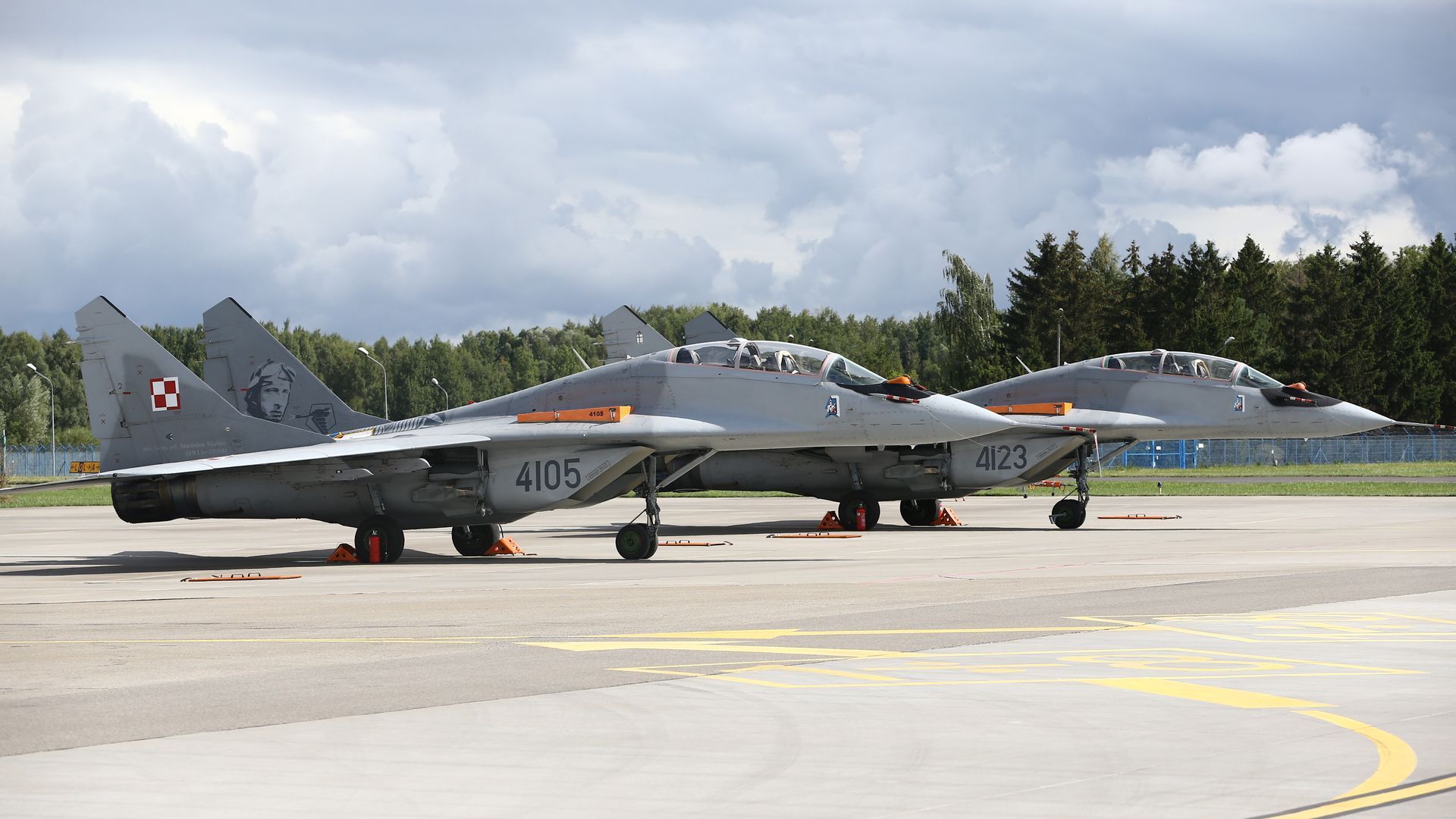 Polish President Andrzej Duda said today that Poland will transfer four MiG-29 fighter jets to Ukraine in the coming days and around a dozen planes in total, Axios' Jacob Knutson writes.
Why it matters: That will make Poland the first NATO member to answer Kyiv's urgent call for aircraft.
Yes, but: National Security Council spokesperson John Kirby told reporters it doesn't change the Biden administration's calculus on supplying F-16s. "It's not on the table right now."
7. Stories we're watching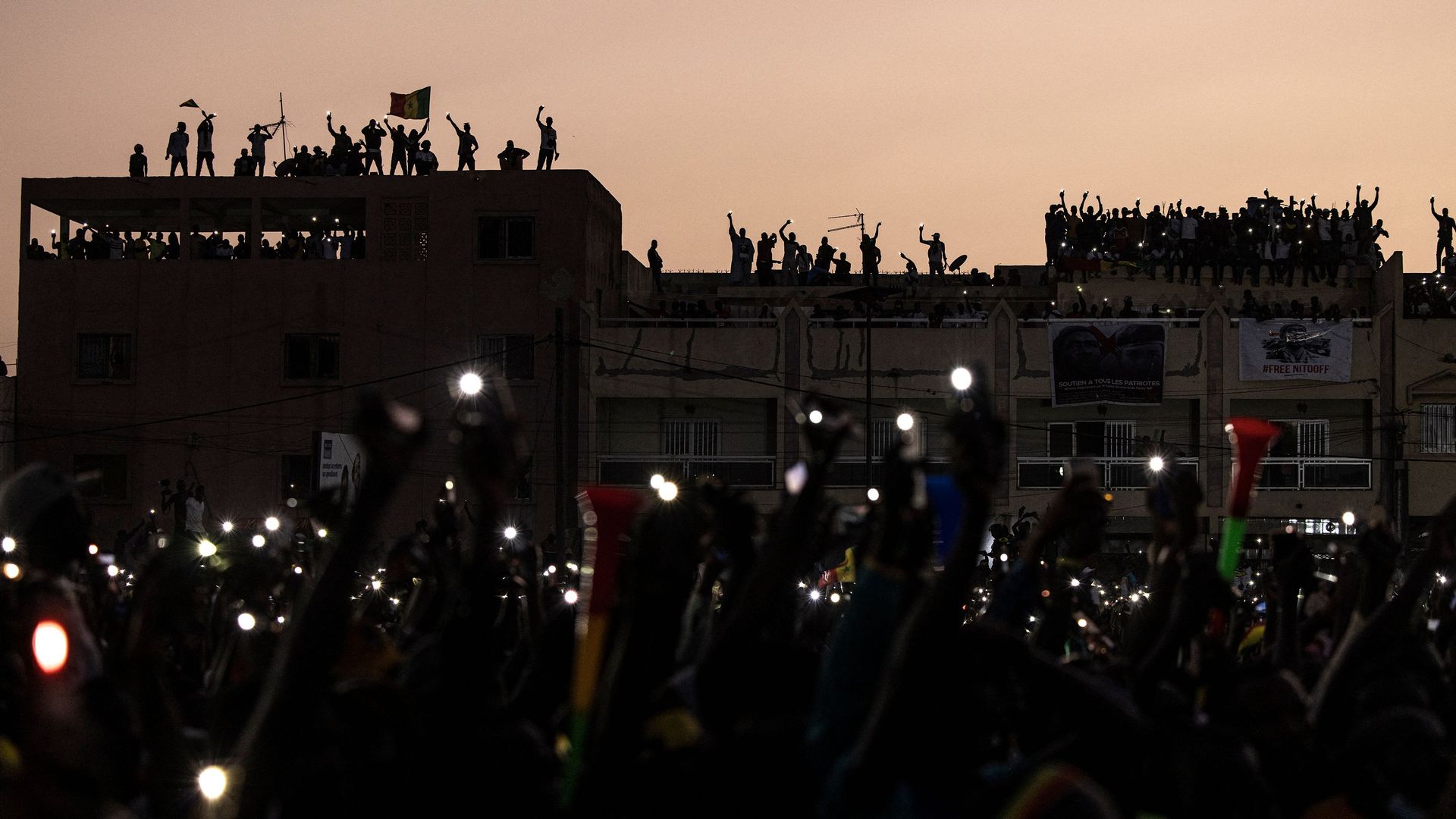 Quoted:
"I feel very sorry for not being able to make an impact in the parliament. But I'm not willing to apologize for not being able to go in person or working from overseas."
— Japanese YouTuber GaaSyy who was elected to parliament in July and then
removed
this week after failing to attend a single session
Answers: 1. Red Sea; 2. Dead Sea; 3. Sea of Galilee; 4. Petra; 5. Jerusalem; 6. Tel Aviv; 7. Sinai Peninsula; 8. Gaza Strip; 9. West Bank; 10. Golan Heights.