Welcome to Axios World, where two evenings a week we break down what you need to know about the big stories from around the globe.
1 big thing: India's festival of democracy is underway
The world's largest-ever exercise in democracy began today, the first of seven election days over the next five weeks as India's 900 million registered voters cast their ballots.
The big picture: Prime Minister Narendra Modi was swept into power five years ago promising to turbocharge India's economy and flex its muscles on the world stage. This election represents a referendum on him, Alyssa Ayers of the Council on Foreign Relations writes for Axios Expert Voices:
"While India has seen comparatively good economic growth, it has not created enough jobs for the bulging youth demographic, and unemployment has reached a 45-year high."
"Rural voters, who make up more than 66% of the population and depend overwhelmingly on agriculture, have been hurt by a collapse in food prices and poor rainfall."
"Yet Modi may have shored up support among voters focused on terrorism and national security with his decision to order airstrikes in response to a recent suicide bombing claimed by a Pakistan-based terrorist group."
Between the lines: There are big questions about the intelligence failures that made that attack possible, and the effectiveness of India's response, but the episode "speaks to precisely the attributes Modi has been touting — strength, decisiveness and leadership," the Carnegie Endowment's Milan Vaishnav tells me.
Modi has remained India's most popular politician despite the mixed economic record, and the current nationalist fervor only plays into his hands. Even the opposition Congress Party acknowledges that Modi's Hindu nationalist Bharatiya Janata Party (BJP) will be the largest single party in the next parliament, Vaishnav says.
He says that leaves three scenarios:
The most likely outcome is that the BJP will be unable to match the 2014 landslide in which they won an outright majority, but will perform well enough to form a governing coalition with relative ease.
The BJP and its electoral allies could even ride their current momentum to an outright majority, giving Modi another massive mandate.
There's also a chance (Vaishnav puts it at around 15%) that the BJP loses enough seats to make it extremely difficult to form a coalition.
In that scenario, smaller parties could say they'll only join a BJP government if Modi is replaced with someone less hardline, "and frankly less popular," Vaishnav says.
Modi and the BJP might actually prefer to sit in opposition in such a scenario, waiting for a government consisting of "a rickety hodgepodge of opposition parties" to implode, Vaishnav adds.
What to watch: The election will unfurl in stages for security and logistical reasons, so votes won't actually be counted until May 23.
In the meantime, Vaishnav says to watch youth turnout — younger voters are more likely to back the BJP — and opposition unity. There are cross-party alliances in place intended to stop the BJP, but some are looking fragile.
The bottom line: "Conventional wisdom sees Modi likely to return to power. But Indian voters have delivered surprises before. With an election of this scale and complexity, nothing's over until the last ballot is counted," Ayers writes.
Worth noting: This could be the first election in India's history where women make up the majority of the electorate. That's reflected in the main parties' platforms, which include increased social spending and promises of greater political representation for women.
2. Sudan: A coup in Khartoum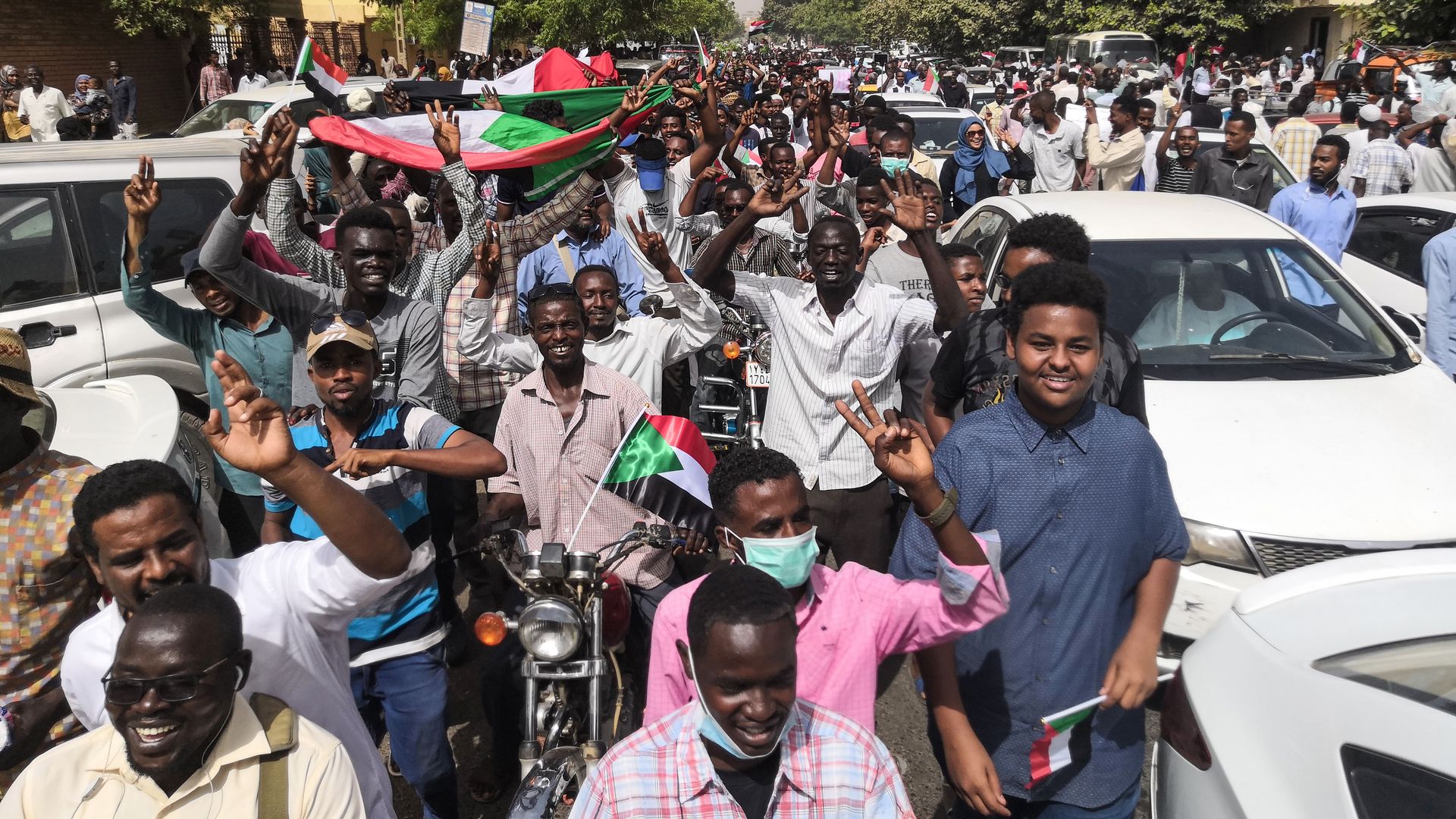 Four months of protests against Sudanese dictator Omar al-Bashir finally reached a tipping point this morning. After 30 years in power, Bashir is now under arrest.
This is clearly not a democratic transition — at least not yet. Defense Minister Awad Ibn Ouf announced a three-month state of emergency and said the army would oversee a two-year transition period before elections can be held.
Ibn Auf, like Bashir, is under U.S. sanctions over his role in the Darfur genocide. He said the military would impose a curfew and temporarily shut down Sudan's airspace and close the borders.
The crowds were joyous this morning but more wary after the announcement, per the AP. Some chanted, "The first one fell, the second will, too!"
The backdrop, via GZERO Media's Alex Kliment: "Bashir first took power three decades ago in a coup backed by Islamic fundamentalists, and he immediately dialed up the Arab-dominated government's long-running war against black and predominantly Christian separatists in the country's oil rich south."
"By the time that war fully ended with the south's internationally brokered secession in 2011, more than 2 million people had been killed." 
"Even as that war was winding down, Bashir crushed the rebellion in Darfur with such brutality that he became the first sitting head of state to be indicted by the International Criminal Court for war crimes and genocide."
"Tight U.S. sanctions imposed in 1997 over human rights abuses and support for terrorism (Osama bin Laden briefly called Sudan home) helped him burnish his image as a populist defender of his people against a neo-colonial West. The removal of sanctions in 2017 exposed the deeper rot of Sudan's economy."
The big picture: Bashir's ouster comes shortly after that of Algeria's Abdelaziz Bouteflika. It also follows the voluntary exit of Kazakhstan's Nursultan Nazarbayev. That means 3 of the world's 13 longest-serving leaders are out in the space of 3 weeks.
3. Israel: Bibi does it again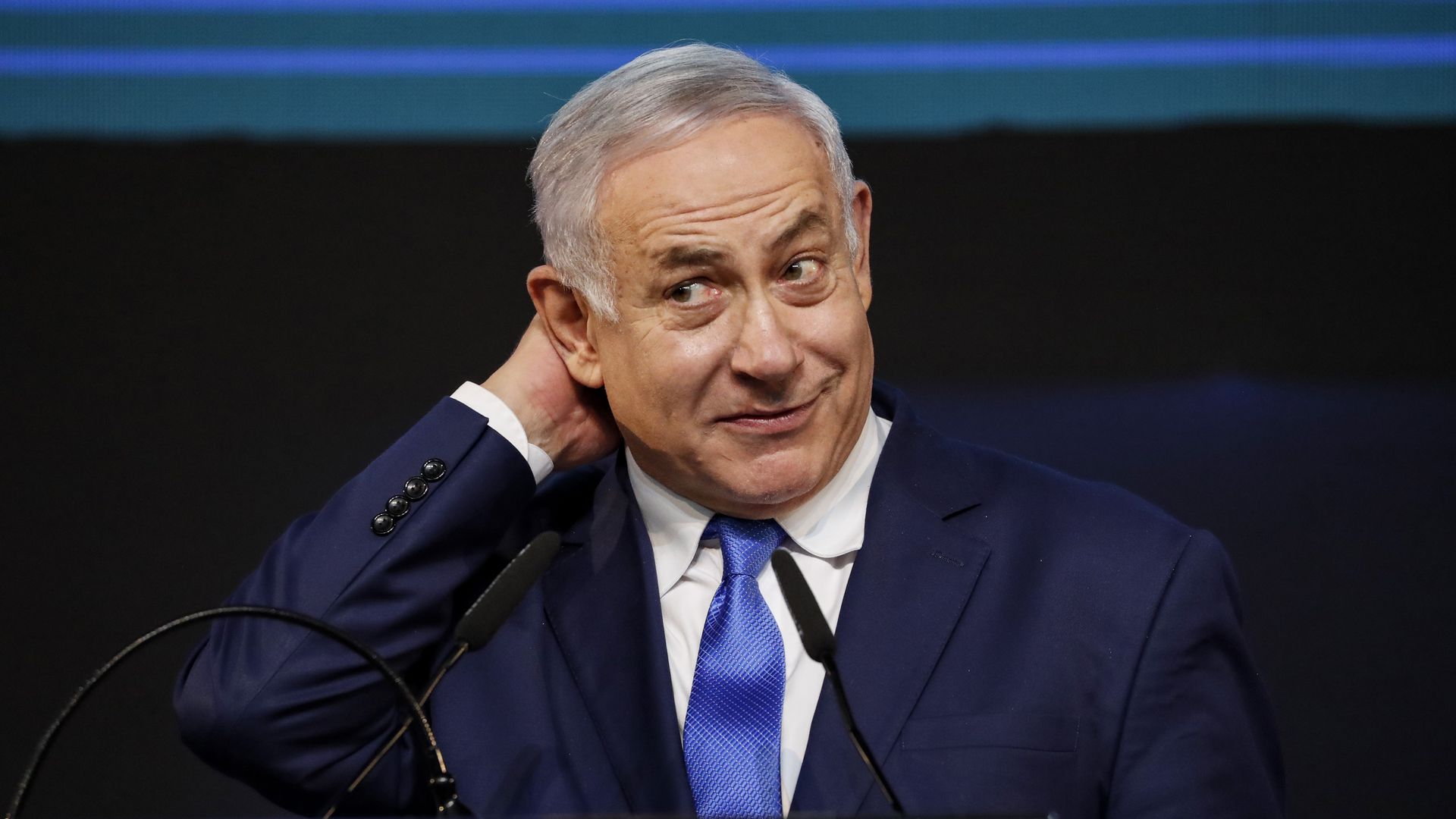 Axios contributor Barak Ravid has the key takeaways from Prime Minister Benjamin Netanyahu's election victory on Tuesday:
1. Netanyahu won big.
This was the best result for his party, the Likud, in the last 15 years. He is now set to become the longest serving prime minister in the country's history, eclipsing Israel's founding father, David Ben-Gurion.
2. His opponent still had an impressive result.
Benny Gantz's Blue and White Party won 35 seats — the same as the Likud. Not bad for a political rookie who formed his party less than three months ago. However, Gantz failed to move enough voters from the right to support his center-left bloc — and ended up cannibalizing his potential political allies.
3. Netanyahu won because of the size of the right-wing bloc.
There was massive turnout among the ultra-Orthodox community. Its two parties had their best results in years.
4. The center-left bloc was weak because of low Arab turnout.
The Likud ran a long campaign to suppress Arab votes, exemplified by last year's controversial "nation state" law and a secret campaign on election day that saw activists film voters in majority-Arab towns, nominally to combat voter fraud.
Many Arab voters also felt disillusioned, and center-left parties were reluctant to embrace them.
5. Netanyahu won despite pending corruption indictments.
His challenge now is to prevent the indictments from going to trial. He will likely try to build a right-wing coalition that would pledge to pass a law to freeze the indictments or grant him immunity.
Because this is Netanyahu's top goal, his coalition partners will be able to squeeze him significantly during coalition negotiations.
6. Netanyahu's close relationship with President Trump made a difference.
Netanyahu owes Trump a lot — and he might need to pay the president back soon if the White House finally releases its Middle East peace plan.
4. Australia: Five-week sprint for the top job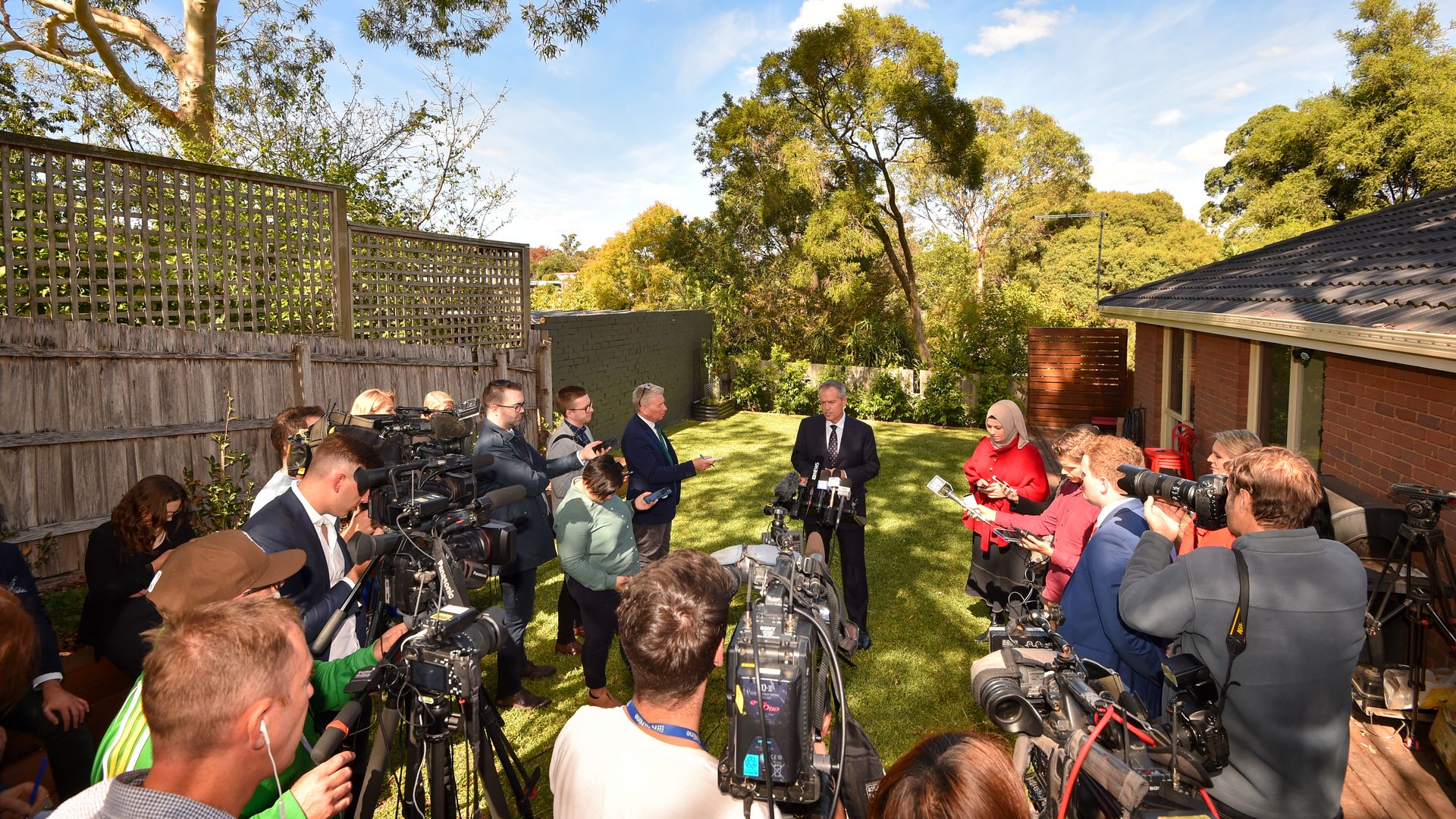 Before any votes are counted in India, we'll already know the winner of Australia's general election. That's despite the fact that the election was only called today.
The primary contenders in the May 18 election are Prime Minister Scott Morrison of the conservative Liberal Party and Bill Shorten of the opposition Labor Party.
Whoever wins might not last long. Australia has had a revolving door of prime ministers in recent years — Morrison is the 5th since 2013.
Climate change is expected to play a role after a year of extreme weather events. Health care, education and jobs are also on voters' minds.
Immigration will play a key role. Morrison, a former immigration minister, is associated with a crackdown on asylum seekers.
Where things stand: Morrison starts a few points back in the polls. His pitch to voters is that Labor would endanger strong economic growth.
Worth noting, via Axios' Rebecca Falconer (an Aussie): Australia hasn't had a recession for almost 30 years.
Bonus: What I'm reading
George Packer has this month's Atlantic cover story, and what a story it is. The piece is adapted from Packer's forthcoming book about diplomat Richard Holbrooke, but it's really a reflection on the high water mark of American power, told through the war in Bosnia.
Here's how it opens:
"What's called the American century was really just a little more than half a century, and that was the span of Richard Holbrooke's life. It began with the Second World War and the creative burst that followed — the United Nations, the Atlantic alliance, containment, the free world — and it went through dizzying lows and highs, until it expired the day before yesterday. The thing that brings on doom to great powers — is it simple hubris, or decadence and squander, a kind of inattention, loss of faith, or just the passage of years? At some point that thing set in, and so we are talking about an age gone by. It wasn't a golden age — there was plenty of folly and wrong — but I already miss it."
His bottom line: "We overestimate ourselves in almost every way, from jingoism to self-hatred, and all the while we ignore nameless people in obscure places like Sarajevo and Banja Luka who still think we stand for something that they want for themselves. To adapt with grace to a cut in power is wisdom. It's folly to throw away the pearl of our real greatness."
5. Europe: Brexit replaces Halloween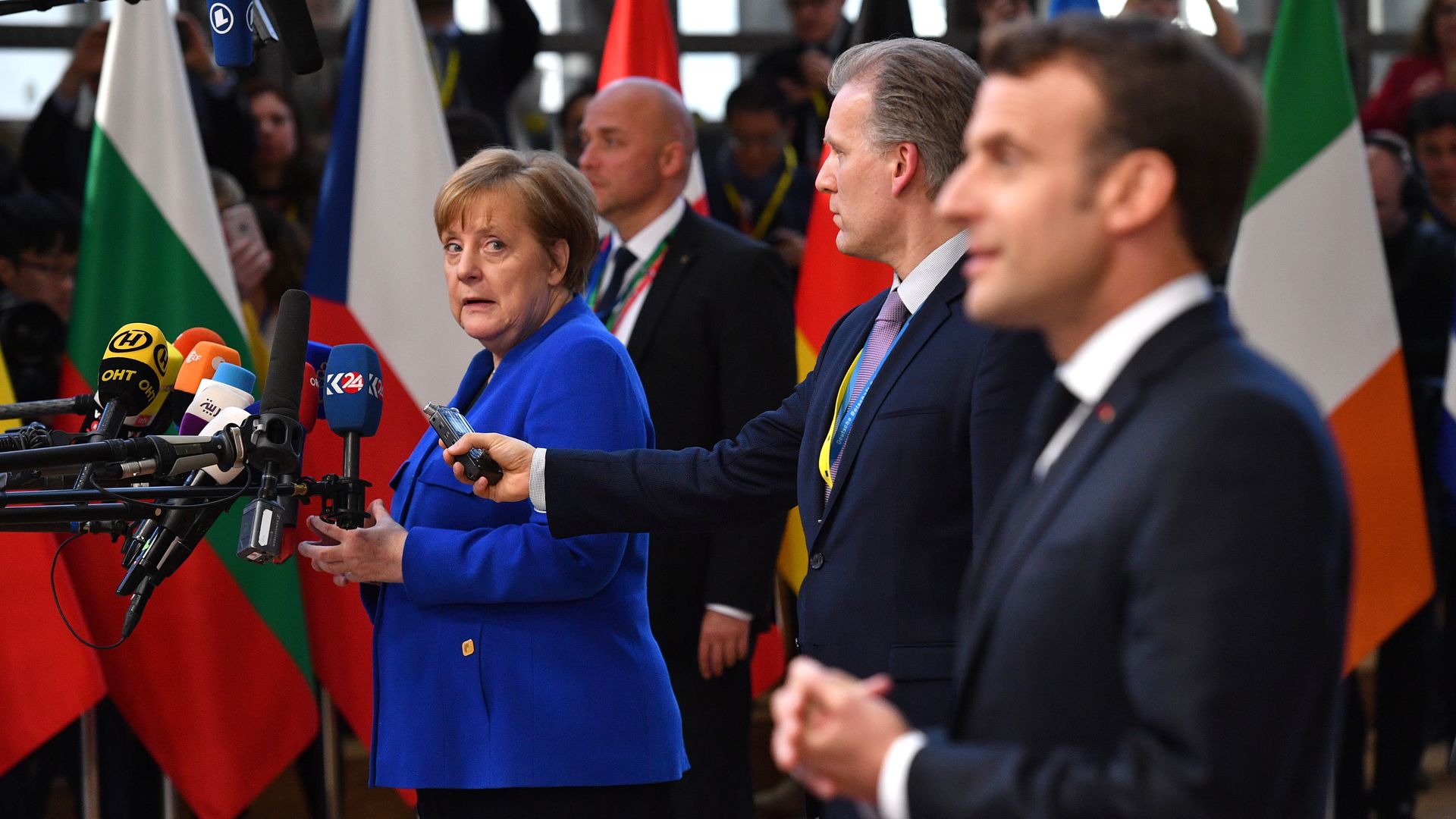 There are many things the EU doesn't do particularly well. One area of strength, though, is compromise.
Why it matters: U.K. Prime Minister Theresa May arrived in Brussels desperate for a Brexit extension that would avoid a "no deal" exit on Friday but not be so long as to fan further outrage among Brexiteers at home.
She asked for a new deadline of June 30. Most European leaders were inclined to offer something longer — they have their own issues to deal with and don't want a new cliff edge every few weeks.
French President Emmanuel Macron, though, is fed up with his ambitions for the EU being hamstrung by a Brexit process that appears to be going nowhere. He opposed a long extension, and signaled he might even prefer "no deal."
What we ultimately got was a new deadline of Oct. 31, with an "assessment" to take place in June. There's every likelihood this process still won't be resolved by Halloween.
Between the lines: Kicking the can further down the road means the U.K. will almost certainly have to take part in European elections next month — electing representatives to a body it is currently attempting to leave.
Across the pond ... Peter Foster, the Telegraph's Brexit Editor (and my old boss), writes that this "ugly-duckling compromise" left no one happy:
"It is not short enough to avoid holding pointless EU elections or put real pressure on Parliament; not long enough to really create the breathing space needed for a new approach."
6. Data du jour: Executions around the world
The number of executions known to have been carried out around the world fell by 31% last year, to 690, according to Amnesty International.
The figures "show that the death penalty is firmly in decline," according to the report, which notes that Burkina Faso abolished the death penalty last year, while the Gambia and Malaysia both declared a moratorium on its use.
Iran, Saudi Arabia, Vietnam and Iraq accounted for most of the known executions, though executions fell sharply in Iran.
The U.S. was the only country in the Americas to carry out executions for the 10th consecutive year.
"China remained the world's leading executioner — but the true extent of the use of the death penalty in China is unknown as this data is classified as a state secret; the global figure... excludes the thousands of executions believed to have been carried out in China," the report notes.
Go deeper: Where the death penalty survives around the world.
7. Stories we're watching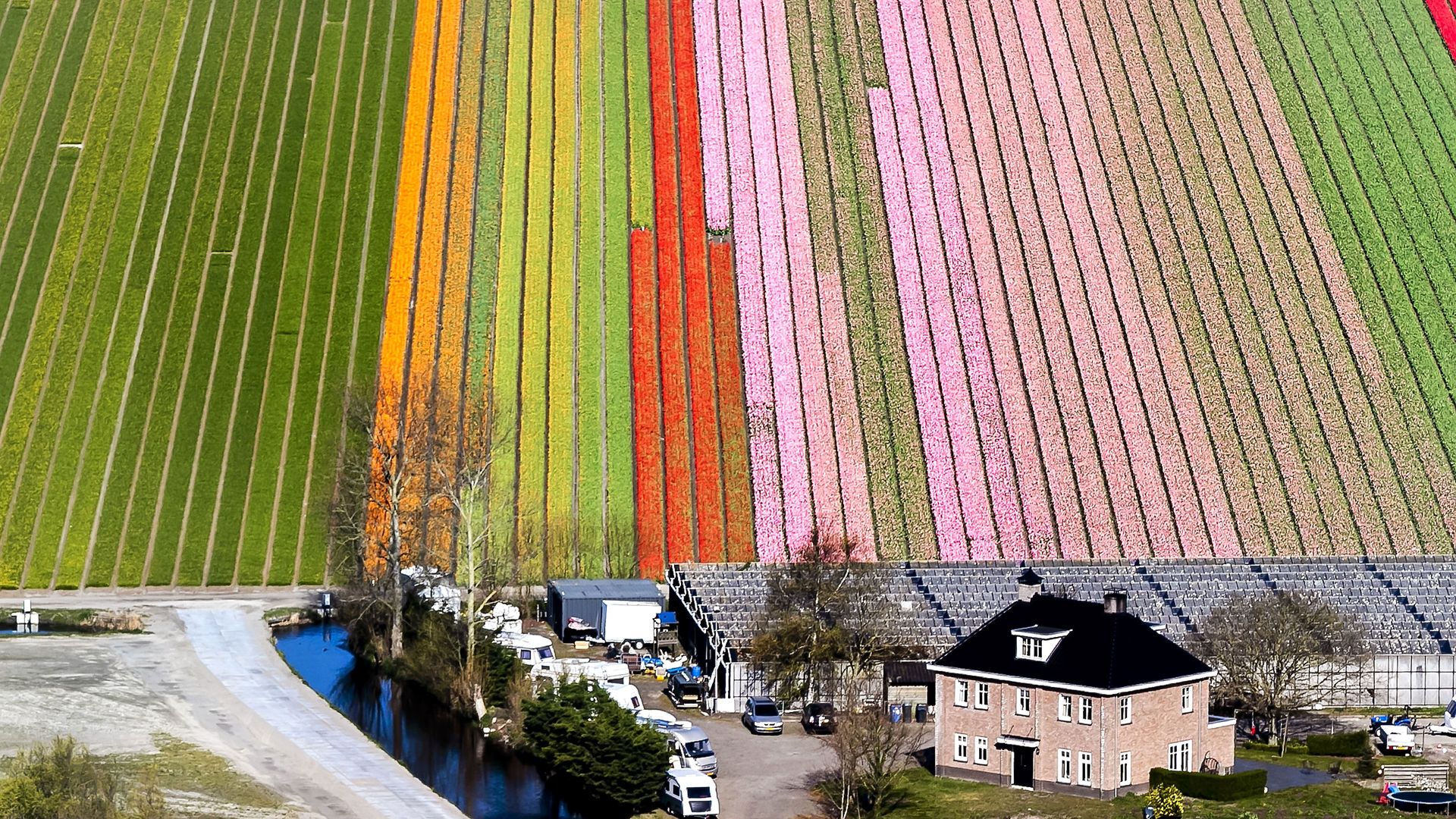 Have a lovely weekend, see you back here on Monday.