Axios World
October 06, 2022
Welcome back to Axios World.
Tonight's edition (1,992 words, 7½ minutes) covers the devastation in Haiti, Russia's retreats in Ukraine, and major diplomatic twists over oil and China's human rights record.
Heads up: My Axios colleagues are hosting what should be a fantastic event on energy security in D.C. on Tuesday at 8am EDT. Register here to attend in person or virtually.
Note: We're off on Monday but back in your inbox next Thursday.
Situational awareness: AP flash... "Two Russians fleeing military service take boat to reach remote Alaska island and seek asylum in the U.S."
1 big thing: Haiti's "imminent catastrophe"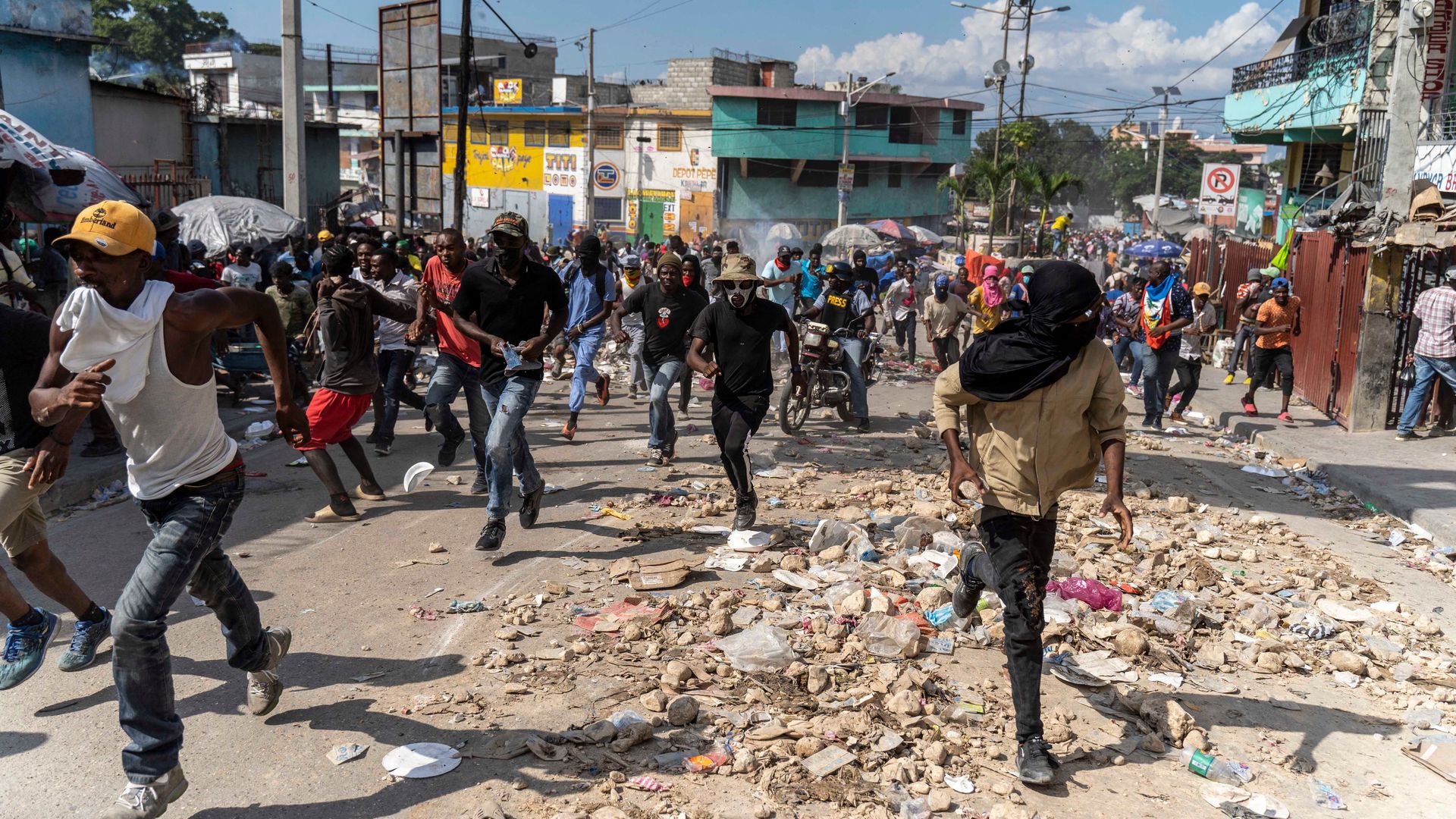 The blockade of Haiti's main fuel terminal by a federation of gangs has made it nearly impossible for millions of Haitians to obtain fuel and increasingly difficult to find drinking water or food.
The big picture: Three-quarters of Haiti's hospitals have closed due to "the fuel crisis, insecurity and looting," the UN says, just as cholera is beginning to spread around the country.
Gang leaders and protesters are demanding the resignation of Prime Minister Ariel Henry, backed by large and sometimes violent demonstrations.
Driving the news: Henry appealed last night for international assistance, though he didn't specifically request a military intervention.
While past international peacekeeping missions in Haiti have ended disastrously, Haiti's national police are outgunned by the gangs and exhausted after weeks of continuous unrest.
The UN is calling for a "humanitarian corridor" to allow for fuel distribution, though it's unclear how that would work in practice.
Schools are closed, and UNICEF warned yesterday that 50,000 children and newborns will go without medical care in the coming weeks. Today, a UNICEF warehouse was looted for supplies.
On the ground: Judes Jonathas, a senior program manager in Haiti for the humanitarian group Mercy Corps, tells Axios he starts his day with phone calls — "what do you see in the street?" — to assess whether it's safe to travel to the office or into the field. "We know we're taking risks," he says, but their aid is needed now more than ever.
Gangs have long been present in certain areas, but now no matter where you live you're likely to see "adolescents with big guns" walk past your window, Jonathas says. In the climate of impunity, gang members feel no need to hide their identities.
The shortages are growing dire. Jonathas visited four grocery stores on Wednesday but found no water and no bread. "For more than two weeks, we don't have fuel," he says. The black market price for a single gallon is around $30.
Four million Haitians already faced food insecurity before the current crisis, Jonathas notes. Now prices are rising, shelves are bare, and many people can't work due to the fuel shortage and insecurity.
Flashback: Henry won a power struggle following the assassination of President Jovenel Moïse in July last year. He's been accused of having links to suspects in the assassination, though he denies any role.
While he's officially the interim leader, elections are a remote prospect.
The gangs' power play of blocking fuel distribution began after Henry announced an end to fuel subsidies, which he said were unaffordable.
The current crisis is not as simple as government vs. gangs, because the two are inextricably linked, says Pierre Esperance, executive director of Haiti's National Human Rights Defense Network.
"People in power make alliances with the gangs to attack the citizens, and then we cannot talk about anything but security," Esperance alleges.
The U.S. has also been the target of protests for its perceived support of Henry's government.
Civil society organizations and the U.S. are calling on Henry to agree to share or transfer power. "Because Ariel [Henry] feels he has the full support of the Biden administration, he doesn't want to sign any agreement with other actors to move on," Esperance contends.
A National Security Council spokesperson told Axios: "We strongly condemn the acts of violence, looting and destruction that have recently occurred in Haiti and the actions of those who instigated these events for their own ends," and are calling on Haiti's political leadership to reach "an accord that will allow elections to take place as soon as conditions permit."
Haiti's embassy in Washington did not respond to a request for comment.
The bottom line: "We can survive for one or two weeks," Jonathas says. "If this situation stays the same, it will be a catastrophe."
2. Russia retreating on two fronts
Ukrainian forces have broken through Russian lines on two fronts during audacious counteroffensives in territories President Vladimir Putin recently declared to be part of Russia.
The big picture: Ukraine is recapturing territory with remarkable speed but may have a narrowing window to gain ground before winter weather makes offensive operations difficult, and before Russia is able to flood in newly drafted soldiers to reinforce their lines.
Driving the news: Reports have been streaming in over the last several days of Ukrainian breakthroughs near Russian-held Kherson in southern Ukraine.
Ukraine recaptured at least at least 10 villages in the Kherson region between Sunday and Tuesday, per Foreign Policy. Kherson is the only regional capital to fall since the invasion began, and recapturing it is a top Ukrainian objective.
If Russian forces continue to fall back, Ukrainian artillery will come within range of the Dnipro River crossings Russia uses to supply its forces in Kherson — potentially leaving the Russians penned in and making even retreat difficult.
"The Russian military position is not just precarious, but visibly deteriorating," says Michael Kofman, an expert on Russia's military at CNA.
Meanwhile in the northeast, Ukrainian forces have captured an estimated 2,000 square miles in less than a month.
Putin tacitly acknowledged the recent setbacks on Wednesday but said, "We are working on the assumption that the situation in the new territories will stabilize."
3. As Saudis cut oil supply, Dems consider cutting ties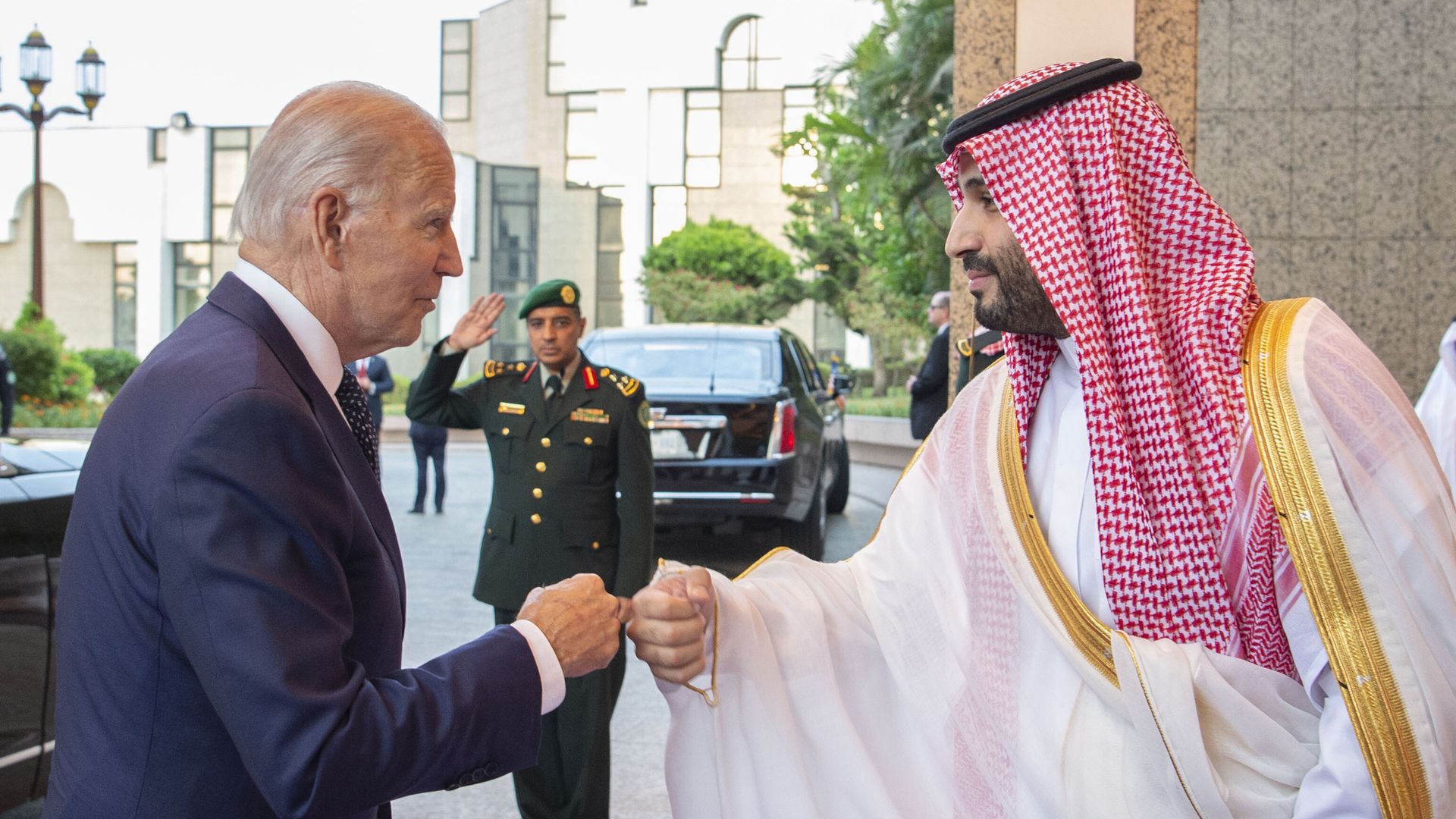 The decision by OPEC+ to slash oil production to raise prices sparked outrage in the White House and on Capitol Hill.
Driving the news: The White House accused OPEC of siding with Russia, and threatened to back legislation targeting the oil cartel for price collusion.
Some Democrats want to go further. Sen. Dick Durbin, the second-highest ranking Senate Democrat and hardly a progressive flamethrower, tweeted that the "royal Saudi family" can't be trusted, and it's time to "imagine a world" without them as an ally.
That's hardly an unpopular idea. Some 69% of Americans think the U.S. should stop selling arms to Saudi Arabia, according to a new poll from the Eurasia Group Foundation.
Between the lines: President Biden took a humbling trip to Riyadh in July to restore relations with Crown Prince Mohammed bin Salman and encourage him to increase oil production.
MBS has done the opposite just ahead of a U.S. election in which gas prices will be a key issue.
Oil Minister Abdulaziz bin Salman denied the kingdom was weaponizing oil prices and said OPEC+ was just trying to get ahead of a potential reduction in demand.
It's a gamble for MBS, considering his kingdom's security still depends heavily on the U.S.
Meanwhile in Venezuela... The Biden administration is preparing to ease sanctions in order to allow the Maduro regime to begin to restore oil exports to the U.S. and Europe, the WSJ reports.
The deal, which could still fall through, depends on Maduro holding good-faith negotiations with the opposition to work toward elections in 2024, the Journal writes. It would also take time for oil production to ramp up.
But Biden's desire to see more oil on the global markets gives him an incentive to reach deals with both Venezuela and Iran.
Bonus: Where in the world?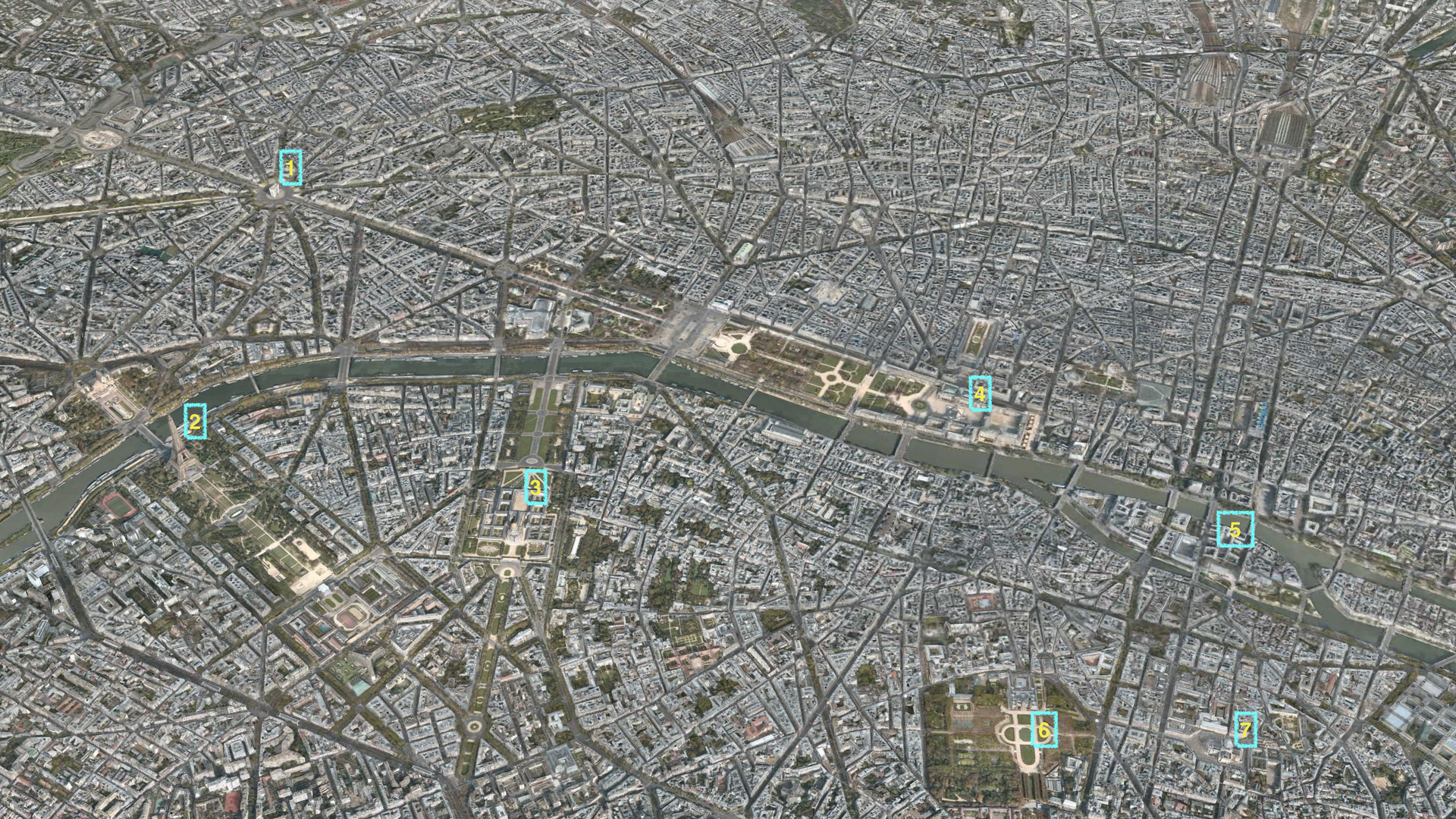 Can you name this city and the seven landmarks labeled above?
I'm catching a flight there tomorrow for a few days. Recommendations encouraged.
Scroll to the bottom for answers.
4. China wins diplomatic showdown over human rights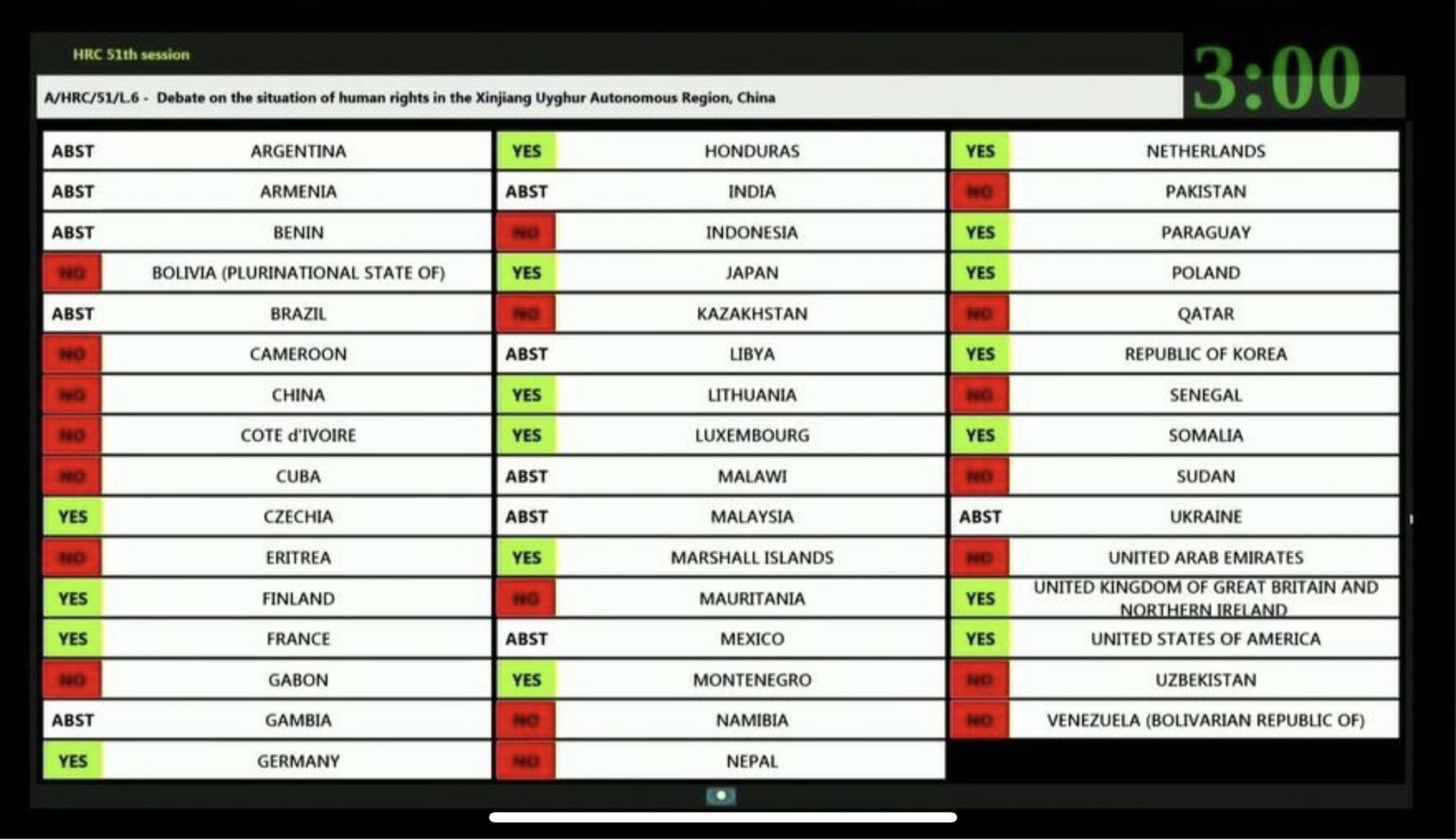 Today's vote at the UN Human Rights Council on whether to debate China's abuses in Xinjiang turned into a diplomatic showdown between China and the West.
Why it matters: China won. The 47-country council — in its first-ever vote on a human rights issue involving China, soon after a UN report documented "serious human rights violations" in Xinjiang — voted not to proceed.
Breaking it down:
19 countries voted "no," including Beijing's close partners like Cuba and Pakistan. Also among the "no" votes were several African countries, as well as Indonesia and Nepal where the U.S. and China are competing for influence, and two U.S. partners in the Gulf: Qatar and the UAE.

Eight of the "no" votes came from majority-Muslim countries, despite Beijing's systemic effort to eradicate the mostly Muslim Uyghurs' religious and cultural identity.
Indonesia's representative expressed solidarity with Muslims in Xinjiang before saying the council's approach to the issue "will not yield meaningful progress" because China opposes it.

17 countries voted "yes," mainly U.S. allies in Europe and Asia but also Honduras, Paraguay and Somalia.
11 countries abstained, including Ukraine, which wants to keep China from directly aiding Russia's war effort, as well as Brazil, India and Mexico.
Our thought bubbles: The council is much-maligned in D.C. for including countries with less-than-stellar human rights records (Eritrea is a member), but votes like this are nonetheless tests of diplomatic clout. It's noteworthy that the U.S. was unable to flip a couple more votes.
"The outcome demonstrates the success that China has had in its long term strategy to weaken international human rights mechanisms," notes Axios China correspondent Bethany Allen-Ebrahimian.
What to watch: Dozens of Uyghur organizations expressed disappointment over the vote and called on UN agencies and experts "to take concrete action according to their mandates," Axios fellow Han Chen writes.
5. Global news roundup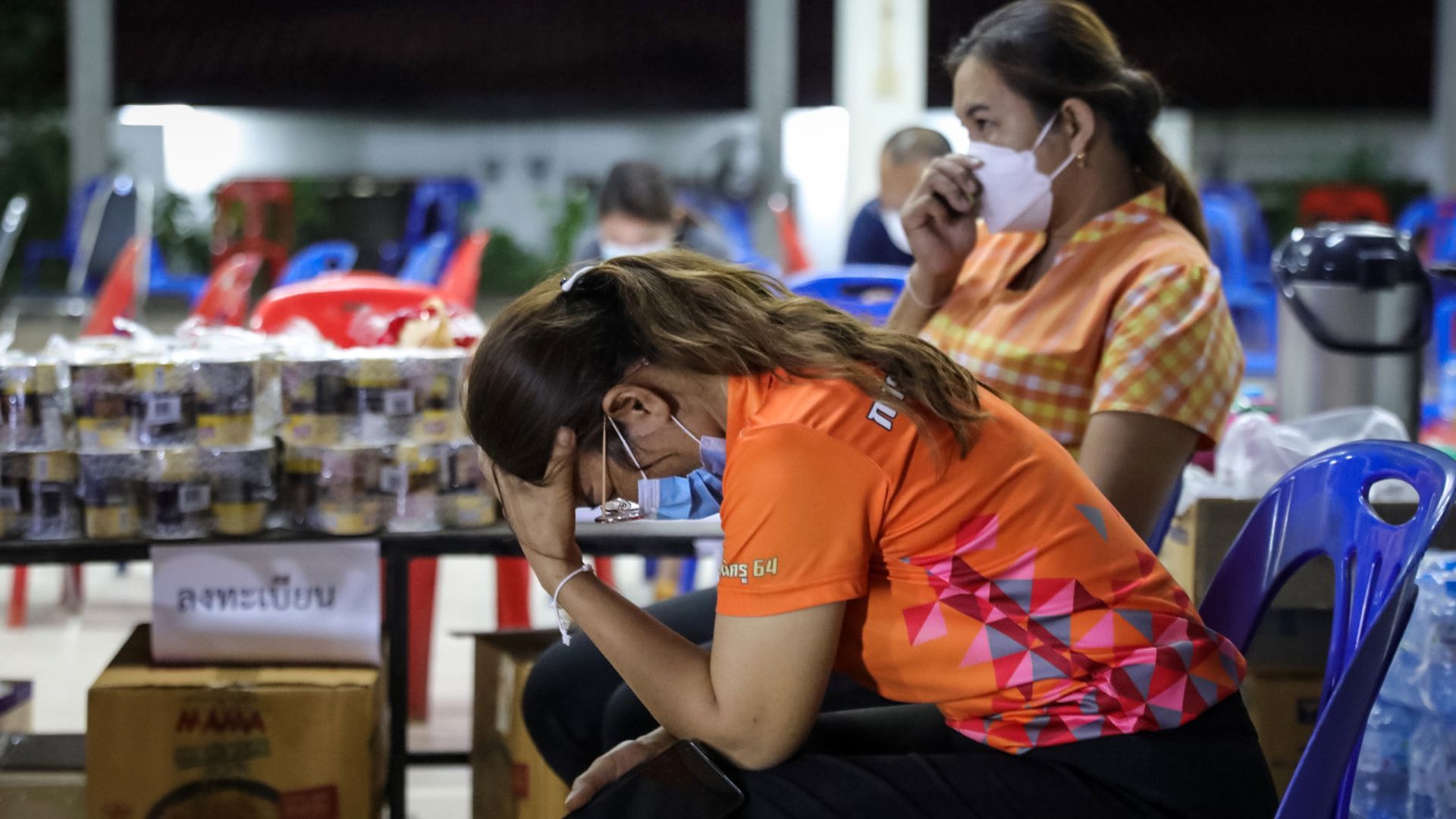 1. More than 35 people, including at least 24 children, were killed in Thailand today at a child care center. Authorities say the suspect, a former police officer armed with a gun and a knife, also killed his wife and child before killing himself.
2. Two days after launching a long-range ballistic missile over Japan, North Korea on Thursday fired two shorter-range ballistic missiles — its sixth launch in 12 days.
The big picture: Thursday's launch came after the UN Security Council held an emergency meeting on North Korea's nuclear program, and after the U.S. and. South Korea launched four missiles off the east coast of the Korean Peninsula (see quoted).
3. Israel today rejected Lebanon's comments on a draft agreement on the two countries' maritime dispute.
Why it matters: That could dash hopes of an imminent deal and lead to military escalation between Israel and Hezbollah, which has threatened war if Lebanon's economic rights are not respected, Axios' Barak Ravid reports.
3. Ugandan President Yoweri Museveni apologized to his Kenyan counterpart and fired his son, Gen. Muhoozi Kainerugaba, as land forces commander after Kainerugaba posted a series of tweets threatening to invade neighboring Kenya.
Yes, but: Kainerugaba, who later said the tweets weren't serious, was promoted to full general and will stay on as a senior presidential adviser. per Reuters.
4. The New York Times reported yesterday that U.S. intelligence agencies believe Ukraine was behind the assassination of Darya Dugina, the daughter of an influential Russian nationalist and Putin ally. Ukraine denies any involvement.
6. What I'm listening to: Who is Xi Jinping?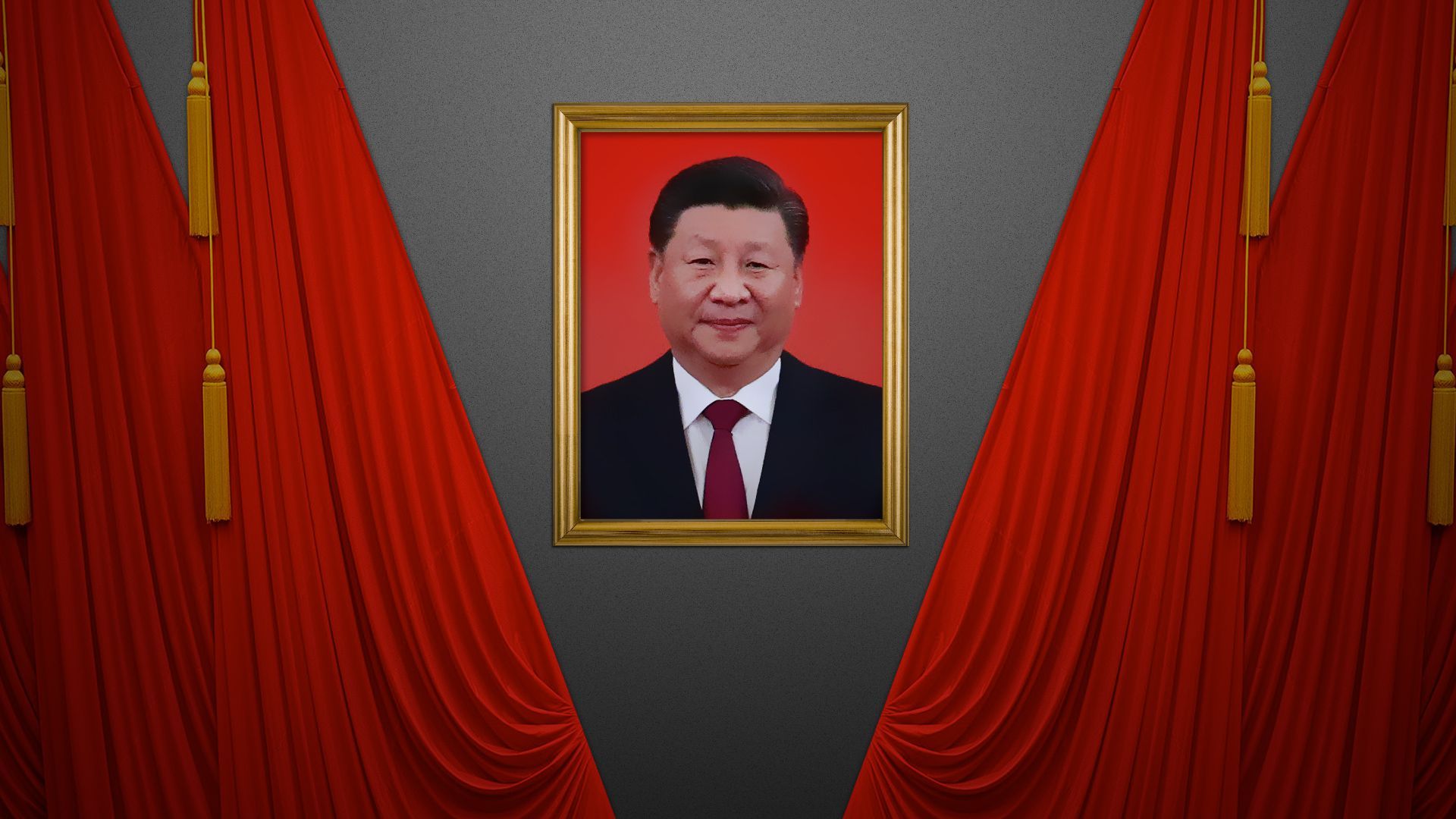 With 10 days to go before the 20th Chinese Communist Party Congress, at which President Xi Jinping is expected to claim a third five-year term, I've been bingeing the Economist's eight-part podcast on Xi's life and rule, "The Prince."
There are intriguing vignettes about Xi's struggles after his powerful father was purged, his visit to Iowa as a mid-level party official, and his meetings with U.S. officials before he took power.
But despite the great reporting, there are also enormous gaps. We really don't know all that much about what drives arguably the most powerful man in the world.
7. Stories we're watching
Quoted:
"It is very regrettable that local residents were surprised."
— A South Korean
military official
on the fact that a missile fired in response to a North Korean missile test crashed into the ground around 1km from where it was launched, leading some South Koreans to believe they were under attack. No one was hurt.
Answers: 1. Arc de Triomphe; 2. Eiffel Tower; 3. Les Invalides; 4. the Louvre; 5. Notre Dame; 6. Luxembourg Gardens; 7. the Pantheon.