Welcome to Axios World, where two evenings a week we break down what you need to know about the big stories from around the globe.
Thanks for joining me! Please tell your friends and colleagues to sign up here, and I'd love your tips and feedback: [email protected]
1 big thing: Trump's crucial minute draws near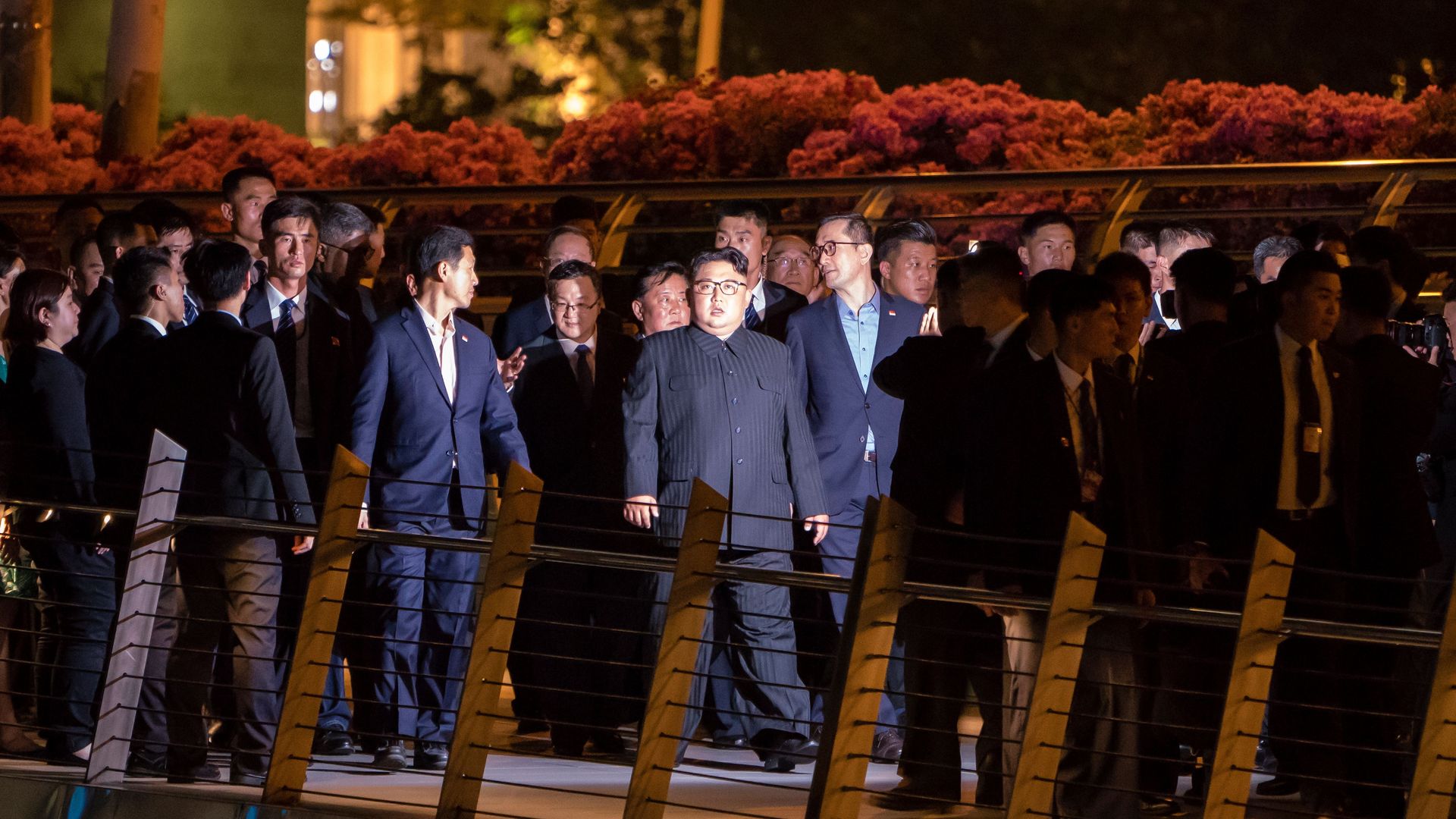 President Trump has said he'll know within one minute whether North Korean leader Kim Jong-un is serious about denuclearization. That first minute is rapidly approaching.
What to watch: The hours leading up to the starting gun have been an exercise in expectations setting. Secretary of State Mike Pompeo was careful to note that while the summit is historic, its aim is to "set the conditions for future productive talks." But even he can't predict what will happen when the two leaders sit down, one-on-one, in just a couple hours.
The itinerary
Note: Singapore is 12 hours ahead of the U.S. East Coast.
9am local [9pm ET]: Trump greets Kim, with a 45 minute one-on-one meeting (which will include translators) beginning at 9:15.
10am: Pompeo, Chief of Staff John Kelly, and National Security Advisor John Bolton join for an expanded bilateral meeting.
11:30am: Press Secretary Sarah Sanders, Ambassador Sung Kim, and NSC Asia chief Matt Pottinger join the group for a working lunch.
4pm: Trump holds a press conference.
7pm: Trump departs for Washington, by way of Guam and Hawaii.
Axios' Jonathan Swan and Alayna Treene report that Trump is expected to tape an interview with Fox News' Sean Hannity after the summit and before leaving Singapore.
Worth noting: Jennifer Jacobs of Bloomberg reports that Kim is leaving Singapore at 4pm and "Trump had been willing to stay in Singapore longer if negotiations were progressing well, but since Kim booked his departure, Trump booked his own."
What happened today
Sung Kim, a veteran diplomat and the current ambassador to the Philippines, has led discussions with the North Korean side in Singapore. Pompeo said those talks were moving quickly and successfully, despite reports to the contrary.
While Trump has spent most of his time in Singapore in his hotel, Kim was spotted out on the town with a massive security detail, taking in glamorous sights, posing for a selfie and, bizarrely, being cheered by onlookers.
Trump called South Korean President Moon and Japanese Prime Minister Abe.
What to watch for
As the Washington Post notes, the decision to begin the summit "without top advisers or nuclear arms specialists in the room underscores that their real goal is to develop a rapport and stage a global spectacle rather than to ink the technical details of a denuclearization accord."
Victor Cha of CSIS writes that the summit is only the start of a negotiation process — and that's good news. Data shows North Korea is less likely to take provocative actions while they're negotiating with the U.S.
Jieun Baek, author of "North Korea's Hidden Revolution," writes in Foreign Affairs that "while in Singapore, Trump must be mindful of how Pyongyang will use the negotiations for propaganda in order to further bolster the regime's legitimacy." That means, in her opinion, avoiding both public threats and flattery.
Go deeper: Kim Jong-un's intelligence file, What Kim wants from Trump.
Bonus: Three tips for summit-watchers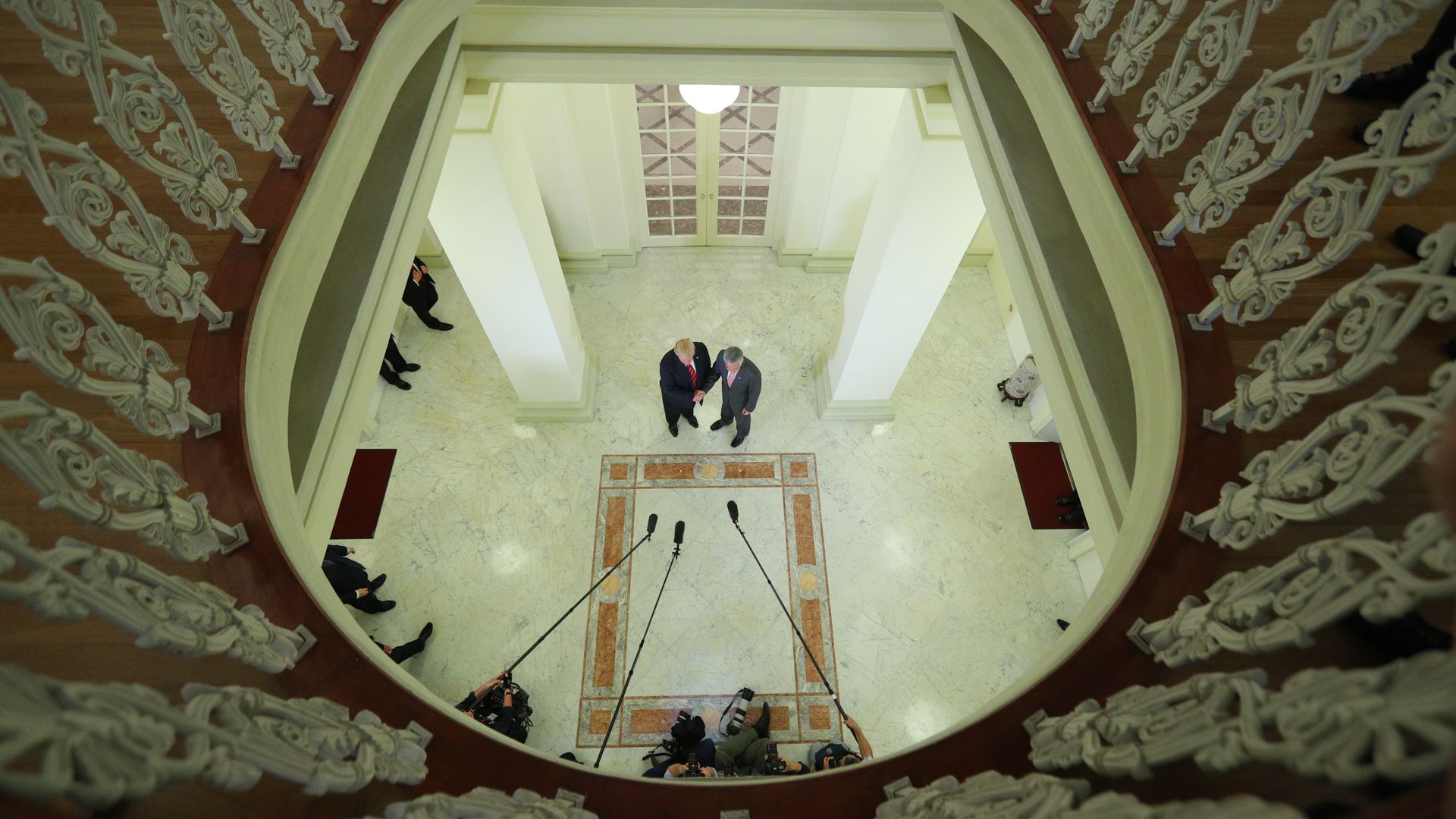 Why to worry: Michael O'Hanlon of Brookings says bad outcomes include: 1. The U.S. gambles away its military alliance with South Korea for insufficient returns. 2. Negotiations fall apart, but global appetites for maximum pressure on Pyongyang are gone. 3. The leaders clash and "we wind up on the path towards 2017 again, and seem on the brink of war."
Why to hope WaPo's Anna Fifield writes: "Despite everything I've learned in the 14 years since I began covering North Korea, despite myself, I feel hopeful again now ahead of Tuesday's summit. ... I'm not optimistic about complete denuclearization. No way. ... But this moment feels different. This process is different. These leaders are different. "
One little tip: Ryan Hass of Brookings says to watch for "recycled language" from previous agreements in North Korea's post-summit statements. "That would be a key indicator" that there was no breakthrough, he says.
Go deeper: Scoop... Trump open to U.S. embassy in North Korea, What that could mean for the U.S.
2. Powerful allies turn on the U.S.
On a leader-to-leader level, relationships between the U.S. and its most powerful allies are in tatters. That much is clear when a senior U.S. official declares "there's a special place in hell" for the prime minister of Canada. Canada!
The bigger picture: Antipathy for the U.S. in allied countries extends far beyond those leaders, and it's spiking under Trump. The U.S. has historically been the de facto leader within its strategic alliances, but an unpopular leader can quickly become a bully. The G7 summit showed the limits to that approach.
The trend...
Early in George W. Bush's tenure, and particularly after 9/11, there was considerable goodwill toward the U.S. among the other global powers. That evaporated during the Iraq War and hit worrying lows (30% in Germany, 39% in France) before Bush left office.
After the election of Barak Obama, views of the U.S. rebounded, dipping in Europe over time before ticking up again late in his tenure. The exception was Russia, which grew far more hostile to the U.S.
When President Trump came into office, the approval numbers fell off a cliff except, again, in Russia. The 2018 numbers could be even lower.
3. Europe: Italy rejects rescued migrants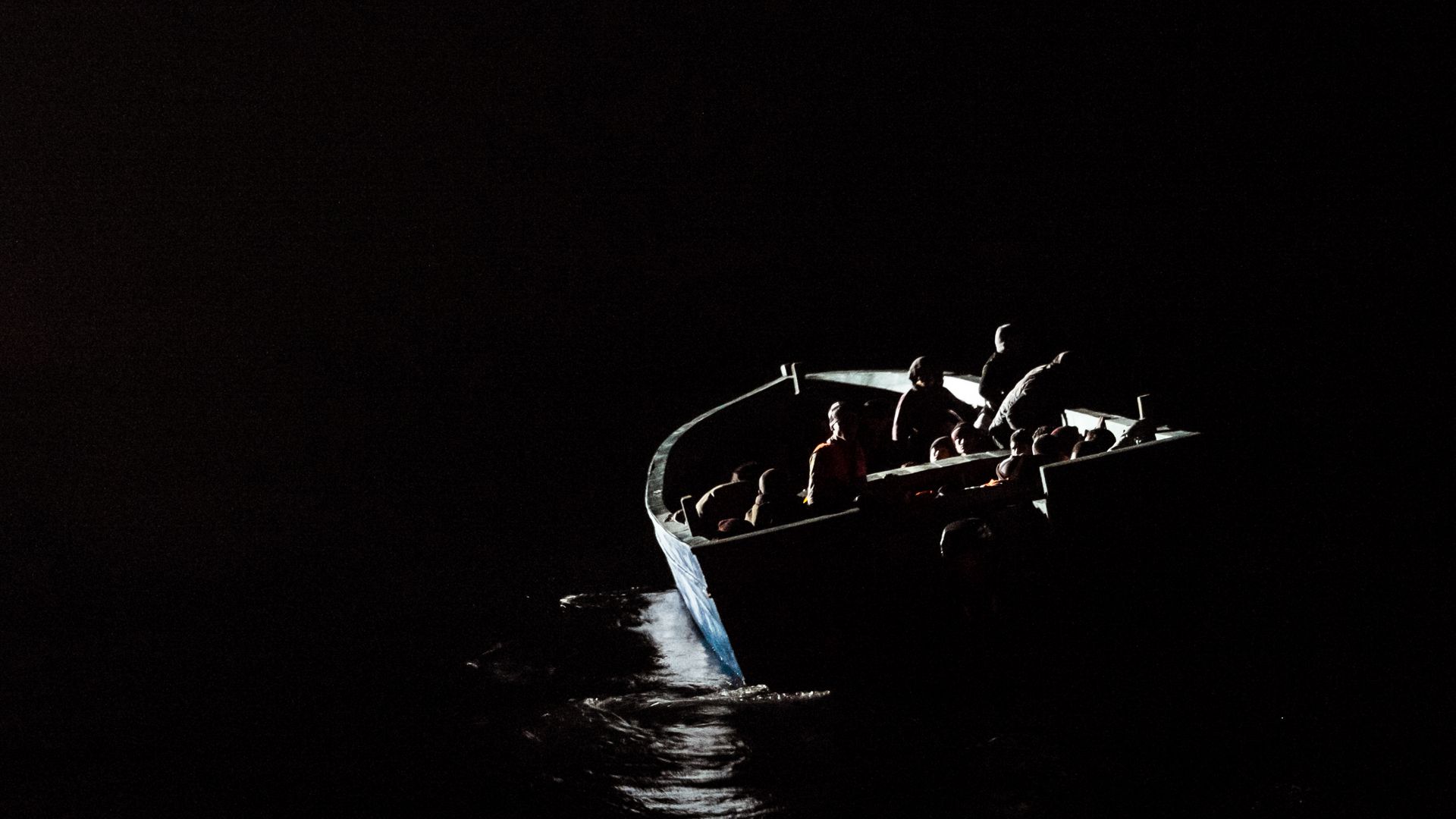 Prime Minister Pedro Sánchez announced Monday that Spain would take in a stranded ship with 629 immigrants on board after Italy's new populist, right-wing government blocked it from docking on its shores, Axios' Stef Kight writes:
SOS Méditerranée, a European humanitarian group, initiated the rescue mission in Libya. The migrants included 123 unaccompanied minors and seven pregnant women, according to the BBC.
By Monday, supplies were running low and Malta had also refused to accept the immigrants. Sánchez announced that the ship would be allowed to dock in Valencia. Italian prime minister Giuseppe Conte thanked Spain for the "gesture of solidarity," according to the Guardian.
This is the first concrete action from Matteo Salvini, the leader of the far-right League party and Italy's new Interior Minister, to back up his anti-immigration rhetoric. He tweeted, "Italy is done bending over backwards and obeying — this time THERE IS SOMEONE WHO SAYS NO," adding #closethedoors.
The bigger picture: Salvini has indicated he plans to turn away such ships in the future as well, which could lead to a humanitarian crisis in Europe. An estimated 3,100 migrants died at sea trying to reach Europe last year.
4. Middle East: Gulf allies move to stabilize Jordan
Saudi Arabia, the UAE and Kuwait have pledged $2.5 billion to Jordan after mass protests over high prices and an unpopular tax bill led to "fears of another Arab Spring," per the WSJ.
The tax bill was part of an IMF-backed series of austerity measures aimed at reducing Jordan's debt. King Abdullah II removed the prime minister (his 7th since 2011) and the tax bill was withdrawn.
While Jordan, a key U.S. ally, has remained relatively stable, it has long relied "on wealthy allies to pay for short-sighted economic policies," the Economist notes.
The funding "includes a deposit in Jordan's central bank, funding to support the country's budget for the next five years, World Bank guarantees and financing of development projects," the Gulf allies said.
5. Africa: Ethiopia opens the door to privatization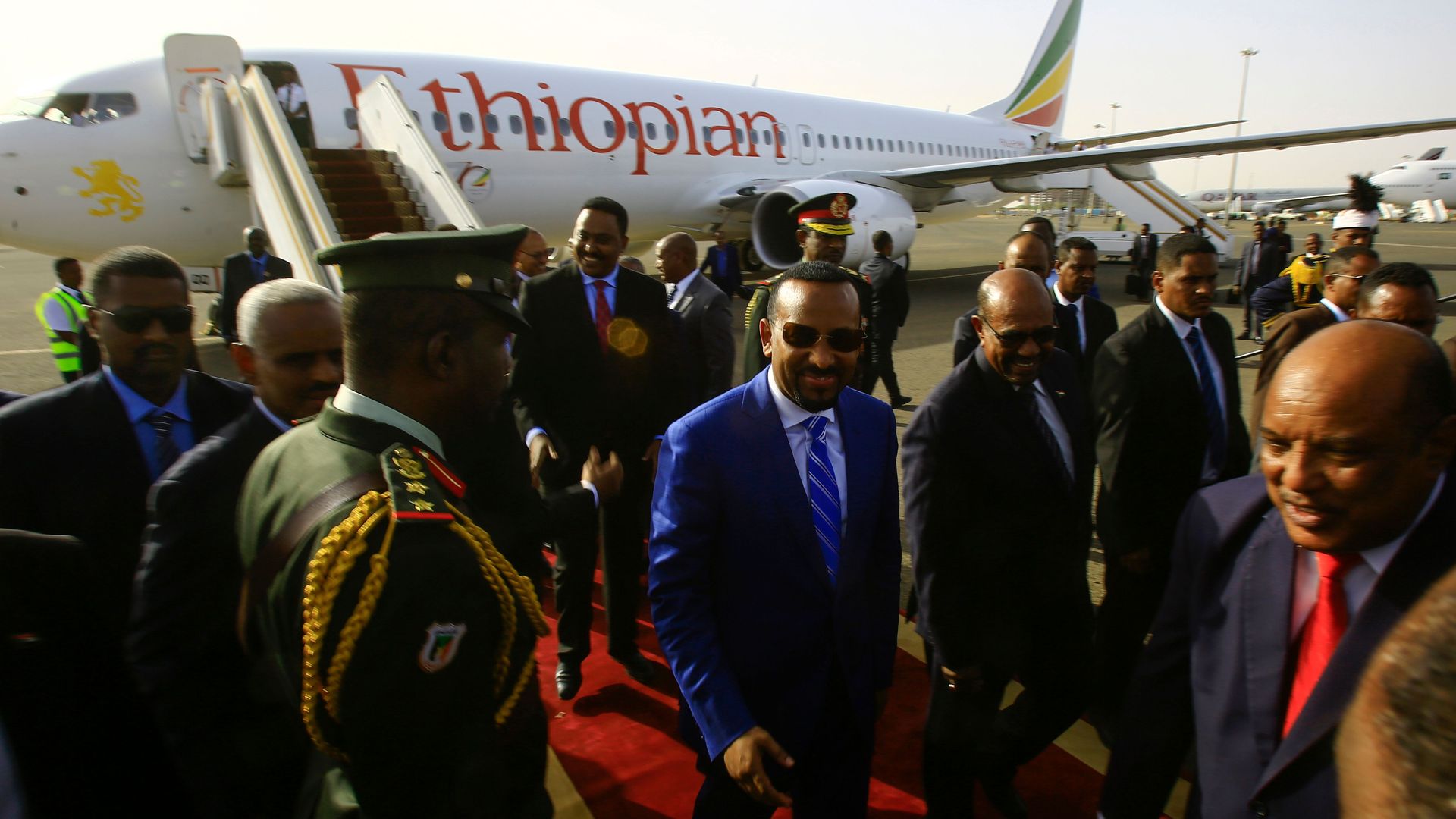 Ethiopia's government announced plans last week to allow private-sector participation in key economic areas that have long operated as government monopolies, including energy, telecommunications and aviation, the Atlantic Council's Aubrey Hruby writes for Axios Expert Voices:
"With public infrastructure investment generating almost 10% annual GDP growth over the last decade, Ethiopia is one of the fastest-growing countries in the world. However, it has also accumulated large amounts of debt, and businesses are eager for foreign exchange."
Why now: "It's estimated that Ethiopia's foreign reserves cover just over a month's worth of imports, leading to what many businesses feel is the worst foreign-exchange shortage in recent memory. Without greater liquidity, it's difficult to create the 3 million jobs per year needed to absorb the young people entering the labor market."
The bottom line: "While Ethiopia will continue following its Asian-inspired state-driven growth model, the decision to gradually open the economy to privatization will provide new opportunities for foreign investors and potentially heralds a larger economic policy shift under Abiy Ahmed's government."
6. World Cup: Democracies dominate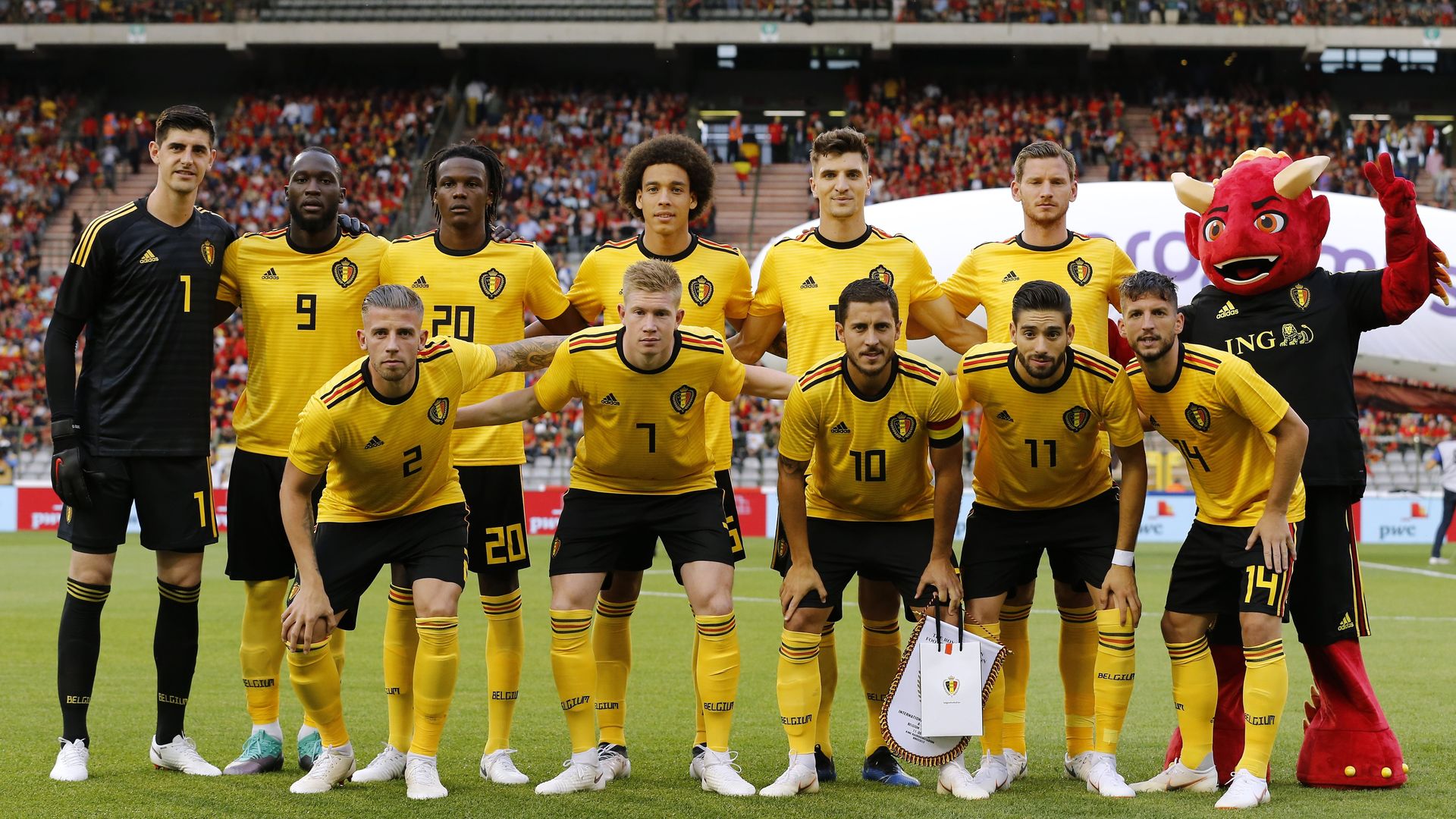 In at least 32 countries around the world, one topic is driving the national conversation right now: the World Cup, which begins on Thursday in Russia. The Stars and Stripes didn't qualify, and we don't officially cover sports here at Axios, but I'll be bending the rules over the next few weeks.
Three things to watch:
The Economist has a formula for predicting the footballing success of a given country, with factors including wealth and the sport's popularity. Germany sits at the top and, interestingly, countries with autocratic governments tend to underachieve. One explanation they offer: unlike track-and-field, where relentless training can carry the day, soccer requires "creativity and flair."
Per the FT's World Weekly podcast, Russia is the first autocratic host country in 40 years. Unlike at the 2014 Sochi Olympics, a national triumph is unlikely on the pitch — Russia's team is weak.
The 2026 host will be named soon, and a collective U.S./Canada/Mexico bid is up against Morocco. Per the FT's Simon Kuper, the North Americans have Latin America in their corner, while Africa's votes are going to Morocco. That leaves Asia and Europe as the swing votes, and "it seems like resentment toward the U.S. president is playing an outsized role."
7. Stories we're watching
Quoted:
"Sobering and somewhat depressing"
— Angela Merkel on Trump's decision not to endorse G7 communiqué
Thanks for reading — see you Thursday evening