Welcome to Axios World, where two evenings a week we break down the big stories from around the globe.
Thanks for joining me! Please tell your friends and colleagues to sign up, and I'd love your tips and feedback:

[email protected]

.
Tonight's Smart Brevity count is 1,486 words (~5 minute read)
1 big thing: Foreign powers fuel Libya's bloody stalemate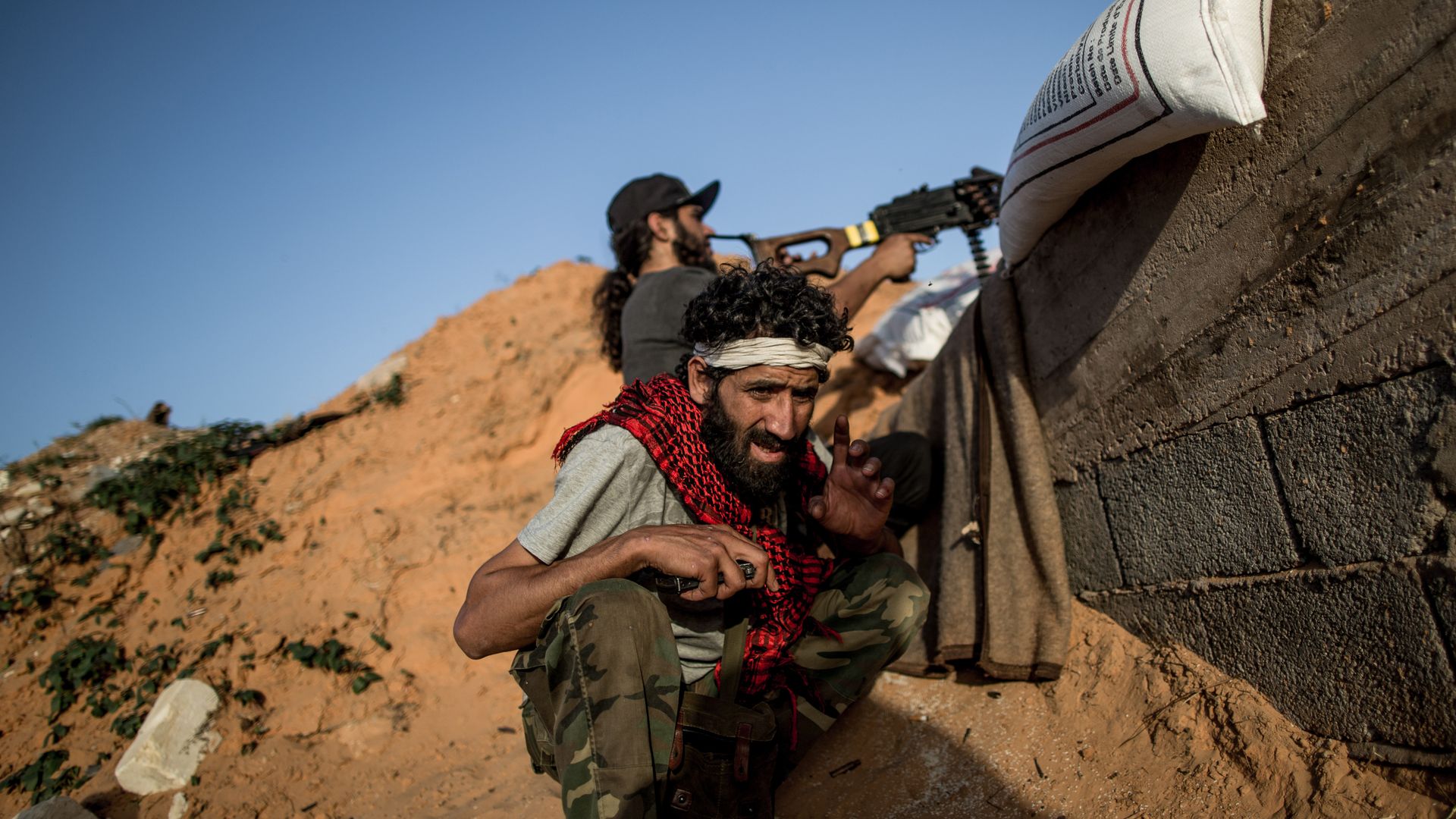 Libya's UN-backed government is calling on the Trump administration to pressure its Middle Eastern allies to abandon warlord Khalifa Haftar, whose military offensive has stalled in the suburbs of the capital, Tripoli.
Catch up quick:
Libya has been gripped by violence and instability since the fall of dictator Moammar Gadhafi in 2011. The Government of National Accord (GNA) holds power in the capital, but militias loyal to Haftar control the sparsely populated east.
Haftar shocked the world by launching a surprise assault in April. Ten weeks later, at least 600 are dead and 3,200 wounded.
Why it matters: The UN has warned of "a long and bloody war" waged with arms flowing in from powers in the region. The UAE, Saudi Arabia and Egypt support Haftar, while Qatar and Turkey back the GNA. Both sides have claimed President Trump as an ally.
Flashback: Trump spoke with Haftar in mid-April. A White House readout said the two had a "shared vision for Libya's transition to a stable, democratic political system." That stunned the GNA, which was scrambling to repel Haftar.
Times have changed. The Guardian reports that while Trump once supported the offensive, his "fleeting enthusiasm for Haftar has waned" and Secretary of State Mike Pompeo is now "considering a range of options, including a US-enforced ceasefire."
Between the lines: "The idea of Haftar is attractive for a number of countries — a reliable military figure you can work with against the terrorists and bring order," Jonathan Winer, U.S. envoy to Libya from 2013-2017, tells Axios. "The problem with Haftar is he can't build alliances. It's all about him."
Winer says Haftar was "seeking a very quick victory, a stampede" and banking on support from the Egyptians and Emiratis, who would love to see an allied strongman take control.
Ahmed Omar Maiteeg, deputy prime minister in the Tripoli government, says that while "someone" had clearly been "passing the message" that Haftar was an effective partner, Trump surely realizes by now that he "cannot succeed."
Referring to the U.S. as "our main ally," Maiteeg told Axios in Washington on Friday that the GNA is not seeking financial or military assistance, only "strong diplomatic help and leadership."
He said Trump should "send a clear message" to its allies to "stay out of Libya."
Maiteeg insisted that Haftar lacks the strength to take Tripoli, "but he will have Libya divided. ISIS will be stronger. Our production of oil will be falling strongly."
State of play: Barring major outside interventions, "it is highly unlikely that either side will prevail," Claudia Gazzini, a Libya analyst at the International Crisis Group, told AFP.
"Rather than a cessation of hostilities, in the near future we are likely to see an escalation with increased foreign support. The net result would be a proxy war ... with no guaranteed winner."
The bottom line: "Haftar's dream of a military dictatorship doesn't fit with the reality in Libya," but the 75-year-old strongman has "no incentive to quit unless his troops desert him," Winer says.
A deal to share oil revenues could open a path forward. But Winer foresees a "grinding civil war" if external forces can't "help build a way out."
"This isn't a hopeless situation, but yes it could turn into Syria."
2. Hong Kong rises up against extradition deal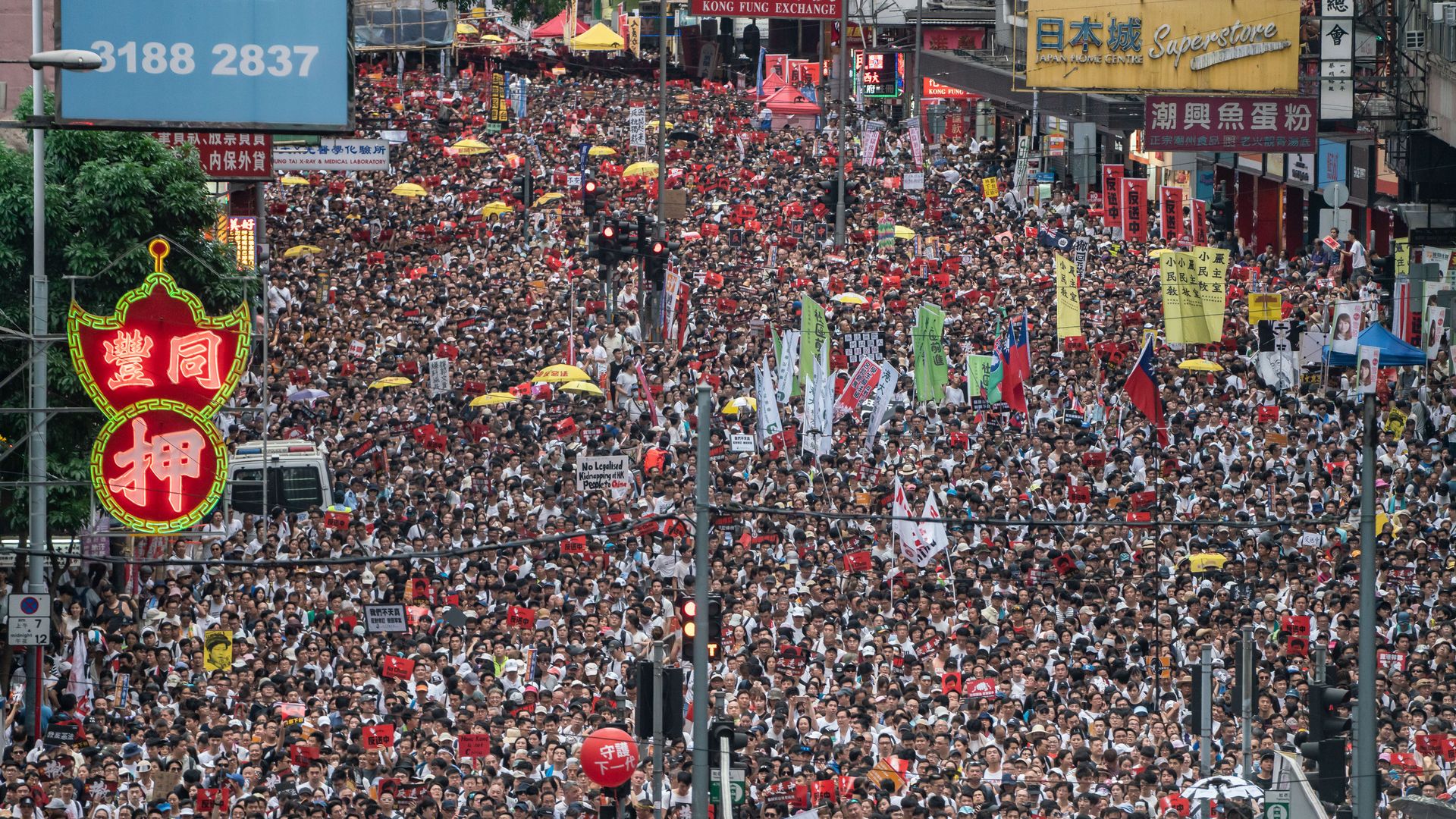 Hundreds of thousands of people filled the streets of Hong Kong on Sunday to protest a bill that would allow suspects to be extradited to mainland China.
The big picture: The former British colony was returned to China in 1997 but it was guaranteed considerable autonomy from Beijing. That has allowed for freedom of speech, an independent judiciary and other protections that don't exist on the mainland. The massive crowds reflect fears that autonomy is now eroding.
The Economist breaks it down:
"The governments in Hong Kong and Beijing say the bill will close a 'loophole' which makes it impossible to send suspects to 'other parts of China.'"
"But many people fear the legislation could be abused. Even though the proposed law would not apply to people accused of political crimes," critics say China could simply charge suspects with other offenses.
"They also say that China's courts are so prone to political interference, and so opaque, that no suspect can be guaranteed a fair trial. The bill would apply to anyone physically in Hong Kong, including a banker on a business trip or a journalist in transit through the airport."
3. Iran tensions: A flurry of diplomacy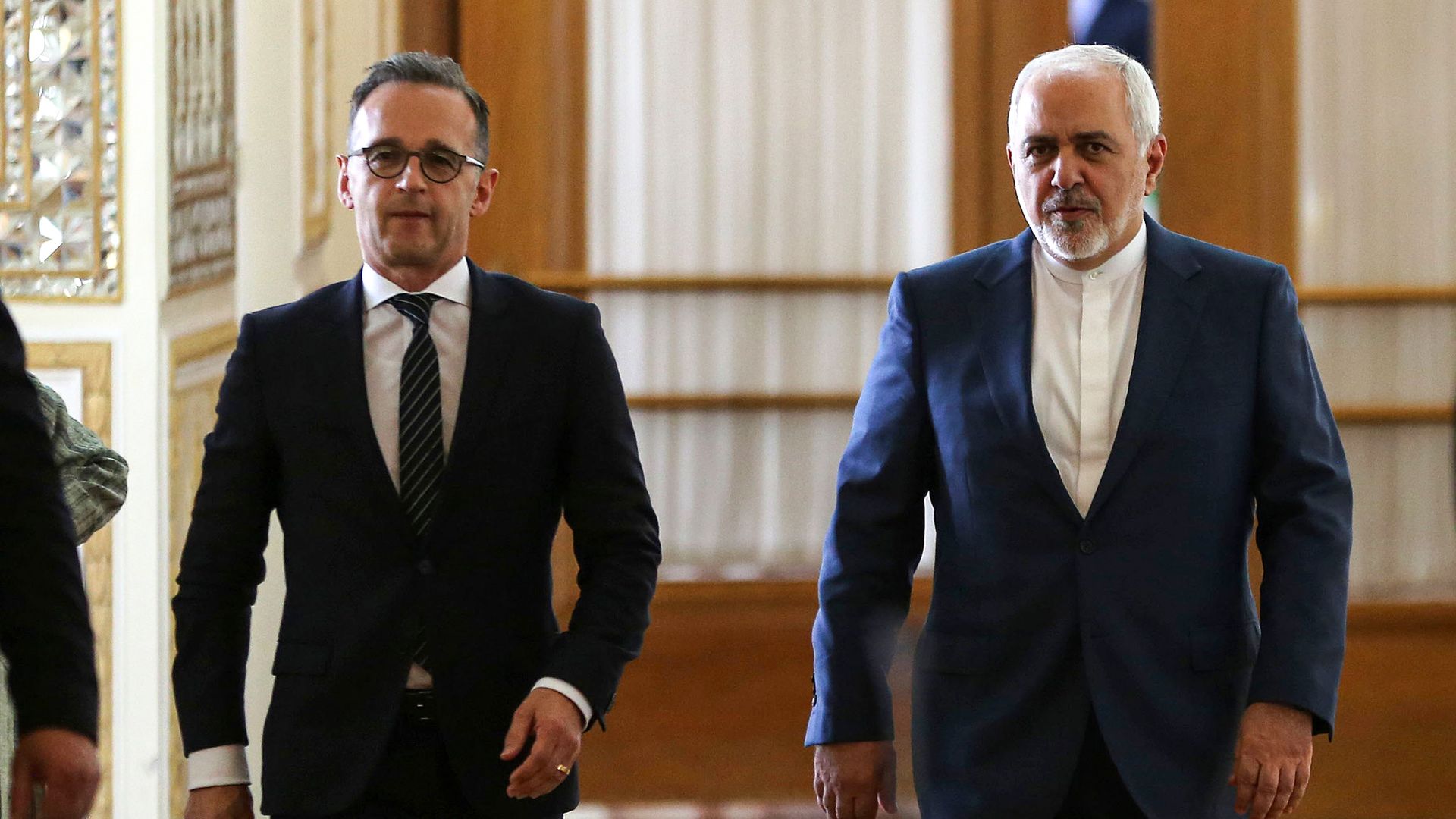 Iranian Foreign Minister Mohammad Javad Zarif issued a vague threat today, saying the U.S. "cannot expect to stay safe" after starting an "economic war" with Tehran.
Context: Zarif's remarks came during a visit from his German counterpart, Heiko Maas, who called U.S.-Iran tensions "highly explosive and extremely serious." Zarif also said Iran would continue to work with Europe to save the 2015 nuclear deal.
Iran is furious that economic benefits promised under the deal have been wiped out by U.S. sanctions. Maas said Europe couldn't perform "miracles," but would do its best. He said the "special purpose vehicle" designed to facilitate transactions would be ready "in the foreseeable future."
Japanese Prime Minister Shinzo Abe, meanwhile, is expected to arrive in Tehran on Wednesday on a tensions-reduction mission that's supported by Trump.
Qatar is also attempting to mediate between Washington and Tehran. The Gulf state's foreign minister called yesterday for "compromises by both parties."
What to watch: The IAEA nuclear watchdog said today that Iran was increasing its production of enriched uranium. Tehran has said it won't observe restrictions on enrichment after July 7 absent a breakthrough.
4. Asia: Dangerous times for Sri Lanka's Muslims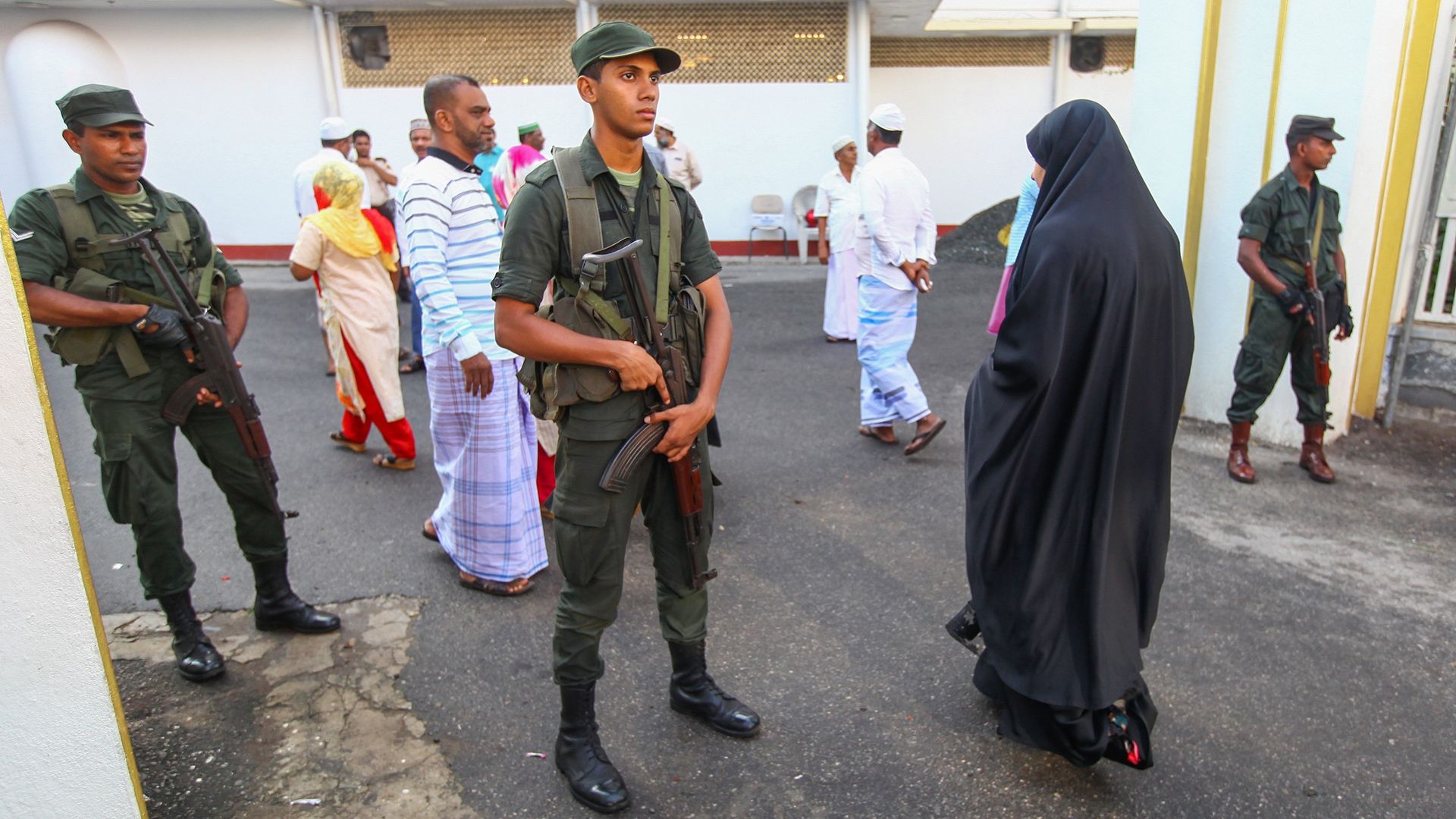 Sri Lanka's Muslim minority is facing increased persecution in the wake of an Easter Sunday terror attack which left 258 dead.
Recent incidents:
A Muslim doctor was accused without evidence of secretly sterilizing 4,000 patients, claims which "are particularly incendiary on an island where hardliners within the Buddhist majority have accused Muslims of seeking to use a higher birth rate to spread their influence," Reuters reports.
All 10 Muslim government ministers resigned in protest last week after a prominent monk accused three Muslim politicians of links to terrorism. They warned of a dangerous "hate culture."
"Since the bombings in April, police have not just randomly arrested Muslims, who are about 10% of the population, but responded lackadaisically to repeated mob attacks against Muslims and Muslim-owned businesses," per the Economist.
The latest: President Maithripala Sirisena lamented growing religious and ethnic divisions yesterday, saying, "If we divide and fall apart, the whole country will stand to lose. Another war will break out."
5. World news roundup: Former USSR edition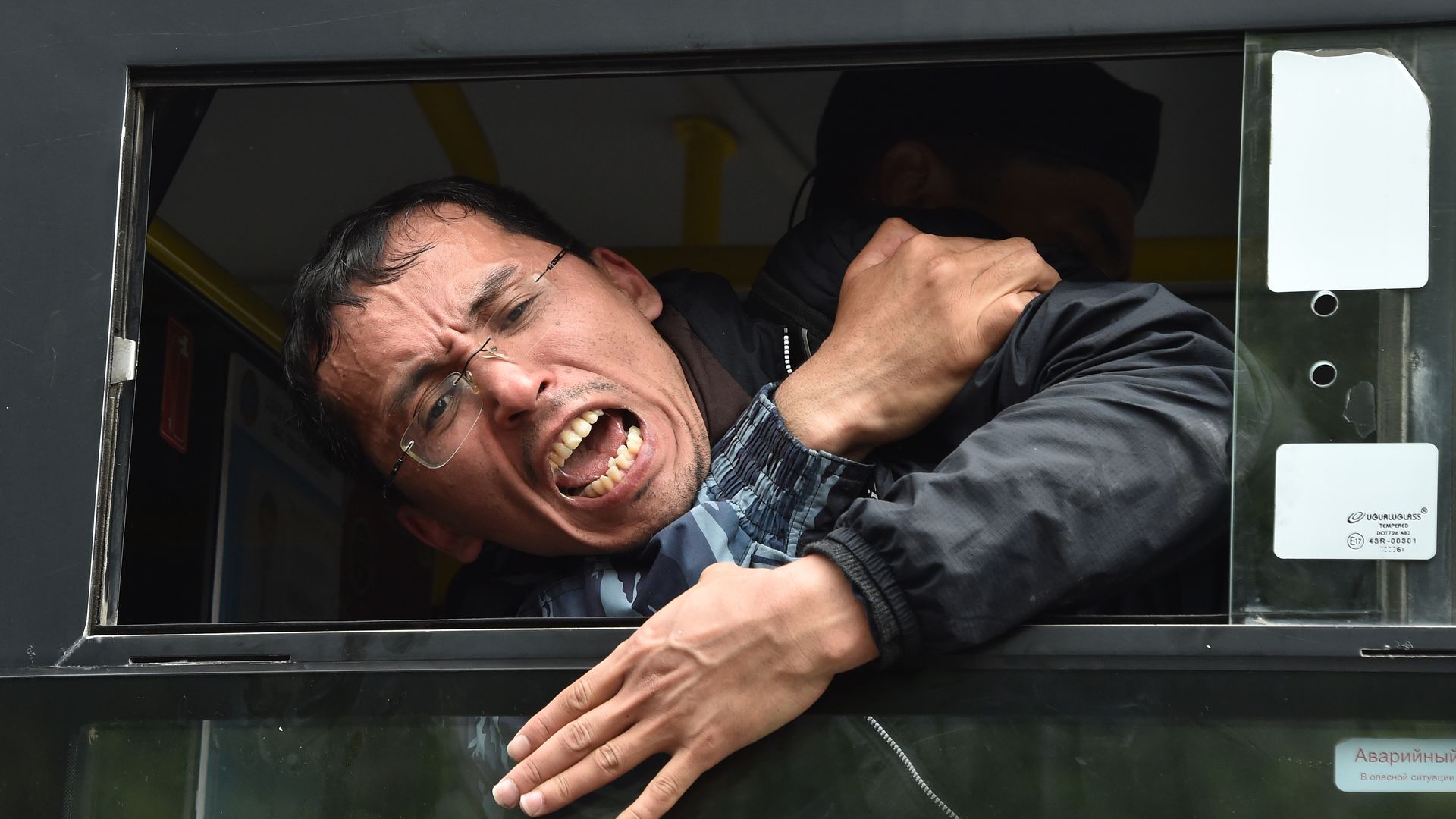 1. Kazakhstan has elected a new president for the first time since independence, but "the choreographed transfer of power was overshadowed by sustained protests," Reid Standish writes in Foreign Policy.
Flashback: Nursultan Nazarbayev resigned in March after three decades in power. He had the capital city renamed in his honor on the way out the door, and he will loom over the country's politics as long as he's alive.
His hand-picked successor, Kassym-Jomart Tokayev, "brings decades of experience and an established rapport with Presidents Vladimir Putin of Russia and Xi Jinping of China," Standish writes.
The interior minister says 500 protestors were arrested. Local journalists tell Standish the handover of power, while staged, "sparked an interest and engagement with politics that was previously absent."
2. Moldova has "two rival governments, each declaring itself legitimate," per Radio Free Europe.
The constitutional court yesterday suspended Moldova's president, Igor Dodon. His interim replacement called snap elections for September.
But that came after two parties — one pro-Moscow, the other pro-EU — said they'd formed an alliance to remove the oligarch-backed ruling party from power. They're challenging the court ruling.
3. Russian investigative reporter Ivan Golunov was released to house arrest yesterday after his detention sparked intense backlash.
Three major Russian newspapers published front pages in solidarity with Golunov, who faced dubious drug charges. Golunov's outlet, Meduza, said he was being "persecuted for his journalism."
Even some journalists from state media spoke out, per the Guardian. The Kremlin now admits mistakes may have been made.
4. HBO's "Chernobyl" miniseries has proved very divisive in Russia, or at least in Russian media, the Moscow Times reports.
Not so in the Lawler household. If you haven't watched it, you really, really should.
6. Coming attractions: Rivalry in the Far North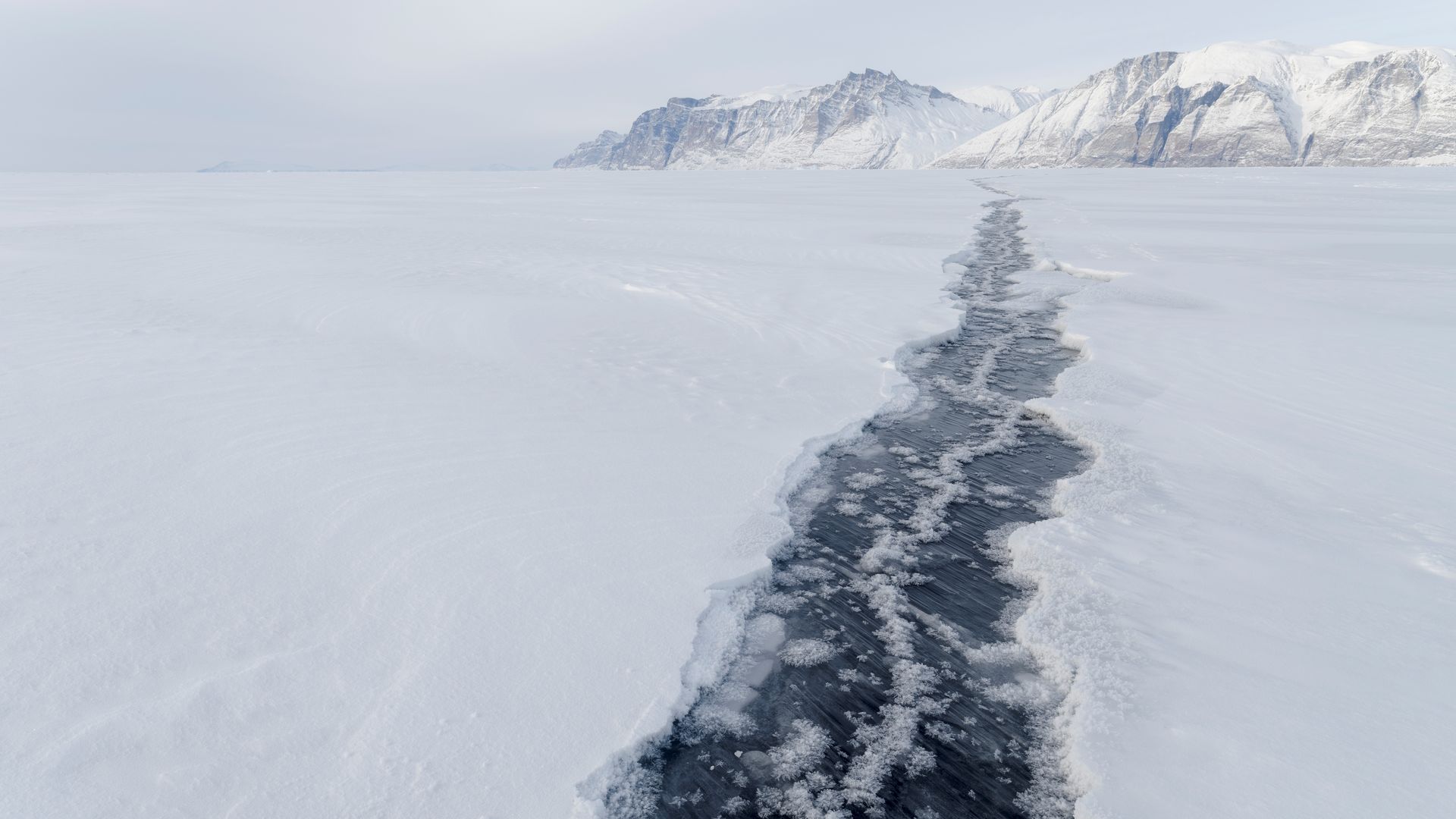 The Defense Department quietly released a new Arctic strategy last Thursday that omits any mention of climate change and casts the Far North as a zone of great power competition, Axios' Andrew Freedman reports.
Why it matters: The eight Arctic nations have long collaborated on governance, environmental and scientific concerns. However, with a Russian military buildup in the region and China's increasingly assertive role as a "near-Arctic" nation, the U.S. is taking a more aggressive posture.
But, but, but: While the new strategy suggests the U.S. will deploy more forces to the Arctic and seek to assert itself more in the region, there are limited opportunities to do so in the near-term due to a lack of Arctic-capable military assets.
7. Stories we're watching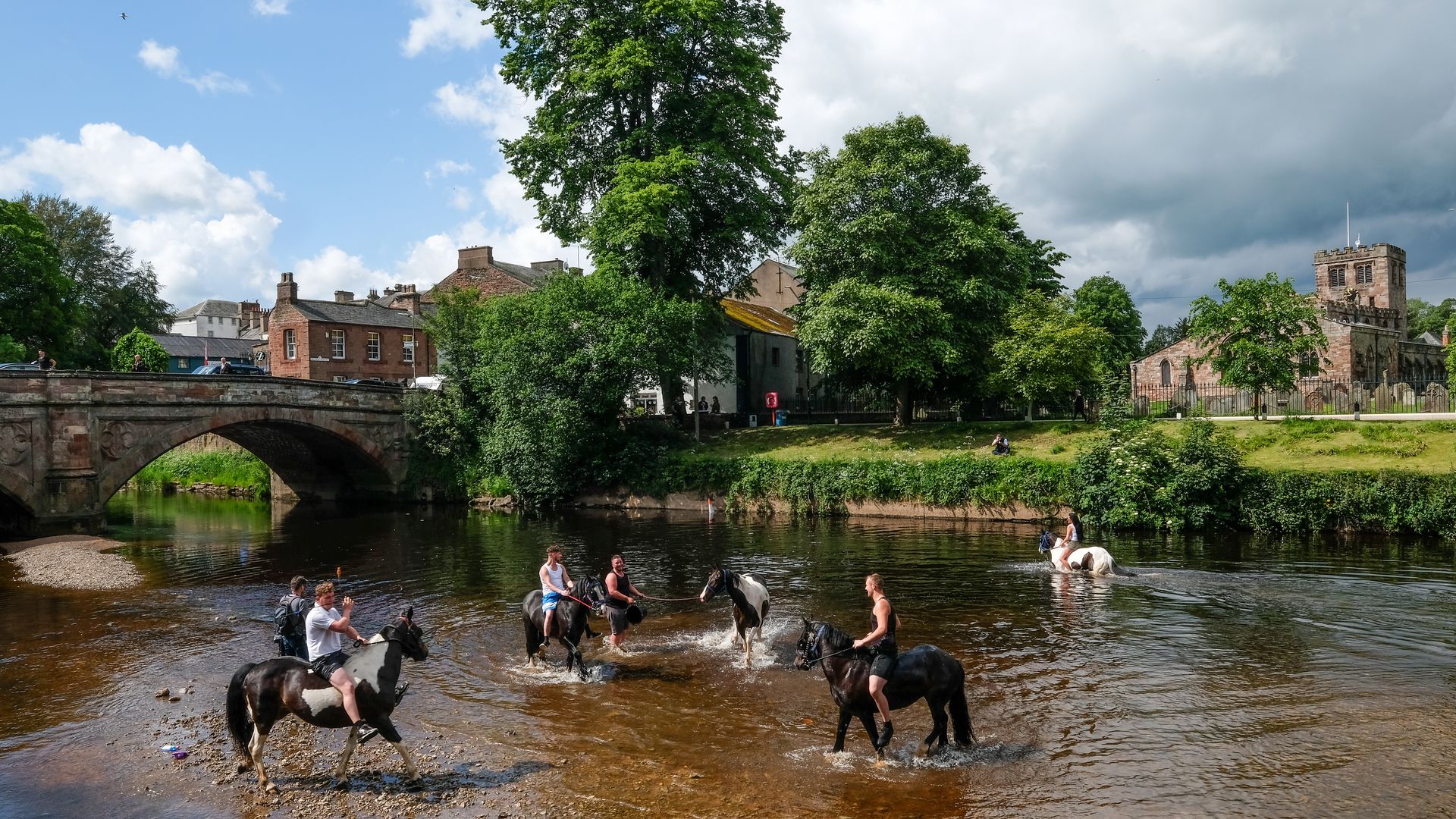 Quoted:
"This oak tree (my gift to @realDonaldTrump) will be a reminder at the White House of these ties that bind us."
— French President Emmanuel Macron
in April 2018
. The tree
has reportedly died
.
Thanks for stopping by — see you Thursday evening.