Welcome to Axios World, where two evenings a week we break down what you need to know about the big stories from around the globe.
Thanks for joining me! Please tell your friends and colleagues to sign up here, and I'd love your tips and feedback: lawler@axios.com.
1 big thing: Russia opens new front in Ukraine conflict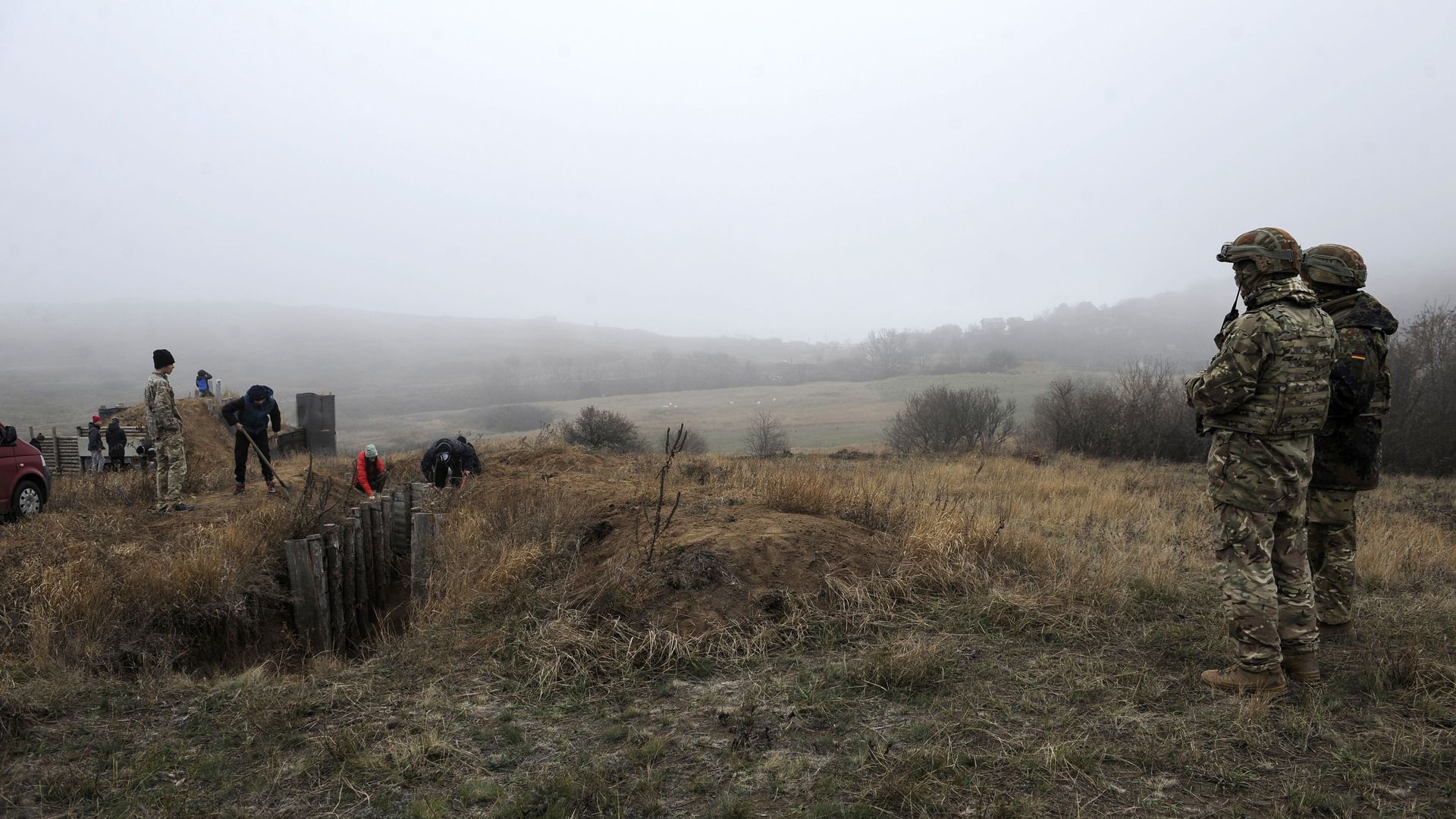 Much of Ukraine is now under martial law a day after Russia intercepted, fired on and seized three Ukrainian naval vessels off of Crimea, wounding at least six sailors in the process.
Why it matters: "This is a new, more dangerous form of aggression," says John Herbst, a former U.S. ambassador to Ukraine now at the Atlantic Council. "In the light of day, Moscow demonstrated that it will attack Ukraine with its conventional forces." Absent U.S. and European pushback that turns "a Kremlin tactical victory into a strategic defeat," he says, further aggression is likely.
The big picture: Alina Polyakova of Brookings writes for Axios Expert Voices that "Moscow has been harassing commercial ships bound for Ukraine's ports in the Sea of Azov for months." The attack on naval vessels now "opens a new front in Russia's four-year aggression against Ukraine, which includes the ongoing land war in Ukraine's east and the occupation of Crimea."
How it happened:
Ukraine's navy says it alerted Russia's coast guard that a tugboat escorting two small warships bound for the Sea of Azov was en route to the Kerch Strait, but didn't receive a response. As the tugboat approached the strait, a Russian vessel slammed into it.
"They were clearly trying to provoke Ukraine into firing" and seeking a justification to engage the Ukrainian navy militarily, Herbst says. That didn't happen. Now he says, "They're trying to get away with it without any international reaction."
The Trump administration was all but silent on Sunday's attack until outgoing UN Ambassador Nikki Haley denounced Russia's "outlaw act" this morning at an emergency Security Council session.
Asked about the situation hours later, President Trump seemed to suggest there was blame on both sides, saying, "We do not like what's happening either way."
Secretary of State Pompeo, shortly thereafter, issued a statement condemning Russia's "dangerous escalation."
Meanwhile, Ukrainian President Petro Poroshenko sought and received parliamentary support for a declaration of martial law that will last 30 days and affect areas bordering Russia.
The declaration comes ahead of Ukrainian presidential elections, scheduled for March, which observers say the Kremlin has been seeking to disrupt. Poroshenko is highly unpopular and trails in the polls.
Jonathan Katz of the German Marshall Fund says he's yet to hear a good explanation for "what makes this moment different" that demands the unprecedented declaration of martial law. He says there's concern it will be used to Poroshenko's advantage, and to the detriment of Ukraine's democracy.
While the order is only set to last 30 days, "these things tend to get extended," Katz says. "Somebody can create a provocation … there's plenty of ongoing violence that could be treated as a justification."
What's next: Trump will meet with Vladimir Putin in just a few days at the G20 summit in Buenos Aires.
Bonus: The hottest of the frozen conflicts
Crimea is just one of several disputed territories in the former Soviet Union.
Go deeper: Front lines of a frozen conflict
2. Germans want less U.S., more Russia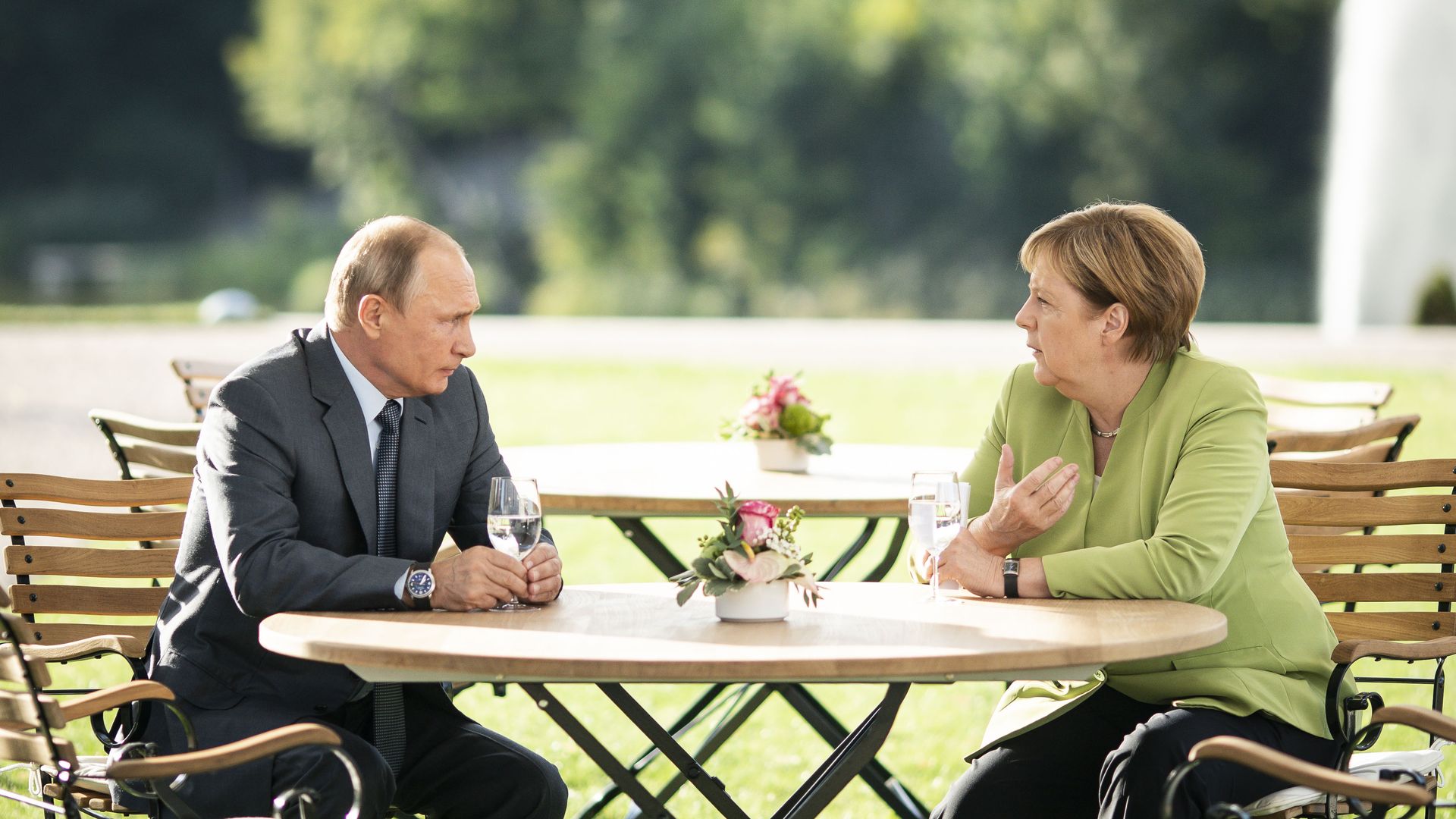 7 in 10 Americans say the U.S.-German relationship is "good," according to a new Pew poll. Just 24% of Germans agree, and 72% say they want more independence from the U.S. when it comes to foreign policy.
Similarly, while 70% of Americans say the U.S. should cooperate more with Germany, just 41% of Germans would like to see more cooperation with the U.S.
Meanwhile, a whopping 69% would like to see Germany cooperate more with Russia, and 67% with China.
Why it matters: It has been well-documented that views of the U.S. have fallen sharply around the world since President Trump took office. But this poll shows a clear preference among Germans not only for weaker ties with Washington, but for stronger ties with Moscow.
3. Trump undermines May's desperate Brexit push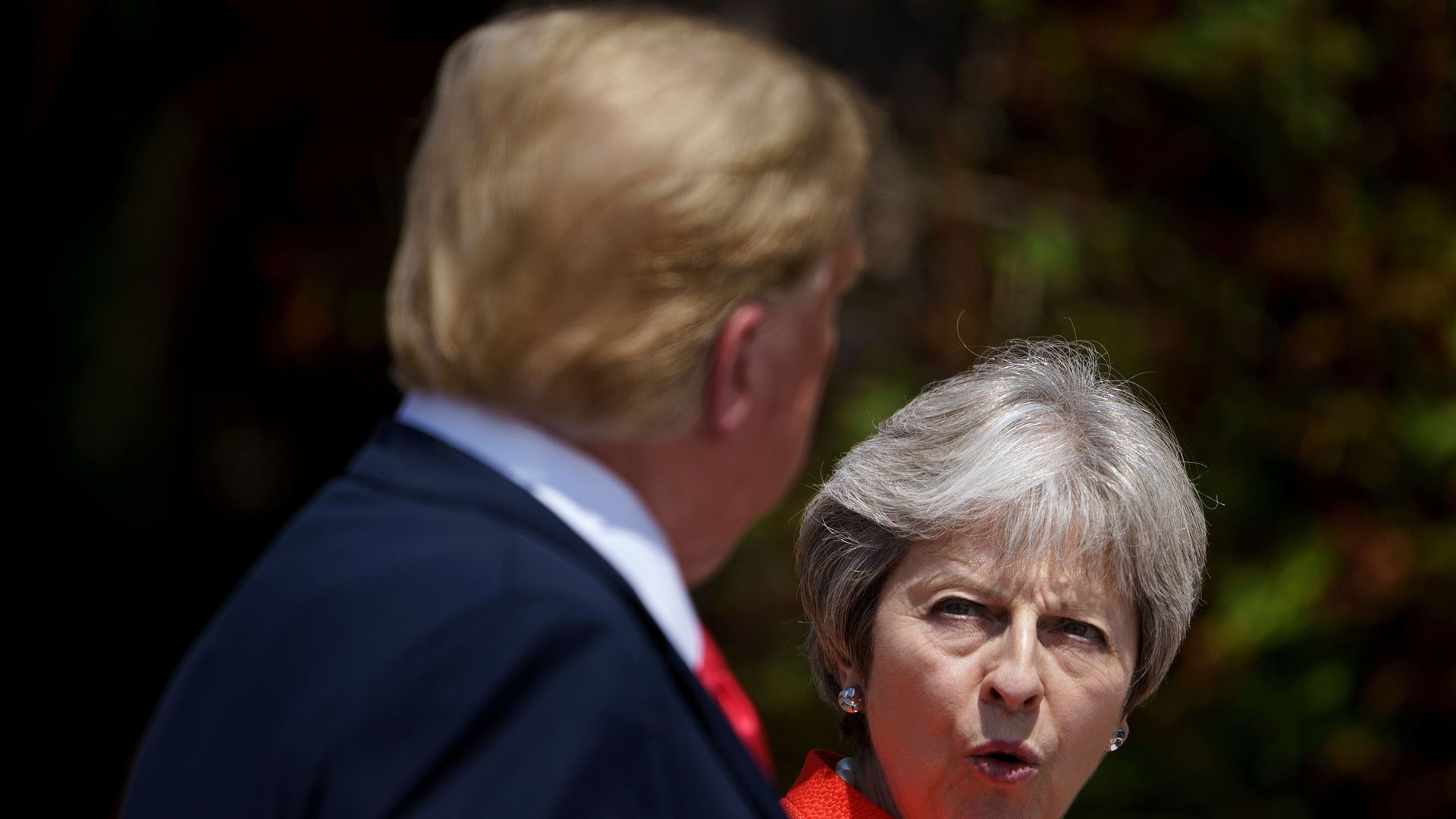 With U.K. Prime Minister Theresa May working desperately to sell her Brexit deal to a skeptical Parliament, President Trump slammed it today as "a great deal for the EU" that could keep the U.K. from securing a trade deal with the U.S.
Why it matters: Trump is unpopular in the U.K., but his comments could deepen what, from May's perspective, is an unwelcome debate over the U.K.'s ability to negotiate trade deals under her plan, which won the approval of all 27 EU leaders over the weekend but still needs to pass through the House of Commons.
Sebastian Payne, political editorial writer for the Financial Times, emails from London with his take on what's next:
"If May's withdrawal agreement is not passed into British law by March 2019, the UK will crash out of the bloc and revert overnight to trade on basic World Trade Organization terms. Most ministers privately believe this would lead to both a recession and total chaos."
"But despite the threat of a no-deal Brexit, Remainers and Leavers are lining up to oppose her compromises: around 90 Conservative MPs have said they will vote against it. Combined with the opposition Labour Party and the Scottish nationalists, it is looking nigh impossible for May to pass the deal into law without a significant change in opinion."
"May is therefore going over the heads of MPs and trying to sell her deal to the country as what is in 'the national interest.' She hopes that Britons are bored of Brexit and simply want it all to be over. She might be right. But the views of Remain and Leave-supporting MPs are hardening and she has just two weeks to change their minds."
The bottom line: "There is no obvious majority in Parliament for any Brexit deal. There is also no majority for a no-deal Brexit. When the first critical vote is held — 11th December — we will find out if MPs feel as strongly as they presently claim about May's compromise. They'll have a chance to change their minds if May tries again with a slightly tweaked version of her deal in late December or early next year. Time, however, is running out," writes Payne.
4. Mexico's changing of the guard adds uncertainty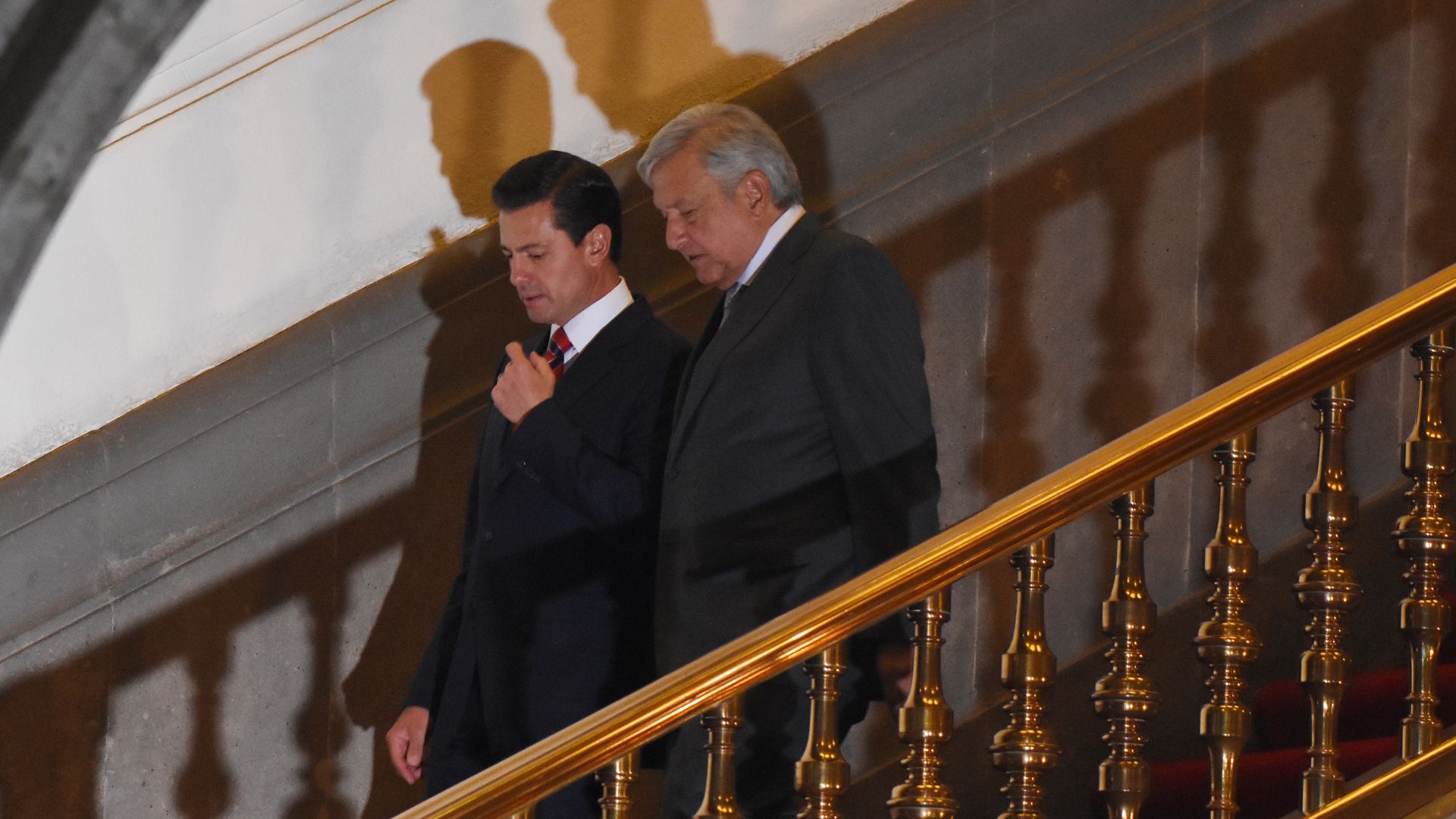 On Dec. 1, Mexico's leftist president-elect, Andres Manuel López Obrador, will be inaugurated in Mexico City. It's likely to be just hours after Mexico's outgoing president, Enrique Peña Nieto, joins with President Trump and Canadian Prime Minister Justin Trudeau to sign the NAFTA replacement deal in Buenos Aires.
Why it matters: Trump has insulted, threatened and scapegoated Mexico since the day he announced his presidential campaign. The signing ceremony will underscore Peña Nieto's decision to, as Mexico's Ambassador to the U.S. Gerónimo Gutiérrez puts it, "Remove political rhetoric from negotiations." But López Obrador's arrival signals a new, unpredictable era for the crucial relationship.
Gutierrez says he expects a deal to end U.S. steel and aluminum tariffs on Mexico, and Mexico's counter tariffs targeting agriculture, by next week's signing or shortly thereafter. That would leave the slate clear for López Obrador, at least on trade.
But speaking at the Brookings Institution on Tuesday, Gutiérrez said that despite the breakthrough on trade, the U.S. and Mexico are "not quite there" in terms of forging a new, better relationship.
The primary obstacle is immigration, he says, and the relationship will remain at a "critical moment" until a solution is found. We saw evidence of that yesterday, when U.S. border agents fired tear gas on migrants at the border.
Go deeper: Read the full piece.
5. Facing danger abroad
The United Arab Emirates has pardoned Matthew Hedges, a 31-year-old Ph.D. student who was sentenced to life in prison last week on charges of spying for the British government.
The backdrop: Hedges was arrested in May and — according to family members — forced to confess to being a member of foreign intelligence service MI6, despite denials from both his family and the British government.
Two other cases have not reached a satisfactory conclusion:
Two young U.S. citizens are being effectively held hostage in China in order to pressure their father, a "former executive at a state-owned bank" who faces fraud charges, to return to China, the NY Times reports.
An advocacy group says the search for the body of an American missionary believed to have been killed earlier this month by members of an island tribe that "resists the outside world" should be abandoned because of severe dangers to both the tribe, the Sentinelese, and those carrying out the search.
6. Trump to Iraqi PM: How about that oil?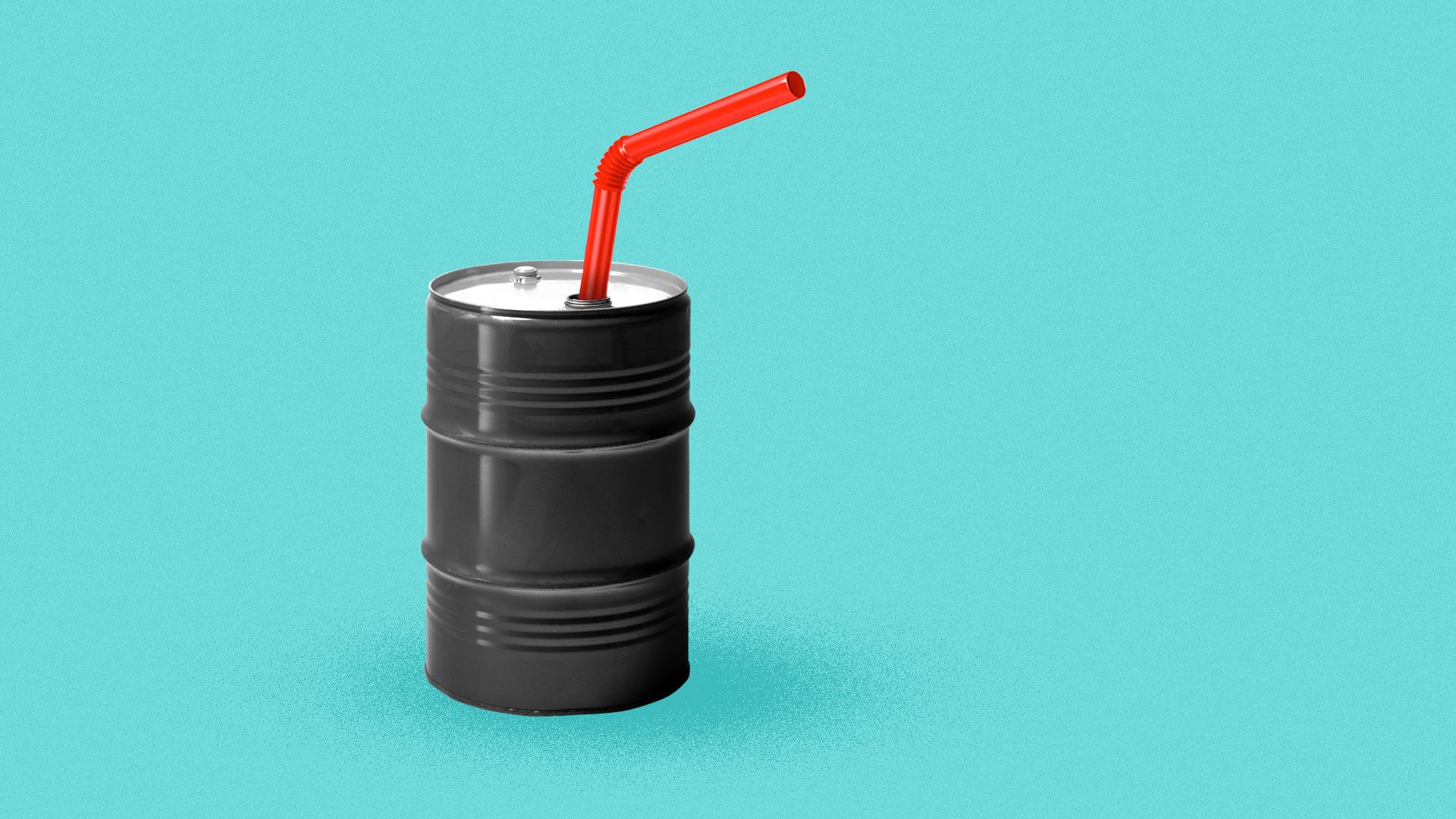 President Trump twice raised to the Iraqi prime minister the idea of repaying America for its wars with Iraqi oil, a highly controversial ask that runs afoul of international norms and logic, Axios' Jonathan Swan reported yesterday in his fantastic Sneak Peek newsletter.
In March last year, at the end of a White House meeting with Iraq's then-Prime Minister Haider al-Abadi, Trump brought up the subject of taking oil from Iraq to reimburse the United States for the costs of the war there.
"It was a very run-of-the-mill, low-key, meeting in general," a source who was in the room told Axios. "And then right at the end, Trump says something to the effect of, he gets a little smirk on his face and he says, 'So what are we going to do about the oil?'"
7. Stories we're watching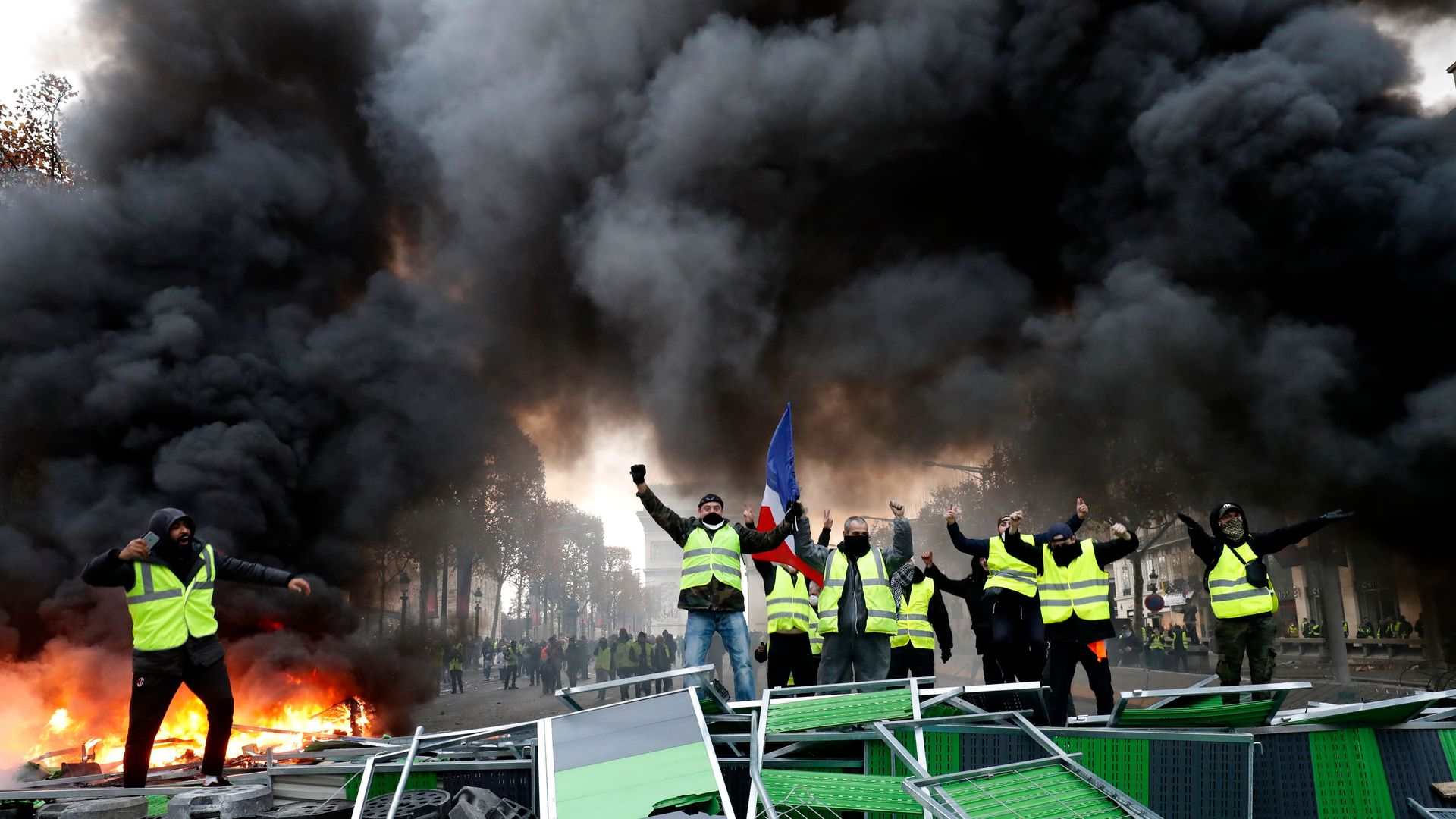 Quoted:
"It's important that we back up the intel community if we think they're right."
— Sen.
Lindsey Graham to Axios
, saying he'll push to have Mohammed bin Salman sanctioned if the CIA confirms to him that the Saudi crown prince is responsible for the murder of Jamal Khashoggi.
Thanks for stopping by — see you Thursday!