Welcome to Axios World, where two evenings a week we break down what you need to know about the big stories from around the globe. I'm filing this week from the beautiful city of Montevideo, Uruguay.
Thanks for joining me! Please tell your friends and colleagues to sign up here, and I'd love your tips and feedback: lawler@axios.com.
1 big thing: May fights for her Brexit deal, and her political future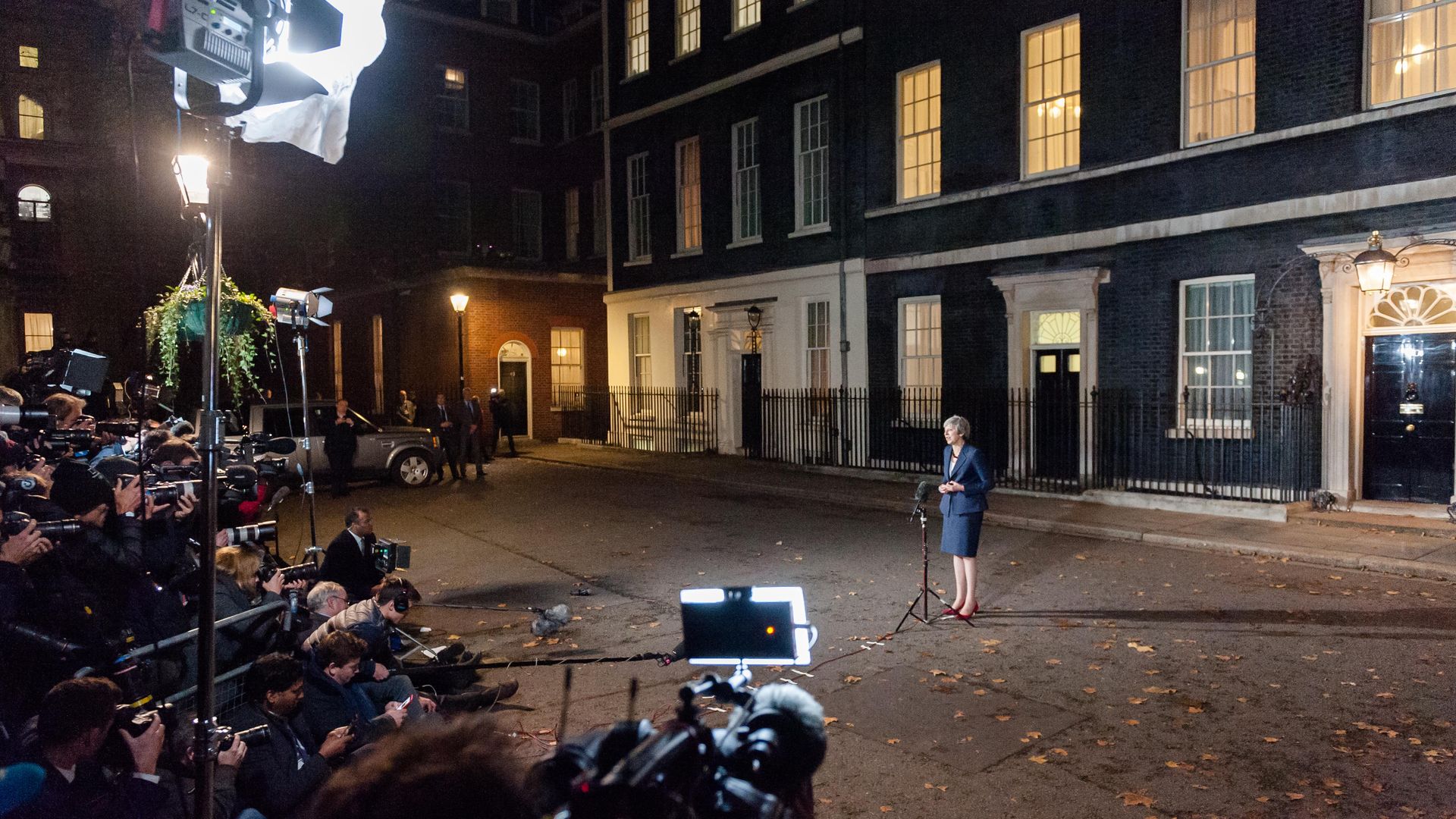 As members of her Conservative Party submitted letters of no confidence and senior figures from every faction of British politics denounced her Brexit deal, Prime Minister Theresa May set a clear line: She won't relinquish her post unless it's taken from her.
Where things stand: May must stare down a rebellion in her party just to secure the opportunity to present a deal that has every chance of failure in Parliament. If she fails, no one really knows what comes next.
Catch up quick ...
Two opponents of the deal within the Cabinet, including Brexit Secretary Dominic Raab, resigned today in protest. Eight Cabinet secretaries have now stepped down this year.
May was also grilled for three hours in Parliament, where opposition leader Jeremy Corbyn called her deal a "huge and damaging failure."
Most threatening of all for May was the decision of hard-line Brexiteer Jacob Rees-Mogg to submit a letter of no confidence and call for a leadership challenge. If 48 Conservative MPs submit such letters, that would trigger a vote of no confidence.
In a bid to secure her position, May offered the Brexit secretary position to Michael Gove, one of the leaders of the Brexit campaign and the current environment secretary. He turned it down. Now, he might quit the government altogether.
Between the lines: May is positioning herself as the adult in the room, and her Brexit solution as the only way to respect the will of the people while limiting the economic damage of a hard split with Brussels. It's a deal explicitly designed to please no one. As Martin Wolf writes in the Financial Times:
"For Remainers, it is evident that this quasi-permanent halfway house, which will keep the UK inside the EU's customs area and divide Northern Ireland from the rest of the UK indefinitely, would be far worse than continued EU membership."
"For Leavers, it is equally evident that this very same halfway house would be far worse than a clean break."
The problem for May is that together those two camps comprise the vast majority of the country and of the House of Commons. May's coalition is divided, and the Tory train wreck gives Labour its best chance in years of taking power.
"With the Labour Party, the DUP, the Scottish Nationalists, the Lib Dems and a phalanx of Tory MPs ranged against her ... the parliamentary arithmetic looks impossible," the Economist notes.
The big question: If May stumbles on either of two massive hurdles (the leadership challenge or the parliamentary vote), well ... then what? A "No Deal" exit? A second referendum? Fresh elections?
The bottom line: May's political appeal has long been, essentially, "it's me, or it's chaos." This time she might be right.
2. White House considers expelling Erdogan enemy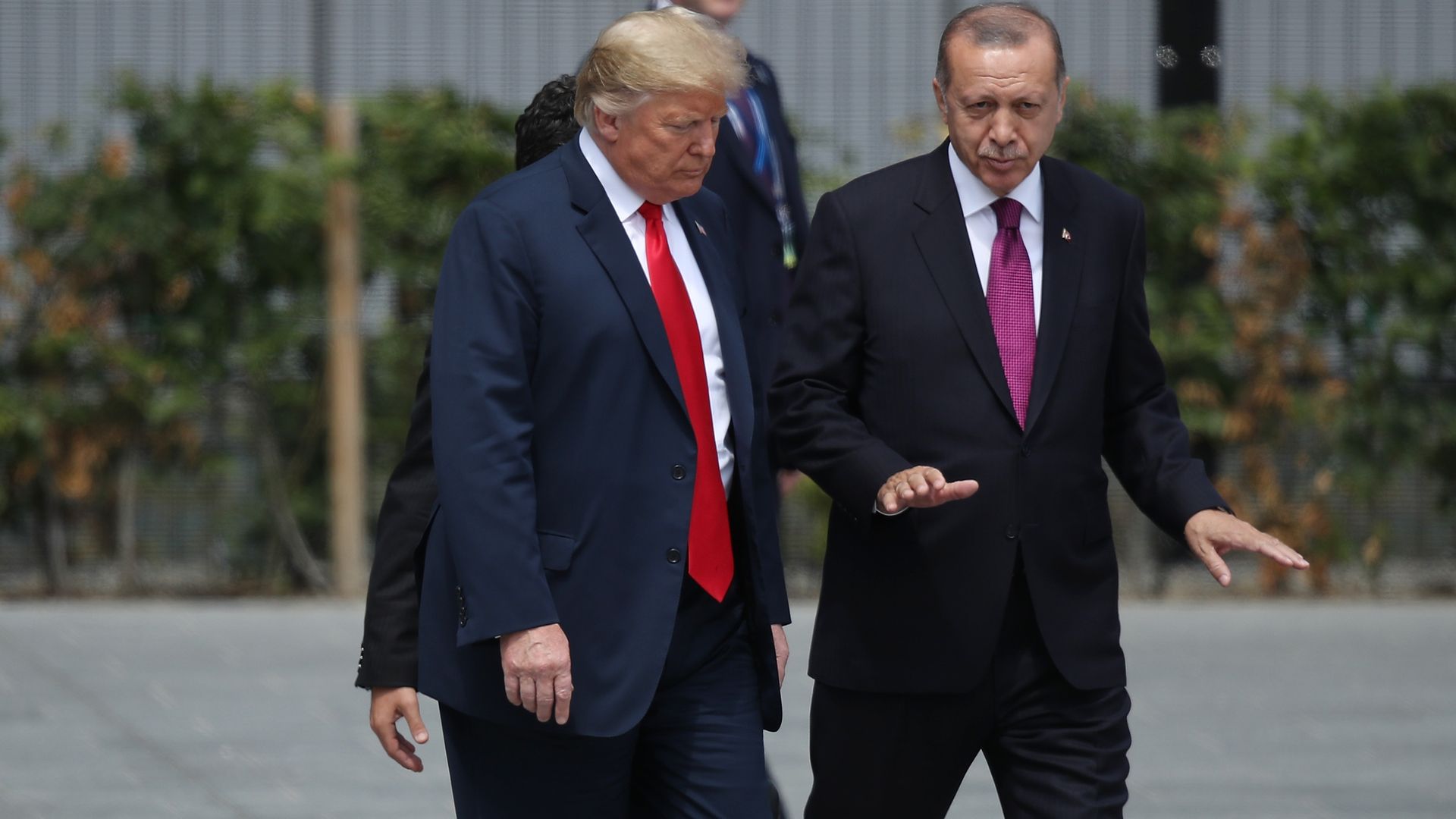 The White House is exploring options for expelling Fethullah Gulen, the Turkish cleric accused by President Recep Tayyip Erdogan of orchestrating an attempted coup in 2016, in hopes that Erdogan lets up pressure on the Saudis over the murder of journalist Jamal Khashoggi in Istanbul, NBC News reports.
That's an explosive report — not only that the U.S. would consider expelling Gulen, who has been living in self-imposed exile in Pennsylvania for almost two decades, but that they would do so to remove pressure on the Saudis even as the kingdom has failed to put forth a credible explanation for Khashoggi's death. It suggests the White House's priority, come what may, is to protect the Saudis and Crown Prince Mohammed bin Salman.
Erdogan has been at the heart of the international pressure on the Saudis in the weeks since Khashoggi's death, with evidence compiled by Turkey undermining Saudi explanations at every turn.
Per NBC, Erdogan saw an opportunity after Khashoggi's murder to reissue a longstanding demand — that Gulen be extradited back to Turkey.
"Trump administration officials last month asked federal law enforcement agencies to examine legal ways of removing" Gulen, NBC reports, adding that "career officials at the agencies pushed back on the White House requests." U.S. agencies declined to comment to NBC.
The big picture: Turkey has arrested hundreds of people for alleged links to Gulen. That was one of the charges against Andrew Brunson, the U.S. pastor who was at the center of a diplomatic crisis between the U.S. and Turkey until his release in October.
3. When the U.S. retreats, and steps up
Columbia University historian Adam Tooze has written books about two seismic events with major anniversaries this year: the end of World War I, a century ago last week, and the 2008 financial crisis.
Tooze argued this week at Brookings that the U.S. played a decisive role in the war and, by retreating from the world stage once it was over, in setting the world on course for another cataclysm decades later. At the time, he argues, the U.S. was not prepared to take on the role of global power.
When it comes to the financial crisis, though, he says the Federal Reserve and the Bush and Obama administrations played a crucial and under-appreciated role in stabilizing Europe and limiting the damage, massively inflating the Fed's balance sheets in the process.
"Rather than undermining U.S. power," he says, "2008 actually reasserted U.S. power and the role of the U.S. as a financial hegemon." That reality was never fully reckoned with either in the U.S. and in Europe, he argues.
The big question: If financial disaster struck again, would the U.S. be willing to play that same role?
4. World prepares to deal with the Democrats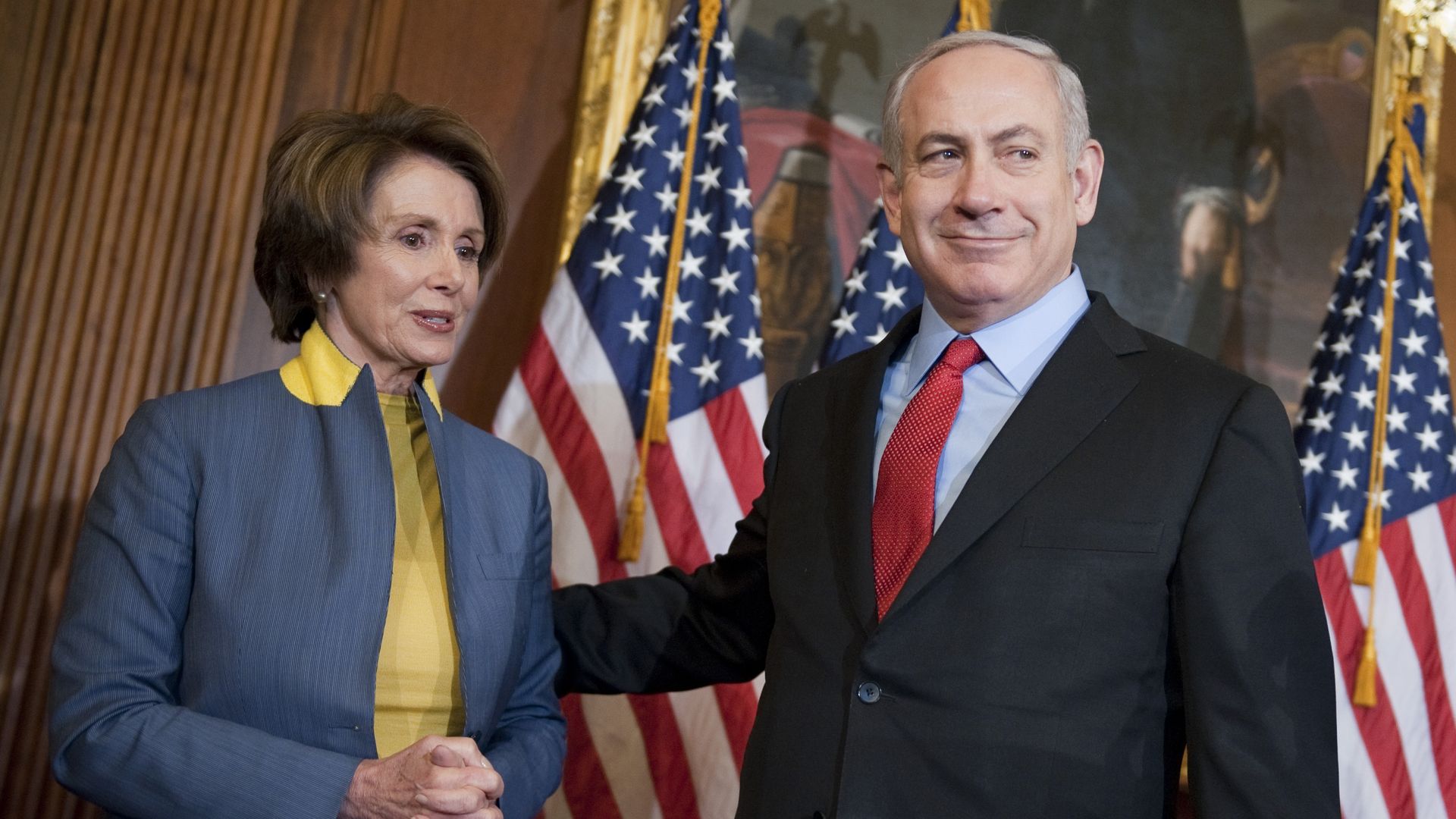 Tooze points out that the 1916 presidential contest, fought over America's role in WWI, was the first American election that felt crucial to much of the world. Now, the foreign policies of allies and foes alike hinge on how Americans vote, even in the midterms.
Why it matters: Many countries viewed the midterms as a barometer of President Trump's re-election chances and the impact of investigations by both Robert Mueller and a Democratic House, Robert Malley of the International Crisis Group writes for Axios Expert Voices:
The countries that have invested most heavily in their relationships with Trump — Russia, Saudi Arabia, the UAE and Israel — might have to start hedging their bets by endearing themselves to the Democrats. Doing so could be challenging given how profoundly Democrats resent what they see as hard-sought alignment with an unfit leader.
For leaders negotiating with Trump — the EU and China on trade, North Korea on its nuclear program — prospects of an abbreviated-term, one-term, or otherwise weakened president could prompt them to drive a harder bargain.
Countries targeted by the U.S. — mainly Iran — could also decide to wait Trump out.
The bottom line: After adjusting to an unpredictable president, world leaders now must figure out how to deal with a weakened and wounded one.
5. Asia: As powers compete, a tiny country could cash in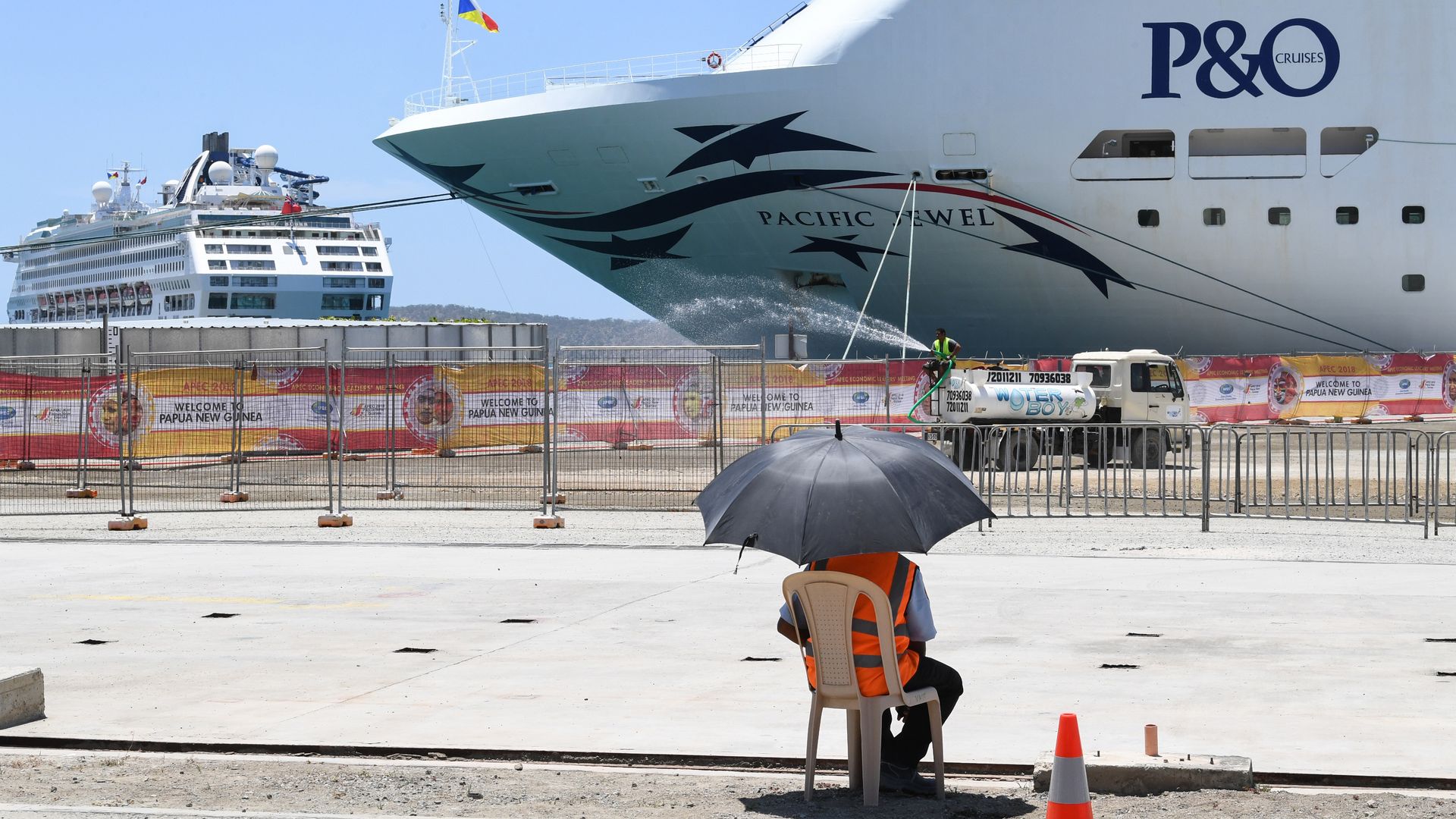 A geopolitical contest is playing out in one of the world's least developed countries — Papua New Guinea (PNG). In this case, geopolitical competition, often the source of war and strife, may be a force for good, writes GZERO Media's Gabe Lipton in the latest Signal newsletter.
What's happening: Leaders from 20 countries will arrive in the island nation this weekend for the start of the annual APEC summit. Xi Jinping has already arrived — he's making the first ever official state visit by a Chinese president.
Xi is expected to come bearing gifts, including much-needed aid for the region's poorest nation. His visit is part of a broader push to expand Chinese influence in the South Pacific, which has seen Beijing dish out over $1.3 billion in loans since 2011.
For Australia, Xi's visit is an unwelcome Chinese advance right on its doorstep — just 93 miles separate mainland Australia and PNG. For decades, Australia has counted itself as PNG's closest economic and strategic partner. It now fears the winds could be shifting.
In recent days, Australia launched an investment fund to counter China's regional economic diplomacy. It also signed an agreement with PNG to develop a shared naval base that would allow Australia to extend its military reach. But the relationship has been marred by Australia's use of a remote PNG island to house migrants who it refuses to grant asylum. 
What to watch: If PNG Prime Minster Peter O'Neill plays his cards right, the country could cash in by balancing the competing interests of China and Australia.
6. Africa: Tanzania loses loan amid crackdown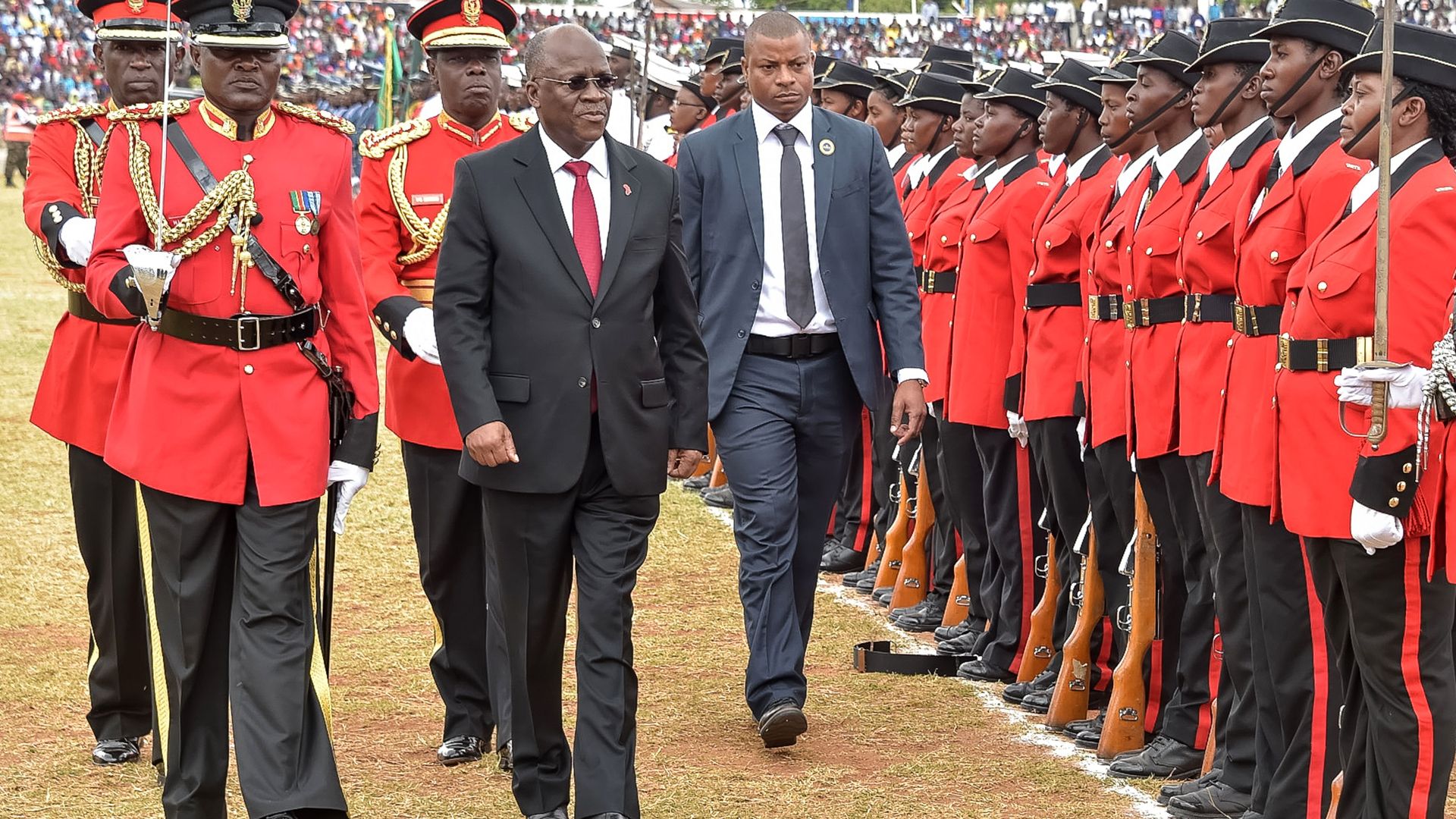 The World Bank has withdrawn a $300 million loan intended for education in Tanzania, citing the country's policy of banning pregnant girls from school.
The big picture: The decision comes with Tanzania, as the Economist puts it, "on the descent from patchy democracy towards slapdash dictatorship."
"Barely a week passes without brazen displays of arbitrary power" from President John Magufuli.
"Opposition members of parliament who refuse to accept bribes (the going rate is 60m shillings, or $26,200) to cross the aisle and join ... the ruling party are arrested. ... Last year Tundu Lissu, an MP, was shot and injured outside his home."
"Tanzania, the third-largest aid recipient in sub-Saharan Africa, has been a darling of donors since the 1990s, when it seemed to be consolidating its democracy and also reducing poverty. Now, after a decade or so during which freedoms began to flourish, Tanzanians are facing both economic hardship and repression."
7. Stories we're watching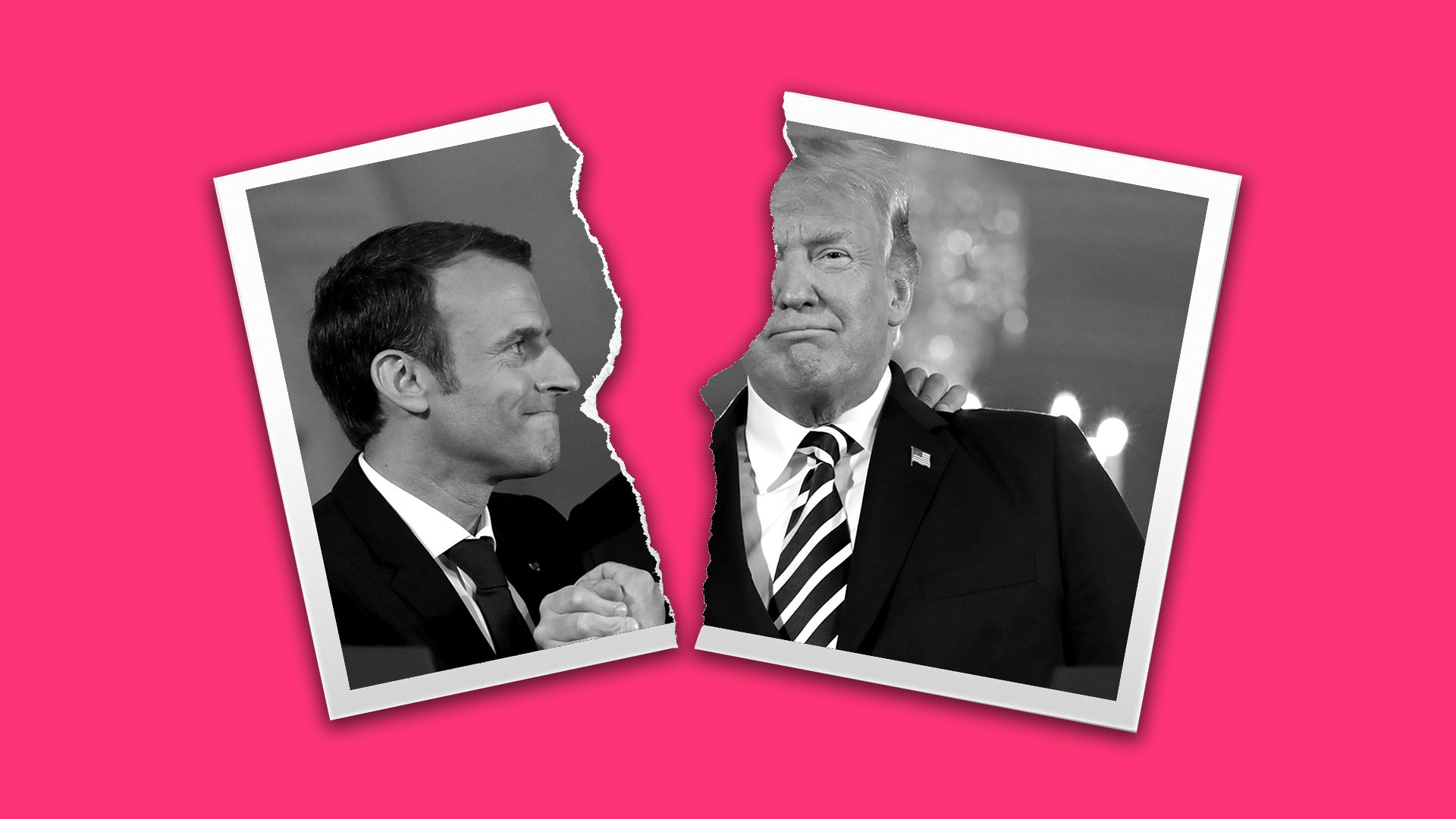 Quoted:
"Emmanuel Macron suggests building its own army to protect Europe against the U.S., China and Russia. But it was Germany in World Wars One & Two - How did that work out for France? They were starting to learn German in Paris before the U.S. came along. Pay for NATO or not!"
— Trump, in
one of several tweets
this week targeting Macron
Thanks for joining me — see you Monday evening!