Welcome to Axios World, where two evenings a week we break down what you need to know about the big stories from around the globe.
Thanks for joining me! Please tell your friends and colleagues to sign up, and I'd love your tips and feedback: lawler@axios.com.
Was this email forwarded to you? Sign up here.
Situational awareness: "U.S. bars entry to 16 Saudis over Khashoggi killing, " per AFP.
1 big thing: China's blueprint for global dominance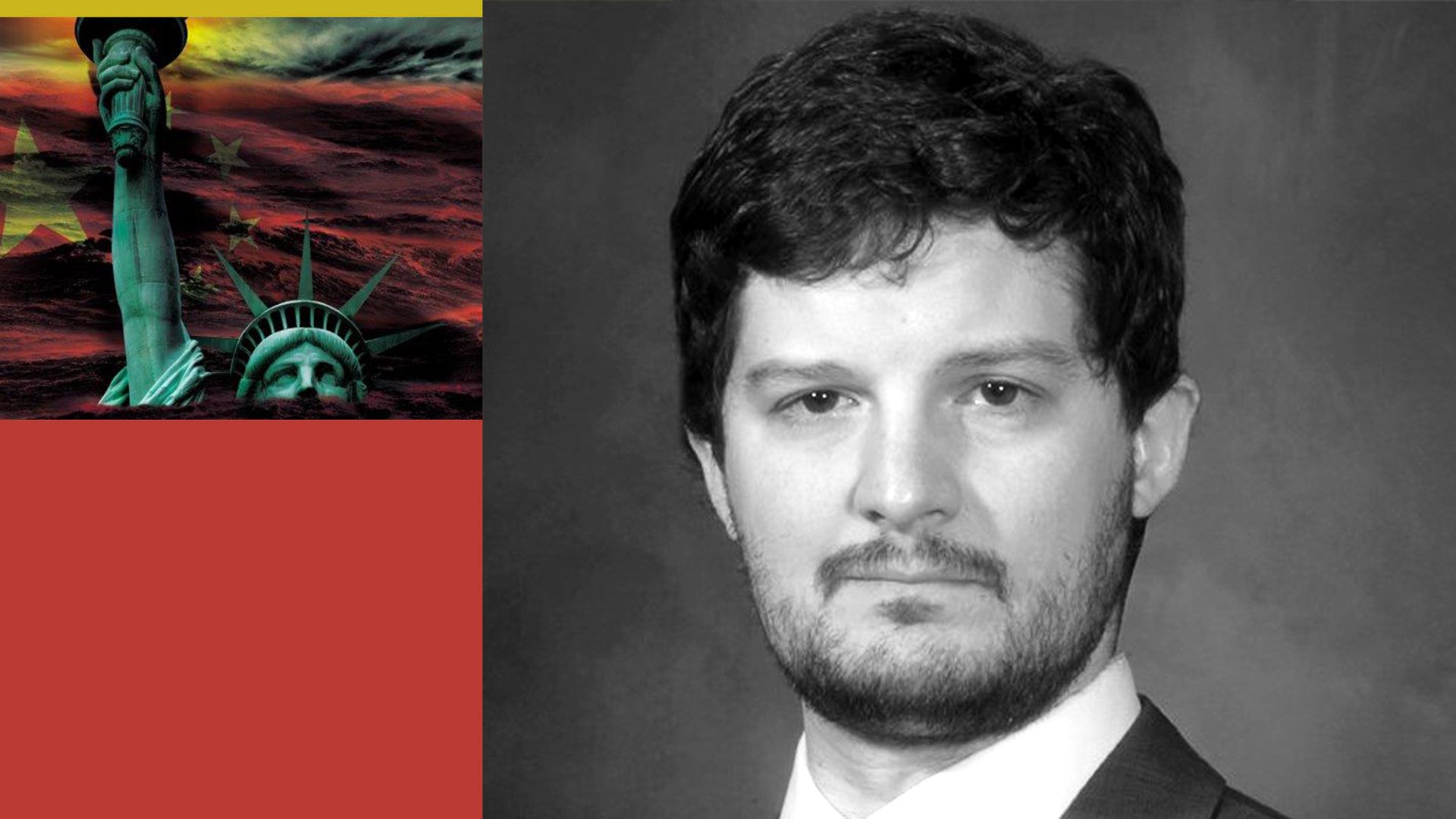 By the time China's ambitions of displacing the U.S. as the dominant global power were widely understood, Beijing's success had already begun to feel inevitable.
Why it matters: The Chinese Communist Party has exploited America's desire to "sleep through difficulties," writes Jonathan Ward in the new book, "China's Vision of Victory." He contends that the outcome of the battle for global supremacy remains to be determined, but that the U.S. must quickly and dramatically change course in order to prevail.
The longstanding U.S. strategy of engaging economically while hedging against China's rise militarily was a mistake of historic proportions, essentially "putting wind at the back" of a burgeoning rival, Ward told me in an interview.
In his book, Ward traces China's vision of global preeminence back decades. He says President Xi Jinping merely "took the mask off" in recent years.
Ward, whose research included poring over since-closed Communist Party archives, adds that "the greatest thing China's given us is a very clear image of what they're going to do."
The big picture: "The objective is dominance in global affairs on a longer-term time frame," Ward told me. "So, ideologically the idea is to restore their position — restore because they say they used to be the world's supreme power and now they're going to return to that — by the year 2049, which is the centennial of the founding of the People's Republic of China."
To that end, China is endeavoring to "produce national champions in every sector" and dominate emerging technologies like artificial intelligence and 5G networks.
The Belt and Road network of ports, roads and railways, meanwhile, is intended to impose the "coercive force of the Chinese economy... to build strategic beachheads" around the world. "In the 19th century we'd understand that as empire building," Ward says.
Ward says China's government is mobilizing its economy, its military and its citizens toward the mission of "national rejuvenation." He describes it as "the most comprehensive effort assembled in human history towards a very singular goal."
Bottom line: "Essentially it's full steam ahead on pretty much every human activity, from space to seabed, with the objective of becoming the world's leader in all of these things. And with that, you build a foundation of power that is absolutely beyond what can be achieved by any other nation."
"I think it's easy to understand their strategy. What's hard is that it's a good strategy."
But, but, but: Ward emphasizes in his book that the U.S. "retains enormous advantages in terms of economic and military power, a global alliance system, and leadership in the innumerable institutions built under the Pax Americana."
He says the consensus that China will replace the U.S. as the world's largest economy is premised on the continuation of the status quo. Ward argues that "we have to start thinking the unthinkable" now, in terms of unwinding economic ties to China and shifting supply chains to politically friendly countries.
"These are tough things but this is where great minds should be applied," Ward told me. "How do we retain these economic advantages, the technological advantages, the military advantages. Let's face it, we're the ones who've already won. We're just giving it away."
Ward argues that the contests that will define China's success or failure are underway now, and will be decided over the next ten years.
What to watch: "What will it mean for the prevailing norms in international relations to be decided by an authoritarian state where freedoms of speech, press, and assembly are extinguished for its citizens and those under its power?" Ward writes that if we lose the next decade, we'll soon find out.
I asked him where the U.S. will find the political will necessary to truly embrace this challenge. He said to watch out for "Sputnik moments."
2. Europe is at the heart of China's ambitions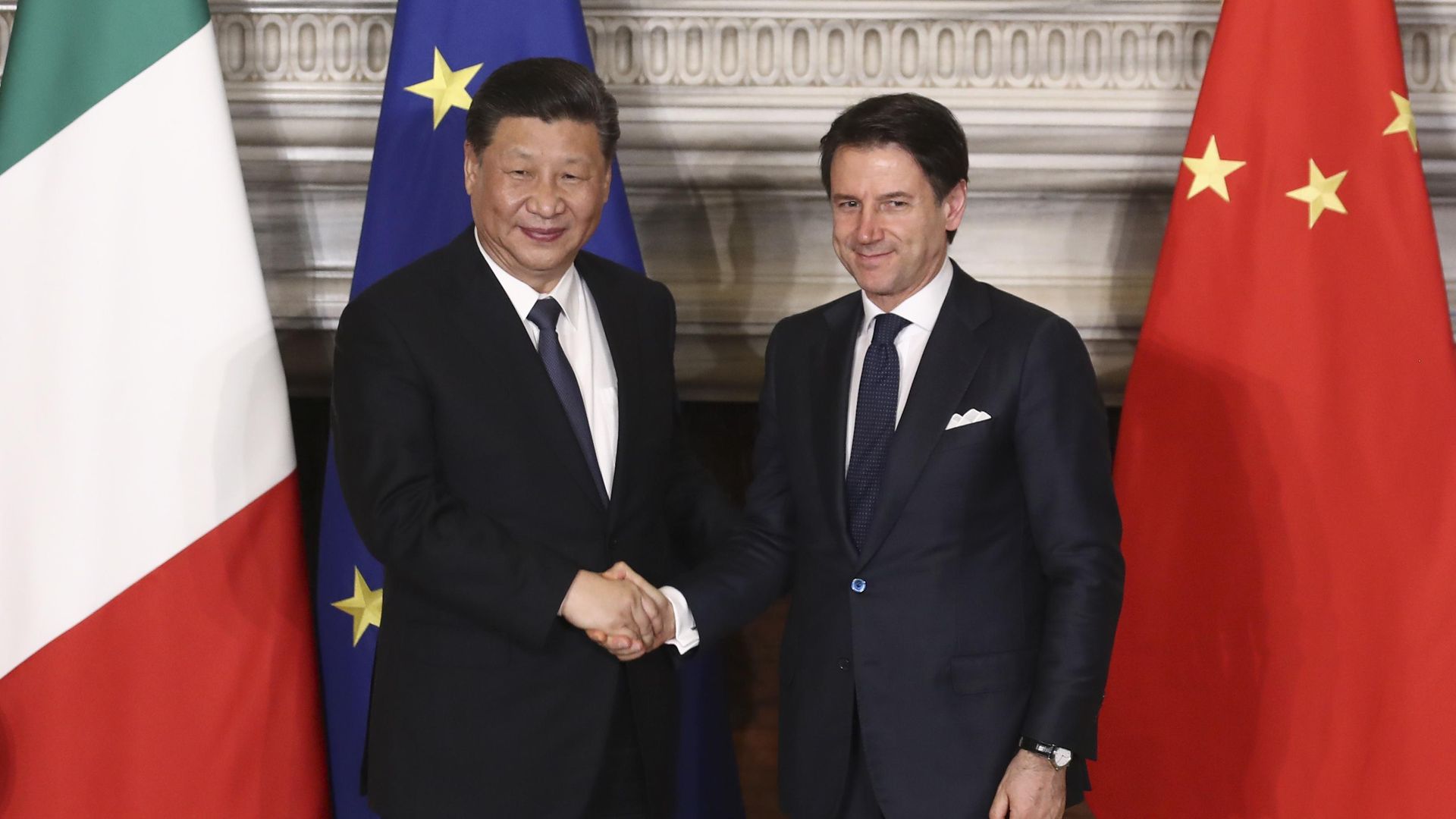 "A contest between the United States and China will be a close-run thing," Ward writes. "However, a contest between China and the democratic world will be impossible for China."
"In many ways Chinese global strategy is actually focused on Europe," he told me. "I think they knew that the day would come when America would wake up to — 'oh, we have a problem in the Pacific, who are these guys, what are they trying to do?' Whereas Europe is a world away from the security questions in Asia."
"If you're going to have problems with the U.S., where do you go next? To Europe. That's where they can harvest technology, it's where they can harvest education, it's where they can build their technological advantages. You have to do that by engaging with somebody who's higher up the value chain, so if they're going to see that erode in the United States they have to double down on it in Europe."
The bottom line: "That's the Chinese approach. And they have to convince the Europeans they're benign. They're not benign."
Why it matters: "What you have to think about in Europe is, what would it mean for your superpower partner to be defeated by authoritarian China, and for [China] to replace it as the global power? That's the existential question, in addition to what they might do in Europe, around Europe."
Ward says the solution is "the democratic world consolidating, integrating, pushing back, cutting China off from the things that will enable the continued rise toward their vision of power."
My thought bubble: The democratic world is bitterly divided, and China's market is incredibly attractive. It will probably take a disaster, or maybe a "Sputnik moment," to see a united democratic front form against China.
3. North Africa: Libya's civil war ripped back open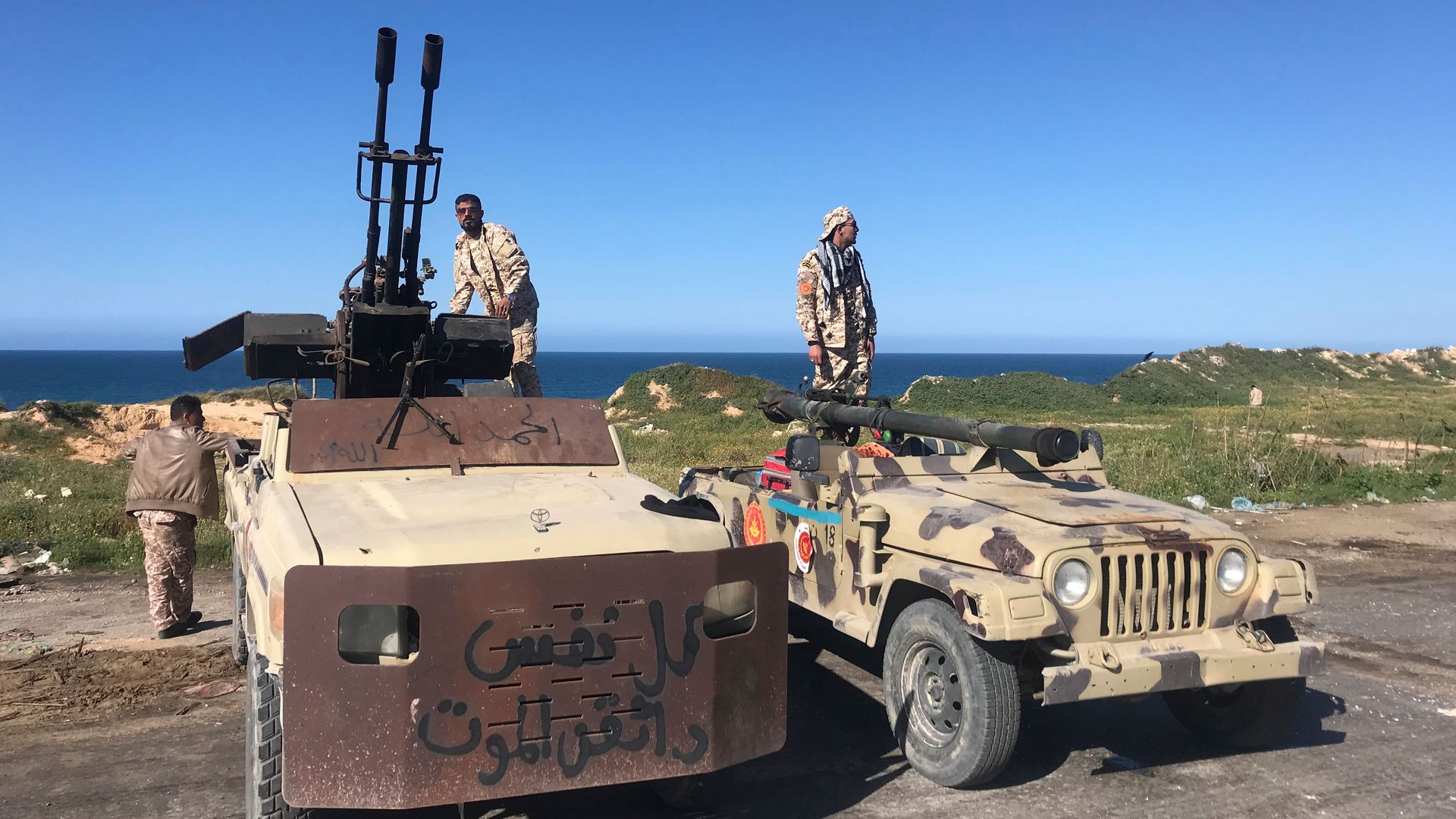 Forces loyal to Khalifa Haftar, the warlord who already controls eastern Libya, are nearing the country's capital of Tripoli.
The latest: At least 51 soldiers and civilians have been killed in clashes between Haftar's Libyan National Army and militias loyal to the U.N.-backed government. Thousands have fled. Thousands more are now trapped, and Haftar's forces today hit the airport with an airstrike.
The backdrop: Libya has been plagued by violence and power struggles since the fall of Muammar Gaddafi in 2011. Haftar was at one point a top general under Gaddafi but later worked to topple him. He "is expected to face stiff resistance from powerful militias from the western cities of Misrata and Zawiya," per the AP.
"Both the U.N. and the U.S. insist that a political process — not a military clash — is the only solution that will give Libya a lasting peace and functioning government," per NPR.
"Many foreign powers involved in Libya have tolerated or encouraged the general's machinations," the Economist notes. "France hopes he can bring other militias to heel. Egypt and the United Arab Emirates (UAE) share his anti-Islamist politics. Russia has also sold weapons to General Haftar. All mistakenly thought they could control him, not least by threatening to restrict oil exports, and prevent the opening of a western front in Libya's long-running conflict."
Meanwhile, to the southeast...
Charted: U.S.-designated terror organizations
The Trump administration today designated Iran's Islamic Revolutionary Guard Corps (IRGC) as a foreign terrorist organization (FTO), the first time the U.S. has applied that label to an element of a foreign government.
Big picture: To add a group to the FTO list, the State Department must demonstrate it has the "capability and intent to engage in terrorist activity" that threatens Americans or U.S. national security. The U.S. first designated 30 groups in 1997 after Congress passed an anti-terror law, though some have since been removed.
4. Expert Voices: Two views on new Iran sanctions
1. Behnam Ben Taleblu of the Foundation for Defense of Democracies writes that the move ramps up the Trump administration's maximum pressure campaign against Iran.
"The FTO designation builds on the existing web of U.S. penalties against the IRGC — which has spawned and backed countless proxies and militias in the Middle East and carried out or supported terrorist actions on several continents — and makes it even harder to do business with individuals or companies tied to the group."
2. Jarrett Blanc of the Carnegie Endowment argues that move "imposes few if any new restrictions" and carries significant risks.
"[National Security Advisor] John Bolton and other hardliners are clearly frustrated by Iran's tempered reaction to the U.S. withdrawal from the nuclear accord. By remaining compliant with the deal, Iran has spared U.S. allies in Europe and elsewhere from having to to choose sides. But further provocations from the Trump administration would be harder for Tehran to ignore and could prompt a crisis."
5. Middle East: Netanyahu likely to keep his job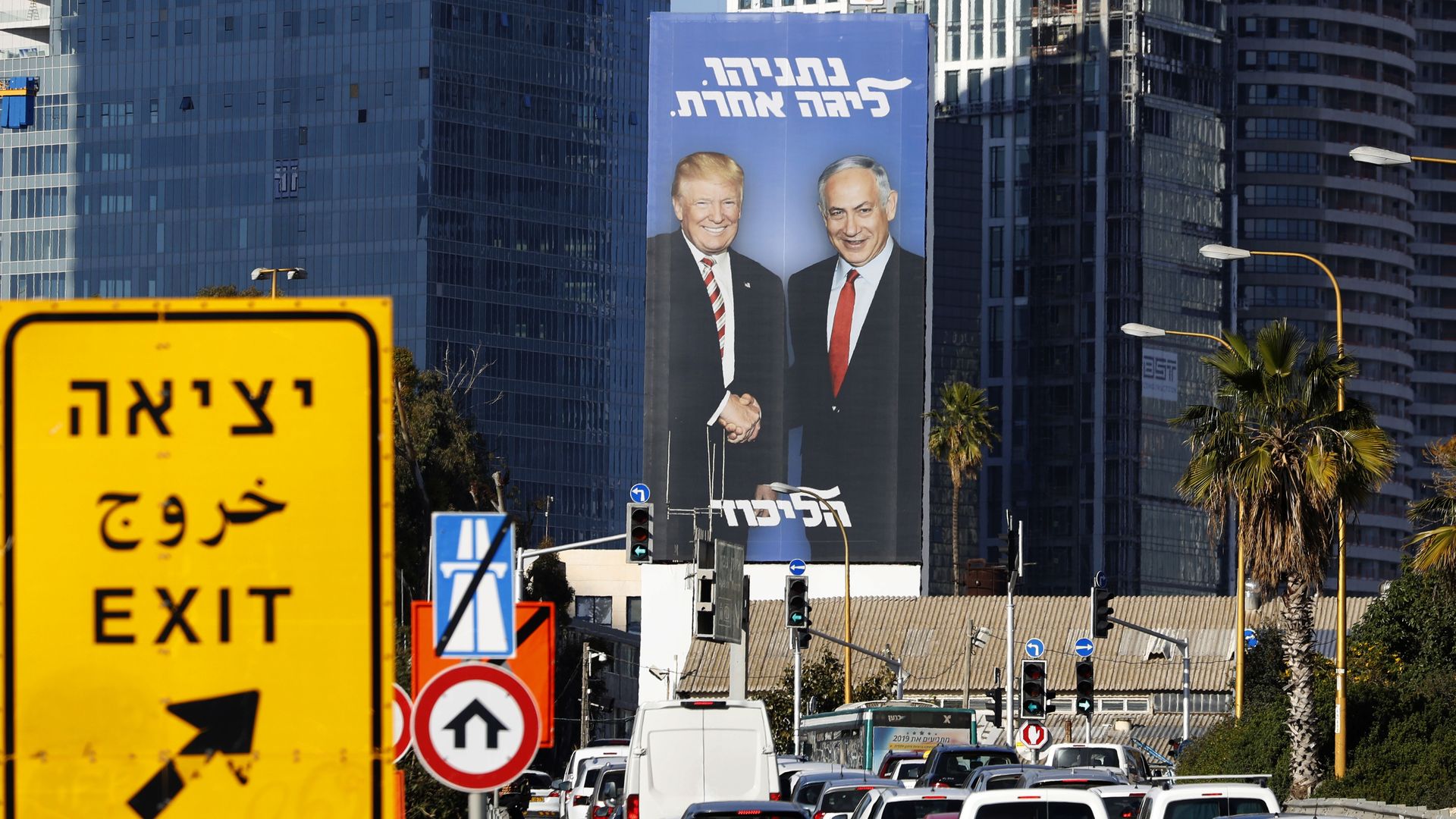 On the eve of Israel's elections, Prime Minister Benjamin Netanyahu claimed credit for President Trump's IRGC decision.
He already banked a major political win last month when Trump recognized Israeli sovereignty in the occupied Golan Heights.
Why it matters: Netanyahu's pitch to voters is essentially that he's irreplaceable, based in large part on his influence with Trump (hence the giant election billboard).
What to watch: Axios contributor Barak Ravid previews tomorrow's vote:
"The centrist Blue and White party led by retired Gen. Benny Gantz is expected to win more seats in the Knesset than Netanyahu's Likud party, but Netanyahu is expected to have a much better chance of forming a coalition."
"Netanyahu, who is going into the elections with three pending indictments for bribery, breach of trust and fraud, is aiming at a right-wing coalition that will allow him to keep his job regardless of the indictments."
"Gantz hopes to get at least five more seats than Netanyahu so that his victory will be perceived as a knock out and convince right-wing parties to enter his coalition. The chances for that are very low."
Go deeper: In wake of Trump recognizing Golan Heights, Netanyahu considers annexing parts of West Bank.
6. Africa: 25 years since Rwanda's genocide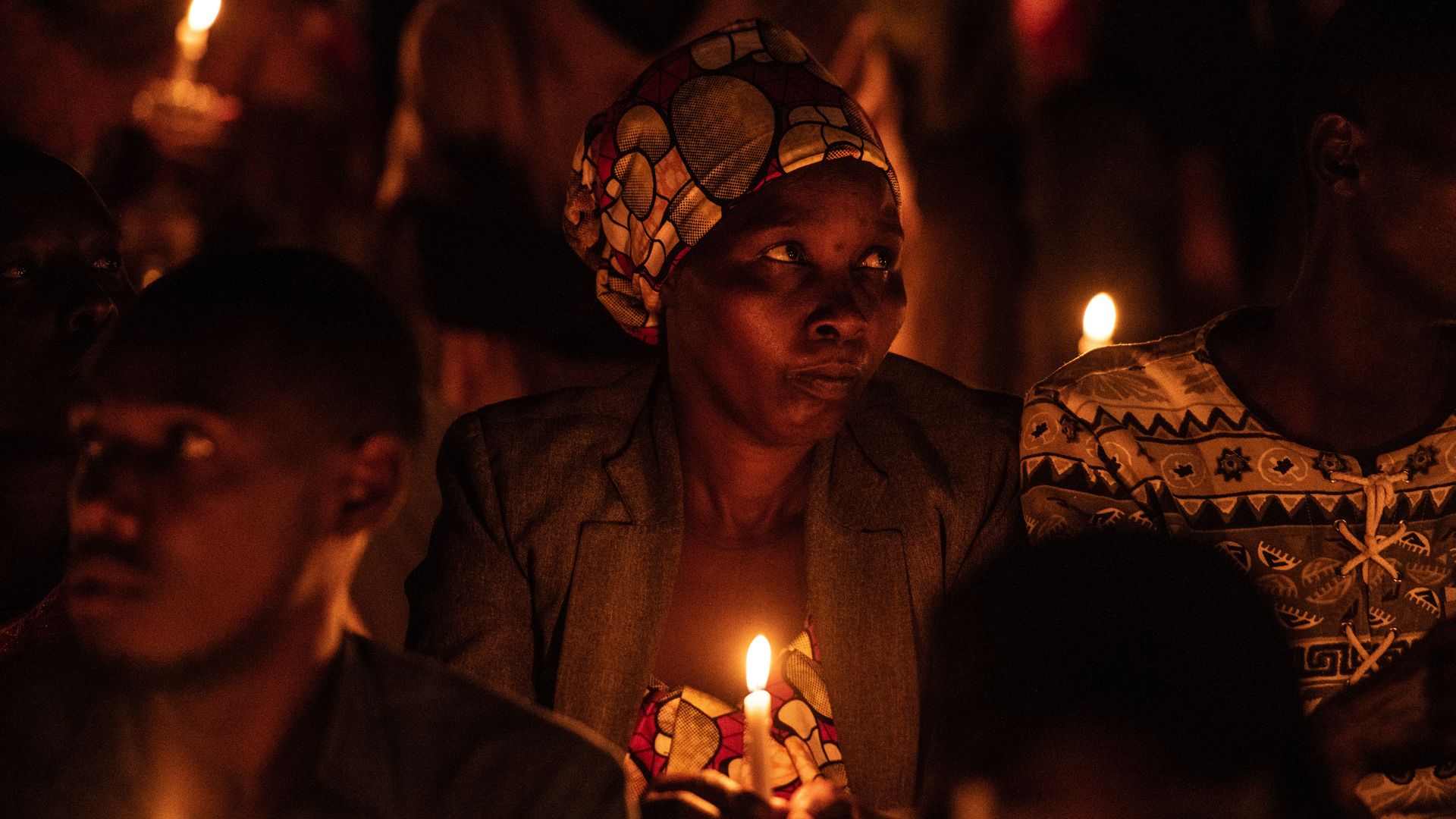 25 years ago, the killing began in Rwanda. It lasted 100 days and claimed 800,000 lives — about 10% of the population. Rwanda marked the anniversary on Sunday.
The BBC's Flora Drury was at the commemoration:
"There was a moment — when all the candles were lit, and their lights bobbed around the stadium, when people were taking pictures with their smartphones — when it was almost possible to forget the horror that brought thousands of people together on this warm evening in Kigali."
"But then I turned to the man next to me, and asked him what tonight meant to him. 'Well,' he said, 'it's important.' In the understated way which so many people in Rwanda speak he said: 'I lost people. I lost my parents. I lost my siblings.'"
7. Stories we're watching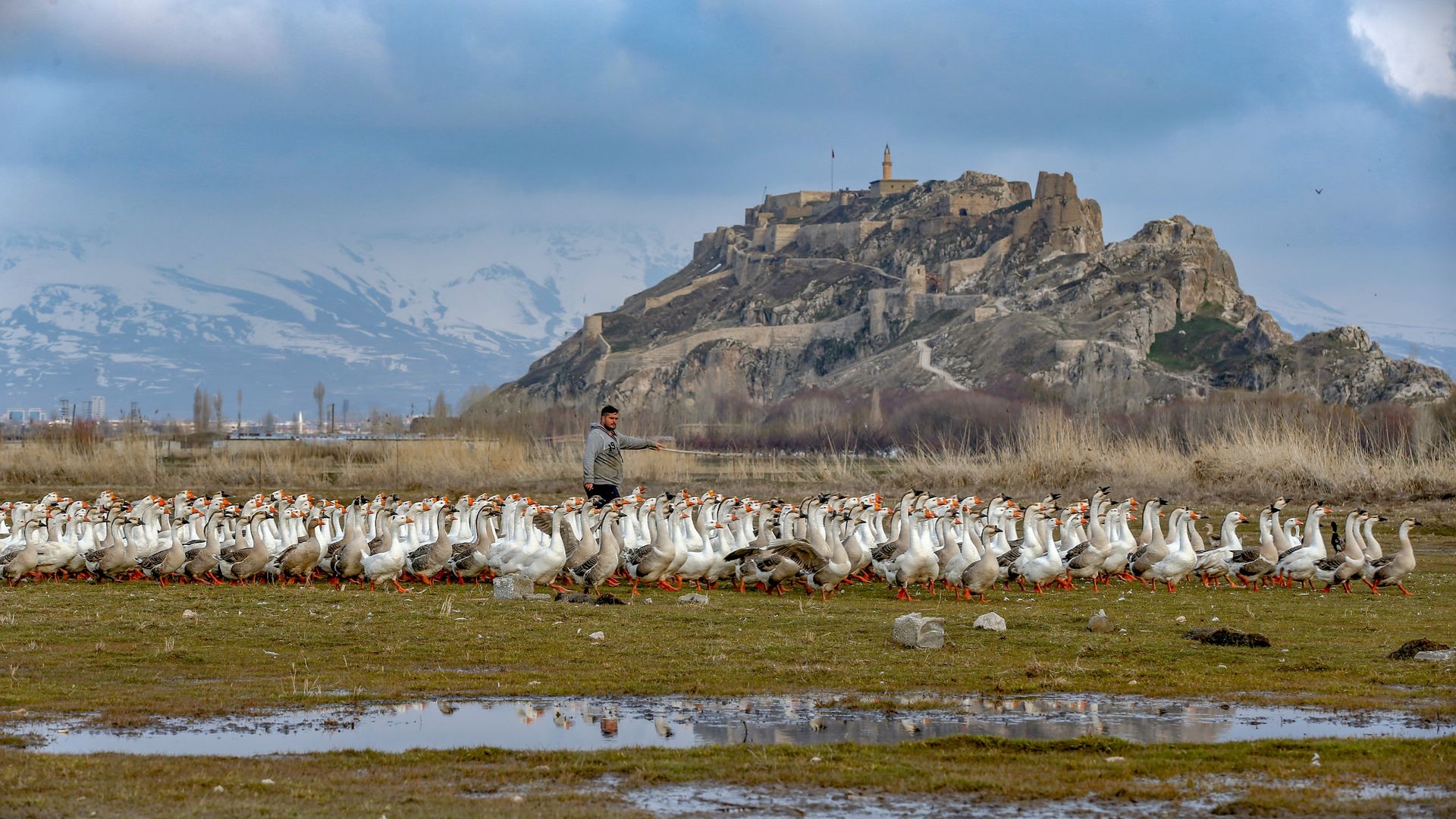 Quoted:
"Nationalism, particularly on the far right, is re-emerging. We know where that leads. Europe knows better than anyone where that leads."
— Barack Obama, speaking to young European leaders on Saturday in Berlin
"Obama felt like a president for the Germans, as if he was made for them. The feeling has stayed. The contrast with Donald Trump has even reinforced it."
—
Coverage
in the Tagesspiegel newspaper
"I saw him speak in Berlin in 2008, and I think his charisma and his message strike a chord with everyone. But I also think he's a political rock star, and we're fascinated by that in Germany, we don't have anyone like that."
— An attendee,
speaking to Deutsche Welle
Thanks for reading — see you Thursday!