January 14, 2020
Welcome back to Axios World. We've got a 1,480-word (5.5-minute) journey for you this evening.
Thanks for joining me! Please tell anyone who might enjoy this newsletter to sign up, and I'd love your tips and feedback:

[email protected]

.
Situational awareness: Russian hackers from the military intelligence unit known as the GRU successfully targeted Burisma, the Ukrainian gas company at the center of the impeachment inquiry, due to unsubstantiated allegations about its former board member Hunter Biden (NY Times).
1 big thing: 12 days, two flights and two crucial mistakes
Twelve days in which war between the U.S. and Iran seemed to loom ever closer began and ended with apparent Iranian mistakes.
The big picture: Iran is under growing pressure, while President Trump appears emboldened. But as the dust clears, there are lessons to be learned for the next time the two square off.
The first mistake: The escalation began on Dec. 27 when rockets fired by an Iran-backed militia killed a U.S. contractor, Nawres Waleed Hamid.
U.S. intelligence officials believe the attack was intended to "keep the pressure on" rather than escalate tensions with the U.S., and Hamid was killed "by unlucky chance," per the NY Times.
Then came the American retaliation, which left 25 dead, and the chaotic scenes at the U.S. Embassy in Baghdad, which infuriated Trump.
Trump's gamble: Cham Wings Airlines Flight 6Q501 landed in Baghdad at 12:36am local time on the morning of Jan. 3. Gen. Qasem Soleimani and his entourage were the first passengers to depart, per NYT.
At 12:47am, two American Reaper drones that had been trailing Soleimani unleashed the missiles that killed him and nine others.
The second mistake: Ukraine Airlines Flight 752 began its ascent out of Tehran at 6:12am on Jan. 8, carrying 176 passengers and crew.
Iran was bracing for potential American retaliation to its ballistic missile strikes on Iraqi military bases, which began four hours earlier.
Just two minutes after takeoff, the plane was blown from the sky. An Iranian commander later said it was mistaken for a cruise missile.
The tragedy coincidentally occurred almost at the exact moment President Trump declared "all is well" because Iran's strikes in Iraq had resulted in no American casualties.
After three days of denials, Iran admitted Saturday that it shot down the plane. Foreign Minister Mohammad Javad Zarif cited "human error at time of crisis caused by US adventurism."
Between the lines: "The irony is that this unpredictable and unplanned event might end up having more serious implications for the Iranian regime than countless deliberate U.S. attempts to destabilize it," Rob Malley, CEO of the International Crisis Group and a former Obama adviser, tells Axios.
Tehran is facing outrage abroad and pressure at home after three days of protests, which appear motivated as much by the cover-up as by the disaster.
While the Trump administration's claims about the "imminent" threat posed by Soleimani remain unsubstantiated, and further Iranian actions are likely, Trump clearly considers himself the winner of this high-stakes showdown.
What to watch: "President Trump's approach to foreign policy is self-reinforcing: If he undertakes unconventional action (like moving the embassy to Jerusalem or killing Soleimani) and the anticipated blowback does not occur, he is emboldened to take more, bolder and riskier moves," Malley says.
"Each time this happens, his world view is further validated and his sense that he can get away with almost anything is bolstered."
"That approach will work until it doesn't — until his decisions trigger an aggressive reaction that proves costly to the U.S."
Go deeper: Pompeo declines to appear for testimony on Soleimani airstrike
2. Africa: Hoping for a big dam deal
Officials from Ethiopia, Egypt and Sudan convened in Washington today ahead of the Jan. 15 deadline they set to reach a deal on what will be Africa's largest hydropower dam.
Driving the news: Ethiopia, which began construction of the Grand Ethiopian Renaissance Dam in 2011, considers it both a major economic opportunity and a matter of national pride. It plans to start filling the dam within months.
Egypt considers the dam an existential threat, as the country is facing water scarcity already and is almost entirely dependent on the Nile. It wants the dam filled much more slowly.
All sides have said they want a deal this week. However, Ethiopian Prime Minister Abiy Ahmed's request yesterday that South African President Cyril Ramaphosa mediate the dispute seemed to indicate much remained to be settled.
What to watch: "If the dispute is not resolved by Jan. 15 the nations will have several options ... from using an international mediator to involving the heads of states," per Reuters.
3. Middle East: A new sultan after 50 years
Oman's first political transition in half a century has been marked by visits from world leaders and tributes to Sultan Qaboos bin Said, who died on Friday.
Why it matters: Qaboos' cousin and successor, Haitham bin Tariq Al Said, has said he'll maintain the foreign policy neutrality that's made Oman a key mediator, including between the U.S. and Iran.
Qaboos, the Middle East's longest-serving ruler, named Haitham as his successor in a letter opened after his death.
The choice signaled that Qaboos' priority was economic development and diversification, Neil Quilliam of Chatham House told Al Jazeera.
Qaboos, a charismatic absolute ruler, was viewed as a father figure by many in Oman. His blessing for Haitham should allow for a stable transition.
Flashback: "At the age of 29, with British support, [Qaboos] overthrew his father, Said bin Taimur, a reclusive and ultra-conservative ruler who banned a range of things, including listening to the radio or wearing sunglasses, and decided who could get married, be educated or leave the country," per the BBC.
4. Europe: Salvini's moment could be coming
Matteo Salvini, leader of the far-right League party, seemed to have miscalculated catastrophically in August.
Then interior minister and deputy prime minister, he moved to bring down the coalition government in which he served and force new elections, which could have catapulted him into the prime minister's office.
Instead, his populist coalition partners, Five Star, formed a new government with the center-left Democratic Party (PD) that prevented a new vote and left Salvini on the outside looking in.
Where things stand: Any sighs of relief from Salvini's foes, who include French President Emmanuel Macron and many in Brussels, now appear premature.
Salvini and the League have only grown more popular in opposition and lead the PD and Five Star by 10+ points in national polls.
With elections looming on Jan. 26 in the left-wing stronghold of Emilia-Romagna, polls show the League neck-and-neck with the PD, something that would have been unthinkable not long ago.
What to watch, per the FT:
"If the PD lose in Emilia-Romagna, it 100 per cent has the potential to bring down the national government and set Salvini on course to become prime minister," says academic Daniele Albertazzi.
"This coalition is already so fragile that the only thing gluing it together is their fear of Salvini," says Erik Jones of the Johns Hopkins School of Advanced International Studies in Bologna. "If they lose it is hard to see how they make it through the spring."
5. Israel's elections: Netanyahu's bad day
Israeli Prime Minister Benjamin Netanyahu had a very bad political day, Axios contributor Barak Ravid reports.
Driving the news: Less than 50 days before Israel's third elections in a year, three new political developments will make his efforts to get re-elected much harder.
1. The three corruption indictments against Netanyahu are a defining factor in the election, particularly now that he is seeking parliamentary immunity.
In order to buy time, Netanyahu has attempted to stall the formation of the committee that will consider that immunity request.
But the opposition — led by Benny Gantz and the Blue and White party — today managed to get a majority to vote to approve the committee.
Members from Netanyahu's Likud Party were shocked to find themselves in the minority for the first time in 11 years.
What to watch: Blue and White's goal is to strip Netanyahu of immunity within weeks so that his trial might start before the March 2 elections.
2. On the left...
Two left-wing parties, Labor and Meretz, announced today that they will join forces for the election, running on one list.
3. On the right...
The two parties to the right of Likud, the New Right and Jewish Home, announced today they will not run together on one list.
Why it matters: All four parties were in danger of falling below the electoral threshold, and that risk now remains for two parties within Netanyahu's right-wing bloc.
With Israeli politics deadlocked between two big political groupings, that's a major advantage for Gantz and the center-left.
6. Revealed: FBI spied on Chinese students and scientists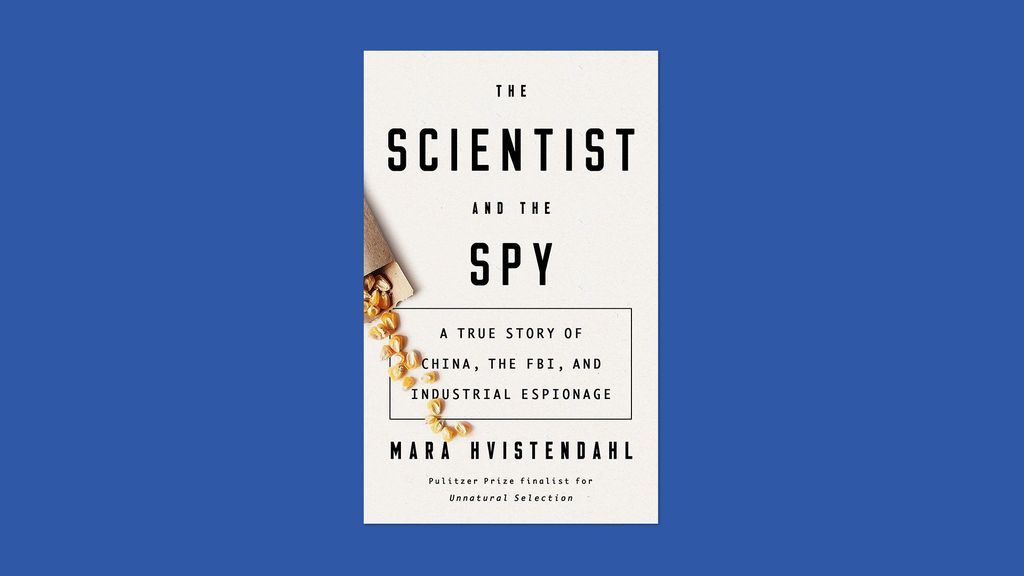 In "The Scientist and the Spy," out Feb. 4, former China correspondent Mara Hvistendahl traces the history of China's theft of trade secrets through the case of a Chinese scientist imprisoned in 2016 for stealing corn seed from Monsanto and DuPont Pioneer.
In the process, Hvistendahl exposes a classified FBI program that tracked Chinese scientists and science students in the U.S. beginning in 1967 and at least through the 1970s, Axios' Bethany Allen-Ebrahimian writes:
A letter sent to FBI agents in 1967 "ordered agents to cull names of ethnically Chinese researchers including, implicitly, U.S. citizens from the membership records of scientific organizations," Hvistendahl writes.
The result: A "rolodex of an estimated four thousand ethnically Chinese scientists under surveillance."
Why it matters: Recent FBI indictments and investigations, targeting Chinese researchers in the U.S. and aimed at stemming the unauthorized flow of science and tech secrets to China, have raised fears among Chinese Americans that another period of racially tinged suspicion is upon them.
Go deeper:
7. Stories we're watching
Quoted:
"They took me wherever they wanted. I wore whatever they said. Every sentence they ordered me to say, I repeated. Whenever they saw fit, they exploited me."
— Kimia Alizadeh, the first and only Iranian woman to win an Olympic medal. She
announced Saturday
that she had defected.