Welcome to Axios World, where two evenings a week we break down what you need to know about the big stories from around the globe.
Thanks for joining me! Please tell your friends and colleagues to sign up, and I'd love your tips and feedback:

[email protected]

.
D.C. readers: Join me tomorrow evening at 5 pm for a screening of "The Price of Free," a gripping documentary about Nobel Peace Laureate Kailash Satyarthi's efforts to end child slavery.
Afterward, I'll sit down with Satyarthi, Rep. Chrissy Houlahan (D-Pa.), Rep. Chris Smith (R-N.J.) and designer Rachel Roy to discuss child labor and slavery in the U.S. and abroad, and what we can do about it.
Situational awareness: Iranian Foreign Minister Mohammad Javad Zarif resigned today with an Instagram post in which he apologized for his "shortcomings." Zarif led Iran's negotiations on the 2015 nuclear deal. It's not clear if his resignation has been accepted.
1 big thing: A wild week for communism
In North Korea, Vietnam, China and Cuba, we're witnessing tests this week of what it means to survive and prosper as a communist state in 2019.
The big picture: In the three decades since the fall of the Berlin Wall, communism has faded in much of the world and, where it remains, been pushed "discreetly aside in the pursuit of business," as Will Englund put it in the Washington Post.
"Today it lives on in only the most attenuated forms. North Korea is the one ferocious holdout among the remaining Communist nations, but even there markets have been changing the nature of the economy," Englund writes.
North Korean leader Kim Jong-un is in the midst of a multi-day train journey to Vietnam, where he will hold his second summit with President Trump. Since taking power in 2011, Kim's top priorities (other than consolidating power) have been to bolster North Korea's nuclear program and its beleaguered economy.
The U.S. intelligence community believes Kim views nuclear weapons as so critical to the survival of his regime that he is unlikely to ever give them up.
Having made substantial progress on the nuclear front, though, Kim used his New Year's address to lay out a "new strategic line focusing exclusively on the economy," says Suzanne DiMaggio, a Carnegie fellow who has facilitated dialogue with the North Koreans on behalf of both the Obama and Trump administrations.
"In some ways, he has to deliver on it," DiMaggio adds, and he won't be able to without relief from sanctions. Trump has

attempted to sell Kim on the idea his country "will rapidly become an Economic Powerhouse" if he only gives up his nukes.
Vietnam, which liberalized its economy beginning in the 1980s, in many ways represents the future the Trump administration is encouraging Kim to pursue.
"Prosperity and security abound. When the leaders in Hanoi go to bed at night, the notion of conflict with America is the last thing on their minds," Secretary of State Pompeo said on a visit to Vietnam last year before addressing Kim: "It can be your miracle in North Korea as well."
China's economic might is viewed in Washington less as a miracle than as a threat. But Trump today gave the clearest indication yet that he plans to wind down a trade war that has posed pointed questions to Beijing.
He has been demanding fundamental changes to China's economic model on issues like intellectual property, forced technology transfers and support to state-owned enterprises.
Trump said today that after "substantial progress" on those fronts, he expects to sign a deal with President Xi Jinping, perhaps next month at Mar-a-Lago.
However, Axios contributor Bill Bishop writes in his Sinocism newsletter: "Everything I am hearing supports that idea that Chinese have offered little in the way of the core structural concessions the U.S. wants, but Trump is eager for a deal regardless of what some of his advisors are telling him."
Finally in Cuba, voters have ratified a new constitution for the first time since 1976.
"The rewrite is supposed to bring the constitution up to date in a world where the Soviet Union no longer exists and Cuba has taken steps to modernize its own economy, including allowing limited private enterprise and trying to attract foreign investment," per the Miami Herald.
One thing that won't change: The one-party, socialist system is declared "irrevocable."
2. Trump and Kim en route to Hanoi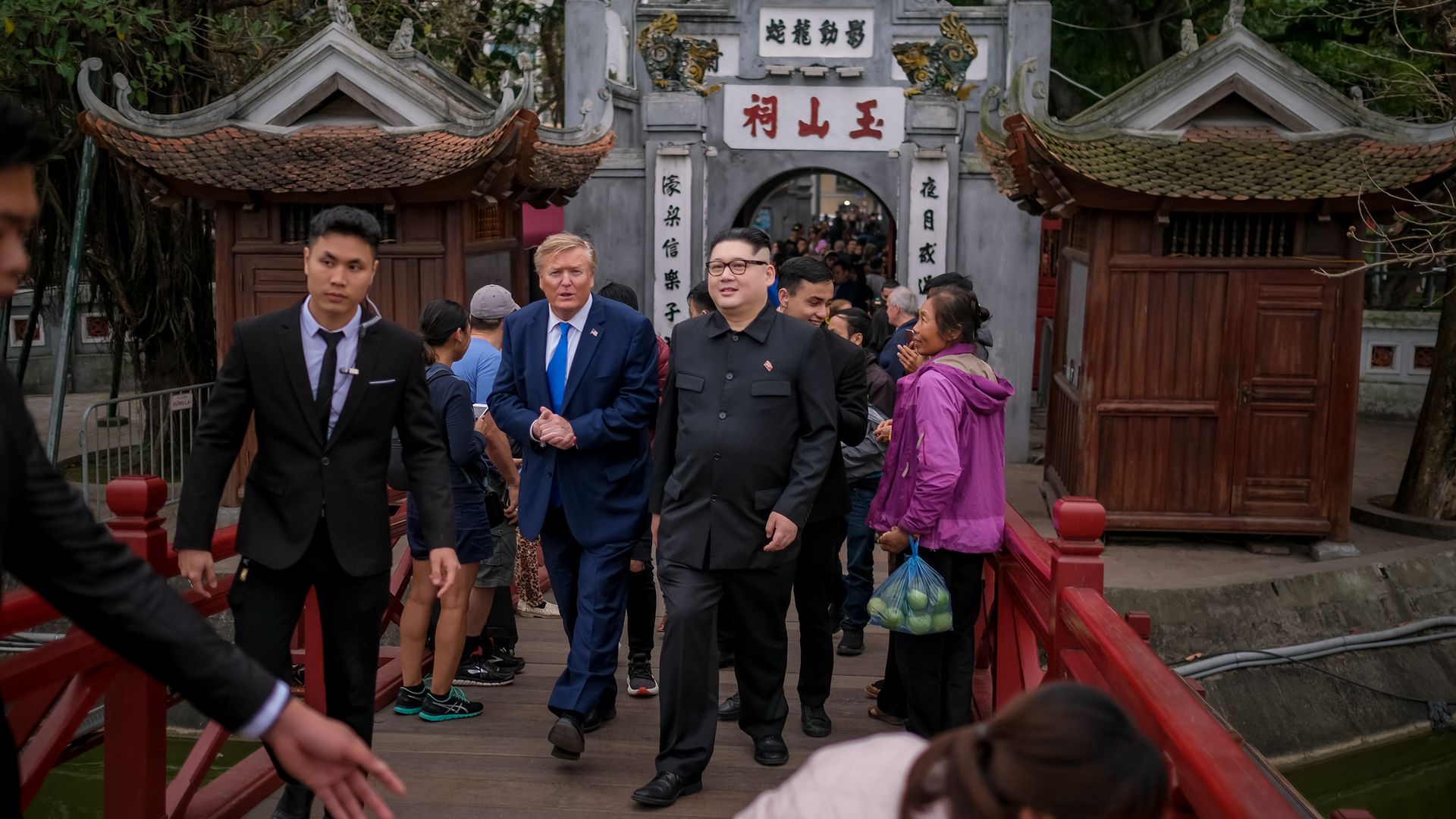 Expectations are fairly low heading into this week's Hanoi summit, including among Trump's team. DiMaggio says she's optimistic that "the administration has adjusted to an approach that's in the realm of possibility."
Bruce Klingner, a former CIA Korea specialist now at The Heritage Foundation, says any breakthrough in Hanoi would have required substantial groundwork that doesn't seem to have been laid.
Klingner is worried about "how far the president is willing to go to get an agreement" that might consist primarily of promises Pyongyang has made to previous presidents.
Unlike in Singapore, there's no obvious stick to go along with the carrots. "We haven't heard talk of 'this may work out and if it doesn't we'll move to phase 2,'" he says. "We're not hearing that inherent threat."
DiMaggio says the rhetoric we have heard from Trump in advance of the summit — that there's "no rush" toward denuclearization and that Kim is a great leader — sends exactly the wrong message.
"That led the North Koreans to conclude they should only deal with Trump. The North Koreans like what he says, it's music to their ears. To an American diplomat, this is the worst-case scenario."
"One worry is that Trump will give away too much. That he'll get to the table, Kim will butter him up and he'll give away the store," she says, noting that the two will meet one-on-one.
What to watch: DiMaggio and Klingner both raised U.S. troop reductions in Asia as something that shouldn't be on the table, but might be.
3. Venezuela: Why Trump and Pence are all-in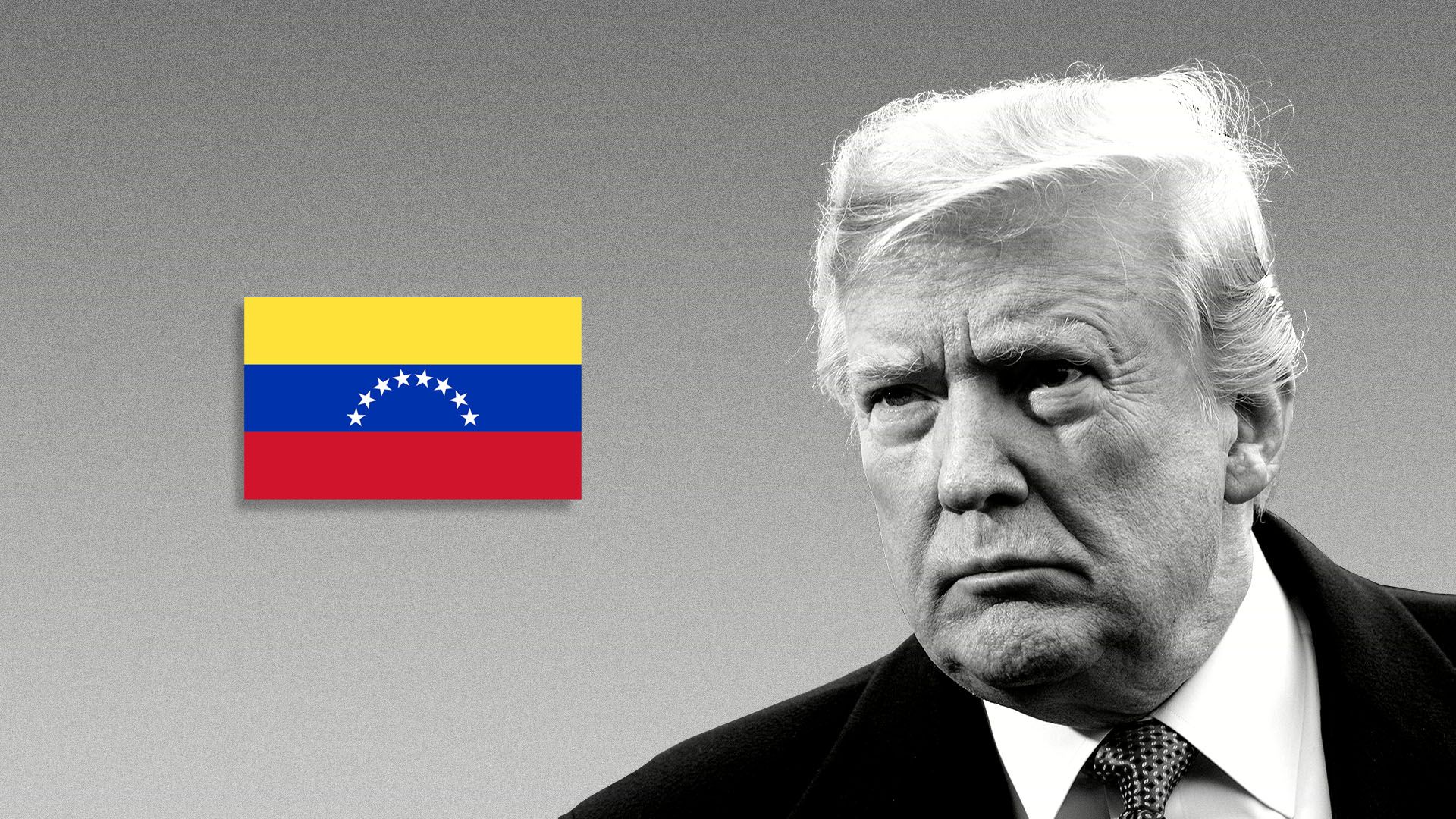 Vice President Pence was in Colombia today, where he met with Venezuelan opposition leader Juan Guaidó and Colombian President Iván Duque.
Why it matters: The Trump administration is attempting to send a clear message in the wake of the deadly clashes over the weekend at the border between Venezuela and Colombia that they are all-in and won't rest until Nicolás Maduro is out of power.
Pence has been central to the Trump administration's hawkish approach in Venezuela, Axios' Jonathan Swan reports:
It was Pence who ushered the wife of a Venezuelan political prisoner into the Oval Office for a historic meeting with Trump. It was Pence who phoned Guaidó in January and told him Trump would back him if he declared himself Venezuela's interim president.
As to why Trump himself is so invested in the Venezuelan power struggle, Swan writes:
Privately, Trump often talks about his fondness for the Venezuelan expats who frequent his golf club in Doral.
That's not all, of course. His senior advisers universally support unseating Maduro. And people close to Trump say he takes a markedly different view of Venezuela than Middle Eastern war zones. He sees Syria, Afghanistan and Iraq as beyond help, a waste of American lives and money. Venezuela, in his view, is different: It's a neighbor, and a crisis there directly affects the U.S., via trade and migration. Trump thinks Venezuela should be rich and peaceful.
What's next: We seem to be headed for exactly the sort of conflict many in the region hoped could be avoided — Trump locking horns with Maduro.
I discussed the state of play today on the Pro Rata podcast. Listen.
4. Asia: Thailand's election won't empower democrats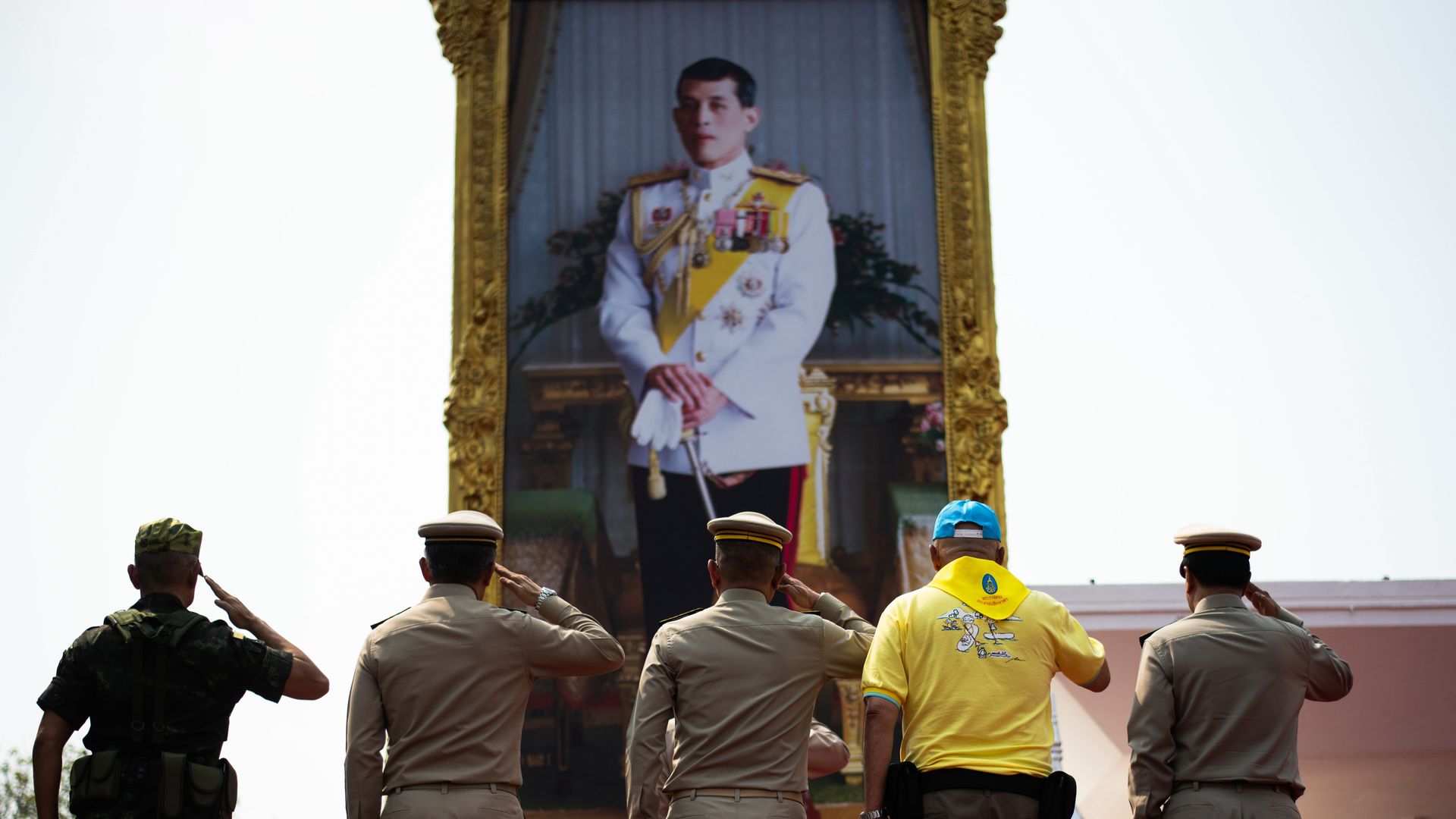 Thailand's first elections since the country was taken over by a military junta in May 2014 are unlikely to bring much peace or stability to the kingdom, Joshua Kurlantzick of the Council on Foreign Relations writes for Axios Expert Voices:
The big picture: Undemocratic actors are likely to become only more powerful after next month's vote. While the junta is not popular — as recent polling shows— the army will likely take tough actions if anti-junta parties win.
Non-junta parties, including those linked to populist politician Thaksin Shinawatra, will do well if the vote is free. But the electoral environment is already unfair. Thailand's top court might dissolve one major pro-Thaksin party, and Thai police could prosecute another top opposition leader.
Still, it's very possible that a coalition of pro-democracy parties, including several who have vowed to cut the military's budget, could take a majority of seats in the lower house of parliament.
But the military is keeping all its options open in one of the few wealthy or middle-income countries on Earth where coups are still common. Hardline army commander Apirat Kongsompong recently refused to rule out a future coup and offered veiled threats against anyone who disrespects the armed forces.
Thailand's king — who effectively prevented his sister from running for prime minister at the head of one of the pro-Thaksin parties — is also hardly a democrat. He appears to want to push Thailand back in the direction of an almost absolute monarchy.
5. Africa news roundup: Votes, claims and threats
1. Senegal's prime minister claimed today that preliminary results show incumbent President Macky Sall winning Sunday's election. Opposition parties, meanwhile, claim Sall came up short of the majority needed to win outright. The electoral commission is asking for patience. Details, from AP:
"The 57-year-old incumbent sought re-election on his record of building roads and creating jobs, while opposition supporters maintained those efforts had not reached many in this West African country where young men often risk their lives to migrate to Europe."
"Senegal has long been a democratic example in West Africa where coups and clinging to power used to be all too common in neighboring countries. European Union election observers reported no major irregularities by mid-day Sunday."
2. Nigeria's delayed elections appeared to unfold more smoothly on Saturday than some feared, though civil society groups say 16 people were killed in election day unrest.
Early results show incumbent Muhammadu Buhari leading, but the main opposition party has claimed without evidence that Buhari's allies hacked into the electoral commission's computers and manipulated results.
3. Sudanese President Omar al-Bashir has declared a yearlong state of emergency 10 weeks into protests that have put his future in doubt.
There was speculation the 75-year-old strongman might announce his resignation on Friday. Instead, he dissolved Sudan's national and state governments and ordered a show of force in the streets of the capital, Khartoum.
Go deeper: More on the protests against Bashir.
6. Ukraine: 5 years after the Maidan revolution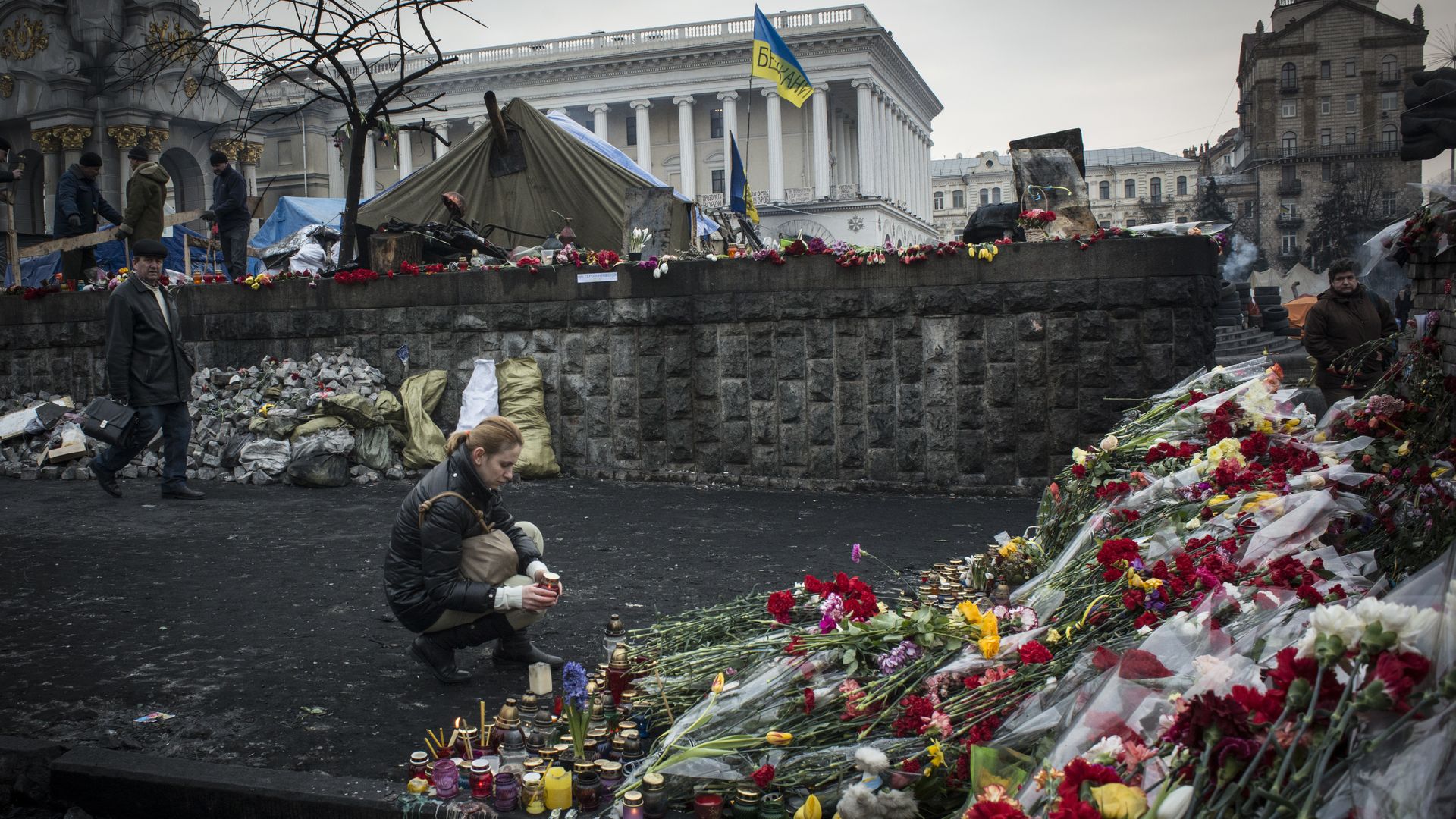 We're now 5 years on from the mass protests in Kiev's Maidan square, where Ukrainians with widely diverging visions of their country's future braved bullets to oust then-President Viktor Yanukovych, Moscow's man in Kiev, writes GZERO Media's Willis Sparks in the Signal newsletter:
Flashback: During weeks of demonstrations, more than 100 were killed and 2,500 injured in clashes with police. Yanukovych then fled to Moscow under cover of darkness, and Vladimir Putin ordered the invasion of Crimea. A continuing Kremlin-backed insurrection in two of Ukraine's eastern provinces has killed more than 10,000 people.
Five years later, what is the lasting impact of Maidan, known widely in Ukraine as the "Revolution of Dignity?"
Putin's military response to the demonstrations prevented an imminent move by Ukraine to more deeply integrate with European institutions.
But Russian military aggression also made enemies of millions of Ukrainians, many of whom were ambivalent about their country's centuries-old relationship with Russia before Putin's land grab in Crimea and the Russian-fueled separatist uprisings in the East.
Despite European sympathy with the country's isolation, Ukraine's many internal problems have allowed little progress toward possible membership in the European Union.
Where it stands: With an election approaching next month, political infighting, corruption and public cynicism run deep. The low-level conflict with Russia continues. Candidates will face the question of how best to explain the lessons of Maidan and their importance for Ukraine's future.
7. Stories we're watching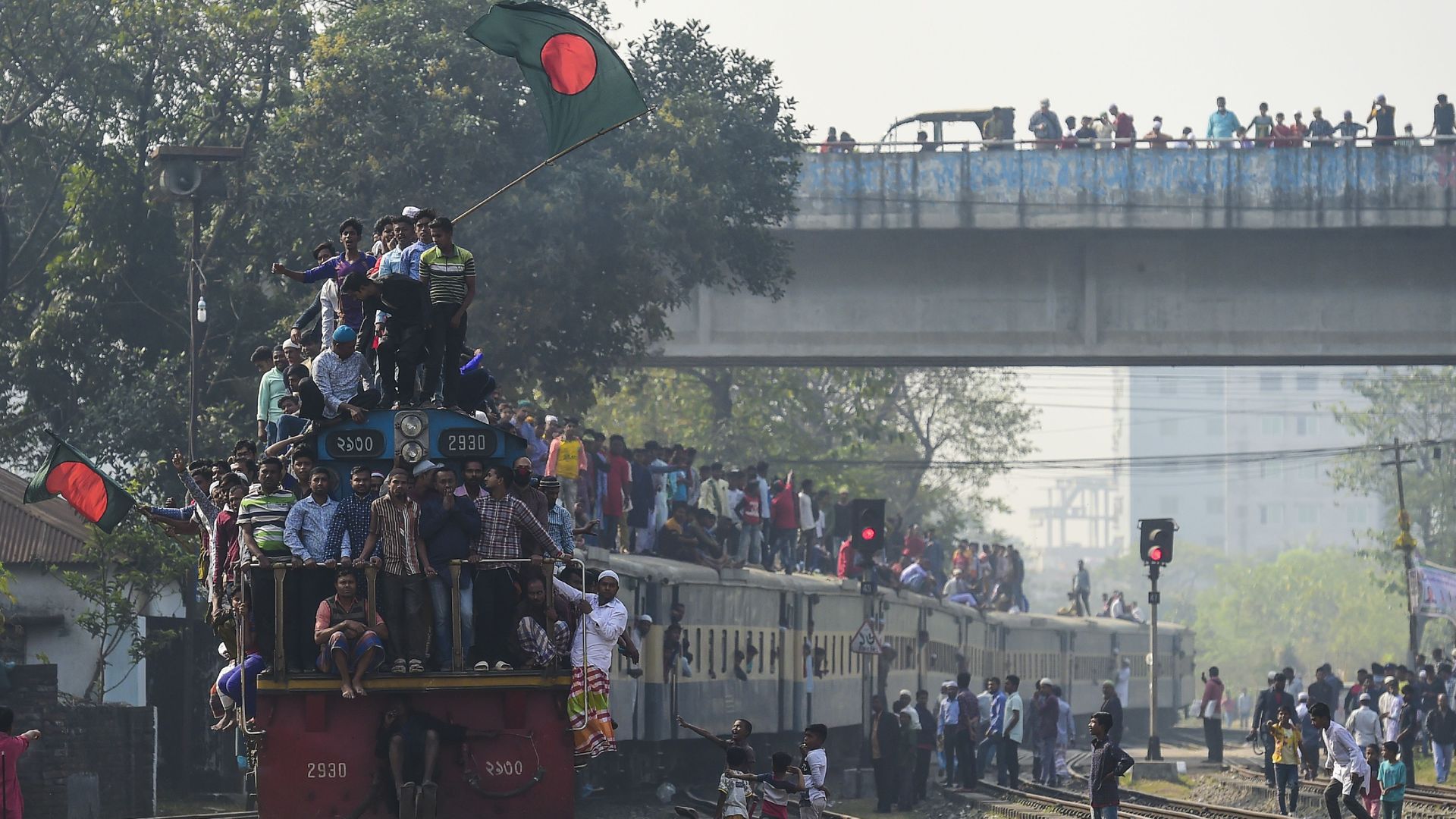 Quoted:
"Ms. Peskova is certainly the daughter of an important personality in the Russian Federation, but as a student, she does not have fewer rights than other young people to do an internship as part of her studies."
— Aymeric Chauprade, a French member of the European Parliament, explaining why it's no big deal
that the daughter of Vladimir Putin's
spokesman, Dmitry Peskov, is working in his office in Brussels.
Thanks for reading — see you Thursday evening!