Welcome to Axios World, where two evenings a week we break down what you need to know about the big stories from around the globe.
Thanks for joining me! Please tell your friends and colleagues to sign up here, and I'd love your tips and feedback: [email protected]
1 big thing: Trump's global juggling act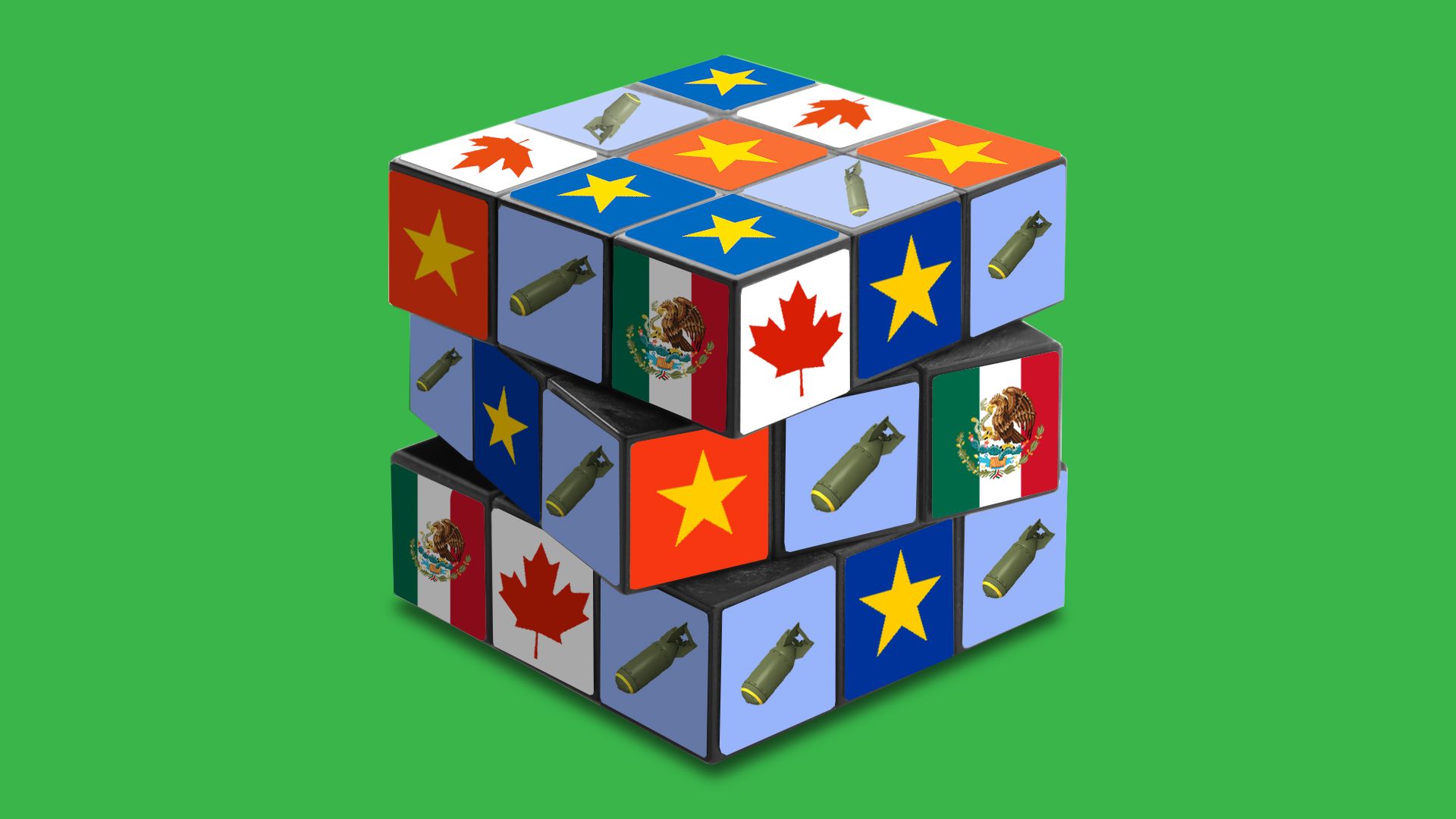 President Trump is now confronting two nuclear standoffs and fighting a trade war on multiple fronts — all at the same time.
The big picture: Trump's March decision to agree to meet with Kim Jong-un led to speculation he might hold off on withdrawing from the Iran nuclear deal, so as not to face dueling nuclear dilemmas. He didn't. Common cause on North Korea had seemed to pave the way for a trade war truce with China. It didn't. Now, Trump is slapping tariffs on America's closest allies — and they're hitting back.
The latest: Trump's tariffs — 25% on steel and 10% on aluminum — will go into effect at midnight on the E.U., Canada and Mexico, Commerce Secretary Wilbur Ross told reporters today.
European Commission President Jean-Claude Juncker called the move "protectionism, pure and simple" and said Europe had no choice but to retaliate. The E.U.'s list of targets includes "everything from corn and tobacco, to T-shirts, Levi's jeans, bourbon, motor boats and various forms of steel," per NPR.
Canadian prime minister Justin Trudeau announced tariffs on U.S. steel, aluminum and other products, to match the total value of Canada's 2017 steel and aluminum exports to the U.S. He called the tariffs "totally unacceptable," and said he finds it "inconceivable" that "Canada could be considered a national security threat to the United States."
"Mexico's Economy Ministry said it would target several U.S. goods in response, including some steel and pipe products, lamps, berries, grapes, apples, cold cuts, pork chops and various cheese products," per the WSJ.
The big picture:
Gary Hufbauer, a former senior Treasury official now at the Peterson Institute, told me "this is not a macroeconomic event, this is pinpoint pain" for certain U.S. firms and industries. "But pinpricks are very painful for those on the receiving end," he added, and members of Congress from affected districts will be speaking out.
He said a deal to change the tariffs to quotas, which are less painful for exporters, was likely to be reached in 3 months or so with Europe, and sooner with Mexico and Canada — though NAFTA negotiations could complicate things.
"I think the way this turns into a macro event is if the Chinese don't come up with a nice pot of concessions when Ross goes over there this weekend," Hufbauer said. He noted Trump has threatened tariffs on up to $150 billion in Chinese products, while the steel trade is worth $10-15 billion.
The bottom line: Trump needs Europe to help him confront China, and China to help him squeeze North Korea. Facing several crises at once, he seems to have scores of allies and none at the same time.
2. Africa: Deadly suspense in the Congo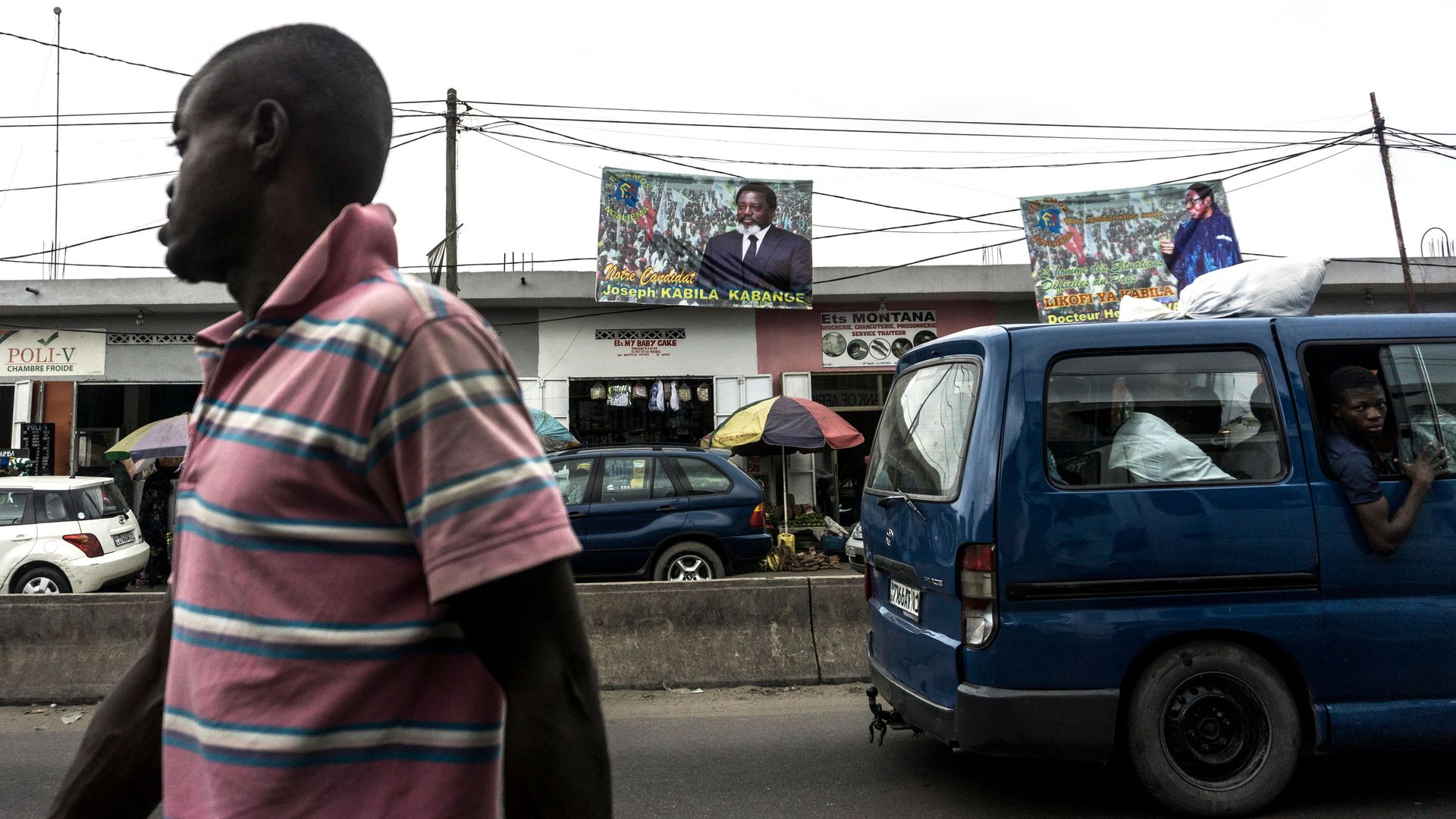 I spoke today with Raymond Tshibanda, special envoy to the U.S. for the Democratic Republic of the Congo, about long-delayed elections now slated for December.
The big picture: The DRC is Africa's second-largest country by area, and fourth-largest by population. Joseph Kabila, 46, has been president since his father Laurent was assassinated in 2001, winning disputed elections in 2006 and 2011. The constitution limits Kabila to two terms, but he is now seven years into a five-year term and has kept the world in suspense by refusing to say he'll step aside.
In a back-and-forth that felt like a scene from Catch-22, Tshibanda told me the constitution is "quite clear" about the term limit, there is no time for a referendum to change it and Kabila has pledged to respect it — thus, the situation is entirely straightforward.
So he's not running then? Tshibanda wouldn't say.
"There is no reason for him to say that ... most sitting presidents around the world withhold the announcement of their decision in clear terms," he told me, adding "they have good reasons for not wanting to speak too early."
Some reasons he offered:
"There might be people who will be afraid to hear tomorrow that Kabila will not be president anymore."
"Becoming a lame duck in the U.S. is different than becoming a lame duck in the DRC."
"If chaos were to start in the country today, can you guarantee that we will have elections in December? The country is still quite fragile."
"The timeline between June [when the list of candidates becomes official] and the elections is shorter. If there is any chaos, it can be contained."
Worth noting: Tshibanda said he met with U.S. National Security Council officials while in D.C., and they agreed that elections were on track for December but raised concerns about the use of voting machines — which the opposition says could be manipulated and Tshibanda said are needed to solve the "logistical nightmare."
The bottom line: "Very soon it will be time to speak loud and clear and the president will speak loud and clear," Tshibanda told me. The stakes are high when, as Tshibanda noted, every election carries the risk of war. We'll soon hear what Kabila has to say.
Go deeper: Congo could again descend into war.
Go much deeper: I'm currently reading "Dancing in the Glory of Monsters," which I'd recommend for a great account of the deadliest conflict since World War II.
3. Europe: Breakthrough in Italy
The 5 Star Movement and the League agreed on a new cabinet Thursday, and after vetoing the last proposal from the populist parties, President Sergio Matarella signed off.
Political newcomer Giuseppe Conte is still slated to serve as prime minister, but the crucial finance minister position will go to little-known economics professor Giovanni Tria.
The economic program of the two euroskeptic parties, which were the two big winners in March's election, has caused a storm in European markets the last two weeks.
One happy man: Steve Bannon has been in Italy in recent days promoting the coalition-in-waiting. Sources tell Axios he met with Matteo Salvini, the leader of the League, in March and encouraged him to partner with Five Star.
Bonus: Russian reporter returns from the dead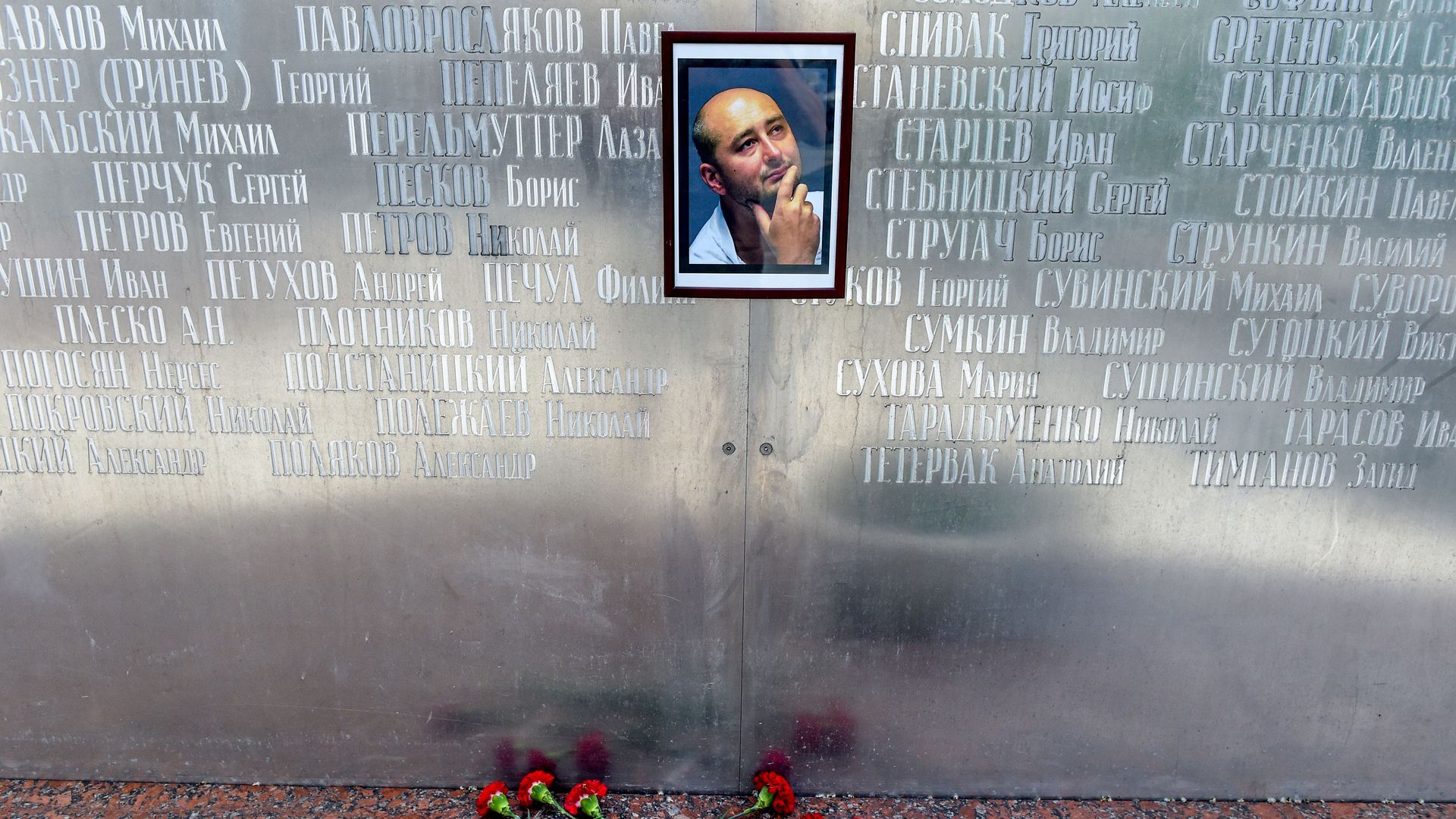 Arkady Babchenko, the prominent Russian journalist and Kremlin critic whose apparent assassination on Tuesday sparked an international outcry, appeared the next day at a news conference. He said the faked assassination — during which even his wife thought he'd been killed — was intended to "expose Russian agents."
"Special apologies to my wife. Olechka, I am sorry, but there were no options here. The operation took two months to prepare. I was told a month ago."
— Babchenko at the press conference
4. Europe II: Spain's PM is hanging by a thread
Spanish prime minister Mariano Rajoy is on the verge of being forced out of power as a no-confidence motion presented by the Socialist Party has the votes needed to topple his government tomorrow.
Pedro Sanchez, leader of the socialists, would be the next prime minister until new elections take place.
Rajoy, from the center-right Partido Popular party, took office in 2011 after the worst financial crisis in the country's recent history. His party has been rocked by several corruption cases that have eroded its popular support, even as the economy has improved steadily.
What's next: The Socialists' motion won the backing of separatists and far-left groups, but it remains to be seen if that support will be enough to maintain a stable government without fresh elections.
5. Latin America: Strikes spark chaos in Brazil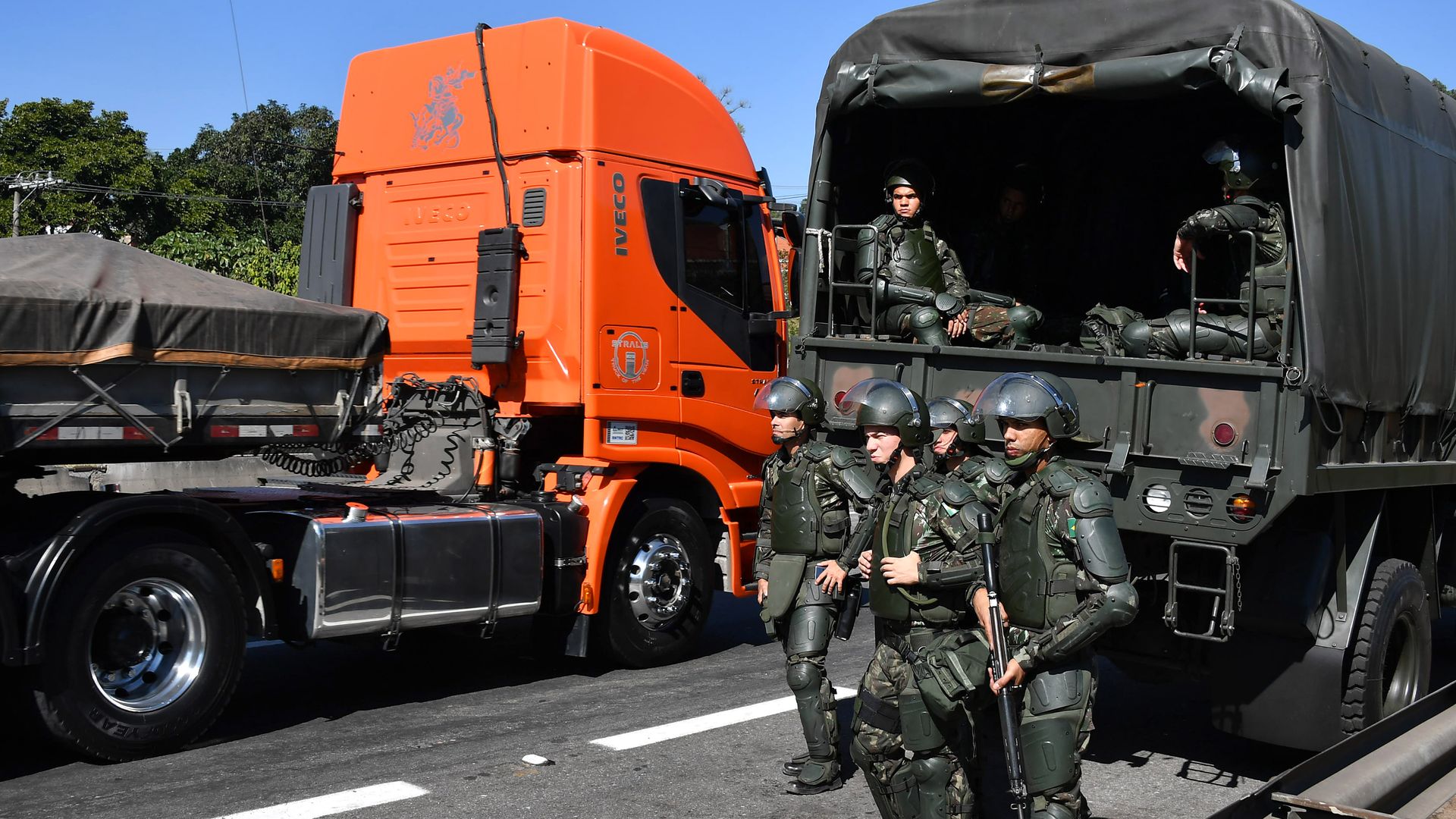 An 11-day truckers' strike that paralyzed much of Brazil appeared to be winding down today, but it has exposed how fragile the political situation is under unpopular president Michel Temer.
What started as a strike over rising gas prices developed into a nationwide protest and political crisis, with economic losses estimated in the billions, per the NY Times.
Why it matters: Brazil is the largest economy in South America, and is heading into unpredictable presidential elections this fall.
6. Asia: Trump's Pakistan play unlikely to cut funding to militants
The Trump administration has suspended most security assistance to Pakistan and led the charge to place the country on an international terrorism-financing watchlist, beginning next month.
Travis Wheeler of the Stimson Center writes for Axios Expert Voices that such an approach is unlikely to work as intended:
"The ineffectiveness of U.S. sanctions after Pakistan's 1998 nuclear tests — coupled with China's emergence as Pakistan's financial benefactor — suggests coercive measures are unlikely to compel Pakistan's army to cease backing militant networks that target U.S. forces in Afghanistan."
The bottom line: "As the U.S. loses leverage with Pakistan, any adjustments in Pakistan's security policies are likely to come from Eastern pressure rather than Western."
7. Stories we're watching
Quoted:
"We take the view that without a strong economy, you can't have strong national security."
— Wilbur Ross
"Economic nationalism leads to war. This is exactly what happened in the 1930s."
— Emmanuel Macron
Thanks for stopping by — see you Monday evening.