Welcome to Axios World. It's our 43rd edition, and the last before I hand the keys to my brilliant colleague Shane Savitsky for two weeks and jet off on vacation.
I'll be reading along with all of you from France. Send tips and suggestions to shane@axios.com, and as always tell your friends and colleagues to sign up here.
1 big thing: Diplomatic crisis in a bottle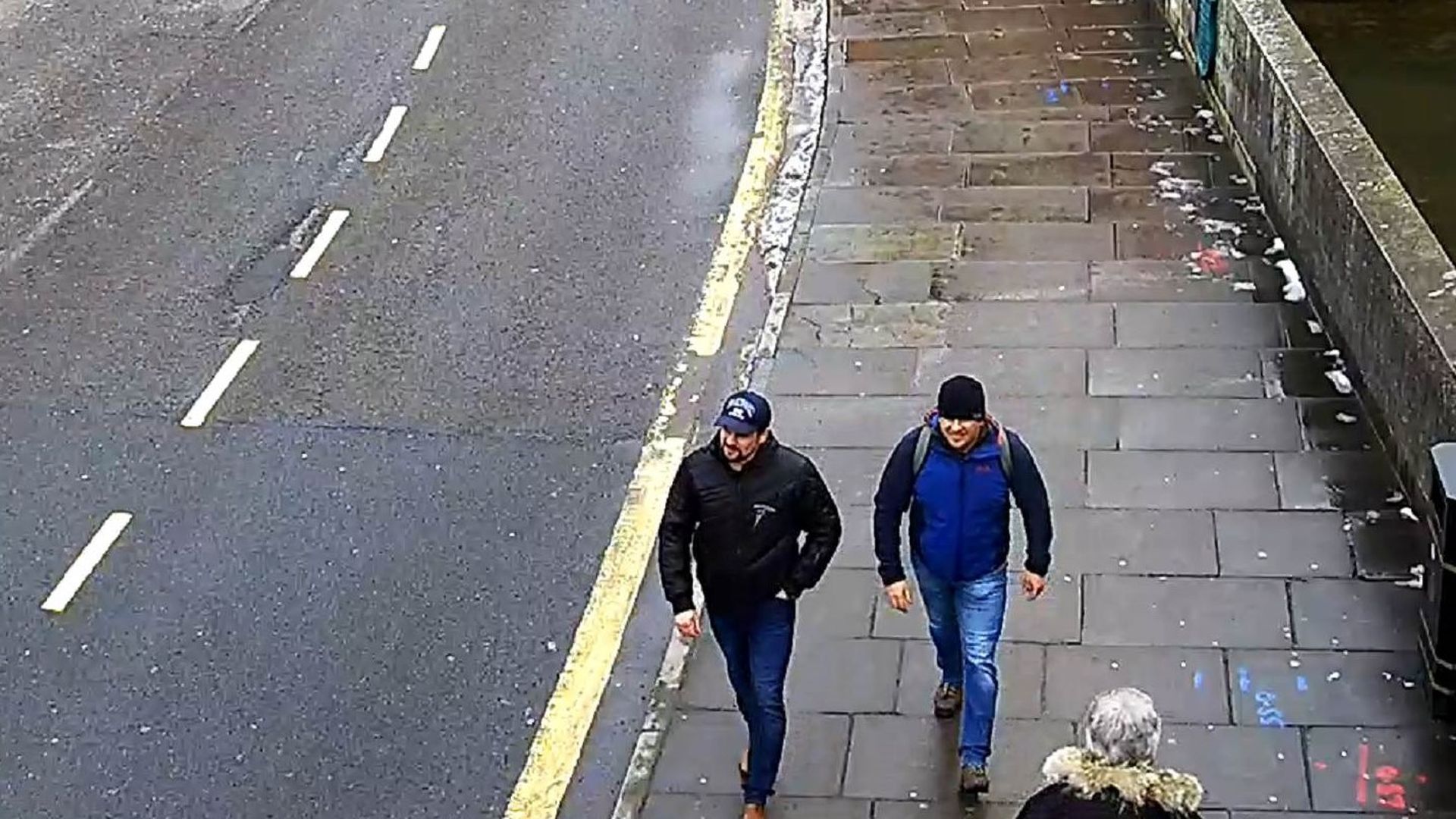 An international incident that resulted in one of the largest diplomatic expulsions in history began with a perfume bottle.
The latest: The leaders of the U.S., U.K., France, Germany and Canada declared in a joint statement today that Russian military intelligence officers used a banned chemical weapon in an assassination attempt on British soil. "This operation," they added, "was almost certainly approved at a senior government level." Now, after a painstaking 6-month investigation, we know how it happened.
According to British authorities...
Two operatives using the pseudonyms Alexander Petrov and Ruslan Boshirov traveled from a budget hotel in East London on the morning of Sunday, March 4, to the scenic town of Salisbury, approached the doorway of Sergei Skripal — a Russian former double agent — and sprayed the contents of the perfume bottle on the door handle.
Four hours later, Skripal and his daughter Yulia were found unconscious on a park bench. They'd been exposed to Novichok, a military-grade nerve agent.
By that time the Russian agents — who arrived in London the previous Friday and made a reconnaissance trip to Salisbury the day before the attack — were back in London. Later that evening, they boarded a flight back to Moscow.
The pair disappeared, but not quite without a trace. Novichok was detected in their hotel room. They also left behind the perfume bottle, which made its way into the possession of Dawn Sturgess via a charity bin. She died in July of exposure to Novichok.
All along their journey — in train stations, outside shops and steps from the Skripals' home — the agents were captured on CCTV.
Ellen Barry writes in the NYT...
"Britain is one of the most heavily surveilled nations on earth, with an estimated one surveillance camera per 11 citizens. It has cutting-edge technology for visually identifying criminals, and software so sensitive it can scan an airport for a tattoo or a pinkie ring. And then there is that team of genetically gifted humans known as 'super-recognizers.'"
"It's almost impossible in this country to hide, almost impossible," said John Bayliss, who retired from the Government Communications Headquarters, Britain's electronic intelligence agency, in 2010. "And with the new software they have, you can tell the person by the way they walk, or a ring they wear, or a watch they wear. It becomes even harder."
What's next: The Trump administration formally accused Russia of illegally using chemical weapons last month, triggering automatic sanctions and starting the clock on a 3-month period to decide from a menu of further punishments, some of which — like cutting off nearly all trade — are quite severe.
However, the administration is reportedly hoping to avoid the type of tit-for-tat escalation with the Kremlin that we saw in March, when both countries expelled 60 diplomats.
2. Middle East: "Catastrophe" looms in Syria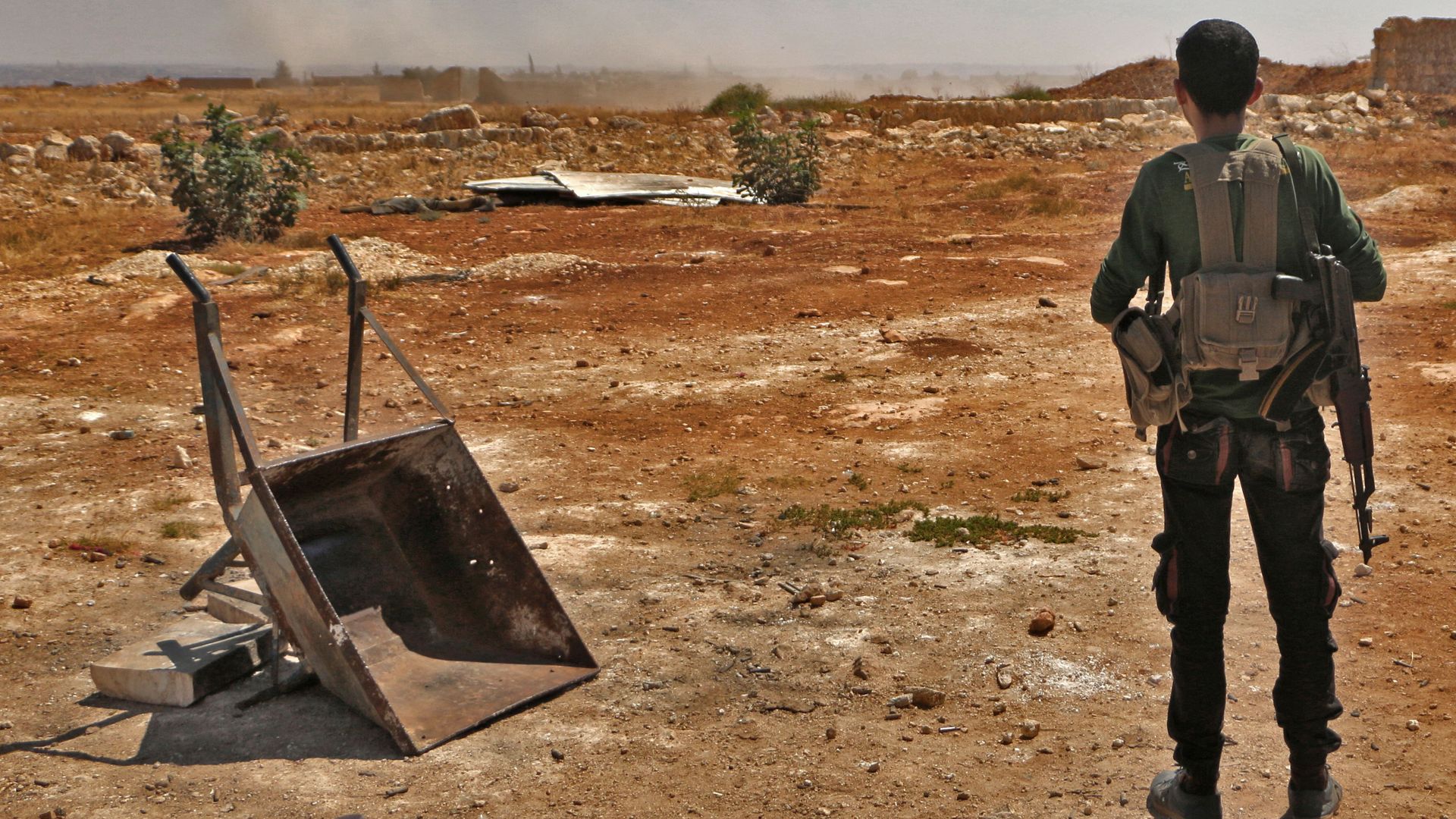 With Syria's army preparing for a major offensive in Idlib province, the country's last opposition stronghold, the leaders of Russia, Iran and Turkey will gather in Tehran on Friday to discuss a path toward ending the 7-year civil war, Axios' Haley Britzky writes.
The big picture: Syrian President Bashar al-Assad wants to strike a decisive blow in Idlib, but the three leaders meeting on Friday have clashing concerns and objectives. Meanwhile, the estimated 3 million civilians currently in the northwestern province — many of whom have already been displaced by the conflict — are in a precarious position.
"If major operations take place, we can expect a humanitarian catastrophe, and we would all want to see that be avoided."
—
Joint Chiefs Chairman Gen. Joseph Dunford
Turkey has forces in Idlib, and has said such an offensive would cross a "red line." At the end of the day, though, it may concede some parts of the province in order to keep security over its border.
While Russia is Assad's staunch ally, it is also seeking to exploit strained ties between the U.S. and Turkey and is wary of infuriating Ankara.
Syria and Iran, however, "strongly want to go in and launch an offensive operation to recapture the area," Chris Kozak, senior analyst at the Institute for the Study of War, told Axios.
We've seen crises like this before, in eastern Ghouta and Aleppo. But what makes this different is that the people in Idlib have nowhere else to go. With the pro-regime coalition pushing on one side and Turkey saying it won't take in more refugees on the other, civilians in the area would be trapped.
The bottom line: Kozak believes that unless the Assad regime deploys chemical weapons in Idlib, the U.S. ultimately won't get involved.
Bonus: Paragraph du jour
Before meeting North Korean leader Kim Jong Il, Southern spy "Black Venus" was told to stay up late, shower, and dress neatly. He also hid a micro recorder in his penis.
3. Latin America: Brazilian presidential contender stabbed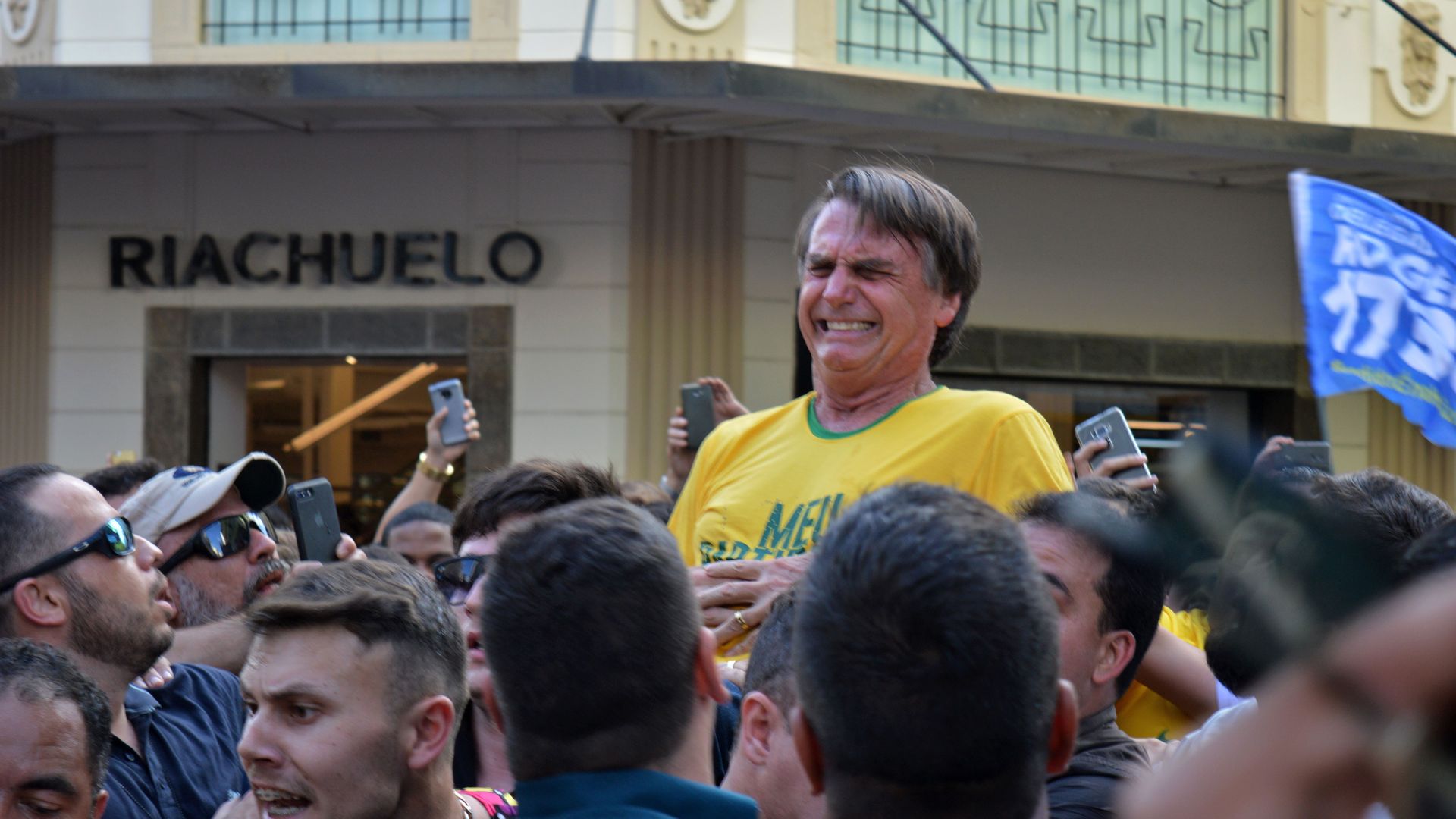 Jair Bolsonaro, the far-right front-runner in Brazil's presidential race, was stabbed in the abdomen while campaigning today. He is receiving treatment.
Known for his nationalistic politics and history of offensive comments, Bolsonaro leads the polls now that former president Luiz Inácio Lula da Silva, who is in jail on corruption charges, has been ruled ineligible.
The bigger picture: Michael McCarthy of American University writes for Axios Expert Voices that the race remains wide open, leaving the future of the world's fifth-most populous country and eighth-largest economy mired in uncertainty:
"It is unlikely any candidate will win a majority in the first round of voting on October 7, which would trigger a runoff on October 26."
"Brazil once sought to play a highly influential role on the geopolitical stage — both as a BRICs member and on its own as a counterweight to the U.S. during the Bush administration. That has changed as leaders have hunkered down to address the all-consuming domestic agenda. The next Brazilian president will probably have to prioritize domestic challenges, dealing another blow to the country's dream of projecting global power."
4. Asia: Where Trump's India bet falls short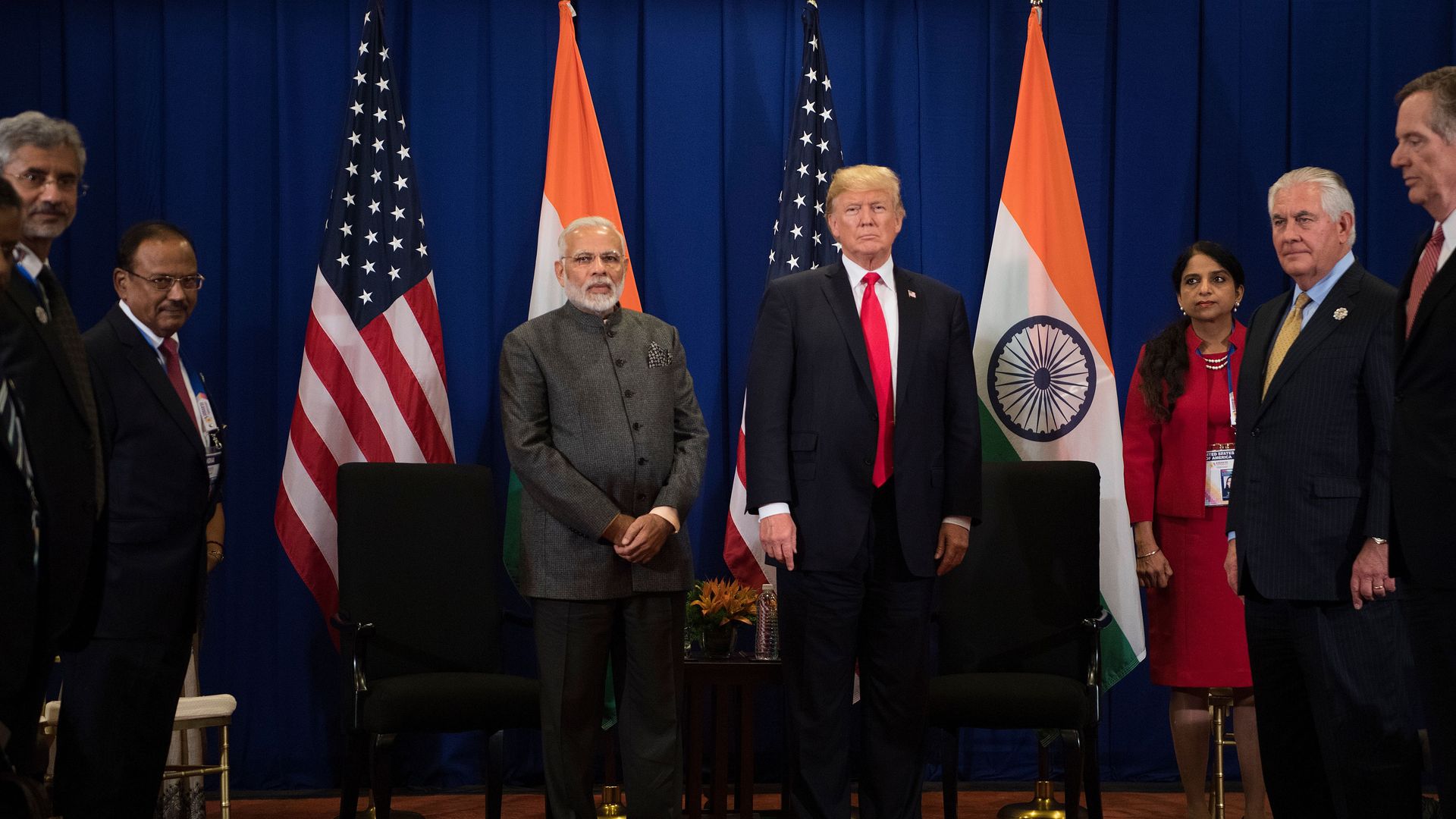 The U.S. and India agreed today to open a secure military communications hotline, a move that could allow the U.S. to sell India sensitive defense technology. The news comes as Secretary of State Mike Pompeo and Defense Secretary Jim Mattis head to New Delhi for high-level talks.
The bigger picture: Gabe Lipton of GZERO Media writes in the latest Signal newsletter that in the most important geopolitical region in the world, the Asia Pacific, the Trump administration has its bets placed squarely on India.
On many fronts — particularly arms sales, where India went from importing zero U.S.-made equipment in 2008 to around $15 billion in the decade since — relations are on an upward trajectory.
But there remain points of friction, primarily on economic issues, that could ultimately limit the deeper cooperation envisioned in Washington.
India has a large trade surplus with the U.S., a particular bone of contention for President Trump, and was hit by U.S. steel and aluminum tariffs earlier in the year.
In addition, the U.S. is currently considering two different sanctions packages against India — one for its planned purchase of a Russian-made air defense system, the other because of its continued reliance on Iranian oil imports.
Trump's tendency to mimic his Indian counterpart, Prime Minister Narendra Modi, is certainly not helping.
Even if they can get along, there's a broader question: Could India ever provide the U.S. the reliable foothold it wants in Asia? Here, the U.S. faces two problems. 
First, India remains a reluctant power that will struggle to challenge China strategically in the region.
Second, deeper ties with India will do little to combat China's growing economic clout — of which India is, and will continue to be, a willing beneficiary.
5. Europe: The view from the Balkans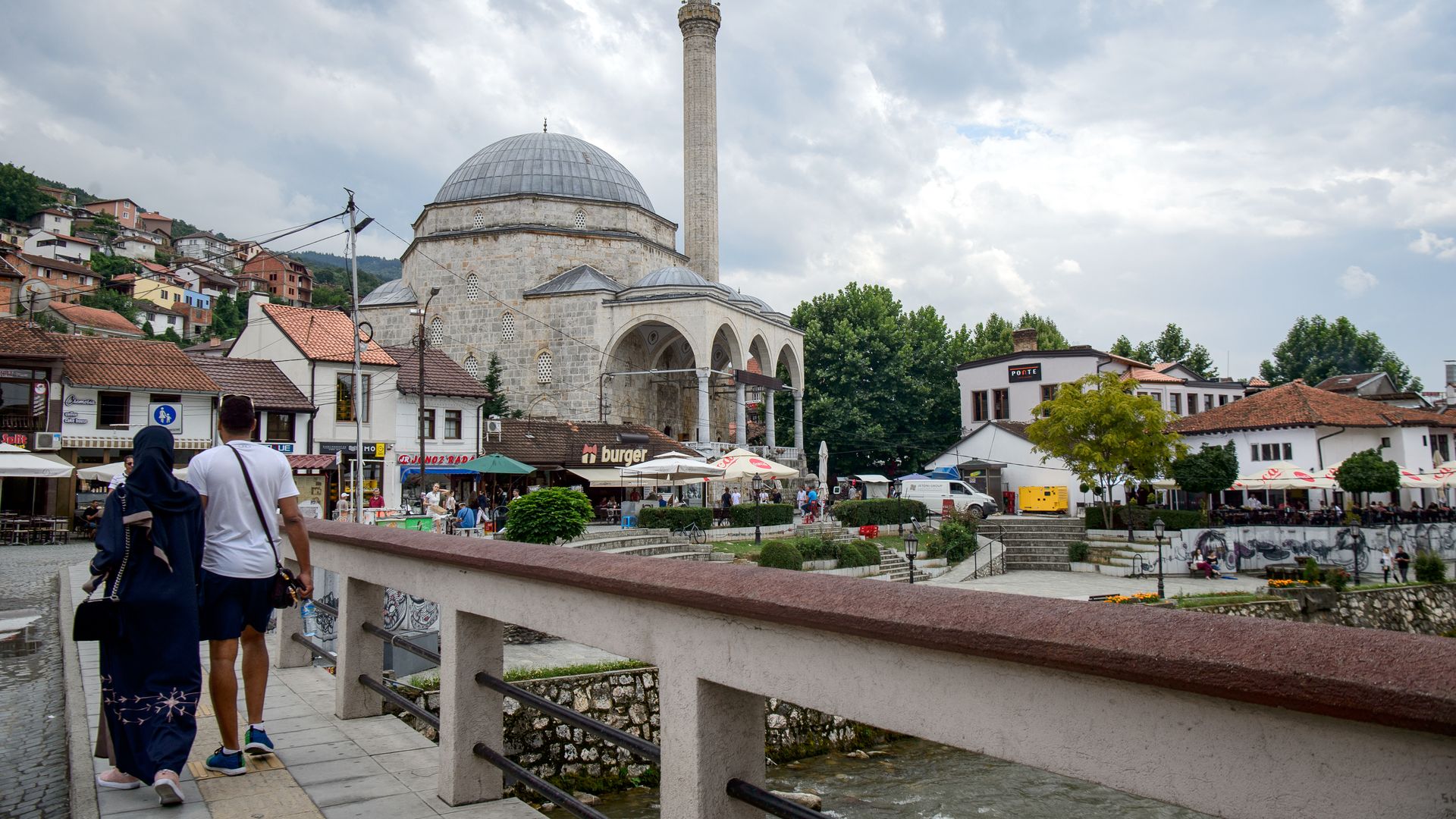 Kosovo and Serbia are attempting to end a decade-long stalemate with a deal that could mean redrawing their borders. Ryan Scherba of Balkan Insider emails with what you need to know ahead of talks tomorrow between the presidents of the neighboring countries:
The land swap being proposed would be an ethnic partition of Kosovo, which has communities of both Albanians and Serbs, among others. A largely Albanian area of Serbia would become part of Kosovo, while a majority-Serb part of Kosovo would rejoin Serbia.
The international community, which has had a strong presence in Kosovo since the war in 1999, has had mixed reactions. National Security Advisor John Bolton has endorsed any deal the two sides agree upon. Meanwhile, NATO allies have warned against any redrawing of the borders in fragile southeastern Europe.
Since unilaterally declaring independence from Serbia in 2008, Kosovo has been fighting for recognition in international organizations. China, Russia and even five EU nations don't recognize the country of 1.9 million. That could all change if a deal is reached.
Why it matters: Any redrawing of borders along ethnic lines in the region would call into question the borders of other countries in the region, most notably Bosnia and Herzegovina.
At worst, the region could descend into conflict once more.
At best, it would end another lingering issue in the region on the heels of the 20th anniversary of the NATO bombing. Kosovo would be recognized by Serbia and join the UN, and Serbia would be able to continue its EU accession with its biggest issue resolved.
6. Why U.S. counterterrorism strategy needs to change
Lt. Gen. Michael Nagata, director of strategic planning at the National Counterterrorism Center, made the case yesterday at a conference hosted by the Institute for the Study of War that the U.S. approach to terrorism is "far too risk-averse."
Some of his key points...
When it comes to finding, tracking and eliminating targets, progress has been "almost magical." But "we have not undergone a similar transformation in preventing terrorists from being created."
"We've already proven that kinetic action alone won't solve the problem," but that's where the vast majority of counterterrorism funding goes.
"The problem isn't standing still. By the time we get to the answer, the problem has moved on." ISIS, for example, went from a "small, patronless" group to a hugely powerful organization "through malign innovation. They are prepared to adapt," and sometimes "we are not."
The bottom line: "We have to be willing to try things we've never tried before, understanding that most of it won't work."
7. Stories we're watching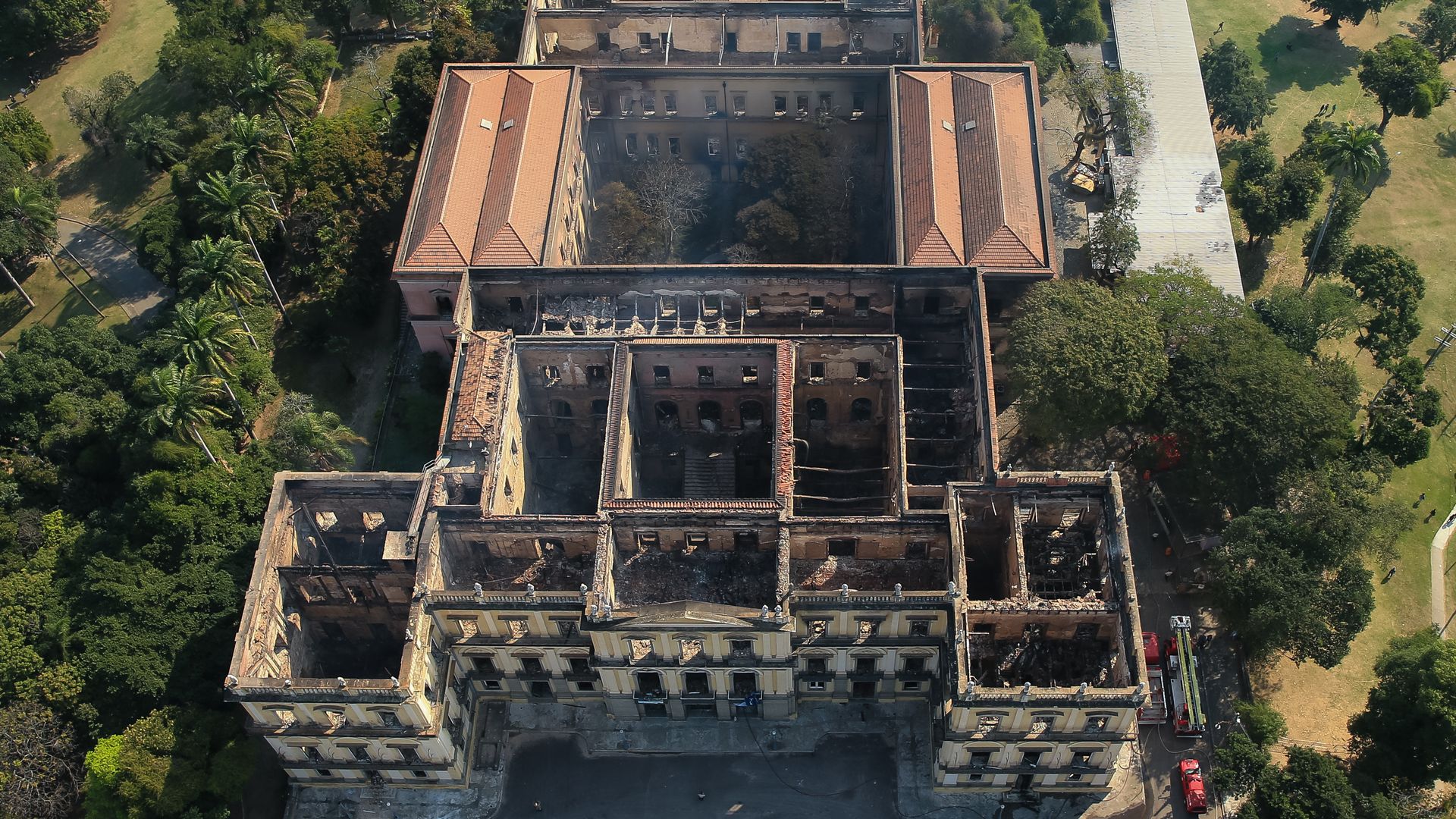 Quoted:
"Producing and distributing content that ridicules, mocks, provokes and disrupts public order, religious values and public morals through social media ... will be considered a cyber crime punishable by a maximum of 5 years in prison and a fine of 3 million riyals."
— Saudi Arabia's
public prosecutor
Thanks for reading — Shane will see you Monday evening, and I'll be back in a couple weeks!