Welcome to Axios World, where two evenings a week we break down what you need to know about the big stories from around the globe.
Thanks for joining me! Tell your friends and colleagues, and I'd love your tips and feedback: lawler@axios.com.
Was this email forwarded to you? Sign up here.
I'll be in Davos next week for the World Economic Forum. Have you been? Are you going? It's my first time, so any tips appreciated!
1 big thing: British politics are broken
American readers are no strangers to the notion of a hopelessly divided government or the inevitable result: gridlock. But what if gridlock isn't an option and consensus is required on an issue of profound consequence?
We're finding out now in the U.K., and it ain't pretty.
Axios Chief Brexitologist Shane Savitsky writes that bitter rifts between and within the U.K.'s major political parties have made consensus elusive, or even impossible:
You see it in the Conservative Party's long-foreseen inability to unify behind Theresa May's deal — while simultaneously refusing to trigger a leadership contest that could inject fresh thinking.
You see it in an opposition Labour Party that's ruled by the far left at the grassroots but mostly center left in government, a dichotomy that's made it unable to present a clear alternative to May.
You see it in the actions of Northern Ireland's conservative Democratic Unionist Party and the leftist Scottish National Party, whose existential mandates logically require them to be beholden to both political ideology and their respective parts of the U.K.
Fran Burwell, who advises global companies on Brexit as a senior adviser at McLarty Associates, tells Axios she fears "the entrenched nature of the factions could lead them to stumble into 'no deal.'" She puts the odds at 20–25%.
A "no deal" Brexit could see GDP plunge by 10.7% over 15 years, according to a "worst-case" government analysis. Burwell notes that it would lead to massive transportation challenges for both people and goods, and it would see the U.K. suddenly become subject to "regulations, permits and licenses that no one has dealt with since 1974."
While the 27 member states will "try to limit damages" for trading partners like Ireland and the Netherlands, Burwell says, any accommodations will be "temporary and done to benefit the EU."
Her take: "I'm starting to come to the conclusion that the only way forward is a significant extension that would then allow the future relationship [between the U.K. and EU after Brexit] to be negotiated in a serious way for the next year, maybe longer. Because none of it is resolved."
The big picture: As Burwell acknowledges, considerable wrangling will be needed in Westminster and in Brussels to get such an extension, and there's no guarantee even a year of negotiations could solve the "Irish backstop" dilemma.
I found a sidewalk debate between two older gentlemen in Wales — one "Leave" voter and one "remain" voter — more elucidating than anything coming out of Westminster. Here's how it ends:
"Why are you afraid of a no deal? What you've got to remember is this country fought a world war. We raised from the ashes. The fear project that they've got, don't worry about it. Britain has got the technology, the ability and the people to rebuild. We don't need Europe."
What's next: May will present her "plan B" to Parliament on Monday. Members will attempt to add amendments and might try to get the government to rule out "no deal" (Labour leader Jeremy Corbyn says he won't negotiate until that condition is met). That plan will come up for a vote on Jan. 29.
Go deeper: The pros and cons of a second referendum
2. NATO: Next time, will Trump really mean it?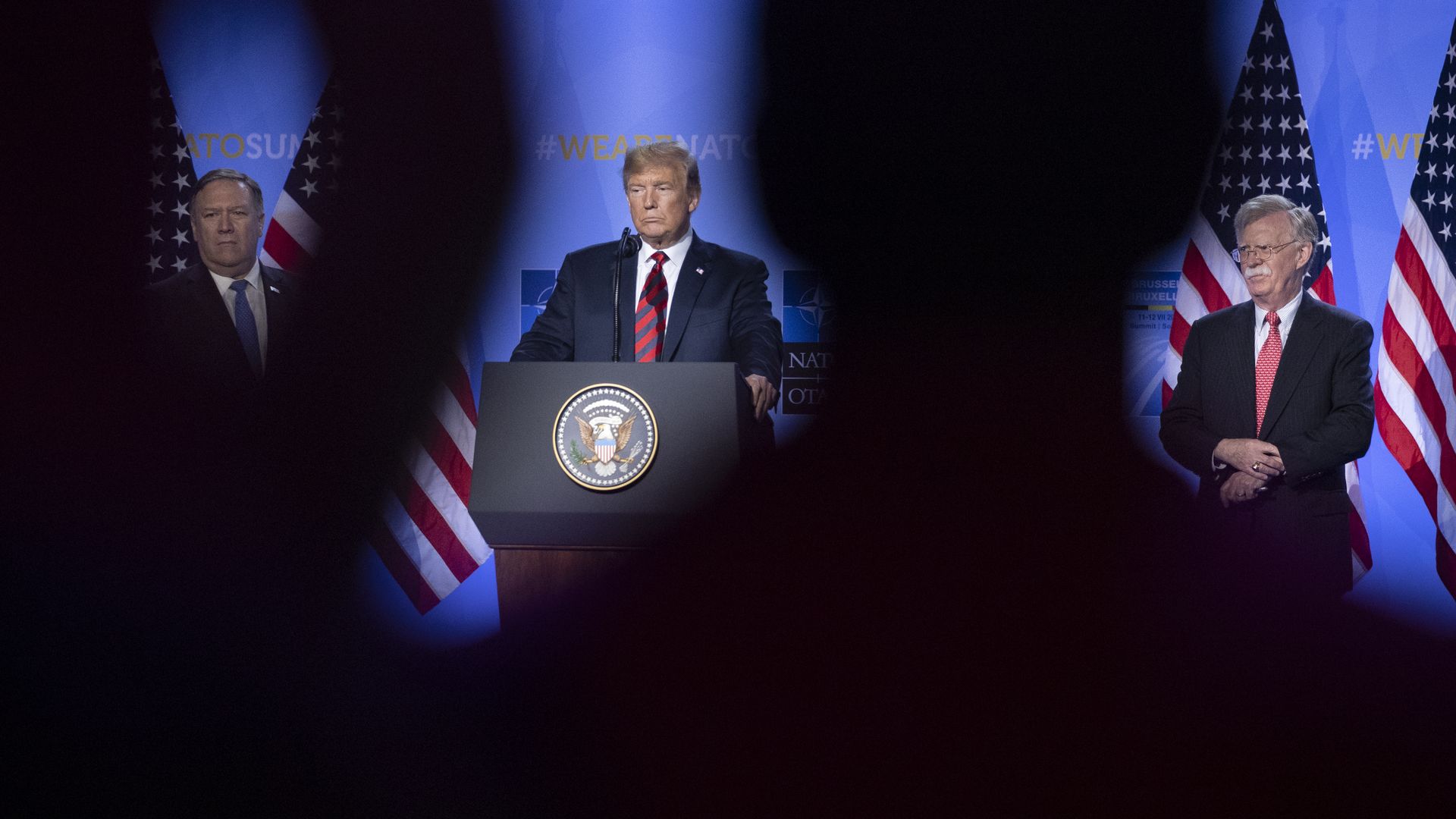 A bipartisan group of senators today introduced a bill that would prevent the president from withdrawing from NATO without Senate approval. A similar bill was introduced in the House.
That comes three days after a paragraph from the NY Times sent a shudder through European capitals:
"[S]everal times over the course of 2018, Mr. Trump privately said he wanted to withdraw from the North Atlantic Treaty Organization. Current and former officials who support the alliance said they feared Mr. Trump could return to his threat as allied military spending continued to lag behind the goals the president had set."
Why it matters: U.S. withdrawal from NATO would fatally cripple an alliance that is central to U.S. foreign policy. Even discussing the idea could cause allies to hedge their bets. Needless to say, withdrawal would delight Vladimir Putin.
So can he do it? Foreign Policy's Robbie Gramer investigated:
"U.S. membership in NATO retains broad public support and nearly unanimous backing in an otherwise fractious Congress. ... Still, if Trump decided to withdraw unilaterally, it appears the law would be on his side, based on a series of court rulings over the past half-century and the Constitution itself."
Worth noting: Some officials from Eastern Europe, where the threat from Russia looms largest, express almost as much dismay about comments from French President Emmanuel Macron and others about the need for a European army, or protection from the U.S., as they do about Trump's NATO skepticism. They fear that kind of rhetoric will only deepen the transatlantic divide.
3. Africa: Governments hit the block button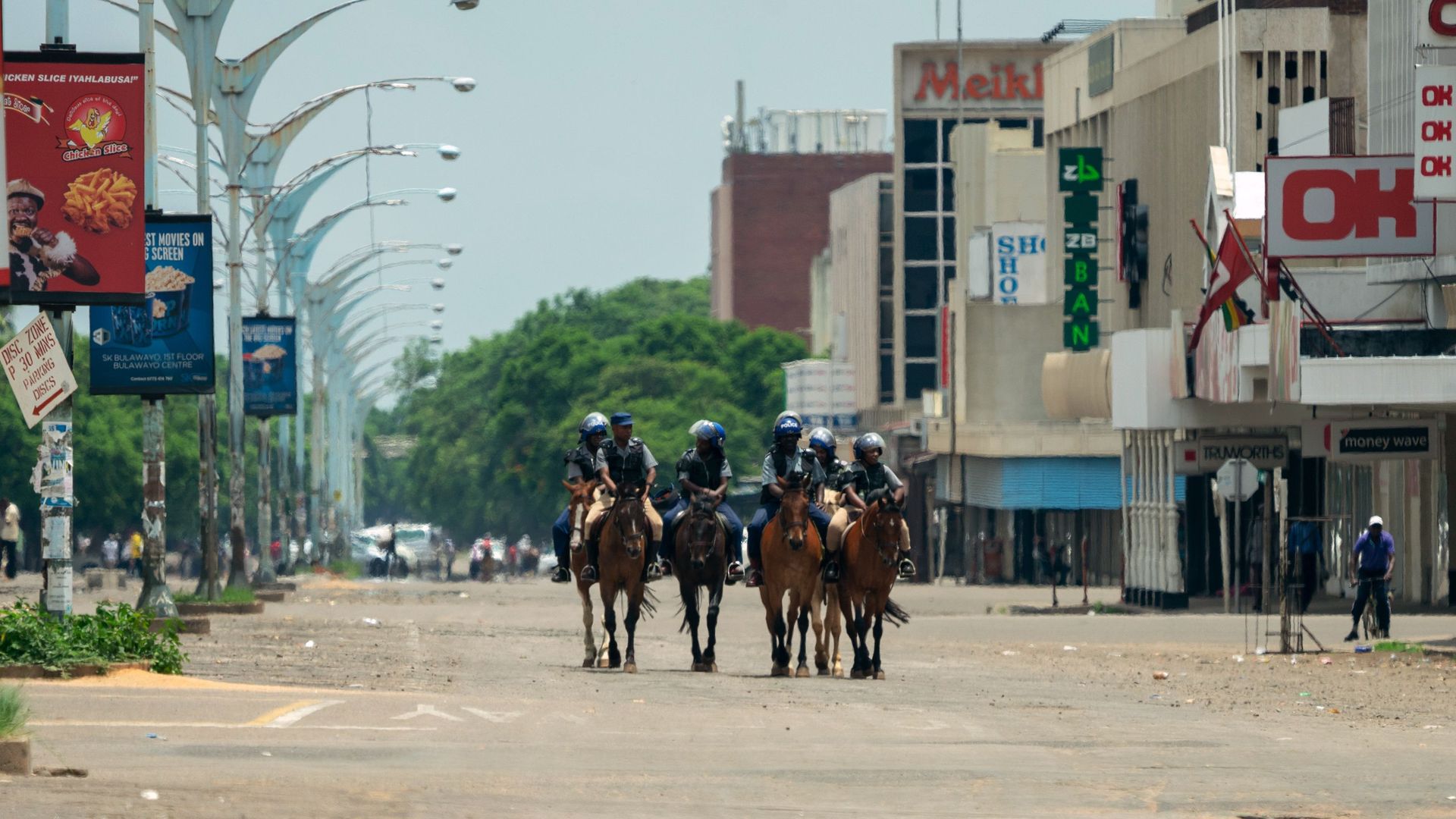 Zimbabweans protesting economic distress and high costs of living this week attempted to enforce a three-day national shutdown by blocking roads and pressuring businesses to close.
The government responded by blocking access to the internet.
The latest: "Econet Wireless Zimbabwe Ltd., the country's biggest mobile-phone operator, said Wednesday night it's still blocking access to some social-media sites on government instructions," per Bloomberg.
Flashback: This comes just weeks after authorities in the Democratic Republic of the Congo blocked the internet to stop "fictitious" election results from spreading. (They'd prefer to spread them themselves, apparently.)
The bigger picture: Axios Media Reporter Sara Fischer notes that internet censorship is a major concern ahead of general elections this year in Nigeria, Algeria, Senegal, Tunisia and Botswana.
Election-related social media shutdowns have been reported in Ethiopia, Chad, Uganda and elsewhere. In Ghana, which has a comparatively strong democracy, social media was blocked on election day in 2016.
What to watch: China's global influence could have a profound effect on internet freedom. Per Quartz, China "isn't just tightening online controls at home but is becoming more brazen in exporting some of those techniques abroad" through "official training, providing technological infrastructure to authoritarian regimes, and insisting that international companies accept its content regulations even outside of China."
4. Latin America: A revolutionary we can do business with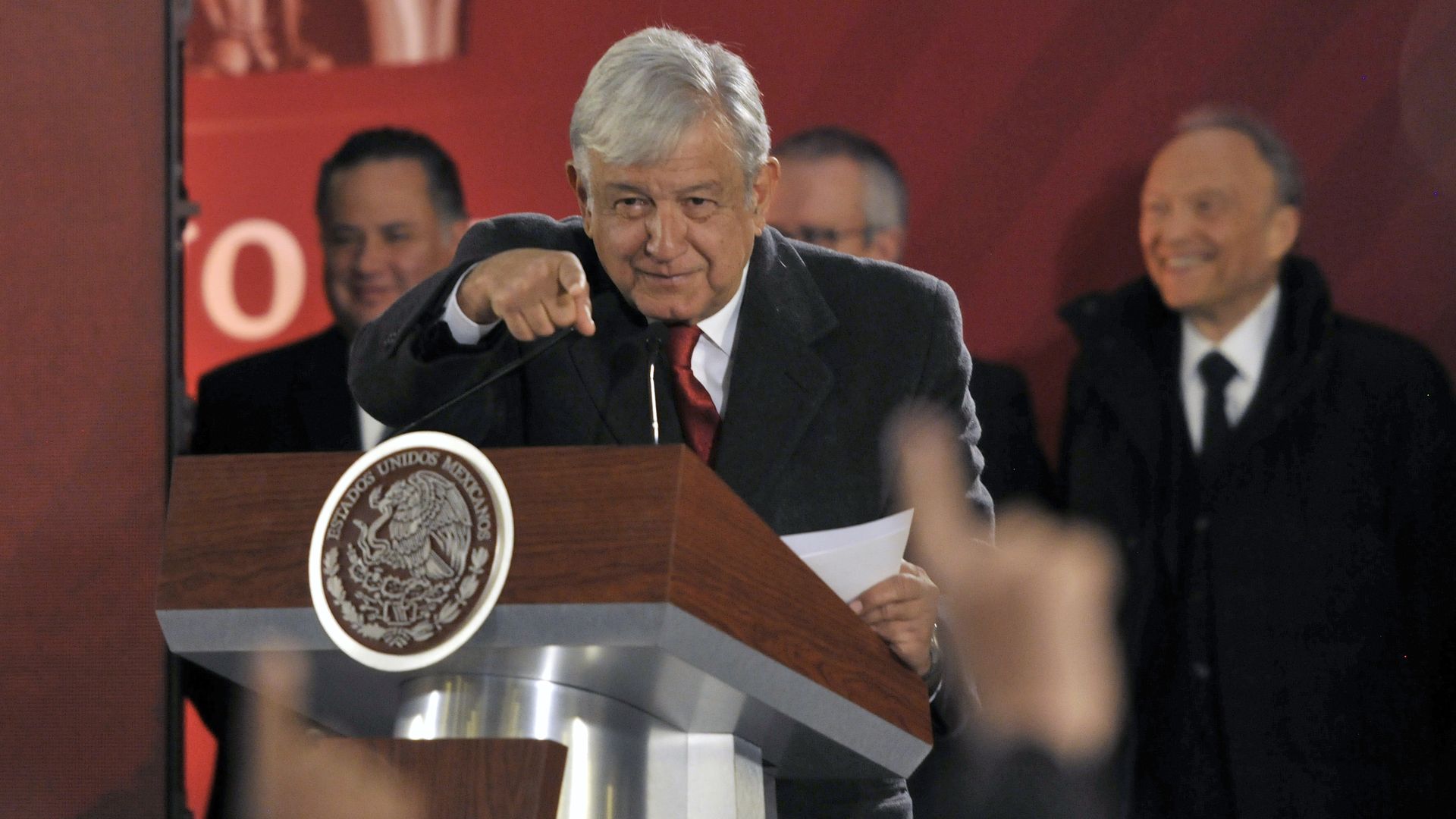 When leftist Andrés Manuel López Obrador took office as Mexico's president, the central question was whether he'd be the revolutionary of the campaign trail or the pragmatist of his time as Mexico City's mayor.
Axios Markets Editor Dion Rabouin reports that, so far, investors like what they see.
What they're saying: "He has met or exceeded expectations," said Jim Barrineau, head of emerging markets debt at Schroders. "We were skeptical that he would be able to balance his desire for social programs with a reasonable fiscal policy. So far it seems like he has."
Mexican Finance Minister Carlos Urzua and a team met with dozens of investors in New York recently. It was called "impressive" and "confidence building" by attendees.
"We are very pleased," said Jin Zhang, an executive director and portfolio manager at Vontobel Asset Management who oversees $39 billion and says he holds significant investments in Mexican stocks. "We had been watching pretty closely the whole process."
What it means: The performance of his economic team combined with the president's fiscally austere budget — which still allocated increased spending to programs for the poor, new mass transportation projects and scaled-back banking regulations — have provided López Obrador with a longer leash from the market.
5. China: Trump wants a deal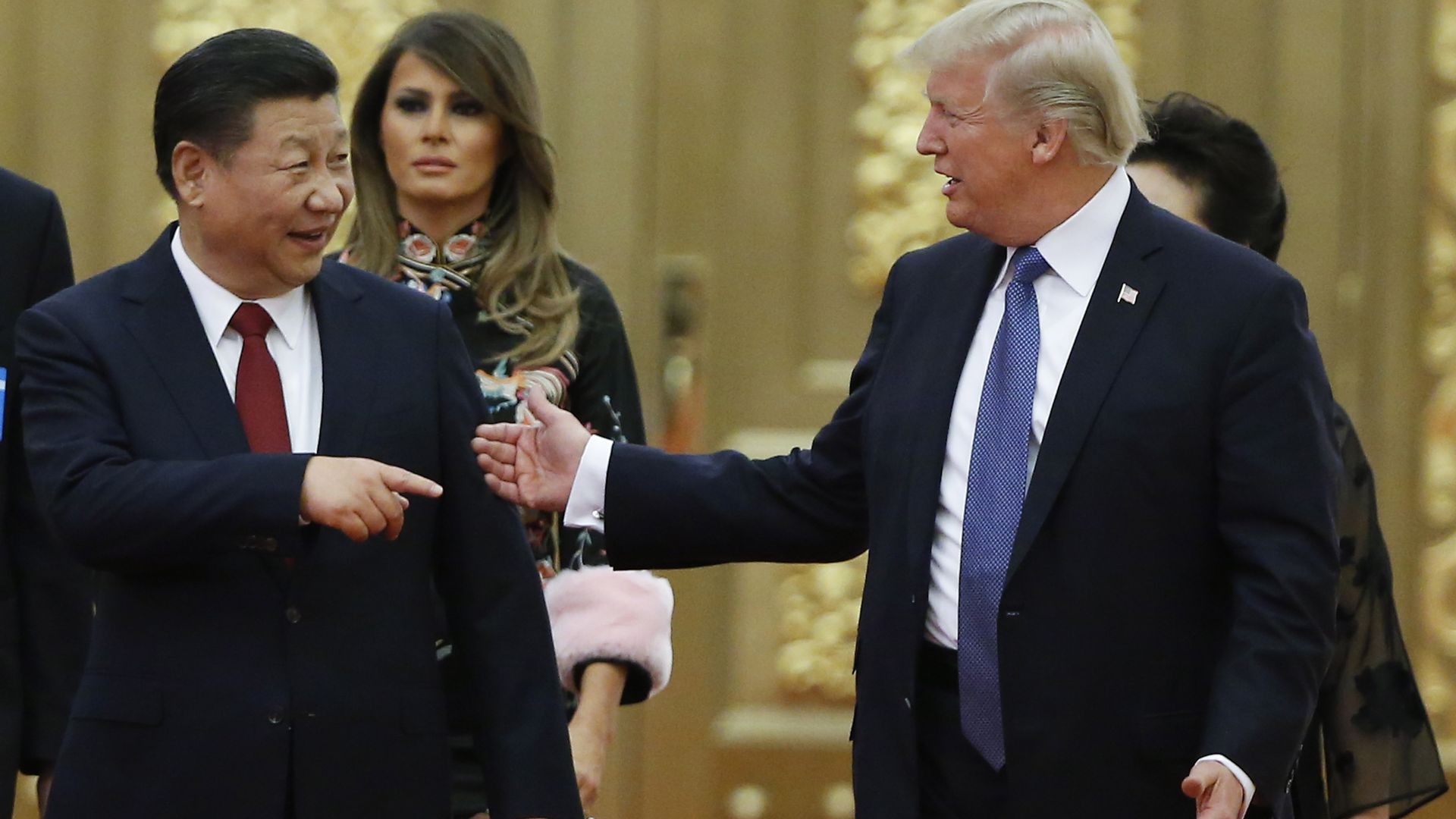 Speaking of markets ... They spiked after a Wall Street Journal report from Bob Davis and Lingling Wei (who have absolutely owned the trade war story) that Treasury Secretary Steven Mnuchin has been advocating "lifting some or all tariffs" in order "to advance trade talks and win China's support for longer-term reforms."
"But Mr. Mnuchin faces resistance from U.S. Trade Representative Robert Lighthizer, who is concerned that any concession could be seen as a sign of weakness."
"In past China discussions, Mr. Trump has sided with Mr. Lighthizer on tariffs, rather than Mr. Mnuchin. But this time, the president has made clear he wants a deal — and is pressing Mr. Lighthizer to deliver one, according to people familiar with the discussions."
The markets gave back some of those gains after a Treasury spokesman denied the report.
Between the lines: Even if this idea goes nowhere, we're seeing signs Trump is (for now) in a dealmaking mood. So are the Chinese, according to Axios contributor Bill Bishop's reporting. Trump's deadline for a deal is March 1.
6. Sparks and springs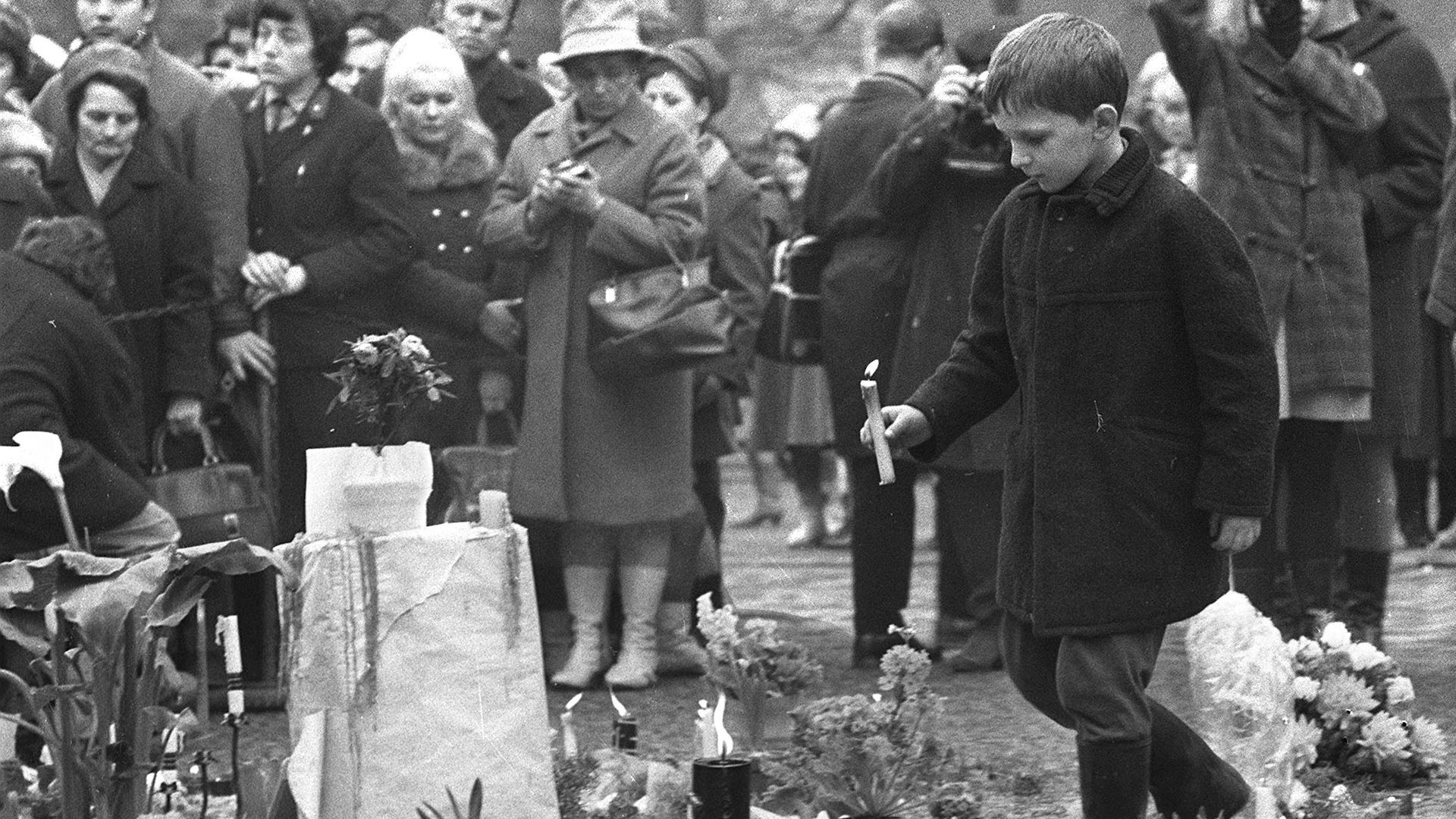 A nationwide strike began today in Tunisia "affecting the country's airports, schools and state media to protest the government's refusal to raise the salaries of 670,000 public servants," per Voice of America.
The strike comes almost 8 years to the day that protests toppled President Zine al-Abidine Ben Ali, kicking off the Arab Spring.
Those protests began after street vendor

Mohamed Bouazizi

set himself on fire after a confrontation with police who had confiscated his fruit cart.
Meanwhile, the Czech Republic is marking the 50th anniversary of the day student Jan Palach set himself on fire in Prague's Wenceslas Square.
Palach was attempting to inspire resistance after an invasion by Warsaw Pact troops crushed the Prague Spring. His death became a rallying cry for future protests, and he's remembered as a martyr and national hero.
7. Stories we're watching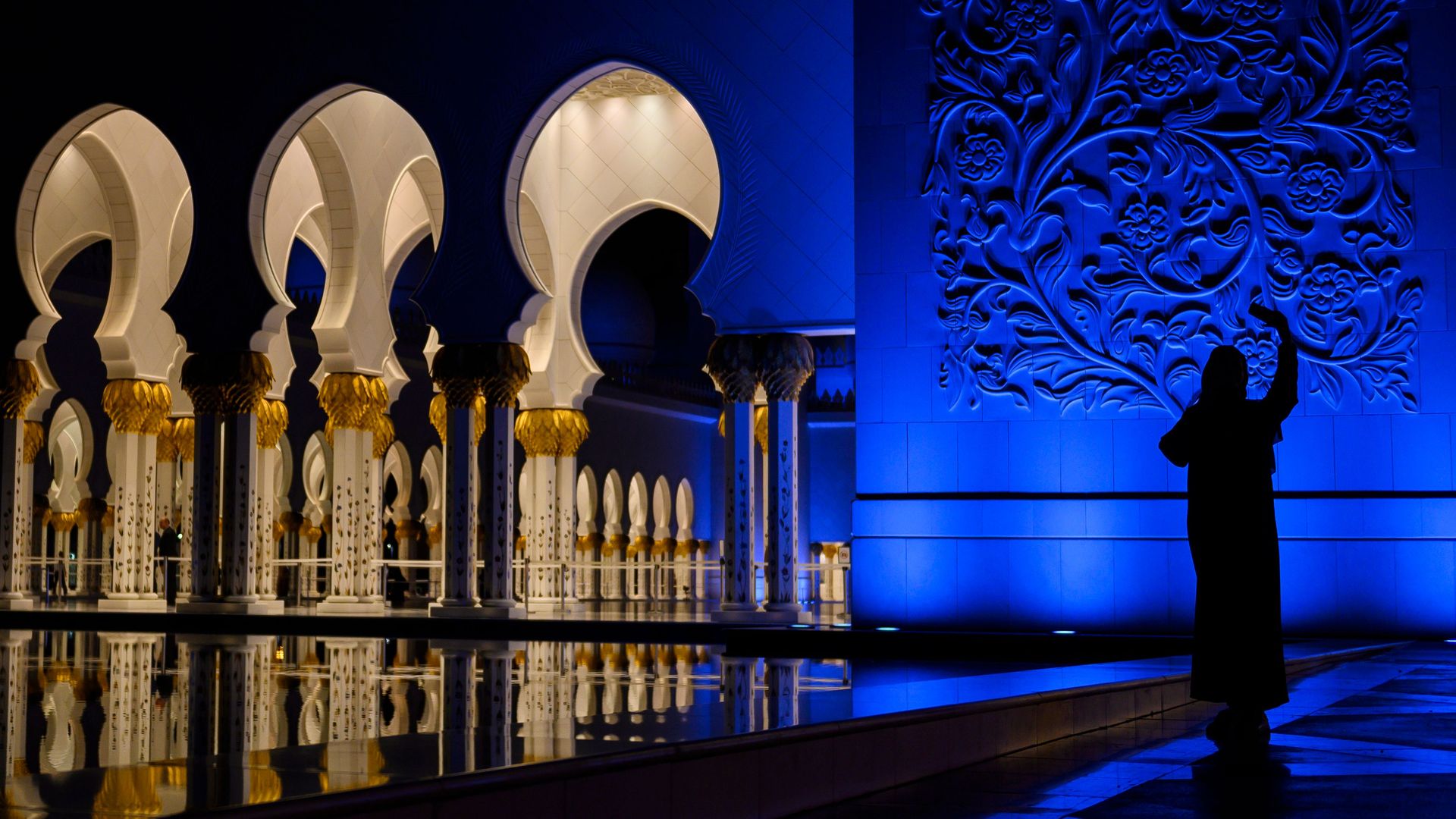 Quoted:
"What they have chosen is not possible. Good luck to the representatives of the nation who have to implement a thing which doesn't exist and explain to the people: You have voted on something, we lied to you."
— Emmanuel Macron on Brexit
Thanks for stopping by — see you Monday evening!