Welcome to Axios World, where two evenings a week we break down the big stories from around the globe.
Thanks for joining me! Please tell your friends and colleagues to sign up, and I'd love your tips and feedback: lawler@axios.com.
Fútbol fans: The Women's World Cup kicks off tomorrow in France and Kendall Baker has you covered in the Axios Sports newsletter. Sign up here.
Tonight's edition is a lean 1,434 words (~5 min. read)
We begin this evening with an important report from Axios fellow Phanindra Dahal, who leaves us tomorrow to return to the BBC in Kathmandu.
1 big thing: Desperation and danger for South Asia's migrant workers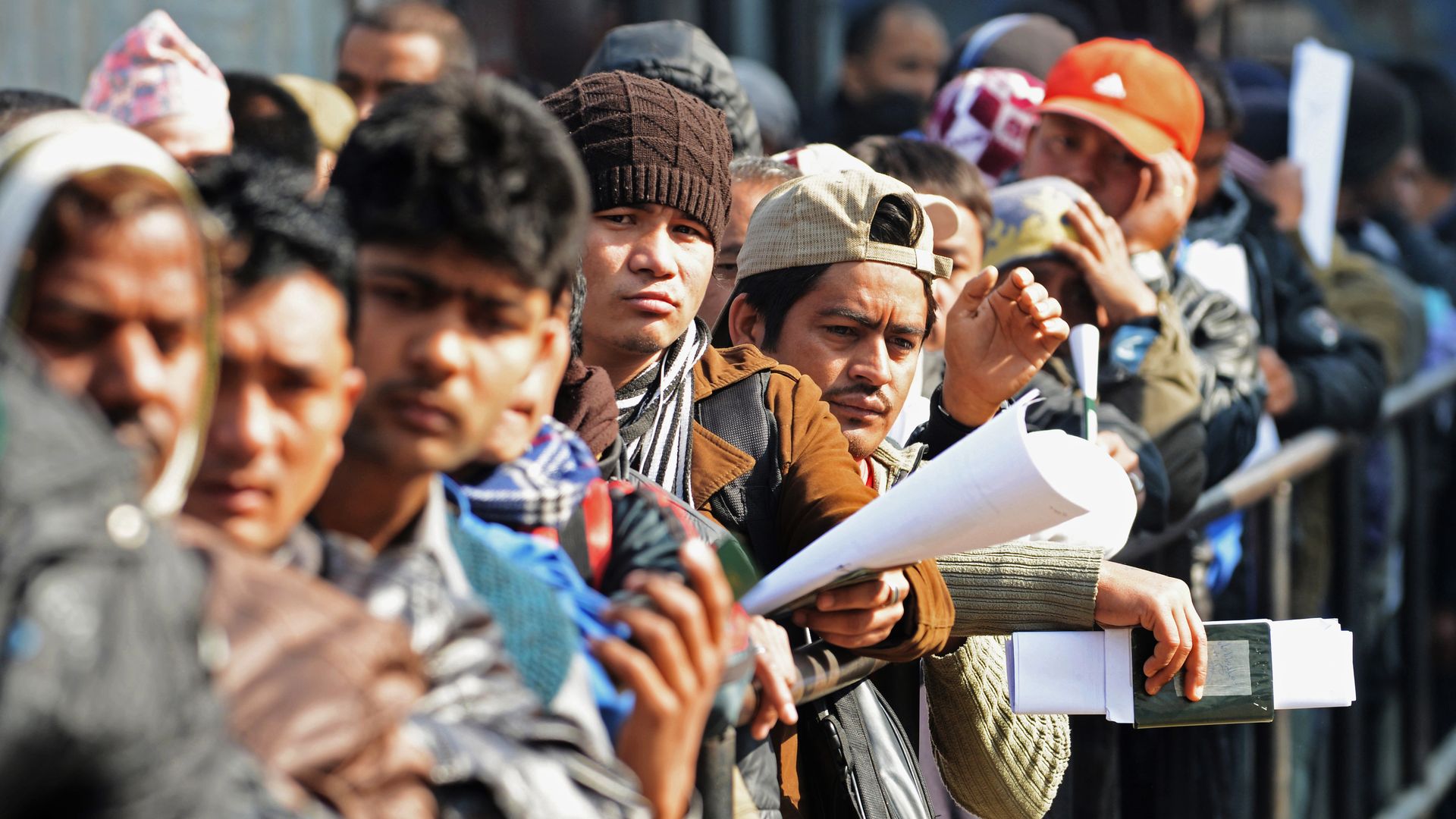 Hundreds of thousands of migrant workers hoping to escape poverty and provide for their families depart South Asia every year for the Gulf.
The reality: Promises tend to evaporate when they arrive in the Middle East. Many find themselves working in exploitative and dangerous conditions — and unable to return home.
Hemraj Damai, 33, is a typical case. He moved to Qatar in 2018 after paying a recruitment agent around $900 — 10 times the fee stipulated by the Nepali government. A low caste Dalit from the plains of southern Nepal, he was promised a cleaning job in Doha with a monthly wage of $324.
This was Damai's second trip to the Gulf. He had previously spent two years working on a sheep farm in Kuwait.
When he arrived, he was asked to drill tunnels and paint buildings in extreme heat for just half the promised salary.
When he complained, he was allowed to change jobs, but for even lower hourly pay. He worked 16–18 hours every day to send $200 per month to his family.
"I could only sleep three to four hours every night," Damai told Phanindra from his village in Nepal. "Sometimes the room we lived in had leakages from the toilet. Once I earned back the money that I had paid to the broker, I decided to return home."
The big picture: Remittances are a lifeline for low- and middle-income countries like Nepal. Of the $689 billion disbursed worldwide in 2018, $529 billion went to developing countries, according to the World Bank.
4.36 million Nepalis are working abroad, of which 75% are unskilled laborers. Remittances from workers like Damai make up nearly 30% of Nepal's GDP.
Angela Sherwood, who researches labor rights for Nepali migrant workers for Amnesty International, tells Axios that exploitation often starts at the very beginning of the journey.
Workers often lack knowledge of the process and are illegally forced to make payments and turn over their passports. Government departments in Nepal tasked with protecting workers' rights are severely under resourced.
In destination countries, wages often don't match what was promised. With debts hanging over them, workers feel they can't leave even the most dangerous and exploitative jobs.
Amnesty International exposed an engineering company linked to the 2022 World Cup in Qatar that failed to provide workers with a salary, residence permits and access to medical facilities.
More than 7,000 Nepali workers died overseas in the last 10 years, according to the Nepali government.
The numbers from India are even higher: 28,523 died in Gulf countries between 2014 to 2018, according to India's government.
The deaths typically aren't thoroughly investigated, but many could be tied to harsh working conditions according to May Romanos, who has researched conditions in Qatar for Amnesty International.
The bottom line: Nearly every day, the coffins of dead workers arrive at Nepal's international airport in Kathmandu. At a crowded departure gate designated specifically for them, workers line up, hoping for a brighter future.
Despite his recent experience, Damai will soon be among them. He's planning to depart for Malaysia soon.
"I have no land and no job here. I need money to afford education for my sons. I have no option other than foreign employment to make my family happy."
2. How Sudan's uprising was beaten back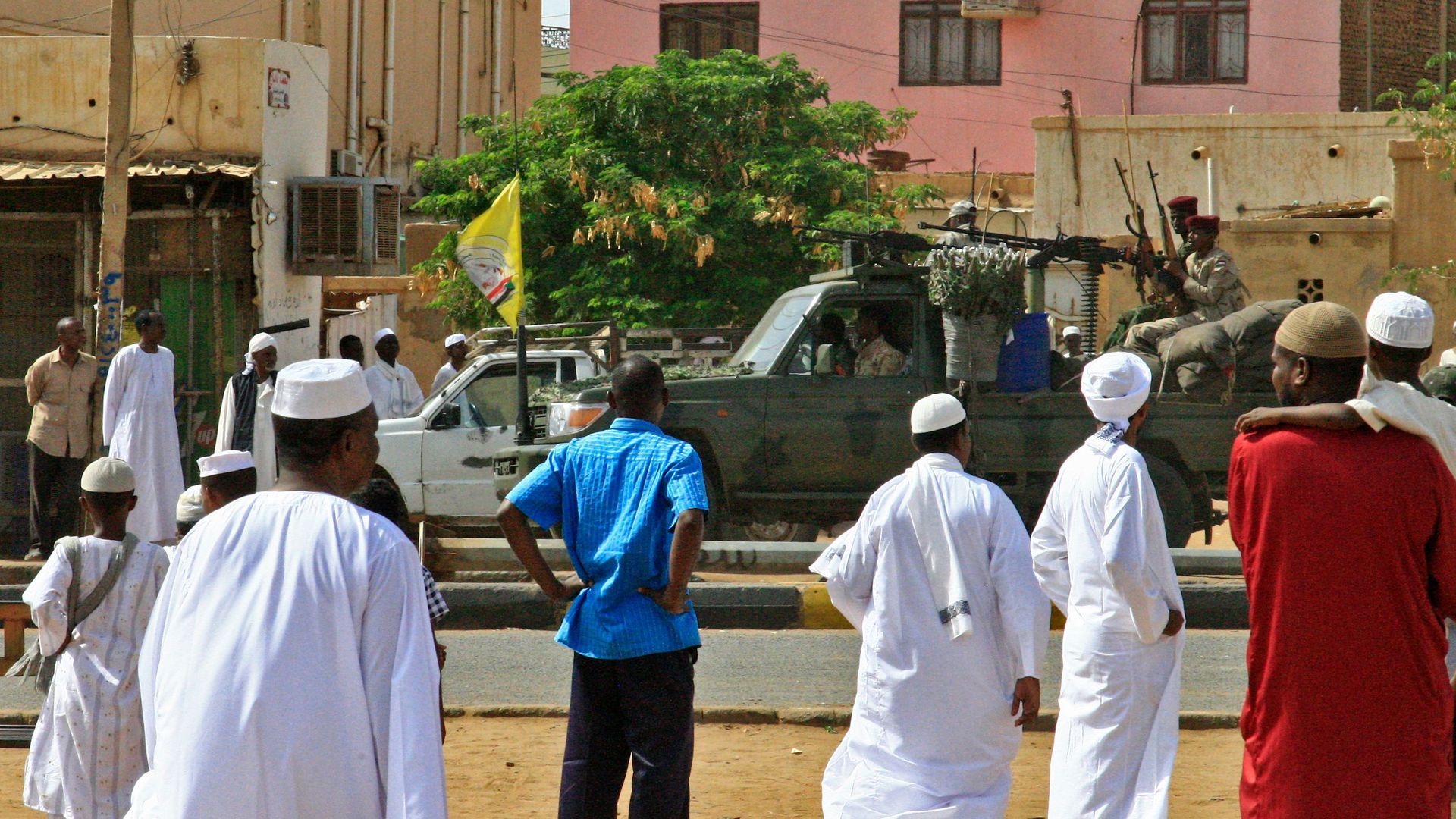 Organizers of Sudan's pro-democracy protests say they will regroup and fight on after a deadly crackdown this week by paramilitary groups.
How we got here:
Dec. 19: Protests over high prices and economic deprivation begin in several cities. Soon, protestors begin calling for Omar al-Bashir, the country's brutal dictator, to step down.
Feb. 19: Bashir declares a state of emergency and empowers security services to crack down on the demonstrations.
April 6: A sit-in begins outside military headquarters in Khartoum.
April 11: Sudan's army arrests Bashir and announces it will take power until elections can be held.
April 21: Protestors break off talks with the Transitional Military Council (TMC) and say the generals aren't willing to give up power. Talks eventually resume, but the sit-in protests continue.
May 15: The army and opposition reach a tentative power-sharing agreement that involves a three-year transition to democracy. Disputes and distrust remain.
May 28: Protestors call for a two-day national strike.
June 3: Paramilitaries attack the sit-in camp and other sites in and around Khartoum, killing dozens.
June 4: Sudan's de facto military ruler, Gen. Abdel Fattah al-Burhan, voids agreements with the opposition and says elections will be held in 9 months.
The geopolitical picture: Three powerful dictatorships in the region — Egypt, Saudi Arabia and the UAE — have supported the TMC's efforts to consolidate power.
The latest: The African Union today suspended Sudan's membership following an emergency meeting. The bloc said the suspension would last "until the effective establishment of a civilian-led transitional authority."
Al-Burhan has now called for talks to resume. Protestors say they can't negotiate with the crackdown ongoing.
3. Press freedom declining around the world
Press freedom has fallen in 1 in 5 countries over the past 5 years, according to an annual report from Freedom House.
The bad:
"Viktor Orbán's government in Hungary and Aleksandar Vučić's administration in Serbia have had great success in snuffing out critical journalism, blazing a trail for populist forces elsewhere."
In Israel, "Prime Minister Benjamin Netanyahu has repeatedly excoriated investigative reporters and now faces corruption charges for allegedly offering regulatory favors ... in exchange for positive coverage."
In India, the ruling BJP has attempted to "discourage speech that is 'antinational,' and government-aligned thugs have raided critical journalists' homes and offices."
"President Trump's public stance on press freedom has had a tangible impact on the global landscape."
The good:
Press freedom is improving in Ethiopia, Malaysia, Armenia, Ecuador and Gambia.
"Media freedom can recover much more quickly after a period of authoritarian governance than some other elements of democracy, such as the rule of law."
4. World news roundup
1. Denmark's center-right ruling party conceded defeat in yesterday's elections. The center-left Social Democrats are set to take power.
The anti-immigrant Danish People's Party lost more than half of its seats, in part because both mainstream parties adopted hardline immigration policies.
Mette Frederiksen, 41, is expected to become Denmark's youngest ever prime minister.
2. The leader of Thailand's military junta, Prayuth Chan-ocha, successfully retained power after manipulating the electoral system such that he was essentially the only possible choice.
The junta took power in a 2014 coup and passed sweeping constitutional changes before holding elections in March.
While the process was a sham, Prayuth will now have to govern through a multiparty parliament.
3. Vladimir Putin's spokesman said he has no idea where President Trump's claim that Russia had "removed most of their people from Venezuela" came from.
Context: Russia supports Venezuela's Nicolás Maduro in his power struggle with the U.S.-backed Juan Guaidó, and sent around 100 troops in March to support the embattled president.
What to watch: Secretary of State Mike Pompeo said in a closed-door meeting last week that keeping the Venezuelan opposition united has proven "devilishly difficult," and he said "forty-plus people" would claim to be the rightful leader once Maduro was removed, the Washington Post's John Hudson reports.
4. Mexico is pushing for more time to reach an immigration deal and avert the tariffs Trump has threatened to implement on Monday.
The U.S. is considering a delay, and thinks "Mexico is taking the talks seriously and working quickly to address Trump's concerns," Bloomberg reports. For now, it looks as though the 5% tariffs will come into force.
5. Africa: Ebola outbreak rumbles on
The number of confirmed cases in an Ebola outbreak that began last August in the Democratic Republic of Congo breached 2,000 this week, Axios' Eileen Drage O'Reilly writes.
Michael Ryan, executive director of the World Health Organization's health emergencies program cautioned today that the outbreak still could intensify — lasting up to another 2 years in a "worst case scenario" — but he stressed there are now some "hopeful" changes in trajectories.
Jennifer Nuzzo of Johns Hopkins Center for Health Security, tells Axios that despite the lower recent numbers, there's "cause for concern" due in part to violence targeting Ebola treatment centers and fears of an upcoming shortage of the Ebola vaccine.
6. In photos: D-Day, 75 years later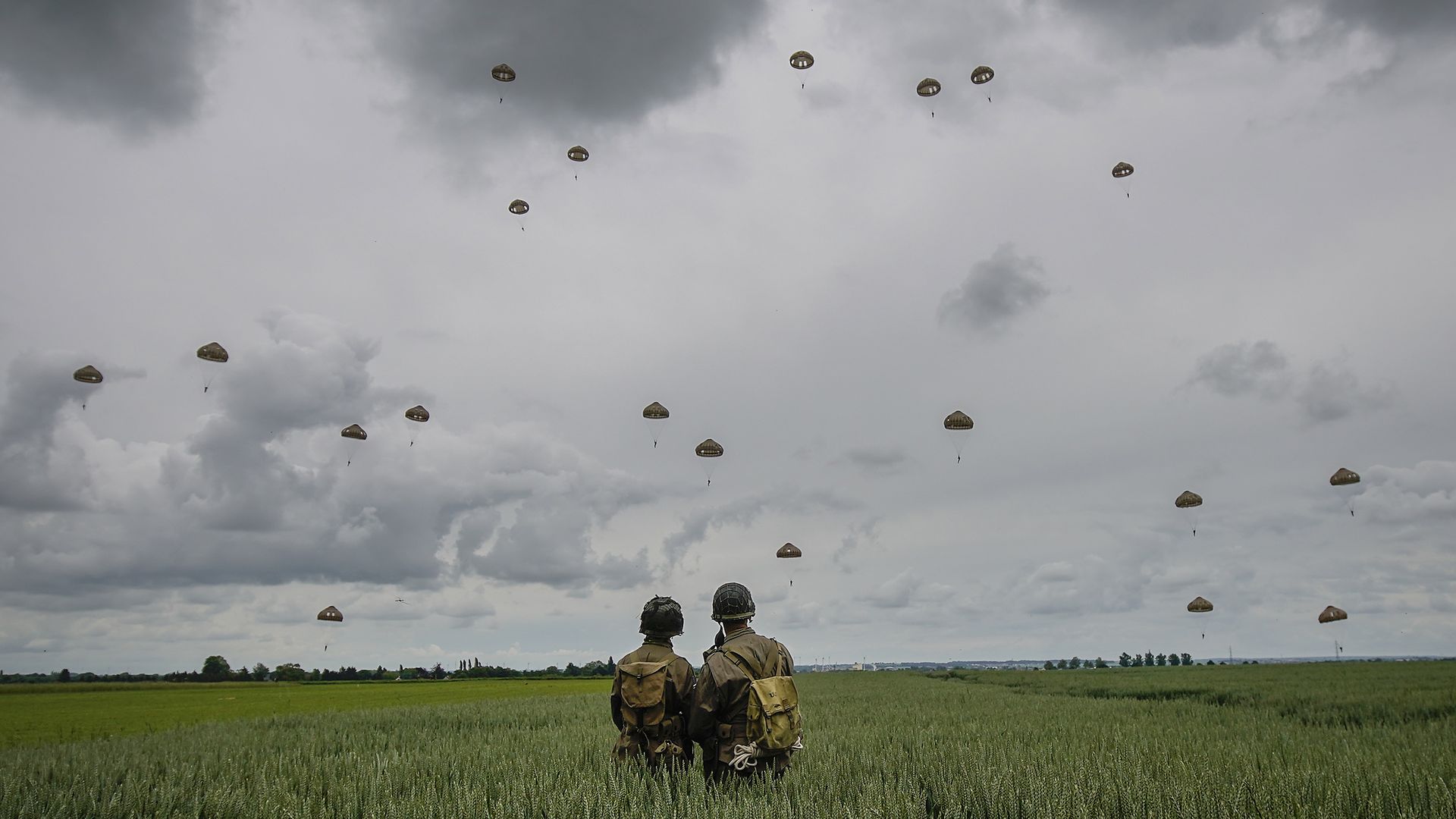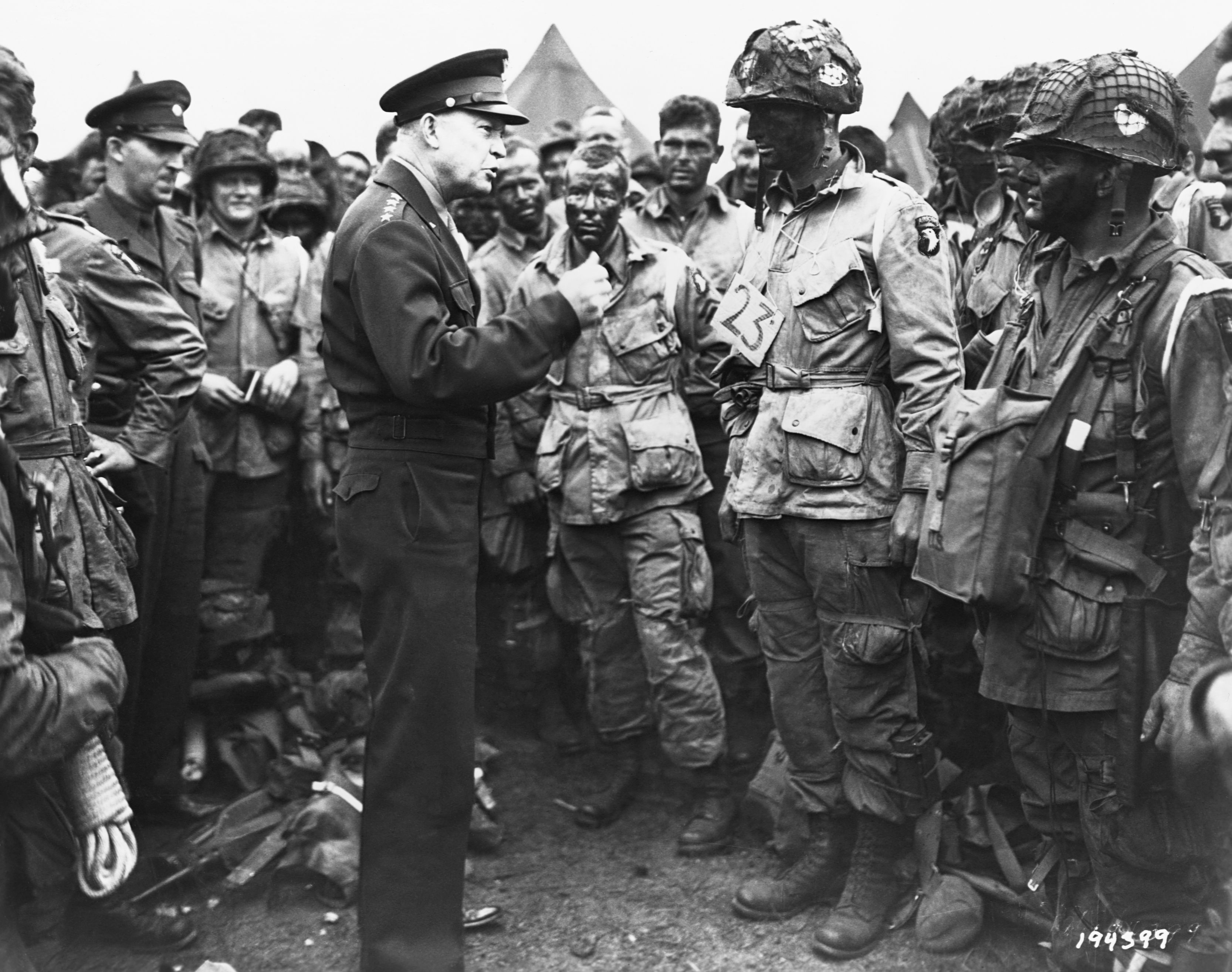 Gen. Eisenhower addresses troops prior to the D-Day invasion. Photo: Corbis via Getty Images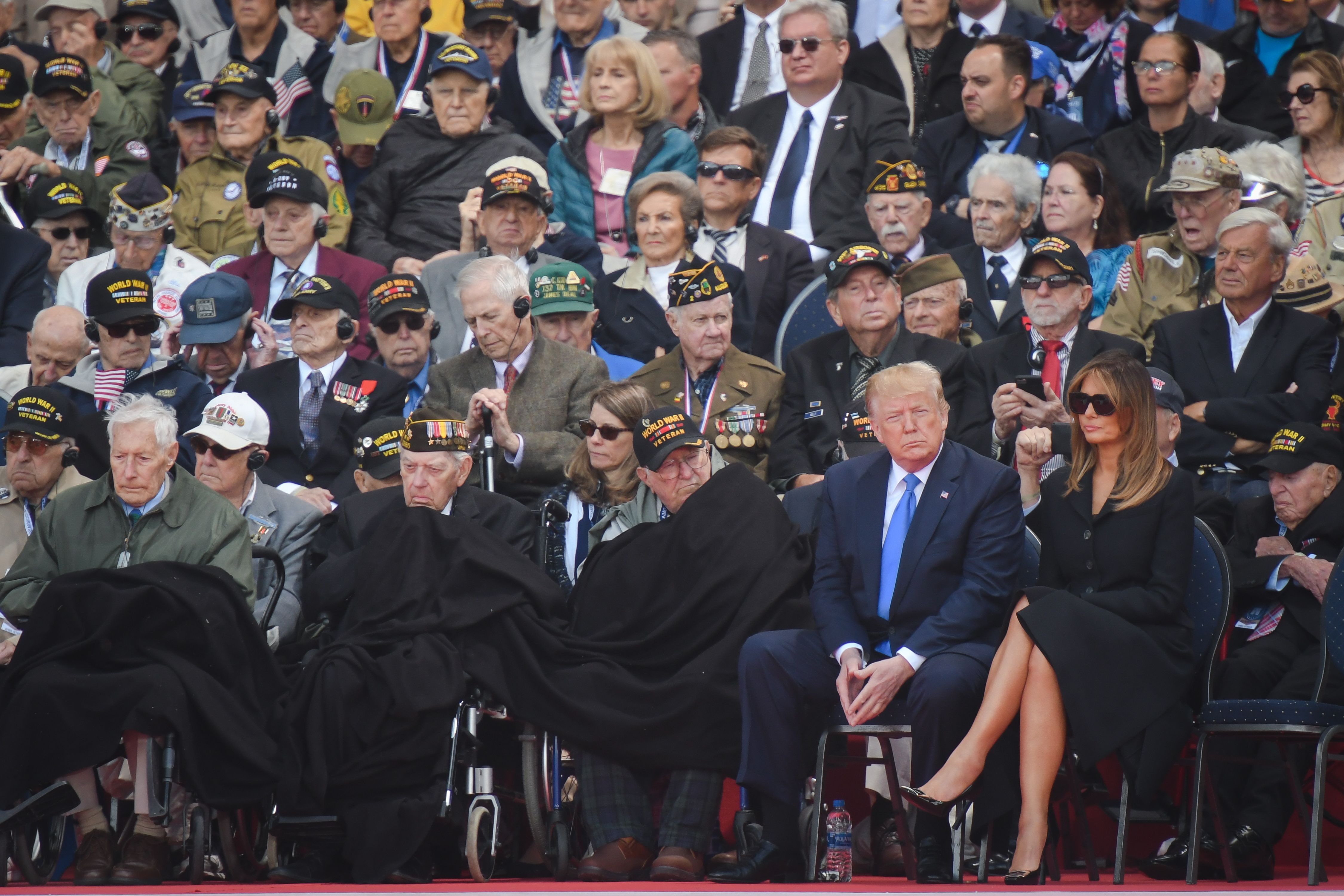 President Trump with D-Day veterans today in Normandy. Photo: Artur Widak/NurPhoto via Getty Images
"Today, as we stand together upon this sacred earth, we pledge that our nations will forever be strong and united. We will forever be together. Our people will forever be bold, our hearts will forever be loyal. And our children and their children will forever and always be free."
— From
Trump's speech
today
7. Stories we're watching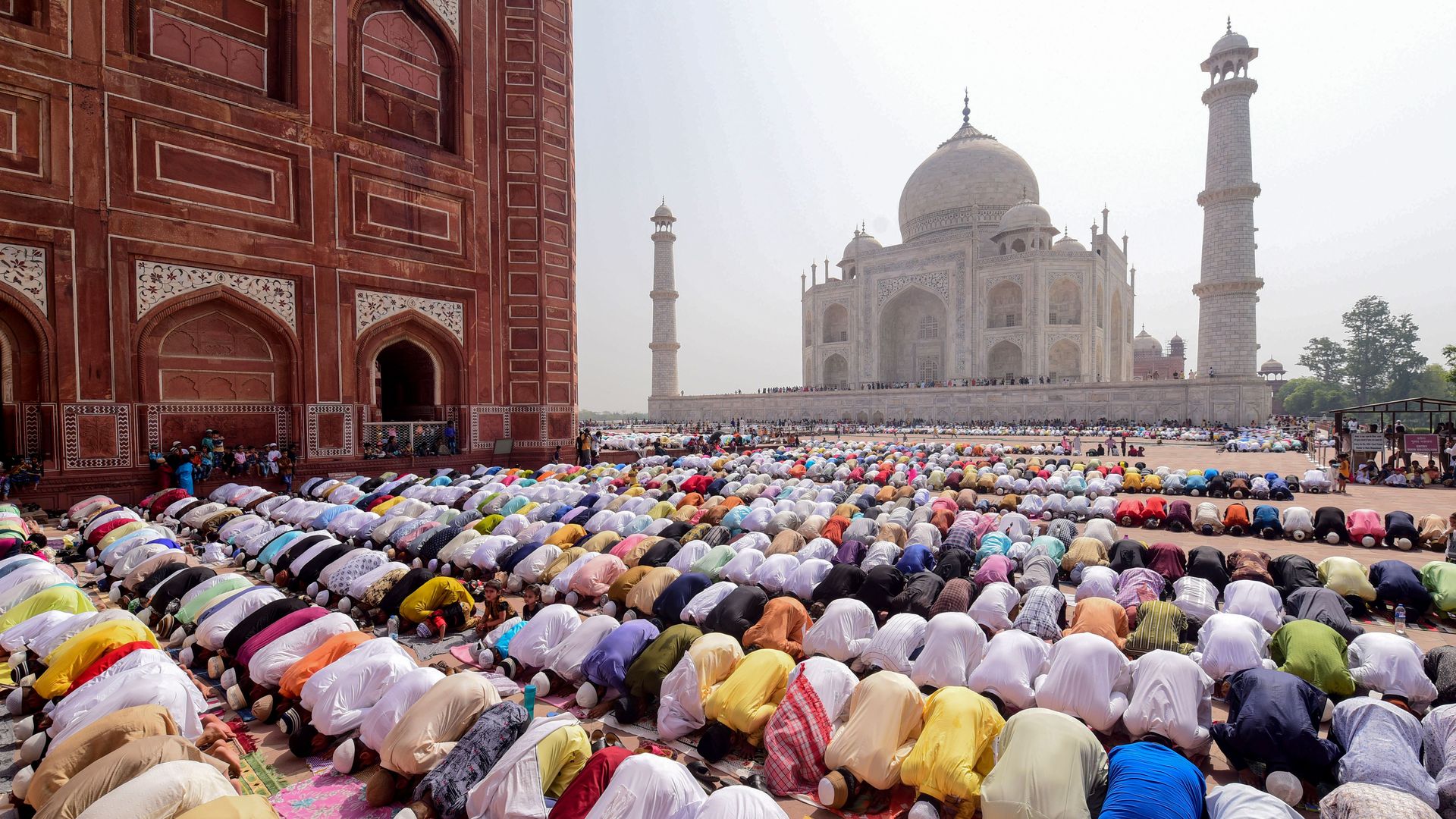 Quoted:
"President Putin is my best friend and colleague."
— Chinese President Xi Jinping
yesterday in Moscow
Thanks for stopping by — have a lovely weekend.