Welcome aboard for another edition of Axios World. Tonight's journey will take 1,627 words (~ 6 minutes).
Thanks for joining me! Please tell your friends and colleagues to sign up, and I'd love your tips and feedback: lawler@axios.com. 
Situational awareness: Two Trump tweets in recent minutes...
"Sue Gordon is a great professional with a long and distinguished career. I have gotten to know Sue over the past 2 years and have developed great respect for her. Sue has announced she will be leaving on August 15."
"I am pleased to inform you that the Honorable Joseph Maguire, current Director of the National Counterterrorism Center, will be named Acting Director of National Intelligence, effective August 15th."
1 big thing: U.S. watches partners slug it out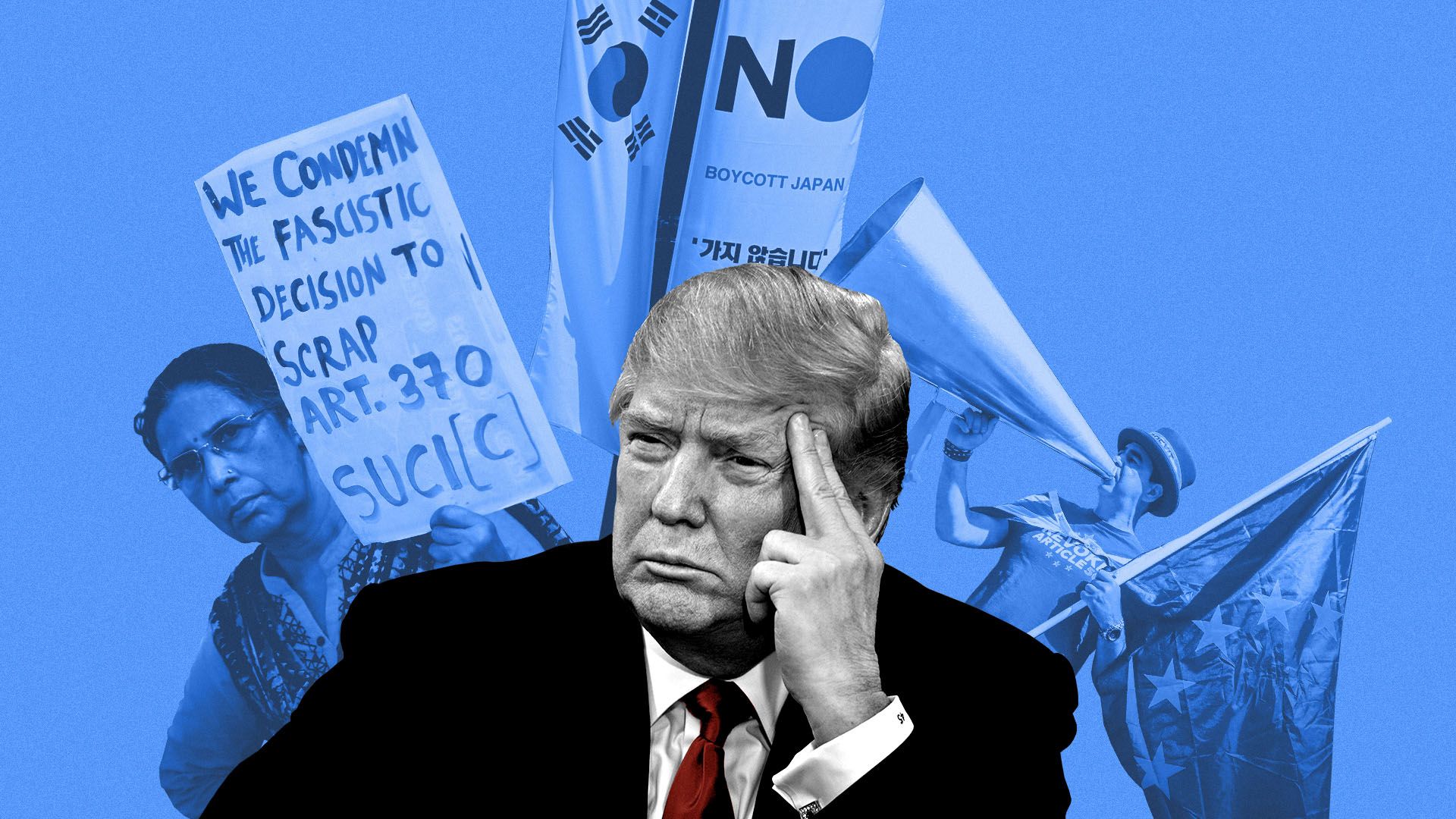 Several of America's key strategic partners are at each other's throats — and the U.S. seems powerless to prevent further escalation.
Why it matters: "None of these crises was made in America," says Richard Haass, president of the Council on Foreign Relations. "That said, we have made it worse in each case either by what we've done or what we haven't done."
Pakistan is suspending bilateral trade with India, stopping cross-border train service and downgrading diplomatic relations — all over India's revocation of the longstanding special status of Jammu and Kashmir, its only Muslim-majority state.
The U.S. State Department has said it received no prior warning about India's constitutional changes, which were accompanied by a major security crackdown in Kashmir, and referred to the event as "strictly an in­ter­nal mat­ter."
However, it came just two weeks after President Trump unexpectedly told Pakistani Prime Minister Imran Khan he was prepared to mediate the dispute in Kashmir, which both nuclear powers claim.
"India's decision to make this big move on Kashmir when it did was likely influenced in great part by Trump's offhand mediation offer," says Michael Kugelman of the Wilson Center. "India, by formally integrating Kashmir into India proper, has sent a strong message to Washington: There is no need for mediation."
With its silence since, says Kugelman, the White House is signaling it "doesn't want to get involved."
Meanwhile, as North Korea fires missiles and the trade war with China heats up, Washington's two crucial East Asian allies have turned on one another.
Japan's decision to slow exports of sensitive materials that are crucial to South Korean tech firms prompted boycotts and marches in South Korea. The move came after a court ruling on compensation for victims of colonial-era forced labor that enraged Tokyo.
South Korea has since threatened to scrap intelligence sharing with Japan, a scenario the U.S. is eager to avoid.
Meetings scheduled for Friday in Bangkok between Secretary of State Mike Pompeo and the foreign ministers of both countries were canceled. Per the NYT, the diplomats "were said to be irked by Mr. Pompeo's pressuring them to end their differences."
A Japanese embassy official told Axios the questions of history and security that caused the rift are bilateral in nature, so there's little room for U.S. intervention. Still, neither side has expressed optimism that relations will improve soon.
In London, Prime Minister Boris Johnson is insisting the deal Theresa May negotiated with the EU is dead and it's up to Brussels to "show flexibility" to avoid a damaging crash exit on Halloween. Hostility and distrust are flowing across the English Channel in both directions.
In normal circumstances, the U.S. objective would be to avert the global economic shock of a "no deal" Brexit and ensure relations between European allies remain cordial, come what may.
Instead, Trump pushed Theresa May to sue the EU and allied himself with the hardest-line Brexiteers, including Johnson and Nigel Farage. He's also stressed the possibility of a U.S.-U.K. trade deal, which Brexiteers point to as a sign that they should hold the line.
The bottom line: "All of these situations argue for quiet American involvement," Haass says. "You need the United States, behind the scenes, encouraging people to say and do things that are constructive and avoid saying and doing things that are not."
"That's old-fashioned foreign policy. This is an administration that doesn't seem to do a lot of that."
2. Latin America: Venezuela under embargo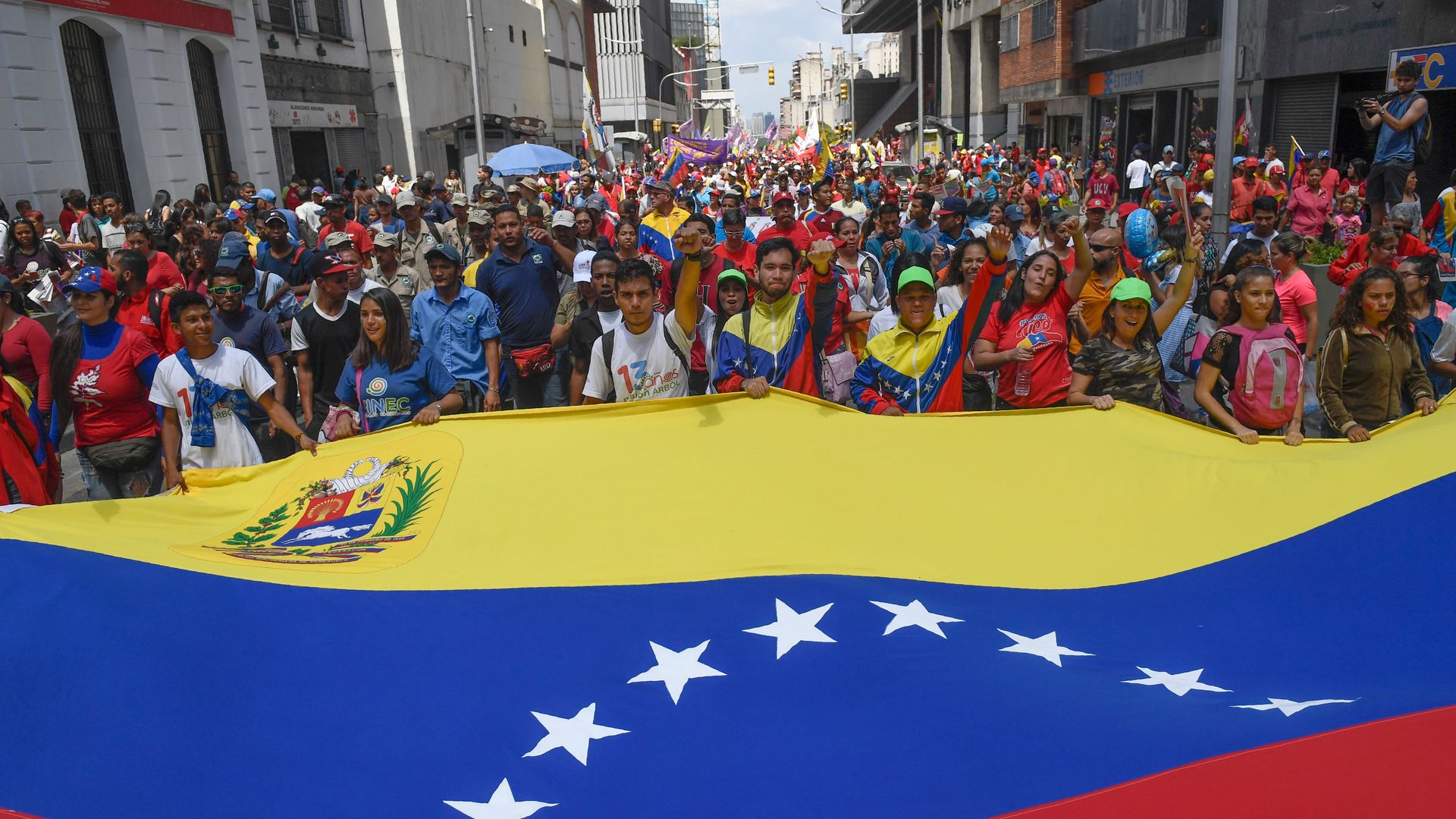 Venezuelan President Nicolás Maduro called off talks with the opposition today after the U.S. imposed a full economic embargo on his regime.
Why it matters: It has been six months since the U.S. recognized opposition leader Juan Guaidó as Venezuela's legitimate president and three months since a U.S.-supported coup attempt on Maduro failed.
The sweeping new U.S. steps are an attempt to regain momentum — but they are certain to inflame tensions with Russia and China, allies of Maduro who receive shipments of Venezuelan oil as a form of debt repayment.
Between the lines: "We're poking the Chinese and Russians in the eye and telling them that we're taking Venezuela very seriously," says Fernando Cutz, who served as the National Security Council's South America director earlier in the Trump administration.
"I think the Chinese have been OK with most things we've done on Venezuela as long as it doesn't affect their bottom line. At this point, we're going after their bottom line," he says, noting that the move comes in the context of an escalating trade war.
In a speech Tuesday in Peru, National Security Adviser John Bolton insisted that Maduro will fall once he runs out of funds needed to sustain his regime.
"That's been a goal of ours for a while," but "unfortunately [Maduro] has shown that he's trickier than we anticipated or hoped for," says Cutz.
Bolton noted repeatedly in his speech that U.S. sanctions don't target the people of Venezuela.
"The reality is that we're going to bring more pain on the Venezuelan people" in the short term, Cutz says. If Maduro hangs on, "we're really putting ourselves in a corner."
3. Global commerce: The Amazons of elsewhere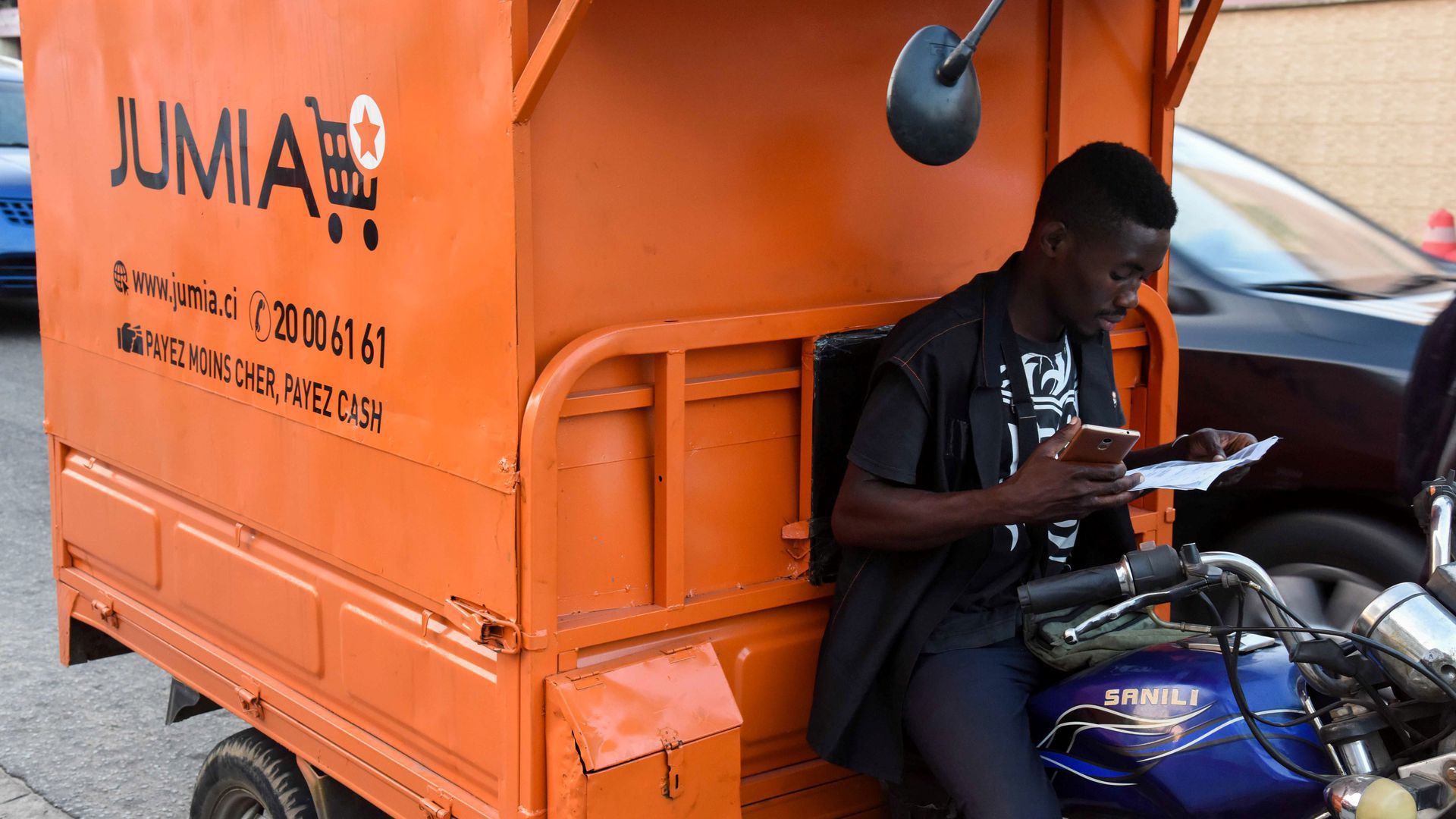 In several emerging markets, entrepreneurs are using the Amazon playbook to bring e-commerce to their own countries — but they're finding that demand for online shopping is expanding faster than the infrastructure needed to support it, Axios' Erica Pandey reports.
By the numbers: Asia's e-commerce market, led by India, is expected to grow 25% this year; Latin America, 21%; Middle East and Africa, 21%.
In Africa, the dominant player is Jumia, a pan-African e-commerce platform that recently filed for an IPO as the continent's first tech unicorn.
One of the biggest hurdles Jumia faces is that many homes don't have traditional addresses. "For example, if you say in a city in Africa, 'I live in the third street by the church with the blue door,' that's the address," Jumia co-founder Sacha Poignonnec said in an interview with McKinsey.
Local courier partners tag along with drivers and get on the phone with individual shoppers to figure out where to make deliveries.
In Russia, around 60% of Russian e-commerce orders are paid for upon delivery, usually in cash.
India's population also relies heavily on cash. Nonetheless, it's the second fastest-growing e-commerce market, behind Mexico.
Giants like Amazon, Walmart and Alibaba are making massive investments in homegrown firms like Flipkart and Reliance Retail — and betting the size of India's online shopping market will eventually rival that of China.
Because China leapfrogged credit cards and went straight from cash to mobile payments, e-commerce has boomed there. It accounts for 30% of all retail, compared with 10% in the U.S.
4. Europe: Salvini drops a bombshell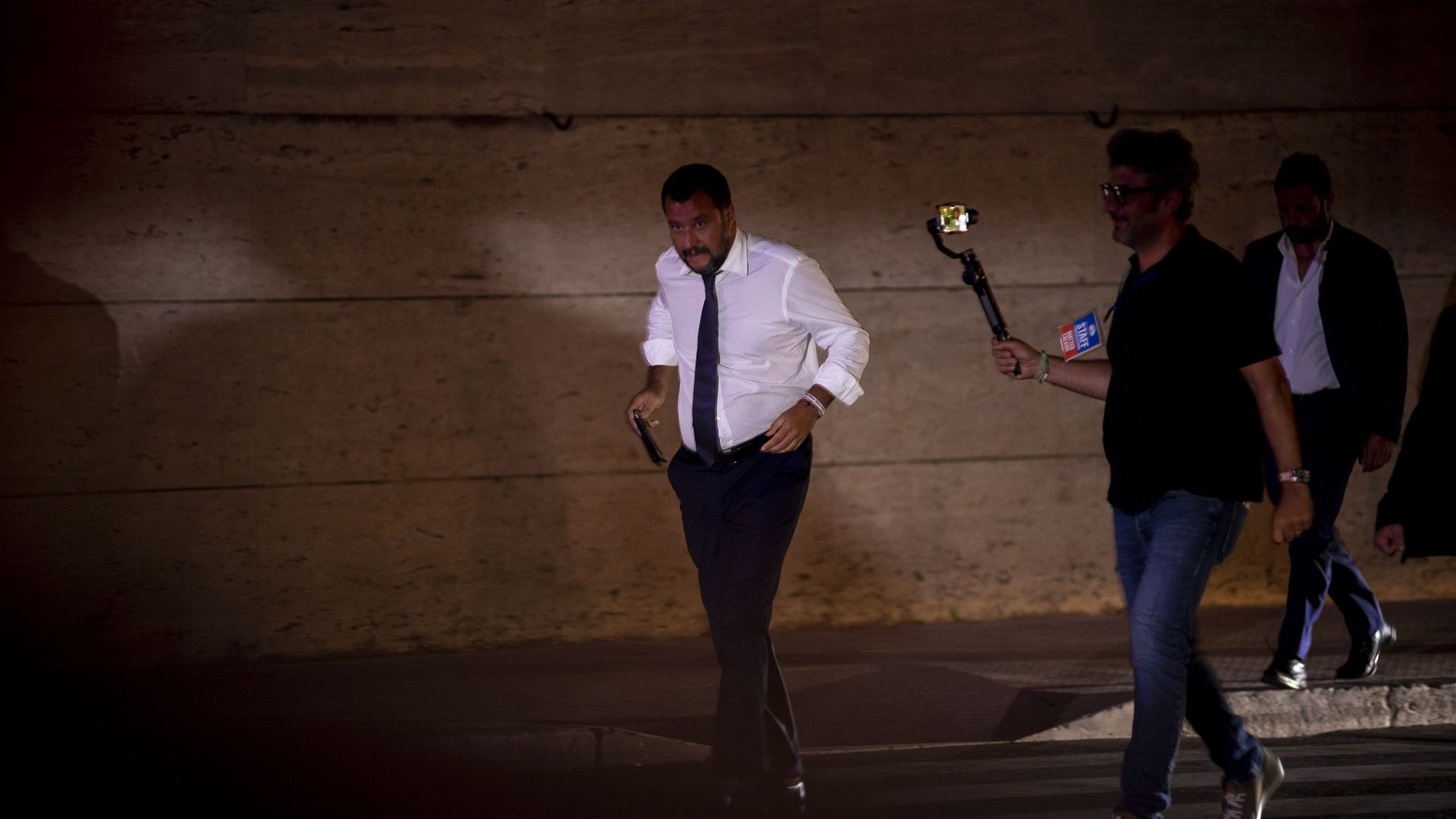 Matteo Salvini — Italy's interior minister, deputy prime minister and populist provocateur — today declared the governing coalition between his League party and the anti-establishment Five Star movement unworkable and demanded fresh elections.
The latest spat with Five Star was over a train line between Italy and France, but the partnership has long been volatile.
Five Star won the most seats in last year's election, but League has surpassed it in popularity, and Salvini could cement his status as Italy's most powerful man if the country goes to the polls again.
It's unclear whether that will happen, particularly as Parliament is currently on recess. Either way, the League-Five Star marriage looks doomed.
5. Data du jour: Where the taps could run dry
17 countries use more than 80% of their available water supplies every year, meaning droughts or increased water demand for agriculture and growing cities could leave them at risk of crisis, according to the World Resources Institute.
Zoom in and more pockets of concern emerge. States like New Mexico in the U.S. and cities like Cape Town, South Africa — which nearly ran out of drinking water last year — have "extremely high" stress levels.
Where things stand: A dangerous combination of hot and dry weather, poor water management and rising demand is leaving cities including Chennai, India, and Harare, Zimbabwe, without water for days on end, Tanvi Nagpal of Johns Hopkins writes for Axios Expert Voices:
What to watch: The pressures on municipal water supplies are likely to worsen with the effects of climate change.
6. What I'm reading: She was a hero, once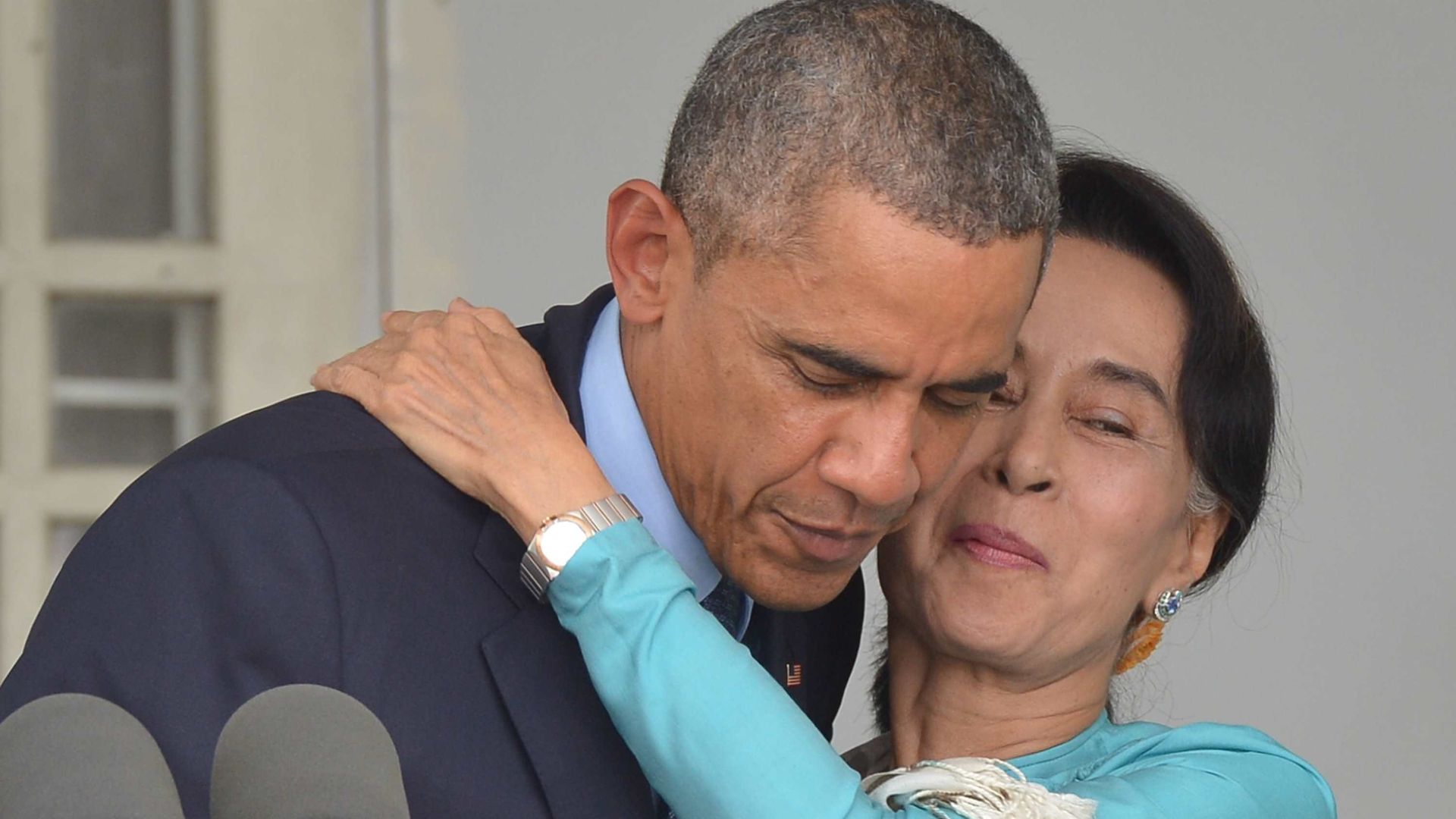 Ben Rhodes first met Aung San Suu Kyi when he was Barack Obama's foreign policy adviser and the Burmese Nobel Peace laureate was the "world's most prominent dissident."
Rhodes quotes Obama, upon seeing posters of Suu Kyi amid a "throng" of supporters in 2012, as saying: "I used to be the face on the poster. The image only fades."
Suu Kyi's image has certainly faded internationally since she entered government in 2016 and all but ignored the ethnic cleansing of hundreds of thousands of Rohingya muslims.
Writing in The Atlantic, Rhodes reflects on Suu Kyi's journey, and on several meetings with her, to examine what went wrong.
Key excerpts:
"One answer is that she just wants power over a Buddhist Burma — to claim her rightful inheritance as Aung San's daughter, to realize her destiny as the heiress who has sacrificed for the throne; democracy, in this view, is just a means to realizing a personal ambition."
" 'Your government never asked tough questions,' [a human rights activist] told me. 'The EU did not do it. The UN did not do it. We ethnic people did not do it. Nobody.' "
"David Mathieson, who supported her for years at Human Rights Watch, told me that Suu Kyi's fall from grace offers a lesson about resting all of our hopes in one individual — the weight of a country is too heavy to place on one person's shoulders, no matter how alluring her story."
The bottom line: Rhodes writes that he agonizes over whether the Obama administration could have done more to prevent the atrocities in Myanmar, before suggesting it couldn't have. There's no easy way for the Trump administration to improve the situation either, he concludes, but it hasn't really tried.
7. Stories we're watching
Quoted:
"We are very respectful of what other governments decide, but we think that these unfortunate events in the U.S. should prompt reflection, analysis and the decision to control the indiscriminate sale of guns."
— Mexican President Andrés Manuel López Obrador
Thanks for reading — have a wonderful weekend.