June 28, 2022
The housing market is funky right now for all sorts of reasons — and as Jennifer reports today, home-flipping mania is a big contributor even if returns are slipping.
Today's Smart Brevity count: 1,097 words — a 4-minute read.
1 big thing: Home flipping hits 22-year high
One in 10 U.S. homes sold in the first quarter of 2022 was "flipped" — or bought-and-sold within a year by an arms-length buyer — the highest level since 2000, Jennifer A. Kingson reports.
Why it matters: While the upward march in home prices has turned house-flipping into a blood sport, profit margins are on the decline, reflecting rising mortgage rates and higher labor and material costs.
Driving the news: Home flipping has been on the rise for five straight quarters, according to ATTOM, which runs a national real estate database.
In the first three months of the year, 114,706 single-family houses and condominiums in the U.S. were flipped, representing 9.6% of home resale transactions.
That was up from 6.9% in the fourth quarter of 2021 and 4.9% in the first quarter of 2021.
But the raw profits on those deals were lower than a year ago, and profit margins sank to their lowest point since 2009, ATTOM said.
The big picture: Institutional flippers are often considered big villains in the nation's acute housing shortage, in which affordable units and "starter" homes are particularly scarce.
Where they're flipping: Phoenix took the flipping prize for the first quarter of 2022: 18.7% of all home sales there were flips.
Next came Charlotte, N.C. (18%); Tucson, Ariz. (16.2%); Atlanta, Ga. (16.1%) and Jacksonville, Fla. (16%).
By the numbers: While starry-eyed investors continue to fix and flip, their return on investment is dwindling: Typical returns decreased in three-quarters of metro areas, ATTOM found.
Flipped homes resold for a median price of $327,000 in the first quarter of 2021. That's a gross profit of $67,000 above the median investor purchase price of $260,000, resulting in a 25.8% profit margin.
But profit margins declined in the first quarter of 2022 from the prior quarter in 73% of the metro areas with enough data to analyze.
Most investors pay cash for the homes they proceed to flip. Nearly two-thirds of flipped homes in the first quarter — 62.7% — had been purchased by the flippers without financing.
What's next: The fix-and-flip market is expected to cool alongside the broader real estate market as mortgage rates rise, home prices soften, and labor and home-building materials continue to be in tight supply.
2. 🛴 vs. 🚎
A new study finds that alternative mobility services, from ride-sharing to e-scooters, will grow twice as fast as traditional public transit annually through 2030, Joann Muller reports.
Why it matters: If powered by electricity from renewable sources, many of these new modes of transportation could improve air quality, reduce noise levels and shrink cities' carbon footprints.
That's according to the study, which was conducted by Oliver Wyman Forum and the Institute of Transportation Studies (ITS) at the University of California-Berkeley.
Yes, but: More ride‑hailing and car-sharing could make congestion worse if commuters choose these services over mass transit.
By the numbers: The researchers analyzed 13 mobility-related services in North America, Europe, and Asia.
They forecast a $660 billion global market for new mobility services by 2030, up from $260 billion in 2020.
Such services are expected to grow nearly 10% annually on average, compared with 5% for the overall transportation sector.
Three factors are driving the growth in new mobility services, the study found:
Technology: Integrated mobile apps ease navigation and longer-range batteries make scooters and e-bikes more viable.
Regulation: Cities are using a combination of taxes, subsidies, and infrastructure spending to influence the public's transportation choices.
Consumer demand: People want cheap, on-demand individual mobility, which explains the growth in shared bikes and cars over traditional mass transit.
3. Abortion travel as work perk
The end of Roe v. Wade has led many U.S. employers to grapple directly with abortion — often for the first time, Axios' Emily Peck reports.
Why it matters: Some companies and insurers are adding travel benefits so workers in states with strict abortion limits can access care elsewhere, but that opens up a raft of legal questions.
The big picture: Before last Friday's U.S. Supreme Court's ruling, "I don't know that it fully resonated with the private sector that corporations are now the backstop on women's ability to access abortion care," says Erika Seth Davies, the CEO of Rhia Ventures, a nonprofit advocacy group that also owns a venture fund investing in reproductive health.
State of play: Ahead of the ruling, a handful of companies — including Yelp, Citi, and Apple — said they'd pay for workers to travel for abortion care.
More issued statements or sent internal memos after the ruling, including Dick's Sporting Goods, JPMorgan Chase, Goldman Sachs, Bank of America, Meta, and Microsoft.
What's next: Employers are changing benefit plans and prepping for legal battles, as well as possible backlash from politicians and others who support the ruling.
4. 🎵 And I've been working like a dog 🎵
Dogs are increasingly tagging along with their owners during the workday, Axios' Kelly Tyko reports.
Why it matters: Letting the millions of pandemic pet adopters bring their new pals into work could help companies in their stumbling quest to get employees back to their desks.
By the numbers: 5% of workplaces now allow pets at work, compared to 4.5% in 2020, according to preliminary survey data from the International Foundation of Employee Benefit Plans.
In a separate survey by dog food brand Cesar, more than half of owners said bringing their pups to work would encourage them to take breaks and foster more social interaction in the workplace.
Two-thirds said they would bring their pets to work if allowed.
Yes, but: Not everyone wants their office to be a de facto doggy day care — won't anyone think of the allergy sufferers?
5. 📸: A hotel room for the birds
Love travel, design, and birds? Then boy, do we have the hotel room for you.
The details: The Biosphere treehouse is a spherical hotel room suspended in the forest and surrounded by 350 birdhouses.
The Biosphere, designed by Danish architecture firm BIG, is located at Northern Sweden's Treehotel.
What they're saying: "I couldn't help wondering if there was a way to take the immersion one step further — and almost instantly the idea of inviting not only the human visitors but also the resident bird and bat population to cohabit a spherical swarm of nests came to life," BIG founder Bjarke Ingels told design mag Dezeen.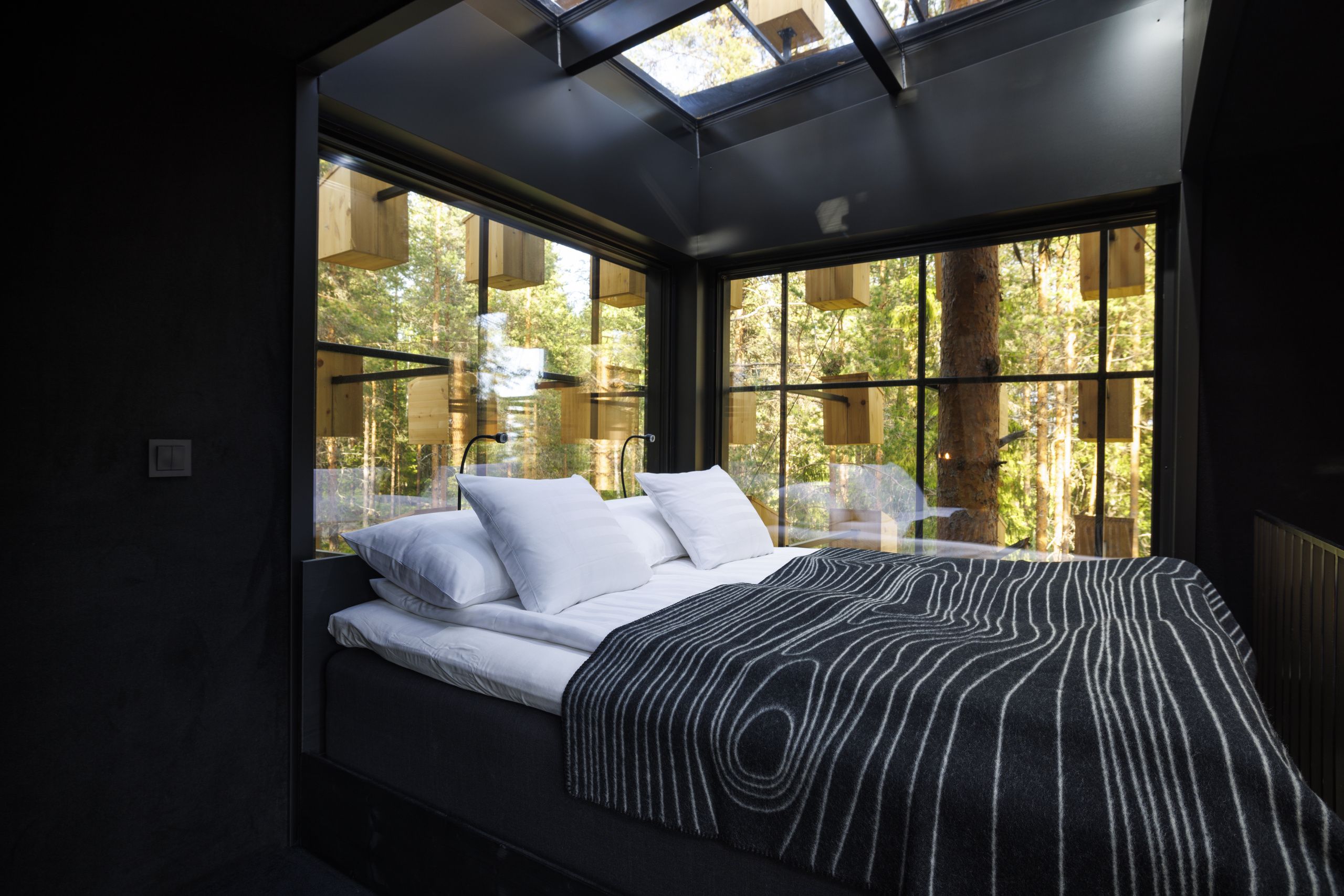 Was this email forwarded to you? Get your daily dose of What's Next magic by signing up here for our free newsletter.