Axios What's Next
February 23, 2023
Windows, MacOS... MB.OS? Mercedes is rolling out an operating system for cars, Joann reports, with an eye toward better controlling your driving data.
Today's newsletter is 980 words ... 4 minutes.
1 big thing: Mercedes eyes driver data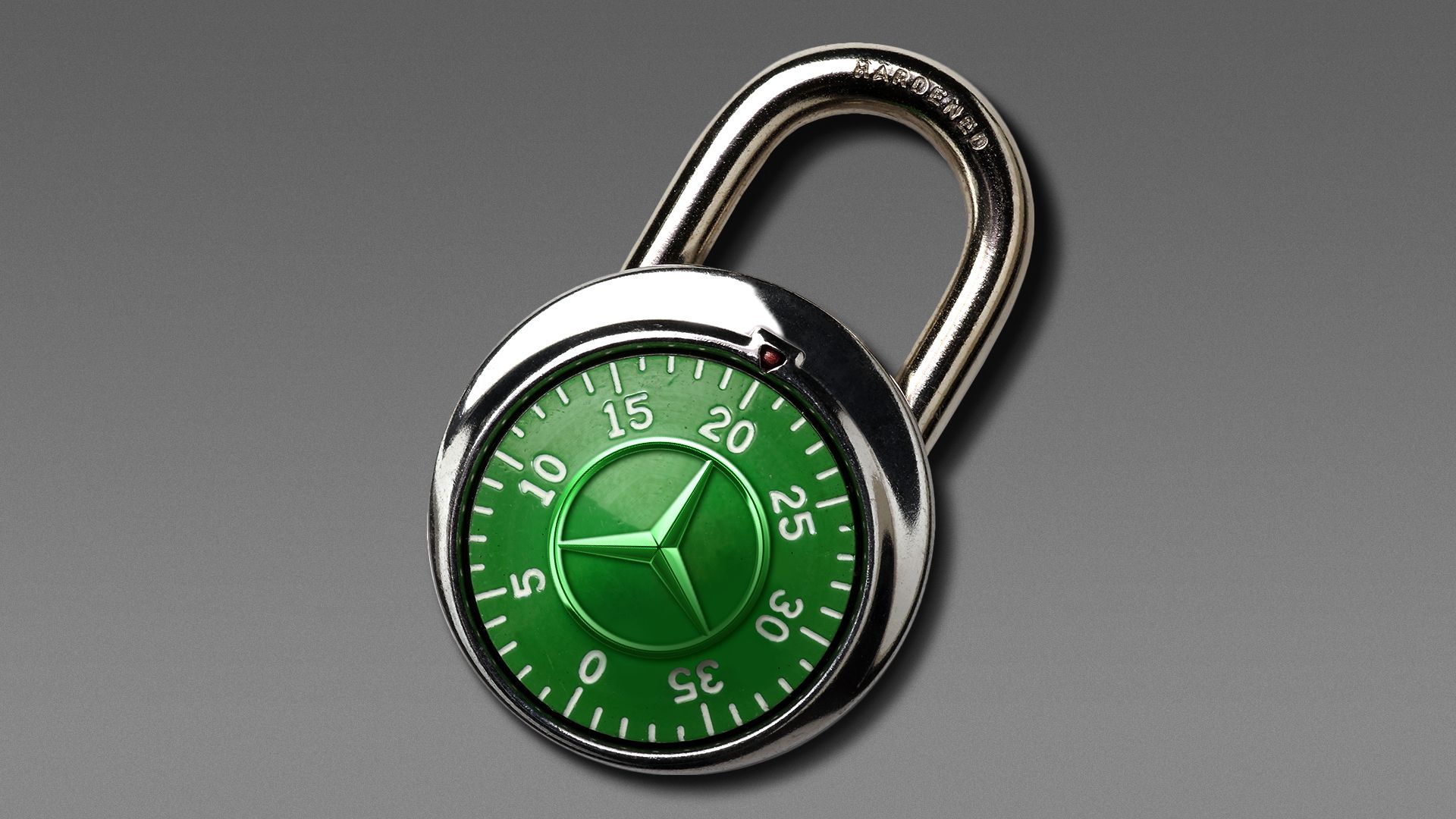 Mercedes-Benz is developing its own automotive operating system in a bid to wrestle control of customers' data from Google, Joann Muller reports. Google makes a rival platform increasingly popular with other automakers.
Mercedes revealed the move Wednesday during a Silicon Valley event about its strategy on everything from infotainment to automated driving.
Why it matters: Data is king, offering the potential for automakers to unlock extra revenue from personalized products and services such as automated driving, entertainment and enhanced navigation.
Driving the news: Mercedes' operating system, called MB.OS, will debut "mid-decade" as an open platform.
The automaker will still partner with tech companies like Google, Nvidia and Luminar on advanced features like navigation and hands-free driving.
Where it stands: Volvo, Polestar, GM, Ford and Honda have all embraced Google's Android Automotive platform (not to be confused with the tech giant's tethered phone app, Android Auto).
In doing so, they also typically license various apps, including Google Maps, Google Assistant and the Google Play Store for cars (where drivers can access other apps, such as Spotify).
Mercedes is setting a different path, by developing its own branded navigation system in collaboration with Google.
While it will use Google Maps' industry-leading geospatial features — including real-time and predictive traffic information and automatic rerouting — it will also incorporate vehicle-specific data.
One example: With electric Mercedes cars, the system will receive battery charge and health data to provide more reliable range management guidance.
It's part of a new long-term strategic partnership with Google that will also allow Mercedes drivers to watch YouTube on their car's entertainment system when it is parked or in fully hands-off "Level 3" autonomous driving mode.
What's next: The German automaker will be adding Luminar's lidar sensors to "a broad range" of its vehicles by the middle of the decade to help power its next-generation driver-assist system.
In January, Mercedes got approval to deploy its Level 3 driving system in Nevada. It's working to obtain approval in California as well.
The hands-free system is the first in the U.S. to let drivers look away or play a game in traffic jams up to speeds of 40 mph. CEO Ola Källenius told reporters it will soon be available at up to 55 mph.
Mercedes' ultimate goal is unsupervised, hands-free driving at 80 mph.
The bottom line: By developing its own operating system, Mercedes says it will retain full control over the customer relationship, ensure data privacy and better manage integrated car functions.
It could also lead to nearly $10 billion in software revenue by the end of the decade, the automaker says.
2. Subway plans EV "charging oasis"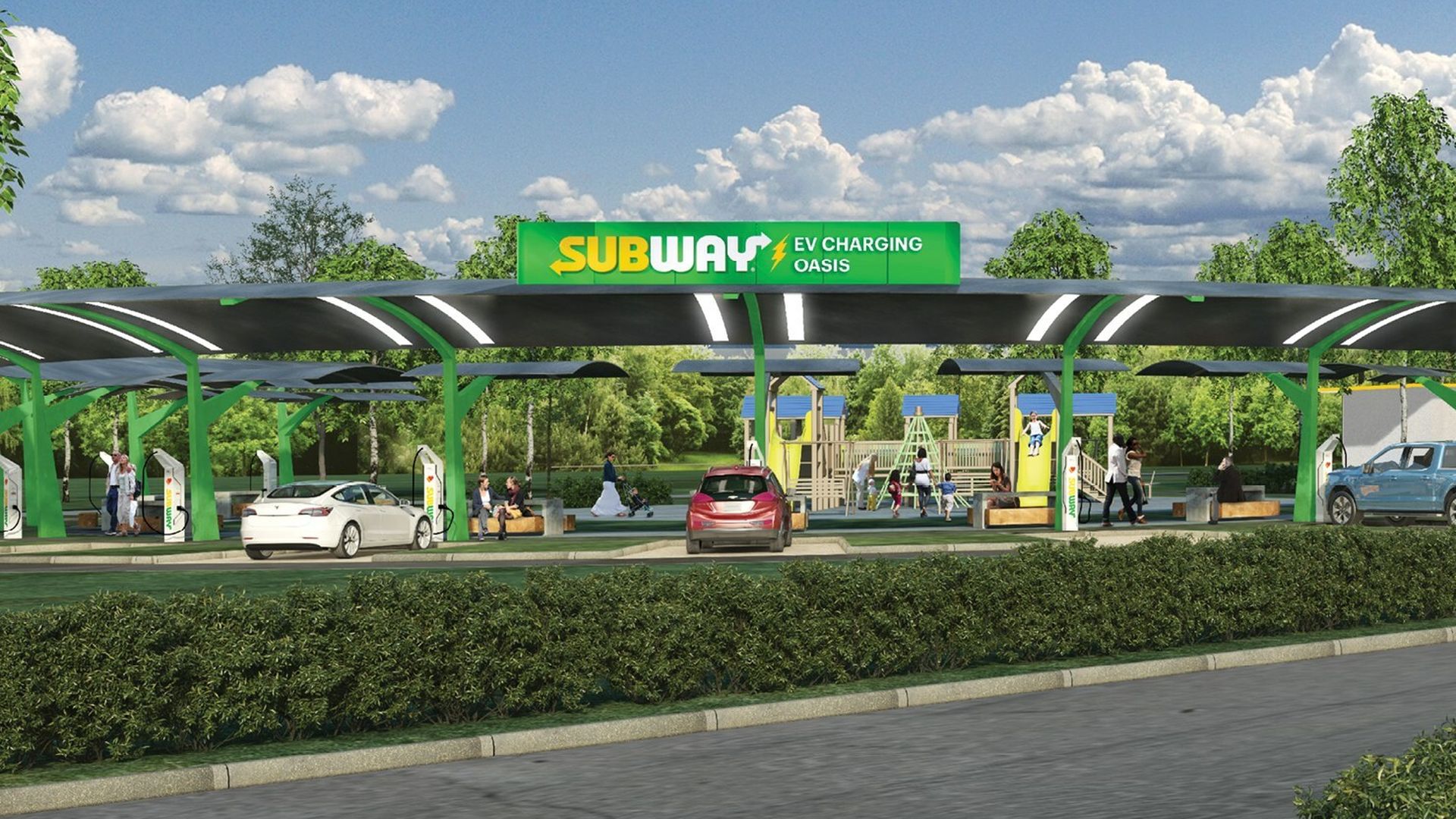 Sandwich giant Subway is planning to build electric car-charging "oases" with green spaces, bathrooms and playgrounds, Alex Fitzpatrick reports.
It's partnering with electric vehicle (EV) infrastructure startup GenZ EV Solutions on the plan.
Why it matters: It's a hint of what's to come, as companies with big retail footprints figure out creative ways to embrace the electric transition — and make a buck or two along the way.
Details: Subway will start with "smaller format" fast-charging stations at some of its locations this year, the company says, with plans to launch the bigger "Subway Oasis" facilities sometime down the road.
The company is working with franchise owners to roll out charging stations.
What they're saying: "Equitable access to charging is essential to the adoption of EVs in the future, and Subway's scale will play an important role in democratizing charging infrastructure for millions of Americans," said GenZ CEO Jose Valls in a statement.
Of note: Electrify America, another major EV charging company, is rolling out charging oases of its own.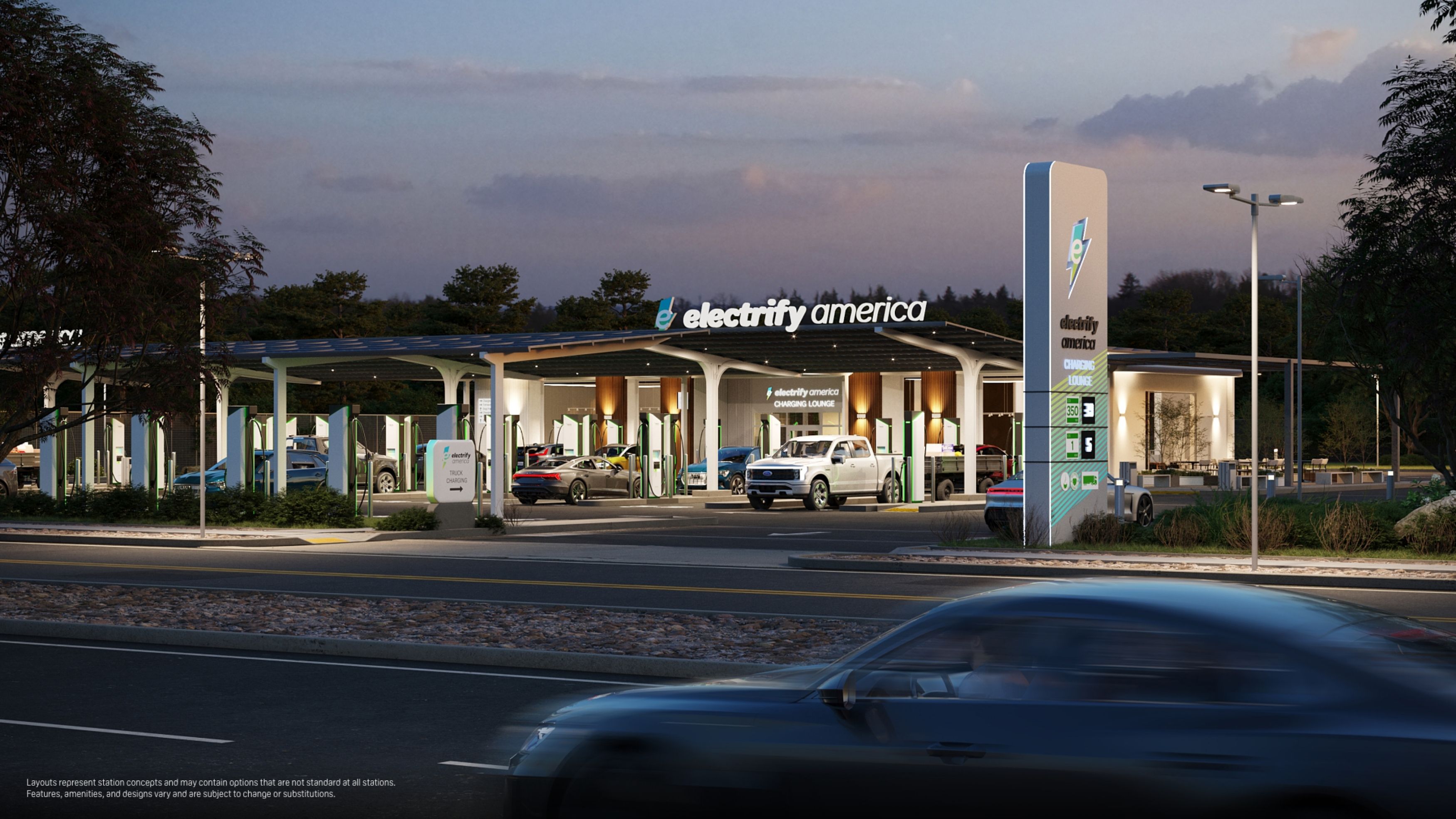 The bottom line: Charging an EV takes time, and today's charging areas often lack basic amenities, as Joann recently found.
Facilities like these could turn charging stops into a chance to get out, stretch your legs and let the kids run around a bit.
3. Take 2 weeks off — that's an order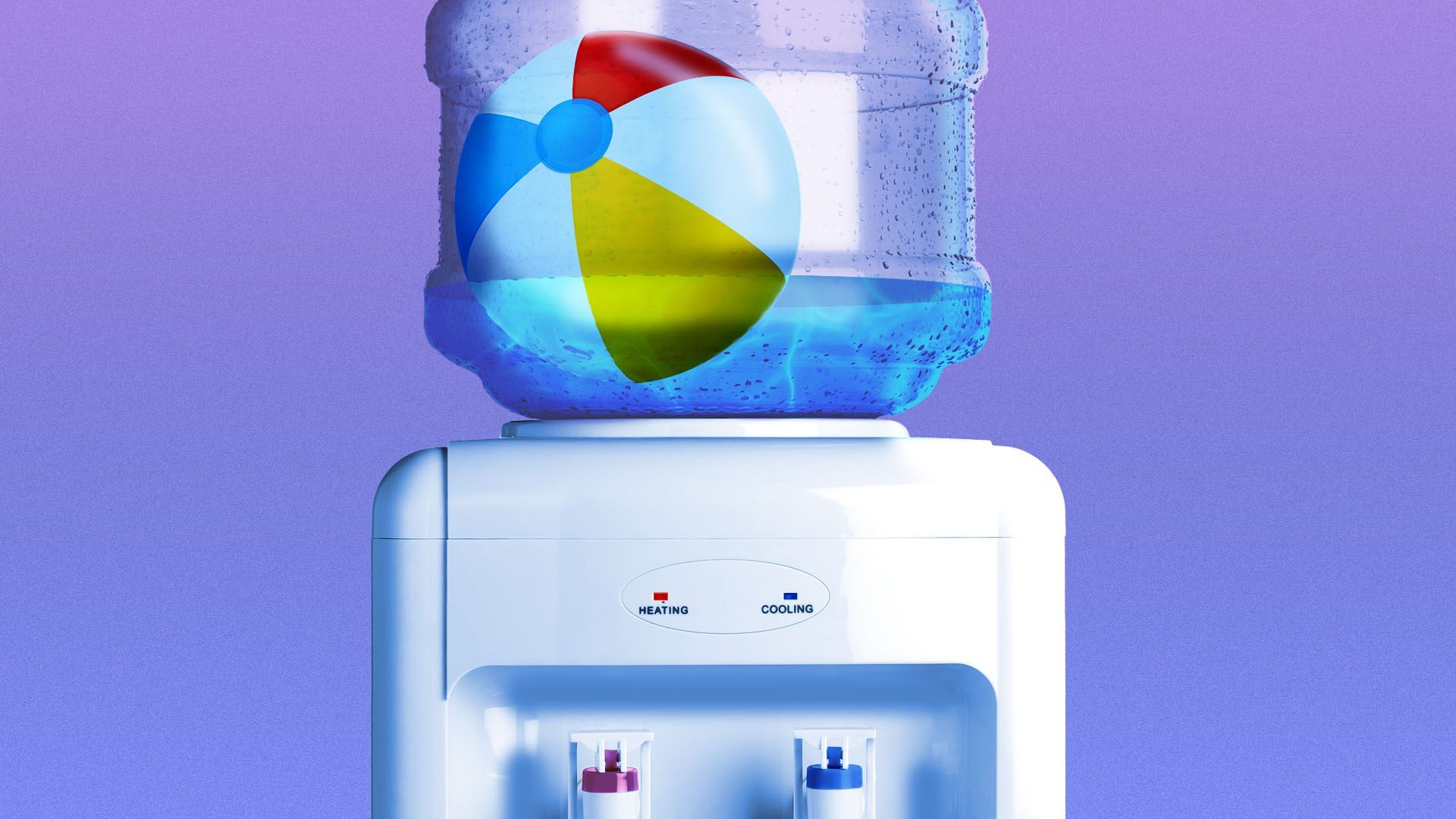 Workers at Irish Titan, a Minneapolis-area digital agency, have new orders from their boss, Axios' Nick Halter reports: Take two consecutive weeks of vacation.
Why it matters: It's the latest example of a company going outside the box to keep and attract workers in an era of stiff competition for labor.
Details: Anyone who's been at Irish Titan for more than a year has to take two consecutive weeks of paid time off in 2023, CEO Darin Lynch tells Axios.
The company offers unlimited PTO, but Lynch found that people sometimes feel guilty about taking vacation — or just plain forget.
What they're saying: "Unlimited PTO often sounds good, but if the norm is this ideal worker that works all the time and is always committed, then you really can't take the time off," says University of Minnesota sociology professor Phyllis Moen, who studies workplace time off policies.
Lynch said studies show longer vacations help workers de-stress better.
The big picture: While some execs are pushing workers to come back to the office, others are embracing pandemic-era changes — such as four-day workweeks, as Axios' Hope King reports.
4. One fun thing: Basketball of the future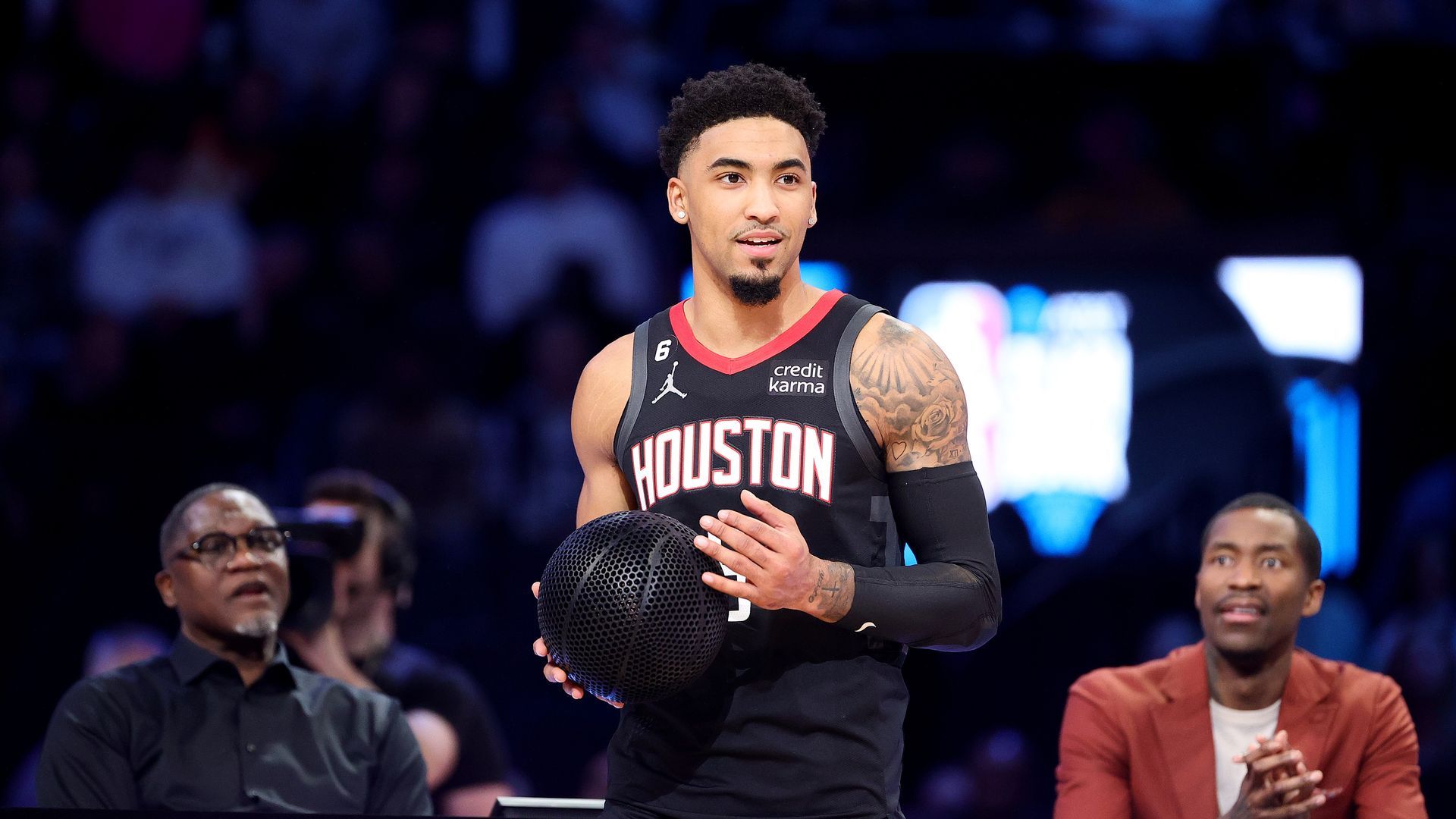 A 3D-printed prototype basketball that could revolutionize the sport was featured in last weekend's NBA All-Star Dunk Contest, Axios' Asher Price reports.
Driving the news: The 3D Airless Prototype Basketball, designed by Wilson Sporting Goods Co., was made by 3D printing company EOS.
The 3D Airless, which can't deflate because there's no closed-off inside space, looks like a giant black Wiffle ball.
Houston Rockets star K.J. Martin used the ball in the dunk contest — but didn't win.
Details: The ball nearly meets the performance, weight and size specifications of a regulation NBA basketball.
EOS says it's made of an elastomer, but isn't sharing further details.
What's next: Wilson innovation manager Nadine Lippa tells Axios she is "confident" the 3D Airless will be available to the general public "in the next year or so."
Big thanks to What's Next copy editor Amy Stern.
Was this email forwarded to you? Get your daily dose of What's Next by signing up here for our free newsletter.