Axios What's Next
July 20, 2022
Joann got back from vacation Monday only to fly right to Chattanooga, Tennessee, to land today's scoop on Volkswagen's ambitious EV plans.
Have a read, then tell us what else you'd like to know about Scout:

[email protected]

.
Today's Smart Brevity count: 949 words ... 3½ minutes.
1 big thing: VW's new all-electric brand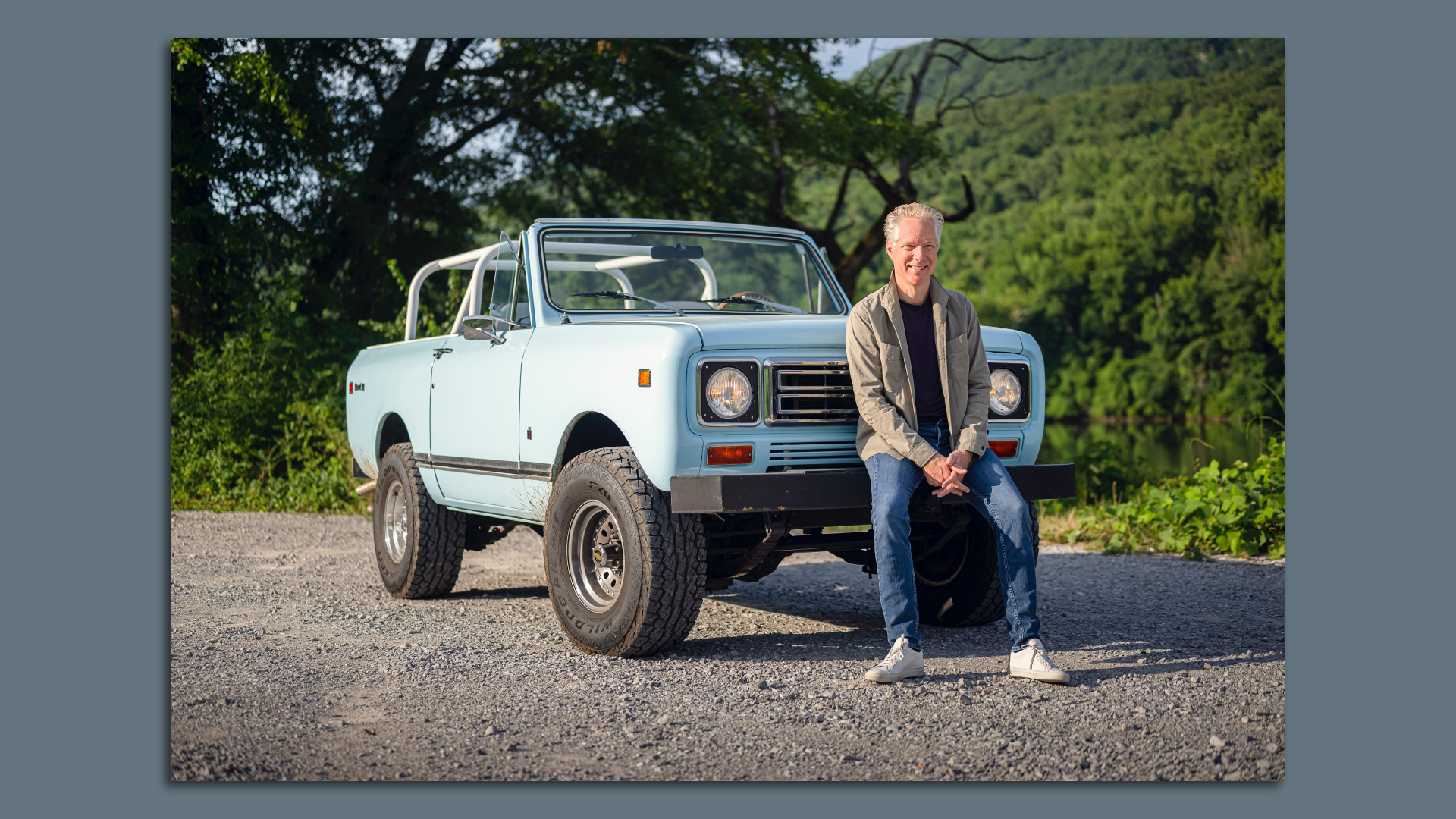 Volkswagen's plan to roll out a new line of sporty electric trucks and SUVs under the resurrected Scout brand is a rare chance to win back Americans' hearts, Scout's new boss told Joann Muller in an exclusive interview.
Why it matters: Despite its global standing as the world's second-largest carmaker, Volkswagen is a chronic underachiever in the United States.
Now, amid a historic shift to electric vehicles, VW sees an opportunity to reconnect with U.S. consumers by offering EVs in the segments they care most about: pickups and big SUVs.
Driving the news: Scott Keogh, president and CEO of Volkswagen Group of America, will become president and CEO of Scout on Sept. 1, Joann was first to report.
What they're saying: "It's time now to concentrate more on the U.S. market and the U.S. customer, and one piece of the puzzle, for sure, is Scout," Volkswagen Group CEO Herbert Diess said while chauffeuring Joann in one of his company's first U.S.-built EVs, the ID.4 compact SUV.
Between Scout and further growth of the Volkswagen and Audi brands, the VW Group aims to double its U.S. market share, which currently stands at about 5%.
Details: Scout will be an independent U.S.-based company, which will allow it the flexibility to take on partners or other investors — or even go public.
Scout will develop what the company calls a "true American" electric SUV and pickup truck designed for rugged, off-road use.
Production will start in 2026, and the aim is to sell up to 250,000 Scout-branded vehicles annually in the U.S.
Flashback: The Scout was developed in 1961 by International Harvester as a precursor to the modern SUV.
It was marketed as an all-terrain family recreational vehicle, competing with Land Rover, Jeep and the Ford Bronco. Production ended in 1980, but Scouts remain popular with collectors.
The back story: The rebirth of Scout as a rugged EV brand was a fortunate accident for Volkswagen.
The company acquired the rights to the Scout brand name in 2021 when its commercial vehicle subsidiary, Traton, bought truck manufacturer Navistar International (the successor to International Harvester, which went out of business in 1985).
Keogh, on a trip to the beach with his kids, came across a fully restored Scout and fell in love.
When he realized "the rights to the brand were just sitting there," he started advocating for a new electric truck line.
The bottom line: As VW sees it, electrification is a once-in-a-lifetime opportunity to redefine itself.
"Electrification, to me, is a reset," says Keogh.
2. As Europe burns, A/Cs are hard to come by
One reason the European heat wave has been so dangerous: Air conditioning is pretty concentrated globally, Axios' Ben German reports.
The details: Only an estimated 5% of U.K. homes have A/C, per the New York Times.
The big picture: Worsening extremes like those in Europe also bring fatal danger to already hot regions of the planet where A/C is rare, such as India.
Zoom in: Via a 2021 International Energy Agency report (based on 2020 data):
"A/C ownership is over 90% in the U.S. and Japan, but under 5% in sub-Saharan Africa and under 10% in India ... even though the number of cooling degree days (the metric used to assess the need for cooling services) is twice as high in those countries."
3. Going supersonic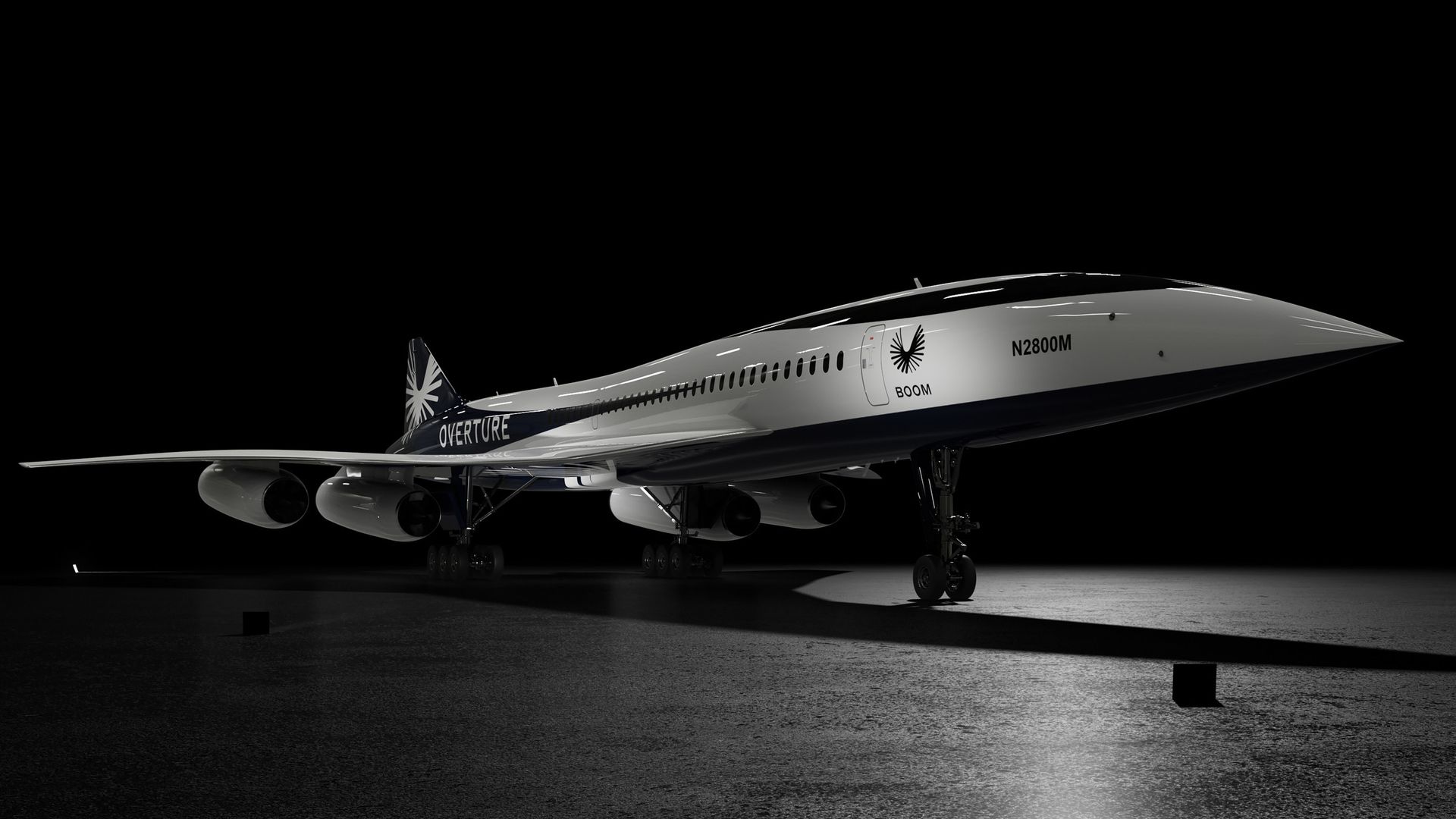 Boom Supersonic — an aviation startup seeking to resurrect the days of faster-than-sound passenger flight — has revealed its latest aircraft design, Alex Fitzpatrick reports.
Why it matters: Boom is one of a handful of companies trying to solve the problems that led to the Concorde's demise, including economics and noise.
The details: Boom's refreshed aircraft, called Overture, is a four-engine supersonic jet with room for 65-80 passengers.
It's designed to do just under Mach 1 over land (thereby avoiding noisy sonic booms) and Mach 1.7 over water — meaning it would be best suited to high-speed transatlantic or transpacific journeys. (The Concorde flew up to Mach 2.04.)
It boasts what Boom calls "the world's first automated noise reduction system." On takeoff, "the airliner will fly without afterburners, meeting the same strict regulatory noise levels as the latest subsonic airplanes," per a company release.
Boom also announced a partnership with defense giant Northrop Grumman, which will design "special mission variants" of the aircraft for the U.S. government.
Yes, but: If Boom or any of its rivals successfully reintroduce supersonic passenger travel, ticket costs could remain prohibitive for many — making super-quick hops from, say, New York to London strictly the stuff of luxury travel.
Our thought bubble: Exploring military options is a smart move for Boom, given the many challenges facing supersonic commercial flight.
4. Moms still aren't fully back to work
Employment levels for mothers of young children are still lagging their pre-pandemic mark, according to a new analysis from jobs site Indeed, Axios' Emily Peck reports.
Why it matters: Though women are almost back to where they were before, the reverberations of this era will linger.
Women who left the labor market missed out on months of job experience and paychecks — and that's likely to weigh on gender wage disparities for years to come.
Details: Overall, women's employment has not yet returned to its February 2020 level — although men's employment has, according to the Bureau of Labor Statistics.
5. One fun thing: Toys R Us rides again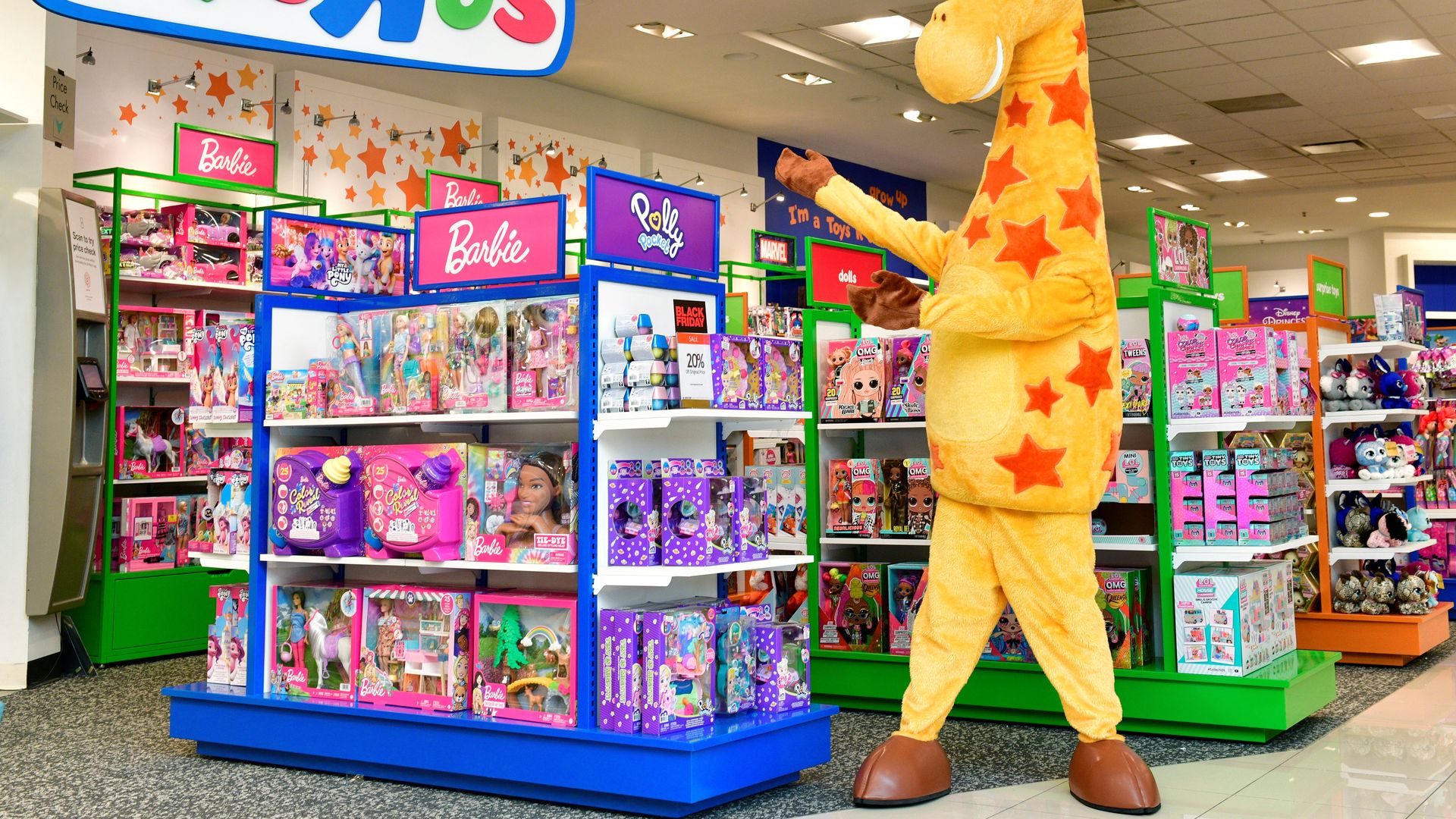 Retail giant Macy's is resurrecting the iconic Toys R Us brand, Axios' Kelly Tyko reports.
Details: Macy's will roll out in-store Toys R Us-branded shops at select locations between July and October.
The micro-shops will feature hands-on toy demonstration tables, plus a life-size "Geoffrey on a Bench" giraffe photo spot.
Flashback: Nearly all U.S. Toys R Us stores were closed in 2018 amid bankruptcy proceedings, though two locations survived until last year.
A hearty thanks to What's Next copy editor Amy Stern.
Was this email forwarded to you? Get your daily dose of What's Next magic by signing up here for our free newsletter.