Axios What's Next
November 08, 2021
Good Monday morning! You know how your grocery store keeps running out of stuff? Autonomous trucks could be a solution, Joann Muller reports.
Today's What's Next photo will bring joy to all the mycophiles out there (mushroom lovers).
Keep your photos and anecdotes of what's next in the wild coming! Email us at

[email protected]

.
Today's newsletter is 1,053 words, a 4-minute read.
1 big thing: How autonomous trucks could fix our broken supply chains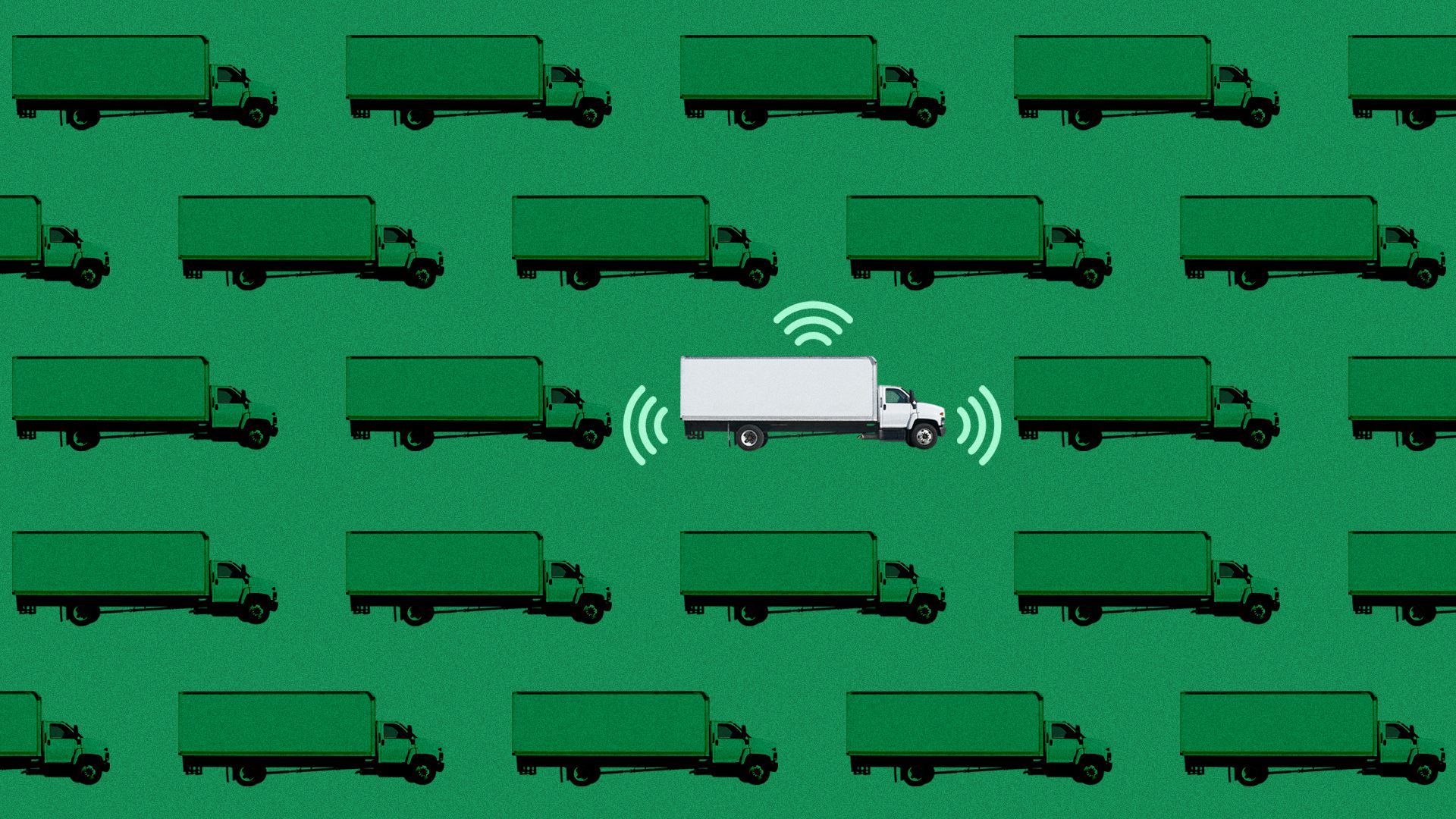 Driverless trucks can't arrive soon enough, Joann writes.
Why it matters: Ports are backed up and there aren't enough truck drivers to get all the containers where they need to be, leading to product shortages, inflation and stressed-out holiday shoppers.
Driverless trucks could theoretically be operating 24/7, moving freight from clogged ports to store shelves more quickly and safely, while cutting delivery costs and carbon emissions too.
It'll be two or three years before autonomous trucks are ready for commercial deployment on U.S. highways. But the first data-driven studies from early pilot programs suggest they'll be substantially more efficient.
TuSimple and UPS, for example, say their self-driving test trucks achieved 13% fuel savings while racking up 160,000 autonomous highway miles in Arizona.
"To get 13% fuel savings is unheard of," TuSimple CEO Cheng Lu tells Axios — worth billions of dollars for the U.S. trucking industry.
Fuel accounts for 24% of the cost per mile for heavy-duty trucks, second to labor, at 42%, per the American Transportation Research Institute.
TuSimple's system drives more smoothly and efficiently than a human driver, Lu explains. "How you operate the truck has a very big impact on fuel economy. It's a great validation of the maturity of our technology."
Another study by Georgia Tech found that Ryder Systems' new autonomous transfer hub networks — combining self-driving trucks on highways with conventional trucking operations for the first and last miles — could save shippers up to 40%.
"Today I have to wait to get another driver. There's a lot of lost time in the transfer of goods," says Ryder executive vice president Karen Jones, who heads up new product development. "This has the promise to keep everything moving around the clock."
Reduced labor costs account for much of the savings, of course. But optimizing routes to reduce miles driven with an empty trailer is another big factor, the study found.
What they're saying: "The reality is that America simply does not have enough truck drivers," Don Burnette, founder and CEO of autonomous trucking startup Kodiak Robotics, tells Axios via email.
The U.S. driver shortage stands at 80,000 today and is on track to double by 2030, according to the American Trucking Associations.
The shortage leaped during the pandemic, when demand for shipped goods soared just as the industry saw a surge in early retirements.
Some companies are even trying to bring in drivers from other countries.
Einride, a Swedish company, says its technology could make truck driving a more attractive desk job.
Where it stands: A handful of autonomous trucking firms continue to make progress toward highway deployment, including Waymo, Aurora, Embark and Kodiak.
One company, Gatik, has begun making short driverless runs for Walmart on a fixed urban route in Bentonville, Arkansas. (Read more below)
What to watch: TuSimple signaled it is close to testing its trucks without a human safety operator on public highways before the end of this year.
2. Driverless trucks are making daily runs for Walmart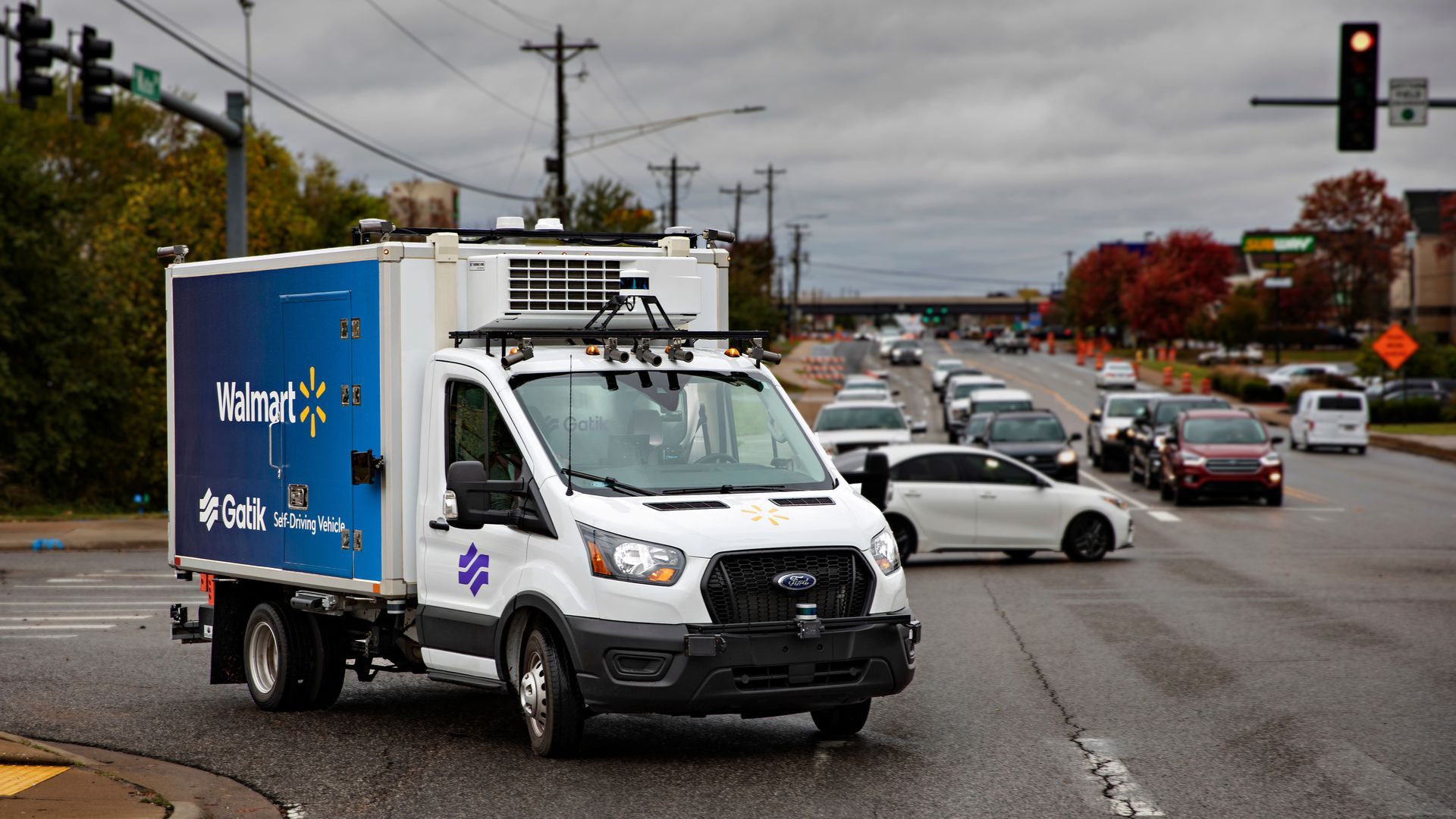 The country's first driverless trucks are now operating on local roads in Bentonville, Arkansas, shuttling merchandise for Walmart from a warehouse to a nearby store, writes Joann.
What's new: Walmart and its self-driving technology partner, Gatik, said today they had pulled the human safety driver from autonomous delivery trucks on a seven-mile route in the retailer's hometown — an industry first.
The big picture: Short urban routes are becoming more common as retailers like Walmart turn to hub-and-spoke distribution to fulfill growing online orders for same-day store pickup. Retailers need to be able to quickly move goods from micro-fulfillment centers to nearby stores.
Gatik has been developing self-driving technology incrementally, starting with this so-called "middle mile" of the supply chain — short, fixed, repeatable delivery routes.
What they're saying: "This milestone signifies a revolutionary breakthrough for the autonomous trucking industry," said Gautam Narang, CEO and co-founder of Gatik, based in Mountain View, California.
"Our deployment in Bentonville is not a one-time demonstration. These are frequent, revenue-generating, daily runs that our trucks are completing safely in a range of conditions on public roads."
Details: Four-year-old Gatik has been working with Walmart on middle-mile logistics in Bentonville since 2019, initially with both a safety driver and a second operator in the passenger seat.
Now, with permission from the Arkansas State Highway Commission, the trucks are operating with nobody behind the wheel.
For now, the passenger still rides along as an observer, with limited access to the controls, to stop the truck in an emergency. A chase vehicle follows behind to observe as well.
The trucks move customer orders from a Walmart "dark store" (or micro-fulfillment center) to a nearby Neighborhood Market.
The initial driving route was selected to minimize risk: It avoids schools and hospitals, and favors right turns over unprotected left turns— a common practice among UPS drivers too.
3. Hiring perks get creative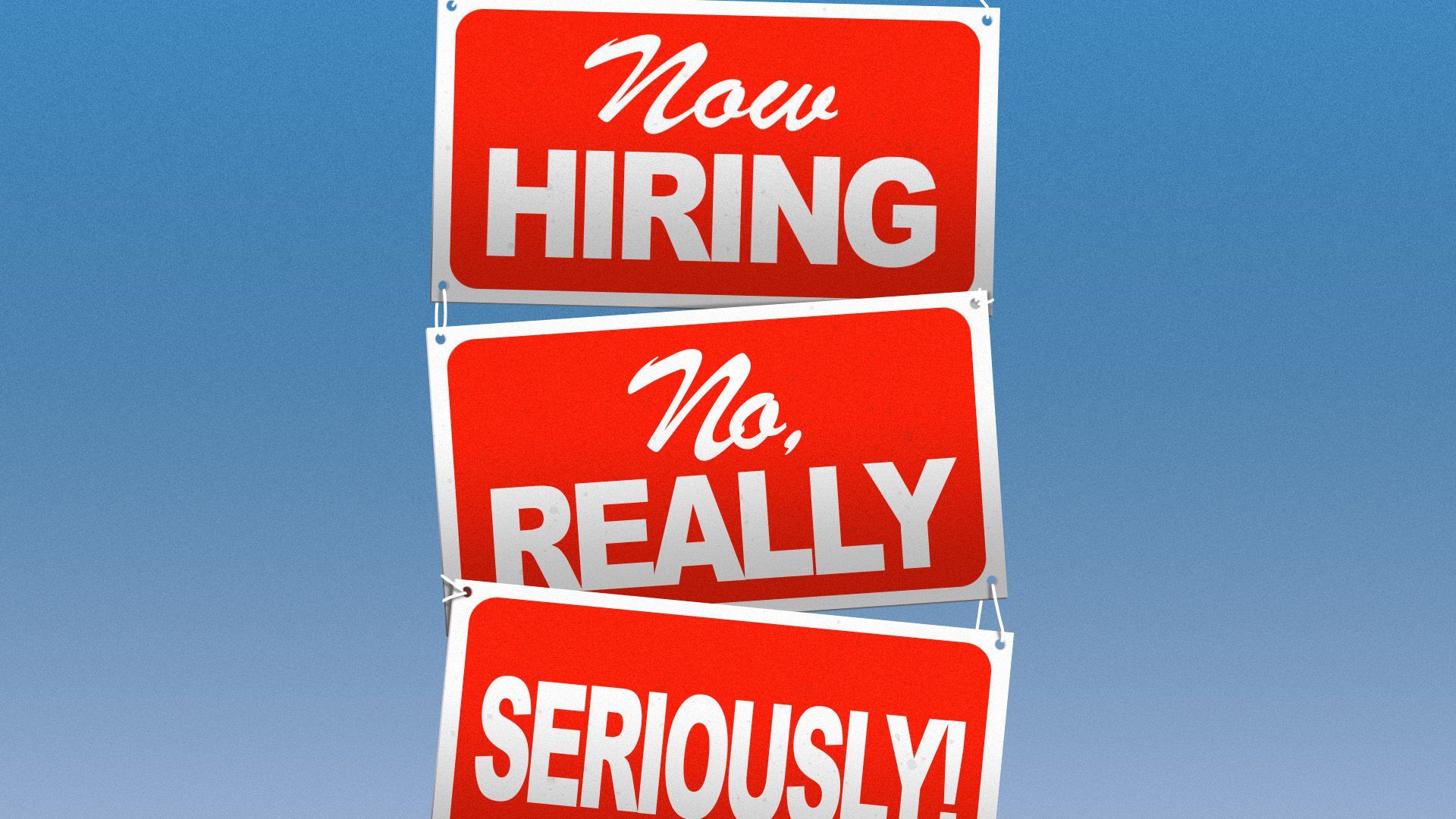 As we've reported, companies are trying to lure workers in this tough labor market with hiring incentives like cash bonuses, Erica Pandey writes.
What's happening: Now firms are getting more creative with their perks, the Wall Street Journal reports.
David's Bridal, the wedding dress retailer, is inviting employees to model for its advertisements.
Levi Strauss, the jeans company, is offering free coding classes.
And here's the wildest one: "Staffers at Chicago technology firm project44 can use a company-subsidized van—complete with a bed, a toilet and shower, and Wi-Fi—so they can combine work with family road trips," the Journal's Suzanne Kapner and Chip Cutter write.
4. New pandemic-era slang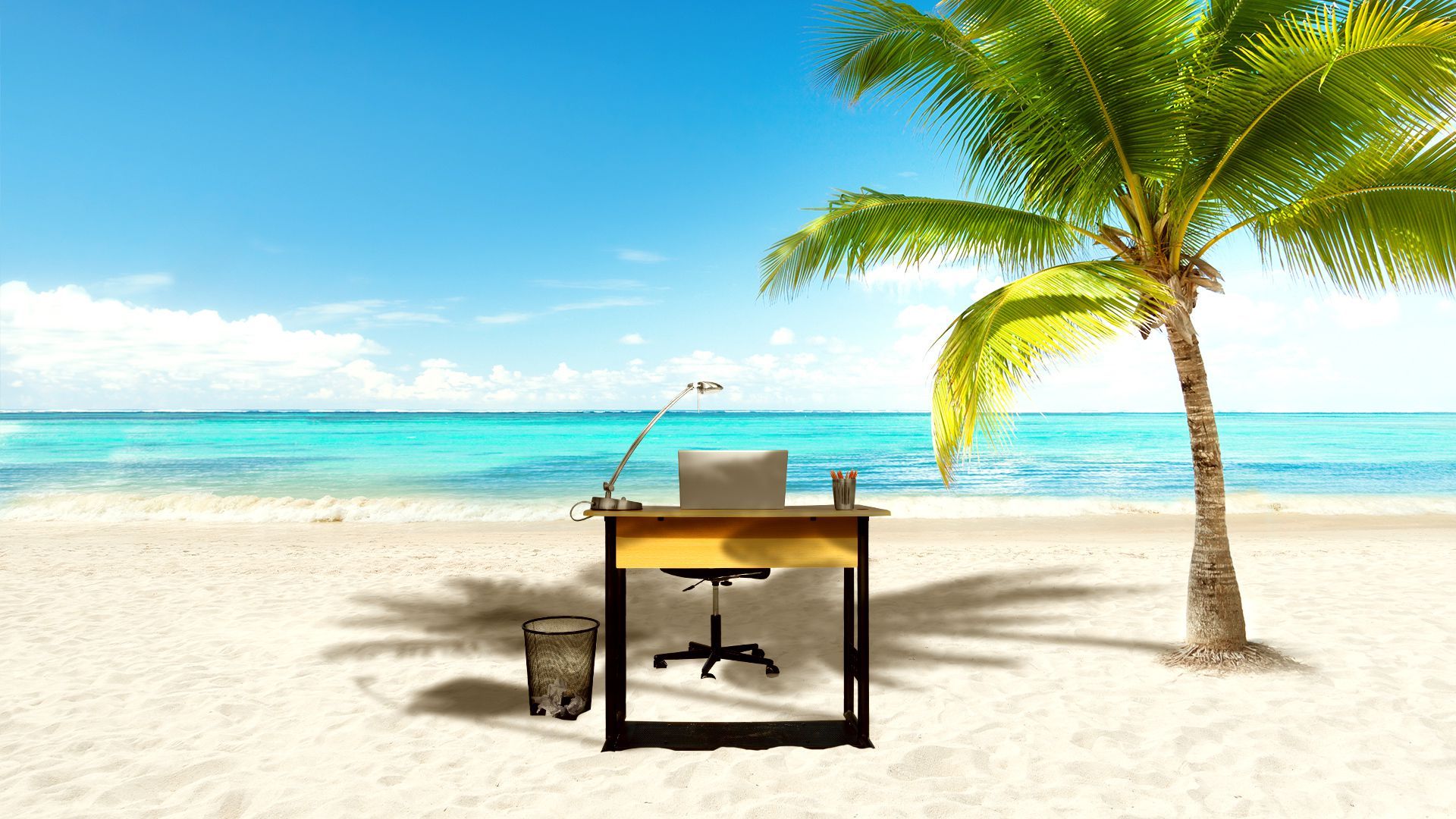 Here's a sign of the times: Merriam-Webster is adding the term "digital nomad" — the name for remote workers who move from city to city, around the world — to its dictionary, Erica writes.
Why it matters: The pandemic has forever changed the way we work, and these new types of living and working are now popular enough that they've cemented their place in our vocabularies and our history books.
Other work-related terms that have been added to Merriam-Webster this year include "co-working" and "gig worker," Quartz reports.
And the dictionary also added a slew of online communication terms like "amirite," "FTW" (for the win) and "TBH" (to be honest).
5. Photo of the day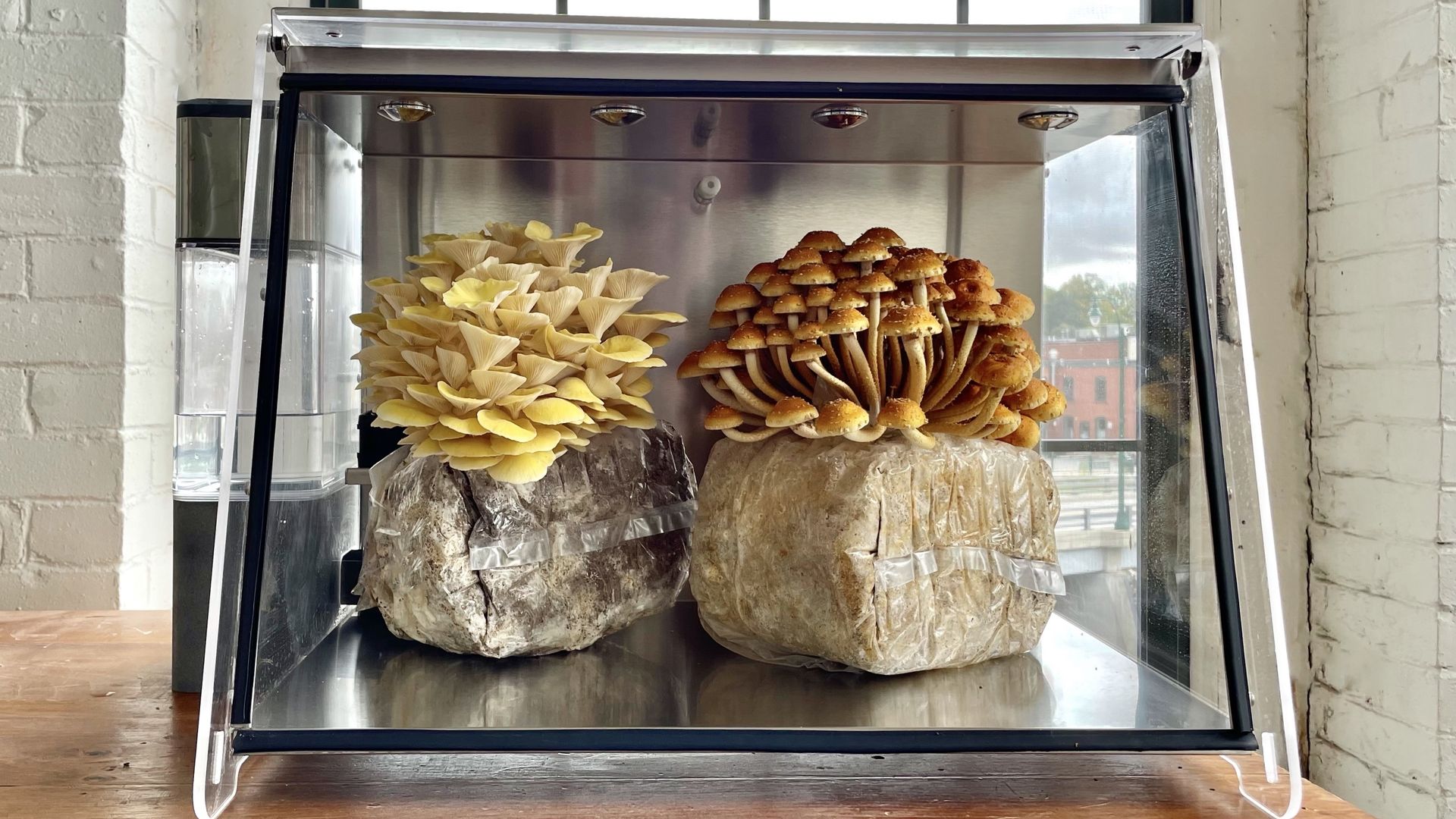 What's next: Growing gourmet mushrooms at home
Is there room on your kitchen countertop for Mella, the "first smart mushroom fruiting chamber?"
A company called Firstbuild, a unit of GE Appliances, is betting there's a market for this device, which it's selling for $349 in a "presale."
Was this email forwarded to you? Get the daily dose of What's Next magic by signing up for our free newsletter here.