December 14, 2021
Good morning! For breakfast why not try some avocado coffee with a fluffy gourmet egg sandwich? Jennifer A. Kingson describes what else will be trending next year in gastronomic circles.
Join Axios' Sara Kehaulani Goo and Russell Contreras today at 12:30 p.m. ET for a Hard Truths virtual event discussing where action on systemic racism still falls short. Guests include NAACP president Derrick Johnson and ESPN commentator Sam Acho. Register here.
Today's Smart Brevity count: 1,250 words ... 4½ minutes.
1 big thing: What we'll be eating in 2022
Next year's restaurant industry trend predictions are in, and they include avocado coffee (an Indonesian delicacy), gourmet egg sandwiches and Burger King Whoppers made with Halloumi cheese instead of burgers, Jennifer writes.
Why it matters: As the pandemic lingers, it's shaping what ingredients are available as well as how we eat, with newfound habits that we once thought were temporary turning out to be permanent.
Driving the news: A new forecast from Technomic, a food service industry consultancy, predicts that many trends of the past year — like ghost kitchens, meal kits and restaurants selling groceries — will likely persist.
"We continue to see the push towards selling foods that are meant to be consumed outside of the restaurant, whether it's to-go ordering or delivery," Aaron Jourden, a senior research manager at Technomic, tells Axios.
Jourden and his team scour menus from 25 countries to glean trends about what we'll be eating and how we'll consume it. They expect to see these dishes and ingredients popping up globally:
Mutabal, a Middle Eastern eggplant dip similar to baba ghanoush.
Plant-based eggs.
Pao de queijo, a Brazilian cheese bread.
Tlayudas, a Mexican-style pizza built on a crispy tortilla.
Halloumi, a Greek cheese that Technomic says is "primed for the center stage as a craveable, vegetarian-friendly alternative to meat."
Another prediction: "Avocado coffee will expand out of Indonesia and other parts of Asia into global markets."
The drink, known as jus alpukat, is typically made with avocado, condensed milk, and either coffee or chocolate.
Details: Breakfast is rising in global clout, with more chefs making hand-held egg sandwiches with gourmet ingredients that can be consumed on the go.
"Egg sandwiches are having a moment in many parts of the world and will soon dethrone the chicken sandwich as the next must-have-on-my-menu restaurant item," Technomic predicts.
Sandwiches from a South Korean breakfast chain called Egg Drop have gone viral, with fluffy eggs served in pretty little boxes.
And salty foods are poised for a big run.
"Salt is the new fat — an indulgent flavor enhancer sought after for its craveable comfort capabilities," Technomic says in a separate report on 2022 trends.
This includes everything from purslane to seaweed, salt-cured meats and fish, and cocktails that incorporate salt water.
What's next: "Veganuary," in which people give up meat for the month, is big in Europe and will make inroads in the U.S., Jourden predicts.
2. Buying companies for talent
CEOs are weighing whether to buy other companies to solve their hiring woes, Erica Pandey writes.
Driving the news: A third of executives surveyed in a new KPMG report say they want to use mergers and acquisitions to acquire talent in 2022.
The big picture: As we've reported, 2021 was a record-breaking year for M&A — and 2022 could top even that. And M&A can be a quick way to bring in new talent as companies navigate the Great Resignation.
What they're saying: "We're all experiencing this shortage of job seekers," says Philip Isom, global head of M&A at KPMG. So companies that might have tried to grow organically in different times are instead considering acquiring other firms as a quicker solution to their recruitment problems, he says.
But, but, but: It's not always easy to retain employees after a merger or acquisition.
Firms may have to offer incentive packages to hang onto top talent post-M&A, per McKinsey.
And it's not just about higher pay. Employees are focused on health care, flexibility in our new age of hybrid work, and benefits. "Child care especially has become a sticking point for working parents," Isom says.
3. Climate moves corporations
Companies large and small, some with longtime roots in their neighborhoods, are on the hunt for new real estate that is less prone to weather and climate extremes, Axios' Andrew Freedman reports.
Driving the news: Within the past three years, tech giant Hewlett Packard Enterprise, a major hospital in South Carolina, and the nation's eighth-largest airline (by passengers carried) have all decided to move their infrastructure to higher ground.
Last month, Roper St. Francis Healthcare's 332-bed facility on Charleston peninsula announced a $500 million plan to move inland, after repeated bouts of flooding during coastal storms and so-called "sunny day flooding."
Hewlett Packard Enterprise is working to complete its new global headquarters in Spring, Texas, after experiencing extensive flooding at its former Houston-area campus in 2016 and again in 2017 during Hurricane Harvey.
In Florida, the discount airline Spirit announced it would add a second operations center in Orlando to supplement its current headquarters in Miramar, Florida, a region that was battered by high winds during Hurricane Irma in 2020.
What to watch: The devastating tornadoes across six states last weekend offer a grim climate warning that could push even more companies to move.
4. What we're driving
I'm like the majority of SUV owners: My biggest excursion is to Home Depot, Joann Muller writes.
But the 2022 Ford Bronco I tested off-road recently had so much technology that even I was able to plow through sloppy mud trails and crawl over boulders with confidence.
I drove a loaded two-door Bronco First Edition at the 106-acre Holly Oaks off-road vehicle park north of Detroit; it's an old gravel pit that's been turned into an automotive obstacle course.
A Ford engineer riding shotgun coached me on how to use the technology.
How it works: A dial on the center console let me choose one of seven driving modes — Normal, Eco, Sport, Slippery and Sand, Baja, Mud/Ruts and Rock Crawl.
Other push-button features gave me added control to tackle rough terrain I'd ordinarily avoid.
While climbing up a steep and slippery hill, I lost sight of the trail. But a handy off-road spotter view on the 12-inch screen showed me where my tires should go.
When I was afraid I'd speed out of control down a steep embankment, I used the optional Trail Control feature (which is like cruise-control for off-roading) to descend at 3 mph with no trouble.
When I got to a tight bend on the trail, I activated Trail Turn Assist, which reduces the turning radius by applying brakes to the inside rear wheel so the car's whole rear end pivots.
The bottom line: Off-roading is fun when you know what you're doing (or at least the car does).
The Bronco starts at $30,795, but the First Edition model I drove costs twice that.
5. Lucid Motors CEO: Elon Musk's revisionist history
Former top Tesla engineer Peter Rawlinson — now CEO of rival Lucid Motors — tells "Axios on HBO" that Elon Musk is guilty of "historical revisionism" for downplaying Rawlinson's role in developing the Tesla Model S.
Why it matters: The rivalry between the two companies is intense. Tesla has dominated the global market for electric vehicles for a decade. But Lucid's debut model, with an unprecedented 520-mile driving range, represents a real threat.
Driving the news: Rawlinson tells "Axios on HBO" that Musk asked him to be chief engineer for the Model S and "I took that from a clean sheet with just about six engineers to the car that you know and love today."
He left Tesla in 2012, he said, because his elderly mom needed him "and I had a boss that wasn't treating me too well" — refusing to elaborate.
The intrigue: In a May 3 tweet, Musk downplayed Rawlinson's role, however: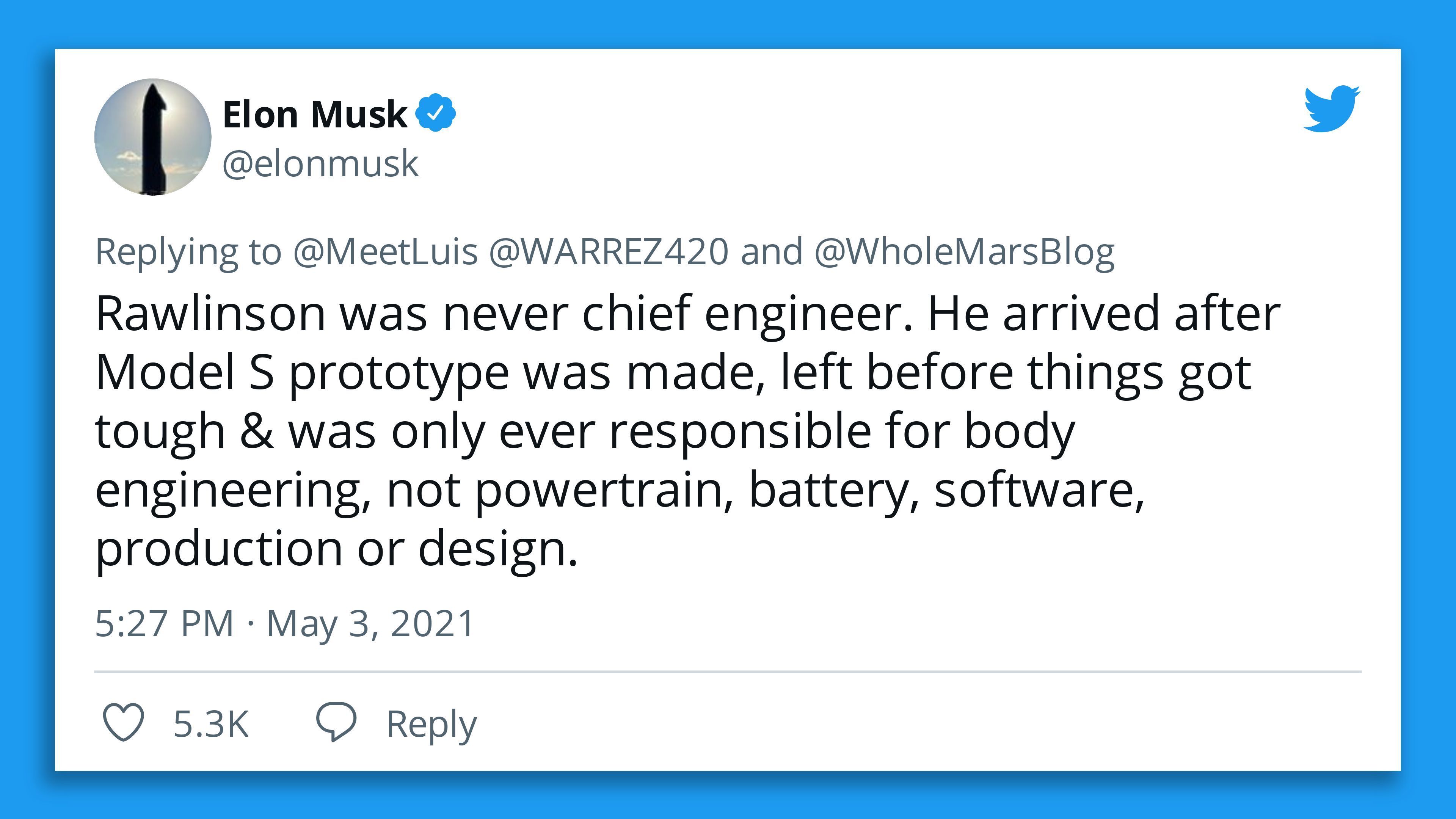 Rawlinson says he's got the business cards and the Securities and Exchange Commission documents to prove his role.
"I think it's sort of historical revisionism, isn't it?"
Was this email forwarded to you? Get your daily dose of What's Next magic by signing up for our free newsletter here.