Axios What's Next
March 03, 2023
Beep-boop-beep ... the security guard robots are coming, Jennifer reports today.
Join Axios this International Women's Day on Wednesday, Mar. 8 at 8am ET in Washington, D.C., for an event focused on achieving greater gender equality. Register here.
Today's newsletter is 1,086 words ... 4 minutes.
1 big thing: Robots on patrol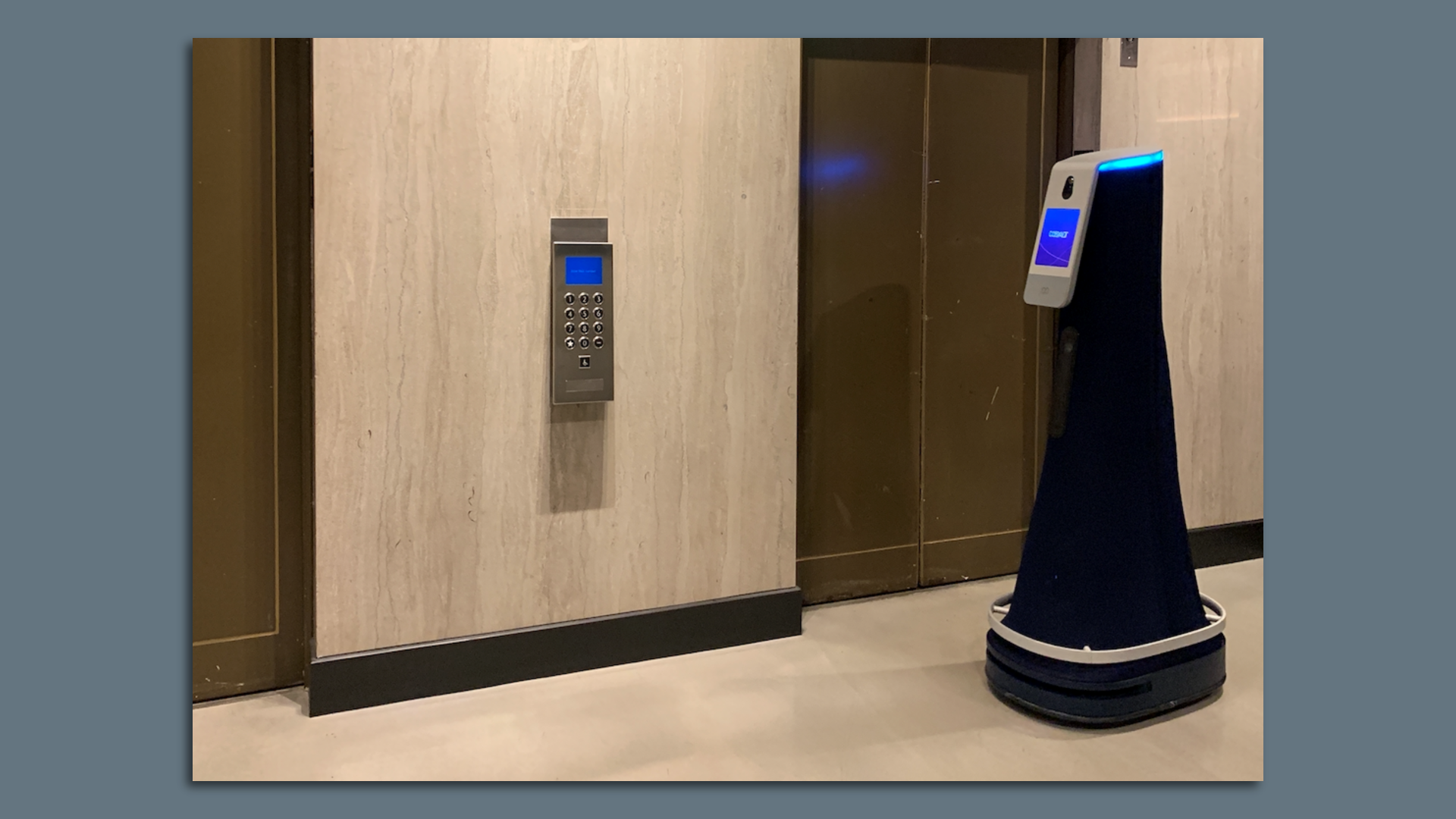 Security robots are starting to replace human guards in workplaces and beyond, Jennifer A. Kingson reports.
Driving the news: Lower costs mean it's now cheaper for companies to use robots than traditional guards for 24/7 security.
Robots can check in visitors and issue badges, respond to alarms, report incidents, and see things security cameras can't.
Security robots don't get bored, tired, or distracted by their phones — and it's safer for them to confront intruders and other hazards.
Two-way communications systems allow employees to report problems or request human help by talking to the robot.
By the numbers: Using a robot guard vs. a human can save a company $79,000 per year, according to a recent report by Forrester Research.
What they're saying: "All this money has really poured into service robotics because of the money that has gone into autonomous vehicles," says Mike LeBlanc, president and COO of Cobalt Robotics, which is leading the charge to populate offices with non-human security guards.
How it works: Cobalt's robots are built to the specifications of a particular building's ramps and elevators.
They roam hallways looking for possible problems — like unusual motion at night or a door that's been propped open — and report back to a human-staffed call center.
"People can tap on the screen of the robot, a person will come up on the screen, and they'll be able to ask them what's going on," LeBlanc tells Axios. "They can say, 'There's a leak or spill over here,' or 'There's someone in the office who's making me uncomfortable.'"
Case study: Food delivery startup DoorDash is using Cobalt robots across its corporate sites for everything from COVID-19 temperature checks to routine security patrols, alarm responses, and security escort services.
Reality check: Like delivery robots —which can stumble on sidewalks and fall into ditches — security droids have been known to malfunction.
Mishaps range from "running over a toddler's foot to ignoring people in distress," per Insider.
News reports have cast doubt on whether outdoor security robots actually prevent or curtail crime.
One Knightscope robot patrolling a shopping mall accidentally drove itself into a fountain; another was escorted from Boston's Prudential Center by human officers after people got sick of it. (A Knightscope executive did not respond to requests for an interview.)
Our thought bubble: If you're a person in distress at an office, you might prefer to have a person on-site versus having to rely on someone at a call center — and on the proper functioning of a robot's communications tech.
Of note: Robot security guards don't necessarily put human ones out of business — they just allow them to swoop in strategically or work on different tasks, like programming and maintaining the robots.
In security work, "the hours are long, stress runs high, isolation is real, and the tasks are tedious," Forrester's report argues. "Automation can help."
The bottom line: High-profile glitches are the exception for security and surveillance robots, which will likely proliferate as the technology improves.
2. Self-driving car fears on the rise
Nearly 70% of drivers say they're afraid of fully self-driving cars, per a new AAA survey — up from 55% a year ago, Alex Fitzpatrick reports.
About a quarter say they're unsure about them, while just 9% say they trust them.
Why it matters: Automakers are falling over themselves to add automated driving tech to their latest cars and trucks — but if this survey is any indication, they have lots more work to do in terms of convincing drivers that such features are safe.
Driving the news: The spike is likely tied to recent headline-grabbing incidents involving assisted-driving technology, as well as the proliferation of such systems more broadly.
The survey also captures sentiment from drivers who aren't adopting automated driving technology themselves but have concerns about sharing the road with others who are.
The intrigue: AAA also found that a sizable chunk of drivers misunderstands current self- and assisted-driving systems' capabilities.
"AAA's survey found that nearly one in ten drivers believe they can buy a vehicle that drives itself while they sleep," reads the group's writeup.
"Currently, there is no such vehicle available for purchase by the public that would allow someone to fully disengage from the task of driving."
3. America's semiconductor capital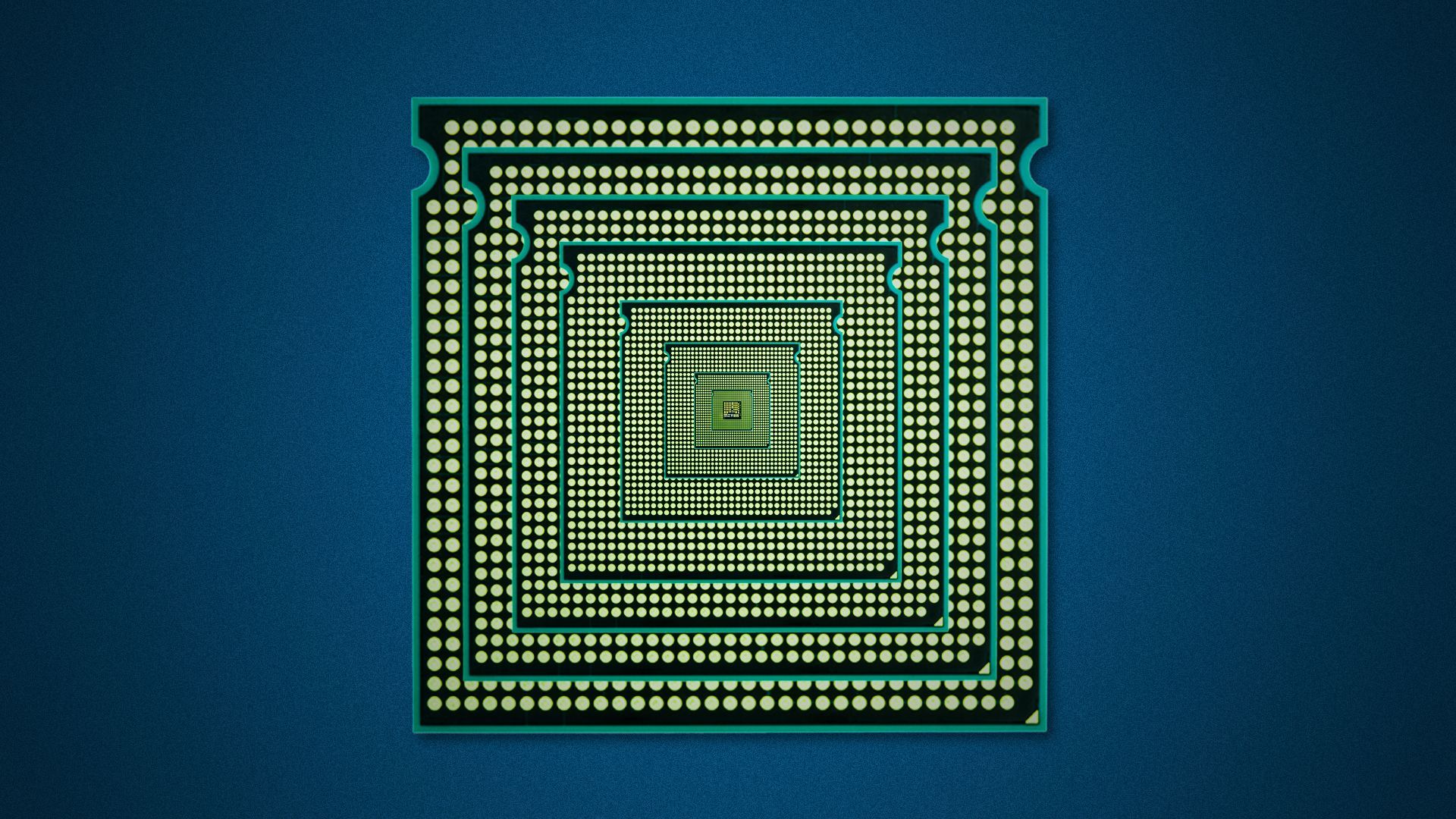 Arizona is solidifying its status as a semiconductor hotspot, Jessica Boehm reports, putting it in prime position as the Biden administration looks to reduce U.S. reliance on China for critical tech components.
The Grand Canyon State has led the country in semiconductor investment since 2020 — a byproduct of decades of local leaders' efforts.
Driving the news: Taiwanese Semiconductor Manufacturing Co. (TSMC) is planning a second factory in north Phoenix, the company recently announced, bringing its total Arizona investment to $40 billion.
Flashback: Arizona's first big foray into chip development came in 1949, when Motorola opened a Phoenix research lab that later manufactured transistors.
Intel eventually opened up shop in Phoenix as well, helping to form the foundation of a local chip ecosystem.
What we're watching: Since February 2021, 24 semiconductor-related companies have announced plans to expand or relocate to Arizona, officials tell Axios.
Yes, but: Some TSMC employees and global chips experts are doubtful about the long-term success of the company's Arizona expansion, the New York Times recently reported.
4. The Iditarod's uncertain future
Just 33 mushers will line up for the 51st Iditarod dog sled race this weekend in Willow, Alaska, Jeff Tracy reports.
Why it matters: That's the smallest field in the race's 51-year history, continuing a downward trend that's raising concerns about the future of the iconic event.
By the numbers: At least 50 mushers started the Iditarod every year from 1990 through 2020, topping out at 96 in 2008.
But there were just 46 in 2021, 49 in 2022, and 33 this year — one fewer than the 34 who started the inaugural race in 1973.
State of play: The decline has been driven partly by economic factors, with stagnating prize money failing to keep up with inflation.
The 1985 winner earned almost as much ($50,000) as 2022's victor ($51,798). Adjusted for inflation, the 1985 prize money would be worth more than $140,000 today.
The big picture: The Iditarod also faces a far more existential threat: climate change.
Organizers moved the starting point of the race north from Wasilla to Willow in 2008. They've had to move it twice since even farther north due to a lack of snow.
Big thanks to today's What's Next copy editor, Patricia Guadalupe.
Was this email forwarded to you? Get your daily dose of What's Next by signing up here for our free newsletter.