Axios What's Next
December 22, 2021
Welcome to our final newsletter of 2021. What's next: 2022!
Today's Smart Brevity count: 1,221 words ... 4½ minutes.
1 big thing: The giving boom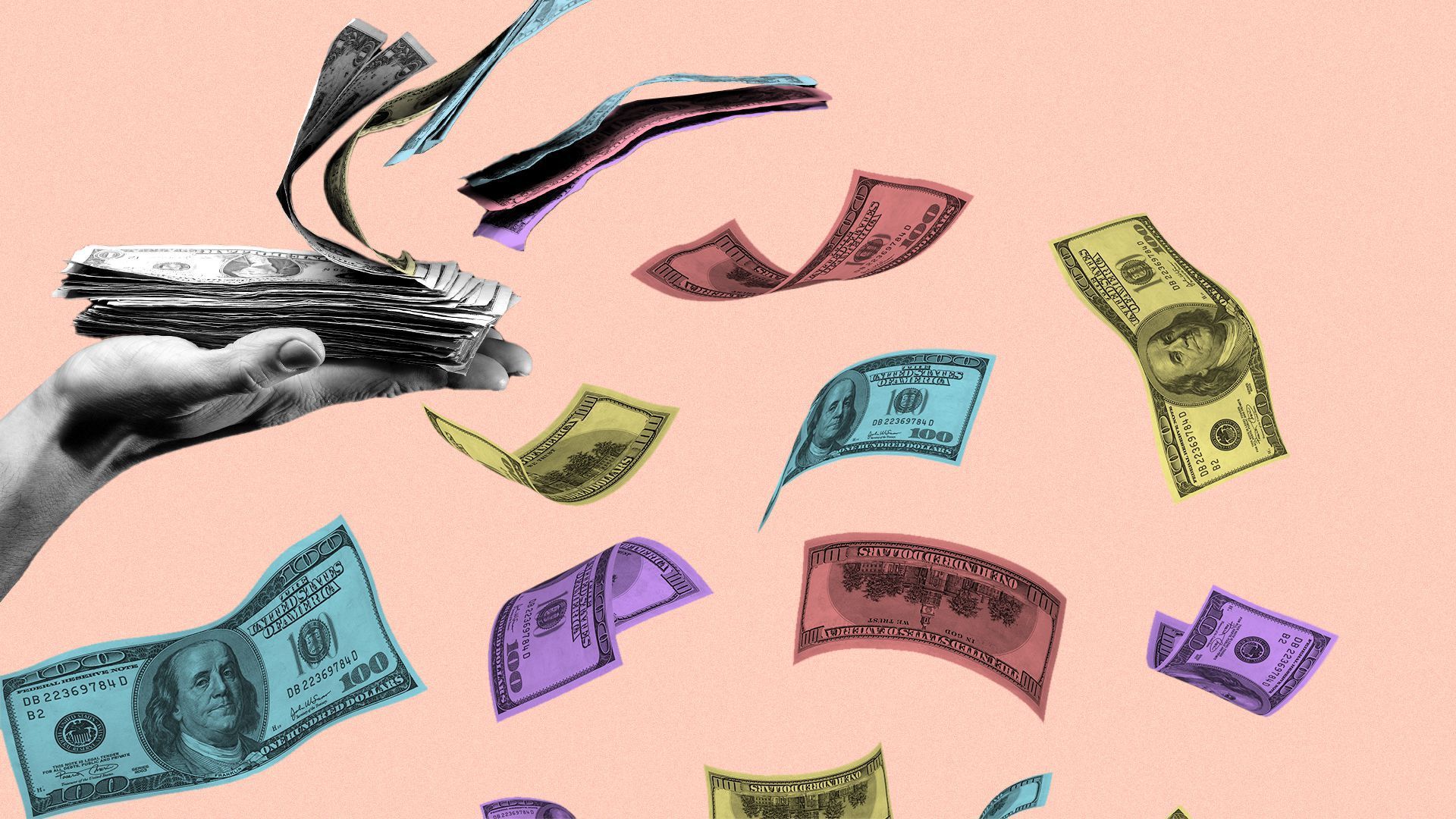 2020 saw a surge in charitable giving, and 2021 could top it, Erica Pandey writes.
Why it matters: We're navigating another COVID wave, and inflation is squeezing budgets — but amid all the bleakness this holiday season, Americans are still finding ways to give back.
"There have been unprecedented opportunities to make a difference," says Una Osili, an associate dean at Indiana University's Lilly Family School of Philanthropy.
The hardships spurred by the pandemic, the racial justice protests and, more recently, the deadly tornadoes in Kentucky and surrounding states have all created new opportunities to give back.
And restaurant closures and limited travel have left many Americans with more disposable income, putting them in a better financial position to give, Osili notes.
What's happening: Americans donated $2.7 billion on Giving Tuesday this year — a 9% jump from last year.
Overall, Americans donated $471 billion in 2020, up 5% from 2019. 2021 is still in the middle of its giving season — in fact, Dec. 31st is one of the most popular giving days of the year, says Osili.
Here's what you can do:
Give time: Every city has food banks, youth centers or homeless shelters where you can help. There are even virtual volunteer gigs on VolunteerMatch that are COVID-safe.
Give money: If you're buying gifts, pick a company that is giving back. Or use something like Goodshop, which digs up coupons for you and then lets you pick a charity to donate the cash you saved. 
Give things: Around 40% of Americans want to purge their closets, per CivicScience data. Do your research so that the clothes you're donating don't just end up in a landfill. Mashable suggests donating to Goodwill or the Salvation Army because these big organizations can handle volume, and they're less likely to get overwhelmed and throw clothes out.
2. Our greatest hits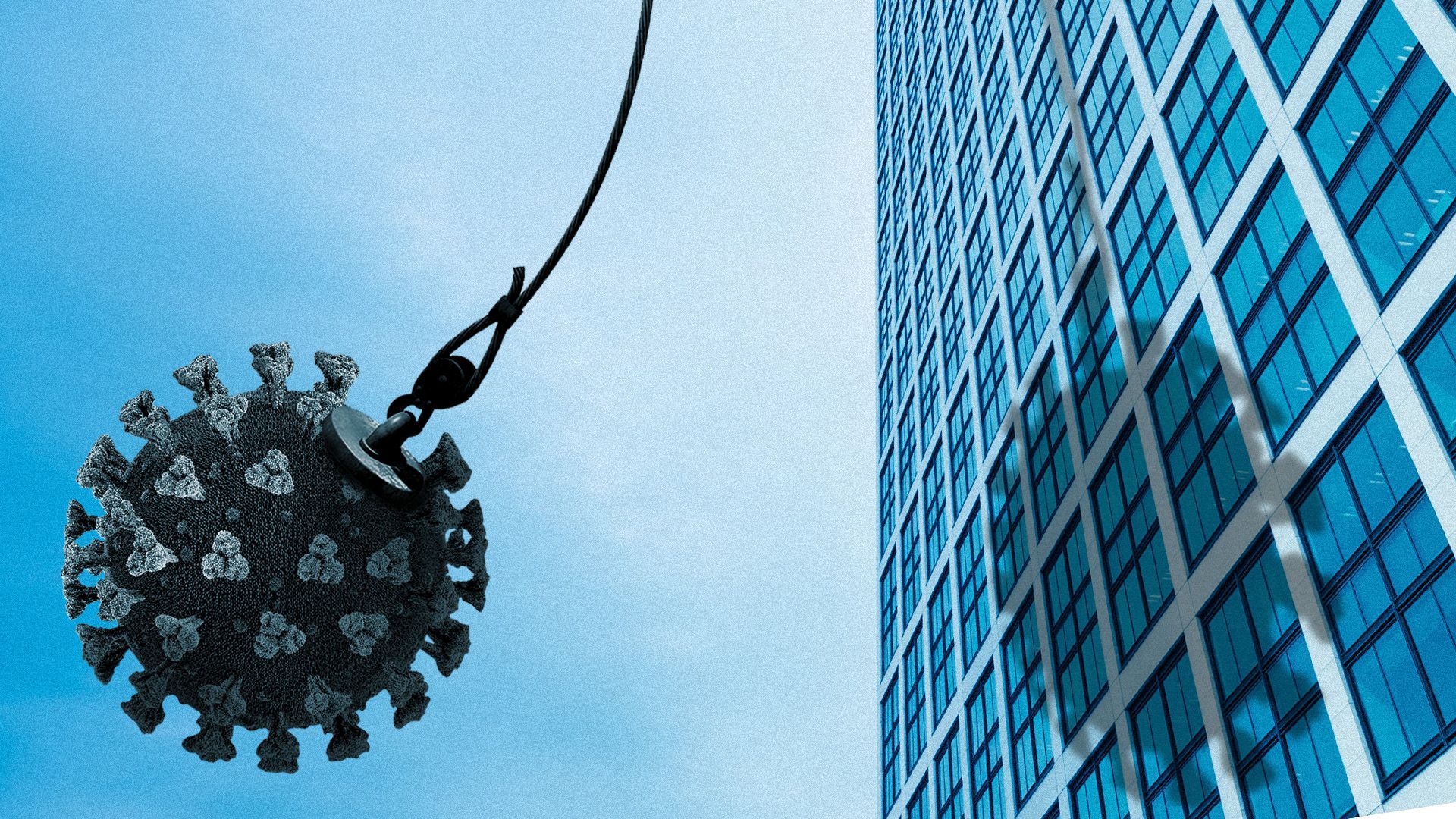 This year, we've investigated what's coming next in the way we work, live, play and get around.
Here are some big trends we think will remain relevant in 2022:
In the workplace: The pandemic will continue to transform not only the way we work, but also the way our offices look.
As hybrid and remote work become more common, the office is evolving from a place for focused work to a destination for collaboration.
Meeting rooms and open plan café-like seating areas are replacing personal offices — and where you sit and work no longer denotes your place in the hierarchy.
On the roads: Electric vehicles, still a novelty today, are really expected to take off starting in 2022.
As they do, Tesla's market share is expected to shrink rapidly — from about 80% today to less than 20% by 2025, according to forecasts from IHS Markit.
That's because other carmakers will be flooding the market with EVs: 146 models by 2025.
The big questions are whether consumers will be eager to buy them and if Congress will pass incentives to make them more affordable.
On the weekends: Look for pent-up partying demand to hit during the summer of 2022, as people hold postponed graduations, birthdays and family reunions.
In cities: As the climate crisis plays out, cities are hiring "chief heat officers" to devise cooling strategies and take immediate action.
Fatal heat waves, wildfires, hurricanes and floods are growing more frequent and deadly, and — to date — few municipalities have dedicated officials or organized structures in place to handle them. The "chief heat officer" gig could soon be as common as comptroller.
3. An up-and-coming sport?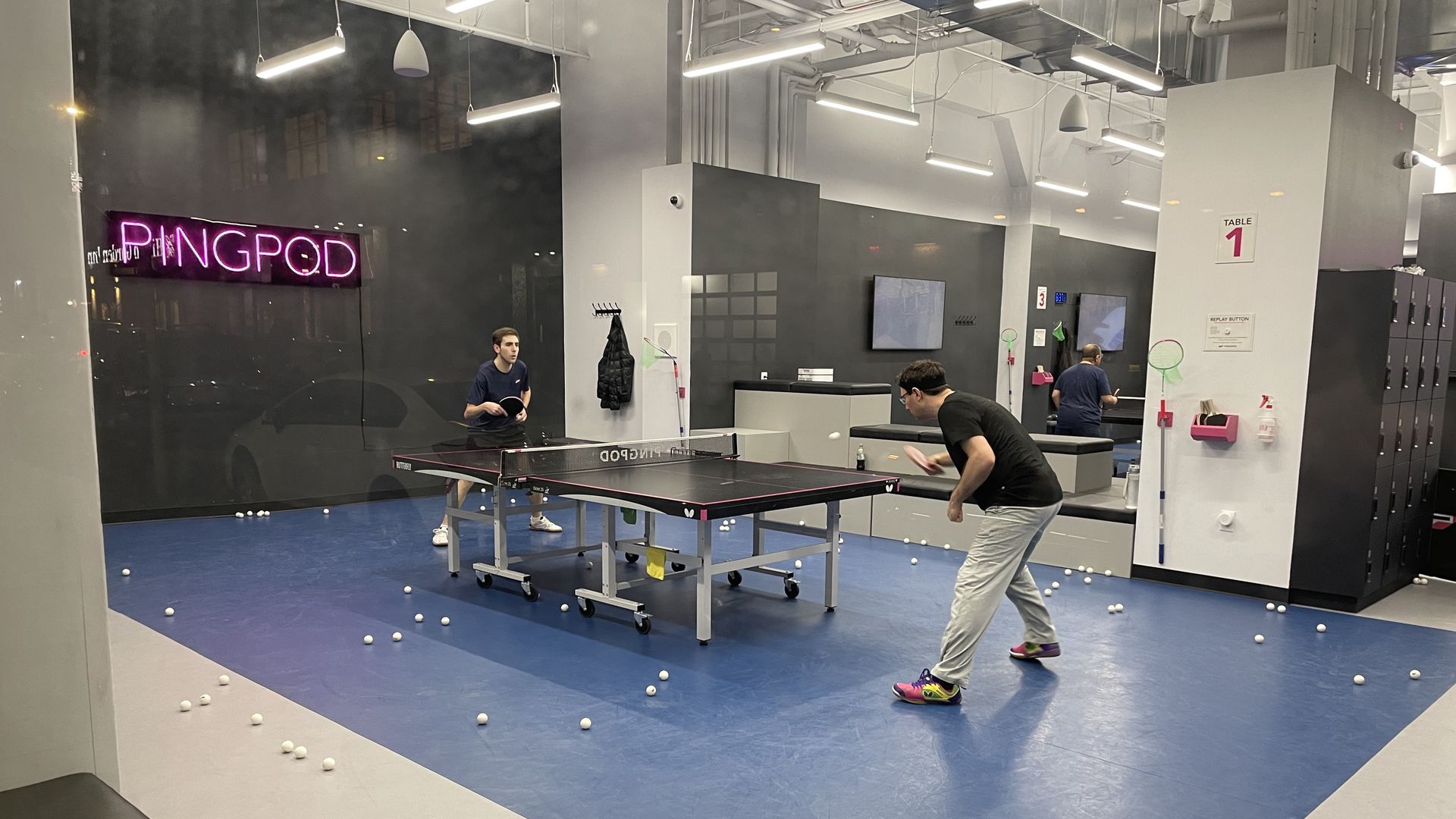 We've had laser tag studios, indoor golf and even indoor skydiving, and now a ping-pong pro wants to bring his favorite sport to a corner near you, Jennifer A. Kingson writes.
What's happening: A team of entrepreneurs, including a table tennis phenom from the Philippines, has started up Pingpod, which operates two indoor studios in New York City (with more coming soon, including one in Philadelphia).
People can play ping-pong on demand 24/7 at its studios, and book tables online.
"We call it an autonomous concept: There are no employees working here onsite, so you make a reservation, you show up, you play, you walk out, and we have a great security system to make sure everyone is following protocol and keeping the place safe," David Silberman, one of the business partners, told NY1.
Another partner is Ernesto Ebuen, a six-time Philippine national table tennis champion.
Details: Not only can players find partners online through the "Pingpod community," they can also play against a paddle-wielding robot.
"If everyone in New York has a place to play within 20 blocks of them, I think that a lot more people will play a lot more regularly," NY1 quotes Silberman as saying.
My thought bubble: With pickleball now a national phenomenon, could ping-pong be next?
4. What we're driving: 2021 Mercedes S-class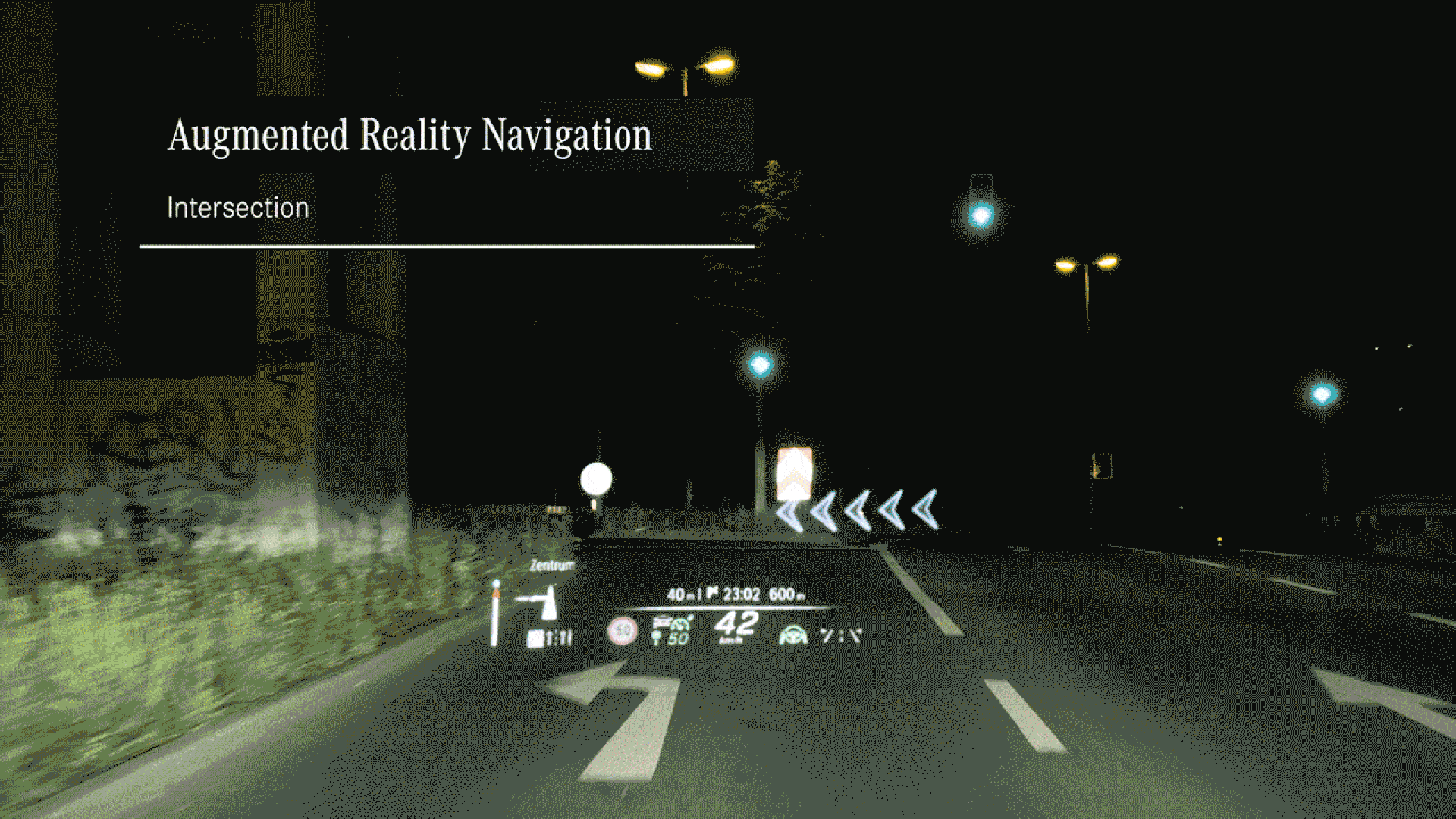 Cars are getting more and more sophisticated, but you haven't seen anything until you've experienced the 3D driver display and augmented reality system in Mercedes-Benz's flagship S-class sedan.
It's one of the most exciting technology features I've encountered in a vehicle, Joann Muller writes.
Why it matters: Technology that debuts on the Mercedes S-class typically winds up in more plebeian vehicles five or 10 years later.
Details: I test drove the 2021 S580 sedan, which is everything you'd expect from a $131,500 Mercedes-Benz — smooth, luxurious and comfortable, all the way down to the 10 seat massage modes and the plush pillows in the headrest.
What really blew me away, though, was the car's dazzling head-up display with augmented reality.
I'm a big fan of head-up displays, which project key information like the speed and direction of travel onto the windshield to help drivers keep their eyes where they should be, rather than looking down at a center touchscreen.
Adding augmented reality makes the technology even more useful.
How it works: I plugged in my destination, and a little blue arrow came to life on the windshield telling me when and where to turn.
It felt like I was following an animated bird.
The arrow multiplied and resembled a flock of birds, which grew larger as my turn approached.
After completing the turn, the arrow shrunk again until the next maneuver.
As I neared my destination, a floating checkered flag inside a map icon grew larger.
The augmented reality system works in concert with the super-cool 3D display on the instrument cluster behind the steering wheel, displaying the same information in a different format — but without 3D glasses.
5. A 3D-printed home for the holidays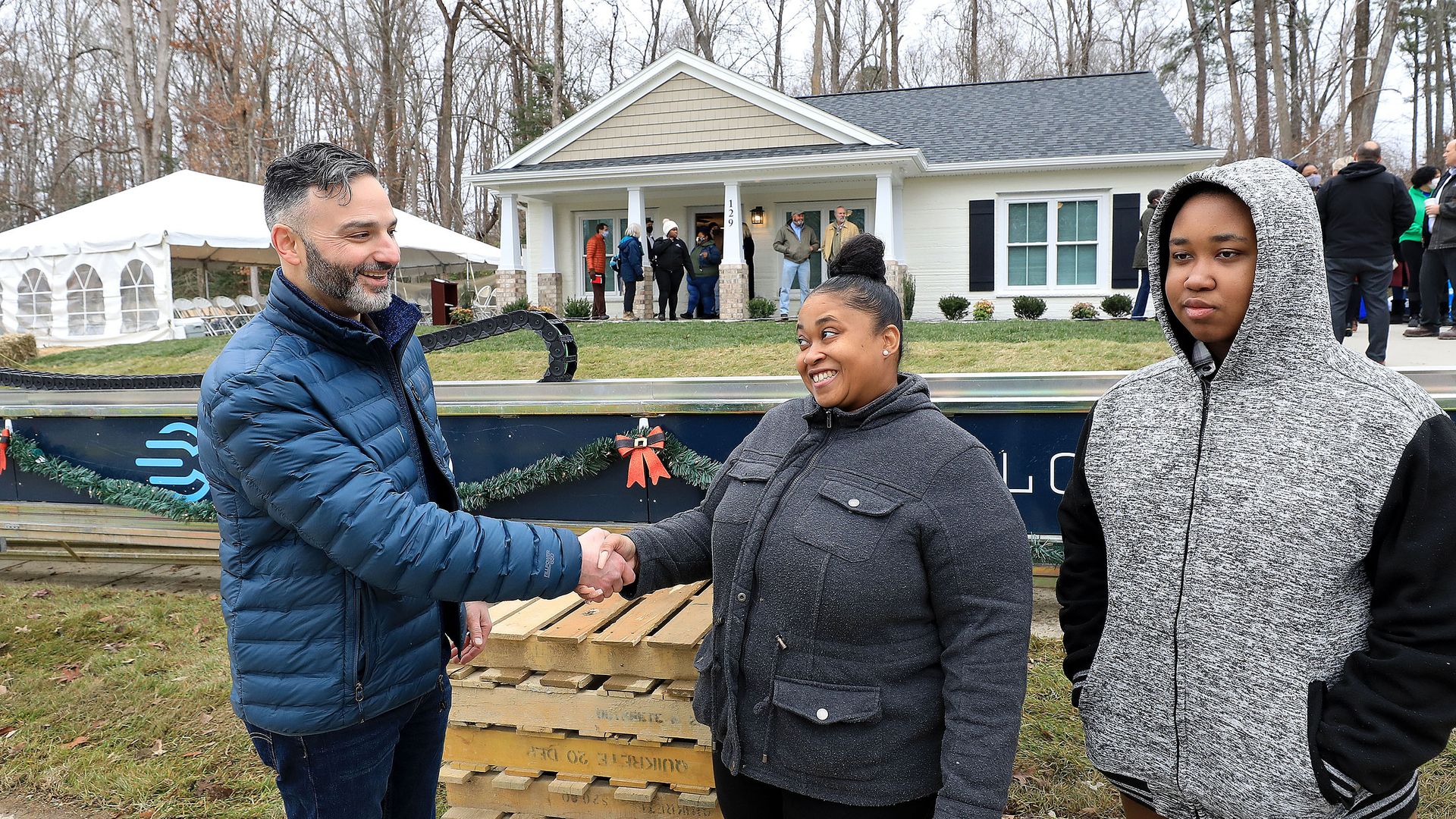 Habitat for Humanity handed over keys to its first 3D-printed home to a Virginia woman and her son on Tuesday, Joann writes.
The house in Williamsburg, Virginia, was built by a construction tech startup called Alquist, using a giant 3D printer.
It took just 22 hours to print the 1,200-square-foot, 3-bedroom, 2-bath home, which would take at least four weeks using standard construction methods.
It's the first home owned by April Stringfield, who invested 300 hours of sweat equity with Habitat to qualify.
The big picture: 3D-printing technology is transforming the homebuilding process to help solve an affordable housing crisis as well as a shortage of skilled labor and rising material costs.
Zachary Mannheimer founded Alquist in 2020 and partnered with Habitat for Humanity to help solve the rural housing crisis.
Thanks for your loyal readership this year. And if you're still searching for that holiday gift that says, "I care," consider giving that special someone a subscription to our newsletter. Like the other best things in life, it's free!