August 17, 2021
Are you job-hunting? You may need to be vaxxed, as Erica Pandey writes, below.
Please keep sending us your terrific pictures for our daily What's Next photo competition! Find a shot you took that says something about how we're going to work, live and play in the future:

[email protected]

.
Today's winners are at the bottom.
Today's Smart Brevity count: 938 words ... 3.5 minutes.
1 big thing: Vaccine mandates sweep Corporate America
Companies are acting where government is not and pushing workers to get the jab to get the job, Erica Pandey writes.
Driving the news: The share of job postings on Indeed requiring vaccination has jumped 90% in just the last month.
The big picture: Vaccination rates in the U.S. are climbing, but hesitancy remains high in certain places. And the Delta variant is foiling companies' return-to-work plans.
Now, it's not just front-line jobs at restaurants and shops requiring vaccination. Postings for jobs in software development, marketing and sales are mandating that applicants have the shot too.
What's happening: At the beginning of the year, there were basically zero office jobs asking workers to get the vaccine. But even if workers are 100% remote, they'll have to come on-site at some point to meet with colleagues — and firms don't want to take risks.
And even though the overall number of job postings requiring vaccination is still quite small — just about 1,200 per 1 million postings — they're increasing at a rapid clip. "This is incredible growth," says Indeed economist AnnElizabeth Konkel.
The share of software development job postings requiring vaccination has skyrocketed 12,400%, from a minuscule 3.5 per million to 438 per million.
Marketing jobs have seen an 11,100% jump to 1,110 per million and sales a 4,100% increase to 374 per million.
Big companies that are now requiring proof of vaccination — at least to come into the office — include Google, Facebook, Netflix, Disney, Morgan Stanley, Lyft and The Washington Post.
Even jobs that already tended to require vaccination — like those in education, retail and hospitality — are doing so at even higher rates.
The bottom line: This is yet another example of companies acting like governments.
Even if cities, states or the federal government choose not to mandate vaccination, firms can throw their weight around and effectively set policy by requiring it for their employees or customers — or both.
2. The sports betting tsunami
As sports betting emerges from the shadows and steps into the light, it's seeping into every aspect of fandom, Axios' Kendall Baker writes.
The state of play: How fans watch games, where fans watch games, how media covers those games — it's all being transformed quite rapidly.
Outside the stadium: For the next 20 years, the Superdome — a New Orleans landmark and one of America's most iconic buildings — will be named after Caesars Entertainment. Similar deals will likely follow.
Inside the stadium: North America's first in-arena sportsbook opened in Washington, D.C., in May, and at least three more are coming soon to Chicago and Phoenix. Whether on your phone or at a kiosk, betting at the game will eventually be commonplace — like it is in England.
3. A small tattoo? Sure, says United Airlines
United Airlines is relaxing its rules on flight attendants' appearance in an attempt to be more inclusive, Axios' Oriana Gonzalez writes.
State of play: Starting Sept. 15, United's customer-facing crew members will be allowed to have visible tattoos and workers of any gender can wear "natural-looking makeup" and nail polish. They will also be permitted to wear their hair down.
Yes, but: Tattoos must be smaller than employees' work badges and only shoulder-length or shorter hair can be worn down.
What they're saying: "We've updated our appearance standards to empower our employees to represent themselves in the way they feel most confident," United said in a statement.
The big picture: Uniforms for flight attendants widely adhere to rigid gender norms, but some airlines are starting to change their dress policies. For example, Virgin Atlantic in 2019 began allowing female crew members to forego makeup and wear pants instead of skirts, per CNN.
4. Neologism corner: "Streatery"
We're all familiar with pandemic-era street eateries — those outdoor dining structures that restaurants have frantically constructed and enhanced in order to stay afloat, Jennifer A. Kingson writes.
And as Ben Zimmer writes in the Wall Street Journal, the word "'streatery" (or "streetery") "compactly convey[s] the new dining configuration in a single portmanteau word."
What's next: Casey Trees — a Washington, D.C., nonprofit dedicated to the health of the capital city's tree canopy — argues that streateries are good news for trees because eating or standing in line in the summertime heat calls attention to the need for "nature's air conditioner — trees!"
But some people consider streateries a bane, taking up parking and pedestrian space.
The language angle:
While "street" dates back to the earliest records of Old English (having entered Germanic languages from Latin "strata," meaning a paved road), "eatery" is a much newer addition, cropping up in American use around the turn of the 20th century.
As an alternative to "restaurant," "eatery" found favor among journalists and writers of advertising copy but seldom enters everyday conversation. The fact that "eatery" still has a somewhat unnatural air to it may help explain the resistance some have to the "streatery" spinoff.
— Ben Zimmer in the WSJ
Reader photos
What's Next: Conveyor belt dining
Clifford A. Sobel writes: "While dining via conveyor belt may not be new, I believe this could be the future of food service.
"We are provided numerous choices. It's probably cleaner — which is much more relevant in these days of pandemics — and it reduces food service costs. This image was captured in London at a restaurant called YO! Sushi."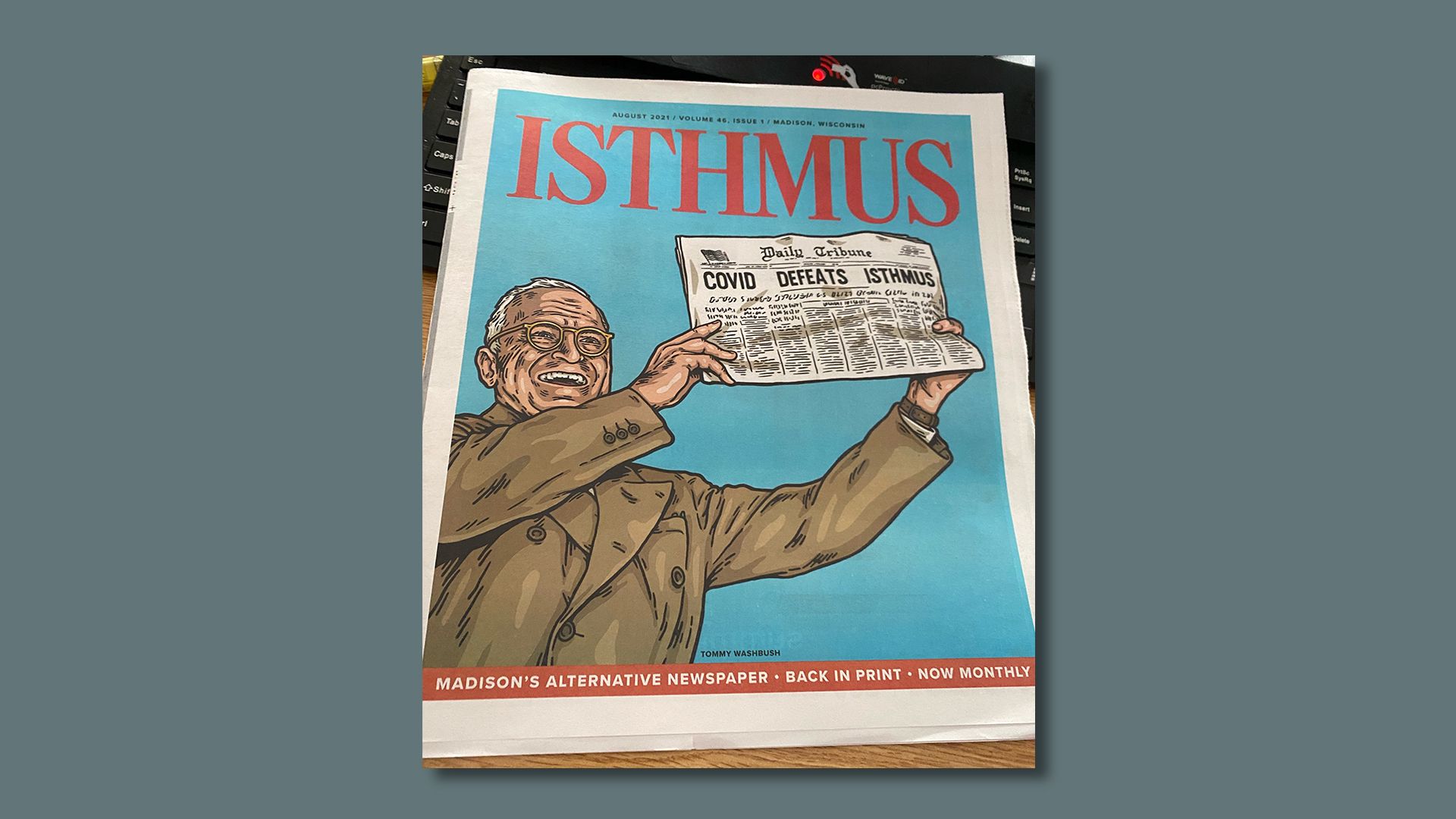 What's Next: Print journalism, baby!
Jeff Mahlum writes: "Attached is a photo of Madison, Wisconsin's alternative newspaper The Isthmus. Its print version fell victim to the pandemic.
"After nearly 1.5 years off newsstands, they have reinvented themselves into a nonprofit news organization and have returned to a print version last week! Seems like an interesting new model for the future of local journalism."
We're grateful for your readership and your feedback! If this email was forwarded to you, subscribe here.