Axios What's Next
January 04, 2023
Elevators are essential to the modern city — no lifts, no skyscrapers. And now, Jennifer reports, they're getting big, high-tech upgrades.
🇨🇭Axios will be at the 2023 World Economic Forum in Davos, Switzerland. Want to attend one of our events? Request an invite here.
Today's newsletter is 1106 words ... 4 minutes.
1 big thing: Elevators go high-tech — and maybe horizontal
The latest breed of elevators can recognize your face, greet you by name and take you to your floor automatically, Jennifer A. Kingson reports.
Why it matters: The widespread fear of elevators that hit during the pandemic served to turbo-charge new innovations.
New features make the ride safer, faster and more convenient, but come with a big price tag for building owners.
For developers who want to spend the cash, the sky's the limit: AI and facial recognition can push customized entertainment and advertisements on elevator screens to passengers who opt in.
Elevators that travel horizontally may be on the horizon, paving the way for new architectural innovations.
Driving the news: The race is on among the "big four" elevator manufacturers — Otis, Schindler, Kone and TK Elevator — to sell new or retrofitted high-tech elevators to property owners.
They're touting everything from modern-day must-haves (like two-way video calls) to convenient nice-to-haves (like apps that call cabs in advance).
Buzzwords in the business include "destination dispatch," a system letting riders select their floor while still in the lobby (for maximum efficiency), and "occupant apps," aimed at improving the rider experience.
The big four are planning for cloud-connected elevators becoming an integral part of smart cities and smart buildings — coordinated with local transit schedules and, of course, rooftop air taxis.
What they're saying: "The evolutionary changes are now happening at a faster and faster clip," John Sarcona, senior manager of new installations at Schindler, tells Axios.
On the passenger side, you'll be able to use an app to call an elevator immediately, or schedule a ride in advance.
On the safety side, elevators loaded with sensors, cameras and digital screens can detect problems early and summon a technician.
Service robots will be able to call elevators as needed — to bring fresh towels to a hotel guest, for example.
The intrigue: Part of the sales pitch is that smart elevators can turn a mundane ride into a seamless experience — or even immersive entertainment.
A camera or beacon that recognizes you can tell which floor you're supposed to go to — no need to touch a button — and play relevant content (from weather to personalized messages) on a screen.
"Now the lights in the cabin can become blue because we know it's your favorite color. Your favorite music can come on," says Jon Clarine, head of digital services at TK Elevator North America.
The systems work with wearables, too. "If you've got your hands full or you're coming in with two bags, you can automatically have that elevator called for you," Clarine says.
Picture this: "If you're a very important person, we can invoke a VIP service which would drop everybody off on the ride, come to your floor, pick only you up and not pick anyone else up along the way, and take you directly to your office or suite," Clarine tells Axios.
Yes, but: As smart elevators grow more capable and pervasive, there's a lot that still needs to be figured out about how the data is used, who owns it and how it's shared, says Neil Green, chief digital officer at Otis.
What's next: Horizontal elevators may be on the horizon — TK Elevator's MULTI is being piloted in Germany and is slated for (eventual) installation in a building in Atlanta.
Known as a "ropeless" elevator, the MULTI uses magnetic levitation technology and moves a bit like a Ferris wheel, says Clarine.
As skyscrapers grow taller and are built in weird shapes, the MULTI could be a "game changer" because it can lift people faster and in new directions.
2. Southwest's trust problem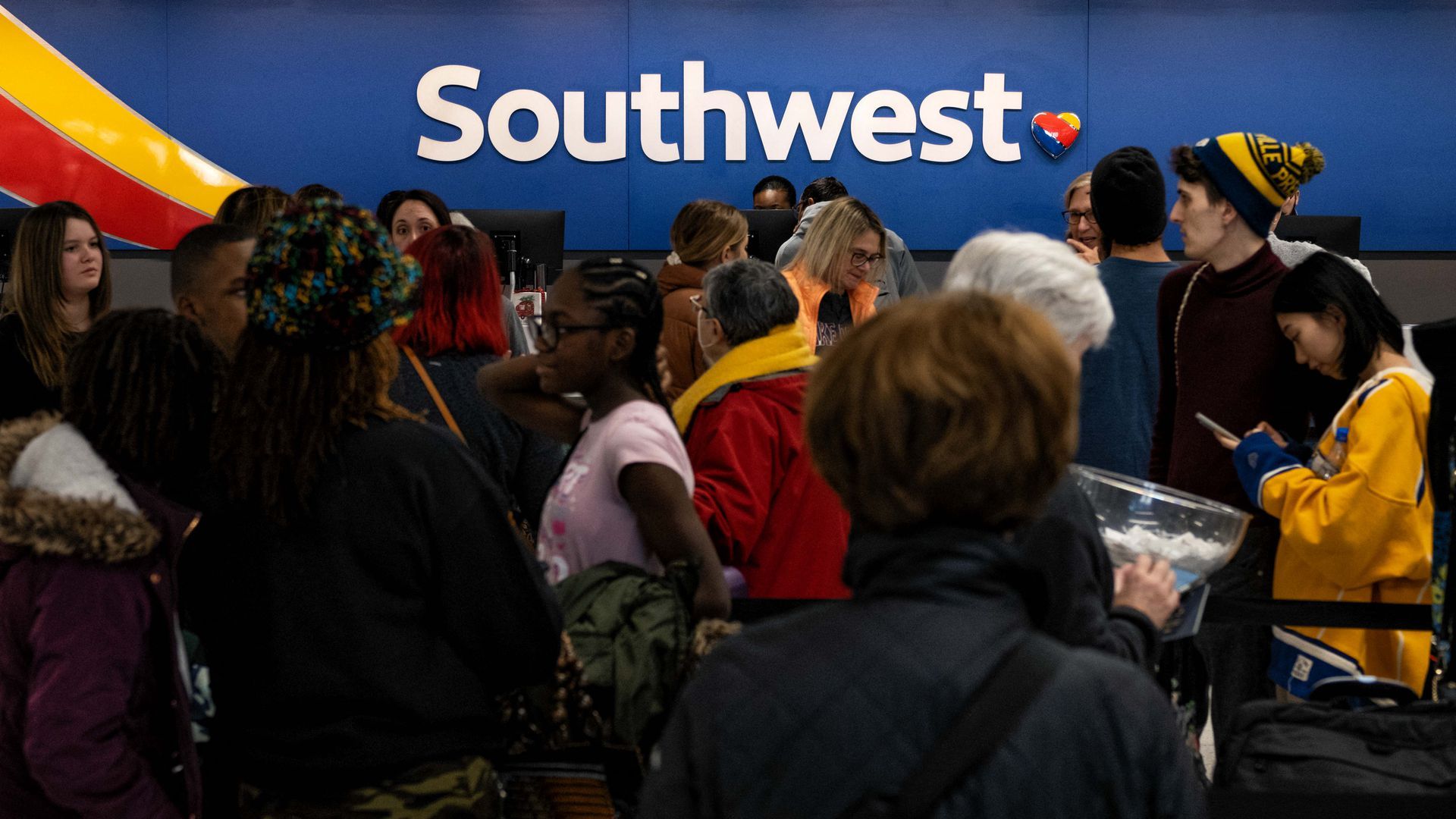 Southwest Airlines canceled fewer than 100 flights over the weekend, but it still has a long way to go to regain customers' trust, Axios Dallas' Michael Mooney writes.
The big picture: Southwest will review every aspect of its operations — including its outdated scheduling technology and point-to-point routing — after an epic holiday season meltdown resulted in more than 15,000 canceled flights.
Why it matters: Southwest once had a sparkling reputation for customer service, helping it build a famously loyal following. Now that prestige is fading fast.
State of play: The airline has pledged to cover affected travelers' expenses, including flights, hotels, car rentals and more.
The intrigue: Industry analysts and union representatives say Southwest rapidly outgrew its antiquated operations technology, making a fiasco inevitable.
💬 Alex's thought bubble: Airlines have recovered from crises time and time again — remember the United passenger dragged off a plane in 2017? — but it takes time and effort to rebuild a tarnished brand.
3. The year of salary transparency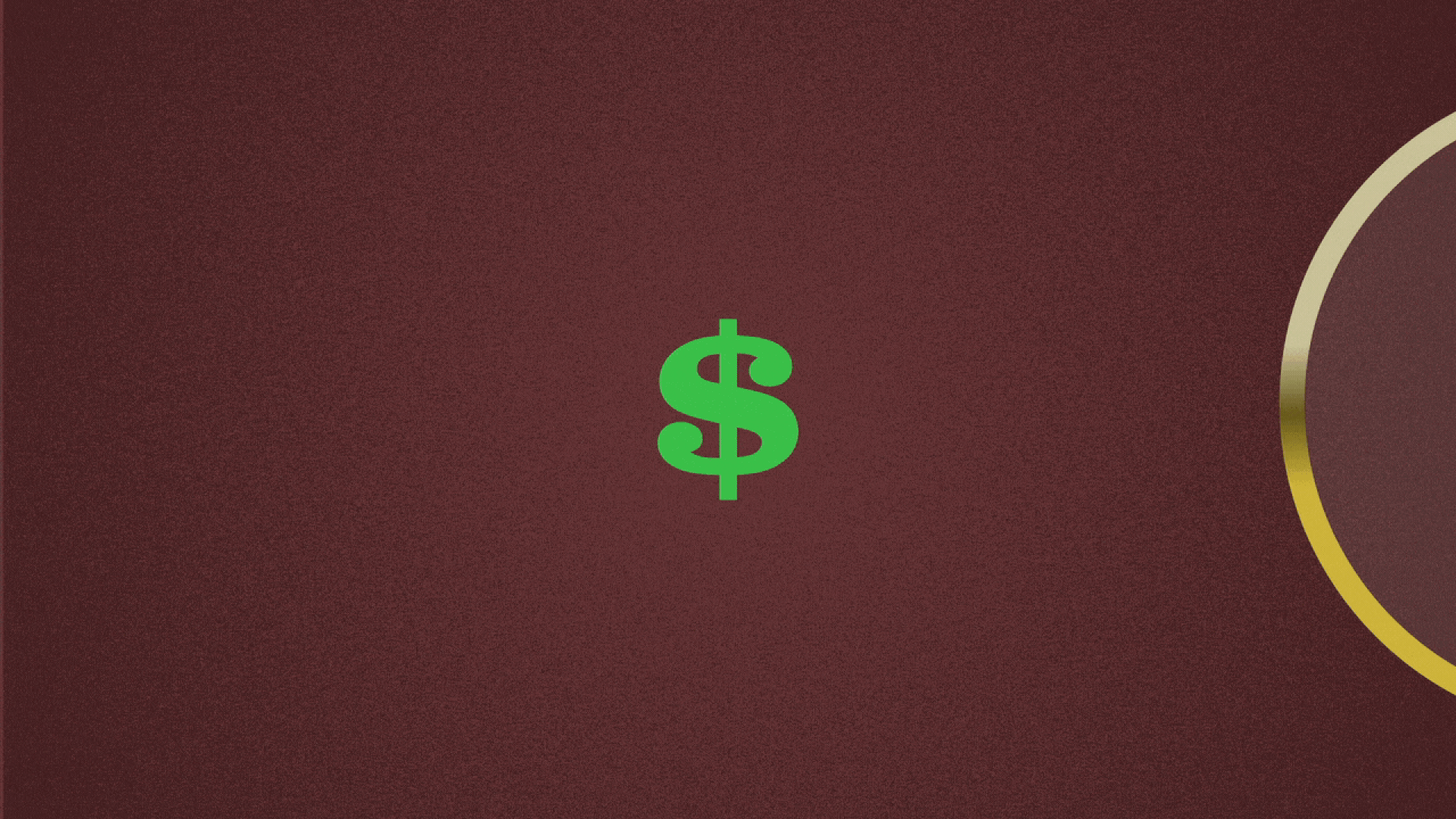 New laws went into effect in California and Washington state on Sunday requiring employers to post salary ranges on job listings, Axios' Emily Peck reports, following similar legislation in Colorado and New York.
Why it matters: New York and California are major employment hubs, and have outsize influence when it comes to standard-setting for employers. Expect to see these rules catch on widely in the new year.
By the numbers: As of Dec. 4, 61% of NYC listings on Indeed.com included salary information, up from just 27% a month before the law change.
Between the lines: Some companies were afraid to go first, fearing backlash over salary ranges that might seem too broad or low, said Kaitlyn Knopp, founder of Pequity, an HR software firm.
Others are just not doing it, unafraid of the law's fairly weak enforcement mechanisms.
4. 📸 Aerial tribute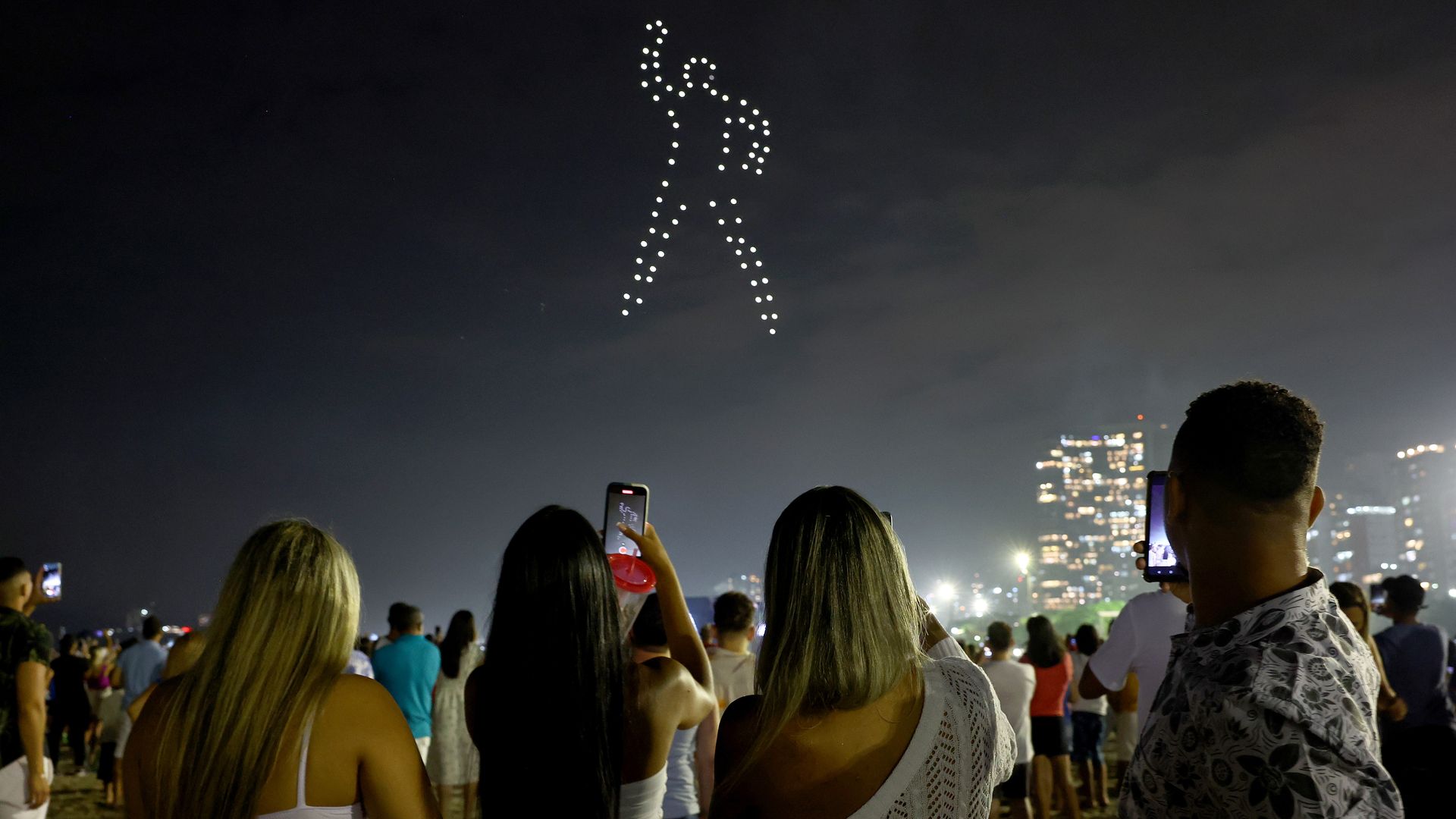 Spectators watch a drone show dedicated to Brazilian soccer legend Pelé, who died Dec. 29 at 82 after a battle with colon cancer.
The show was part of New Year's Eve festivities in Santos, near São Paulo.
Drone shows are becoming a popular alternative to or supplement for traditional fireworks displays, as they're able to create more intricate airborne images — as seen above — and are less likely to trigger wildfires, as Jennifer has reported.
5. 📊 CES bets on bouncing back
After two years of pandemic-driven setbacks, the Consumer Electronics Show (CES) is aiming for a big comeback, Axios' Sara Fischer and Ina Fried write.
Driving the news: CES hopes to draw at least 100,000 in-person attendees to its annual tech confab in Las Vegas this week — but it's unclear if the mega-conference will ever return to its pre-pandemic peak of over 180,000 attendees.
The big picture: Every January, CES sets the scene for deal-making across tech, media, manufacturing and gaming.
More than 2,500 exhibitors from 166 countries are expected to debut new gadgets and products this year.
How to watch: Follow along here as Axios covers the biggest CES news over the next few days.
Big thanks to What's Next copy editor Amy Stern.
Was this email forwarded to you? Get your daily dose of What's Next by signing up here for our free newsletter.