Axios What's Next
February 02, 2022
"Why isn't there a Cabinet-level Secretary of the Future?" wonders Robert Legge of Culpeper, Virginia, an Axios What's Next reader.
He wrote to us in response to yesterday's newsletter, which led with Joann's story about how drones are starting to deliver prescription medicine.
Got a reaction to something you read here? Email us at

[email protected]

.
Today's Smart Brevity count: 1,086 words ... 4 minutes.
1 big thing: A roadway will charge your EV while you're driving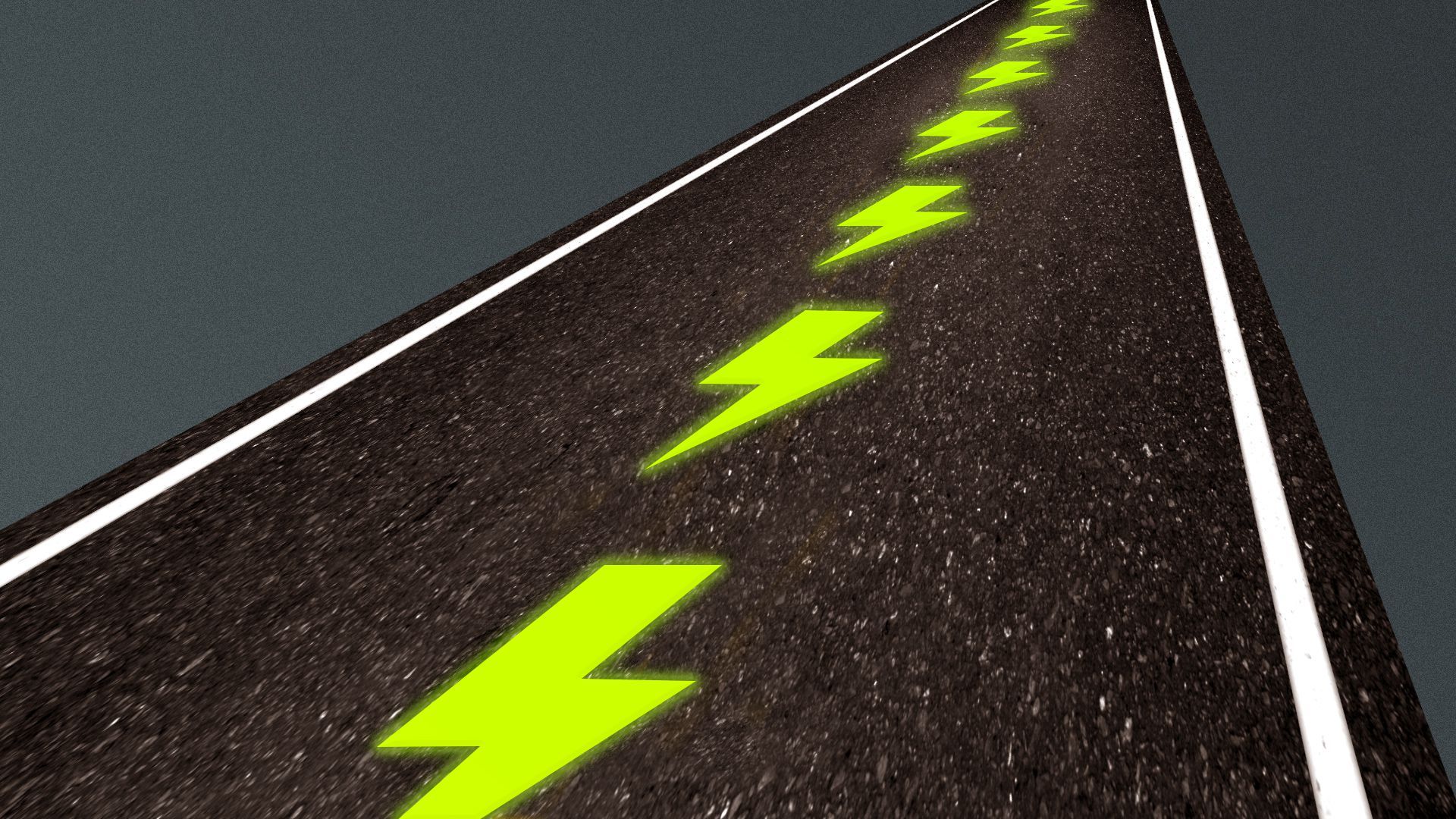 The nation's first stretch of road to wirelessly charge electric vehicles while they're in motion will begin testing next year in Detroit, Joann Muller writes.
Why it matters: "Electrified" roadways, which have a wireless charging infrastructure under the asphalt, could keep EVs operating around the clock, with unlimited range — a big deal for transit buses, delivery vans, long-haul trucks and even future robotaxis.
In-road charging could also help pave the way for more widespread EV adoption by relieving consumers of the need to stop and plug in their cars.
Driving the news: Electreon Wireless, an Israeli company whose plug-free charging infrastructure is already being tested in Europe, will deploy its first U.S. pilot in Detroit's Michigan Central district, a new mobility innovation hub near downtown.
The electrified road, up to a mile long, would allow EVs to charge whether they're stopped or moving, and should be ready for testing in 2023.
The state will contribute $1.9 million toward the project, which will also be supported by Ford Motor, DTE Energy and the city of Detroit.
The big picture: Wireless EV charging is expected to grow to $827 million worldwide by 2027, says Meticulous Research.
Most of that growth will be for "static" wireless charging systems for places like parking garages, taxi stands, and bus or truck depots.
Electreon claims leadership in the market for "dynamic" wireless charging — systems that allow vehicles to suck up juice while in motion.
It has ongoing pilots in Germany, Italy and Sweden, and will soon launch a plug-free charging network for 200 public buses in Tel Aviv. 
How it works: Wireless EV charging systems use magnetic frequency to transfer power from coils buried underground to a receiver pad attached to the car's underbelly.
An EV can pull into a designated parking place with an underground charging pad and add electricity the same way a smartphone charges wirelessly.
Along an electrified road, vehicles with wireless charging capability can suck up energy, but for all other cars, it's an ordinary road.
2. Burgeoning biking cities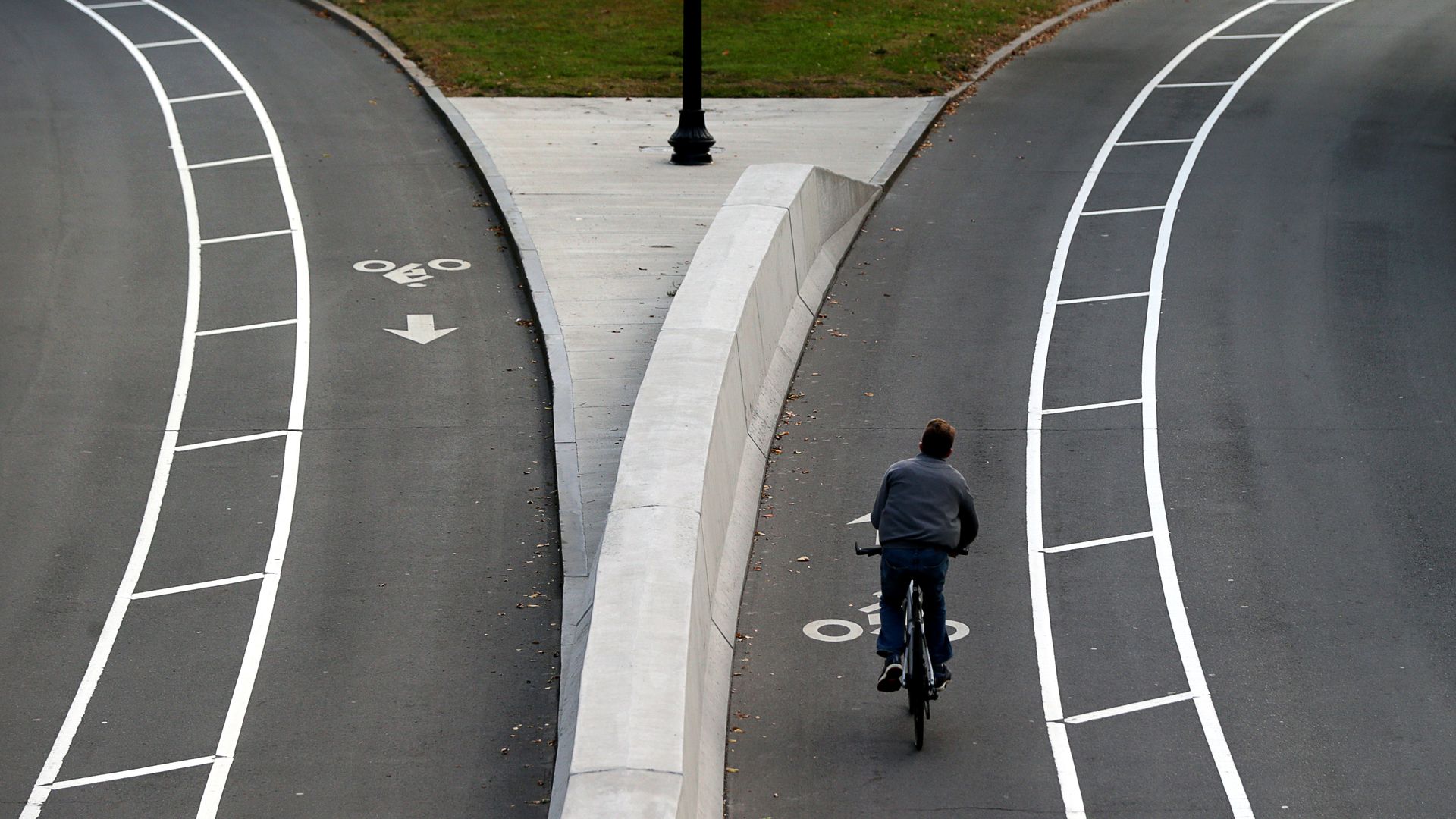 U.S. cities have long lagged behind counterparts in Europe when it comes to biking infrastructure, but some metros are making a push to build more lanes and boost bike commuting, Erica Pandey writes.
Why it matters: Transportation is the leading generator of greenhouse gases, the Urban Institute notes. Still, just 0.5% of Americans commuted on bikes in 2019, reports National Geographic.
Compare that with the Netherlands, where 27% of the country commutes by bike.
The difference is infrastructure. Per a recent National Geographic survey, 70% of people in the U.S.'s 50 biggest metro areas say they're interested in biking, but half of them say they're too afraid to bike in the street.
What's happening: A number of cities are expanding bike infrastructure — and seeing subsequent rises in rates of biking.
Oakland added nearly 130 miles of bike lanes to go from 56 miles in 2000 to 183 in 2020. The share of commutes that were bike trips jumped 40% in that same period, Bloomberg reports.
Boston, Chicago and Austin also boosted their rates of biking by 59%, 53% and 19%, respectively.
And cities can build up bike infrastructure quickly: Providence, Rhode Island, went from about 10 miles of bike lanes per million inhabitants in 2019 to nearly 120 just two years later, according to the Urban Institute.
What to watch: Even with big gains in a smattering of cities, rates of biking in the U.S. remain quite low. The rise of remote work is taking some cars off the roads, but many more cities will need to build many more miles of safe bike lanes for biking to boom.
3. Tesla agrees to fix "rolling stop" feature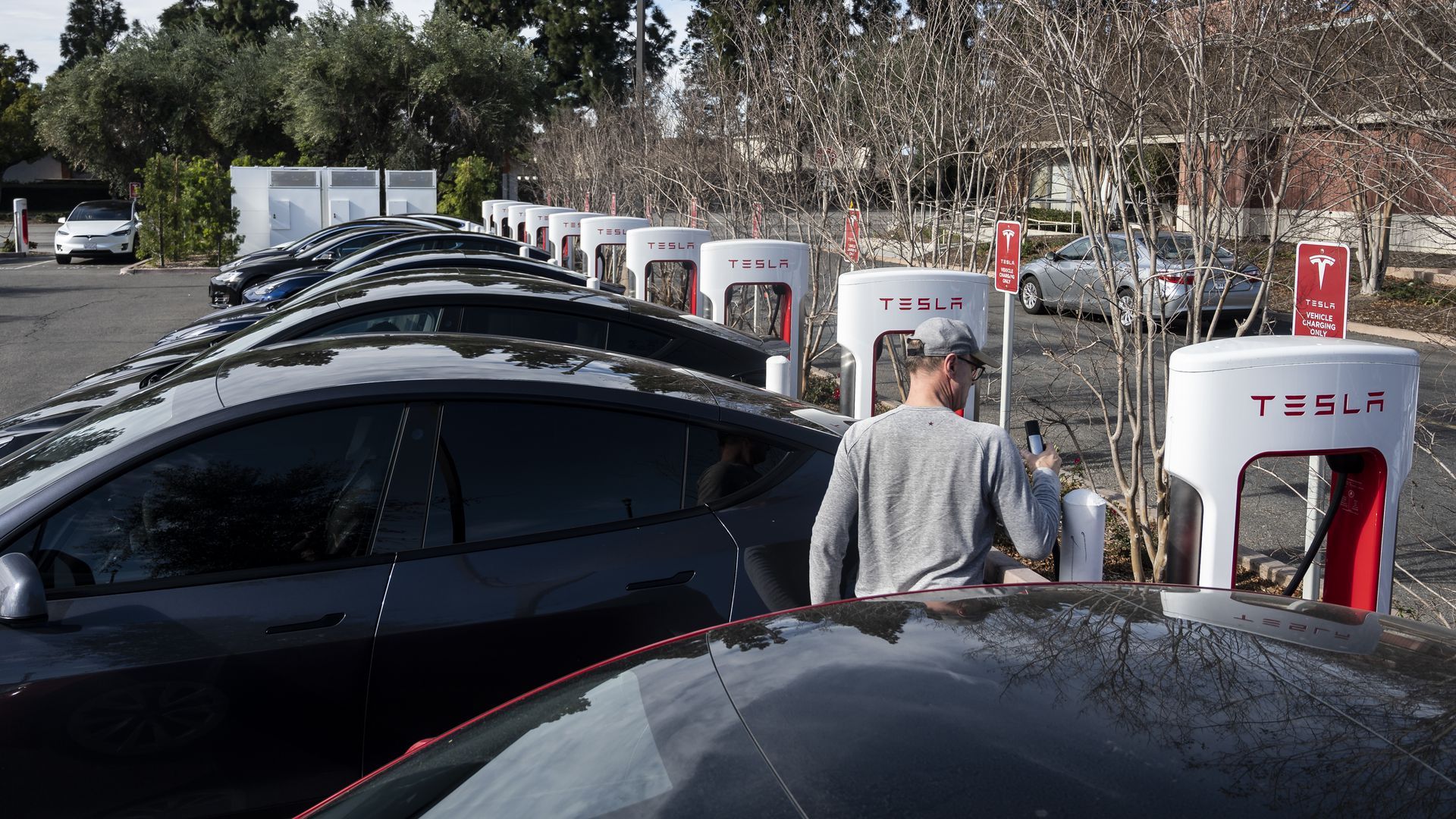 Tesla is recalling and updating the software for 53,822 of its cars using the Full Self-Driving (FSD) beta program because it may allow some models to conduct "rolling stops" at intersections, posing a safety risk, Jacob Knutson reports.
Driving the news: The National Highway Traffic Safety Administration said yesterday that Tesla's software update will disable the controversial feature, which allowed some cars to roll through intersections with stop signs instead of braking completely.
Federal law requires automakers to submit a recall when they issue an "over-the-air" software update that mitigates a defect that poses an unreasonable risk to drivers.
What they're saying: Tesla said in its safety recall report that, as of Jan. 27, it was not aware of any warranty claims, field reports, crashes, injuries or fatalities related to the software bug.
The big picture: Tesla's FSD allows owners to choose among three driving profiles — Chill, Average or Assertive — that dictate how the car will behave in different scenarios.
The Assertive profile allows the car to perform rolling stops, follow other cars more closely and swap lanes more frequently, as Joann reported.
The software recall covers some 2016-2022 Model S and Model X, 2017-2022 Model 3 and 2020-2022 Model Y vehicles.
Tesla said last week that around 60,000 of its vehicles are currently beta testing its FSD.
4. The next microchip crisis will be bigger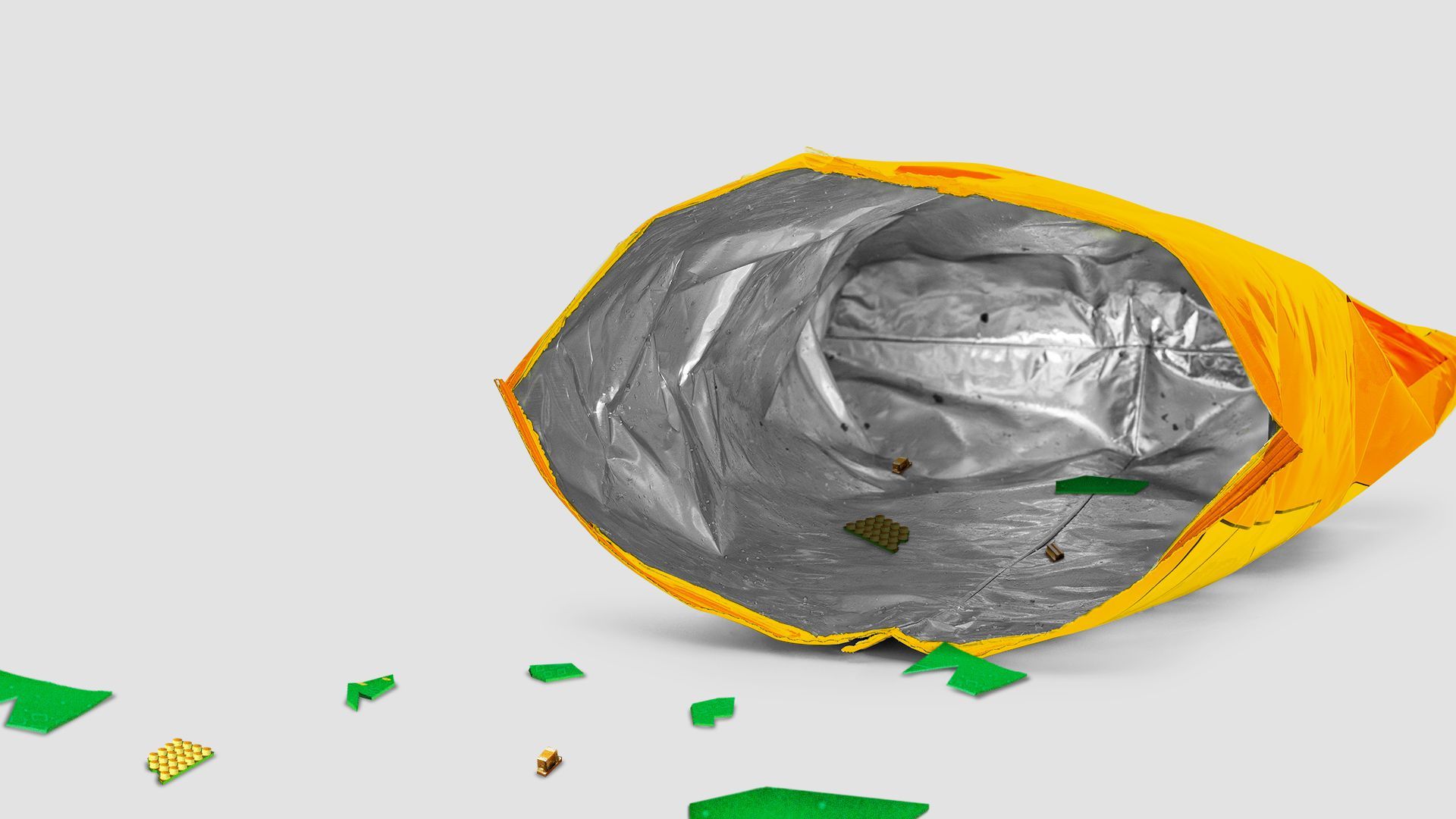 The global chip shortage that's kept automobiles, iPads and game consoles in short supply is nothing compared to what could happen if the global economy's key maker of high-end microchips, based in Taiwan, is jeopardized, Margaret Harding McGill writes in Axios Login.
Why it matters: Until now, Washington's focus on the semiconductor shortage has centered on keeping products on shelves and car dealership lots stocked. But U.S.-China tensions, along with the threat of natural disasters, provide a recipe for an even broader economic crisis.
What's happening: Right now, no U.S. company can manufacture the most advanced leading edge chips used in smartphones, laptops, servers, supercomputers, gaming consoles and other products.
Instead, most of the supply of those chips is made by Taiwan Semiconductor Manufacturing Company and is concentrated in Asian countries.
The current chip shortage has caused lengthy delays for new car orders, and was blamed in part for U.S. GDP remaining 1% lower than pre-pandemic.
What they're saying: "The current shortage pales in comparison to the economic impact of what might happen if the United States lost access to chips in Taiwan," Will Hunt, a research analyst at Georgetown's Center for Security and Emerging Technology, told Axios.
5. Augmented reality can be useful!
Augmented reality is fun for hunting Pokemon, but does it have any real use?
Here's one that Vala Afshar, the chief digital evangelist at Salesforce, flagged on Twitter: a counting app called iScanner that counts large numbers of things.
Here's a YouTube video that also shows it in action.