Axios What's Next
April 20, 2023
New air traffic control towers are the latest big upgrade coming to airports nationwide, Alex reports today.
Today's newsletter is 1,130 words ... 4½ minutes.
1 big thing: Greener control towers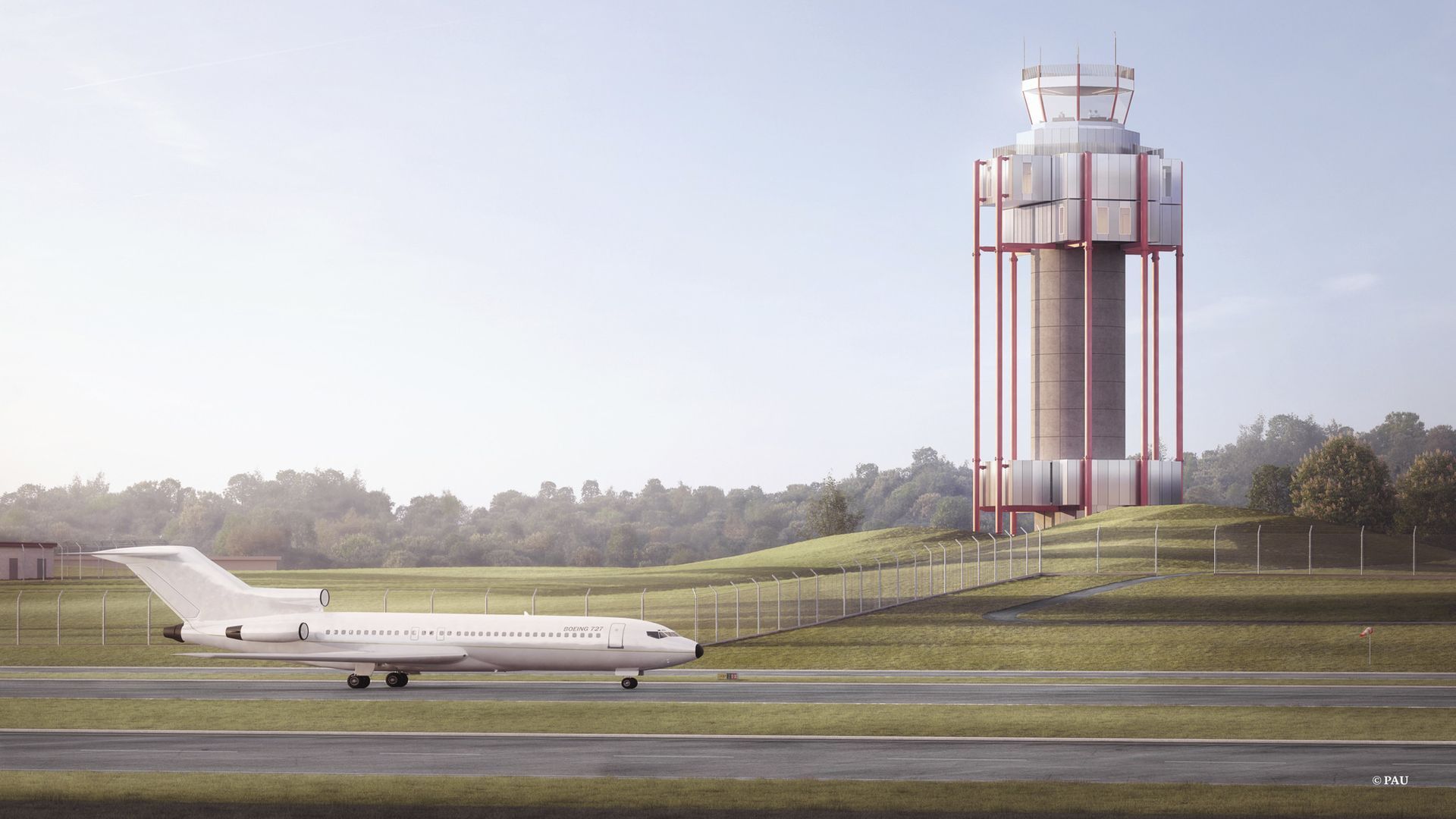 More sustainable air traffic control towers are coming to some regional airports across the U.S., Alex Fitzpatrick is first to report.
Why it matters: Many of the country's control towers are in desperate need of upgrades or outright replacement.
Driving the news: After soliciting concepts for a new modular, energy-efficient control tower, the Federal Aviation Administration (FAA) has picked a design from New York firm Practice for Architecture and Urbanism (PAU).
The new design is set to be built at 31 regional airports where the existing towers are "functioning beyond their intended design life," the FAA said Thursday.
The agency's challenge was inspired by a similar 1960s-era effort won by legendary architect I.M. Pei, who created a slender tower with a distinctive flared top.
Details: PAU's design includes a range of environmentally friendly features, including all-electric systems, recycled steel and metal components, and, where possible, geothermal heating and cooling.
The firm's towers can be built at heights ranging from 60 to 119 feet, based on site-specific needs.
That was challenging from both a technical and aesthetic perspective, says PAU founder and creative director Vishaan Chakrabarti, "because you need something where the proportions work equally well for a 60-foot tower and 119-foot tower."
"In some of the communities we're talking about, this tower will be the tallest thing in the community," he adds. "So it's a beacon, it's a marker, and so making the aesthetics work for both [heights] was really important."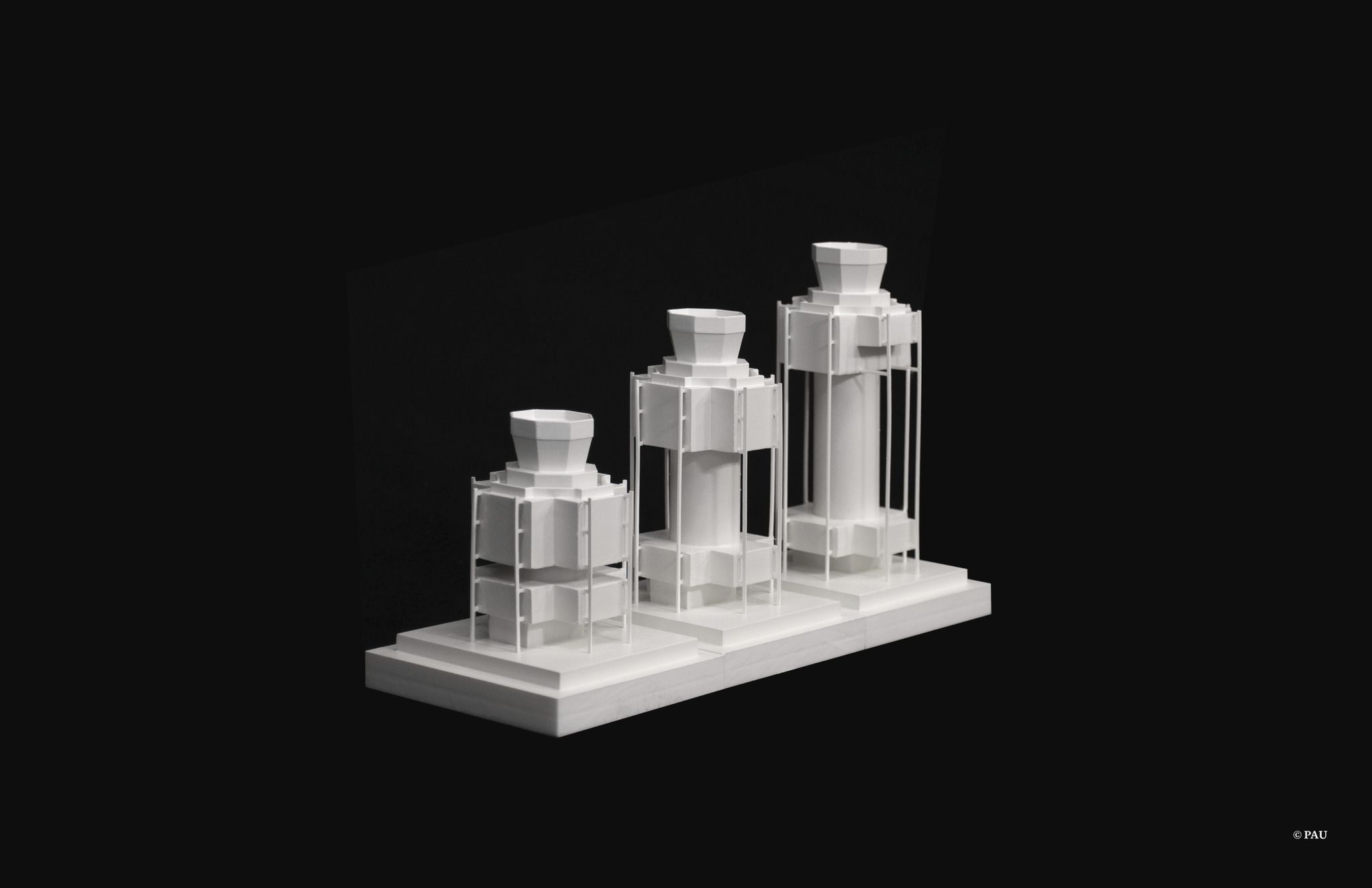 Plus: "The interior spaces prioritize the health and wellness of air traffic controllers, providing integrated daylighting and comfort systems and fresh air ventilation," per a PAU release.
And components of the new towers can be manufactured offsite and shipped to airports for final construction to save time and money.
The FAA says it's using more than $500 million from the 2021 infrastructure law to fund the early stages of building the new towers.
"These new air traffic control towers will mean that smaller airports can handle more flights, more sustainably and more affordably," Transportation Secretary Pete Buttigieg said in a statement.
Yes, but: Many of the country's regional airports have been losing service as airlines favor more lucrative routes.
What's next: The PAU-designed towers are set to be built at regional airports in Key West, Philadelphia, Detroit and elsewhere, with the first groundbreaking potentially coming next year.
The bottom line: You'll probably never step foot in an air traffic control tower, but it's unquestionably wise to ensure that those vectoring aircraft into, out of and through our increasingly complicated airspace are as comfortable as possible.
2. AI excites — and terrifies — the global elite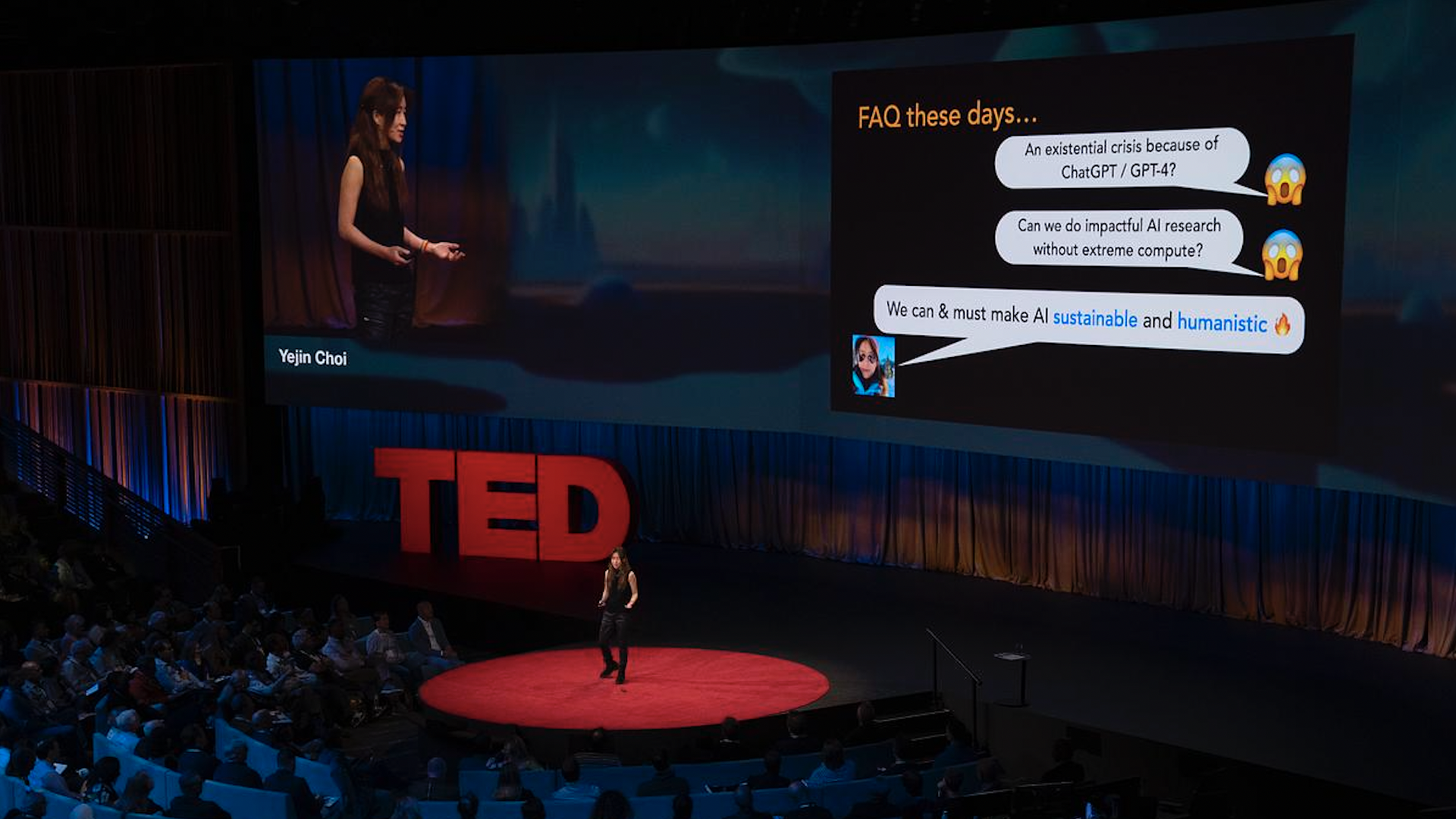 When the TED2023 audience was asked this week whether they were excited by artificial intelligence, most people raised their hands, Axios' Ina Fried reports.
When asked whether they were scared about AI, most people also raised their hands.
Why it matters: This enthusiastic ambivalence reflects society's broader split over a rapidly advancing technology that both tantalizes and terrifies.
Driving the news: AI has dominated the early part of this year's TED conference in Vancouver, with talks highlighting both the exciting promise and potentially apocalyptic future that the technology could portend.
The positive case: OpenAI co-founder Greg Brockman showed a series of demos of what's coming in the near future.
In one, ChatGPT suggested a post-TED meal, used a DALL-E plug-in to visualize the meal, created a shopping list on Instacart and then tweeted out that list.
Sounding the alarm: Eliezer Yudkowsky, who argues modern AI development needs to be shut down, highlighted the existential threat posed by the imminent arrival of machines built by humans that can have superhuman intelligence and act in ways humans don't fully understand.
AI is a mixed bag: University of Washington professor Yejin Choi argued that AI systems need to be re-architected and taught both common sense and human values, both of which she said are severely lacking in even the latest large language models.
3. 📊 The most popular grocery chains
Walmart is the most popular grocery store chain nationwide, with 25.2% of the market share as of last year, Alex and Axios' Erin Davis report.
Costco and Kroger are the second- and third-most-popular grocers, with 7.1% and 5.6% of the market share, respectively.
That's according to new data from Chain Store Guide, which tracks the retail and food service industries.
The big picture: While national grocery behemoths such as Walmart are typically among the most popular grocer — if not the most popular — in any given city, local and regional favorites can give the big box stores a run for their money.
Plus, "at a time when politics divides opinion nationally on many big brands, grocery brands have been able to maintain loyalty and trust across demographics by maintaining a steady presence in their communities," Axios' Sara Fischer and Emily Peck write.
By the numbers: The amount Americans spend on groceries is getting crushed by the amount we spend dining out in the post-pandemic era.
"People spent 20.7% more at restaurants than they spent on groceries in 2022 — and that figure rose to 29.5% in the first two months of the year, according to Commerce Department data compiled by JLL," Axios' Nathan Bomey writes.
4. 📸 China's $11K EV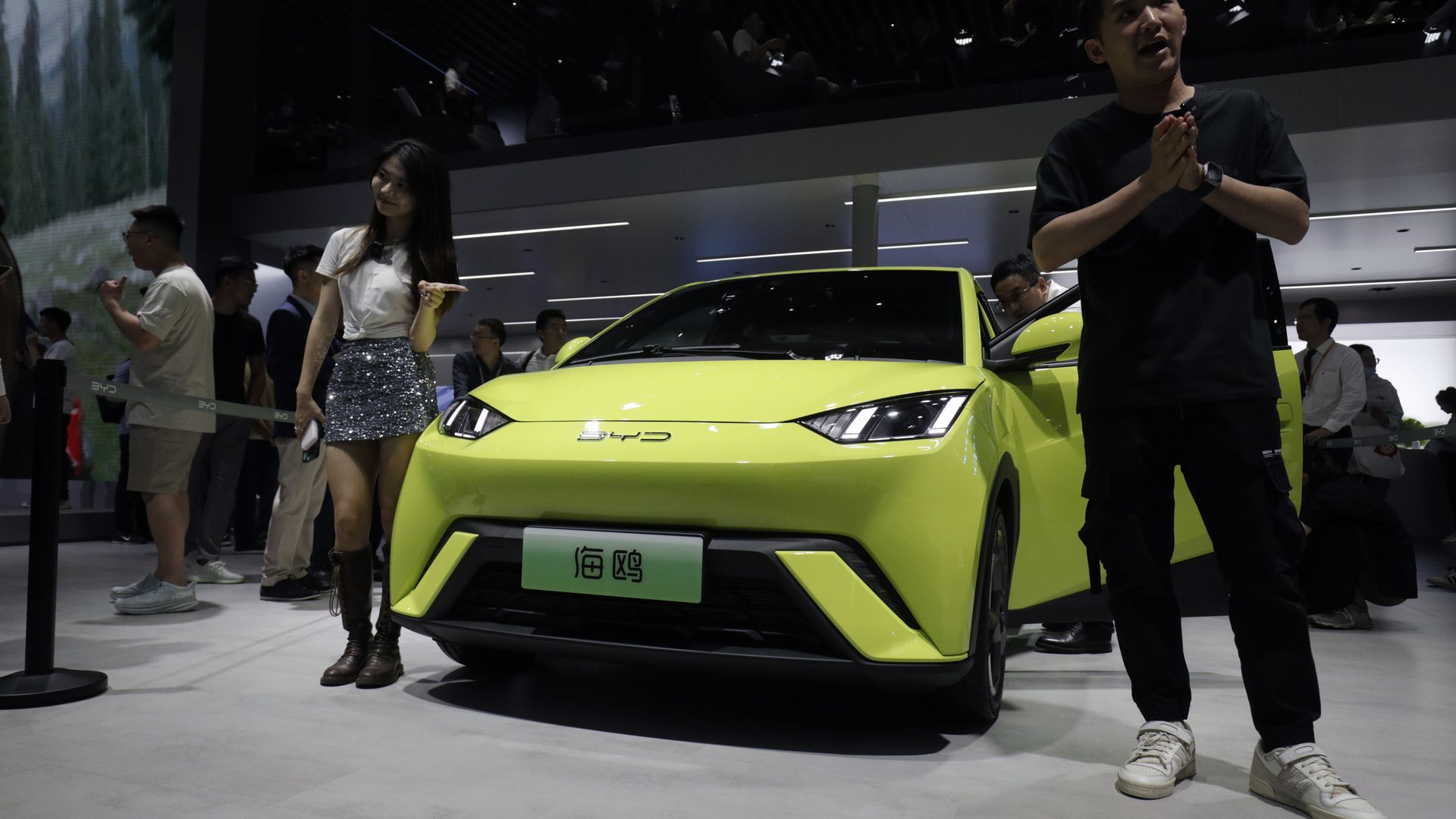 An adorable $11,300 electric car called the Seagull is the star of this year's Shanghai auto show, Reuters reports.
Made by Chinese automotive giant BYD, the Seagull is good for either 190 or 252 miles of range, depending on options, and has fast-charging technology.
The idea is to create an entry-level EV for the masses, with a price point well below even the cheapest electric cars on the market today.
"Affordability is attractive to everyone anywhere. Whether it's an emerging market, the United States or Europe, this kind of car with this kind of value proposition will sell," analyst Bill Russo told Reuters.
Yes, but: Don't count on the Seagull coming to U.S. shores anytime soon, as BYD appears unlikely to make any major plays here.
The big picture: EVs, especially those from Chinese brands, are dominating the Shanghai show, the New York Times reports — a reflection of the country's world-leading adoption rates and Chinese buyers' desire for domestically made cars.
5. Forget co-working — it's time for "co-warehousing"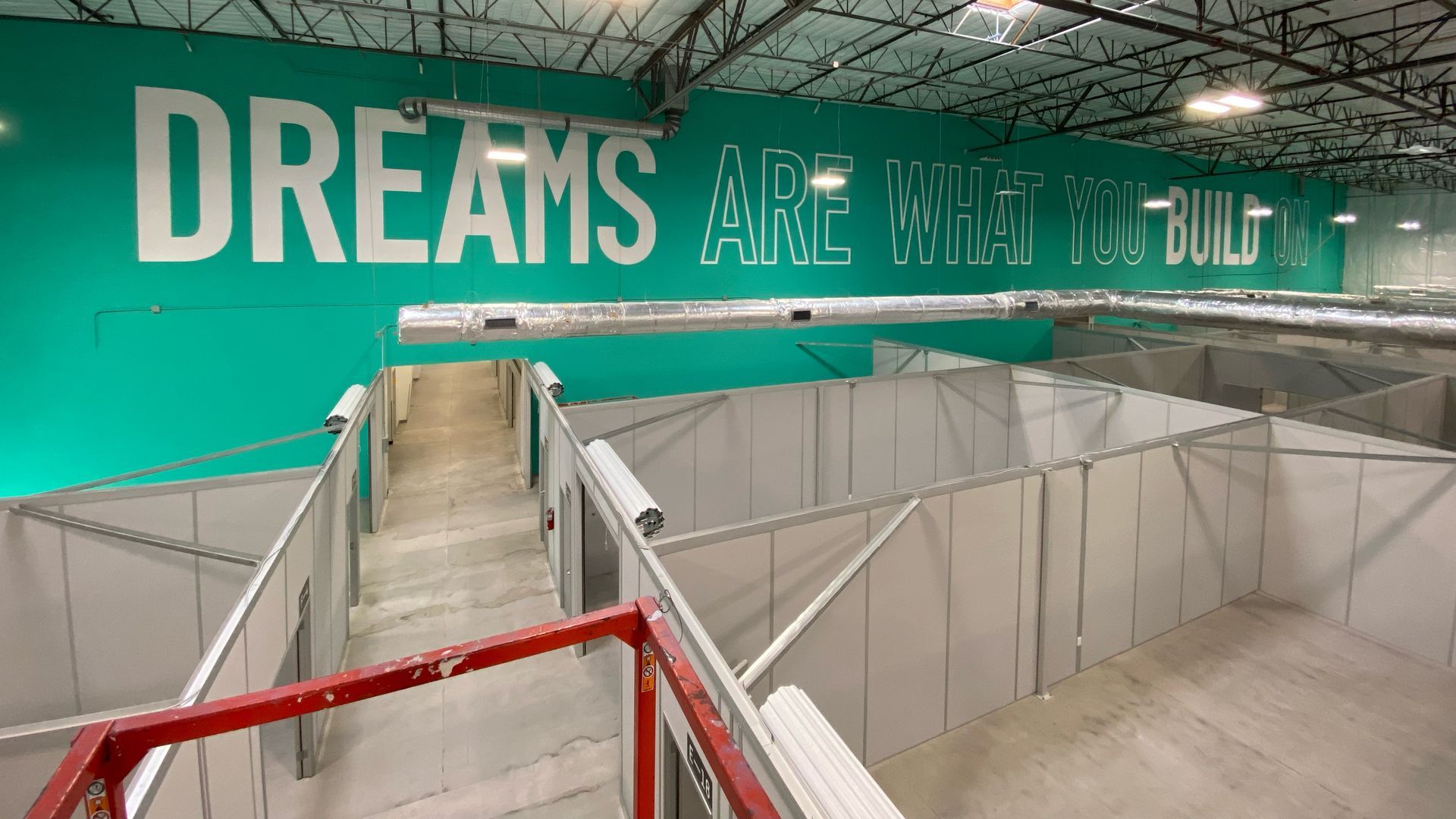 A new "co-warehousing" facility in the Phoenix area will provide private warehouses to local e-commerce companies that have outgrown their home-based operations, Axios' Jessica Boehm reports.
Details: The spaces, from logistics company Saltbox, range from $450 to $7,200 per month, depending on size.
Saltbox already has 11 facilities nationwide and serves more than 500 businesses, including Sock Fancy and BlackLIT, a monthly book subscription service highlighting Black authors.
Why it matters: The pandemic boosted internet shopping's popularity, and financial experts predict the e-commerce boom will continue.
But small businesses struggle to compete with logistics giants like Amazon that can get goods to customers overnight.
Big thanks to What's Next copy editor Amy Stern.
Was this email forwarded to you? Get your daily dose of What's Next by signing up here for our free newsletter.