Axios What's Next
June 16, 2021
Today we're bringing you driverless delivery, cashierless grocery stores and why you actually need to go to your company retreat.
"What was next" trivia: On this day in 1963, Russian Valentina Tereshkova became the first woman to do what? Hint: It took until 1983 for an American woman to do it.
Yesterday's answer: Jean-François Pilâtre de Rozier and Pierre Romain became the first known aviation fatalities after their balloon crashed crossing the English Channel.
Credit to reader Hubert Warsmann for the first correct answer. Send your answer, along with tips and feedback, to

[email protected]

.
Today's Smart Brevity count: 1,318 words ... 5 minutes.
1 big thing: Corporate retreats are now a must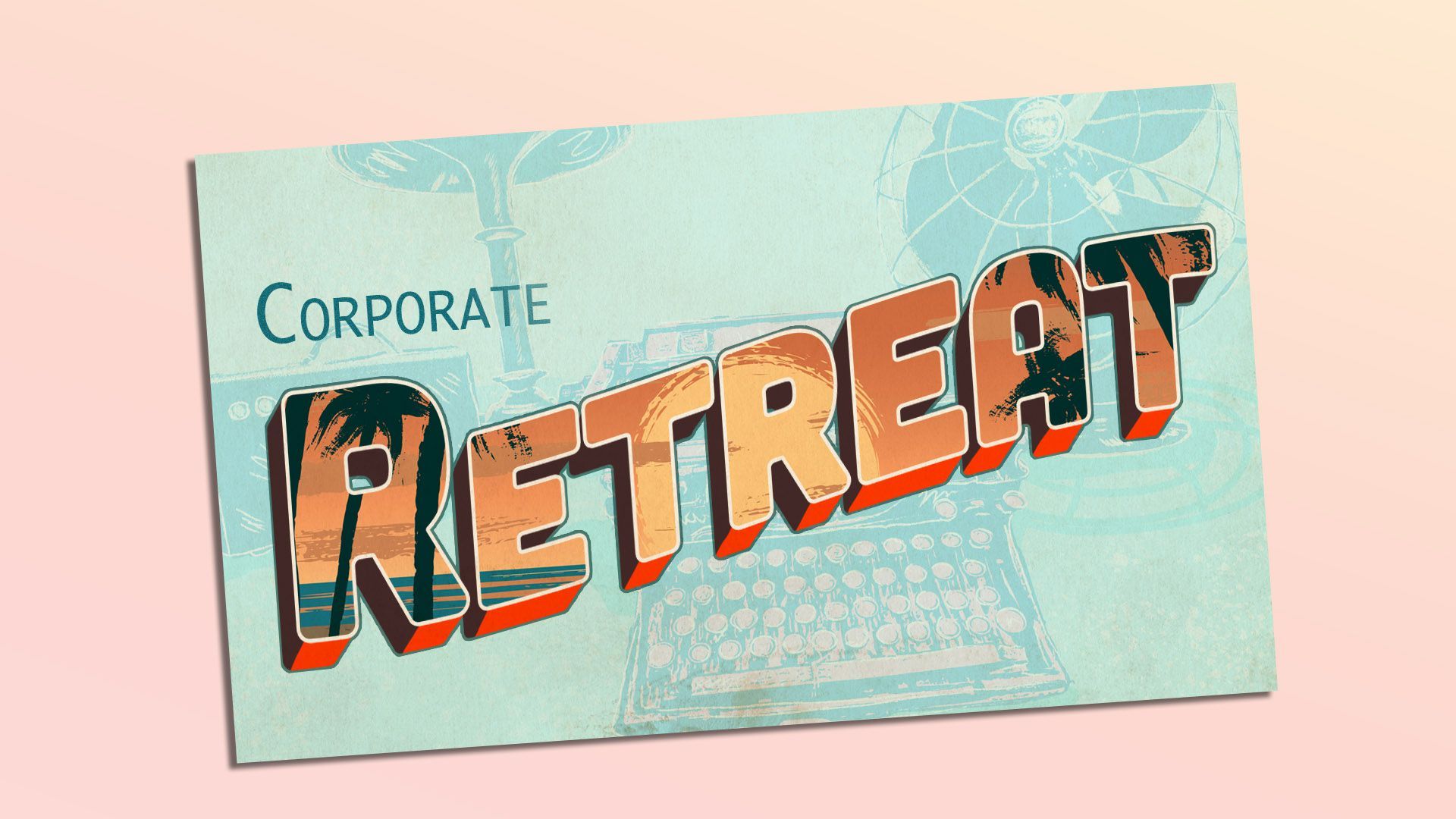 With more firms adopting remote or hybrid work practices, companywide retreats are going from boondoggles to a necessity, writes Bryan Walsh.
Why it matters: The pandemic showed that most white-collar employees can get their work done outside of an office, but a company's culture will wither without occasional face-to-face time.
If the idea of a corporate retreat gives you flashbacks to the time Michael Scott on "The Office" tried to put on his own in the Pennsylvania woods — and ended up nearly choking on poisonous mushrooms — you're not alone.
"Retreats have often been perceived as junkets that just let people blow off steam and have fun," says Edward Sullivan, CEO of the executive coaching company Velocity Group.
But in the age of hybrid work, "retreats have gone from 'nice to have' to 'must have,'" he adds. "They're critical to the culture-building at a company, because it's the time when we come together and create that connective tissue as a team."
What they're saying: At a Wall Street Journal conference last month, Salesforce CEO Marc Benioff — whose company already puts on the annual Dreamforce, one of the world's biggest corporate conferences — mused about the possibility of buying a large ranch to serve as a permanent retreat for employees to be inculcated in the company's culture.
That idea is "very different from what we were thinking a year ago before this pandemic began," he said.
The big picture: It can be easy to dismiss retreats as a waste of time that could be better spent working, or doing almost anything else.
But the chief challenge of a hybrid workplace isn't the work itself but everything that goes around the work that can be difficult to create remotely: connection, comradeship and culture.
That's especially true for the millions of people hired during the pandemic, says Kerry Goyette, founder and president of Aperio Consulting Group. "After over a year of working from home and not having these tiny little social interactions, people are starting to feel a crisis of belonging."
Between the lines: That might sound like a good reason to bring workers back to the office. But multiple surveys have shown that employees value flexibility in work arrangements. And a briefer period of concentrated interaction can be just as effective at building ties as spending day after day together in an office.
"If companies can get together even for a half-day retreat or a weekend upstate, those moments of physical colocation are like rocket fuel to the process of creating trust and a sense of belonging," says Goyette.
The bottom line: While we can't guarantee they'll be fun — and let's be honest, they probably shouldn't be too fun — corporate retreats are a necessity for the foreseeable future.
2. Self-driving car design: less Frankenstein, more iPhone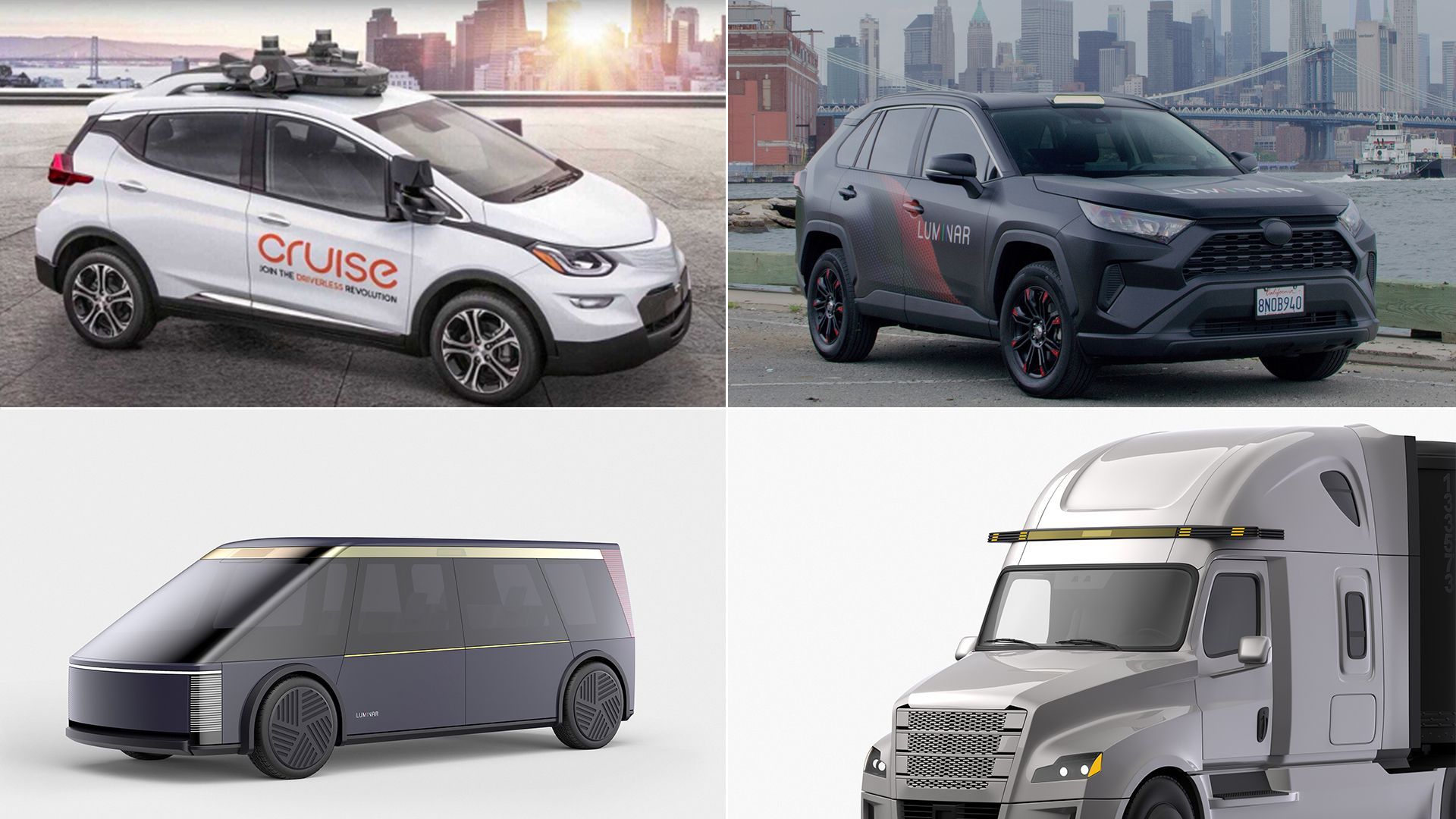 It's easy to spot an autonomous test vehicle in your neighborhood: it looks a bit like Frankenstein, with sensors bolted to the sides and roof.
But as self-driving technology matures, sensor design is being streamlined too, bringing AVs closer to market acceptance, writes Joann Muller.
Why it matters: The AV industry is waiting for "its iPhone moment — where everything comes together, and it's clear, and nobody goes back again," says technology designer Gadi Amit.
AV tech is becoming less conspicuous, though. Luminar, a leading provider, is this week showcasing its new Iris lidar system, which is so small it can be fully integrated into the car's roofline, just above the windshield.
It'll appear in late 2022 on new Volvo Cars' models with hands-free highway driving, followed by SAIC, Daimler Trucks North America and Pony.ai.
The sleek design is a long way from what AV pioneer Chris Urmson, now CEO of Aurora, once described as the "spinning Kentucky Fried Chicken bucket" on the roof of early AVs.
What's next: Luminar collaborated with Amit to take the integration a step further with Blade, which it described as "a blueprint" for the design of future robotaxis and autonomous trucks.
3. FedEx to test Nuro's robot cars for package delivery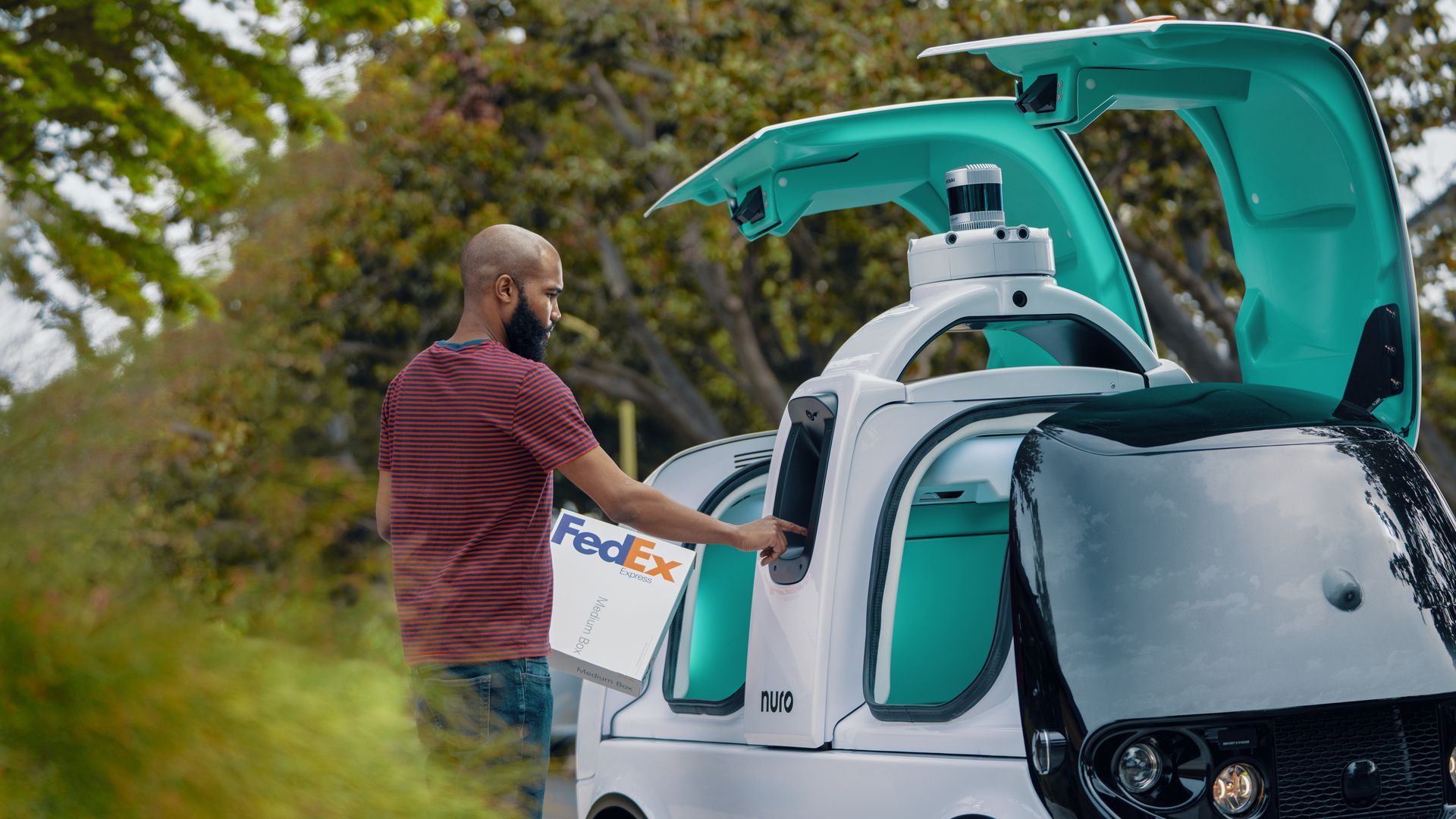 FedEx says it will test package deliveries using autonomous vehicles under a new multi-year partnership with Nuro, a leading self-driving startup, Joann writes.
Why it matters: The explosion of e-commerce has accelerated demand for reliable, autonomous transportation throughout the supply chain, FedEx says. With Nuro, it will explore different uses for AVs, including multi-stop and appointment-based deliveries.
Details: The pilot started in April in Houston, where Nuro has already been running pilots delivering groceries and pizza with Kroger, Dominos and others. But the FedEx collaboration is Nuro's first foray into parcel logistics.
"Over time, we'll test and deploy Nuro's robots together and grow to a scale that will be transformative for logistics and for everyday life," Dave Ferguson, Nuro's co-founder, wrote in a blog post.
Rather than displacing workers, Nuro's AVs will streamline work for FedEx employees "by taking on inefficient deliveries, finding new ways to move parcels and adding new capacity to support rapidly growing demand."
4. Amazon's relentless worker churn
During the pandemic, Amazon's tech-infused network of warehouses and planes and trucks worked pretty much flawlessly, writes Erica Pandey.
But its system of managing workers broke down, a nine-month New York Times investigation found.
Why it matters: The convenience of Amazon comes with a cost — the company churns through human workers as rapidly as it churns through customer orders.
By the numbers:
Amazon made the equivalent of three years' worth of profits in 2020 and hired about 350,000 new warehouse and delivery workers — including servers, actors and teachers who had lost their jobs — to keep up with pandemic demand.
But turnover was very high, at about 150% a year. To put that in context, it means replacing the entire hourly workforce in the equivalent of every eight months, the Times notes.
What's happening: Amazon evaluates workers like machines, with automated systems that track productivity, benefits, overtime assignments, firings and more.
But those systems often broke down when Amazon workers — just like everyone else — dealt with sickness, child care issues or other extenuating circumstances.
5. Cashierless tech goes big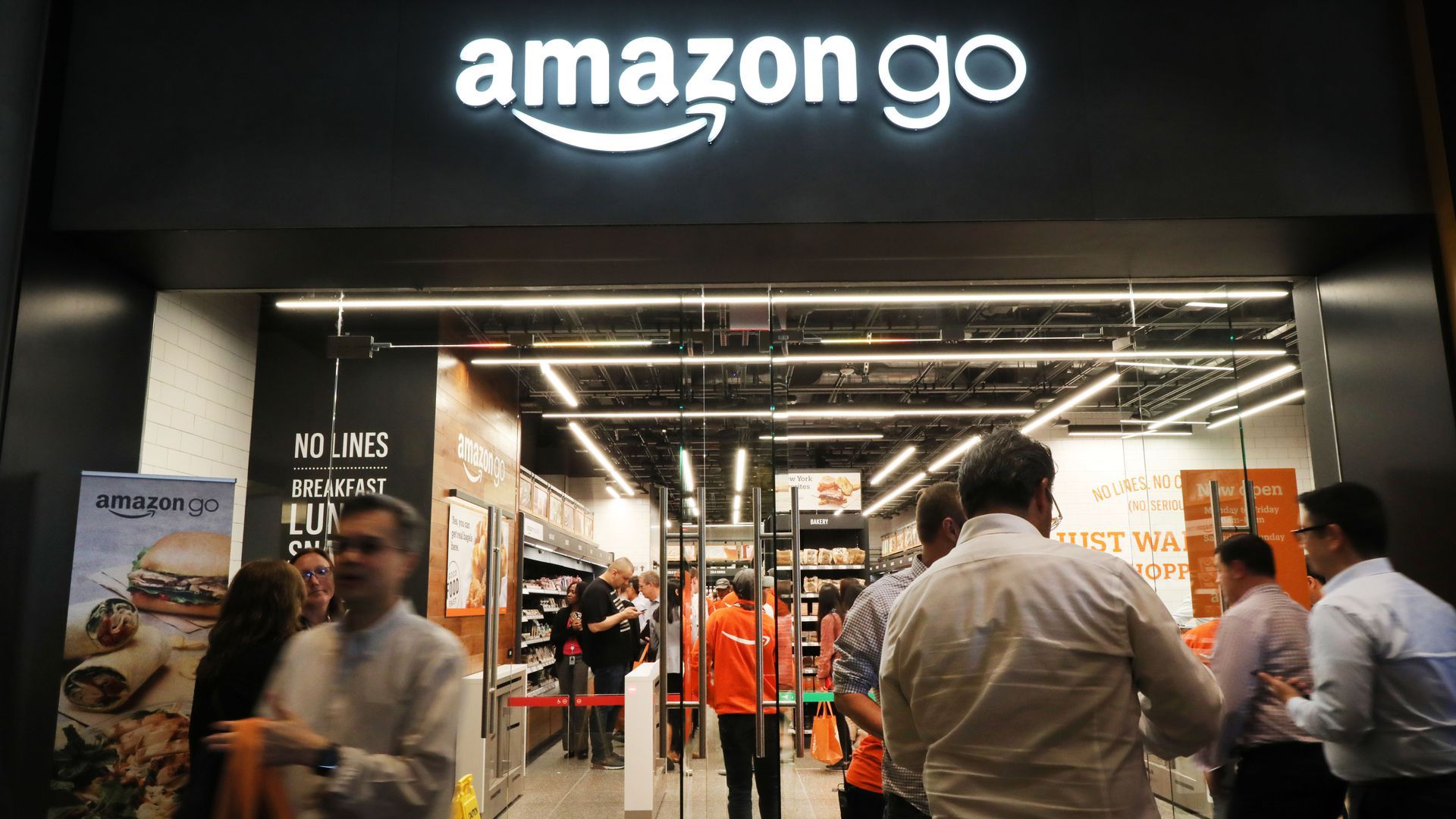 Meanwhile, Amazon's domination of the way we shop is growing even bigger, as it brings the automated tech popularized by its 2,000-square-foot Go shops to a 25,000-square-foot grocery store in Seattle this week, Erica writes.
The big picture: When Amazon first came out with the technology, which automates checkout and allows customers to just grab what they want and walk out, there was skepticism about its viability outside of small-scale convenience stores.
Now, three years after Go debuted, Amazon has overcome that hurdle too.
Look for cashierless to show up everywhere in the next few years. Amazon — along with other companies — has been selling the tech to other retailers. And Amazon itself has a sizable retail footprint.
6. 1 smile to go: California reopens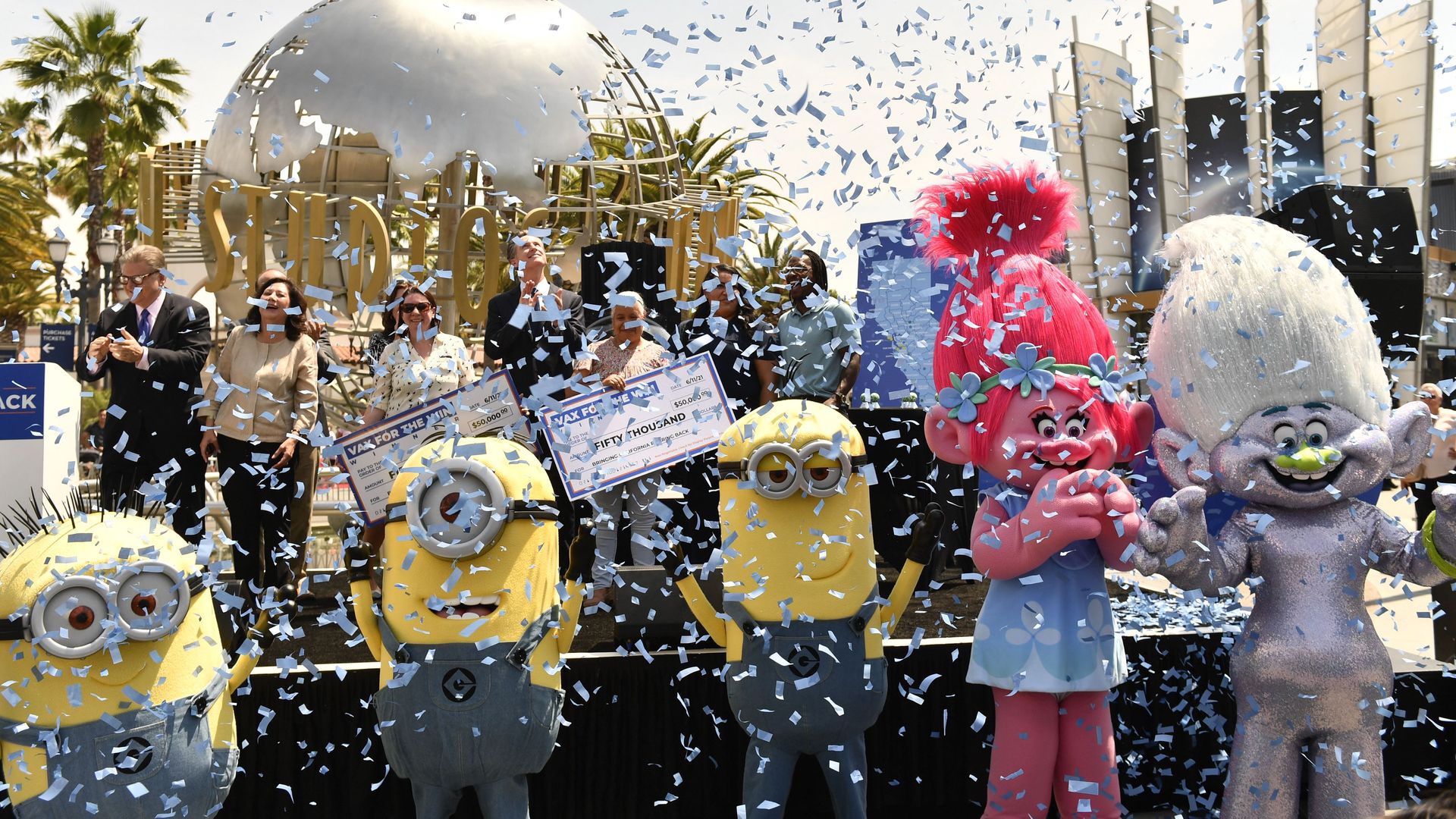 California Gov. Gavin Newsom yesterday handed out $1.5 million each to 10 residents who drew winning numbers in the state's vaccination lottery, writes Bryan.
The ceremony at Universal Studios Hollywood celebrated the Golden State's COVID-19 reopening.
Our thought bubble: Was Disneyland booked?