Axios What's Next
November 04, 2021
Despite the strife and histrionics surrounding vaccine mandates around the country, deadlines for compliance seem to be coming and going with only isolated pockets of to-do, Jennifer A. Kingson reports today.
Today's reader photo comes from Tim Fenton, who spotted a beguiling robot display at a hotel in Massachusetts.
Have you seen something that tells us about What's Next? Email us!

[email protected]

.
Today's newsletter is 1,107 words, a 4-minute read.
1 big thing: Vaccine deadlines hit with a whimper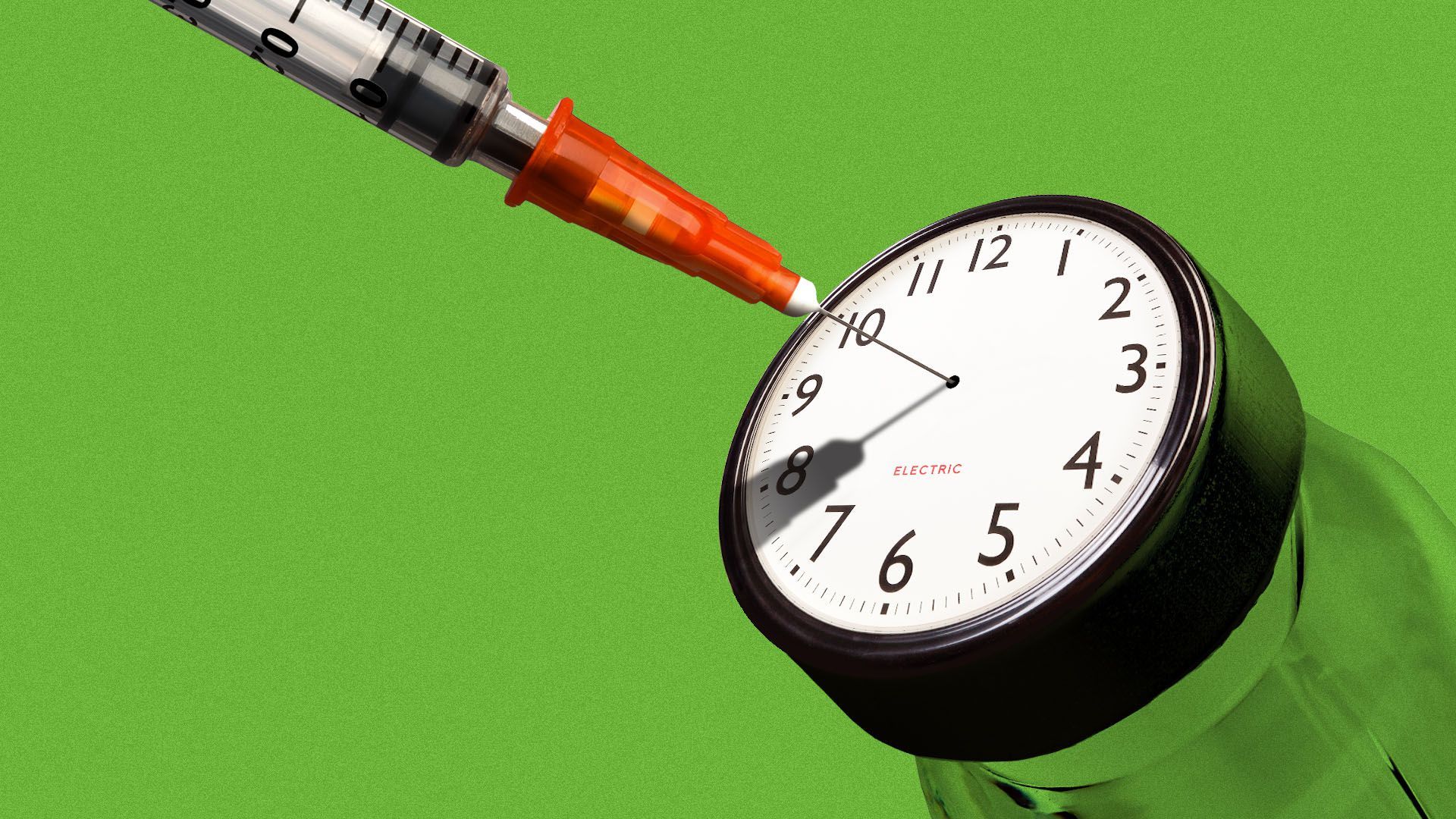 Mandatory vaccine deadlines have now come and gone for millions of workers — and most of them have either bit the bullet or taken advantage of wiggle room offered by their employers, Jennifer writes.
Why it matters: These mandates have become one of the most polarizing policies in America, and yet in practice, they're falling short of both supporters' hopes and critics' fears.
Where it stands: There's a patchwork of deadlines set by the federal government, states, cities, schools and private companies. Last Monday was a big deadline, and more are coming up.
The average vaccination rate nationwide is up to 1.3 million doses per day, more than 500,000 doses higher than the average two weeks ago, according to the New York Times.
Many workers are waiting until the last minute to get their jab.
Many large employers that imposed their own vaccine requirements — from Disney, Citigroup and AT&T to big airlines, hospitals and cities — say compliance has been high, and there's little risk that they'll end up losing any significant share of their workforce.
United Air Lines — the first American air carrier to mandate vaccines — says nearly all its workers are vaccinated, but "is facing a federal lawsuit brought by six of its employees who have applied for a medical or religious exemption to the vaccine mandate," per CNN.
Yes, but: There are pockets of staunch resistance: In New York, more than 10,000 workers defied last Monday's deadline to get vaccinated; and in Los Angeles, L.A. County Sheriff Alex Villanueva vowed not to enforce a countywide mandate.
Between the lines: Vaccine mandates are common but not universal, and many of them have significant exceptions or lax enforcement. Workers may not be leaving or losing their jobs — but that doesn't mean they're all actually getting vaccinated.
Hospitals across the country reported that only handfuls of workers — often about 1% to 2% of their workforces — chose to leave due to mandates, Axios health care editor Tina Reed reports.
But many of them also reported higher-than-usual rates of medical or religious exemption, often around 4% to 6%.
Despite all the focus this year on vaccinating teachers, less than half of big school districts imposed any sort of vaccination mandate on their workers. Just 15 districts enacted universal mandates for employees, according to the Center for Reinventing Public Education, a nonpartisan research center.
"Districts are saying that employees could be disciplined up to termination, but only a handful are really taking those first steps of termination or placing employees on unpaid leave," Bree Dusseault, principal researcher at the center, tells Axios.
"So teachers who don't get vaccinated are given some options to still stay in their jobs, at least for the short term."
2. The glitzy top 1% of offices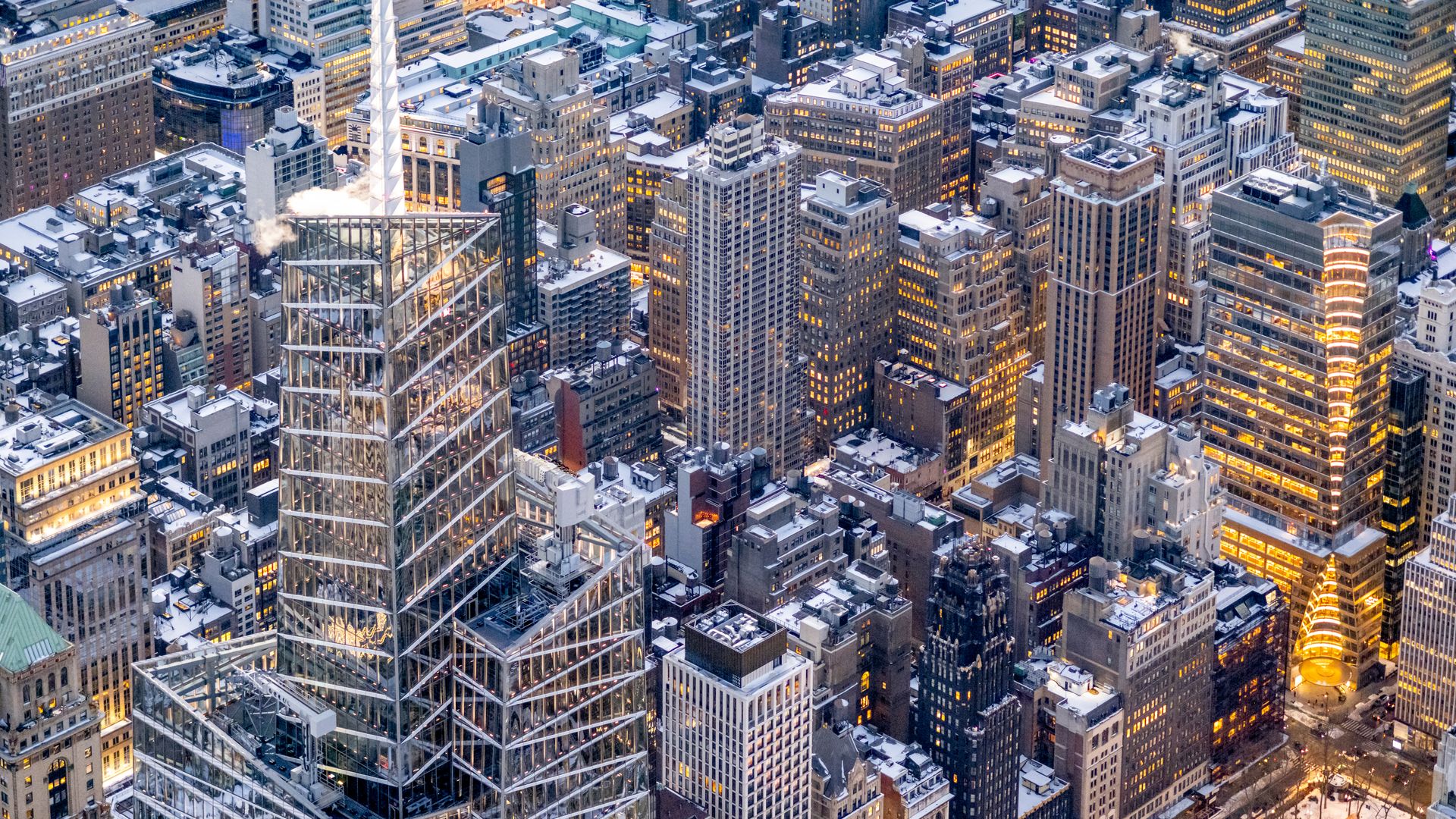 Rich companies are pouring money into over-the-top offices to lure their employees back to work, Erica Pandey writes.
Why it matters: Most workers who can work from home want to keep doing so, at least a few days a week, but many CEOs feel teleworking takes away from innovation, productivity and collaboration. So firms will have to fight to get people to come back after a year and a half away.
The big picture: We've seen this before: Before the pandemic, Silicon Valley companies were known for offering extravagant office perks — like on-site acupuncturists and concerts — to attract talent.
Now wealthy firms are bringing these perks back to end remote work.
The law firm Venable LLP nabbed a new office in Times Square in Manhattan with a private balcony that's got an up-close view of the Empire State Building, reports the Wall Street Journal.
The office cafeteria is designed by the renowned architect Frank Gehry, and serves a menu from the famous chef Charlie Palmer.
"We want to be able to answer the question: Why would you come in today when you could just stay at home?" Stu Ingis, chairman of Venable LLP, told the WSJ's Peter Grant.
The other side: While the market for the top 1% of offices is once again hot, the rest is still struggling. The U.S. office vacancy rate has hit 16.8% — the highest level since 2010 — according to the commercial real estate firm CBRE.
3. Truck driving is a desk job at this company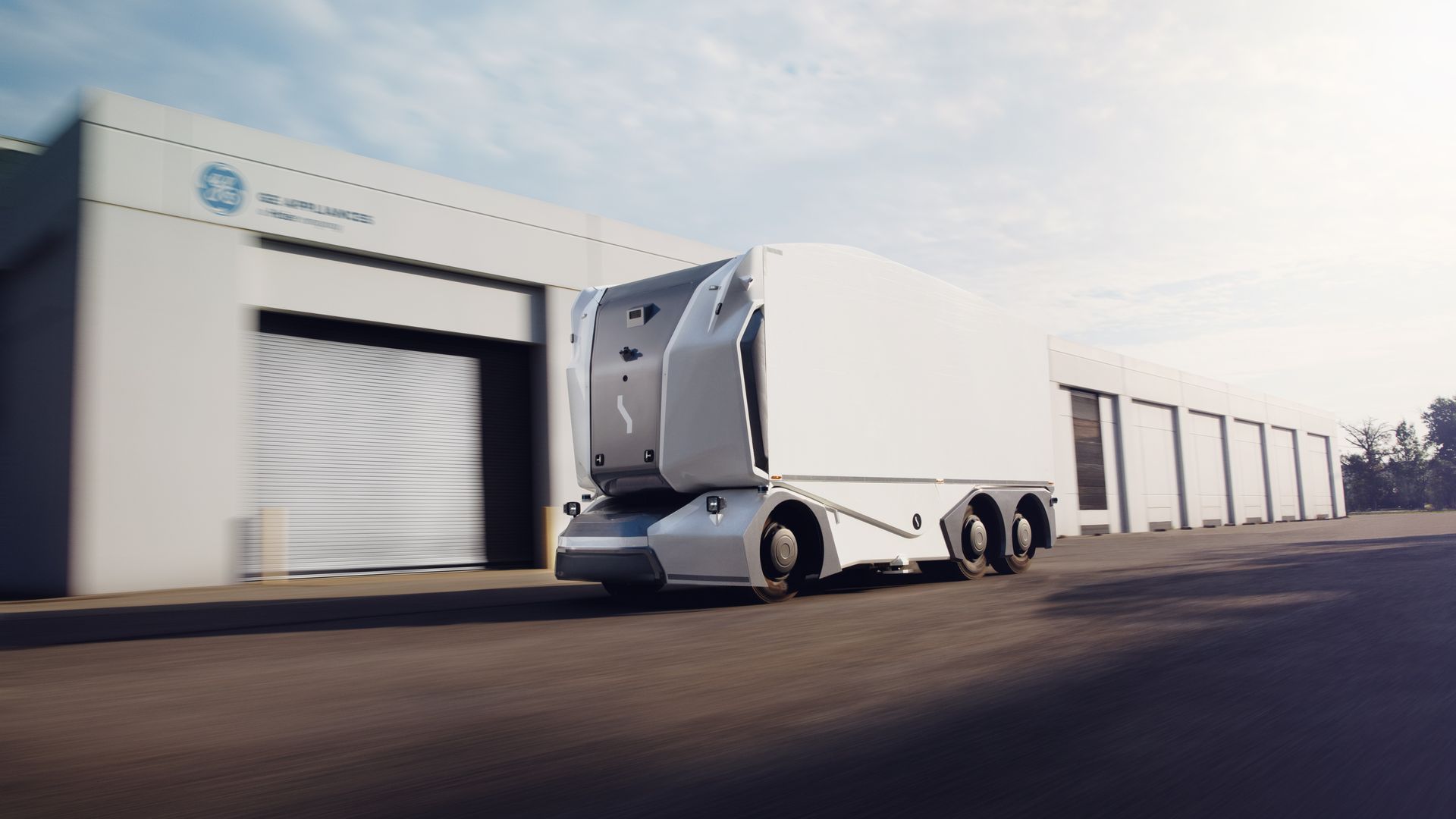 Truck driving is becoming a desk job at Einride, the Swedish company whose electric Pods are now plying the freight yards at GE Appliances' 750-acre campus in Louisville, Kentucky, Joann Muller reports.
Why it matters: The company's fleet of electric, autonomous trucks could be a model for the commercial freight industry, which faces a shortage of truck drivers and demands to reduce its carbon emissions.
How it works: Einride's trucks don't have a cab, which means there's no room for a driver on board.
Instead, the trucks operate autonomously, with a remote truck driver, or "Pod operator," monitoring the journey behind a computer screen, ready to take over in certain situations.
For example: a remote operator could take the wheel virtually to navigate a construction zone or to handle last-minute instructions in a dynamic loading dock.
The goal is to have remote drivers monitoring and controlling as many as 10 Pods at once, CEO and founder Robert Falck tells Axios.
4. Robot drivers could curb soaring highway deaths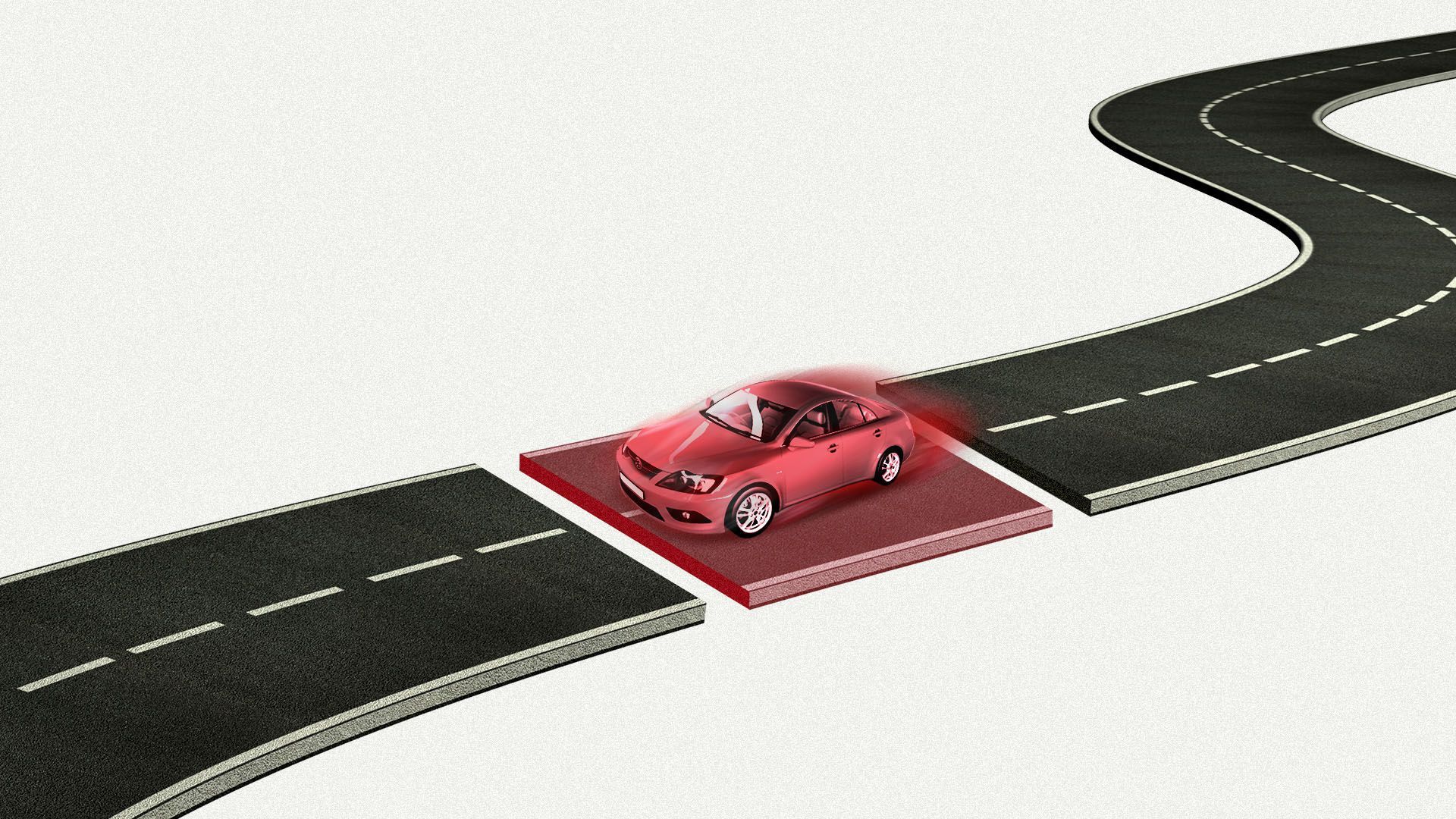 Americans are driving more recklessly, with deadly consequences. The best way to reverse the trend could be to let robots do the driving, provided the technology is rolled out safely, writes Joann.
Why it matters: After decades of improvement, U.S. traffic deaths are climbing again, even though vehicles are safer than ever.
Driving the news: Three former safety officials at the U.S. Department of Transportation — all now executives at self-driving tech companies they once regulated — sounded the alarm about traffic deaths at a virtual panel I moderated Wednesday sponsored by the Alliance for Automotive Innovation.
What they're saying: "If we really want to make a difference here, technology is the tool," said Mark Rosekind, one of the panelists who is now chief safety innovation officer at Zoox and served as NHTSA administrator in 2015 and 2016.
Yes, but: People are confused about vehicle automation, and the panelists agreed that industry and government need to do a better job educating people and building public trust in the various technologies.
The bottom line: It will take 20 to 30 years for vehicle autonomy to evolve, says Rosekind.
5. Reader photo of the day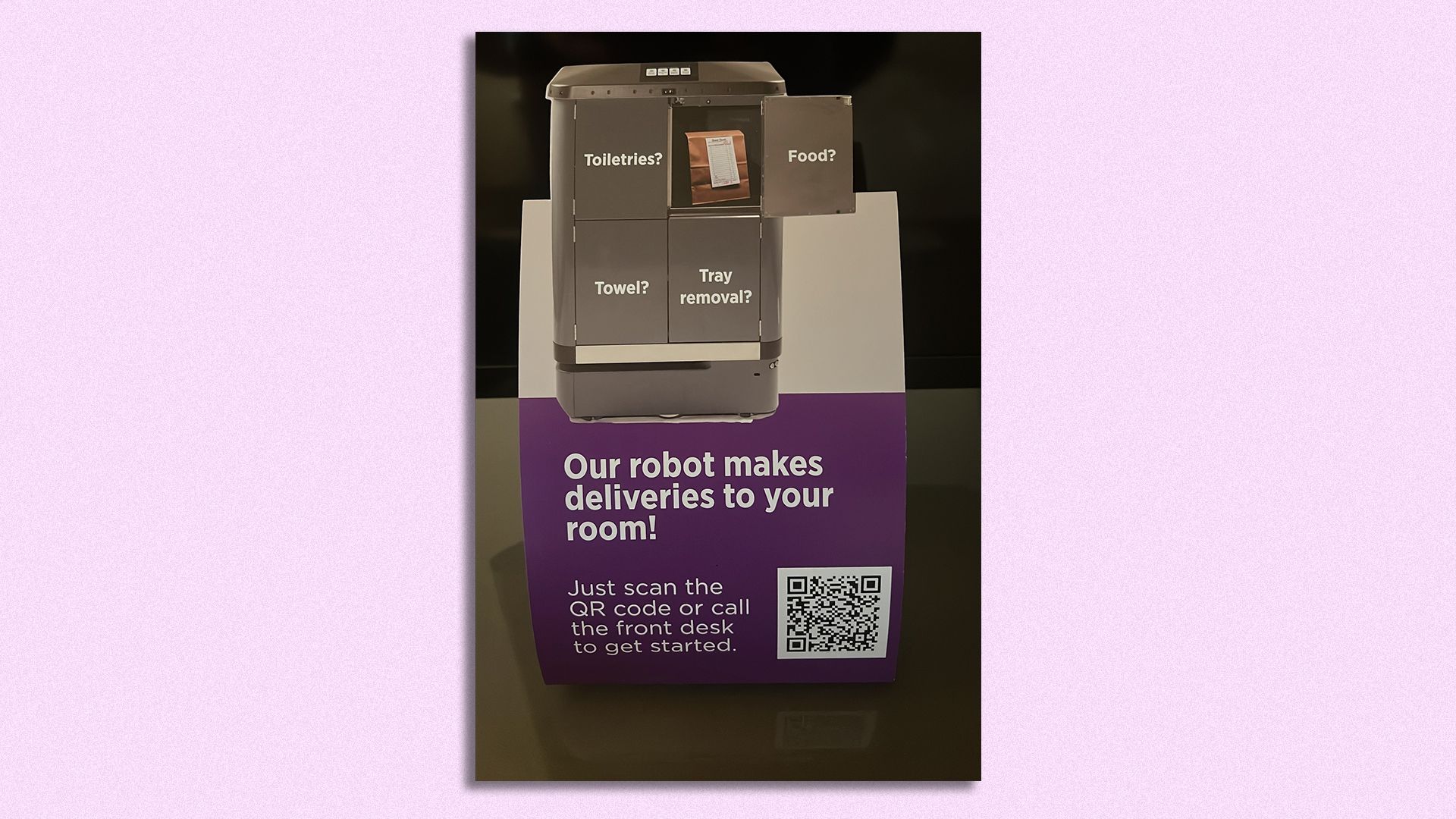 What's Next: Hotel amenities delivered by robot
Tim Fenton writes: "Last week you covered hotel cleaning robots. Today: delivery robots. [Seen] at the Westin Waltham [in] Massachusetts.
"I didn't use it, but my colleague was staying another night & gonna order something just to have the experience!"
Was this email forwarded to you? Get the daily dose of What's Next magic by signing up for our free newsletter here.