Axios What's Next
July 20, 2021
This Tuesday brings the rise of intelligent automation, the best (and worst) cities for remote workers and our upcoming Canadian vacation plans.
"What was next" trivia: On this day in 1954, what rock star gave what is believed to be his or her first public performance — from the back of a flatbed truck? 🎸
Credit to reader Jolie Milstein for being the first to note Geraldine Ferraro became the first woman on a major party presidential ticket on July 19, 1984.
Send your answer, along with tips and feedback, to

[email protected]

.
Today's Smart Brevity count: 1,268 words ... 5 minutes.
1 big thing: Software bots could be the future of automation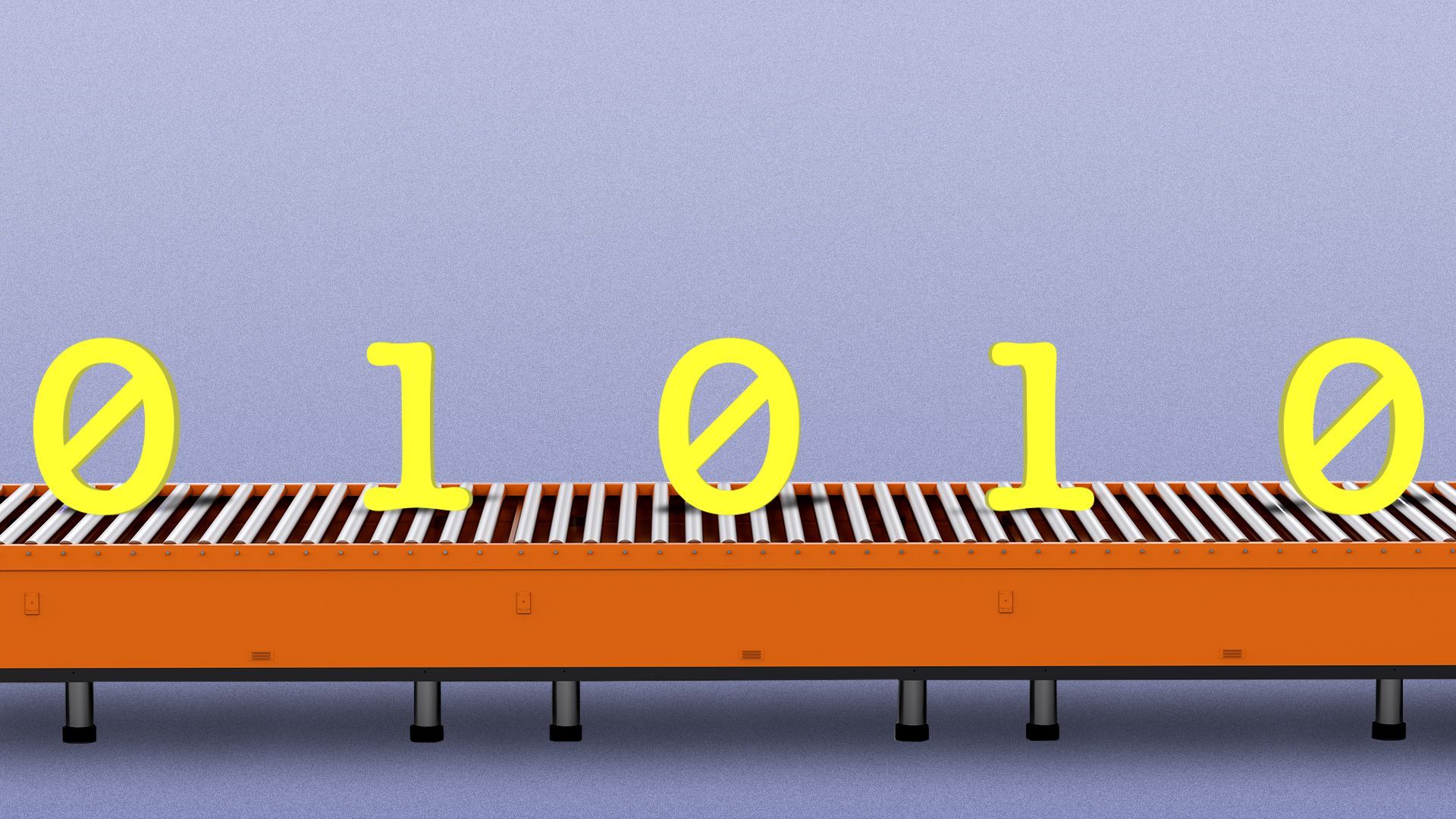 Businesses are building a new kind of assembly line — and this one is digital, staffed by software bots, writes Bryan Walsh.
Why it matters: For all the hopes and fears around industrial robots, more progress is being made in the realm of digital workers: Bots that can perform a growing number of often tedious and time-consuming tasks in an increasingly online business world.
How it works: Intelligent automation takes the logic of a physical assembly line — where the work of making something is broken into discrete, individual tasks that can be done more efficiently in sequence — and moves it into the digital world.
What intelligent automation allows companies to do is "rethink the process lines of how business is done," says Jason Kingdon, the CEO of Blue Prism, a leading intelligent automation company. "Why not have digital assistants that can work throughout your entire company?"
Details: Kingdon uses the example of how Blue Prism works with banks on reducing credit card fraud.
Banks "used to have a dedicated team that would go through (questionable) transactions and fill in the various forms that a credit card company would require," he says. "Now they train robots to do that task, and have it fully automated in a way that a robot will be able to carry out all of that activity."
"It's now a process that no longer needs any human interaction."
The big picture: Just as Henry Ford and his peers were able to revolutionize manufacturing in part by breaking tasks down into an assembly line, intelligent automation works best when knowledge work can be broken down into discrete micro-tasks that can be handled by bots.
The catch: Like any other form of automation, intelligent automation can make human workers more productive individually — but it also carries with it the longer-term specter of job loss as the bots get more capable and companies look to cut payroll.
The bottom line: Most companies are "still very, very early in the journey" of intelligent automation, says Kingdon.
"But once you start, you see that anything you want codified, it can do better."
2. How the FAA keeps airplanes and rockets apart in the sky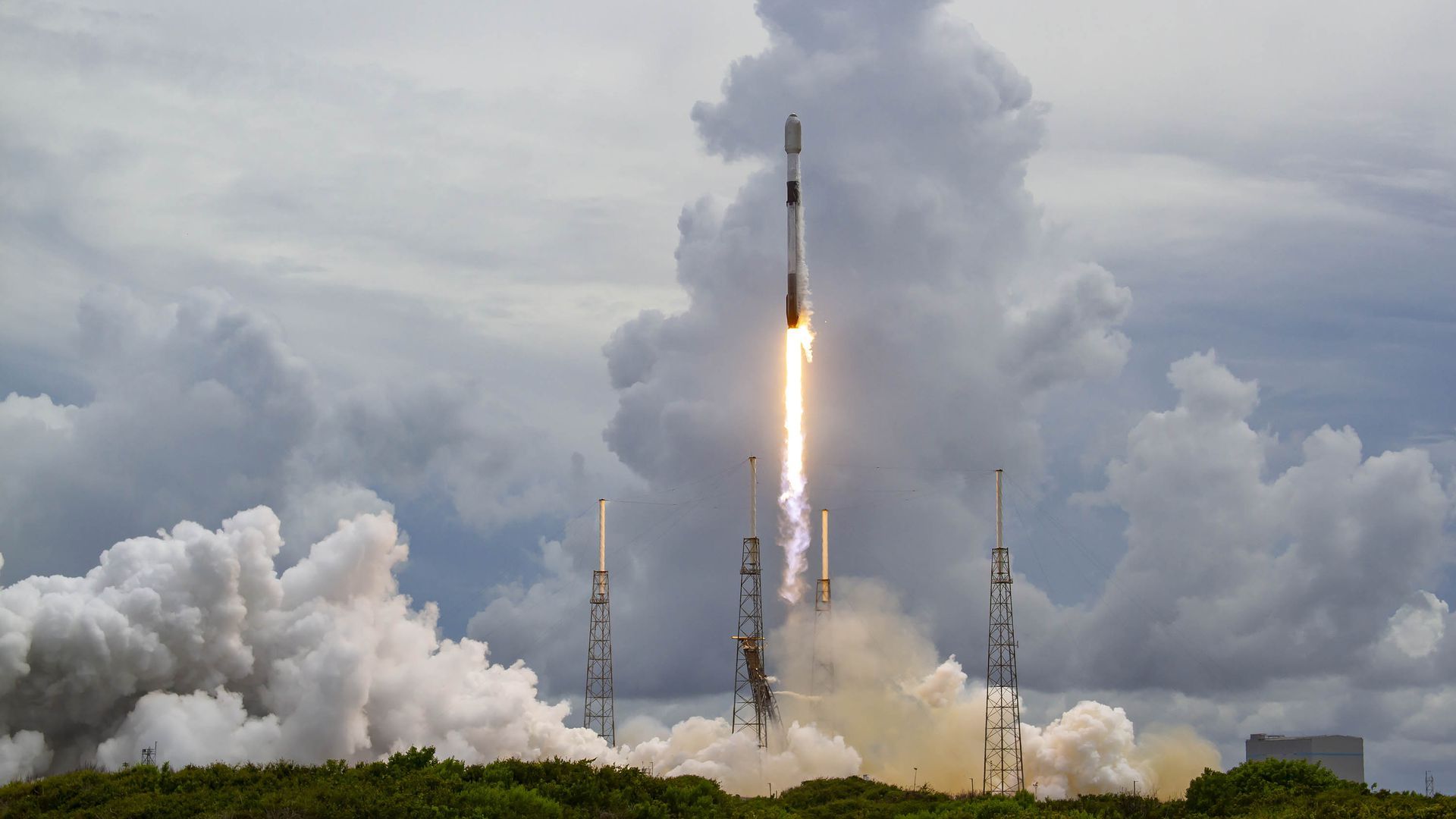 With space launches occurring more frequently, the skies are getting crowded, requiring new technology that the Federal Aviation Administration says will minimize potential conflicts, writes Joann Muller.
Why it matters: Each time a satellite — or billionaire — is launched into space, the FAA has to close airspace to commercial airlines. That requires pilots to reroute and take less-efficient paths, often resulting in delays for airline passengers.
And since many rockets are now reusable, pilots have to yield for spacecraft coming back to Earth too.
What's happening: The FAA is rolling out a system that allows it to track a space launch or reentry vehicle in near-real time as it travels through the National Airspace System.
The Space Data Integrator (SDI) prototype automatically delivers data about a rocket's position, altitude and speed to the FAA's Air Traffic Control System Command Center.
Knowing precisely where a rocket is — including whether it deviates from its expected flight path — allows air traffic controllers to better manage federal airspace.
The system can also display and share "aircraft hazard areas" that may contain falling debris from a launch or reentry vehicle.
Four commercial space companies — SpaceX, Blue Origin, Firefly and the Alaska Aerospace Corporation — have agreed to share data with the FAA.
Driving the news: The technology was first used on June 30 with the SpaceX Transporter-2 launch from Cape Canaveral in Florida.
FAA officials say the initial results are promising, showing they can shorten airspace closures from an average of about four hours to two hours.
3. The best and worst cities for remote workers
Businesses based in Columbus, Ohio, are the most friendly to fully remote positions, followed by San Diego, Phoenix, St. Louis and San Francisco, Kim Hart writes.
Why it matters: Even as many employees hope to continue to work remotely after offices reopen, not all businesses are on board.
By the numbers: Telstra Ventures analyzed 371,000 jobs posted between April 1 and June 30, 2021.
About 13.2% of NYC-based businesses offer permanently remote positions to new hires. That's below the national average of 14.2%.
Other major cities: About 12.6% of new job postings are remote-friendly in Los Angeles. In Washington, D.C., the number is 12%, Atlanta is 9.1% and Seattle is 8.1%.
Houston is the least remote-friendly city, with only 2.8% of jobs posted being remote.
Venture-backed companies nationally tend to be more open to remote jobs and have quickly ramped up their embrace of remote work, per the analysis.
At the end of June in 2019, 1.6% of job postings by VC-backed firms were remote options, compared with 0..5% of non-VC-backed posts.
At the same point in 2021, 15.4% of job postings by VC-backed firms were remote, versus 9.1% for non-VC-backed firms' postings. The overall rate is 13.7%
Legal, sales and engineering jobs tend to be the top job types for remote positions at VC-backed firms.
4. You're being scanned as you shop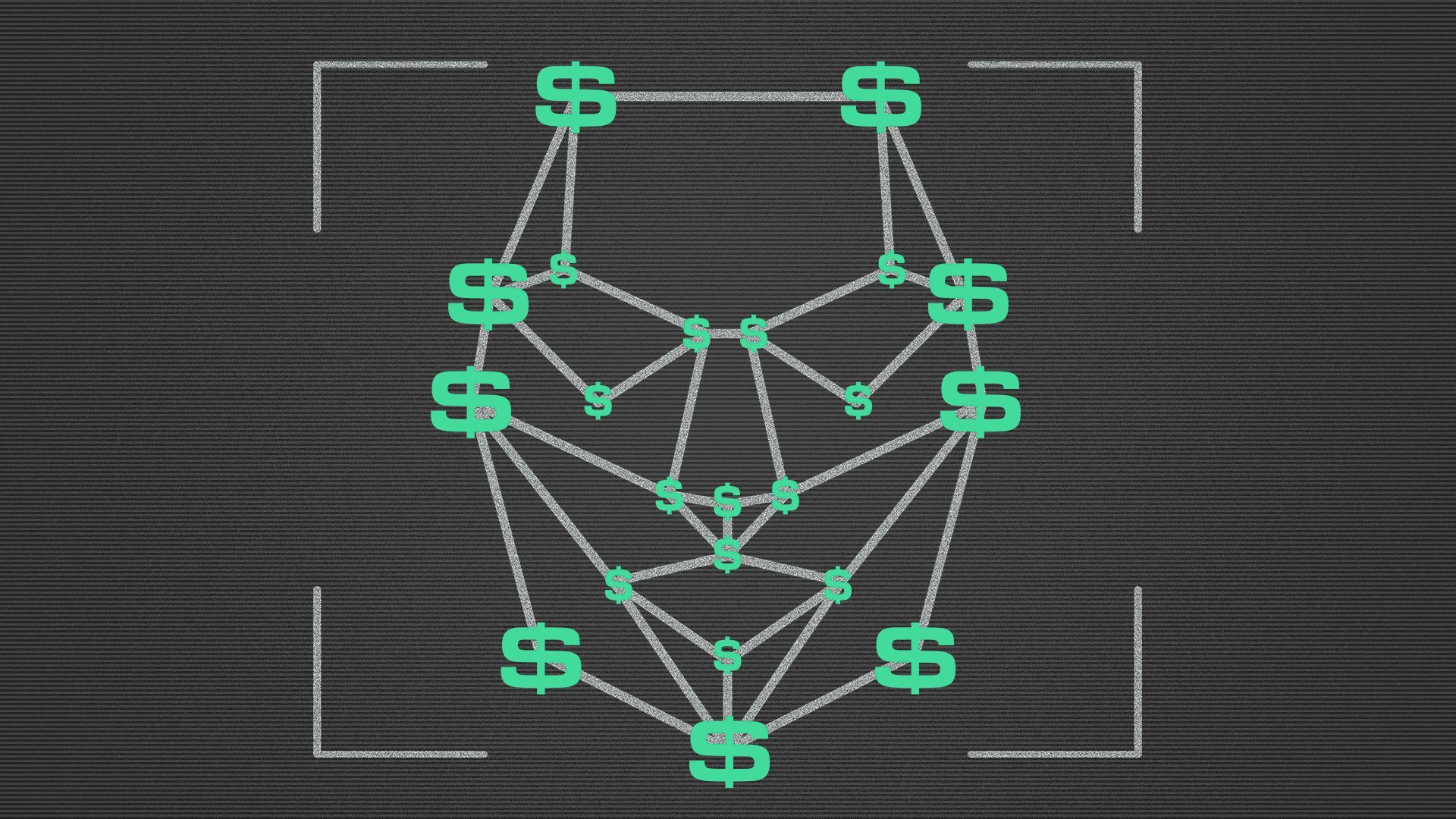 Retailers' use of face-recognition tech, which can scan or store facial images of shoppers and workers, has accelerated during the pandemic, writes Kim.
Why it matters: Retailers were looking for ways to track foot traffic with fewer employees and offer contactless payments. Now, of course, they're keeping this new power.
Where it stands: Stores including Walmart, Kroger, Home Depot and Target have said they won't use facial recognition technologies, according to a list by an advocacy group, Fight for the Future.
But Albertsons and Macy's do use the tech, per the list. Their privacy policies say they use it for security and to prevent fraud.
Portland, Oregon, last year became the first U.S. city to ban facial recognition by retail stores, hotels and restaurants.
How it works: Facial recognition tools are primarily used by retailers for security reasons — chiefly, to prevent shoplifting — and they usually don't link images to personally identifiable information, says Brenda Leong of the Future of Privacy Foundation. She said there are plenty of other ways stores would like to use the technology, including:
Identifying loyalty club members the minute they enter a store to send them push alerts and text messages about deals.
Knowing exactly how long a customer is in the store to help tailor their experience in future visits.
Using biometric systems for employees to clock in and out, track workers' whereabouts and monitor productivity.
5. 1 travel thing: Canada to U.S.: Come on over (if you're vaxxed)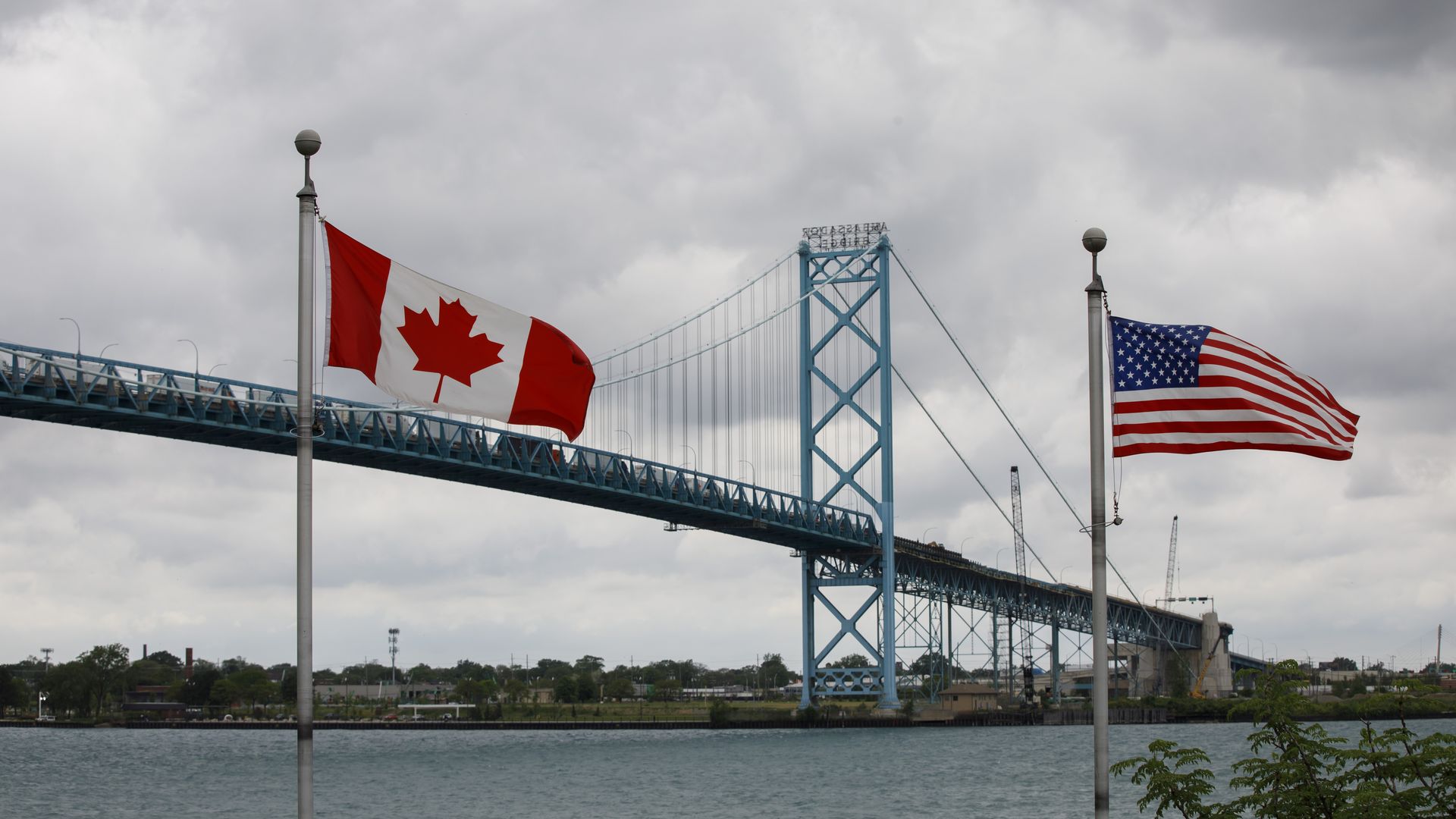 Americans and permanent residents in the U.S. who are fully vaccinated will be able to travel to Canada without quarantining starting Aug. 9, writes Bryan.
Why it matters: The world's longest undefended border has been basically closed for nonessential travel since March 2020, so the long-awaited news should unleash tourists north of the 49th parallel.
Details: Fully vaccinated Americans and permanent residents will need to be asymptomatic and present a negative coronavirus molecular test taken within 72 hours of flight departure or land crossing.
Children under 12 who aren't yet eligible for a vaccine will be exempt from the requirement, though they will be told to avoid group settings like camps and will need to take a coronavirus test on the first and eighth days after entering Canada.
By the numbers: Part of the Canadian reluctance to more fully open its borders stemmed from the country's slow vaccination start, but last week Canada overtook the U.S. on second-dose vaccination rates.
Thought bubble: The news comes as a particular relief to Americans like me who have in-laws in Canada who haven't held their grandchildren in nearly a year and a half.
See you soon, Anne and Dennis.