Axios What's Next
July 18, 2022
How much do you love your pet? Enough to spend hundreds on AI-enabled tech for them? Some people are doing exactly that, Jennifer reports in her story today.
Today's Smart Brevity count: 1,147 words ... 4.5 minutes.
1 big thing: The $700 AI-powered litter box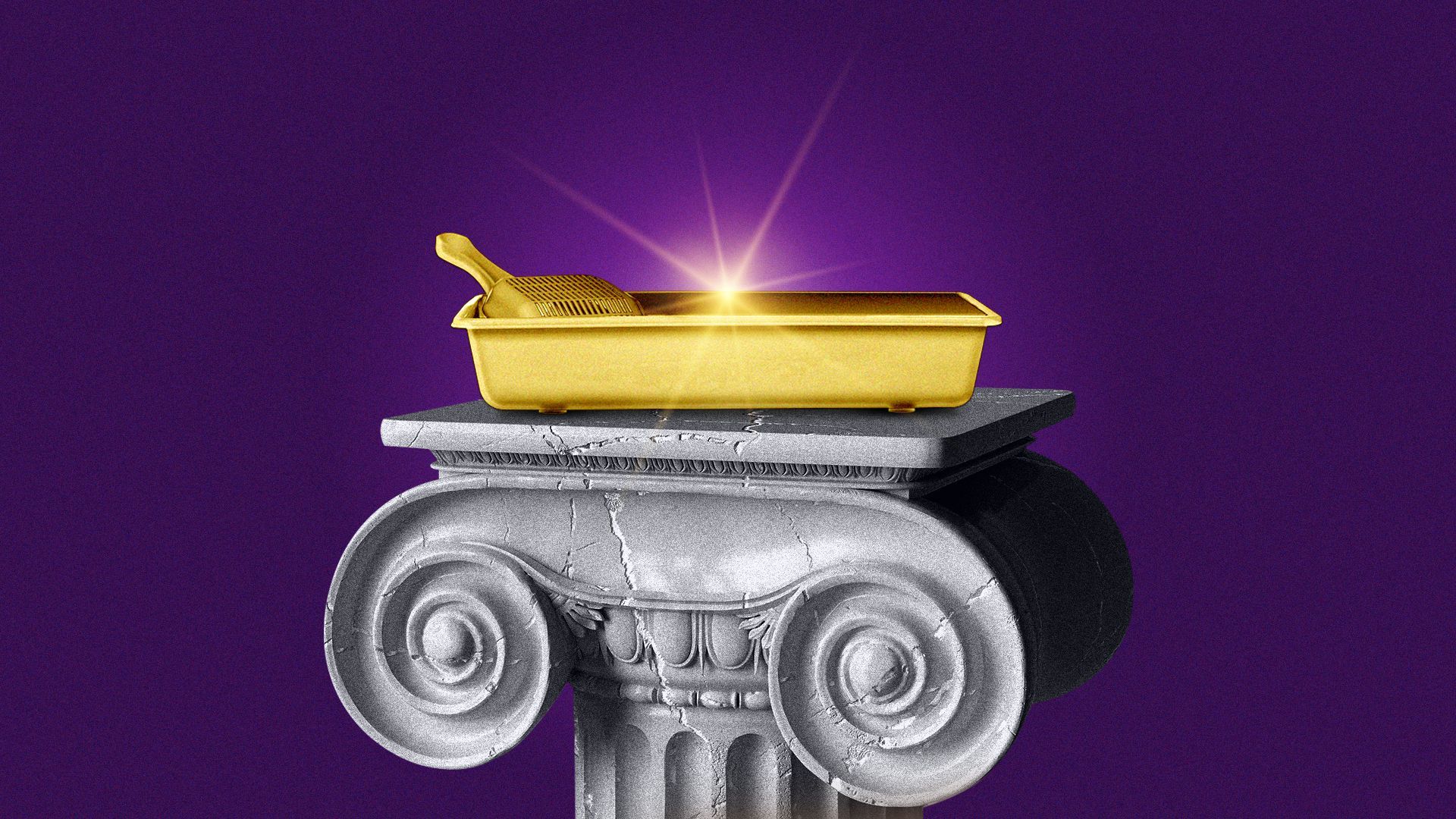 There's a big-dollar arms race in high-tech cat waste "solutions," from color-changing litter that can detect diseases to AI tech that tracks Fluffy's toileting habits, Jennifer A. Kingson reports.
Why it matters: As COVID-era cat ownership has surged, companies large and small have flooded the market with products aimed at improving pet health and reducing the top reason people return cats to shelters: Litter box unpleasantness.
Products like the $700 Litter-Robot — which makes scooping obsolete and will soon come with a health-monitoring app — fall into an exploding "pet tech" category.
Surging sales of pet-care products have translated into squadrons of researchers studying the tastes of cats and consumers — developing litter that dissolves in water, is made from tofu, has good "paw feel," etc.
"It is an incredibly exciting time to be in the cat litter business," says Brent Gleckler, vice president and general manager of the golden products division at Nestlé Purina PetCare.
Driving the news: That familiar plastic tub filled with clay litter is morphing into an AI-powered hardware/software platform that includes a scale to weigh what Tabby has been doing (and detect if she's putting on pounds), an app that alerts when she's done her business (and tracks the frequency) and health-monitoring litter that can flag urinary tract infections or other problems.
The Litter-Robot 4 is a Wi-Fi-enabled, automated, self-cleaning box connected to an app, so you can monitor your cat's weight and bathroom habits.
The product — the most advanced on the market — is "a software platform enabled by hardware" that will "continually evolve for the next decade," says Jacob Zuppke, president and CEO of Whisker, which makes the Litter-Robot.
Also in the offing: The forthcoming Petivity Smart Litterbox Monitor System from Nestlé Purina is a $200 scale that sits under your cat's litter pan and transmits data about a "solid waste or liquid waste event," as Gleckler put it.
It'll keep track of the amount of time your cat spends in the litter box, behavior changes and other metrics that could help detect problems like diabetes, kidney disease and obesity.
Yes, but: The high-tech litter solutions are far more expensive than a simple cat box — the Litter-Robot 4, for instance, costs $650, while a rival offering, the Purrsong Lavviebot S Robotic Litter Box, goes for $900.
What they're saying: "For me, it comes down to how easy it is to clean the box," says Kate Benjamin, founder of Hauspanther, a resource center for stylish cat products.
Benjamin, who has 13 cats in her Phoenix condo, uses cement mixing tubs from Home Depot as litter boxes on her outdoor "catio," plus boxes made by PetFusion and Tuft + Paw indoors.
Her favorite "pet tech" product is a feeder — the Sure Petcare Felaqua Connect — that tracks each cat through its microchip, monitoring its weight and how much water it drinks. It's also connected to an app.
The bottom line: Not only have people been adopting more pets since the COVID pandemic began, but they've also been paying a lot more attention to their animals' needs and habits.
2. Another city is getting Amazon drone deliveries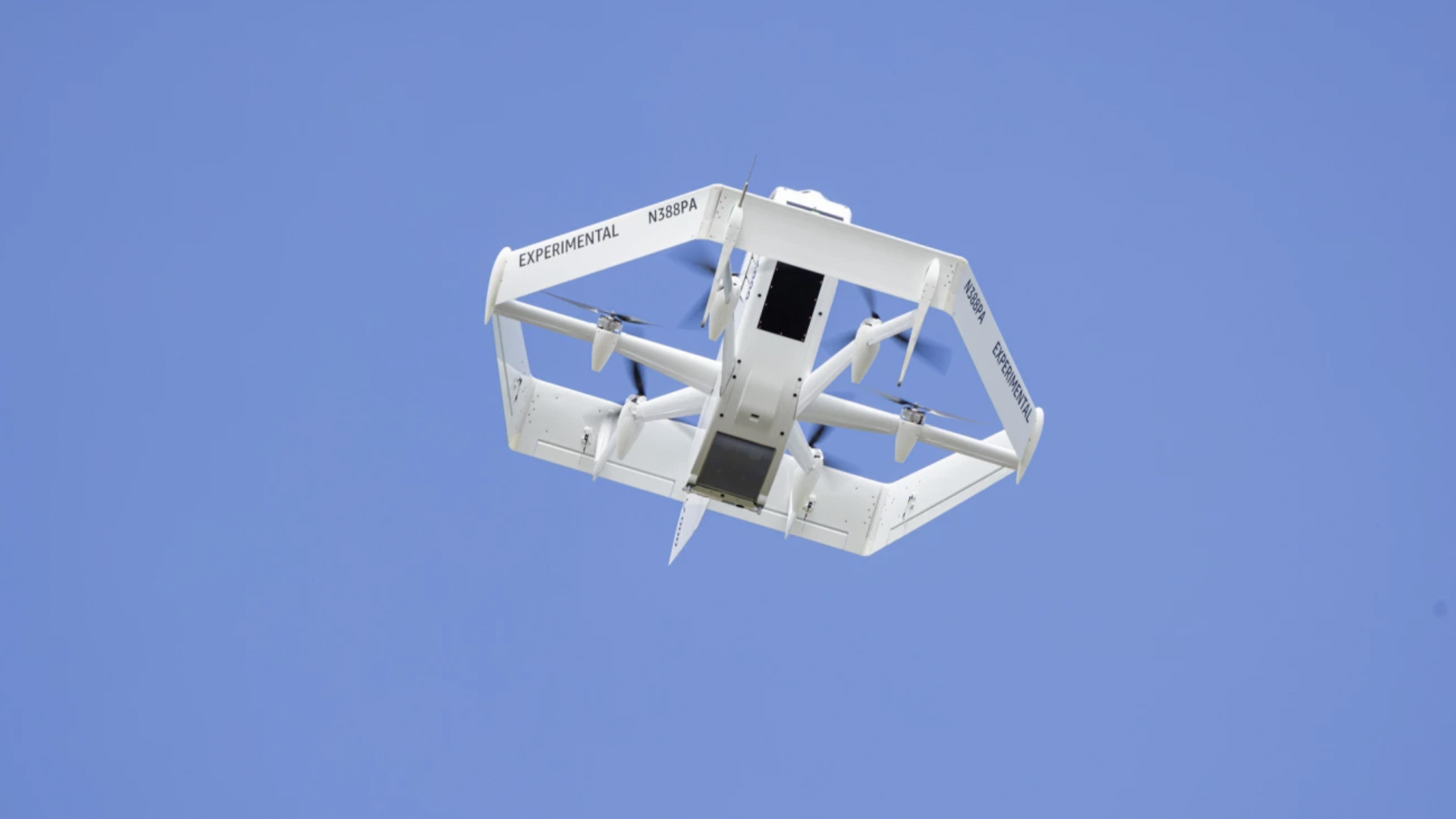 Amazon is expanding its Prime Air drone delivery option to Texas, Alex Fitzpatrick reports.
Driving the news: The service will launch in College Station — between Houston and Waco, and the site of Texas A&M University's main campus — later this year.
Prime Air is also coming to Lockeford, California, Amazon said last month.
What they're saying: "Amazon's new facility presents a tremendous opportunity for College Station to be at the forefront of the development of drone delivery technology," Mayor Karl Mooney said in a statement.
The big picture: Drone delivery is slowly becoming reality — Amazon rival Walmart has also launched some limited operations, so we're finally getting the chance to see what this futuristic tech looks like in practice.
3. Gmail users hate Google's spam plan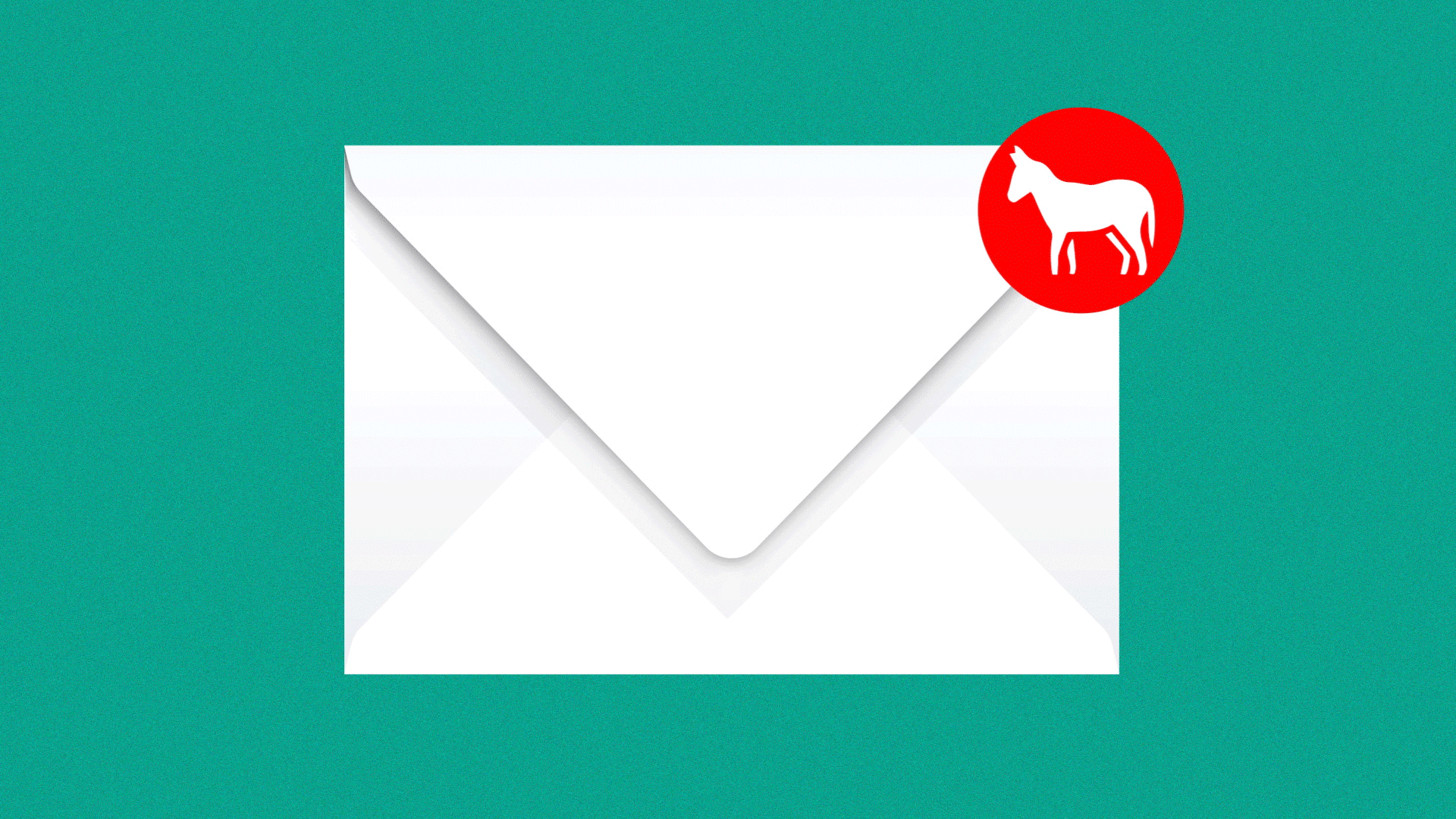 Federal regulators have received hundreds of public comments, virtually all negative, about Google's plan to stop filtering political campaign emails as spam, Axios' Ashley Gold reports.
Driving the news: Per an Axios review of hundreds of comments submitted to the Federal Election Commission, people hate Google's idea — which the company introduced to ease tensions with conservatives who argue Gmail is unfairly flagging their campaign emails as spam.
The comments suggest people already feel inundated by political campaigns via phone calls and mailers and want to keep filtering their email inboxes:
"Absolutely not. This is a terrible idea that would open the floodgates to even more spammy and abusive political advertisements. No."
"I'm not sure what Google's goal is with requesting permission for this hair-brained scheme, but I can assure you that it is not something that is desired by us, the people who receive email through Gmail."
"Google's idea to allow unsolicited political email to bypass spam filtering has to be one of the most asinine ideas I've ever heard of. Such email is certainly spam, and needs to be treated as such."
4. ICYMI: The Saudis' desert dreams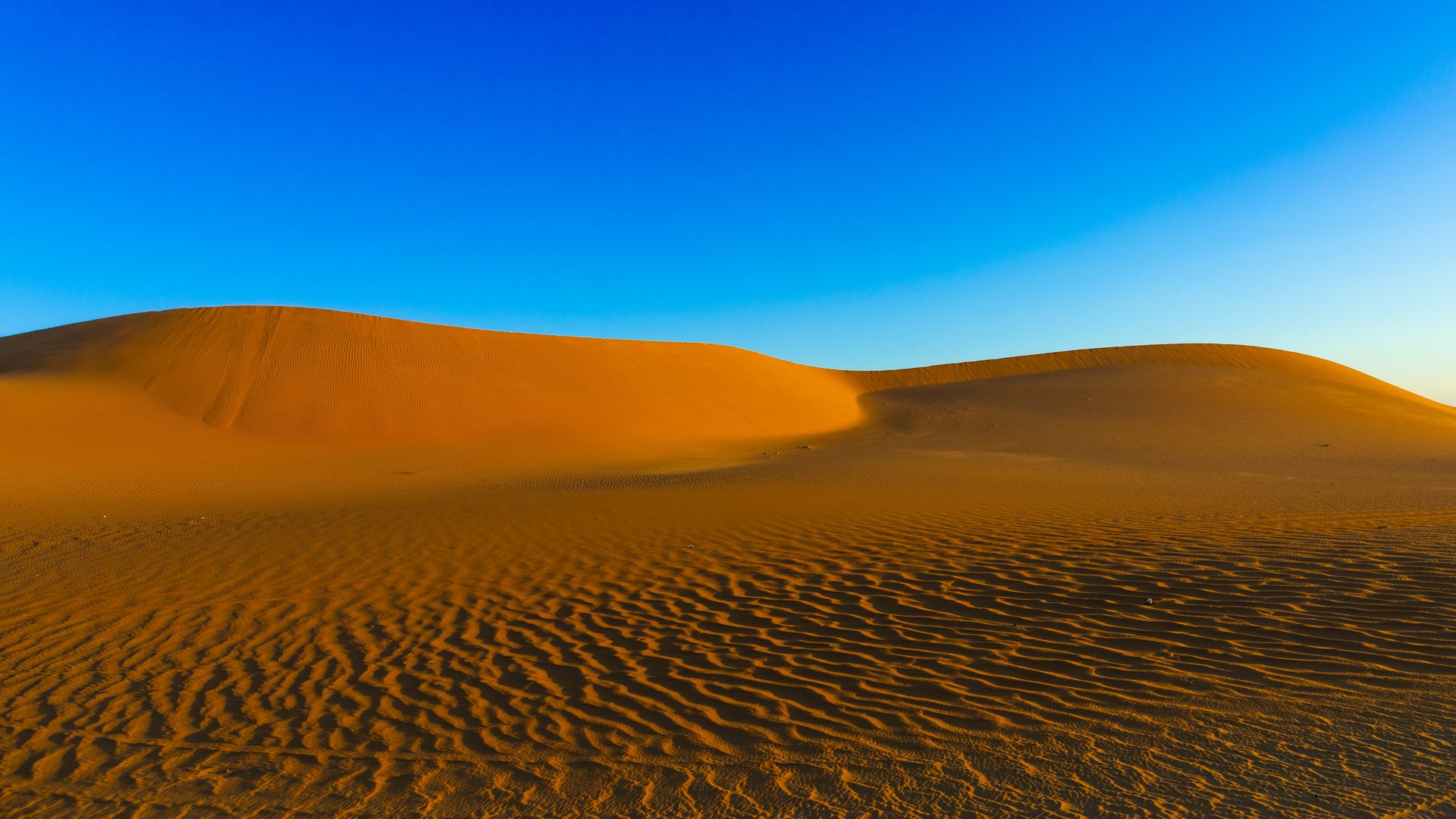 What kind of high-tech city can you build in the desert with $500 billion in oil wealth?
That's the question posed by Bloomberg Businessweek's latest cover story, a deep dive into Crown Prince Mohammed bin Salman's wildly ambitious plan to project his will into the sands and rocks of northwestern Saudi Arabia.
Why it matters: Having essentially unlimited money and carte blanche to plan an entire city from the ground up is a fever dream for urban planners, futurists and so on.
The details: Early plans for the city, called Neom, include "elevators that somehow fly through the sky, an urban spaceport, and buildings shaped like a double helix, a falcon's outstretched wings, and a flower in bloom," per Businessweek.
"The chosen site in Saudi Arabia's far northwest, stretching from the sun-scorched Red Sea coast into craggy mountain badlands, has summer temperatures over 100F and almost no fresh water. Yet, according to [bin Salman] and his advisers, it will soon be home to millions of people who'll live in harmony with the environment, relying on desalination plants and a fully renewable electric grid."
Yes, but: The entire affair seems like urbanist vaporware, plagued by sudden planning changes from the top.
It's also been marred by deadly standoffs with locals who don't want to be displaced to make way for the city.
And several foreign partners pulled out after columnist Jamal Khashoggi was killed.
5. One fun thing: 'The Office,' but make it Lego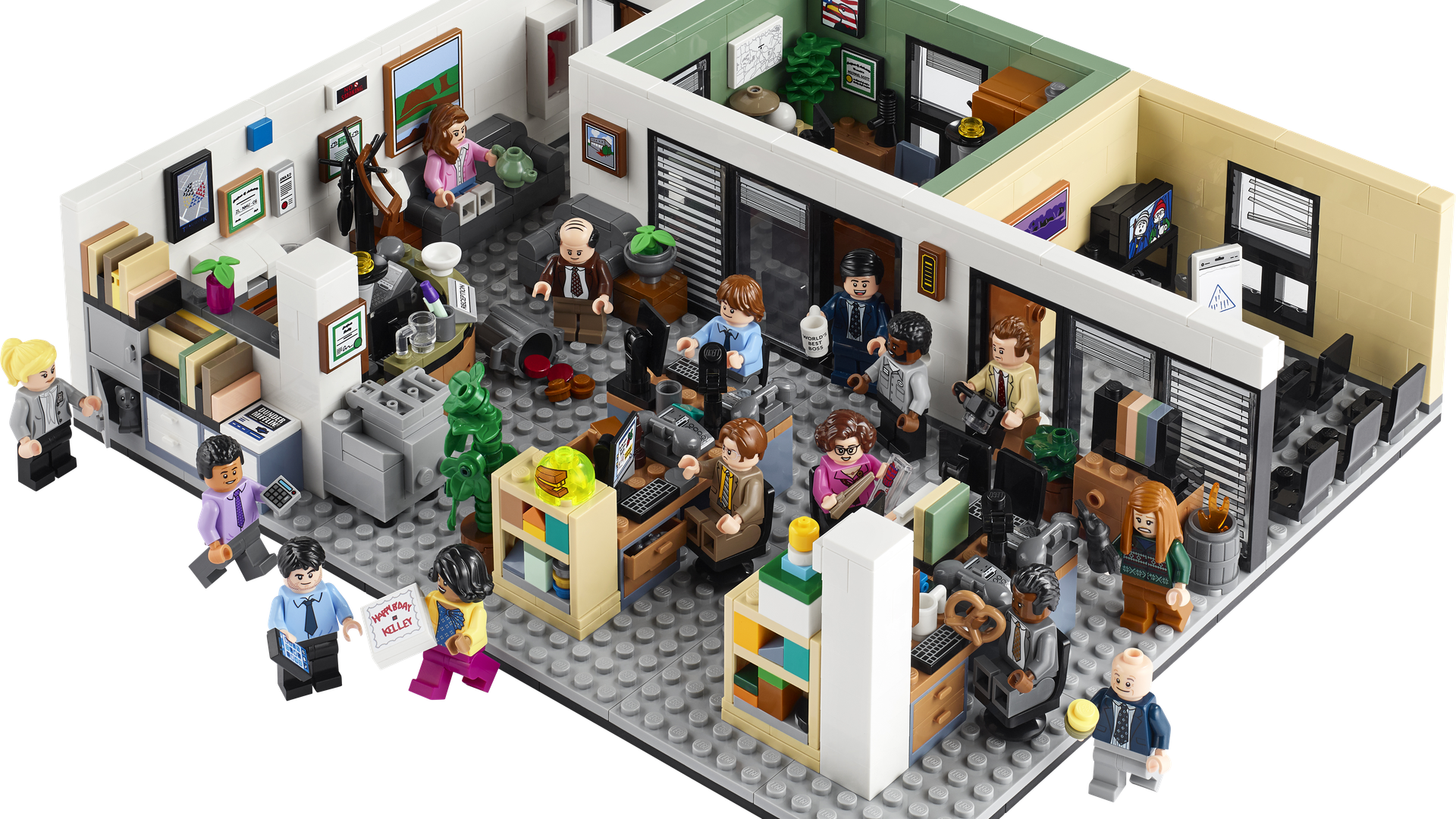 Lego has revealed the final details for its highly anticipated "The Office" set, Axios' Ina Fried reports.
The details: The 1,164-piece offering goes on sale Oct. 1 for $119.99.
It comes with 15 mini figures — including favs like Michael, Jim and Pam — and is filled with objects from iconic moments from the show, like a stapler in Jello, a Dundie award and Kevin's pot of chili.
Between the lines: The set is part of Lego Ideas, a voting platform where fans' ideas can become reality.
A hearty thanks to What's Next copy editor Kathie Bozanich.
Was this email forwarded to you? Get your daily dose of What's Next magic by signing up here for our free newsletter.