January 18, 2022
Welcome back! Today we learn that coastal superstar cities are losing out to smaller inland hubs when it comes to job growth, as Erica Pandey reports.
Want to make a lot of money? It turns out that being a TikTok star can pay better than becoming a CEO (and you may not even need to leave your bedroom).
Today's Smart Brevity count: 1,116 words ... 4 minutes.
1 big thing: The hot and not-so-hot job centers
Job openings have been roaring back across the country, but some metro areas are significantly hotter than others, per a new report from the jobs site Indeed.
Why it matters: Tracking growth in different cities gives us insight into how the pandemic is changing the geography of jobs, Erica writes.
By the numbers: The hottest city is Boise City, Idaho, with 94.8% job growth compared with its pre-pandemic baseline.
Boise City, a burgeoning tech hub, has seen steady job growth — and outpaced other U.S. cities — for the last decade or so, AnnElizabeth Konkel, an economist at Indeed, tells Axios.
Almost all of the cities in the top ten for job growth have a lower cost of living than the national average, Konkel notes. The exceptions are Austin and Phoenix.
Most of the top ten are also cities in warm climates, which have attracted more pandemic-era movers, says Konkel.
The metro area that's lagging the most in job growth is Honolulu. That's due in large part to the hit that Hawaii's tourism industry has taken.
The bottom ten also includes some of the country's biggest and most expensive cities — such as San Francisco, San Jose and Washington, D.C. — which typically lead in job growth.
New York City is also toward the bottom of the list, although not in the bottom ten.
The numbers reflect the exoduses we've seen from San Francisco and other cities as workers are able to telecommute more and are choosing to move to cheaper cities or closer to family.
2. Mayors feel powerless to reduce homelessness
America's mayors know their constituents hold them accountable for homelessness, but most don't feel they have the tools or power to fix things, Jennifer A. Kingson writes, based on a brand new survey.
Why it matters: While homelessness has become more acute during the pandemic, city leaders say they lack the money, staff or political support needed to make a meaningful difference.
Driving the news: A poll released Tuesday by the Menino Survey of Mayors found that 73% of mayors believe that voters hold them highly accountable for addressing homelessness, but only 19% think they have much control over the issue.
Pessimism runs deepest among mayors in the Northeast, with just 7% saying they have lots of control.
Limited funding is by far the top barrier to reducing homelessness, mayors say, followed by public opposition to new housing and shelters.
Among other factors cited are insufficient human and social services, lack of coordination among responsible agencies, and evictions.
The big picture: It's hard to gauge whether homelessness has gotten better or worse. HUD's most recent national point-in-time census count was in January 2020 — before the pandemic started.
Last year, many big cities called off their census counts, normally conducted in January, because of the pandemic.
This year, while HUD isn't allowing cities to forgo the annual exercise, some are postponing their counts until February.
At the same time, cities from Boston to Minneapolis are clearing out big homeless encampments, moves that stir backlash on all sides.
The bottom line: There are billions of dollars in the CARES Act and the American Rescue Plan Act to combat homelessness and help people and families who are at risk, but they will need to be deployed wisely.
"There really is the potential to make a big dent in homelessness with that money, and the question is, are we going to?" Nan Roman, president & CEO of the Alliance to End Homelessness, tells Axios. "That's a good question for mayors."
3. Startling facts in 2021 climate report
An unsettling part of the human condition today is that the year you were born will most likely be the coolest year of your life, globally speaking, Andrew Freedman writes in Axios Generate.
By the numbers: Newly released climate data from NOAA, NASA and Berkeley Earth show that the planet has had an unbroken 45-year streak of warmer-than-average temperatures.
In NASA's data set, 1988 — when climate scientist James Hansen famously warned Congress that human-caused global warming was underway — long ranked as the warmest year on record.
But after the warming of the past three decades, 1988 now ranks as just 28th warmest year, Gavin Schmidt, who direct's the agency's Goddard Institute for Space Studies in New York, told Axios.
Between the lines: The world is now 1.2°C (2.2°F) warmer than pre-industrial levels, Berkeley Earth found, closing in on the Paris Agreement's temperature target of limiting warming to 1.5°C above preindustrial levels.
What's next: There's a 99% chance that 2022 will be a top 10 hottest year on record, NOAA climate scientist Russell Vose said.
4. Puerto Rico's "crypto-colonizers"
The Washington Post's Nitasha Tiku dove into the booming crypto scene in Puerto Rico — and how it's leaving locals out.
The big picture: Puerto Rico has long been a tax haven for the wealthy, and the most recent group to descend on the island are the wealthy crypto bros.
What's happening:
"Home prices are soaring in parts of San Juan, the island's graceful seaside capital, and applications nearly tripled in 2021 under a law that lets newcomers profit from crypto and other investments tax-free," Tiku writes.
"Amid allegations that the beneficiaries are failing to create jobs or otherwise help the local community, members of Puerto Rico's leftist independence party are pressing for the tax break to be repealed."
So now, the "crypto-colonizers" are attempting to rebrand as inclusive, Tiku reports.
They're holding summits and parties to introduce locals to the world of crypto.
And they're even conducting workshops to teach kids how to make their own NFTs.
5. Retro bathing suits are back
They're not quite flapper suits, but the "resort" swimwear collections showing up in 2022 seem to draw inspiration from 1922.
While nowhere near as modest as the bathing costumes of yesteryear, many of the bikinis and one-piece suits showing up in catalogs and store racks are decidedly old-timey, with high waistbands, scalloped edges and ample coverage on top.
"There are really only two words needed to describe the vibes in St. Tropez: vintage glamour," Vogue declared in its guide to "The Perfect Swimsuit to Wear to Nearly Every Destination in 2022."
Terms like "retro elegance" (Vogue) and "glam retro" (Good Housekeeping) are making the rounds in swimwear blurbs.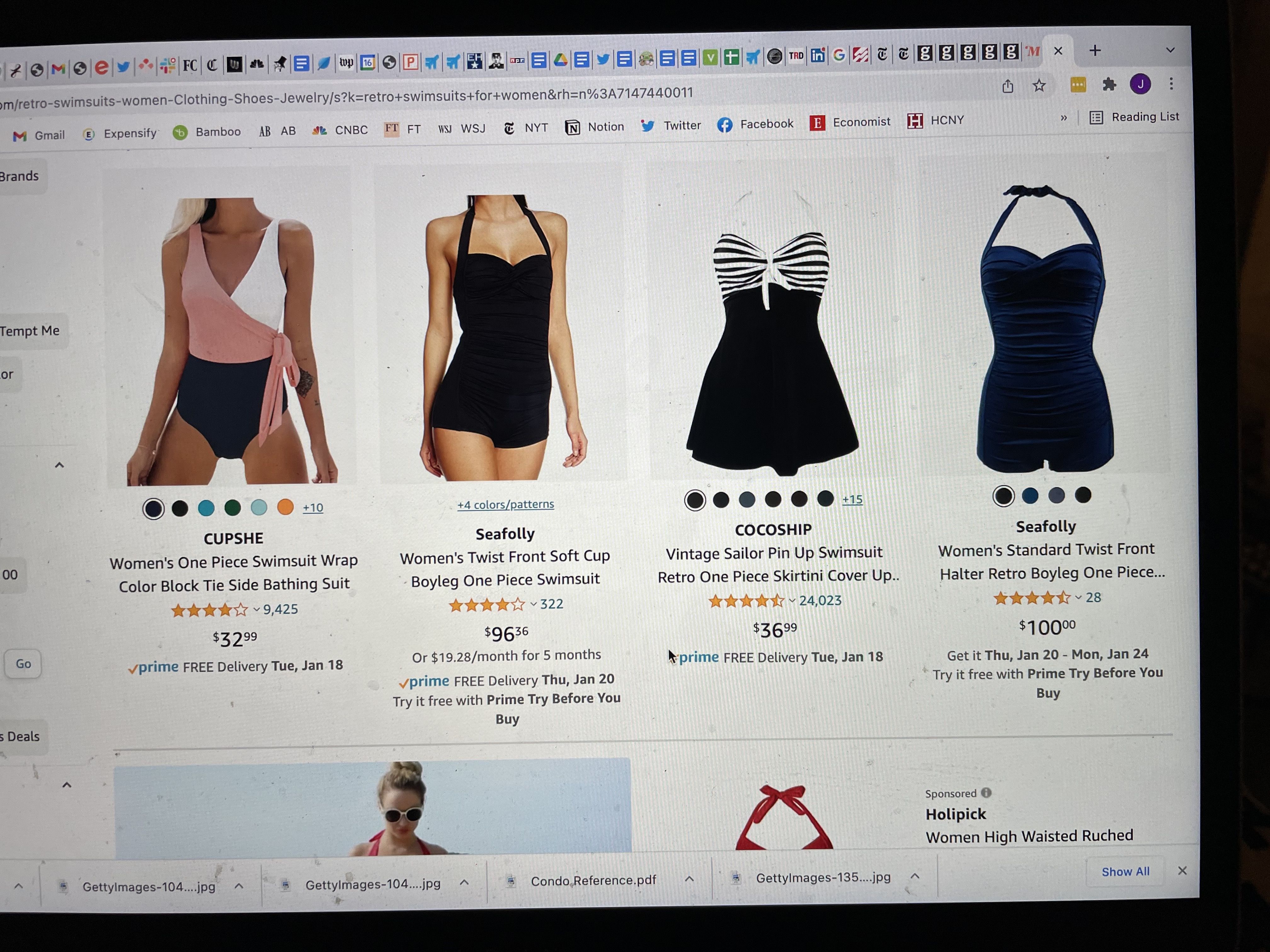 The pop culture angle: A new collection of beachwear that's a collaboration between the Netflix show "Emily in Paris" and the resortwear brand My Beachy Side "evokes summers on the 1920s French Riviera, featuring intricately hand-crafted breezy lace cover ups [and] vintage-inspired French terry," Paper magazine reports.
In the hit movie "Licorice Pizza," the actress Alana Haim's character wears vintage-style halter tops in keeping with the trendlet — only her looks draw from the 1970s.
Was this email forwarded to you? Get your daily dose of What's Next magic by signing up for our free newsletter here.