Axios What's Next
July 26, 2021
Yea, it's Monday, and we're delivering worrying news about office reopenings, convenience versus sustainability on e-commerce, and the strange dreams of child management consultants.
"What was next" trivia: On this day in 1943, what environmental threat was first reported in Los Angeles? Hint: Some residents initially thought it was a chemical weapons attack.
Credit to reader Beverly Miller for being the first to note that someone survived a jump off the Brooklyn Bridge for the first time on July 23, 1886.
Send your answer, along with tips and feedback to

[email protected]

.
Today's Smart Brevity count: 1,168 words ... 4.5 minutes.
1 big thing: The Delta variant complicates return to office plans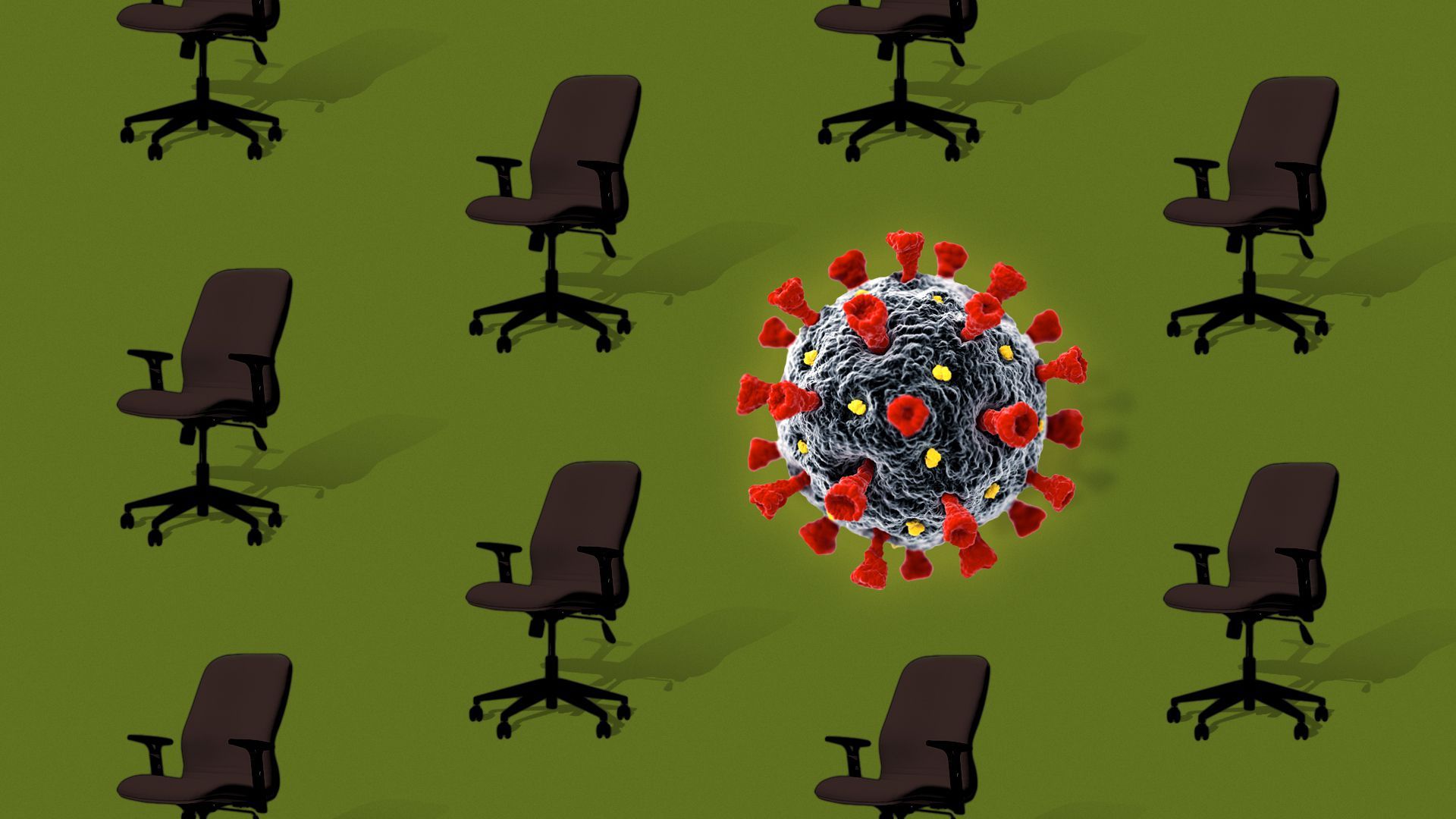 Resurgent outbreaks — including breakthrough infections among vaccinated people — could throw a wrench in plans to bring workers fully back to offices in September, writes Bryan Walsh.
The big picture: A number of companies and the federal government have targeted the end of summer as the time to bring in-person offices fully online. But rising numbers of COVID-19 cases from the Delta variant could render that goal unrealistic.
Driving the news: The daily average of confirmed coronavirus cases in the U.S. has roughly quadrupled during July, rising from about 13,000 per day to over 43,000 now.
New projections released Wednesday by the COVID-19 Scenario Modeling Hub, a consortium of researchers working in consultation with the CDC, predict that the current coronavirus surge will accelerate through the summer and fall.
The surge is predicted to peak in mid-October, with daily deaths triple the level they are now.
Why it matters: Those projections directly clash with both school reopenings and corporate plans to staff up offices in September.
A recent survey of 1,000 HR professionals by the Society of Human Resource Management (SHRM) and Lucid found that half of U.S. organizations are worried about the more contagious Delta variant, and will encourage employees to get a booster shot when one is available.
"There's a renewed anxiety that maybe started to dissipate in the spring — but it's back," Joseph Allen, an associate professor at the Harvard T.H. Chan School of Public Health, told The New York Times.
What's happening: The rising case counts and breakthrough infections are already beginning to set back private and public reopening plans.
Yes, but: The percentage of Americans returning to the office kept ticking upward during July, hitting 34.5% as of July 14, according to the Kastle Back to Work Barometer, which measures office occupancy in 10 major cities.
Despite breakthrough infections, the vaccines remain extremely effective, and the surge is worst in states with low vaccination rates — which also happen to be the states that have been most resistant to instituting restrictions.
Scott Gottlieb, former head of the FDA, predicted on CNBC that the Delta surge would peak faster, by late August — though he also noted that October rather than September would be a more "prudent" time to bring employees back to the office.
2. Companies tap a new talent base: their own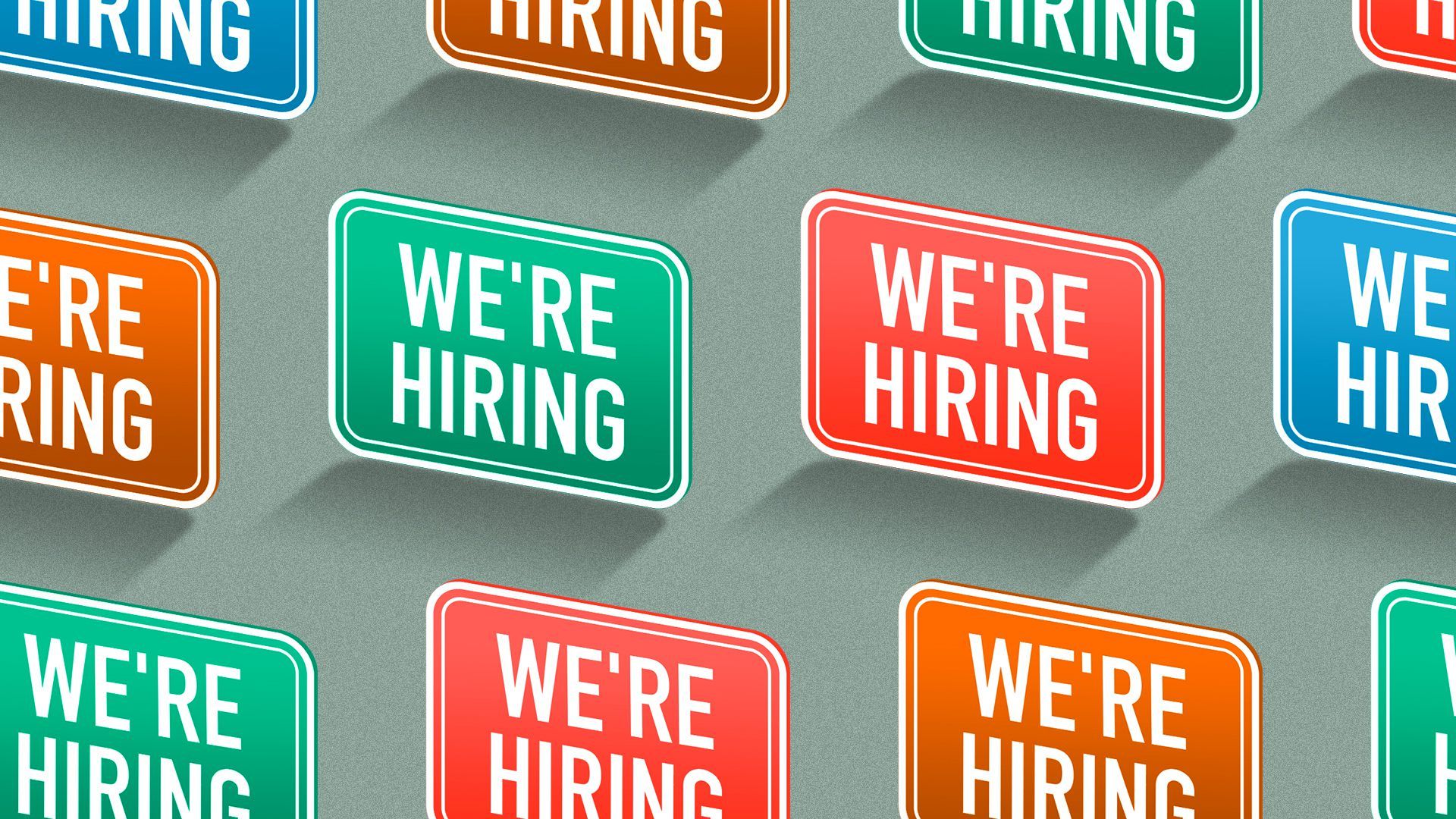 A startup is offering an internal marketplace tool for companies to better identify and cultivate talent among their own workers, writes Bryan.
Why it matters: With the "great resignation" among us and companies desperate to find new workers, one often untapped source of talent is internal workforces.
But lack of visibility and transparency often means that companies don't really know what their workers can do — and workers don't know how to tell them.
What's happening: New York-based Gloat built an AI-powered platform that companies can use to connect employees with internal work and development opportunities, including new projects, reskilling and mentoring.
How it works: Just as platforms like LinkedIn have made it easy for potential employees and companies to market themselves to each other, Gloat wants to do the same thing for internal talent — creating a market where you know "what opportunities you have and you have agency in terms of being able to pursue them," says Jeff Schwartz, vice president of insights and impact at Gloat.
Employees can build profiles on Gloat with their resumes, LinkedIn data and skills and interests.
Gloat's marketplace uses machine learning technology to direct appropriate opportunities to individual employees while helping managers plan for any skill gaps in future projects.
Instead of having to survey employees to find out what they can do — and what they want to do — a talent marketplace automatically "generates that data, information and insight," says Schwartz.
The bottom line: With the competition for talent so tight, companies can't afford to misuse their own human resources.
3. Convenience beats sustainability on e-commerce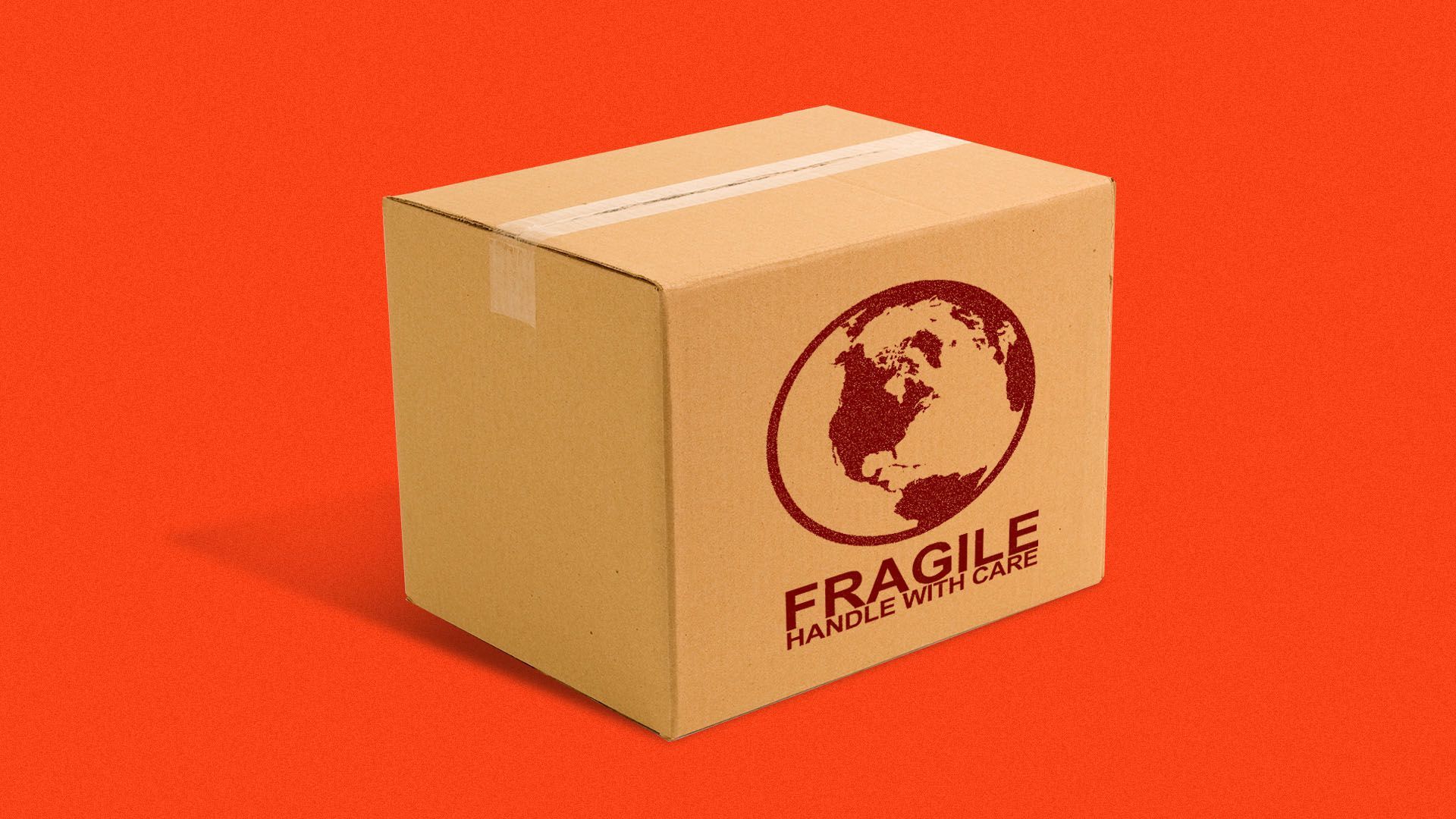 Americans are increasingly convinced that retailers should do business more sustainably, but they're not willing to give up cheap and speedy shipping, writes Erica Pandey.
Driving the news: Two-thirds of Millennials and Gen Zers, 55% of Gen Xers and 42% of Boomers said retailers should consider the environmental impact of their businesses, according to a new survey from Retail Brew and Harris Poll.
But 56% said faster shipping trumps shopping sustainably.
Why it matters: The annual package delivery emissions of FedEx, UPS, and USPS combined equal the annual emissions of more than 7 million cars, per an EPA calculator.
The bottom line: The pandemic has only intensified America's e-commerce habit.
Being stuck at home pushed existing online shoppers to make more purchases online and pushed in-person shoppers to turn to e-commerce, accelerating the growth of online shopping by five or ten years, experts say.
4. You couldn't pay them to move there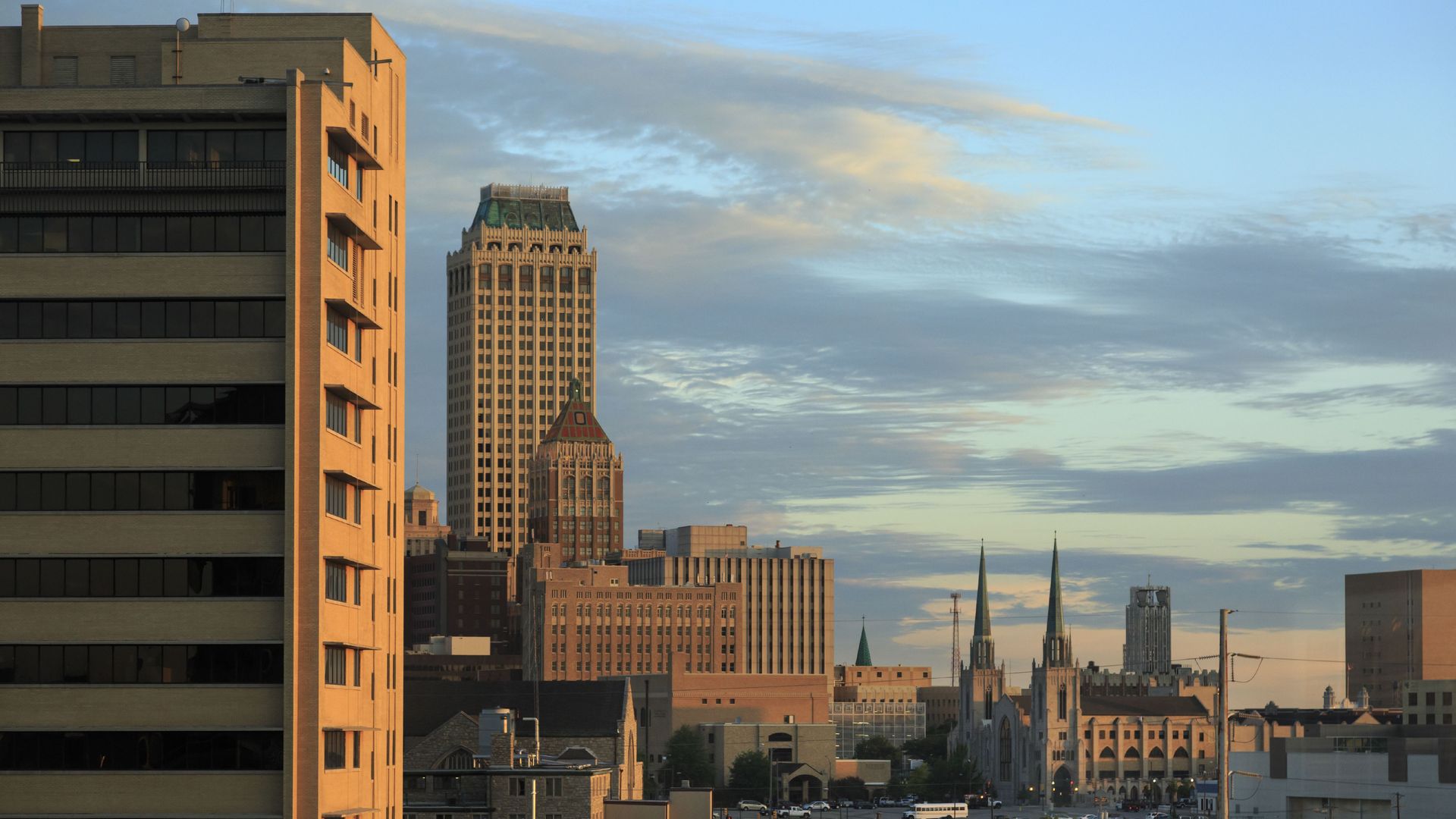 A smart piece in the Atlantic argues cash incentives for remote workers to move to small cities have mostly been a bust, writes Bryan.
Why it matters: The move to remote theoretically puts cities on a more equal footing to compete for new workers. But the failure of programs to pay people to move has only reinforced the primacy of superstar cities.
What's happening: More than 40 towns and cities around the country are paying people to move in, according to the website MakeMyMove.
Those incentives range from the $3,000 offered by Lincoln, Kansas — population 1,181 — to the $20,000 package dangled by Morgantown, West Virginia.
Yes, but: As The Atlantic's Daniel Block describes, while the programs have succeeded in bringing in some new workers, the totals are far too small to make a real difference for struggling cities.
Even one of the earliest and most successful programs — Tulsa Remote, which offers $10,000 to remote workers who move to the Oklahoma city — has only managed to increase its population by 0.25%.
The bottom line: My colleague Kim Hart recently wrote that we're in a new age of municipal marketing, but amenities and infrastructure matter more than cash gifts.
5. Tweet of the day: Department of odd childhood dreams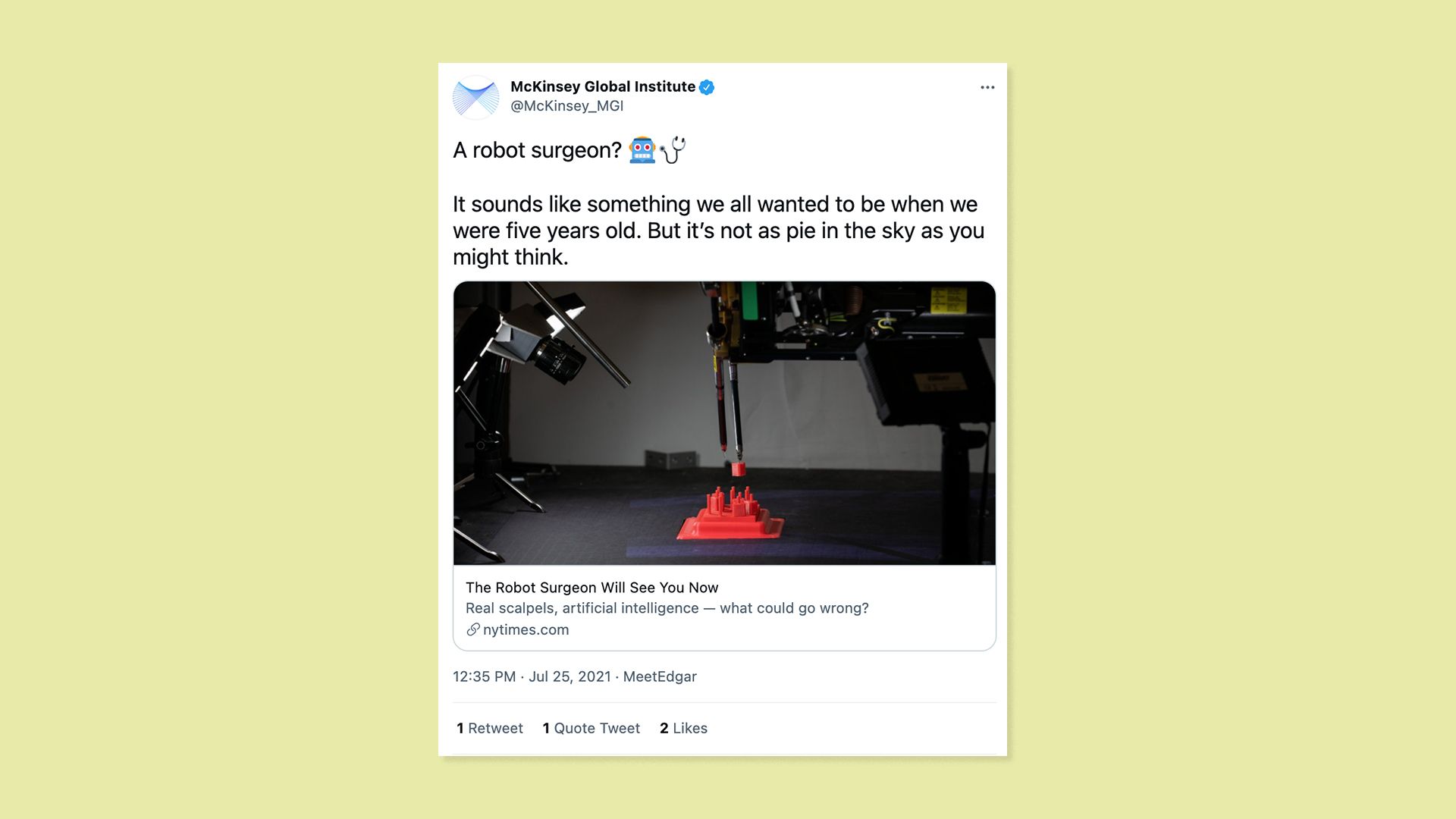 This is from the McKinsey Global Institute, highlighting a recent piece on the fascinating advances in robotic surgery, writes Bryan.
Although I find even more fascinating what this tweet apparently reveals about the unusual childhood dreams — actually becoming a robot surgeon — of people who grow up to be management consultants.