Axios What's Next
January 27, 2022
🎉 Axios' inaugural What's Next Summit will be held in Washington on April 5.
Axios journalists will lead interviews and deep-dive discussions across five key themes: Next Cities, Work Shifts, Electric Everything, Financial Flux and Trending Tech.
You can join virtually to hear speakers like Stewart Butterfield of Slack, Sandeep Mathrani of WeWork, and Cesar Conde of NBC Universal.
Today's Smart Brevity count: 879 words ... 3.5 minutes.
1 big thing: Your plumber could lead the EV revolution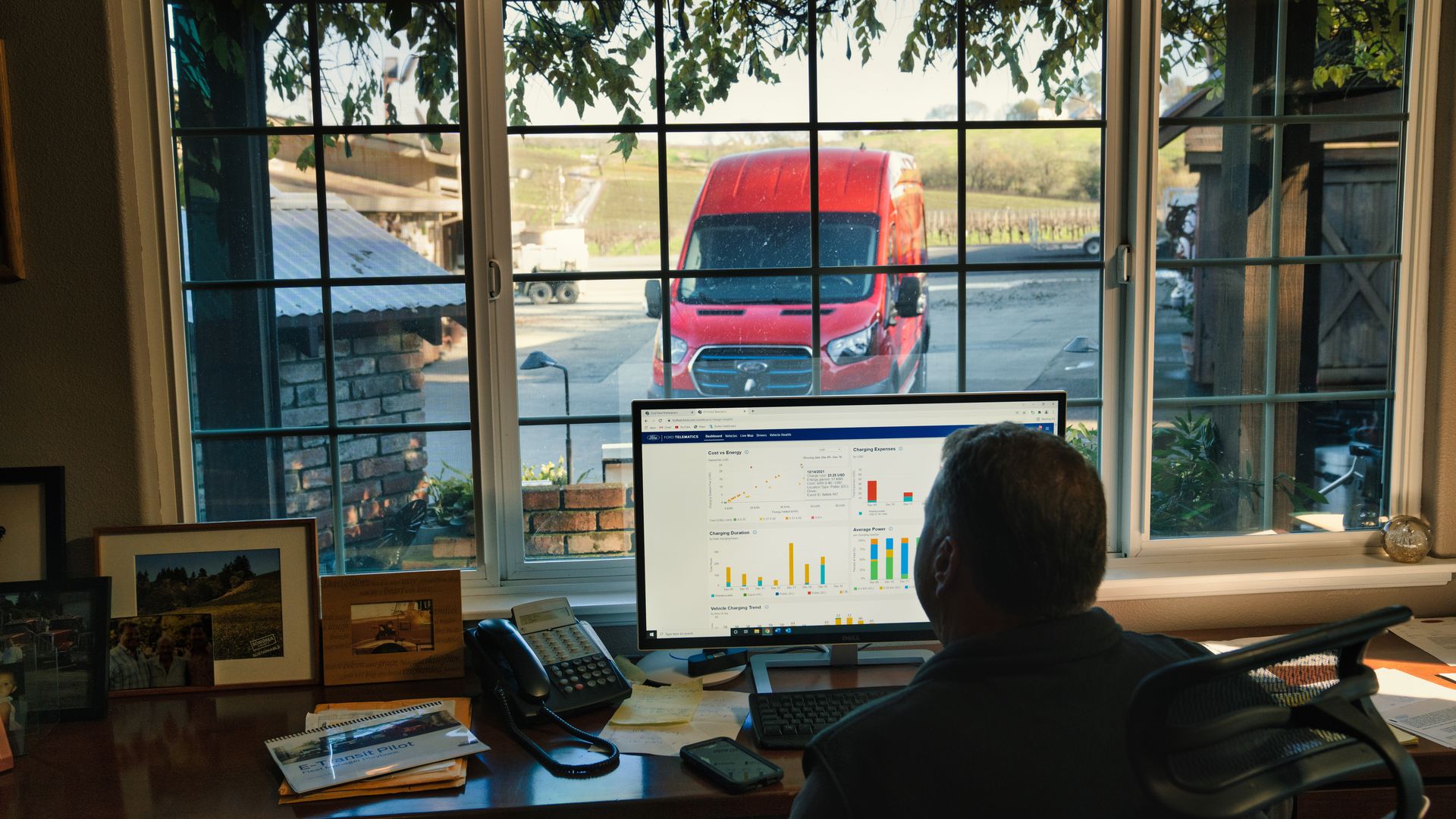 Businesses like farmers, contractors and delivery companies — not individual consumers — will lead America into the electric vehicle era, judging from how demand is currently shaping up, Joann Muller writes.
Why it matters: While consumers are waiting on the sidelines to see if the charging infrastructure improves and prices come down, commercial businesses see EVs as a way to boost their productivity and improve operations.
EV fleets connected to the cloud are like distributed computer networks — chock full of data, which is good for business.
Plus, making the decision to go electric is good for the planet (and customers may notice).
Driving the news: A new offering from Ford Motor gives businesses a bigger incentive to go electric with their commercial fleets.
Ford Pro Intelligence, announced Tuesday, is a cloud-based software platform with tools to help business customers keep track of their vehicles, manage their drivers and improve relationships with their customers.
With it, Ford is doubling down on its already lucrative commercial fleet business, which includes its new line of electric F-150 Lightning pickup trucks and its e-Transit vans.
"The biggest pain point we hear from commercial customers when it comes to managing their fleets is not having a single place to access all of their information across vehicles and services," Ted Cannis, Ford Pro CEO, told reporters.
The new platform centralizes that digital ecosystem for both gas and electric vehicles — even for non-Ford models.
"A roofer wants to roof. A plumber wants to plumb. They just want to be productive," Ford CEO James Farley tells Axios.
They don't want to be tied up with paperwork or lose time getting vehicles serviced.
2. Rents hit another all-time high
The national median price of a one-bedroom rental apartment in January was up 12% year-over-year, to $1,374 — an all-time high, per Zumper, an online apartment rental site.
Why it matters: Inflation is taking a bigger bite out of people's paychecks these days not only in food and gasoline, but also in housing costs, Jennifer A. Kingson writes.
Driving the news: Zumper, which has been tracking rental price data since 2014, released information this week that showed staggering increases in rental prices.
The median two-bedroom rose to $1,698, a 14.1% hike over January 2021.
"For the national index to move by double digits takes incredible price increases everywhere, and that's exactly what we're seeing," Zumper said in a release.
"These still-rising prices also reflect a pre-existing housing shortage that will likely continue to push rent up in 2022."
Context: Last January, the year-over-year rent increase was 0.6% over 2020; the prior year, it was 0.3%.
Details: While New York City claims the highest rents, Boston is poised to overtake San Francisco for the #2 slot in the coming months, Zumper says.
3. Pandemic gave cover to online dating scams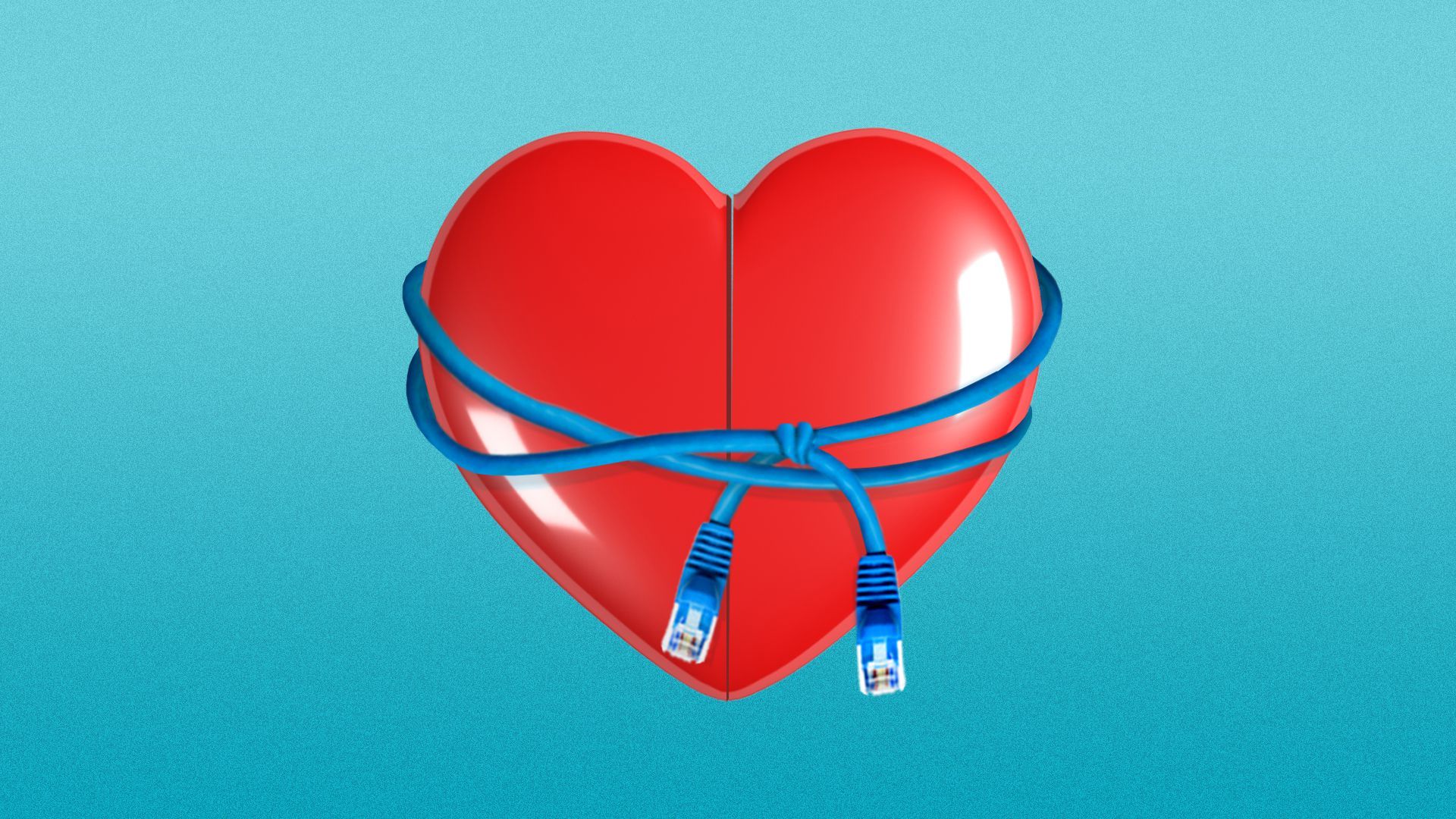 Crooked Casanovas used online dating scams to steal an estimated $500 million from lonely victims last year, according to a new analysis of government fraud data by Atlas VPN, an internet security provider, Joann writes.
Why it matters: The isolation of the lingering pandemic provided cover to fraudulent suitors who had an excuse for not meeting up in person even as they fleeced their would-be lovers out of gift cards, money — even cryptocurrency.
Details: Romance impersonators cheated potential mates out of more than $343 million in the first three quarters of 2021, according to Atlas VPN.
The company analyzed fraud data reported to the Federal Trade Commission and saw a sharp spike during the pandemic.
Seniors aged 60-69 were most vulnerable, but younger people also fell victim to impersonator scams on dating sites and social media platforms.
4. Toss the suits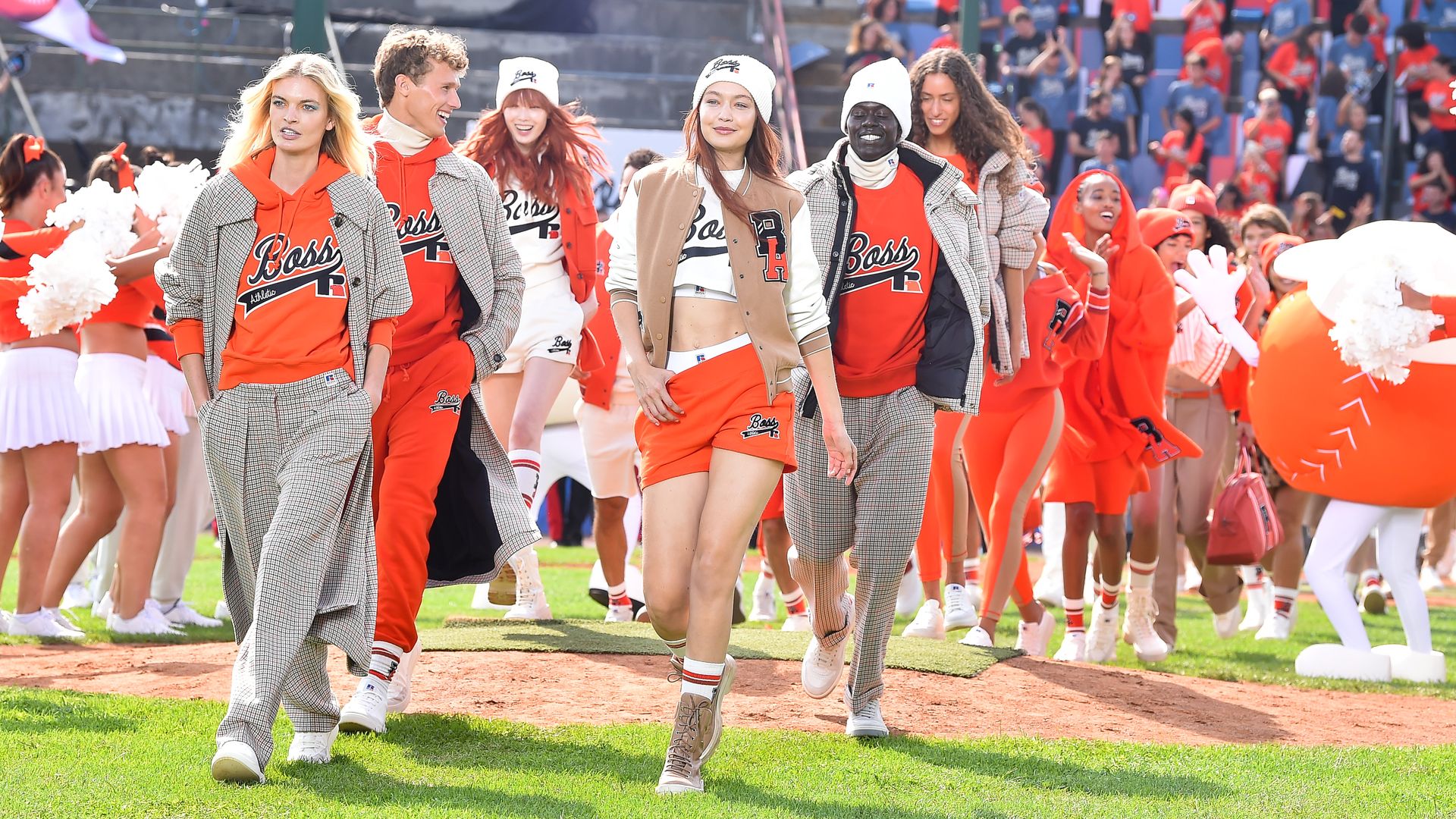 The pandemic changed the way we dress, and brands that outfitted office-goers in suits, blazers and pumps are adapting to the new era, Erica Pandey writes.
Driving the news: The latest company to switch gears is Germany's Hugo Boss, with new styles, new models and a new ad campaign, the New York Times' André Wheeler reports.
Staggering stat: Hugo Boss' sales dropped 33% when the pandemic hit and everyone left the office. And even as people return, dress codes are becoming a thing of the past.
"For the past six to eight years, the brand has just gotten a bit … dusty," Hugo Boss CEO Daniel Grieder told the Times. "I want to, um, how do you say, undust things."
That means ditching business formal and pivoting to athleisure. Hugo Boss' Spring 2022 show (pictured above) had a baseball theme and featured models in Gen Z-friendly streetwear.
The company collaborated with Russell Athletic, an activewear brand, on the new line.
Hugo Boss isn't ditching professional fits entirely, but it looks a little different. Think "earth-toned hoodies, voluminous overcoats, and tailored chinos," writes Wheeler.
5. Robot of the day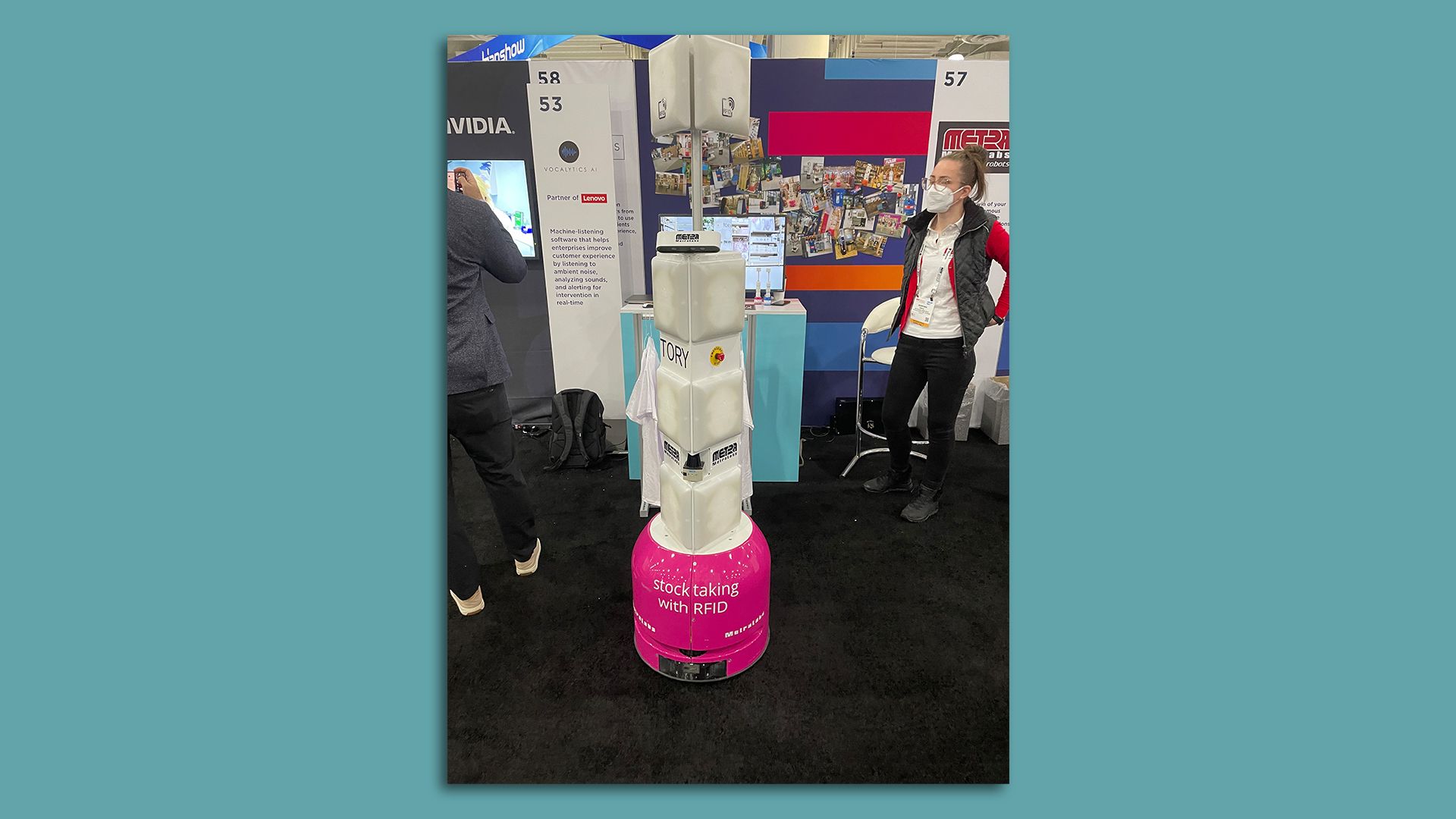 At the National Retail Federation show in New York City last week, Jennifer spotted Tory, an inventory-taking droid that normally wanders around a store sales floor or warehouse checking RFID tags.
Tory "recognizes and captures 99% of all RFID tagged articles as it drives 10 times faster [than] a manual inventory count," per its German manufacturer, MetraLabs.
It's being used in Decathlon sporting goods stores in the U.K. to help alert workers to the need to restock.
MetraLabs says you can expect to see it soon in Kmarts in Australia and elsewhere.
Was this email forwarded to you? Get your daily dose of What's Next magic by signing up for our free newsletter here.