Axios What's Next
November 09, 2021
Classic cars turn heads on the street, for sure — and now some of their longtime fans are trying to get younger generations interested in collecting them.
Today's reader email is from Aidan Coronel of Las Vegas, who noticed something unexpected in his snail mail.
See something intriguing or forward-looking that you want to share? Email us:

[email protected]

.
🔌 Join our own Joann Muller today at 12:30 p.m. ET for a virtual event on the shift to cleaner transportation and manufacturing. Register here.
Today's Smart Brevity count: 1,069 words ... 4 minutes.
1 big thing: Vintage cars are chic again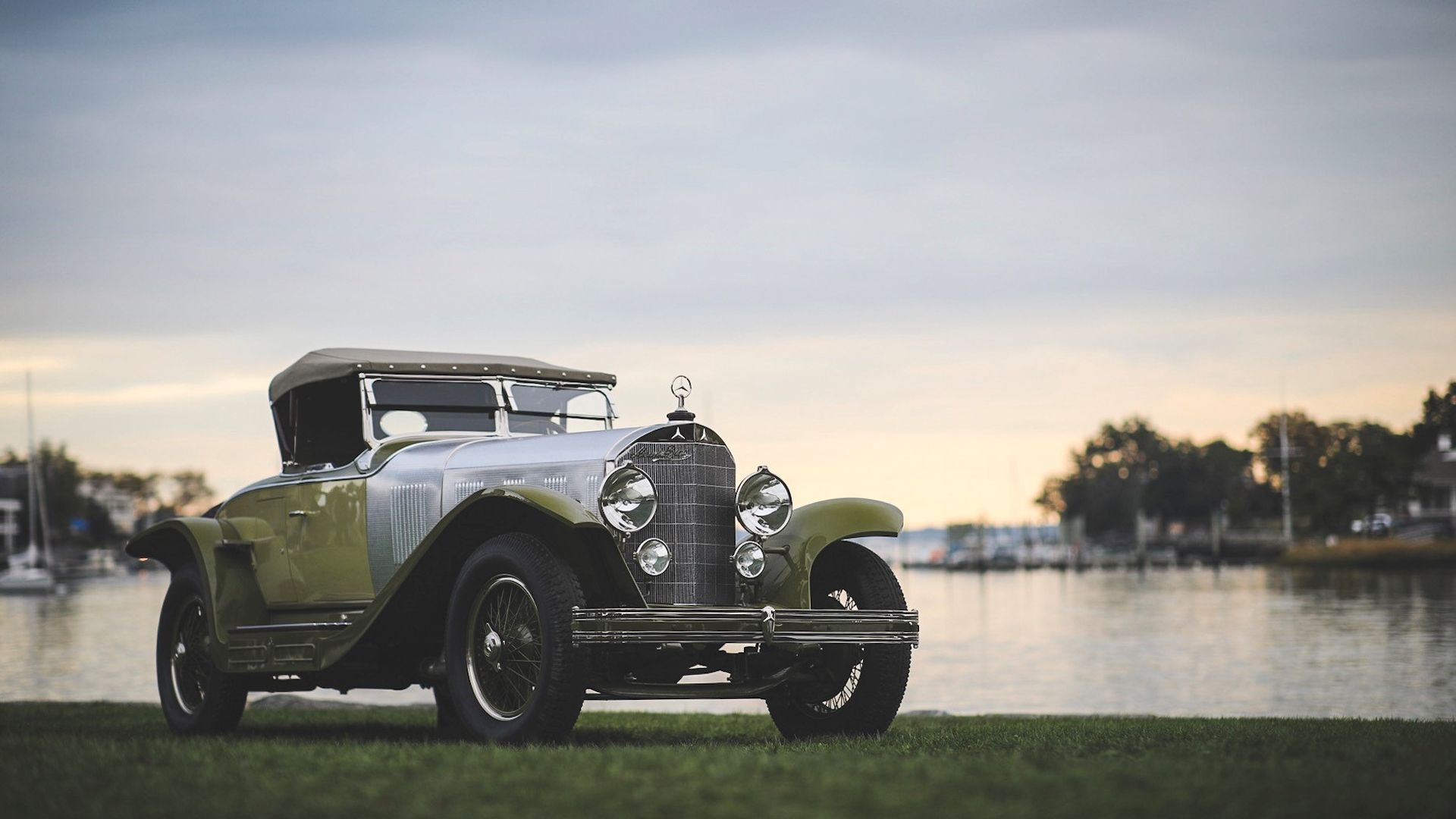 The pandemic has brought a swell of interest in classic, vintage and exotic cars, particularly among people with spare cash and a desire for COVID-safe driving adventures, Jennifer A. Kingson writes.
Why it matters: While electric vehicles are often viewed as the future, combustion engines will be with us for now — and vintage cars can be a good investment vehicle in an era of low interest rates.
Driving the news: Dealers who specialize in antique and classic cars, from the early days through the 1980s, say they've seen a sales boom that started during last year's lockdown and hasn't abated.
"Vintage car culture has exploded during COVID because people had time on their hands, they weren't traveling ... and they had extra money that they weren't spending on other things," Wayne Carini, host of the longtime TV series "Chasing Classic Cars," tells Axios.
"Our sales just quadrupled overnight," says Carini, who owns F40 Motorsports in Portland, Connecticut. "It was unbelievable: Where we normally sell seven to eight cars a month, we were selling 10 cars a week."
Some buyers are newbies, snapping up their first vintage BMW, Porsche or Duesenberg, but most are collectors who've used the pandemic to double down on their investments.
Online sales and auctions of classic cars "took off" as COVID-19 hit, and "some tent-pole auctions with limited attendance claimed new records," per the New York Times.
In October 2020, "Sotheby's easily sold three ultrarare Alfa Romeos for $14.8 million, with spirited bidding from four countries," the Times reported.
There's even a budding business in converting classic cars like Rolls Royces and Aston Martins to electric vehicles, as CNN reports.
The intrigue: Hagerty, the leading insurer for vintage cars, is trying to save "car culture" and revive the "culture of driving," which includes the American tradition of Sunday afternoon pleasure drives.
The company is even trying to get young children interested in cars as it expands into leisure and lifestyle businesses — sponsoring auto shows like the recent Greenwich Concours d'Elegance in Connecticut — and prepares to go public this year.
"We're not trying to save the four-hour commute," McKeel Hagerty, CEO of his family's business, tells Axios. "We're trying to save driving — you know, car driving that brings you pleasure and puts a smile on your face."
While 90% of Hagerty's business is insurance, it's expanding its other operations. The company trains youngsters to judge autos, teaches adults to drive manual transmissions, and runs a fantasy car rental service called DriveShare.
"I have this rule, like, the velvet ropes have to come down," Hagerty says. "You know, there's no car too valuable to let a kid sit in to honk the horn."
2. Your new apartment is someone's old office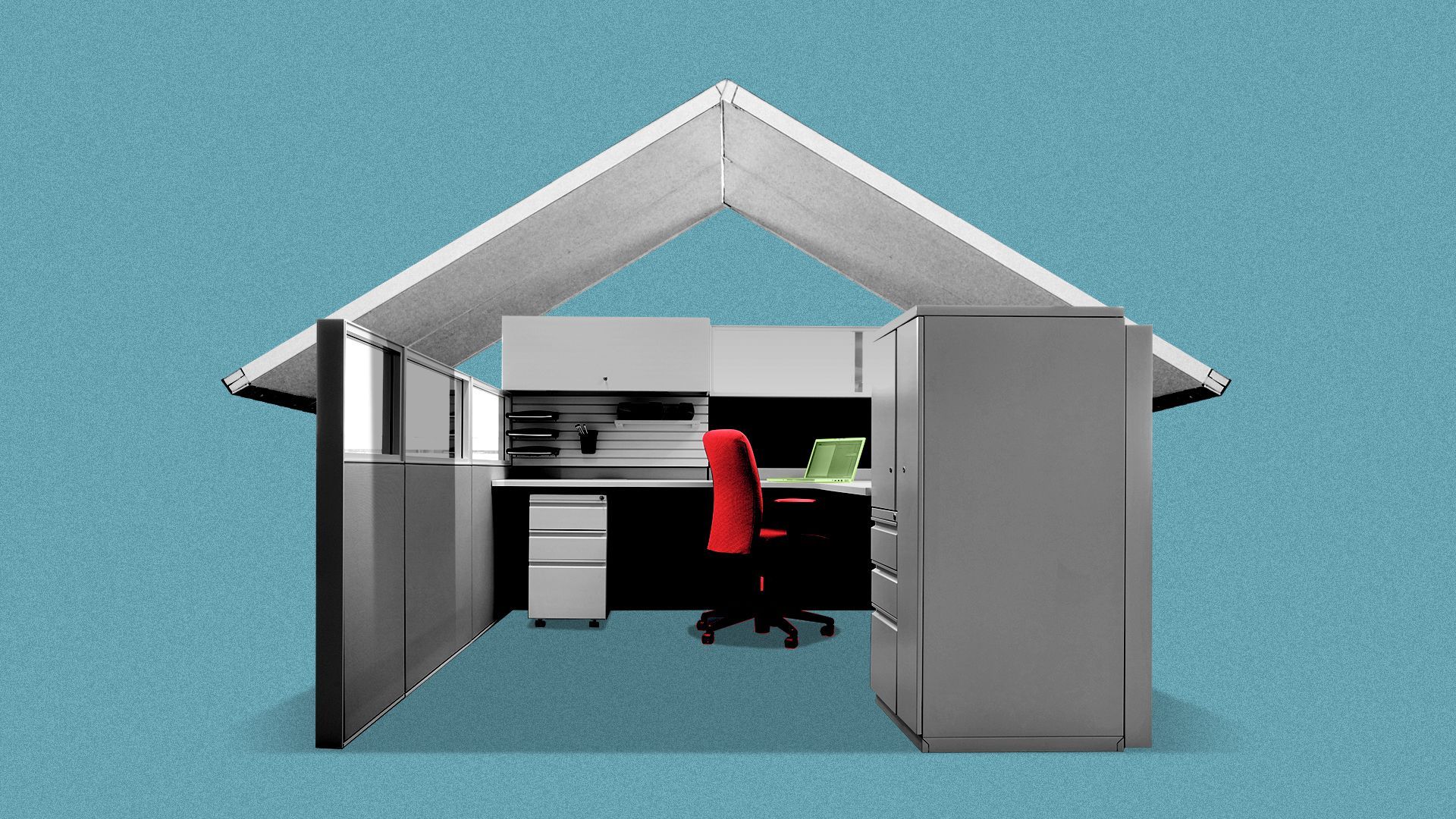 Abandoned office buildings all over the U.S. are being converted into apartments, Erica Pandey writes.
By the numbers: In 2020 and 2021, a whopping 13,250 apartments across the country have come from repurposed offices, per a new report from RentCafe.
Former office buildings make up 41% of the apartment conversion market, which also includes old hotels, warehouses, factories and even hospitals.
It's a sign of the times. As the pandemic normalizes remote work, lots of firms — from startups to multinational corporations — are downsizing their offices. A logical new purpose for these centrally located buildings with big parking lots is housing.
Repurposing old buildings as apartments is easier on developers, too. The renovations can cost up to 40% less than a new construction, per RentCafe's report.
The top cities for converted apartments are Philly (1,863 new units in 2020 and 2021), D.C. (1,762 units) and Cleveland (1,179 units).
What to watch: It's not just old office buildings that are undergoing a retrofit. As we've reported, ugly parking garages all over America are getting new lives as apartments, commercial kitchens and elevated public parks.
3. Surfacing: Virtual reality gyms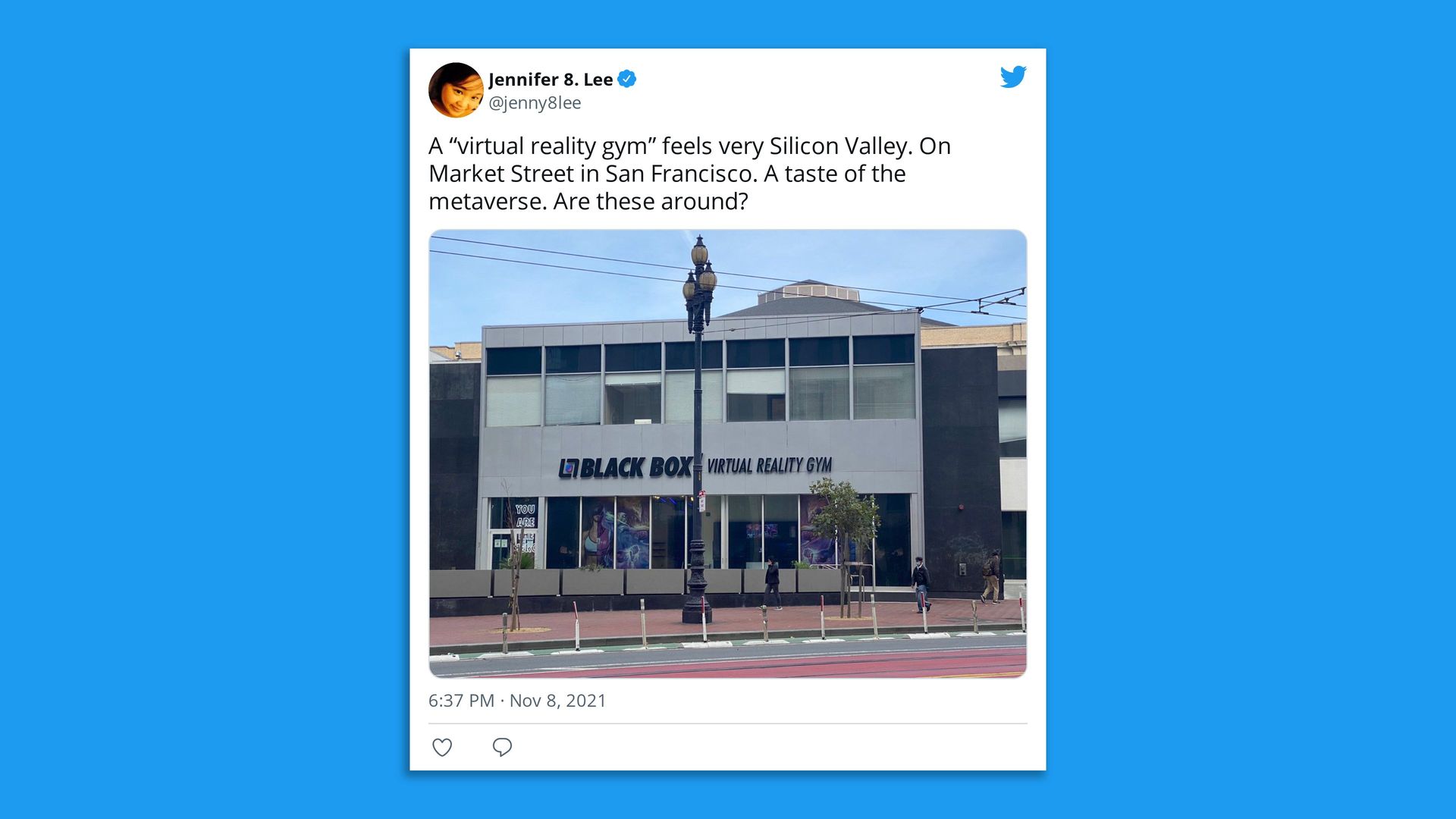 Has anyone reading this newsletter tried a virtual reality workout or gym?
For the uninitiated: This involves wearing a VR headset and using equipment that allows you to perform a customized workout program, like a high-intensity interval training class.
We'd love to hear your experiences or thoughts: [email protected].
4. Startup offers psychedelic-assisted mental health therapies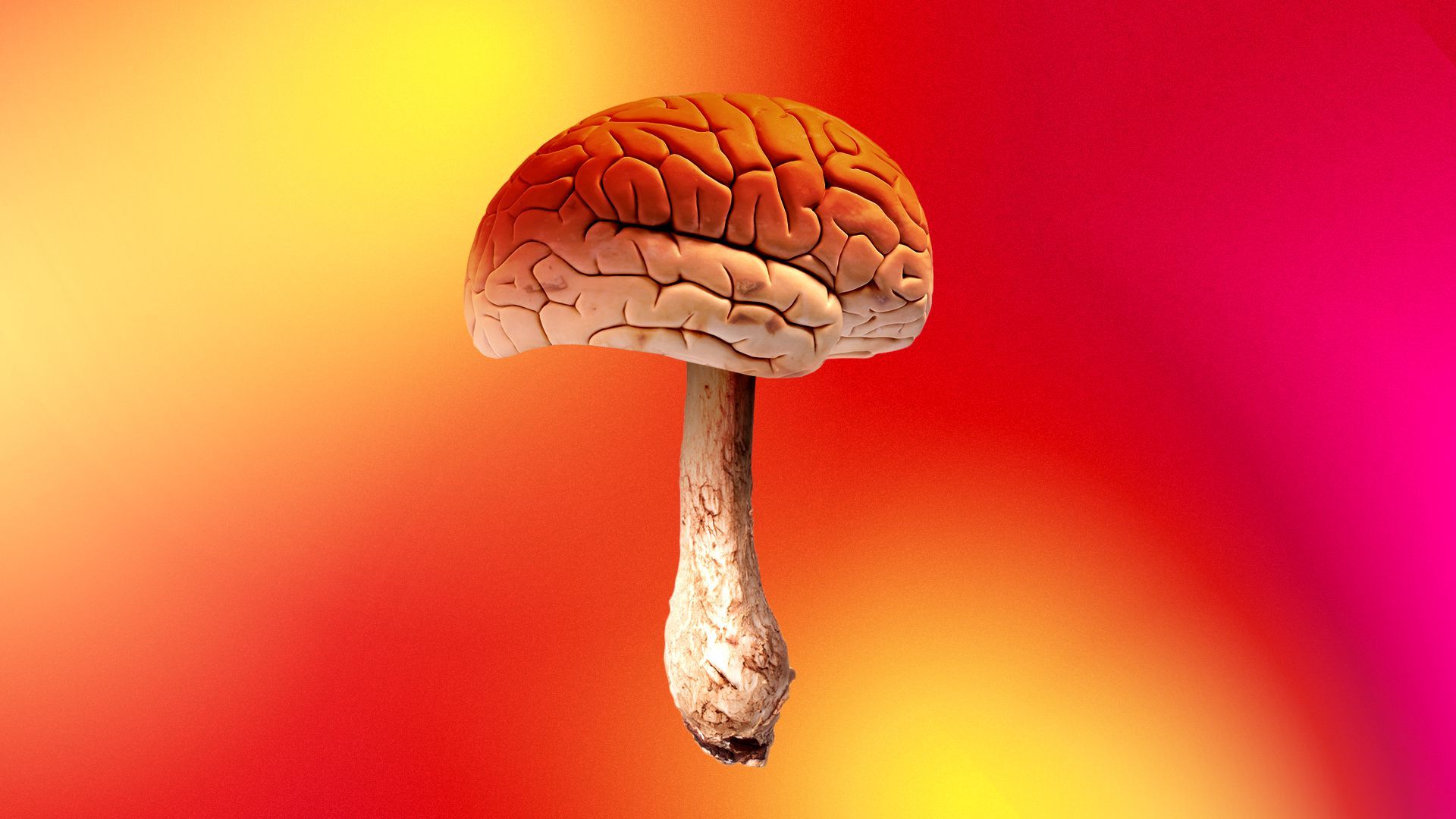 A telemedicine startup called NUE Life Health is aiming to become an early leader in combining digital mental health therapy with psychedelics and other mind-altering compounds, Axios' Bryan Walsh writes.
Why it matters: Drugs like ketamine and psilocybin — the active ingredient in magic mushrooms — are showing real promise in addressing mental health disorders.
Access to the compounds, and the specialized therapy and monitoring they require, is a challenge, but using telemedicine could help.
What's happening: Wonderland: Miami, the largest psychedelic medicine conference in the U.S., started yesterday, featuring speakers ranging from elite psychopharmacologists to the former boxing champion Mike Tyson, who has reinvented himself as an adviser on mental health.
The size of the conference is a sign that psychedelic medicine — long consigned to the edges of science — is entering the mainstream, says Juan Pablo Cappello, the CEO and co-founder of NUE Life Health.
"There are hugely promising technologies right now combining psychedelic therapy and AI and wearables," he says.
How it works: NUE Life Health — which is currently operating in California, Texas and Florida, with plans for a nationwide expansion — is developing a digital platform that will offer at-home ketamine therapy.
Wearable devices can help provide what Cappello calls "digital phenotyping" on data points like sleep and activity, which will produce patient information that goes beyond the self-reporting generally used to guide mental health therapy.
"We can assess patients when they start, to get their baseline statistics," says Zayn Hassan, NUE Life Health's chief medical officer and co-founder. "And then after each experience, we can assess them again, see how well they're doing," and tweak further treatment as needed.
NUE Life Health says it can bring down the price of ketamine treatment, which can currently cost several hundred dollars per infusion.
5. Reader photo of the day: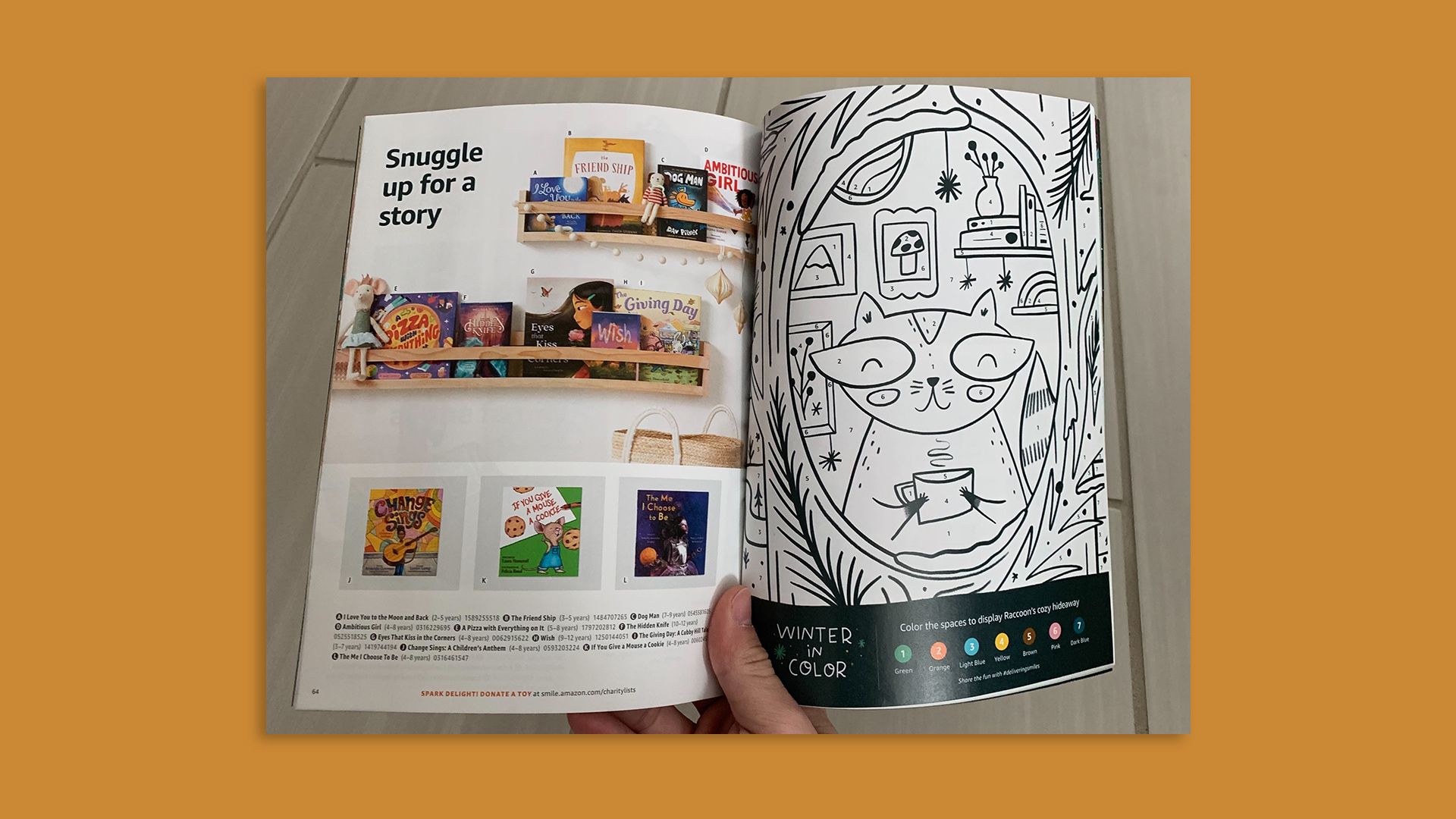 What's Next: The persistence of (print) holiday catalogs
Aidan Coronel from Las Vegas writes: "What's old is new again: Amazon has sent me a Christmas catalog for toys, and it's quite substantial."
"What's new about this catalog is that they have a guide on the bottom in how to find these toys on Amazon. The guide says to open the scanner on the app (or use a QR code to do so) and scan the picture of the toy in the catalog."
Was this email forwarded to you? Get your daily dose of What's Next magic by signing up for our free newsletter here.