Axios What's Next
June 30, 2021
Today we're delivering fresh content on the hiring wars, thermal cameras in cars and the healthiest community in the U.S.
"What was next" trivia: On this day in 1908, what hit the Siberian region of Tunguska? 💥
Credit to reader Jason Tatum for being the first to note that the Supreme Court outlawed the death penalty in 1972, before overruling itself in 1976.
Send your answer, along with tips and feedback, to

[email protected]

.
Today's Smart Brevity count: 1,229 words ... 4.5 minutes.
1 big thing: Why almost no one is looking hard for a job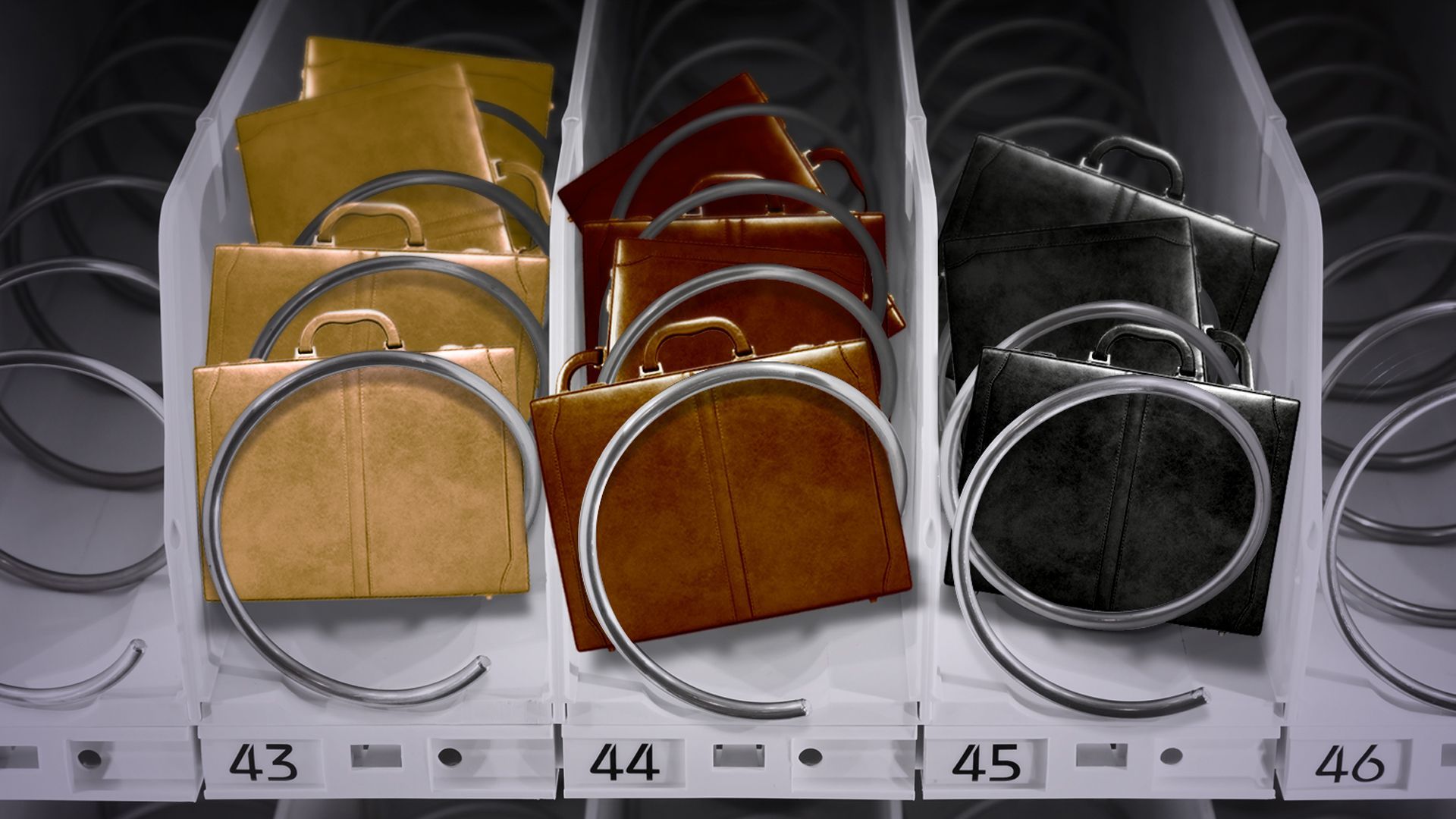 There are about 10 million unemployed Americans and over 9 million open positions. But most people aren't urgently seeking out those jobs, writes Erica Pandey.
The big picture: For the first time in decades, workers have the power to be choosy.
By the numbers: Only about 10% of job seekers say they're actively and urgently looking for work, according to a new survey from the jobs site Indeed. About 45% are passively looking for jobs, and another 30% plan to get a job in the near future but aren't looking at all right now.
What's happening: Most of the open jobs are in low-wage areas like the service industry, which is bouncing back after the pandemic but struggling to find workers.
"These jobs are not very good," says Steven Fazzari, an economist at the Washington University in St. Louis. "They're hard work, and they don't pay very well."
For low-wage workers, pandemic-era expanded unemployment insurance has provided some temporary bargaining power. "They might be able to pay the rent or pay the utility bill without that job" and hold out for better pay or benefits, Fazzari says.
Workers without college degrees — who also tend to be in lower-wage jobs — cite several reasons for delaying the job search, per Indeed's data.
About 25% are afraid of COVID-19 and are waiting for vaccination rates to climb before getting back to work.
More than 20% say they have a financial cushion and about 12% say their unemployment insurance is the reason they're not rushing to get a job.
Child care is also a major factor, with 20% of lower-wage workers saying they are staying home due to care responsibilities.
What to watch: This moment could be a turning point for American workers. Demand for labor is sky high, so lots of firms are offering wage hikes or perks to attract talent.
But, but, but: While workers may have the edge right now, "I'm really skeptical that what we're seeing is the start of a new era of worker bargaining power," Indeed economist Nick Bunker says.
The wage hikes and benefits could start to disappear in the fall as many of the circumstances allowing or pushing lower-wage workers to delay the job hunt change, he says.
Many states have already ended pandemic unemployment insurance, and others will do so in the coming months. An analysis from the firm Jefferies reported by the Wall Street Journal shows that states that have ended UI have lower rates of unemployment than those that have not.
And schools are set to fully reopen, sending parents back to work.
2. Fast food hiring frenzy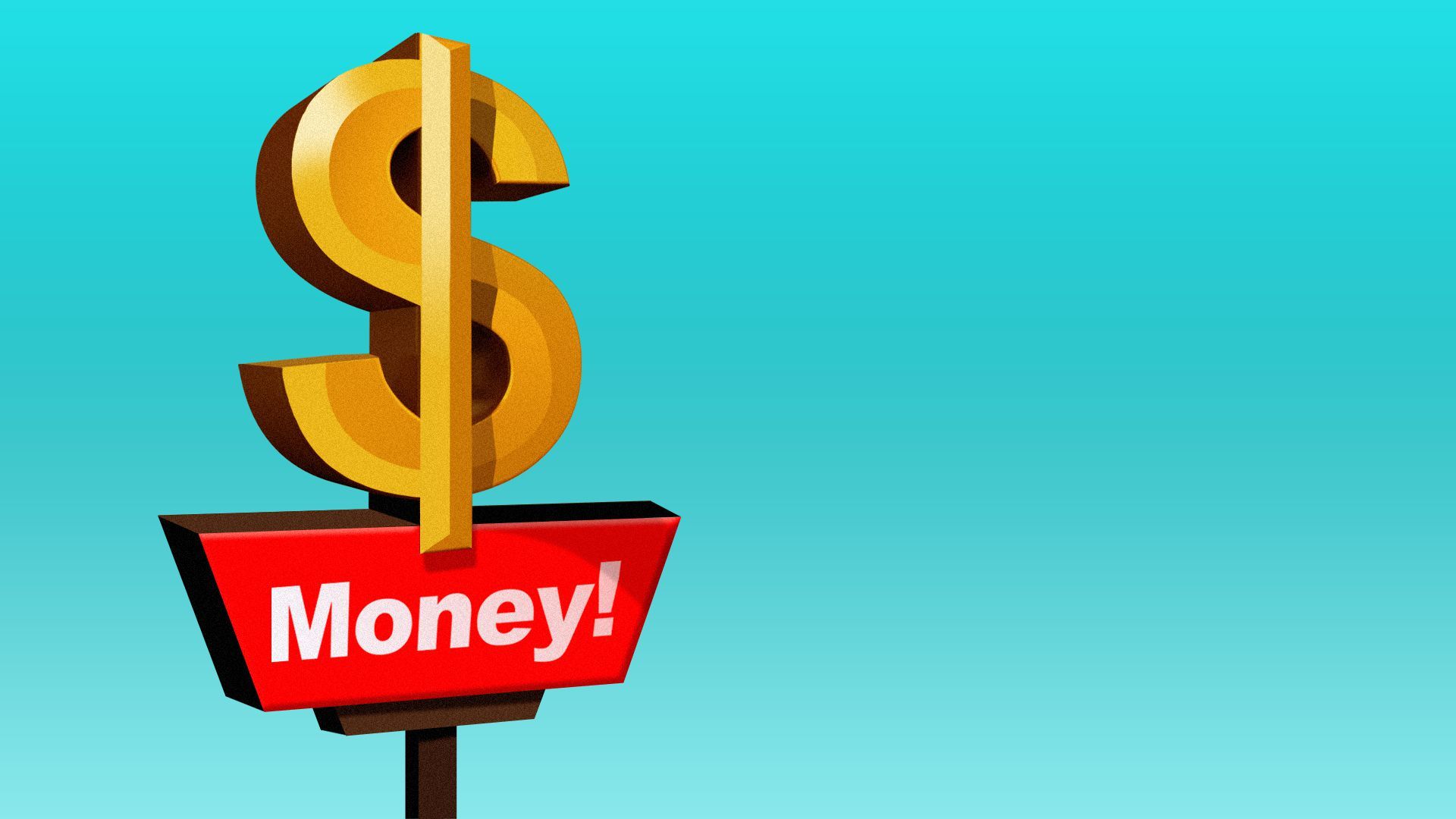 Frantically trying to hire workers, fast food franchises are offering aggressive incentives to get candidates in the door, writes Kim Hart.
Why it matters: Hourly workers are hard to find, just as people are starting to venture out to restaurants and take vacations that should include lots of fast food stops.
What's happening: Chains are offering higher salaries and other perks to compete for food service workers.
Between the lines: The desperation for workers means many food-service outfits have to loosen their hiring standards and put up with sub-par workers longer to keep the lights on.
What to watch: The high demand for food service workers this summer could provide a variety of opportunities for first-time workers who want to gain some experience — such as teenagers, who are having their best employment summer since 1953, per CBS.
3. Thermal cameras are the new eyes for automated driving features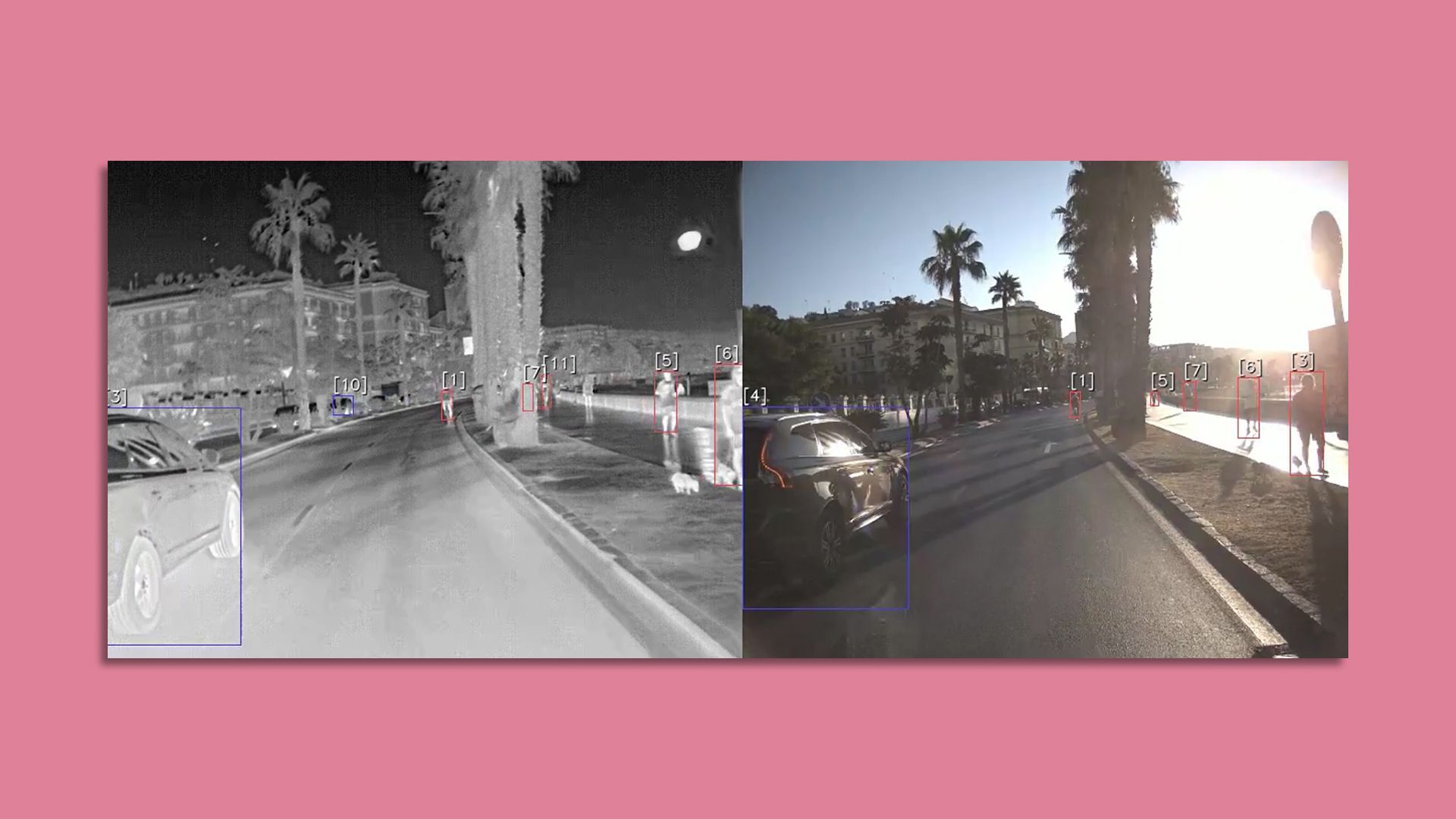 New imaging technology is designed to address a dangerous blind spot when it comes to today's assisted driving systems: they don't always brake for pedestrians, writes Joann Muller.
Why it matters: About 6,200 pedestrians are killed by motor vehicles every year, according to federal statistics, accounting for 16% of all traffic deaths. Three-fourths of those deaths occur at night.
Millions of cars are equipped with automatic emergency braking systems, which are supposed to detect and avoid pedestrians. But they are often "ineffective" at night, AAA testing found.
These systems are powered by radar and visible cameras, which have trouble seeing in low light, glaring sun or bad weather.
Adding thermal sensors could greatly improve pedestrian safety in these situations, as recent tests performed by VSI Labs, a technical adviser to self-driving car developers, found.
What's happening: Oregon-based Teledyne FLIR Systems, a maker of thermal-imaging and night-vision technology for the military and others, has developed a new type of sensor that can simultaneously detect both light and heat.
In a recent demo, I saw how well the so-called "thermal camera" picked up vulnerable road users like a woman crossing the street carrying a child's slide or smokers taking a break in the shadows of a parking garage.
The "blended thermal/visible technology" can also help detect humans and animals for forthcoming augmented reality systems in cars, FLIR's John Eggert told me.
4. The high cost of building in America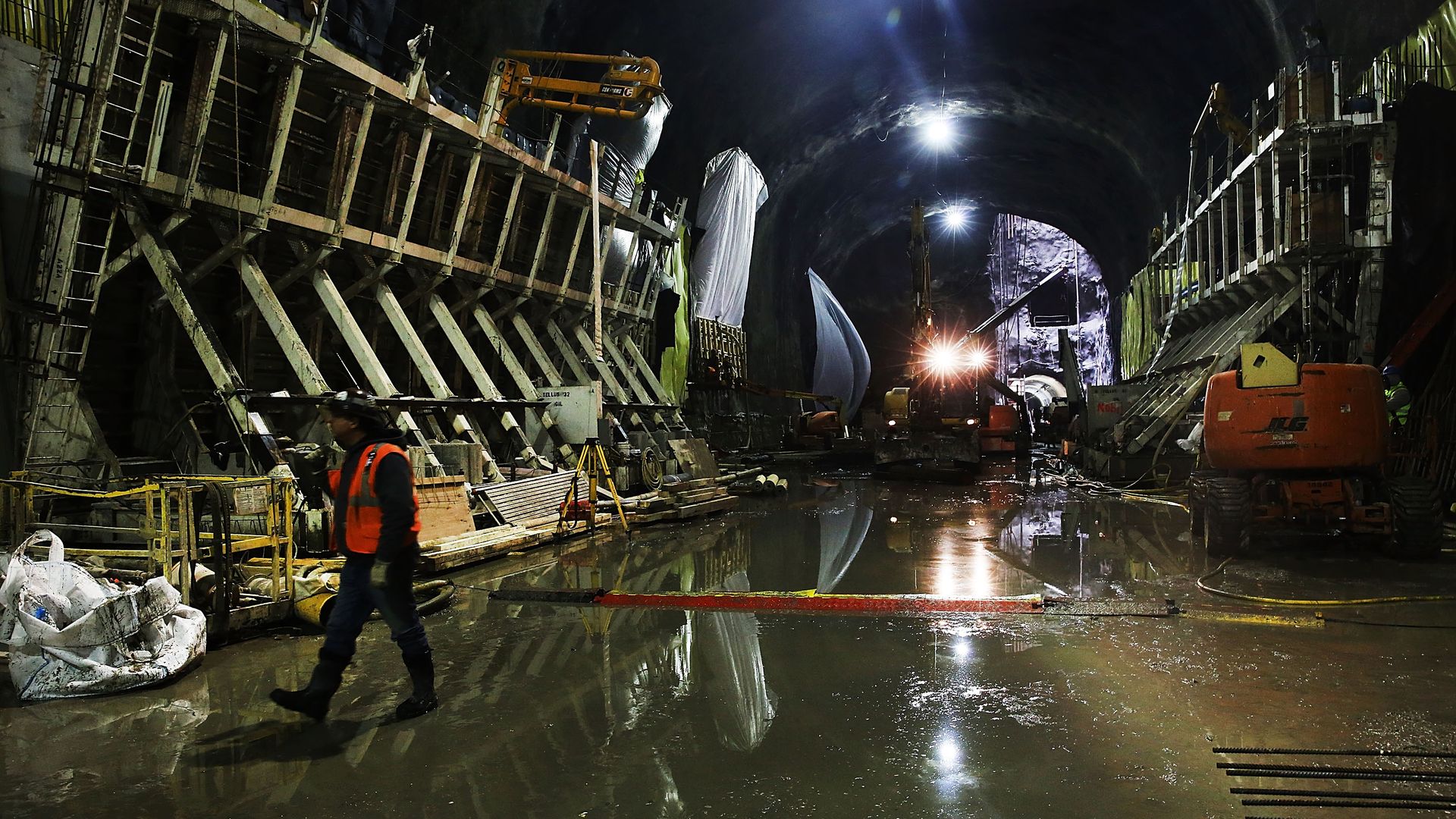 The U.S. is the sixth most expensive country in the world to build rapid-rail transit infrastructure, according to a new investigation by Vox, writes Bryan Walsh.
The big picture: With the U.S. potentially poised to spend hundreds of billions on much-needed infrastructure upgrades, reducing the persistently high costs of construction is key to getting more transport bang for the buck.
By the numbers: Research by the New York Federal Reserve and Brown University found that the cost of constructing a new lane mile of interstate increased five-fold between 1984 and 2008.
Between the lines: While researchers haven't settled on a single cause, Vox writer Jerusalem Demsas chiefly blames the sheer number of political chokepoints on development in the U.S.
"Once the construction process starts, people complain," NYU transit researcher Eric Goldwyn told Vox. "And those complaints lead to lawsuits."
The bottom line: Given the massive economic stakes of improving infrastructure efficiently, the entire piece is well worth reading.
5. 1 health thing: Where the people are fit and atoms are split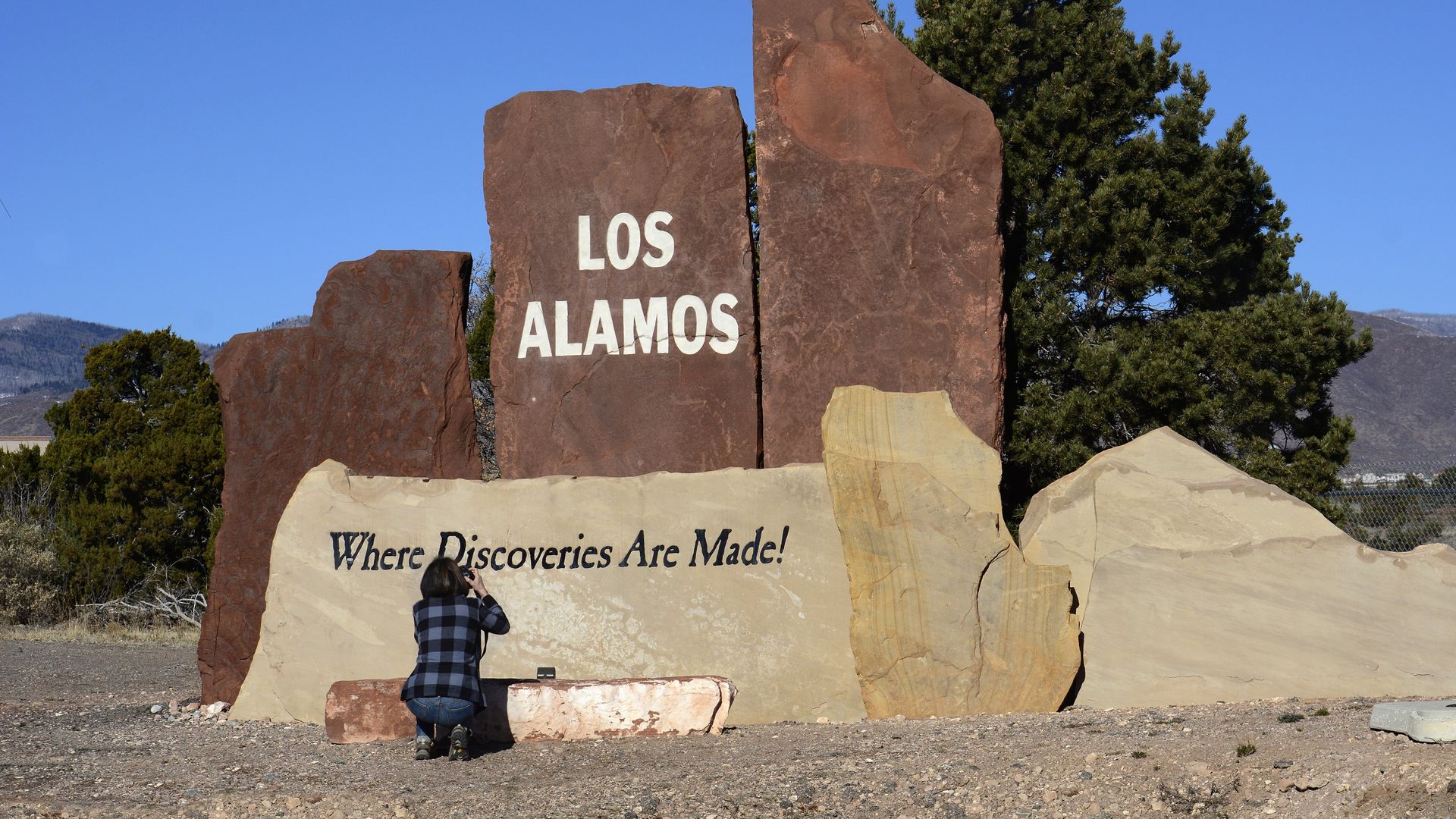 The healthiest community in the U.S. is Los Alamos, New Mexico, according to new rankings by U.S. News and World Report, writes Bryan.
The big picture: Historically, the residents of the birthplace of the nuclear bomb have been better known for their brainpower than their BMI. But in the U.S. today — and especially in the age of COVID-19 — education equals health.
By the numbers: Los Alamos' ranking was boosted by its low prevalence of both obesity and diabetes, as well as low levels of mental illness and alcohol and drug dependency.
But just as important was its wealth — Los Alamos boasts a median household income of more than $121,000, highest in the nation — and its high education level, with approximately three-fourths of county residents possessing an associate degree or higher.
Those high education levels — and the trust in science you'd expect from a community built around Los Alamos National Laboratory — helped it keep COVID-19 cases low and vaccine coverage sky high.