Axios What's Next
September 19, 2023
Super high-resolution satellite imagery is getting more accessible than ever, Alex reports today.
Today's newsletter is 1,206 words ... 4½ minutes.
1 big thing: Satellite-powered adventuring
Popular outdoor navigation company onX has added frequently updated, high-resolution satellite imagery to its apps to help adventurers, hunters, off-roaders and so on better plan their trips, Alex reports.
Why it matters: It's the latest example of a space-based technology originally developed for military use — in this case, highly accurate and current satellite imagery — turning into a consumer product, like GPS before it.
Details: Through a partnership with satellite imaging firm Planet, users of onX's apps — onX Hunt, onX Offroad and onX Backcountry — can access easy-to-read maps with satellite imagery updated every two weeks.
Such imagery can give adventurers a better advance look at the real-world conditions they might encounter on their trip.
OnX is also offering up historical satellite imagery for a given location, enabling users to see useful patterns — for instance, when does a certain mountain pass usually open up in the spring?
How it works: Hikers might use the images to see if a particular hike will get snowy at a certain altitude (better pack the crampons!), while off-roaders can check the mud situation before rolling out (remember those chains!).
And in an ever-changing climate, such imagery can be especially useful when planning trips to areas recently damaged by wildfires or other natural disasters.
What they're saying: "We have a lot of duck hunters, a lot of individuals who want to understand when the ice is off. And the inverse, we have a lot of skiers who are like, 'is my pass covered yet? Because I want to get out there and start hammering that as soon as I possibly can,'" Brian Riordan, onX's senior director of geospatial, tells Axios.
Yes, but: Access to the new feature, called "Recent Imagery," is only available to onX users with an "Elite" subscription, costing about $100/year.
Plus, there's some satellite imagery freely available out there — but what's now accessible via onX is higher resolution, Riordan said.
The big picture: Satellite imagery is emerging as a potentially lucrative consumer business, Axios Space's Miriam Kramer reports.
The latest satellite systems and technology "are giving researchers, governments and companies more insight into what's happening on the planet at any given time — and giving the space industry a more robust business line," Miriam wrote last December.
What's next: Riordan predicts that an ongoing accuracy war between satellite and aerial imagery providers will result in even better consumer-grade imagery.
"At some point you are going to be at one centimeter-level accuracy at a commercial level, within the next five to 10 years. That's going to be absolutely just mind-blowing."
The bottom line: Between frequently updated satellite imagery, space-based emergency communications and good old-fashioned GPS navigation, consumer-grade satellite applications are making outdoors adventuring safer than ever.
2. Drone delivery superfans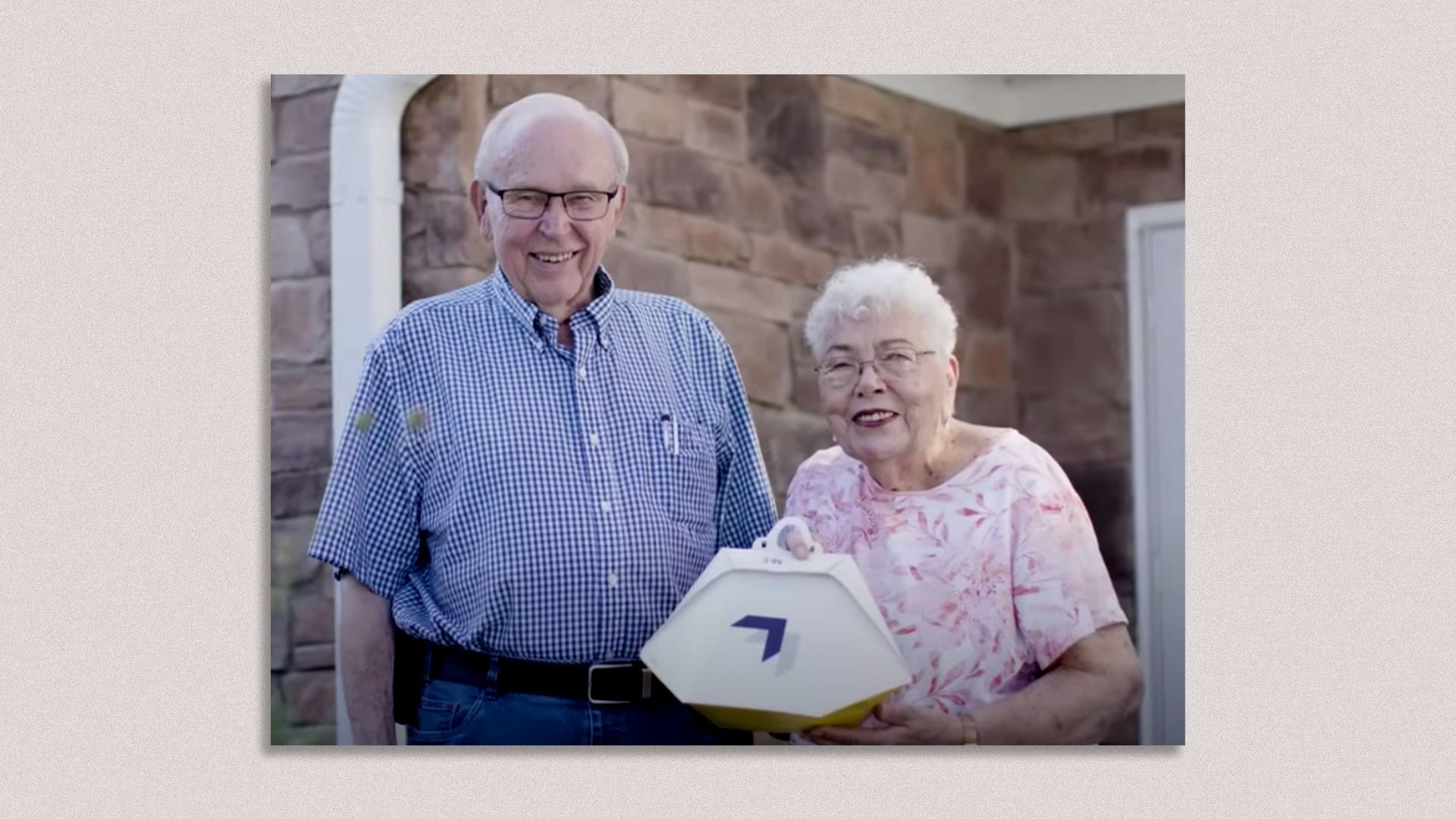 Susie and Paul Sensmeier got their first drone delivery on a whim four years ago. But since then, the retired couple from Virginia has made it part of their daily routine, Joann reports.
Why it matters: Drone delivery, still in its infancy, might represent the future of home delivery for elderly people and people with mobility issues.
What they're saying: As they've aged, the Sensmeiers don't get around as much as they used to. They say drone delivery helped them stay in their home longer than they might otherwise have.
"It seems like some version of drone delivery has got to be the future," Paul, 84, a retired engineer, tells Axios. "Whether what we're seeing right now is the final answer is very debatable. But it's been eye-opening for everyone."
The Sensmeiers live near Virginia Tech University, where Google-owned Wing has been doing drone research.
In 2019, Paul and Susie went to a campus demo of the technology out of curiosity.
"We were one of the few people that weren't running for public office and weren't connected in some way with the drone company or the FAA," said Susie, 83.
"They invited us to sign up and we accepted, and that's how we got started."
Since then, the couple has placed 1,200 orders via Wing's drone delivery service in Christiansburg, Virginia — a likely world record, per the company.
They ordered a lot of everyday items from Walgreens: playing cards, colored pencils, toothbrushes, toothpaste, sunscreen, cold medicine and COVID-19 test kits.
During the pandemic, they also got 93 boxes of Girl Scout cookies delivered by drone — most of which they gave away, Paul says.
Average delivery time: 12 minutes, 14 seconds.
What's next: The Sensmeiers recently moved to an assisted living center and are hoping drones will one day deliver there too.
3. AI mental health screenings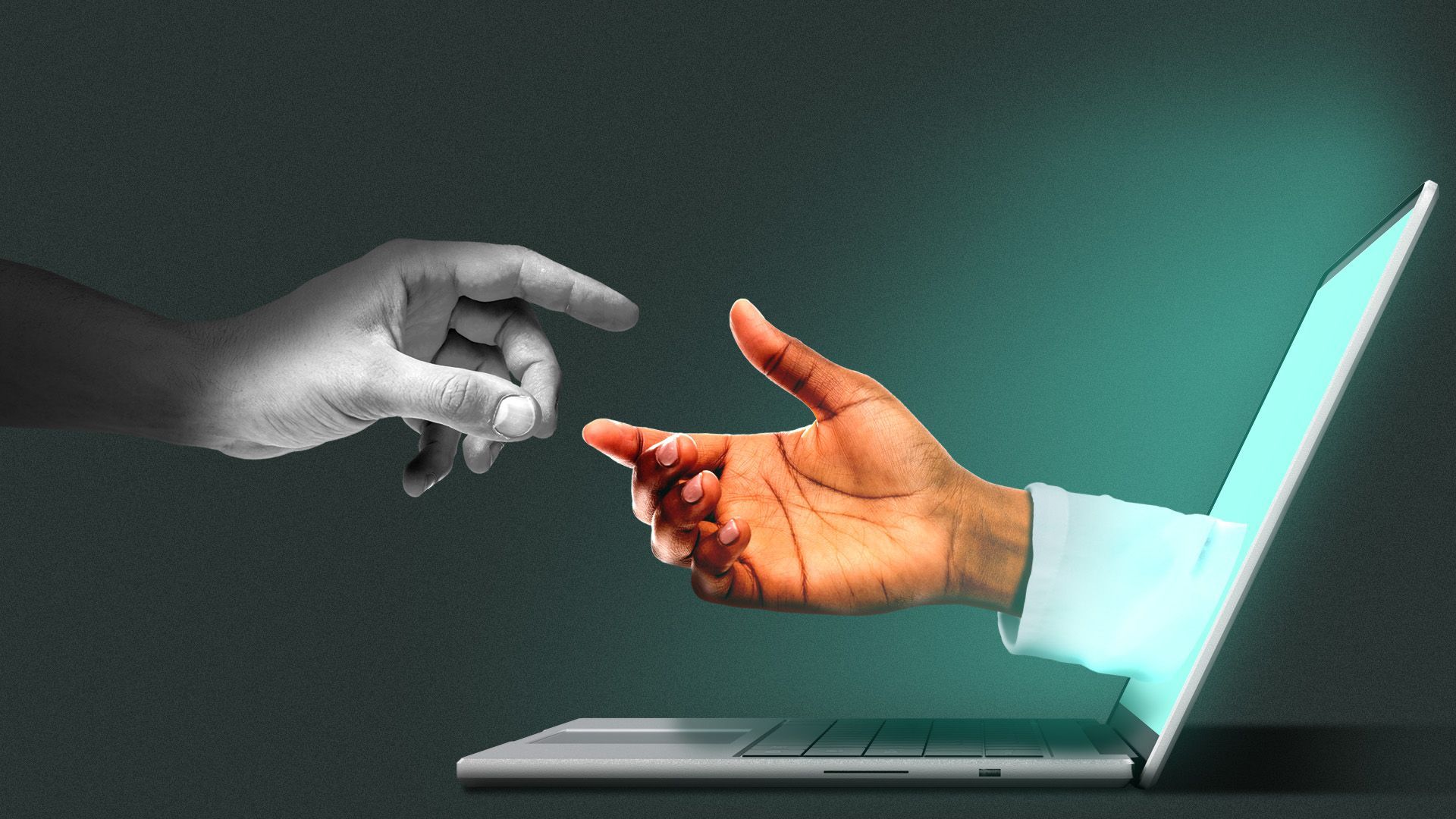 British health officials are deploying AI-powered mental health tools in large-scale clinical settings, Axios AI+'s Ryan Heath reports, while U.S. health insurance companies are testing them out.
Why it matters: AI may be able to help health systems address an overload of patients in need of mental health care.
Driving the news: A diagnostic "e-triage" tool from Limbic, a British AI startup, has screened more than 210,000 patients with a claimed 93% accuracy rate across the eight most common mental health disorders, including depression, anxiety and PTSD, said co-founder Ross Harper, a computational neuroscientist.
American startup Kintsugi uses a different approach: Its AI-powered voice analysis tool looks for signs of clinical depression and anxiety in short clips of a potential patient's speech.
Some clinical call centers, telehealth apps and remote patient monitoring systems have already integrated the tool.
In a recently published case study conducted with a large U.S. insurer, 4 in 5 patients consented to be screened using the tool — far exceeding a pre-study estimate that only 1 in 4 would approve.
Yes, but: Mental health clinicians have often been hesitant to deploy AI and unsure of how to introduce the concept to patients without overwhelming them.
4. Now trending: Playground design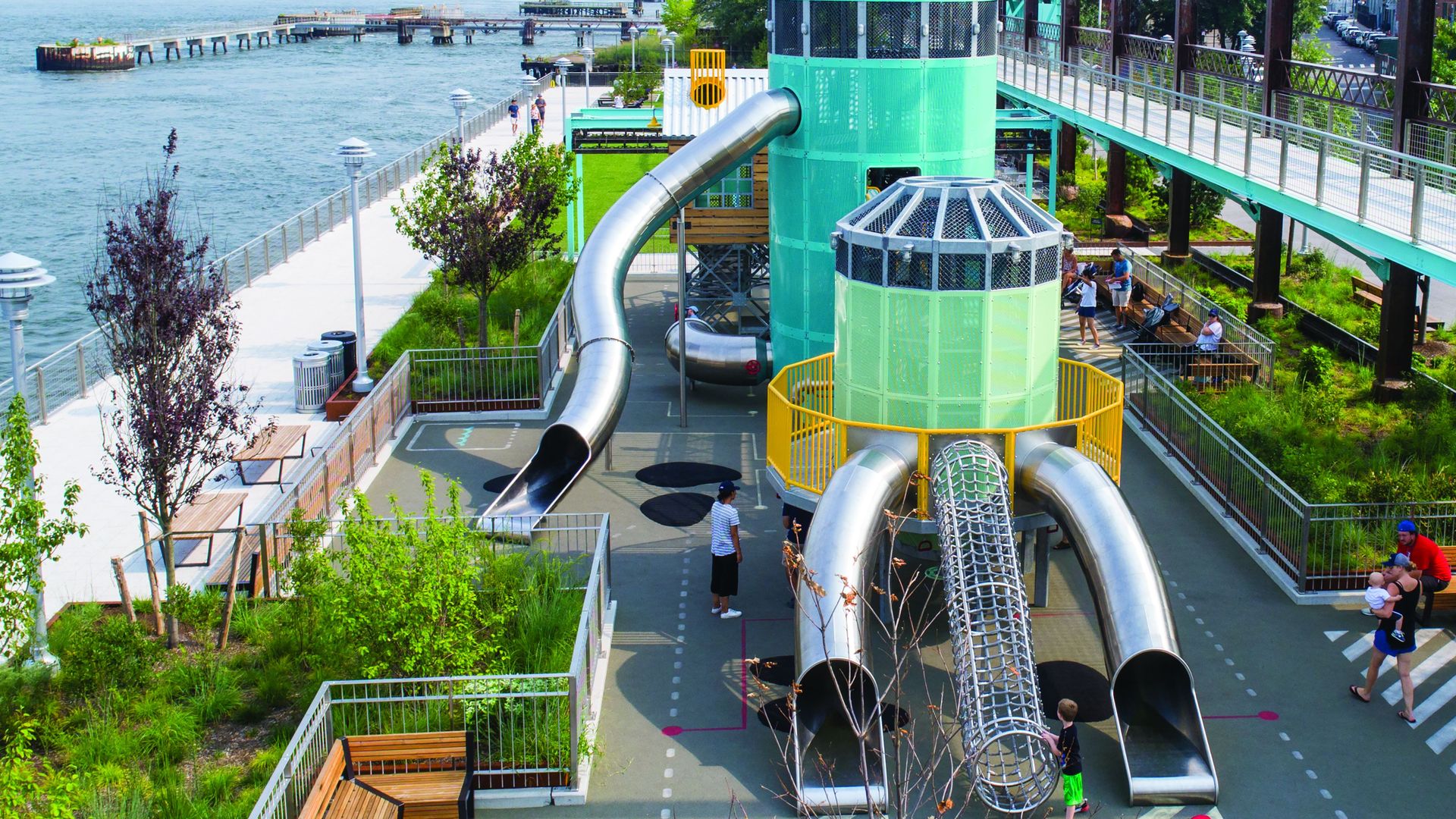 Axios Twin Cities' Nick Halter recently toured the HQ and factory at Landscape Structures, a Minnesota firm that builds "1,500 to 2,000 playgrounds a year for cities, schools and private companies," he writes.
During his visit, he learned about the latest in playground design trends:
Flooring: Rubber flooring is more accessible for people in wheelchairs and gentler on the legs for adults chasing kids around.
But it's more expensive upfront compared with alternatives like wood chips, Landscape Structures creative director Scott Roschi notes — though they carry long-term cleaning and replacement costs.
Plus, rubber shouldn't be mixed with sand because the grains seep into the material and make it less squishy. That means some new playgrounds with rubber floors lack sandboxes.
Height: Landscape and others have made playground towers safer by enclosing them and preventing the possibility of kids falling far down the middle.
A new playground in Brooklyn, seen above, showcases the company's tower designs.
Colors: Roschi said two things draw a kid to a playground: the shape and the color of the equipment.
The older playgrounds tend toward brighter colors, while many newer designs use earthier and natural colors, which appeal to kids 5-12, he said.
Swings: They take up a lot of space, and cities with limited land are nixing them from plans more often lately.
However, studies show that swings keep kids at playgrounds longer.
Big thanks to What's Next copy editor Amy Stern.
Was this email forwarded to you? Get your daily dose of What's Next by signing up here for our free newsletter.