Axios What's Next
September 22, 2023
Flying any time soon? You might have a harder time getting into the airport lounge.
🌍 Axios House is heading to COP28 in Dubai! Are you or someone from your company attending? Register to stay in the know about programming and more. 
Today's newsletter is 1,079 words ... 4 minutes.
1 big thing: Airport lounges go premium
Airport lounges are once again becoming premium products, Alex writes, with higher barriers to entry but amenities more often matching the price of admission.
The big picture: As travel rebounds post-pandemic, airport lounges are getting more popular — leading to crowds they weren't designed to accommodate, and frustration among "elite" travelers not used to sharing those spaces with families headed to Orlando for school break.
What's happening: Airlines' answer to all that crowding? Making it harder to get in.
Delta Air Lines, for example, recently toughened up the rules for accessing its Sky Clubs via credit card perks.
Lower-tier cardholders will no longer get complimentary access, while others will be limited to a certain number of annual passes — unless, in some cases, they spend or fly a particular amount.
Those changes are meant to ensure "that we're taking care of our most premium customers with our most premium assets, one of those being the Sky Club," Dwight James, Delta's senior vice president of customer engagement and loyalty, told CNBC.
Backdrop: Delta's changes come as airlines have been upgrading their lounges — and rolling out super-swanky premium versions — in recent years.
United Airlines' Polaris lounges, for instance, offer luxe comfort, but are accessible pretty much only to those flying internationally in business class.
American Airlines, meanwhile, is opening what NerdWallet calls a "dreamy" new Admirals Club at Washington-National Airport.
At the same time, credit card companies are looking to make a splash with fancy lounges at airports nationwide.
Capital One recently unveiled a classy new lounge at Dulles International Airport, with sit-down meals, grab-and-go snacks, family rooms and more.
"We felt like when we designed our lounges, we could figure out a way to serve customers who have longer to spend who maybe want a more fulsome, celebratory kind of indulgent experience — or customers who just have 20 minutes and want to swing through and grab something on their way," said Jenn Scheurich, head of Capital One travel, lounge and retail experience.
Chase and American Express have also been opening up premium branded lounges, with more to come — salvos in a broader "perk war" among credit card issuers.
Yes, but: While some offer day passes, credit card lounges are typically intended for higher-tier cardholders, who often pay considerable fees for perk-laden cards.
Chase's Sapphire Lounges, for instance, are meant for those with Sapphire Reserve cards ($550 annual fee).
Reality check: Many people — especially frequent travelers — still have credit card-, loyalty- or membership-based lounge access, points out David Slotnick, senior aviation business reporter at travel site The Points Guy.
Compared to past decades, more people are now able to "get a credit card and pay $500 a year for it and get a lot of benefits," including lounge access, Slotnick tells Axios.
"As opposed to before, when you really had to be a frequent traveler and buy a membership specifically for that lounge."
The bottom line: The best airport spaces are once again becoming more exclusive, catering to big spenders and frequent flyers, and pushing out the economy crowd.
2. No quick end for auto strike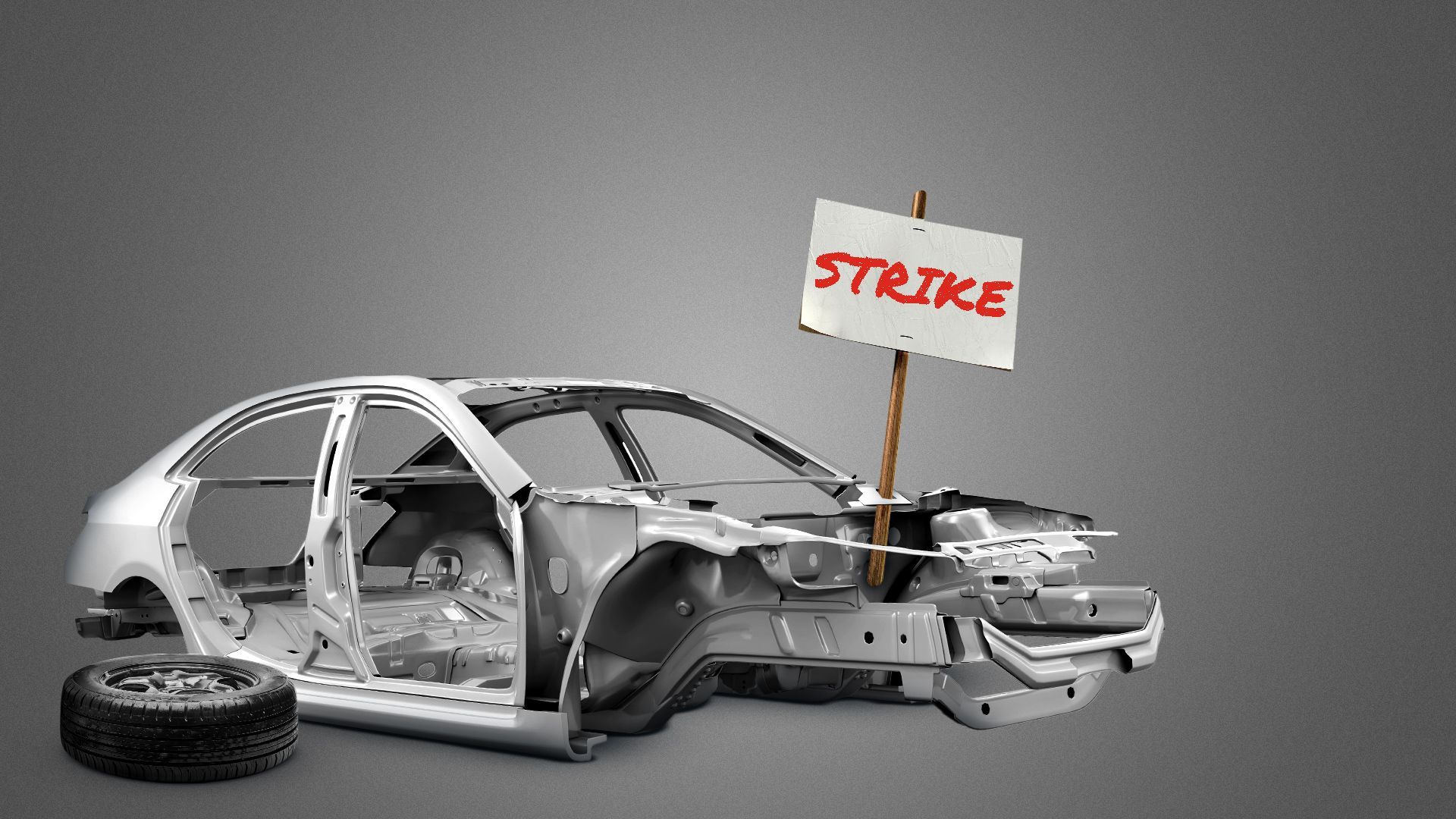 With both sides dug in, a prolonged autoworkers' strike is looking more likely, Joann writes.
The question is how much pain United Auto Workers president Shawn Fain is prepared to exert on automakers — and how swiftly.
Driving the news: The union could order targeted walkouts at engine or transmission plants, slowly starving other factories of critical components.
Or it could go straight for the jugular by striking at factories that build the companies' most profitable vehicles: full-size pickups.
Between the lines: A slow, strategic squeeze appears most likely.
"We're going to keep hitting the company where we need to, when we need to, and we're not going to keep waiting around forever while they drag this out," Fain said in a video message to members.
The other side: GM president Mark Reuss, in an op-ed in the Detroit Free Press, clapped back at what he called UAW "misinformation," saying the company has made a record offer and that "often in these situations, the clouds of rhetoric can obscure reality."
The intrigue: So far, the UAW has been holding back its most powerful weapon: shutting down pickup truck production.
Striking at these plants would have a devastating impact on the companies.
Large pickups built in North America are the "profit engines" for Detroit automakers, accounting for "substantially all of the profit at GM and Ford," per a recent Barclays note.
What to watch: Even if the UAW decides to target pickup production, it may not strike at all truck-building facilities at once, keeping a few chips for further leverage down the road.
"We want to keep the companies guessing," Fain told members.
Go deeper: UAW official says union creating "chaos" for automakers, leaked messages show
3. 📈 Japanese car imports surge
Japanese automobile exports to the U.S. have surged this year, Axios Markets' Matt Phillips reports.
They were 50% higher, in yen terms, this past August compared with the same month last year — and they posted the seventh straight month of double-digit gains.
Driving the news: The yen has weakened by nearly 13% against the dollar this year, as the Fed's interest rate hikes helped strengthen the greenback.
A weaker yen makes Japanese exports cheaper for American buyers.
The intrigue: With workers now striking at American carmakers, Japanese auto giants may see an opportunity to make deeper inroads in the U.S.
4. Southwest CEO: We're ready for winter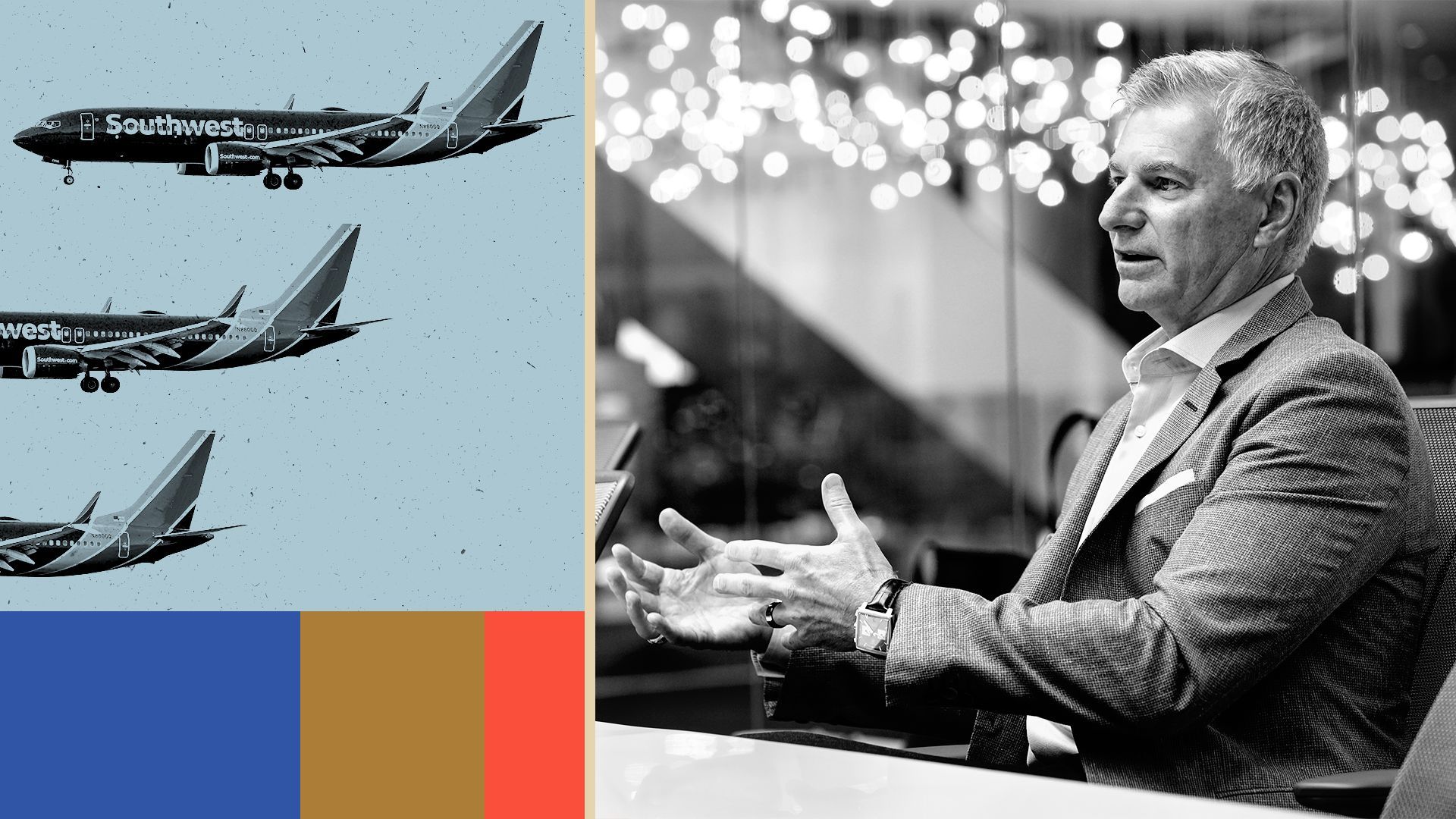 Southwest Airlines CEO Robert Jordan says he's confident the meltdown last December that paralyzed the company's operations won't happen again this winter, Axios Denver's John Frank reports.
Driving the news: During an interview at Denver International Airport, Jordan outlined a host of improvements — from software and operations upgrades to additional hiring and equipment — Southwest has made to prepare for winter.
As he spoke, thousands of employees were being trained on how to de-ice airplanes and jetways.
The company also added four new de-icing stations at Denver, and increased the number of de-icing trucks by 60% to improve capacity.
The software shifts include better airport-specific weather forecasts and optimization to reroute planes and flight crews.
What he's saying: The meltdown "was very painful for our customers, our employees, but it's made us a better company," Jordan told Axios.
"I feel really good about the winter," he added.
Yes, but: Southwest's customers have returned and its brand image is back to pre-disruption levels because "we had a lot of goodwill in the bank," Jordan said.
"Now that can't happen again."
Big thanks to What's Next copy editor Amy Stern.
Was this email forwarded to you? Get your daily dose of What's Next by signing up here for our free newsletter.