Axios What's Next
November 17, 2022
Amazon's warehouse robots are getting smarter, Joann reports today, thanks to new advancements in AI and computer vision.
Today's newsletter is 1,112 words ... 4 minutes.
1 big thing: Amazon's smarter, more productive robots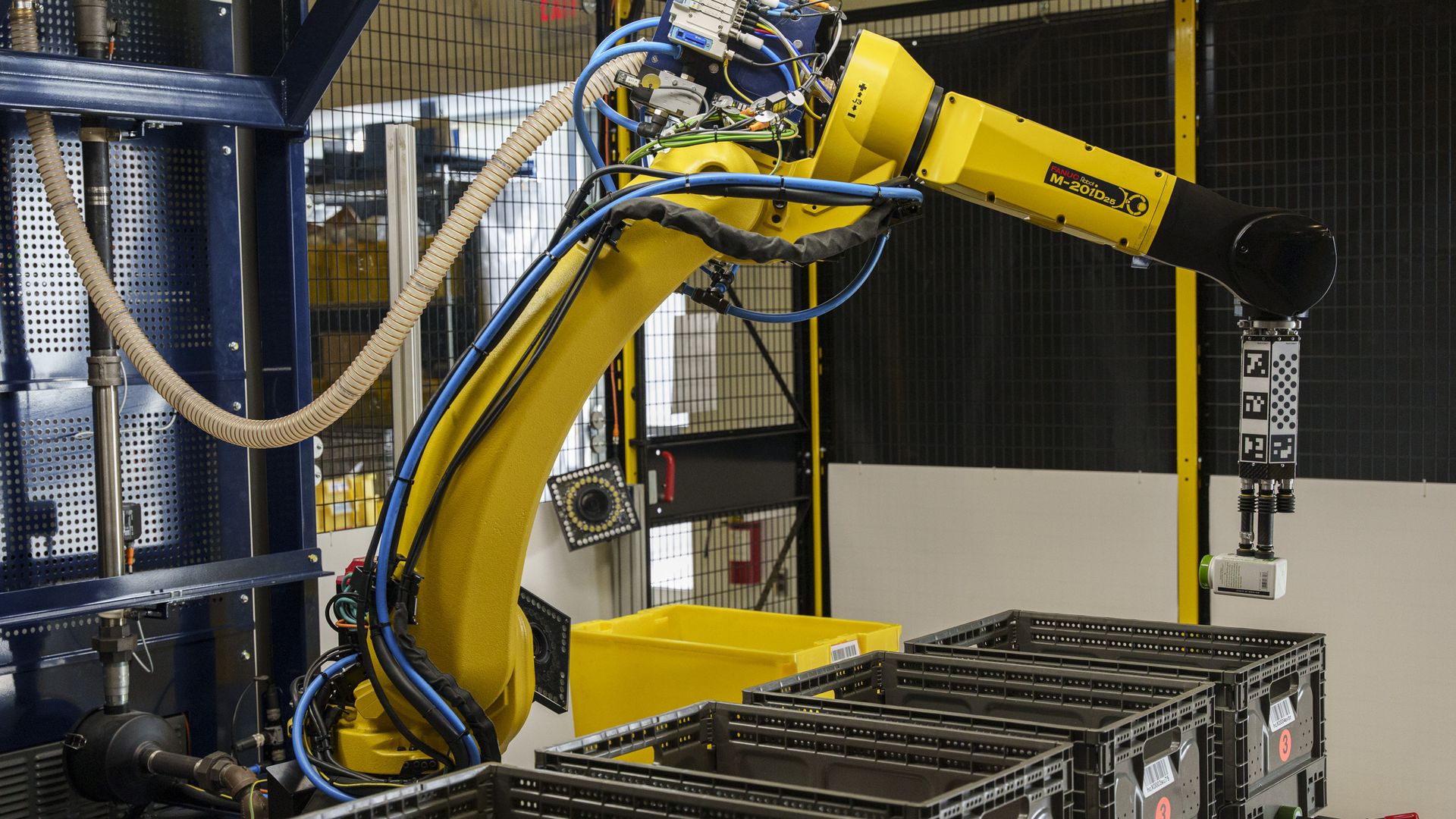 Amazon is rolling out an army of robots that could soon select and sort the majority of the 13 million packages it delivers every day, Joann Muller reports.
Why it matters: Increased demand for expedited delivery has the e-commerce giant looking for ways to shave package processing time.
Speed pressure has triggered union organizing efforts at some Amazon warehouses by workers who complain of injuries and exhaustion.
Turnover rates are so high the company fears it could run out of people to hire in its U.S. warehouses by 2024, according to Recode, citing internal Amazon research.
Amazon's answer? More automation.
The company wants to give the most demanding, repetitive tasks to robots, then retrain employees for higher-skilled jobs such as mechatronics or software engineering.
Instead of replacing workers, robots can make their lives easier, argues Tye Brady, chief technologist at Amazon Robotics. "If you reframe your relationship with machines, you can gain incredible productivity."
Where it stands: About 75% of Amazon orders are currently touched by some form of automation during their journey from warehouse to doorstep.
Still, human hands are mostly responsible for selecting and packaging individual items.
The latest: Amazon recently introduced a slew of new robots that will help it move, select, and ship merchandise.
"Proteus," for example, looks like an oversized Roomba. The autonomous bot can slide under an 800-pound cart stuffed with packages and move it across a warehouse.
Robot arms like "Robin" and "Cardinal" can sort and redirect packages to various warehouse locations before they're shipped out.
Amazon's newest robot, Sparrow, represents a huge leap forward in automation, the company says.
Unlike Amazon's other robots — which can sort just a few dozen sizes and types of packages — Sparrow can recognize, select, and handle millions of individual products using computer vision and artificial intelligence.
How it works: The company showed off Sparrow's capabilities during a recent demonstration at an Amazon robotics facility outside Boston, where it can manufacture up to 330,000 robots a year.
I watched as Sparrow's robot arm dove into a bin full of random merchandise and plucked out specific items using a "hand" made of small suction cups.
It could identify and select merchandise buried below other items, adjusting its grip to handle different objects before depositing them in the appropriate sorting bin.
Amazon says Sparrow can identify about 65% of the company's product inventory and can tell if an item is damaged and discard it. It gets better as it learns.
What we're watching: The impact on human workers' jobs.
Amazon says it has created more than 1 million new robot-related jobs and 700 new job categories, including hardware and software engineers, as well as maintenance, technician, and operational positions.
Some 1,400 participants in a company-paid Mechatronics and Robotics Apprenticeship have seen a 40% pay increase, the company said.
And Amazon is still hiring in its warehouses, despite layoffs among its white-collar workforce.
Yes, but: Not every warehouse worker can be easily "upskilled."
2. Wheelchair travel, simplified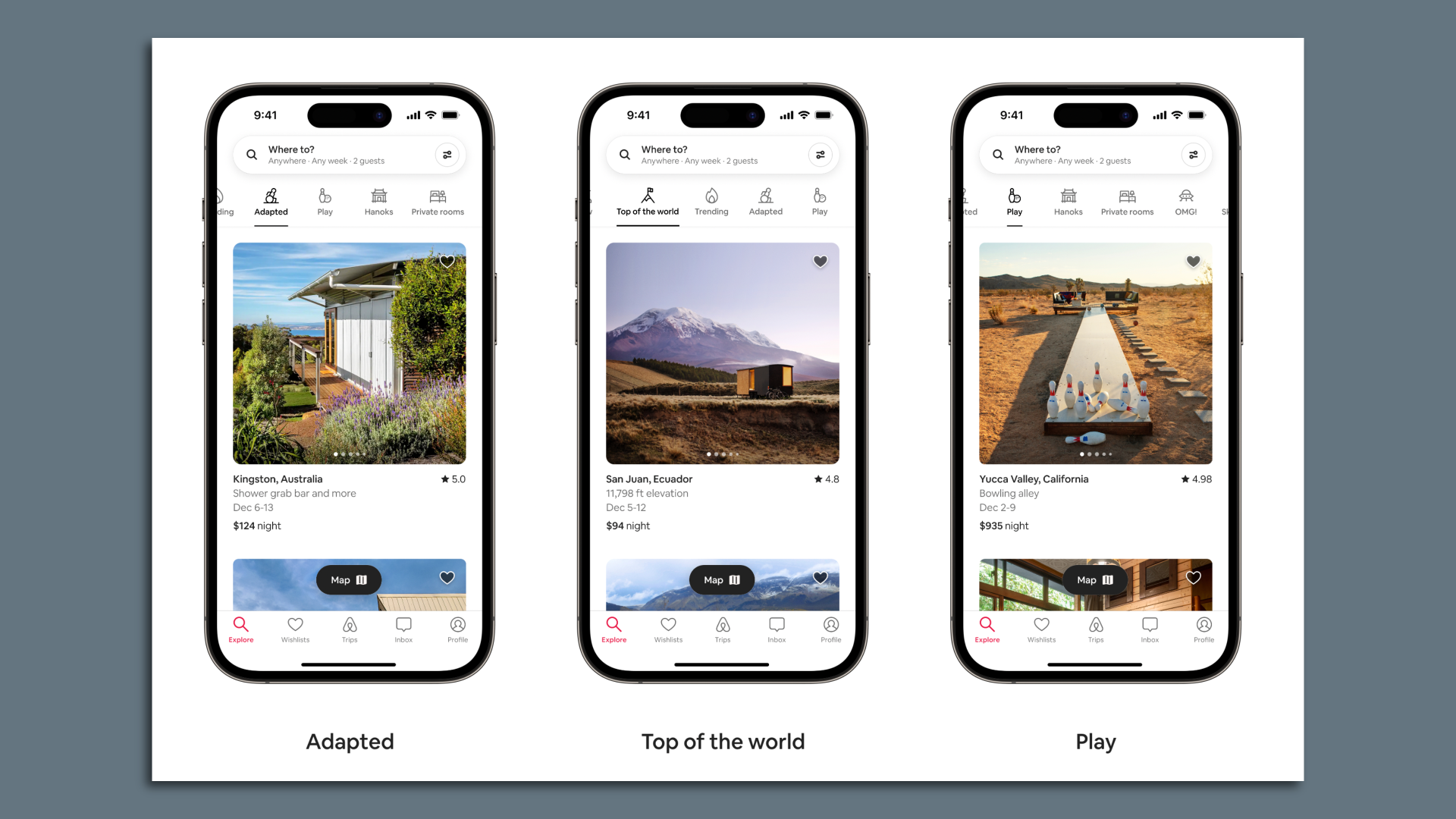 Airbnb is making it easier for wheelchair users to find accessible vacation homes on the platform, Alex Fitzpatrick reports.
"Adapted," which shows listings with features like step-free access, is one of six new search categories the company added Wednesday as part of its Winter 2022 release.
Why it matters: Travel is often overly difficult for wheelchair users and others with reduced mobility — a few stairs can mean the difference between an enjoyable vacation and a ruined trip.
Driving the news: Airbnb hosts who consider their properties wheelchair-friendly can apply to be included in the "Adapted" category.
Airbnb then vets each property, in part by working with 3D scanning company Matterport to produce photos, measurements, and diagrams of each space, some of which are added to listing pages.
Users tapping into the Adapted category can see relevant homes across the world, or zoom in on specific regions.
What they're saying: "It's exciting to show that there are these hosts out there," says Suzanne Edwards, Airbnb's accessibility standards lead and a wheelchair user. "And it's so people don't have to close their minds. They can think big and they can travel to all sorts of places."
Of note: Some of Airbnb's other new categories include "Top of the World" (homes at 10,000 feet) and "Play" (those with basketball courts, game rooms, and so on).
3. The Musk ultimatum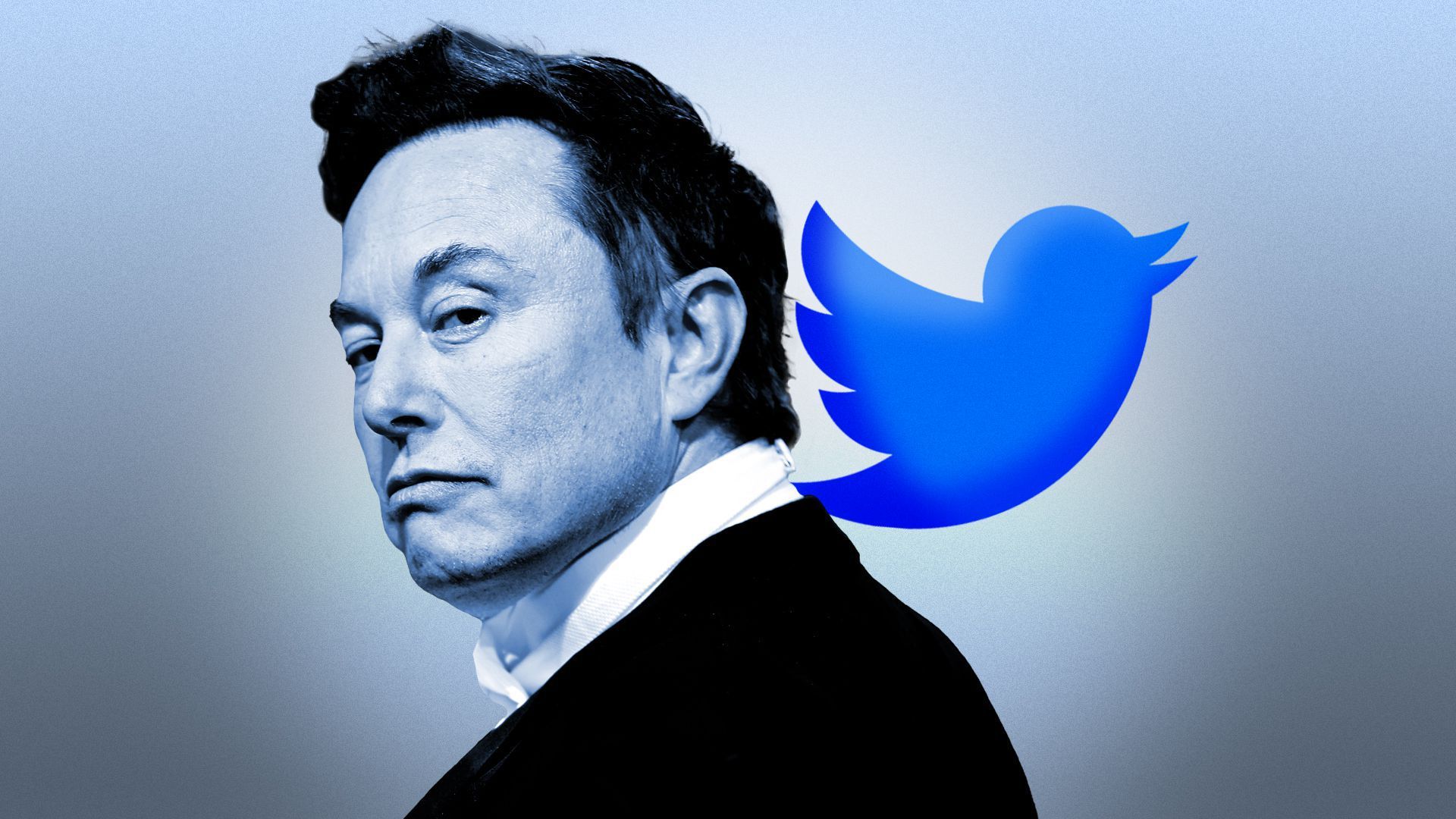 Elon Musk has told Twitter employees to either embrace the new "extremely hardcore" work environment or leave, according to a memo obtained by CNN and others, Axios' Herb Scribner reports.
Why it matters: The memo comes as Musk has clashed with Twitter employees both behind the scenes and online.
And it's another controversial move in the dramatic saga that's been unfolding since Musk announced his takeover bid.
What he's saying: "Going forward, to build a breakthrough Twitter 2.0 and succeed in an increasingly competitive world, we will need to be extremely hardcore," Musk wrote in the memo. "This will mean working long hours at high intensity. Only exceptional performance will constitute a passing grade."
"If you are sure that you want to be part of the new Twitter, please click yes on the link below," he said, referencing an online form.
Any employees who do not click the link will receive three months' severance.
4. 📸 Back to the moon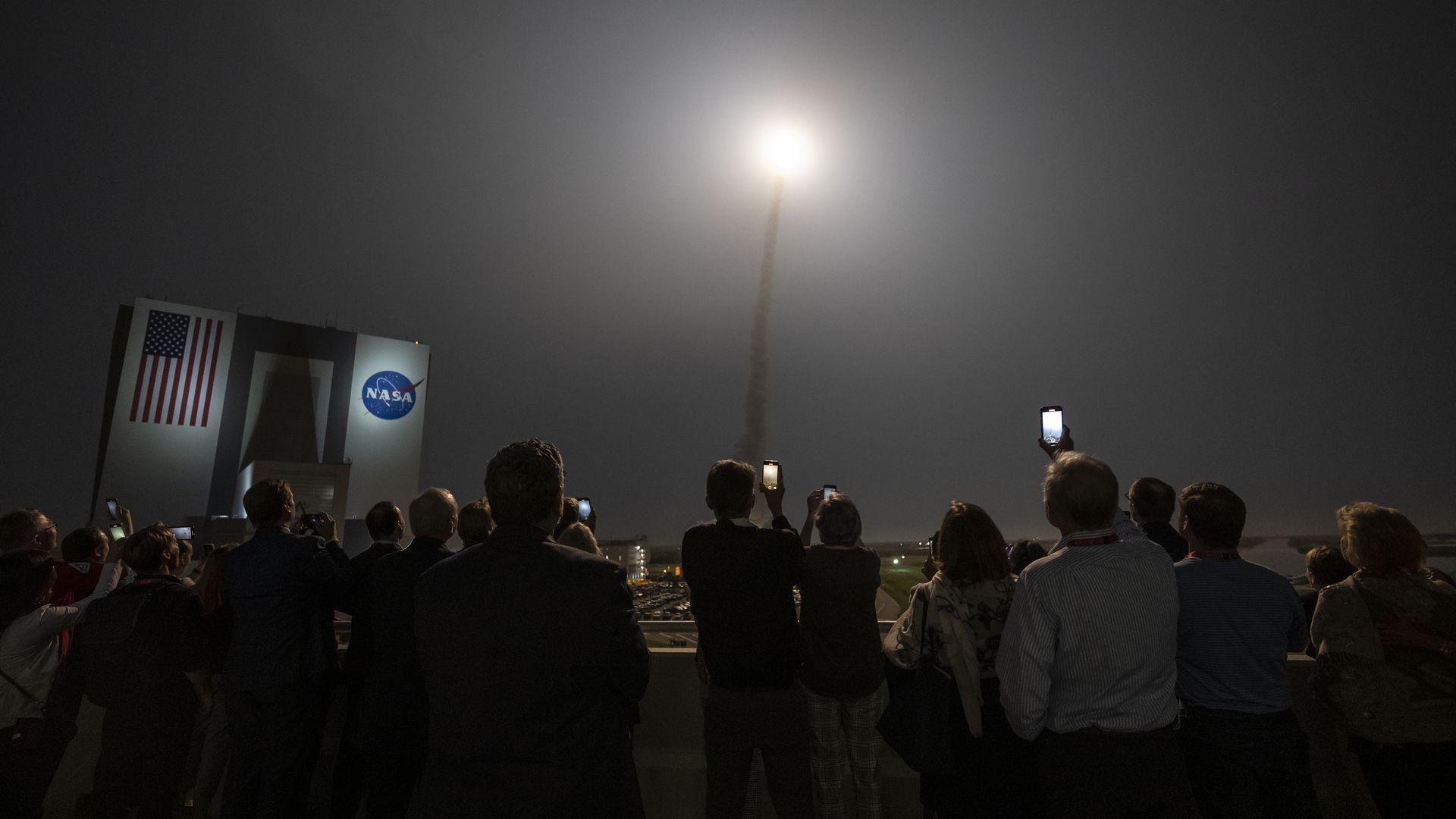 NASA's Artemis 1 mission launched in the wee hours Wednesday after several delays due to mechanical and weather issues.
It's the first flight of NASA's new moon rocket, the Space Launch System (SLS), and its Orion crew capsule.
This first flight is uncrewed, but NASA plans to use SLS and Orion to return astronauts to the lunar surface in the next few years.
Yes, but: The spacesuits and lunar lander NASA plans to use for the Artemis program are still works in progress, Axios' Miriam Kramer reports.
5. One fun thing: Snowplow lessons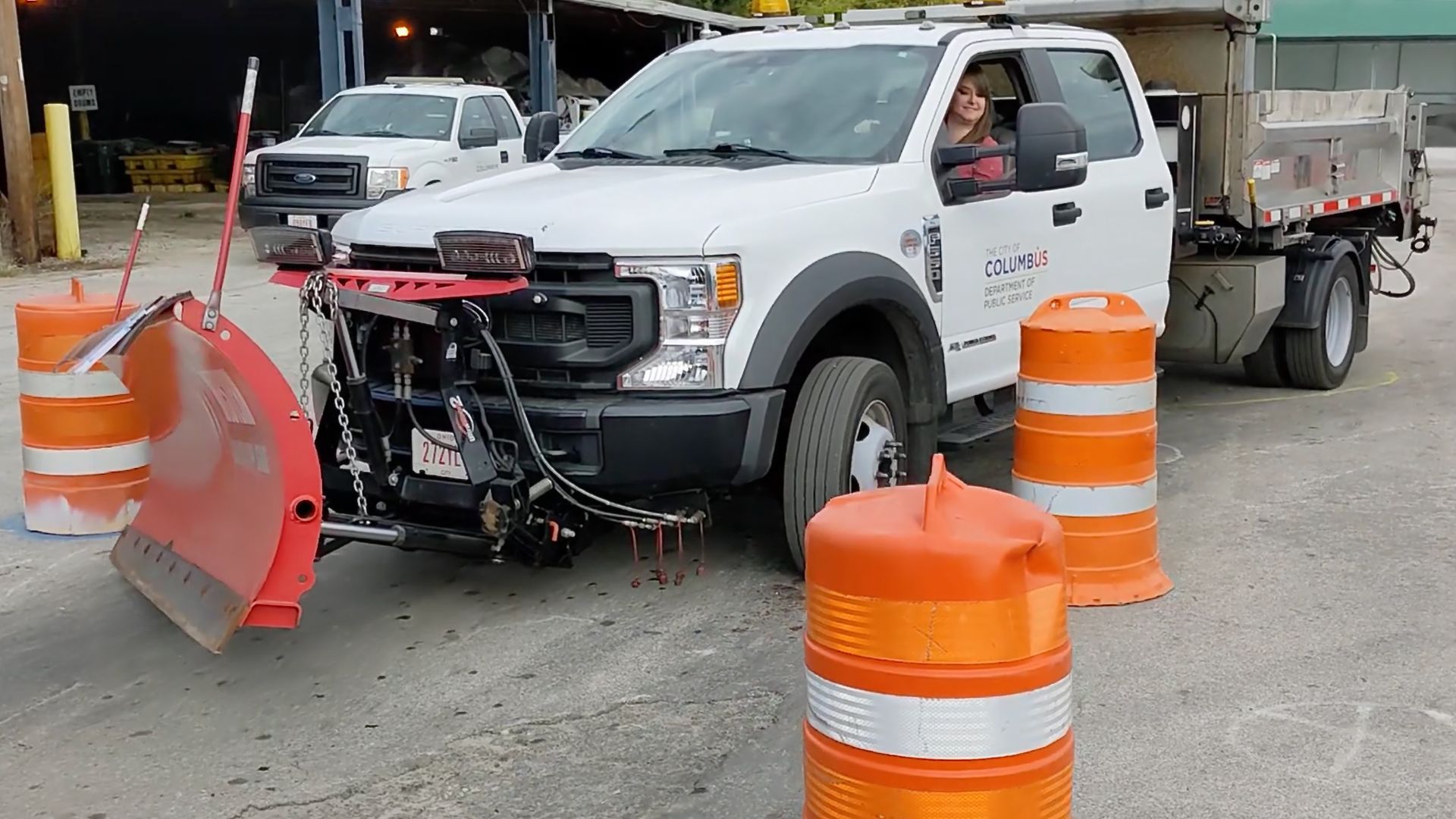 Axios Columbus' Alissa Widman Neese recently got to drive an obstacle course used to train the city's snowplow drivers, called "Snow Warriors."
"Luckily, they didn't check my driving record, or they may have reconsidered," she writes.
Alissa says she "passed the test — albeit barely — thanks to guidance from my passenger seat coach, Snow Warrior Lacey."
How it works: Drivers carefully maneuver a Ford F-550 while controlling a plow with a joystick. "My years of video game experience didn't help much, unfortunately."
For most obstacles, the goal is to earn points by getting just close enough to touch targets, plowing the full width of the hypothetical street.
Bump a border barrel and you lose points. Those represent objects such as parked vehicles and mailboxes.
The bottom line: It's a lot harder than it looks. "I caused … some light property damage."
Big thanks to copy editor Patricia Guadalupe.
Was this email forwarded to you? Get your daily dose of What's Next by signing up here for our free newsletter.