Axios What's Next
September 22, 2021
We have eye-popping figures for you today on the growth of charter schools as parents seek out in-person learning, as Erica Pandey reports.
Separately: Today's What's Next photo contest winner is Meg Murray, who faces a conundrum familiar to many of us. Check out her shot, at bottom.
🎉 Invitation: Join Axios' Mike Allen and Ben Geman today at 12:30pm ET for a virtual event on the bold commitments being made to combat climate change. Guests include White House national climate adviser Gina McCarthy and Environmental Defense Fund president Fred Krupp. Register.
Today's Smart Brevity count: 926 words ... 3.5 minutes.
1 big thing: Charter schools boomed during the pandemic
Charter schools picked off hundreds of thousands of public school students across the U.S. during the pandemic, according to a new analysis from the National Alliance for Public Charter Schools, Erica writes.
Why it matters: The pandemic has weakened America's public education system, as Zoom classes, teacher fatigue and student disengagement take their toll. And that hobbled system is shedding students to charter schools, private schools and homeschooling.
Those dynamics are exacerbating inequities in American education, as it's typically wealthier and white students who make the switch.
By the numbers: Charter school enrollment increased by 7.1% in the U.S. between the 2019-20 school year and the 2020-21 school year, per the analysis. That's a jump of about 240,000 students.
During the same period, non-charter public school enrollment dropped 3.3%, which is a whopping 1.5 million students.
In certain states, charter schools have picked up an even greater share of students:
Charter enrollment is up 65% in Alabama and 78% in Oklahoma.
Bigger states that have seen a significant jump include Texas (9%), New York (7%) and Ohio (11%).
What to watch: School funding follows students, says Jon Hale, a professor of education at the University of Illinois. So he says to expect public schools to lose resources and teachers as students continue to flock to other types of schools.
Public schools that waffle over mask policies or delay the return to in-person learning will frustrate even more parents, who'll pull their kids out and choose independent schools or homeschooling.
That's a serious problem for the millions of American students who continue to rely on the public education system.
2. Homebuilders sound shortage alarm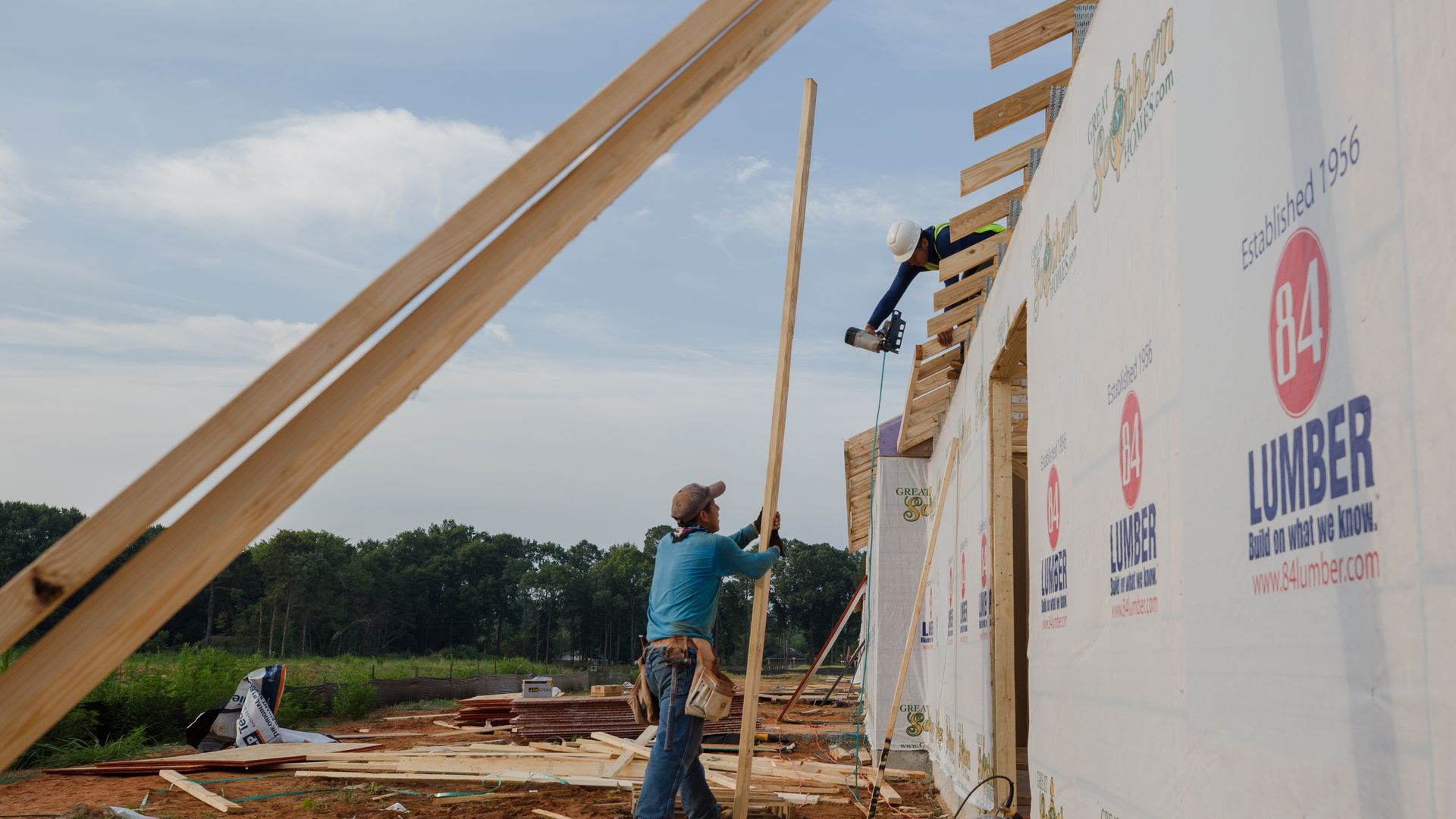 It's the hottest housing market in years, and the companies with the most to gain — homebuilders — can't keep up, Axios' Courtenay Brown writes in Axios Closer.
Why it matters: Demand for homes has outpaced the speed at which those homes are being built, a dynamic that's kept a lid on a boom that's become one defining factor of America's pandemic economy.
What's new: Lennar, one of the country's biggest homebuilders, said material shortages of windows, lumber, flooring and more kept it from delivering as many homes as it could have.
"The supply chain for both land and construction is significantly stressed and that will continue into the fourth quarter and beyond," executive chairman Stuart Miller told analysts today.
The shortage problem is contributing to the swelling backlog of unbuilt homes cleared for construction — which hit a fresh record in August, per data out Tuesday.
The bottom line: Construction activity is jumping (largely due to multifamily homes), but "the housing construction sector remains plagued with supply chain issues," Brean Capital economist Conrad DeQuadros says.
3. The outlook for automakers gets cloudier by the day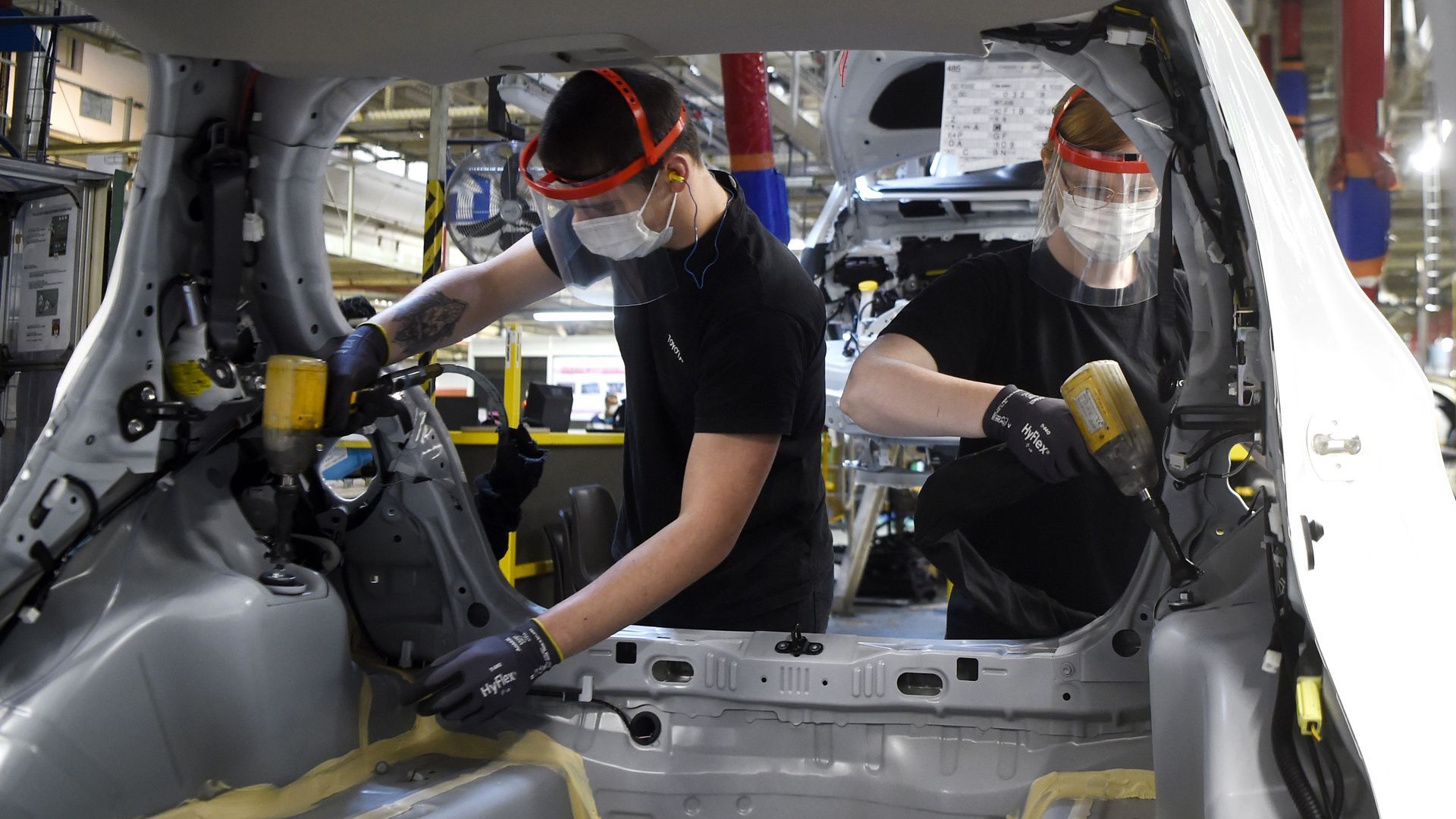 The outlook for global automakers and suppliers continues to worsen amid heightened risk from supply chain disruptions, including the ongoing semiconductor chip shortage, Joann Muller writes.
Driving the news: IHS Markit slashed its forecast for global light-vehicle production in 2021 by 6.2% — about 5 million vehicles. It's cutting even deeper — 9.3% or about 8.45 million vehicles — for 2022.
It's unusual for IHS Markit to whack its forecast by so much, but the compounding effects of the chip shortage, including COVID-19 restrictions in Southeast Asia where packaging and testing occurs, warrants the pessimistic outlook, the company said in a release.
About 4 million units of production have already been lost through the first half of 2021, and another 3.1 million or more units could be lost in the third quarter, per IHS Markit.
The chances of making that up by the end of the year are becoming less likely.
Of note: Toyota cut its September production plans by 40% and said it will reduce its targets for October too.
"This is symptomatic of the ongoing volatility in the sector and the continued lack of visibility beyond the very short term," said Mark Fulthorpe, executive director for global light vehicle forecasting at IHS Markit.
What to watch: There could be a silver lining, however.
RBC Capital Markets auto analyst Joseph Spak said the lower outlook could be "a clearing event" for the industry, enabling carmakers to better match supply to demand in the future.
4. Culinary notes from all over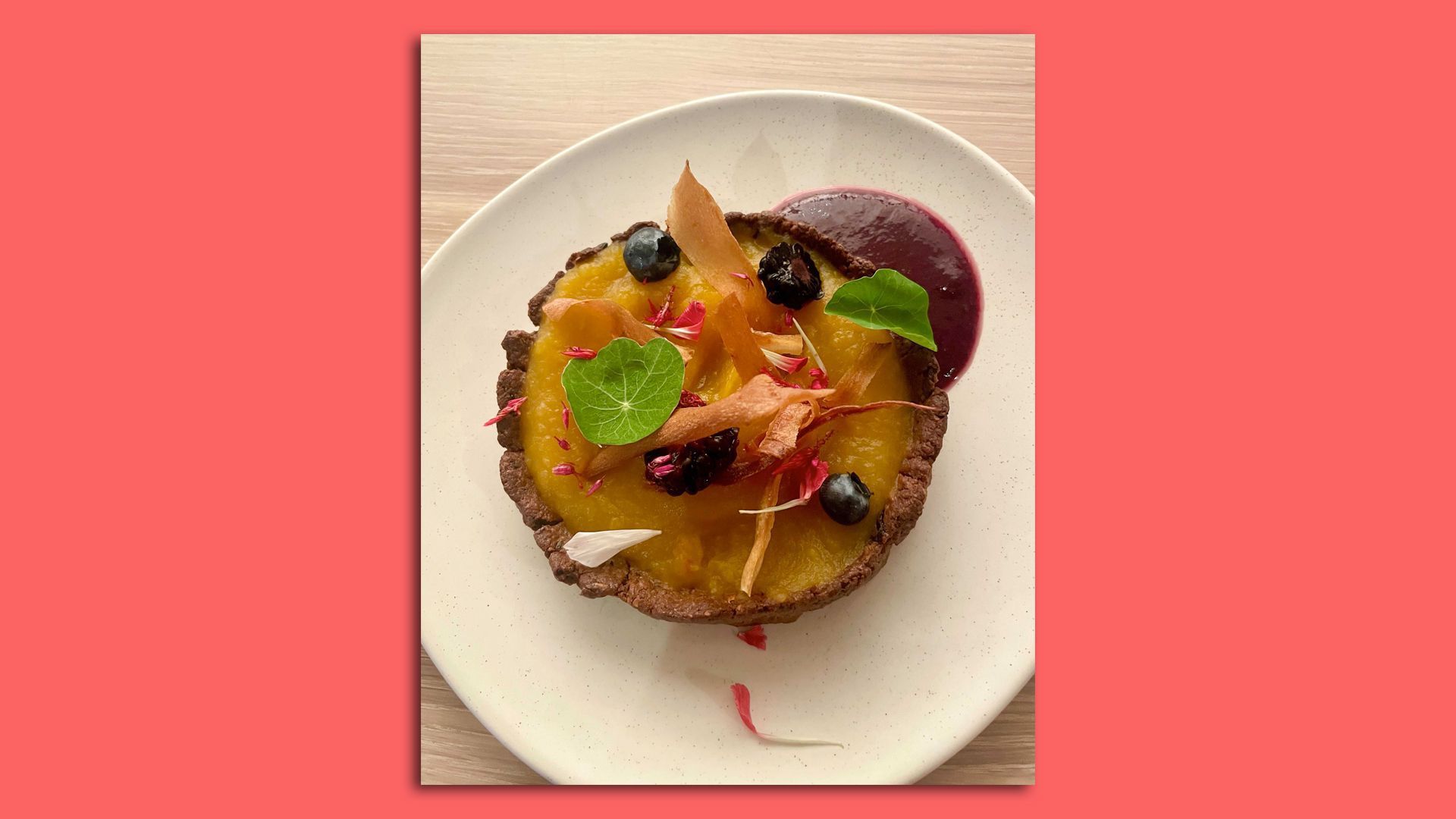 Minneapolis Indigenous restaurant Owamni is a can't-miss experience (Axios Twin Cities)
Axios' Audrey Kennedy "managed to snag a reservation at Owamni, Minneapolis' first full-service Indigenous restaurant, to see if the rave reviews were well-deserved."
Her short answer: Yes. The restaurant "showcases native ingredients such as wild plants and game, while omitting foods brought here by white European settlers, such as wheat flour, cane sugar and dairy products."
Mondelēz tests new snack bar made using mechanical pressure and ultrasound energy (Food Dive)
The food giant's Dirt Kitchen brand "is testing a better-for-you snack bar created using a technology that can combine different ingredients without the use of binders and added sugar."
The initial four flavors will be tomato, raisin and black pepper; apricot, beets and pumpkin seeds; almond, raisin and carrot; and apple, cinnamon and carrot.
Here's what you need to know about Europe's historically low wine harvest (Food & Wine)
"Production across Europe is estimated to plummet 18 percent this year," with climate change, spring frosts, hail, droughts and diseases to blame.
Italy, France and Spain are far and away the top wine producers in the world, with the U.S. a distant fourth.
5. Reader photo of the day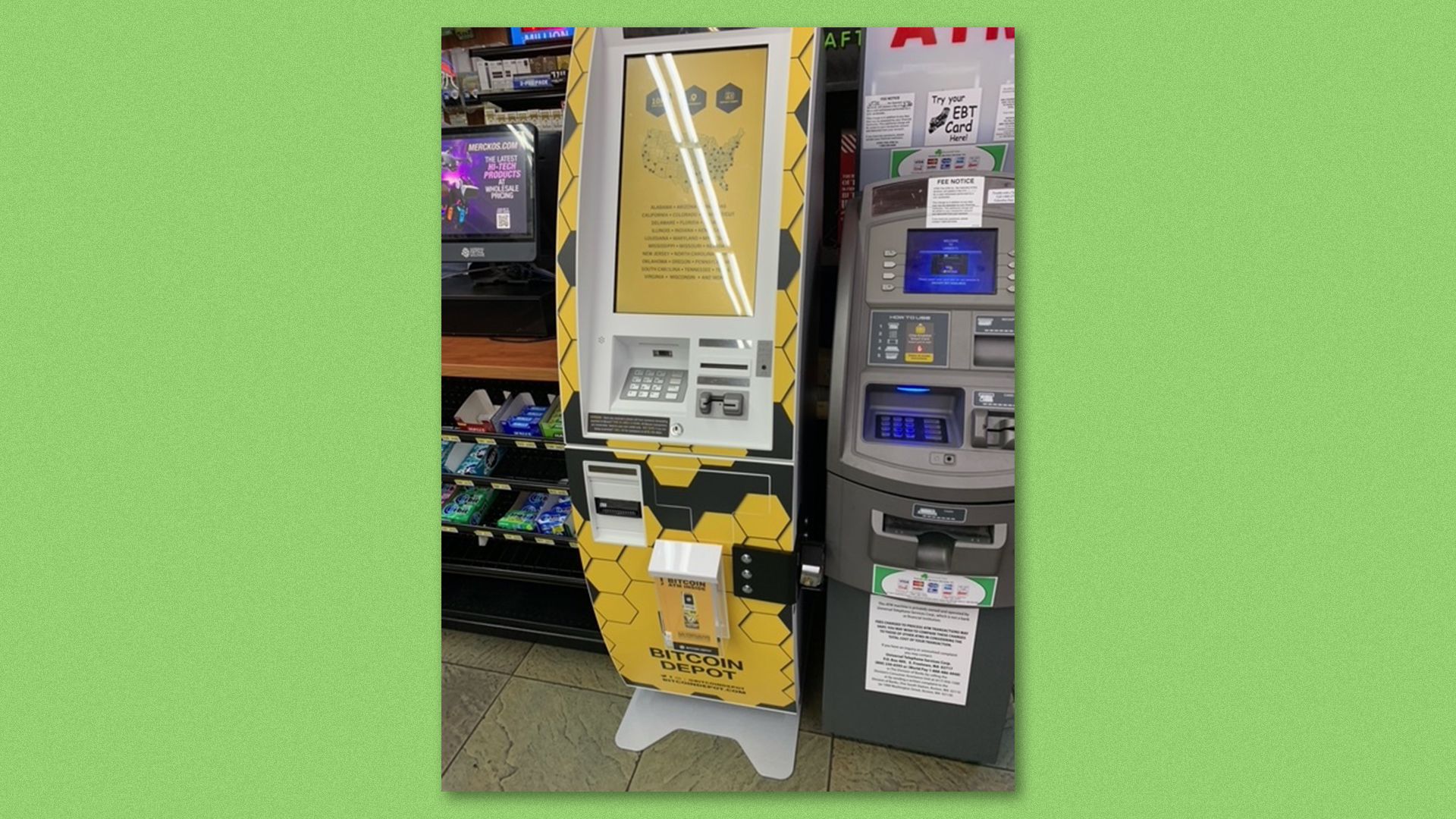 What's Next: Street corner cryptocurrency confusion
Meg Murray of Davidsonville, Maryland, writes: "Saw this Bitcoin deposit machine in a deli on Tremont street in Boston. I still don't understand Bitcoin or why you need an ATM!"