Axios What's Next
March 28, 2022
Happy Monday morning!
Thanks to all of you who wrote to answer our question, "Should robots have genders?" A sample of your responses, below.
See something cool or interesting that speaks to the way we'll live, work, play and get around in the days ahead? Take a picture for our reader photo slot. Email us at

[email protected]

.
Today's Smart Brevity count: 1,133 words ... 4.5 minutes.
1 big thing: Pure maple syrup — from New Mexico?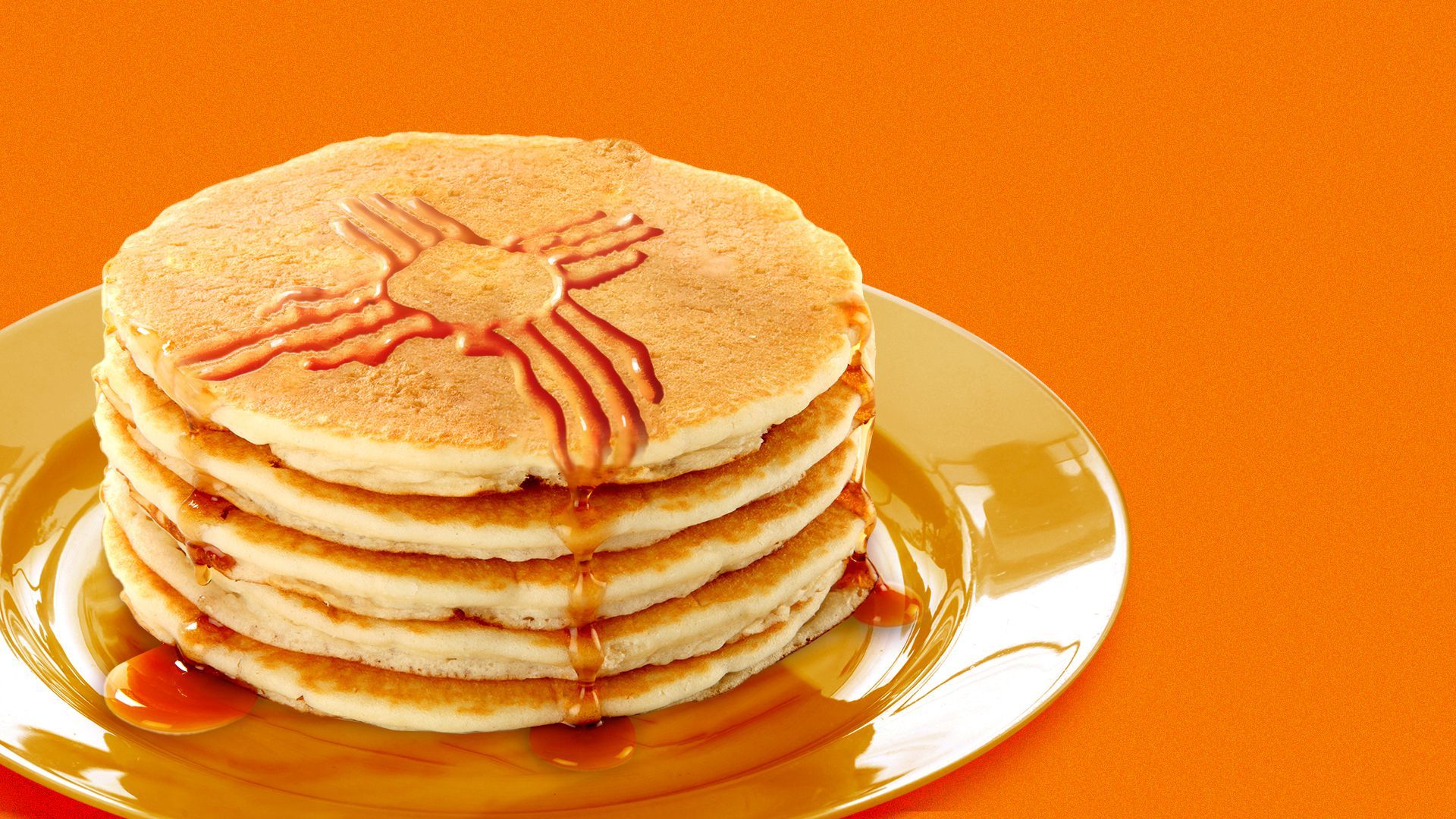 As climate change continues to stifle maple syrup production in New England, different parts of the country — including the Southwest and the Mountain states — are trying to pick up the slack, Jennifer A. Kingson writes.
Why it matters: If states like New Mexico, Utah and Montana succeed in building up their (very) nascent maple sugaring operations, the nation's supply of the tasty pancake topping could not only grow a bit more plentiful but also have regional taste variations.
Vermont is famous for its sugar maples, but scientists and landowners in the West and Southwest are tapping different varieties, like black maples, box elders and bigtooth maples.
The Pacific Northwest is also taking baby steps into the business, with the head of the Oregon Maple Project recently telling Modern Farmer (with a laugh): "This year, we have made eight gallons of syrup."
Green chile maple syrup, anyone?
Driving the news: A research collaborative based in Utah, New Mexico and Montana is using a $500,000 grant from the USDA to explore and foster the development of maple sugaring in those states and nearby ones.
The grant comes from the USDA's Acer program, a 5-year-old effort to expand the domestic maple syrup industry into new parts of the country.
Drawing sap from maple trees involves tapping them in springtime, when the temperature difference between cold nights and warm days gets sap flowing.
Such conditions exist in the intermountain West, where initial efforts to tap maple trees in January and February have been successful.
"It's an amber type syrup," says Rolston St. Hilaire, the professor at New Mexico State University who is spearheading the effort. "I almost cannot distinguish it from the sugar maple syrup that I buy from the store, so I am convinced that we can do it here."
2. Automation could send long-haul truckers driving into the sunset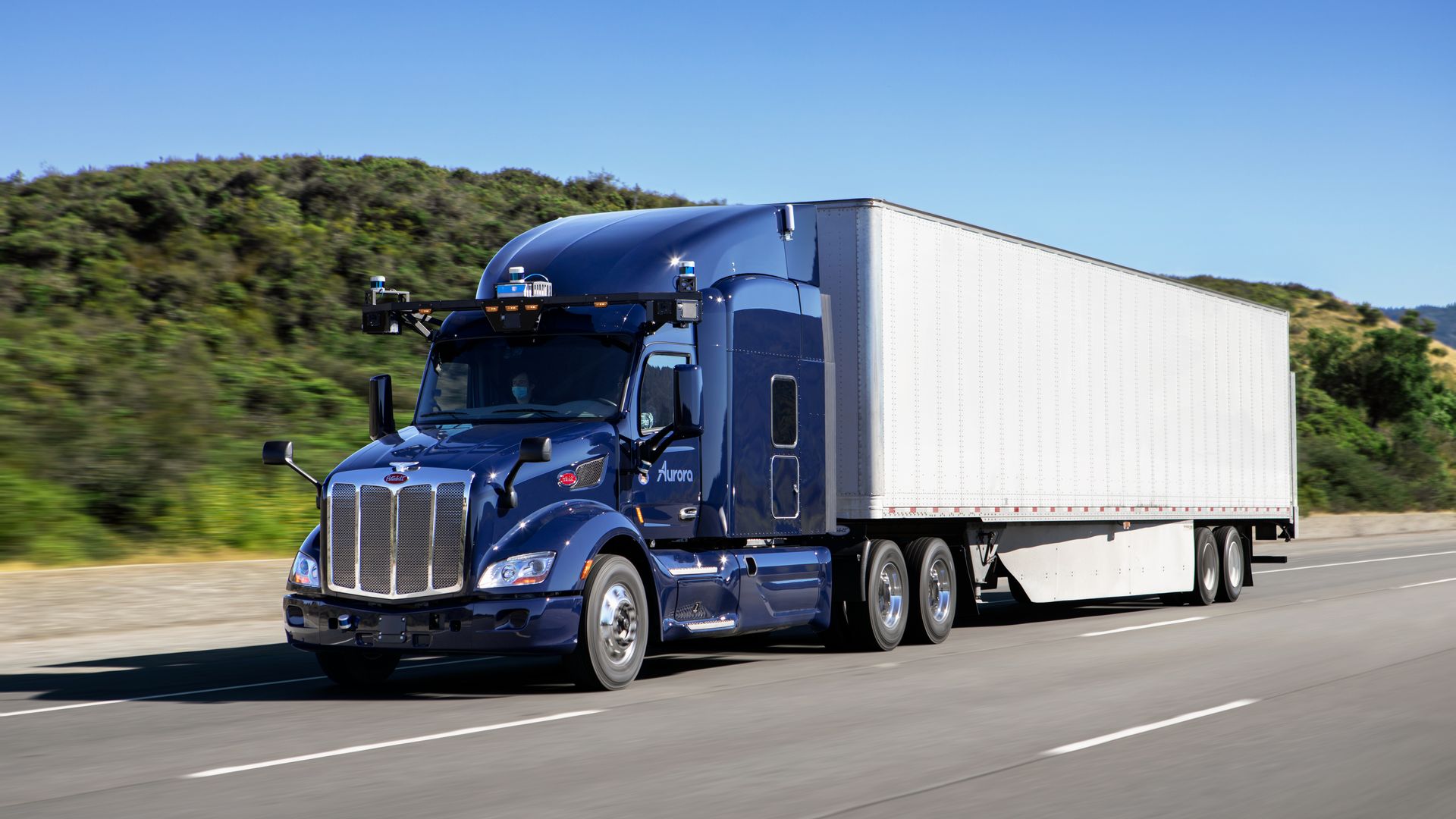 Autonomous trucks could one day replace more than 90% of all highway trucking, which could have a profound impact on as many as 500,000 long-haul truckers, a new study found, Joann Muller writes.
Why it matters: Automation, and its potential impact on human labor, is a widespread concern for workers in many industries. While labor markets continually evolve, it often takes time for displaced workers to adapt to new jobs requiring different skills.
The big picture: Long-haul trucking is a grueling job, with a high turnover rate. Last year, the industry faced a record shortage of 80,000 drivers.
Driving the news: The study by researchers at the University of Michigan and Carnegie Mellon University assessed the impact of autonomous trucking on operator-hours, depending on how the technology — now being tested in Sun Belt states — is deployed.
They looked at operator-hours, not jobs, because many truckers are independently employed.
Using federal data about trucking shipments, and the operator-hours used to fulfill those shipments, they explored various deployment scenarios and how those might evolve over time.
What they found: The impacts of automation might not happen all at once.
3. Major fast food companies pledge to phase out "forever chemicals"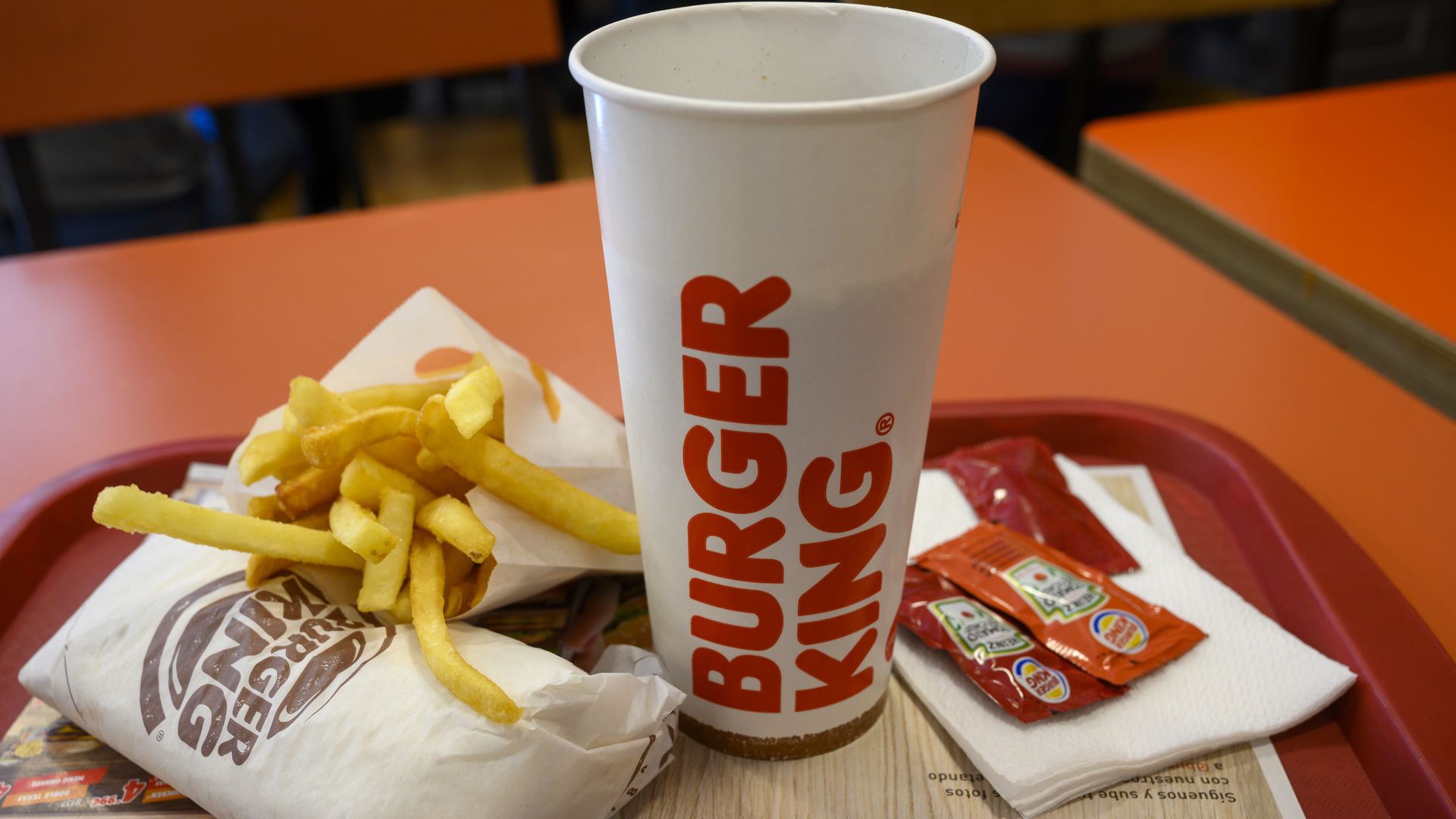 Chick-fil-A and Restaurant Brands International (RBI), the owner of Burger King, Tim Hortons and Popeyes, pledged last week to eliminate the use of "forever chemicals" in food packaging, Axios' Jacob Knutson writes.
Why it matters: These extremely durable synthetic chemicals, which can last for hundreds of years without breaking down, are used in hundreds of consumer goods and have been linked to adverse health effects in humans and animals.
How it works: Per- and polyfluoroalkyl substances (PFAS) are a large family of chemicals that resist degradation by repelling oil and water and withstanding high temperatures.
Once they are in the environment, PFAS can accumulate in fish, wildlife and humans.
PFAS are primarily used by fast food companies as a proofing agent to prevent oil and grease from food from leaking through and damaging the structural integrity of packaging.
What they're saying: RBI this week committed to phasing out the use of PFAS in "guest-facing packaging materials" globally by "the end of 2025 or sooner" by working with paper mills to find non-PFAS alternatives.
Chick-fil-A also said Wednesday that it has already "eliminated intentionally added PFAS" to its packaging, though legacy, PFAS-containing materials may persist by the end of this summer.
4. Poll: Younger Americans bullish on cryptocurrencies
Americans under 50 are bullish on the future of cryptocurrencies, according to a Quinnipiac University poll released last week.
Driving the news: "That signals the marketing is working as crypto companies target sports advertising in a push to go mainstream," Quinnipiac finance professor Osman Kilic said.
By the numbers: Fewer than 1 in 5 (16%) of the 1,936 polled (margin of error: ±2.2 points) say they currently own cryptocurrency.
74% say they have never bought it, and 8% say they owned it in the past but no longer do.
5. Should robots have genders?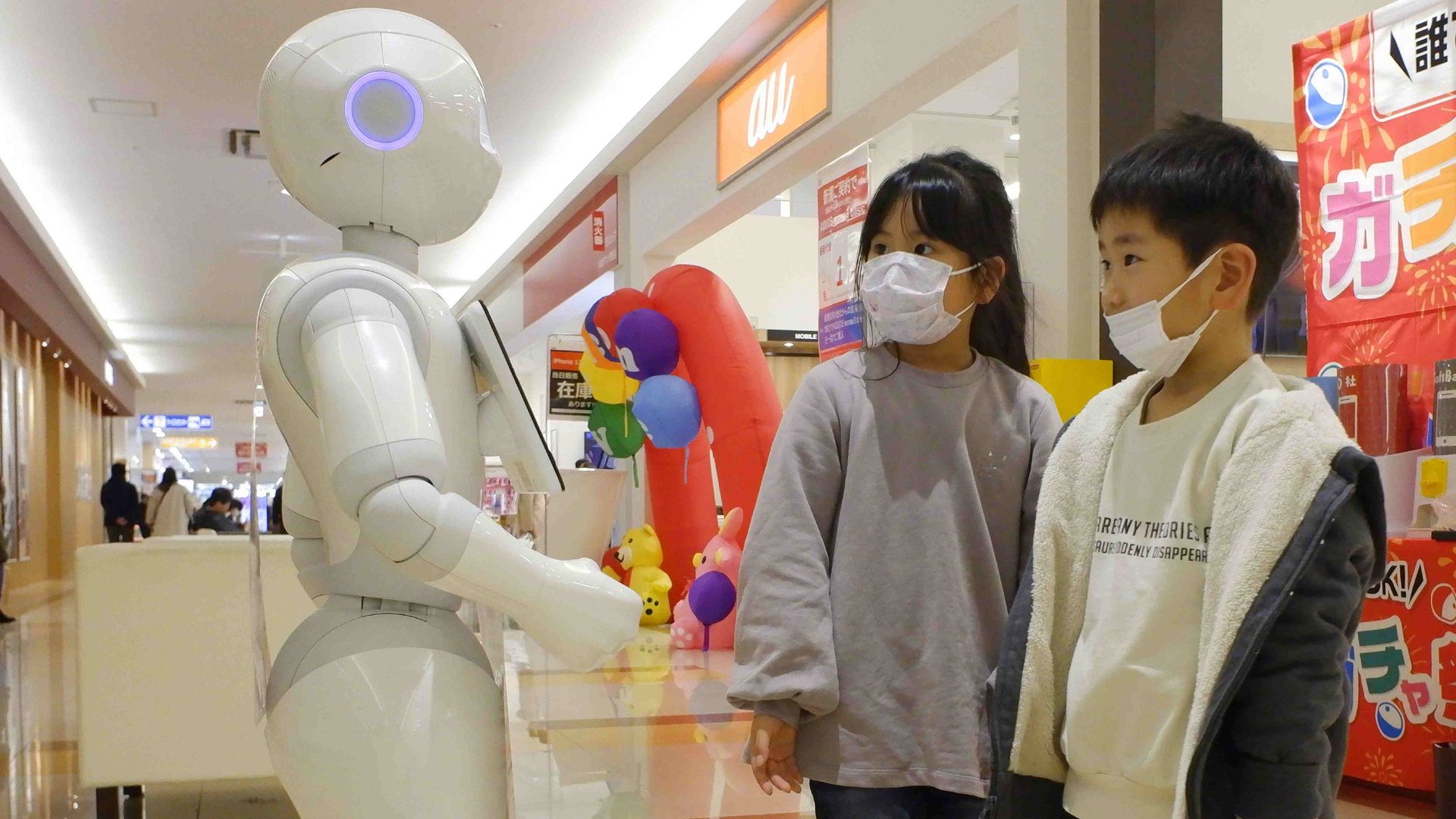 Last week we asked you, in response to a question posed by reader Desiree Furness, "Should robots have genders?"
Why it matters: We're going to be interacting with robots more and more, whether in human form or not. It's important that we feel comfortable with them and that they seem to hew to societal norms.
We've grown accustomed to Siri and our GPS systems, etc., speaking to us in voices that "sound" male or female.
But most of you who wrote to us came down in favor of keeping robots neuter or neutral whenever possible.
What some of you said: "Why do we need to rely on fabricated references to gender in order to 'relate' to robots?  We don't assign genders to coffee pots, elevators, machine tools, ATMs, or forklifts," wrote reader Jeffrey Williams.
"One of the most insidious and bias-laden relationships in the modern, Western cultures is that of the domineering male and the subservient female," he added.
Another side: A reader who is a musician, Dan Vedda, sees a parallel between our relationships with robots and those of musicians with their instruments, which they tend to assign both genders and names.
"While it never surprises me that professional musicians have this penchant, I've observed it spontaneously with fifth and sixth graders new to playing. 'I'm calling him "Oscar,"' one girl told me as she got her first rental clarinet."
A third side: "If you want people to engage with a robot telling them what to do/giving instructions, keep the voice female," wrote Amelia Gaillard.
"People, in general, feel safer & more apt to interact with a female-sounding voice (evolutionary/female nurturing/non-threatening. etc.)."
Other readers said: "Why not make half with female-sounding voices and half with male-sounding voices?" — Elizabeth Covington
Cricket Moore: "Robots are NEUTER, so they are ITs. Why has IT disappeared from the gender discussion? Perhaps an androgynous voice recording could be used for robots instead of a gendered one."
Page Gardner: "What are the options? … What does a non-gender speaking voice sound like?"
Was this email forwarded to you? Get your daily dose of What's Next magic by signing up for our free newsletter here.