Axios What's Next
December 10, 2021
You've heard about the cream cheese shortage caused by supply chain issues? It gets worse: Junior's of Brooklyn has paused production of cheesecakes. (A New York Post newsletter alerted: "Schmear Factor.")
Today's reader photo comes from Elena French, who snapped it during her first pandemic-era business conference.
Why not be like Elena and send a photo of something that captures the modern zeitgeist! Email:

[email protected]

.
Today's Smart Brevity count: 1,061 words ... 4 minutes.
1 big thing: Our insatiable appetite for speedy delivery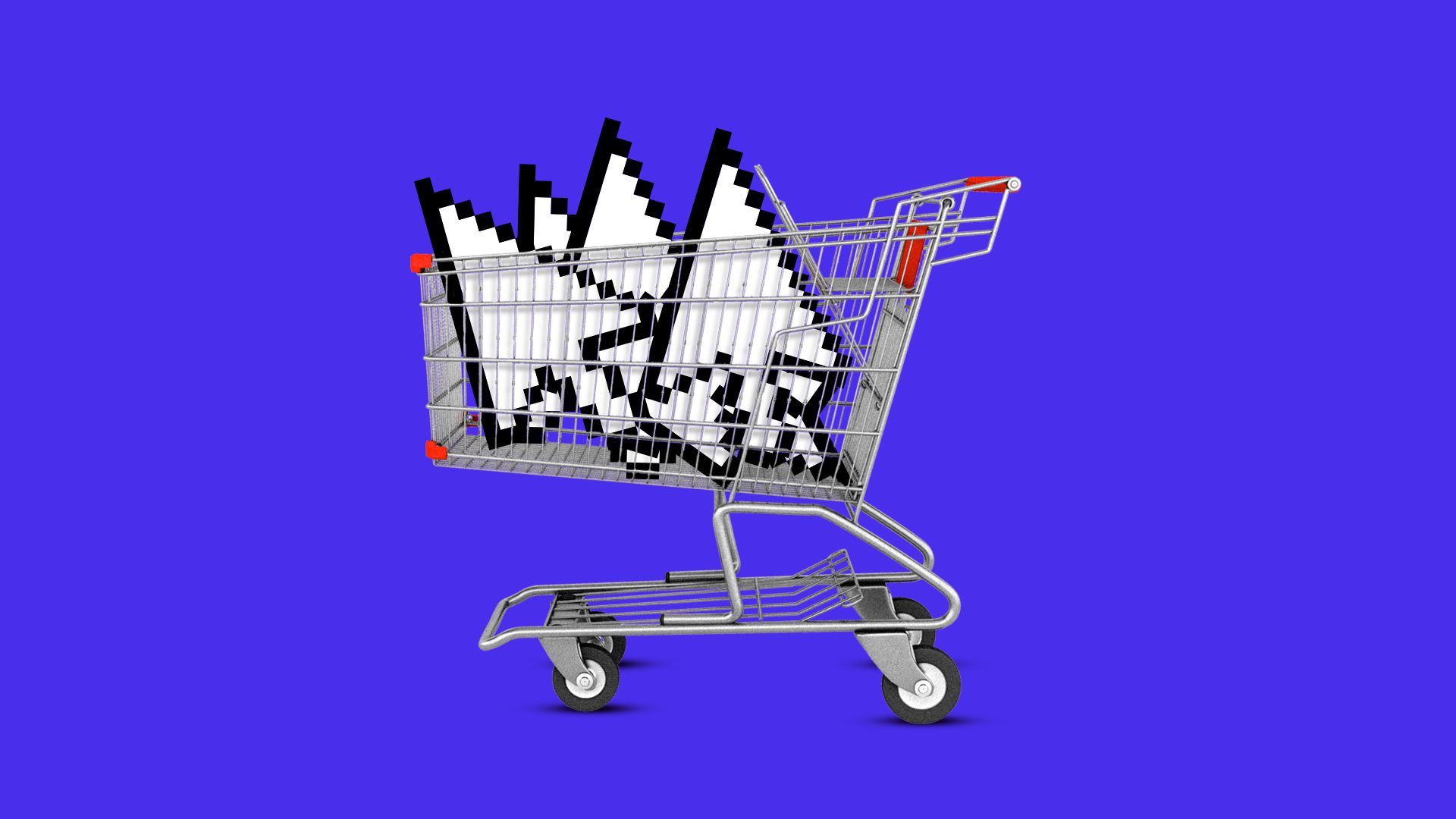 We used to be impressed by two-day shipping, then next-day shipping. Now we want our groceries in just 15 minutes, Erica Pandey writes.
Why it matters: Our addiction to super-fast delivery — intensified by the pandemic — is clogging our cities, creating more low-paying jobs, and shuttering mom-and-pop stores on Main Street.
DoorDash isn't the first to wade into 15-minute delivery. Consumers' appetite for fast delivery has given rise to plenty of startups, like Jokr, Getir and Gorillas.
And it won't be the last. Instacart is working on a similar offering, The Information reports.
What's happening: The start of the pandemic was a turning point for online grocery ordering. Consumers who were wary of this service — and preferred to shop in person and pick out their produce themselves — started trying grocery delivery out of fear of COVID. And those who'd tried it before started using the service even more frequently.
As a result, online grocery orders in the U.S. grew 80% in 2020, and then another 17% in 2021, per Coresight Research.
And the market is projected to keep growing because there's lots of room for expansion, says Ken Fenyo of Coresight. Online grocery sales are still just about 10% of the total market.
That's because habits are sticky. Many people have converted into online grocery evangelists. And even the pandemic-era online shoppers who are going back to grocery stores are taking a mixed approach, buying in person sometimes and online other times, Fenyo says.
Now the arrival of super-fast grocery delivery could change the way people shop further.
The stakes: If 15-minute delivery catches on, as analysts expect and companies bet it will, we will see reverberations across the economy.
To make deliveries in just minutes, companies need to dot cities with micro-warehouses. These "dark stores," which take up city real estate but are closed to the public, could replace bodegas and small shops — and erode community life, urbanists Lev Kushner and Greg Lindsay write in Bloomberg.
2. Secure bike parking — in public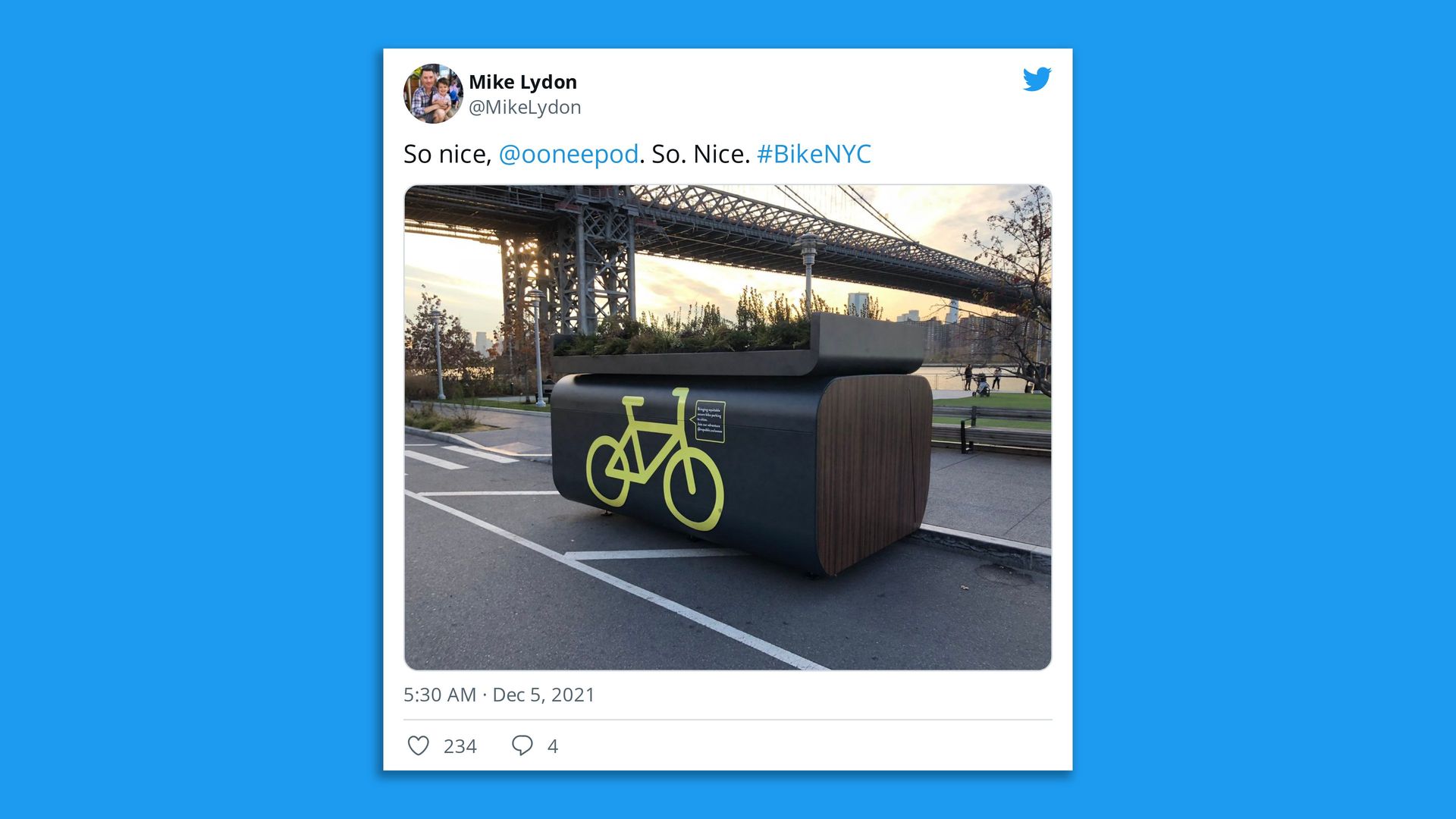 A company called Oonee is making inroads with its Ooneepod, a comely shed that houses upright bikes while their owners disport themselves, Jennifer A. Kingson writes.
Why it matters: More people would bike instead of drive if they knew they could stow their rides securely and conveniently.
What it is: "A smart, modular, customizable pod that provides secure parking for scooters and bicycles," says Oonee, a Brooklyn-based startup whose founder, Shabazz Stuart, had three bicycles stolen in five years.
Each pod features bike parking on the inside and public space amenities on the exterior, says Oonee, which explains that the name is derived from the Japanese word for sea urchin.
Oonee made its debut in Brooklyn in 2019. The company recently got a contract to install seven of the pods in Jersey City, New Jersey.
What they're saying: "Lockers located near bus stops can double as transit shelters by offering covered seating, said Barkha Patel, Jersey City director of transportation planning," per Smart Cities Dive.
"This will help us create a culture where people are willing to leave the car at home for a day because they know they can get around on more appealing options," she told Smart Cities Dive.
3. The metaverse medical student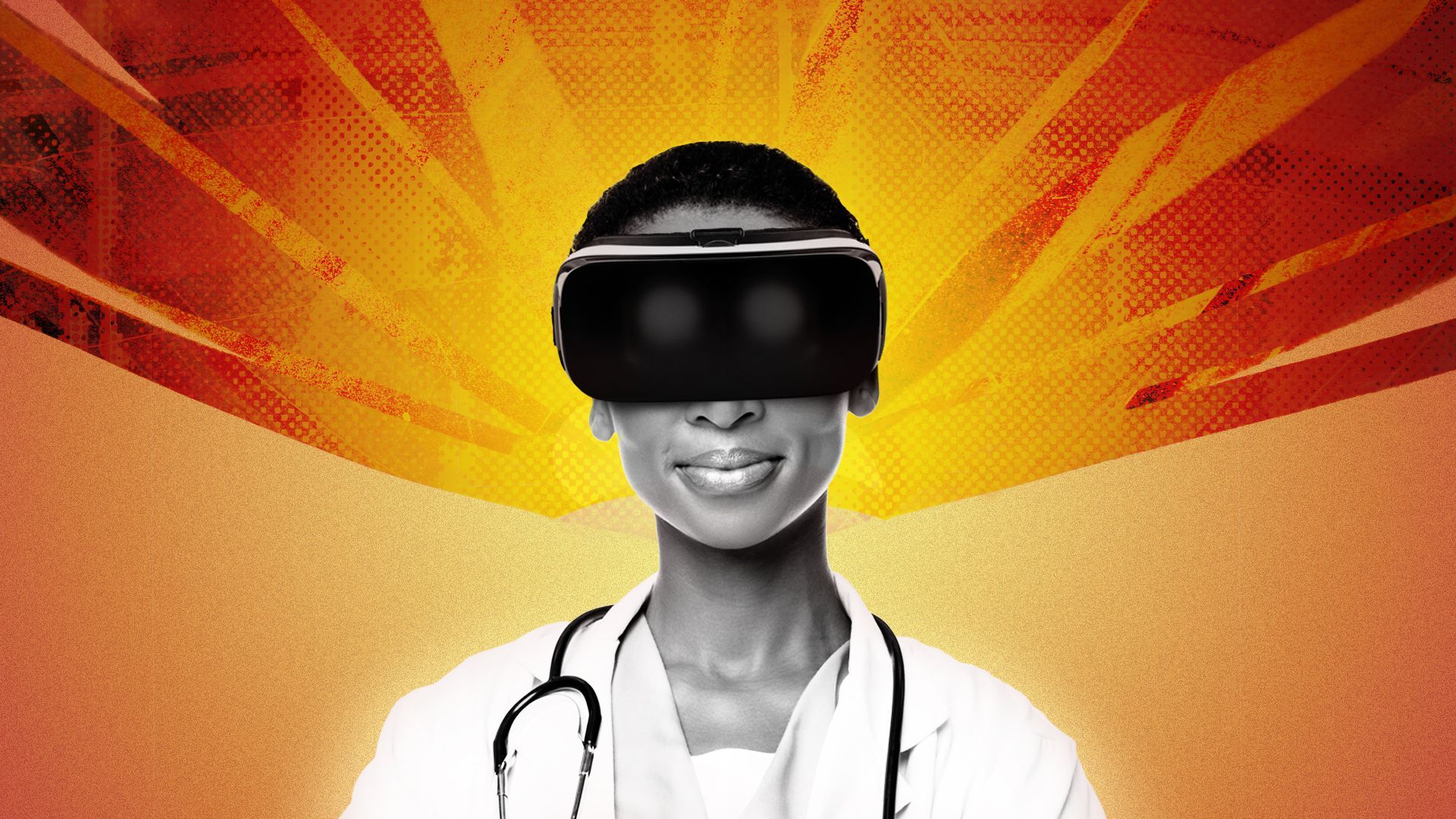 Medical schools are experimenting with virtual and augmented reality technologies to help doctors-in-training practice their skills, Bryan Walsh writes in Axios Future.
Why it matters: Replacing actors pretending to be patients with holographic videos that can be generated anywhere can make the hands-on part of medical education cheaper and more flexible.
What's happening: GigXR, a Los Angeles-based startup that provides extended reality technologies — a mix of virtual and augmented reality approaches — for teaching and instruction, is partnering with the University of Michigan to "use holographic content to take some of the most complex parts of training doctors and nurses and make it easier through mixed and extended reality," says David King Lassman, GigXR's CEO.
How it works: When medical students work on their preclinical diagnosis skills, schools will often bring in outside people who are told to act as if they have different conditions or injuries, or even use tactile mannequins to practice procedures.
But both actors and mannequins cost money and require students to be in a single place, which often wasn't realistic or safe during the worst of the pandemic and may not fit with remote education plans.
GigXR instead uses high-tech video capture to film a patient presenting various symptoms for a condition, and can then project that patient as a realistic hologram in nearly any physical space. (You can see the tool in action here.)
By the numbers: An academic review of the use of head-mounted VR, AR and mixed-reality devices in medical education found the devices were effective as a primary or supplementary tool in 93% of the studies reviewed.
4. Sweden's electric boat startup Candela makes waves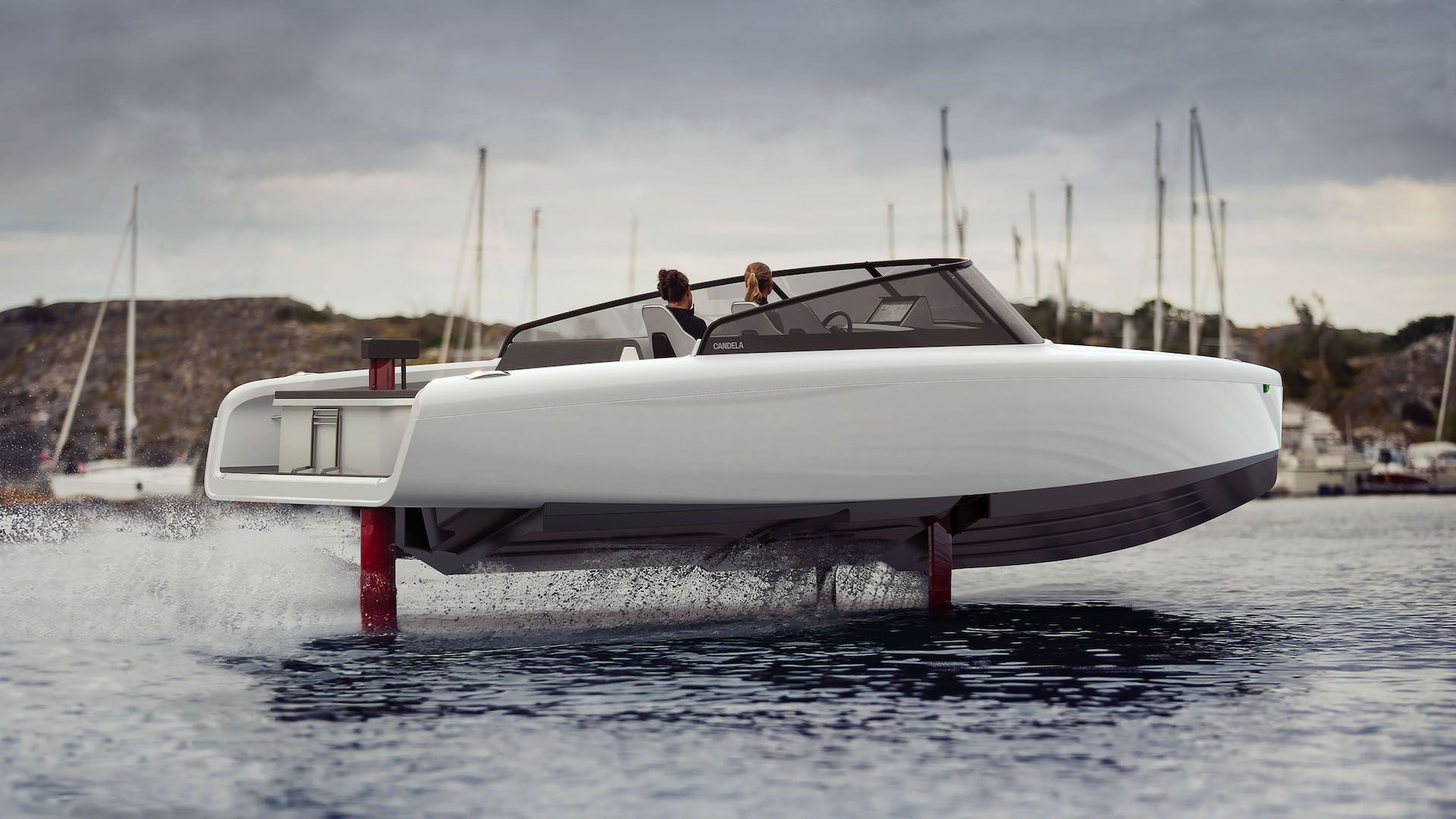 The Swedish electric boat startup Candela has raised $27 million from investors led by EQT Ventures, making it the latest of several firms in that space to attract fresh investment, Ben Geman writes in Axios Generate.
How it works: The company is looking to commercialize multiple types of boats that use hydrofoil technology, or "computer-guided underwater wings." They say this requires much less energy to propel the vessels.
Where it stands: The company began producing its C-7 sport boat in 2019 and is preparing to begin deliveries of another model, the C-8 seen above, this spring.
They've also got an electric ferry slated to begin operation in Sweden in 2023.
Candela said the new funding will enable it to triple R&D, invest in production automation and boost sales.
The big picture: The funding round comes roughly two weeks after the electric boat startup Arc raised a $30 million Series A round from investors led by Eclipse Ventures' Greg Reichow (a Tesla alum), as well as Andreessen Horowitz and others.
Two weeks ago GM announced a 25% stake in the electric boating company Pure Watercraft, whose CEO told CNBC the deal was worth $150 million.
5. Reader photo of the day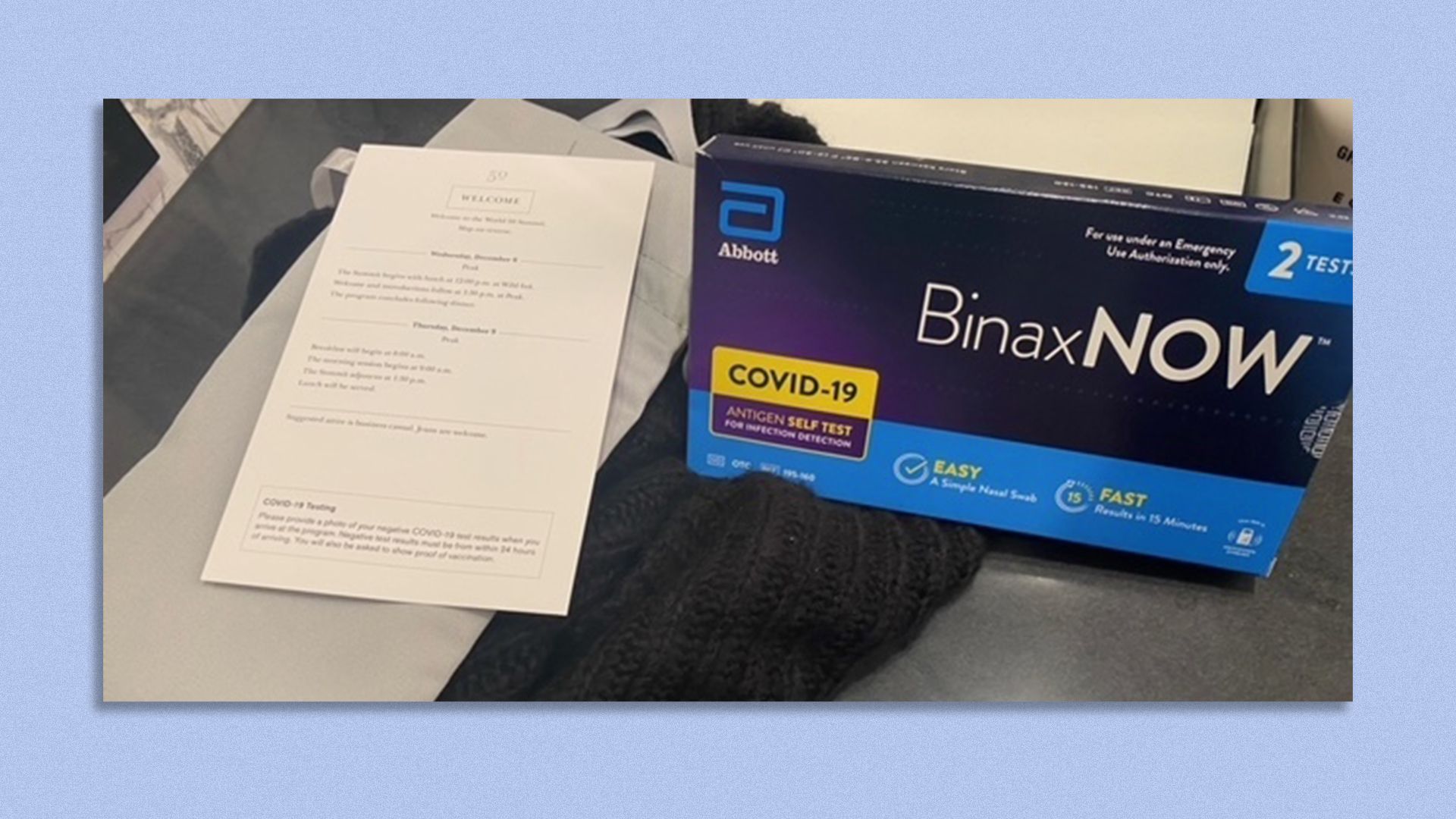 What's Next: The new admission ticket
Elena French writes: "I'm attending my first business conference in almost two years in NYC this week. When I checked in, I received an agenda and a rapid test kit — I have to show a negative result to participate in the event. Welcome to the future of (safe) business meetings!"
Was this email forwarded to you? Get your daily dose of What's Next magic by signing up for our free newsletter here.