July 02, 2021
On the start of the July 4 weekend, we have the anti-burnout vacation policy, programs that want to write programs and the fate of the Googleplex.
"What was next" trivia: On this day in 1900, the first example of this mode of transportation took flight. Hint: They should have used helium. 💥
Credit to reader Fred Fullerton for being the first to note that the first TV commercial aired on July 1, 1941.
Send your answer, along with tips and feedback, to

[email protected]

.
Today's Smart Brevity count: 1,267 words ... 5 minutes.
1 big thing: Company-wide vacations could be the future of time off
Vacation rarely feels like vacation if there's extra work to do before and after to make up for the time taken off. That's why startups and Fortune 500 firms alike are rethinking the structure of paid time off, extending company-wide vacations, Erica Pandey writes.
Why it matters: The pandemic exacerbated burnout at work, and that's a major contributor to "the great resignation," in which upward of 40% of workers are actively considering leaving their jobs.
What's happening: A growing number of firms are giving employees the same day or week off — separate from allotted personal vacation time — and finding that it's a lot easier for workers to unplug if their managers and peers are doing it at the same time.
LinkedIn gave its entire staff a week off in April, and the dating app Bumble did the same in June.
The social media management platform Hootsuite has a company-wide week off scheduled for July. The firm made sure to announce it a couple of months in advance so employees could plan for it and let clients know, says Tara Ataya, Hootsuite's chief people officer.
Pharma giant Bristol-Myers Squibb gave its employees two "days of rest" this year, during which everyone, across the world, was off.
The big picture: With surveys indicating that life satisfaction has fallen for workers during the pandemic, firms have tried several policies to combat burnout, such as making time off mandatory or giving workers unlimited vacation days or mental health days. But no approach works quite as well as company-wide time off, experts say.
When workers select their own vacation days, they'll still get emails and Slack messages unless they ditch their devices, says Lars Schmidt, founder of the human resources consulting firm Amplify. And that's not a realistic expectation in today's digital world. "The idea of synchronizing time off is that you're 'off off,'" he says.
"Over the last 18 months, we've been living in this digital world with pings and emails, and it all puts a strain on us," Ataya says. "There is something special about all unplugging at the same time."
But, but, but: Telling everyone to go home for the week is not possible for all types of workplaces.
2. Programs that write programs
A new AI tool can work with human programmers to analyze computer code they've written and generate new matching code to complete programs, writes Bryan Walsh.
Why it matters: The tool can help take some of the scutwork of programming off human experts' hands, leaving them freer to focus on the more creative parts of their jobs. But it also opens the door to a world in which programs could one day fully write programs, which may be bad news for some of the humans that currently do it.
What's happening: Called Copilot, the new tool was launched this week by Microsoft, the collaborative coding platform Github and OpenAI, a machine-learning company that developed the text-generating model GPT-3.
GPT-3 is a natural-language model trained on a massive quantity of text, which it can use to predict the relationship among words and sentences, allowing it to generate astoundingly convincing text when given a prompt.
Copilot was built on an algorithm called OpenAI Codex that works like GPT-3, but for computer code instead of human language.
How it works: Codex was trained on terabytes of openly available code pulled from Github, and uses that training to recommend code for software developers to use as they program.
Github CEO Nat Friedman told CNBC that Copilot works like an automated version of a pair programmer — someone who works with a coder at the keyboard and provides a second set of eyes and suggestions.
Copilot can look at code that has been written as well as the location of the cursor and offer up new lines to add.
As the human programmer accepts or rejects those recommendations, Copilot can improve itself over time.
3. The unclear fate of Silicon Valley's lavish HQs
The future of tech companies' decked-out headquarters is up in the air as remote work threatens to make these multibillion-dollar campuses obsolete, the Economist reports.
Why it matters: Silicon Valley giants were first to jump to remote work at the start of the pandemic, and their return to work strategy will set the tone for other firms across the world, writes Erica.
The big picture: Tech companies have long wielded workplaces as weapons in the war for talent, trying to out-do one another with over-the-top campuses equipped with juice bars, volleyball courts, dog parks and much, much more.
Be smart: These HQs were already losing some of their appeal before the pandemic, as workers complained about two-hour-long commutes in Silicon Valley traffic.
And now they're in even graver danger as major tech companies tell staff they can work remotely forever, or at least a couple days a week — an offer techies are eager to take their employers up on.
Some companies are already changing it up. Coinbase, the cryptocurrency firm, is shutting down its San Francisco HQ, and Salesforce — based in the tallest office tower in the city — is pursuing a remote-first culture and asking employees to join meetings digitally, if they can.
Other firms want a return to the status quo. Google is calling its workforce back in September.
What's next: If HQs become obsolete, then the whole magic of Silicon Valley as a place could start to disintegrate.
4. The fight for broadband cash heats up
The bipartisan infrastructure bill framework sets aside $65 billion for broadband — but the real fight for internet dollars is just beginning, writes Margaret Harding McGill.
Why it matters: That record infusion of funding, spurred by the pandemic's spotlight on the digital divide, has the potential to make the White House's goal of connecting all Americans a reality — unless it gets mired in squabbling.
What's happening: The way that $65 billion will be divvied up is still very much in flux as the Senate considers how to turn the framework into legislation.
"When you have a large pot of money, people are going to try to nibble away at it," Sen. Angus King (I-Maine) told Axios. "Of course, the larger question is we've got to get this built."
It's still far from clear if the bipartisan infrastructure plan will pass and, if so, how details may change.
Details: One key position King has staked out is that $40 billion of the funding should go to states to use for broadband, as envisioned by his bipartisan BRIDGE Act with Sens. Rob Portman (R-Ohio) and Michael Bennet (D-Colo.).
"The states know best what their problems are, where the gaps are and how best to address them," King said. "One of the problems with the FCC is their maps are lousy."
The other side: The FCC's latest mechanism for awarding broadband funding — reverse auctions in which providers compete against each other to win subsidies — gives taxpayers "more bang for the buck," said Ross Lieberman, senior vice president for government affairs at broadband company trade group ACA Connects.
5. 1 grid thing: Demand response
The emergency alert above was sent out to New York residents on Wednesday at 4:15pm at the peak of the city's late June heat wave, writes Bryan.
It came as temperatures of 100 degrees were recorded at New York's LaGuardia Airport on the hottest day since 2013.
It was the first time the city had used the smartphone emergency alert system to ask residents to reduce power use on a day when electricity consumption was higher than any date last year.
What happened: New Yorkers responded.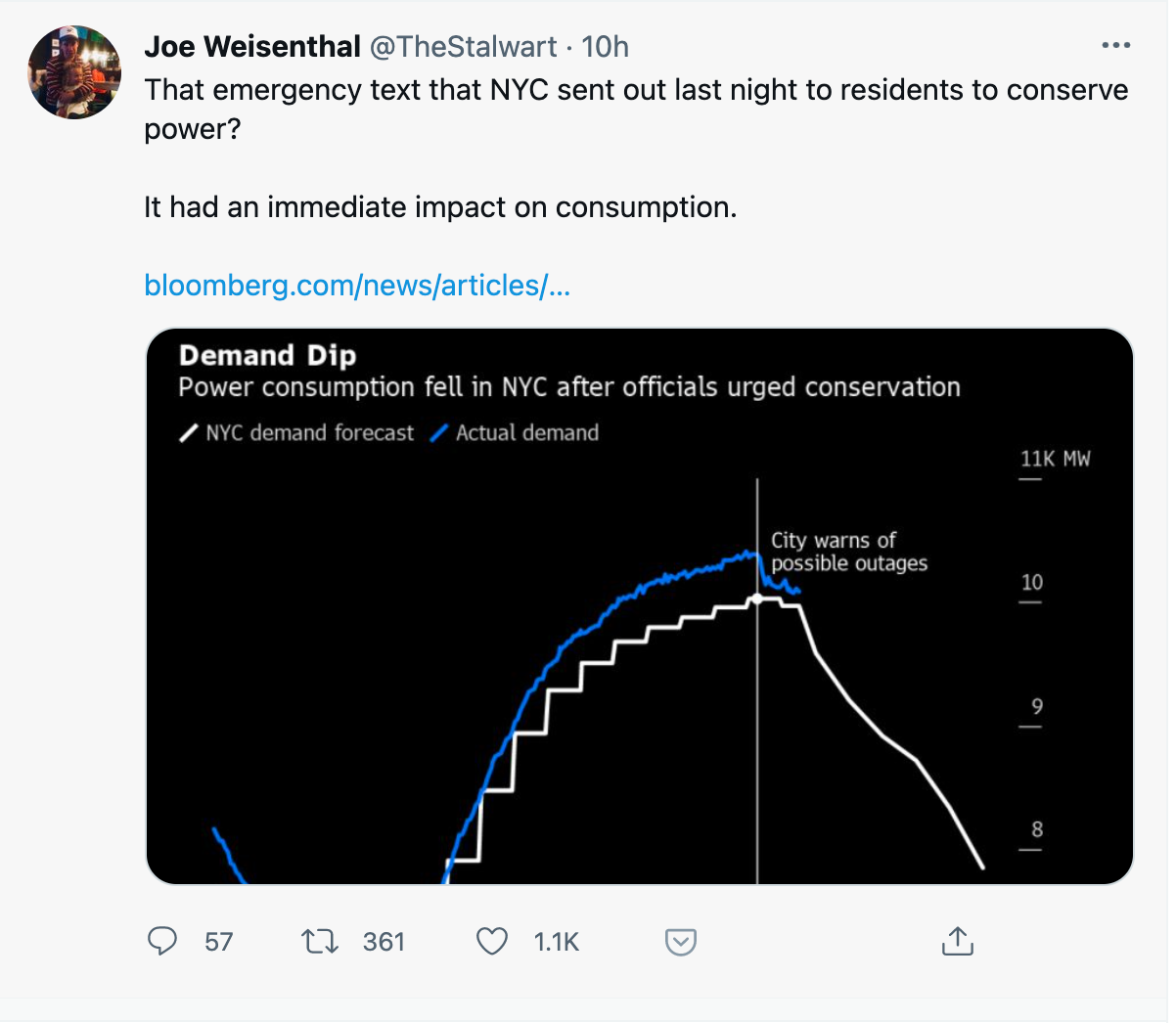 The bottom line: Expect to see more of these alerts in the future.