Axios What's Next
March 23, 2023
It's no secret that last December was an air travel nightmare. Now, new data shows the extent of the meltdown, Alex reports today.
🏛️ Sen. Mark Kelly (D-Ariz.), Rep. Mike Gallagher (R-Wis.), and White House Office of Science and Technology Policy director Arati Prabhakar have joined the speaker lineup for Axios' second annual What's Next Summit on Wednesday, March 29, in Washington, D.C. Watch live here.
Today's newsletter is 989 words ... 4 minutes.
1 big thing: December's air travel meltdown, visualized
Just 69.1% of domestic U.S. flights departed on time in December 2022, according to the U.S. Department of Transportation, Alex Fitzpatrick and Kavya Beheraj report.
That's down from 75.2% year over year, and from 78.6% in December 2019 (before the COVID-19 pandemic), per recently released data from the department's Bureau of Transportation Statistics (BTS).
That figure is generally between 75%-80% in a typical month, albeit with predictable dips in the busy — and often meteorologically challenging — summer and winter travel seasons.
Driving the news: The real story in December was, of course, Southwest Airlines' epic meltdown.
Just 57.3% of Southwest's December flights departed on time, compared to 77.2% for Delta Air Lines, 72.5% for American Airlines and 70.7% for United Airlines.
Southwest's struggles dragged down the average for all carriers reporting data to BTS.
Zoom in: Denver International Airport, Seattle-Tacoma International Airport and Austin-Bergstrom International Airport posted some of the country's worst on-time performance rates in December, at 57.4%, 61.7% and 66.4%, respectively.
Denver is one of Southwest's busiest airports, exposing its overall on-time performance to any issues at that particular airline.
Only 45.6% of Southwest flights out of Denver left on time in December.
Weather and staffing issues in Denver, in fact, helped trigger Southwest's broader systemwide mess.
Yes, but: All indications so far suggest Southwest has recovered nicely since December, though BTS' data reports lag by about three months.
The airline has promised to update key systems that exacerbated December's meltdown, as well as better communicate with passengers whose flights are delayed or canceled in the future.
What they're saying: "We spend a lot of money on technology and recently put in a new state-of-the-art maintenance system, a new reservation system and a new human capital workday system," Southwest CEO Bob Jordan told Axios' Eleanor Hawkins.
The bottom line: December was truly just as bad as it seemed, the data shows.
2. "Crowdfunding" human composting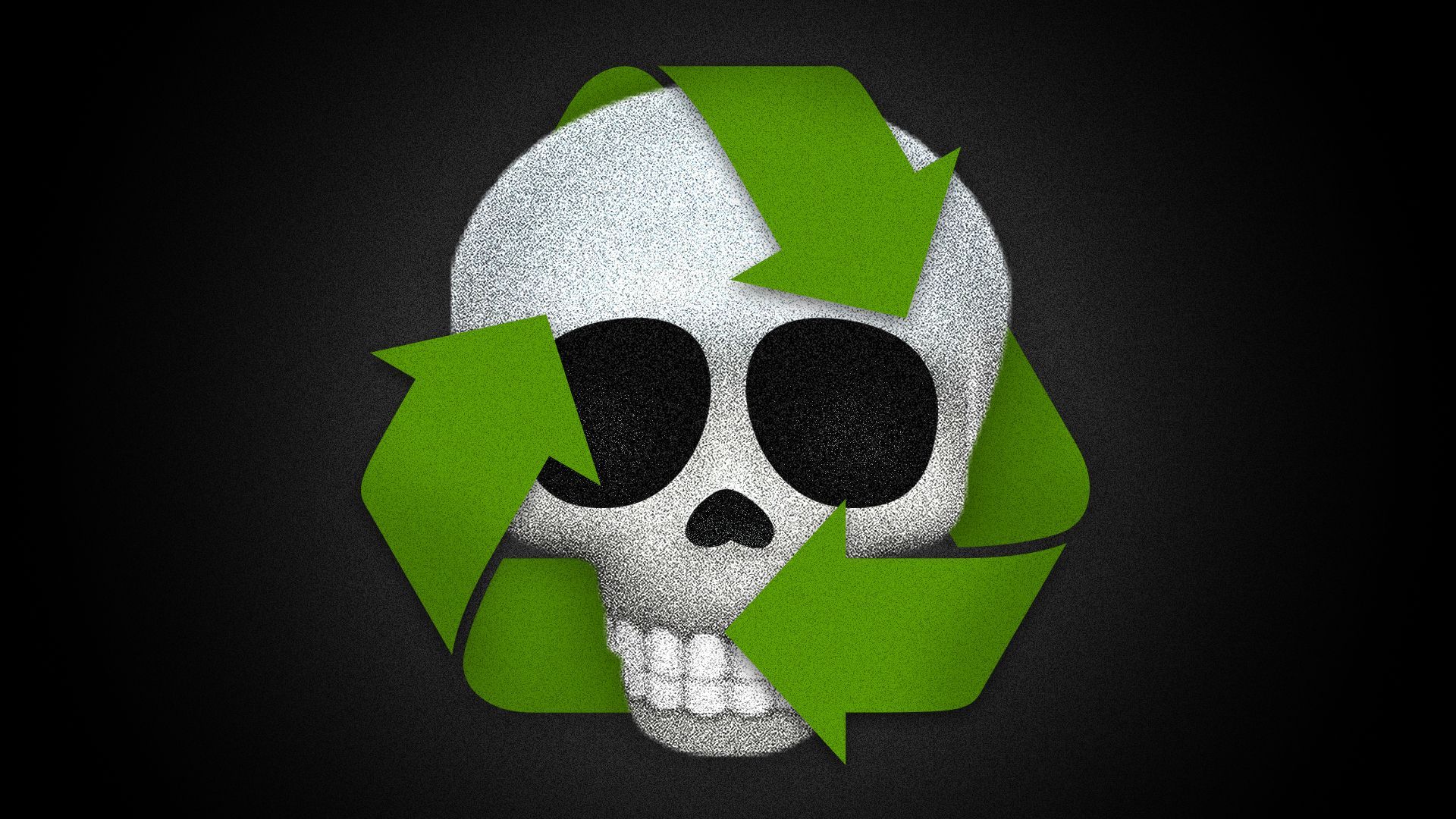 Recompose, the country's foremost human composting startup, is looking to raise $5 million in a crowdfunding round, Alex reports.
Catch up quick: The Seattle funeral home specializes in a novel form of post-life care in which human remains are turned into soil, which can then be used in a garden or forest — with permission, where necessary.
More than 250 people have used Recompose's services so far, the company says, while more than 1,300 have signed up to be composted when they die.
Details: Recompose's new funding round is open to anyone willing to invest at least $1,000 in exchange for equity in the company.
As of 2021, U.S. startups can raise up to $5 million every year from everyday investors via Kickstarter-style "crowdfunding" campaigns, as Axios' Courtenay Brown reported.
The company previously raised $6.75 million in a 2020 funding round, and $10 million in a December 2022 round. Both were traditional rounds.
What they're saying: "We've basically built this whole new concept and piece of the funeral industry through community support and momentum, whether it's grassroots folks helping us with legislation, or just people getting behind this idea," Recompose founder and CEO Katrina Spade tells Axios.
"It's very much in line with our ethos as a company to raise money from our broader community."
The big picture: New York recently became the sixth state to legalize human composting, a form of after-life care increasingly popular with climate-conscious people seeking a more environmentally friendly funeral option.
What's next: That more states are allowing the practice opens more markets for Recompose — but could invite new competition too.
3. Microsoft rolls out Bing AI image creator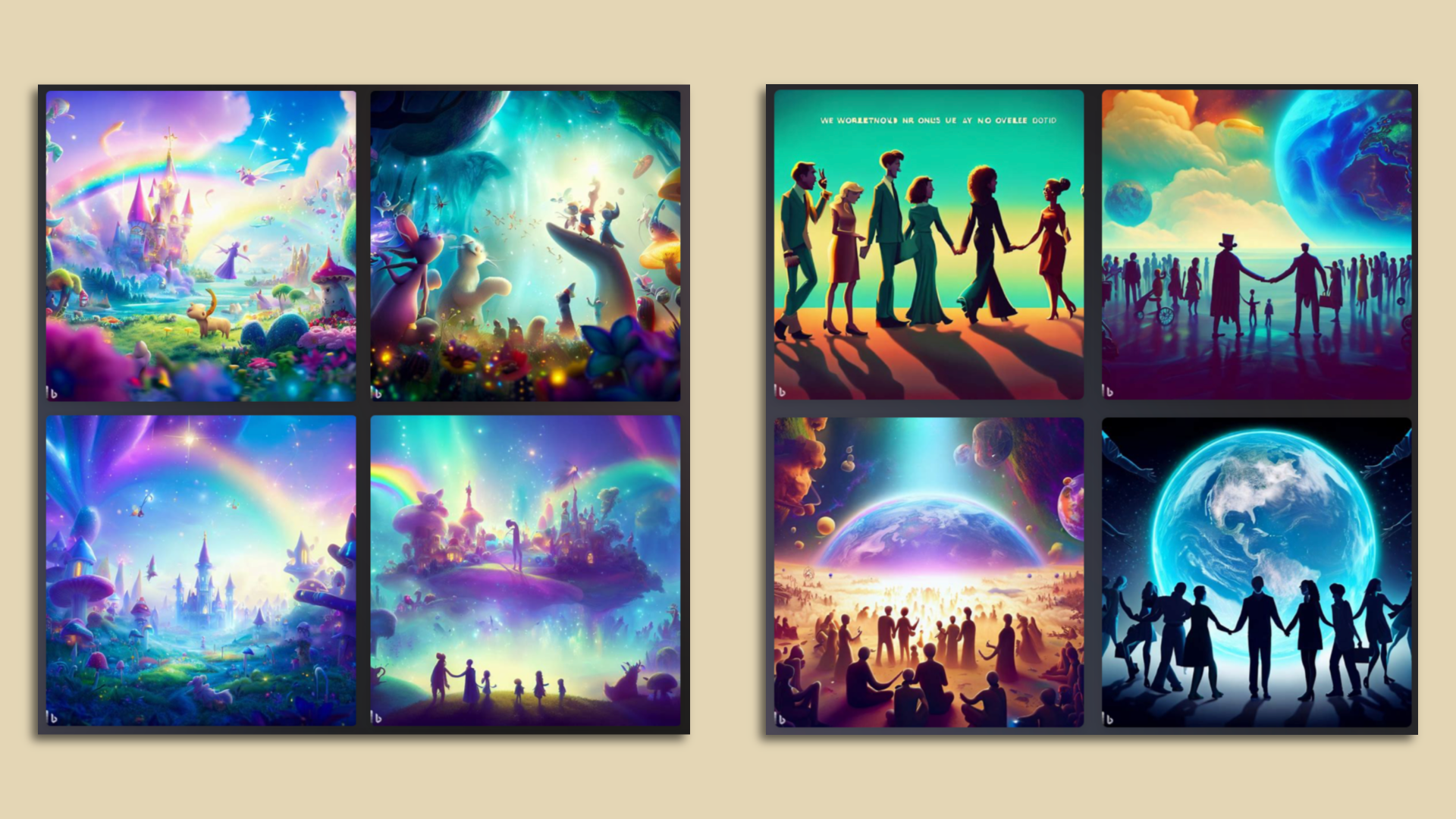 Microsoft's Bing search engine and Edge browser are now equipped with an AI-powered image creator, Axios' Hope King reports.
The tool uses OpenAI's DALL-E to generate images from text prompts.
The big picture: The rollout reflects how quickly Microsoft has been building on its OpenAI partnership.
Since expanding the relationship significantly two months ago, Microsoft has also launched a new AI-powered Bing and Edge browser and announced plans to bring generative AI into Word, Excel and similar software.
How it works: Hope tested the image creator with two prompts: "A magical world where everyone gets along" and "The present world where everyone gets along."
After a few seconds, Bing spit out four images for each prompt, as seen above.
4. 📉 Remote work hits office rents
After a lag, the work-from-home revolution is finally starting to show up in the data for office building rental rates, Axios' Matt Phillips reports.
Driving the news: Major markets like San Francisco and Manhattan — where long commute times seem to be driving the durability of the WFH lifestyle — have been hit the hardest.
On the other hand, markets such as Raleigh, Boston and Minneapolis — which have a higher concentration of health services, biotech and life science employment — seem to be faring well. (It's hard to do laboratory research from your home office.)
5. Taste-testing Starbucks' olive oil coffee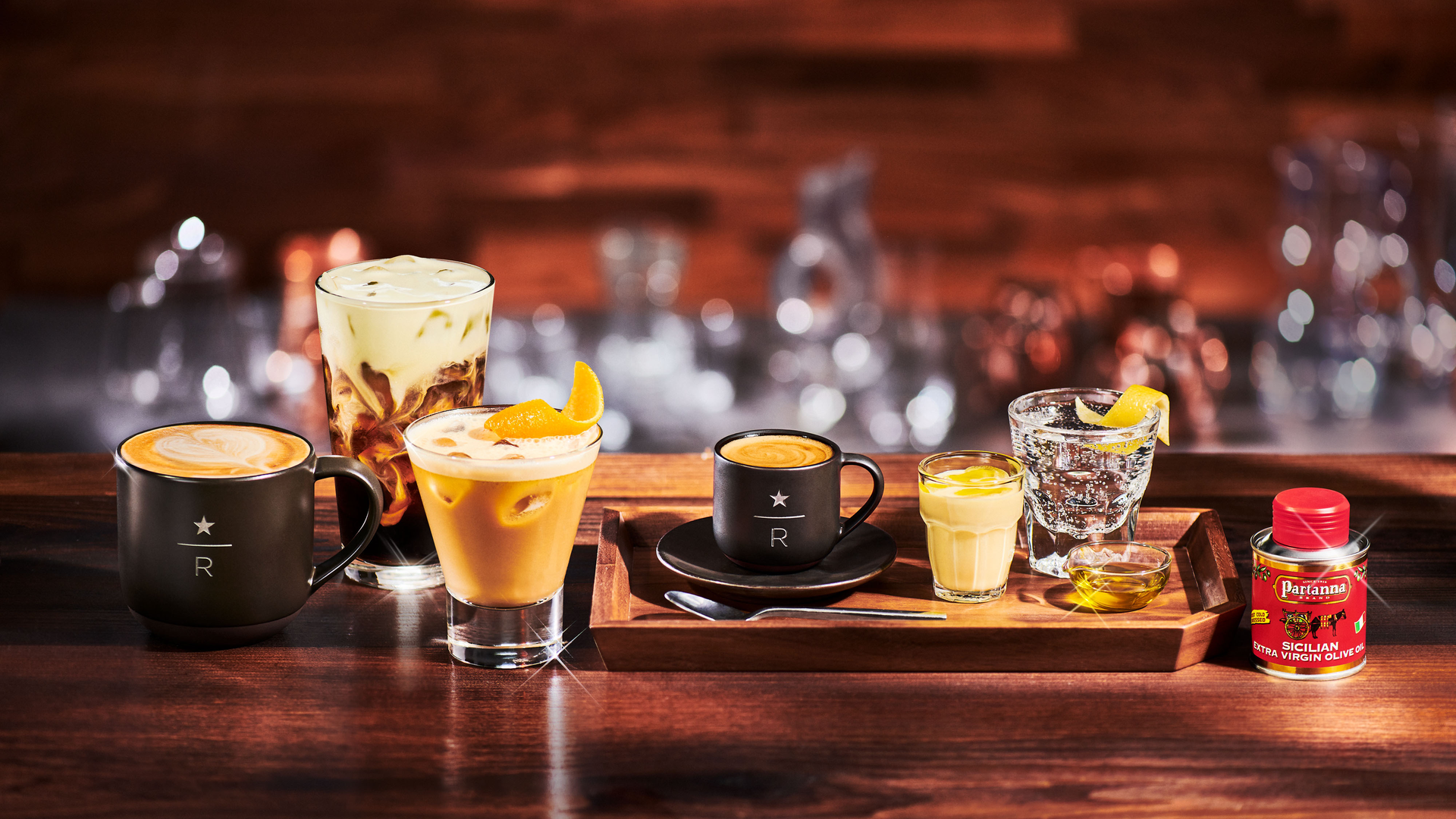 Starbucks' new olive-oil-infused "Oleato" coffee drinks are now available in several major cities, Axios' Melissa Santos writes.
She gave them a shot, despite her gut feeling that espresso and olive oil just don't mix.
The big picture: Howard Schultz, who championed the Oleato plan before stepping down as Starbucks' CEO earlier than anticipated this week, is convinced olive oil coffee will be a game-changer, Axios' Kelly Tyko reports.
The verdict... The Starbucks folks have wisely used a mild-flavored olive oil for their Oleato drinks, which helps mute the antipasto vibes.
Yes, but: The savory aftertaste remains a problem, says Melissa.
Even with various sweet syrups and flavored creams added to the drinks, that vegetal flavor lingers — and not in a good way.
The olive oil blended the best in the Oleato Caffè Latte, served warm, and the Oleato Iced Cortado, where orange bitters and citrus helped balance the flavors.
So if you're curious, start with those.
The bottom line: The point of adding olive oil to coffee eludes us — but go ahead and decide for yourself.
Big thanks to What's Next copy editor Amy Stern.
Was this email forwarded to you? Get your daily dose of What's Next by signing up here for our free newsletter.