Axios What's Next
February 24, 2023
Human window washers could go the way of the chimney sweep, Jennifer reports today, thanks to a pair of new robotics startups.
Today's newsletter is 1,110 words ... 4 minutes.
1 big thing: Robotic window washers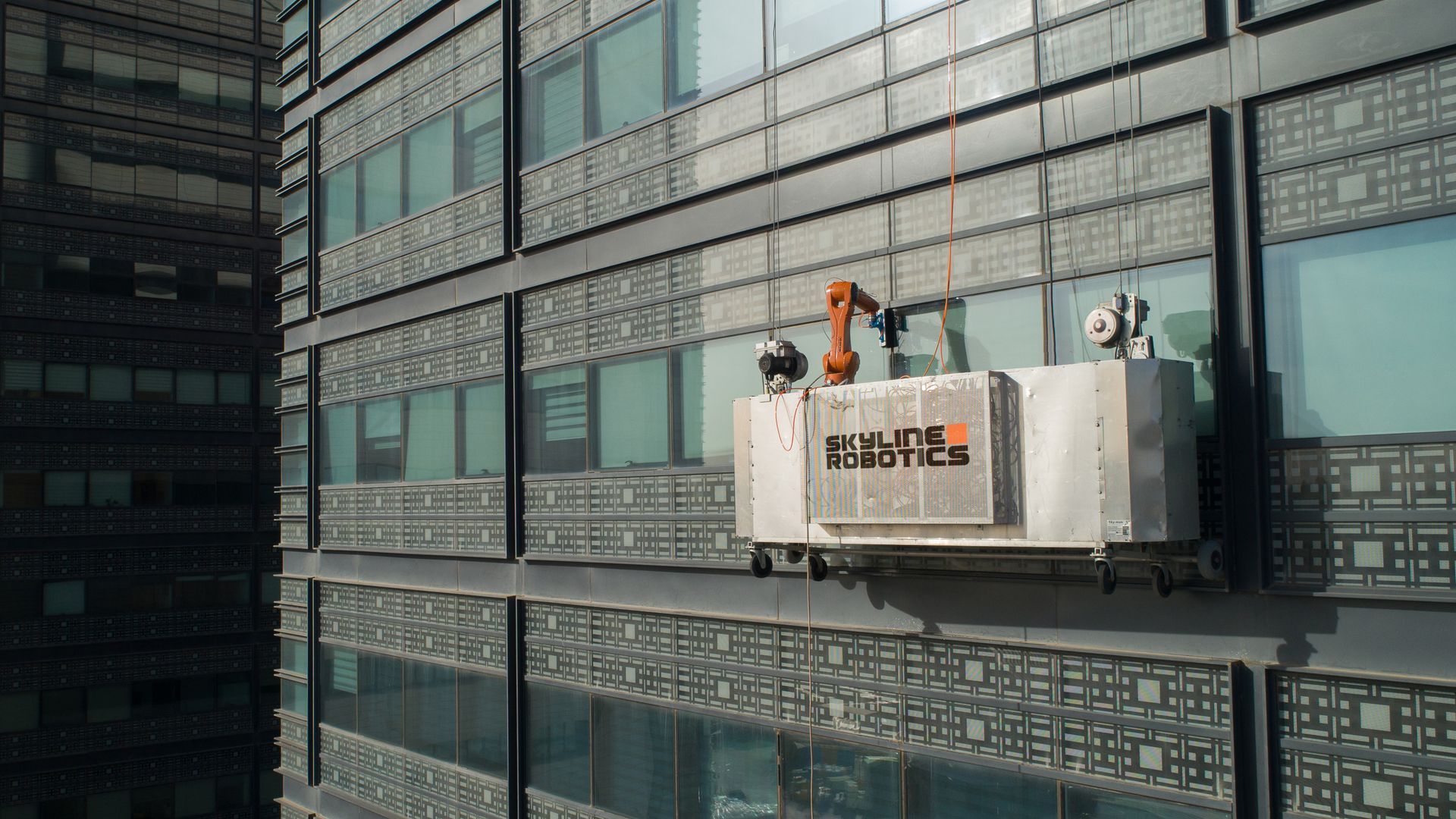 Commercial window washing is still handled primarily by humans in scarily high perches — but robots are poised to disrupt the industry, Jennifer A. Kingson reports.
Why it matters: It's safer and faster to use a robot to cleanse a skyscraper — plus, they don't need meals or smoke breaks.
Driving the news: Two competing Israeli companies, Skyline Robotics and Verobotics, are pitching their robot-based window-cleaning systems in New York and other big cities.
Both companies sell AI-based systems with robots that hug buildings' curtain wall.
The robots scrub walls and windows with brushes, but don't use any chemicals.
Where it stands: Skyline, whose "environmentally diligent cleaning robot" is called Ozmo, recently secured an investment from the venture arm of the Durst Organization, the big developer that owns One World Trade Center.
Skyline is also part of an innovation accelerator run by JPMorgan Chase, which is building a new global headquarters at 270 Park Ave. and may use Ozmo, the chairman and CEO of Skyline Robotics, Michael Brown, tells Axios.
The company has already sewn up a deal with Platinum, the largest commercial window cleaner in New York, for its robots to work alongside human washers.
Verobotics, meanwhile, has secured a distribution deal in Hong Kong for its autonomous high-rise building cleaner, which has been billed as a "robot spiderman."
Its system is in operation on a high-rise in Israel, and will be deployed on a "very iconic building" in New York City in April, said Ido Genosar, co-founder and CEO of Verobotics.
Robots can clean about three times faster than humans and work at night, he noted. "The goal is to have continuous upkeep all year long."
How it works: Skyline's Ozmo is a six-armed bandit that sits in a conventional window-washing basket.
It uses deionized water for streak-free cleaning and sensor-guided brushes that know how much force to apply without cracking the glass.
Due to current regulations, one person must typically sit alongside Ozmo while it cleans, while another person on the building's roof directs the crane that controls the basket.
With Verobotics' system, a 20-pound robot armed with a brush is lowered down from the building roof.
The robot is "literally walking vertically on the window using suction cups," Genosar said. "And it is delivering a payload, which is a cleaning device that is also doing the inspection."
Verobotics' system uses no water or other liquids. "We are using mechanical force, pushing the brushes very hard against the glass."
The big picture: Window washing "basically hasn't changed in the last 100 years," Genosar tells Axios.
Most professional window washers are highly skilled union members, and many are older or approaching retirement age, according to Genosar and Brown.
It's hard to find new recruits because of the danger and tedium of the job, as well as the overall labor shortage, they said.
There are window-cleaning drones, but those don't work well in cities or at very high altitudes, Brown said, because of safety and water pressure issues.
The bottom line: There's a boom in building skyscrapers — including supertall versions — and robots seem like a promising innovation for cleaning and inspecting them.
2. Video games as AI proving ground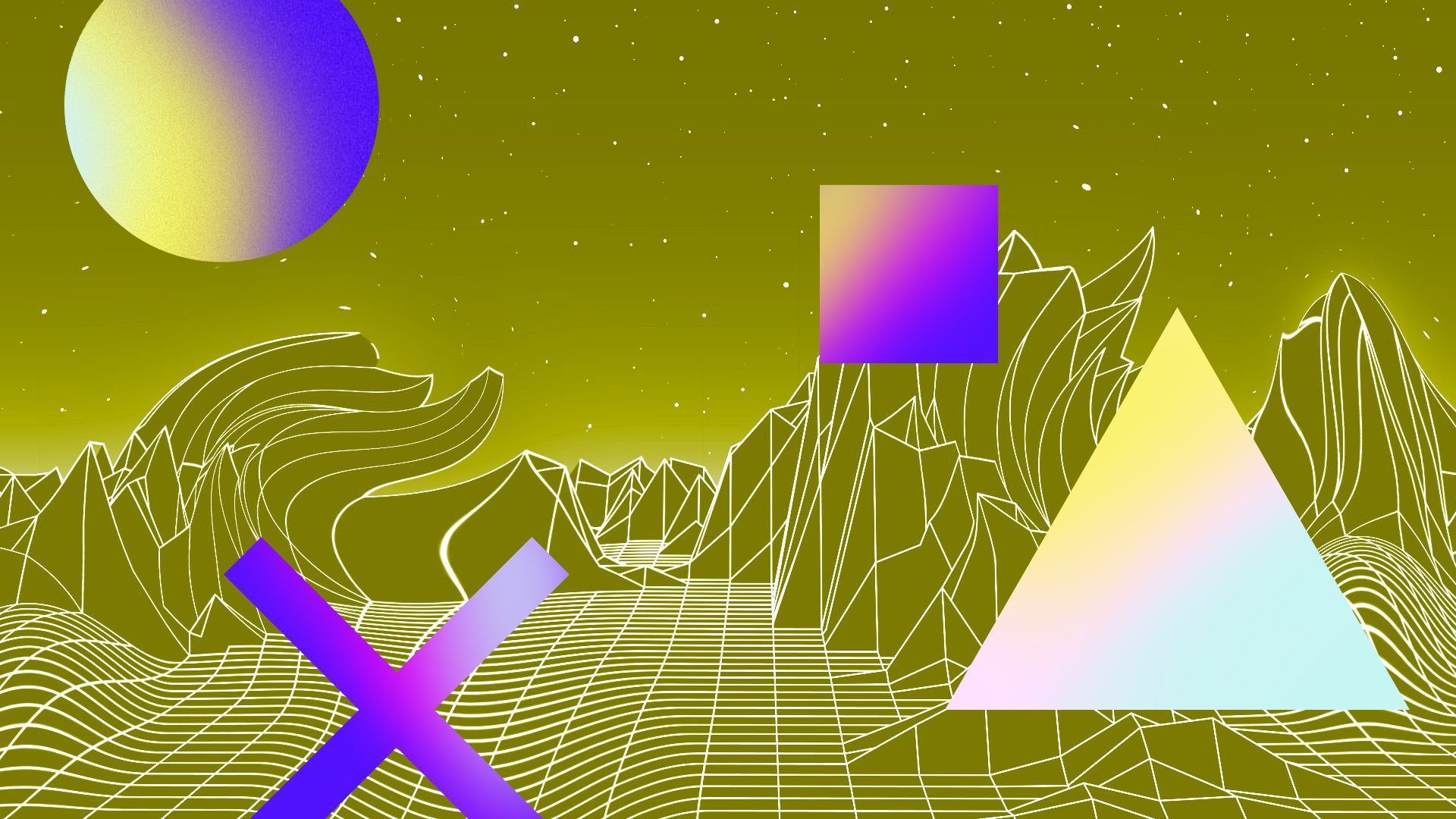 Video game makers are at the forefront of experimenting with generative AI's potential, Axios' Stephen Totilo writes.
For example: game creators are testing whether such tech can improve the vocabulary of the dozens or hundreds of minor characters players can meet in a given game, making them more lifelike.
What's happening: A new, fan-modified version of role-playing game Mount & Blade II features ChatGPT-powered citizens with bigger lexicons.
And computer-controlled characters in an upcoming detective game called Origins will offer AI-generated responses as players interrogate them.
Meanwhile: Other developers are dabbling with generative AI to help them create the underlying code or visual building blocks of their virtual worlds.
Independent developer Alex Rose has been using ChatGPT to write code for Unreal Engine. "It has an 80% success rate for me," he tells Axios. "20% of the time it's kind of gibberish."
Reality check: Using AI to make game creation easier has its hazards.
There's a risk that AI might use other artists' work without permission.
AI's moment in the gaming spotlight might fade fast, as happened with the NFT craze.
And then there's the anxiety about AI replacing people.
Yes, but: Rose isn't sweating that last one.
"I'm not yet afraid for my job," he said. "I'm more excited for what it can do for my job."
3. Free money for artists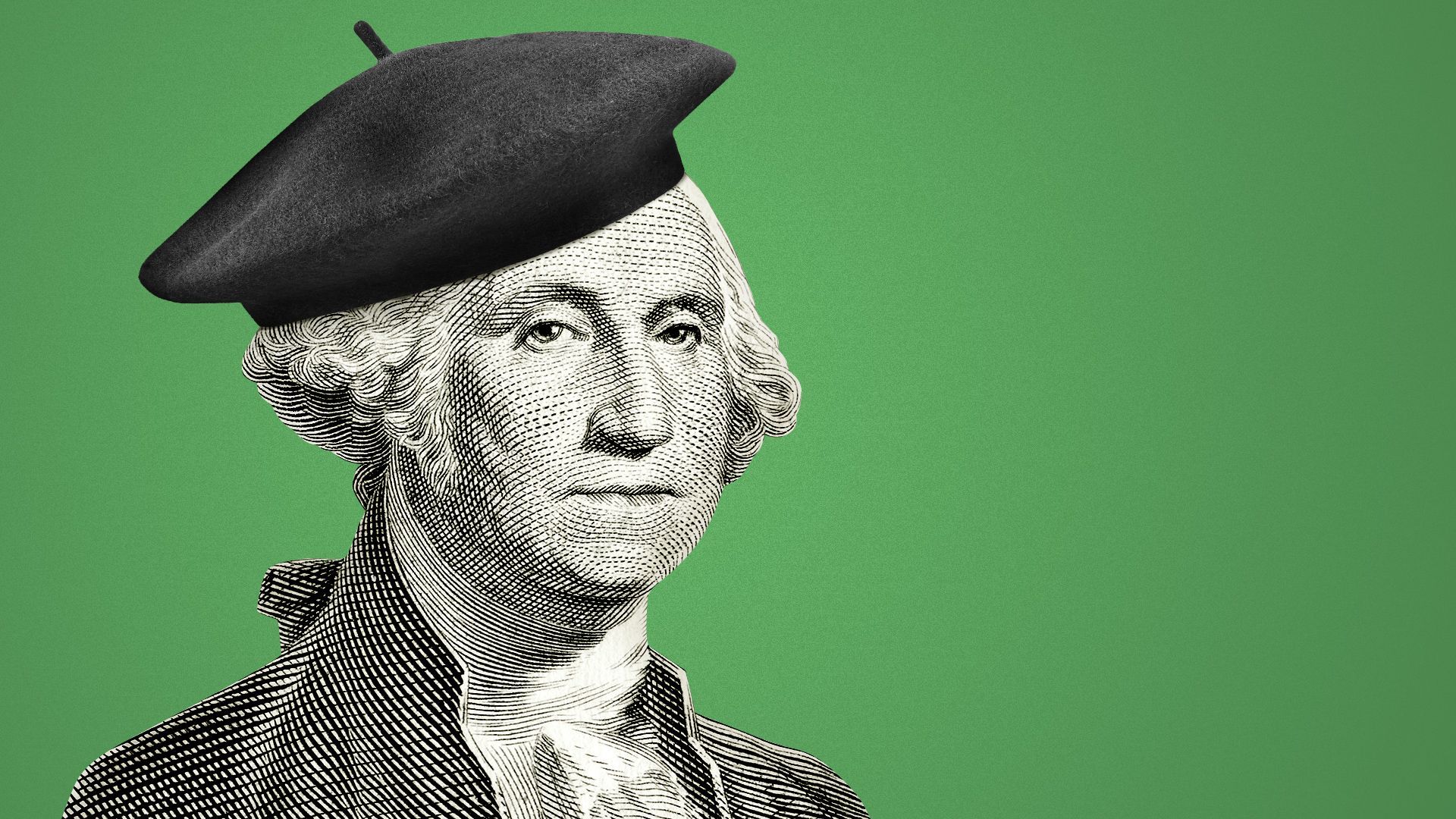 Dozens of Minnesota artists will soon get $500 monthly checks for 18 months with no strings attached, Axios' Audrey Kennedy reports.
Driving the news: Springboard for the Arts, a local arts nonprofit, is expanding its Guaranteed Minimum Income for Artists program.
The expansion follows the group's April 2021 pilot, which supported 25 artists living in neighborhoods disproportionately affected by COVID-19.
The big picture: Local governments and nonprofits nationwide are experimenting with direct cash payments to address poverty and income inequality.
How it works: Springboard's new recipients — 75% of whom are Black, Native American and/or people of color — were randomly selected from an existing pool of artists who previously received financial support from the group.
All of the program's funding comes from private foundations and donors.
Recipients don't need to show proof of work or income.
What they're saying: "The funds are meant to supplement income, not replace it," Springboard economic opportunity director Wone Vang tells Axios.
"We want to help people feel more financially secure … so they can feel better about working on their art."
4. 📊 The year of the strike
The number of major worker strikes in the U.S. rose to its second-highest level in two decades last year, per a new government report, Axios' Emily Peck reports.
By the numbers: There were 23 major work stoppages last year, involving a total of 120,600 workers.
Context: The Bureau of Labor Statistics, which published the report, only tracks work stoppages involving more than 1,000 workers — and that leaves out a lot of strikes.
Big thanks to What's Next copy editor Amy Stern.
Was this email forwarded to you? Get your daily dose of What's Next by signing up here for our free newsletter.