Axios What's Next
September 25, 2023
The autoworkers strike is only getting more complex, Joann and Axios' Emily Peck report today.
Today's newsletter is 996 words ... 4 minutes.
1 big thing: UAW's tactics, explained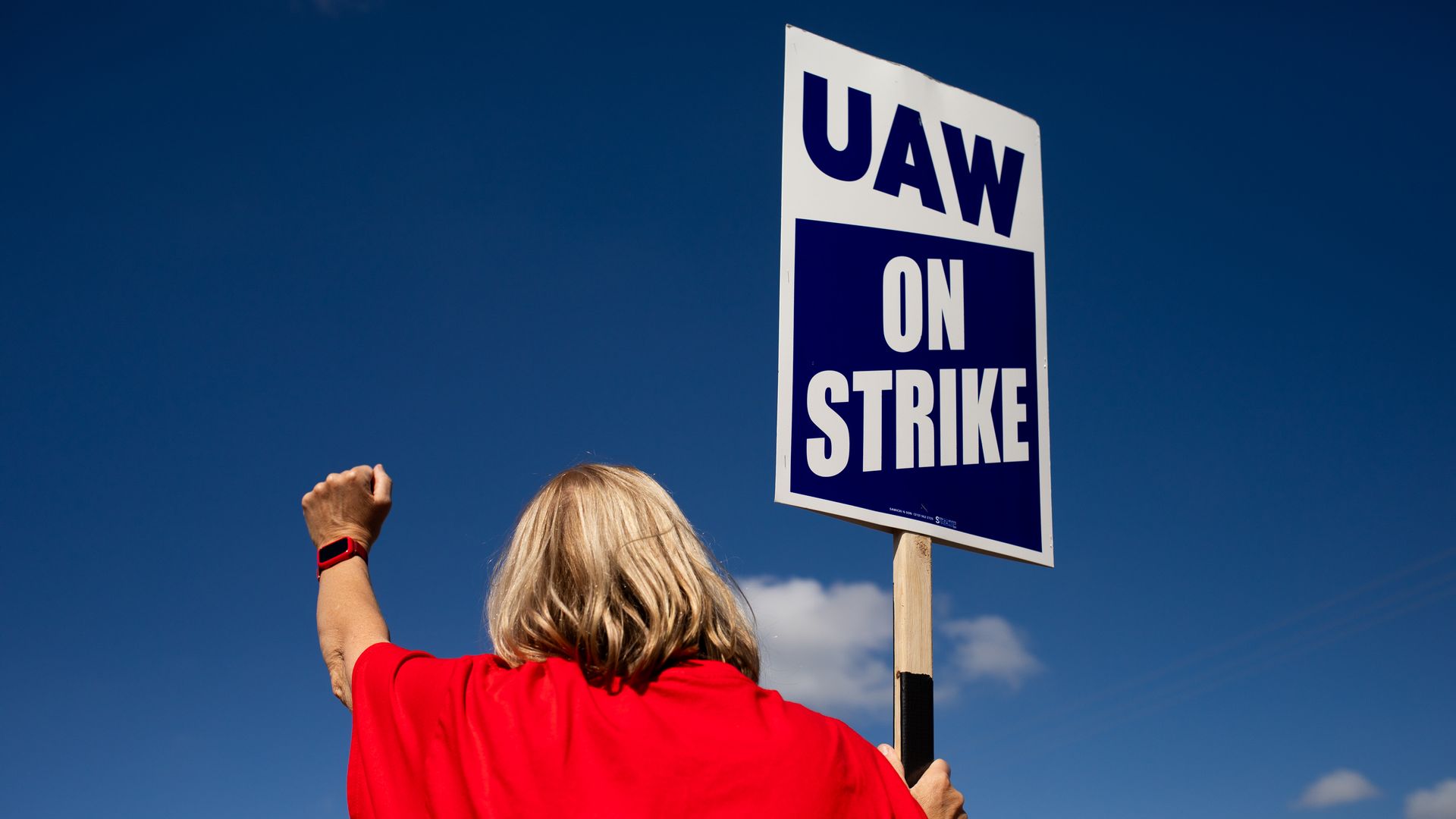 Recently leaked private messages from a United Auto Workers official could further undermine trust at the bargaining table, Joann and Emily Peck report, making a deal with the Big Three Detroit automakers even more elusive.
The latest: The UAW expanded its strikes against General Motors and Stellantis on Friday, but not Ford.
Why it matters: The leak ordeal is one of the first major blowups for UAW president Shawn Fain's team — and could test the union's new strategy as it seeks a new contract amid a generational shift to electric vehicles, increased automation and other recent changes.
Catch up quick: Screenshots of the leaked messages from UAW communications director Jonah Furman elicited outrage and accusations of bad-faith bargaining from the automakers.
In one of the messages, Furman said the UAW is inflicting "reputations damage and operational chaos" on GM, Ford and Stellantis.
State of play: After being sworn into office in March, Fain, who ran as a reformer, appointed a new leadership team — including Furman.
Fain elevated like-minded UAW members and hired outsiders who could help with important roles like organizing, communications and strategy, sources familiar with the union's structure tell Axios.
The new staffers are among roughly a dozen outsiders who have joined Fain's inner circle and are pushing, alongside reformers within the UAW ranks, for more of a grassroots culture at the union, the sources said.
They're providing media training, for example, to rank-and-file members — while also encouraging them to organize activities that aren't stage-managed by union bosses.
The big picture: UAW strategy under Fain looks very different from the old days when union negotiations happened behind closed doors and neither side talked publicly about the play-by-play.
But Fain is negotiating in public, making his case in the news media and directly to UAW members on social media.
Meanwhile: Highly polished, political-style videos feature Fain using fiery, progressive language about "corporate greed" and "the billionaire economy."
The rhetoric has echoes of Bernie Sanders — and indeed a couple of Fain's communications staffers, like Furman, once worked for the Vermont senator.
The other side: Automakers are frustrated not just by the UAW's tactics, but by what they say is misinformation being spread by the union.
In an unprecedented response, GM president Mark Reuss penned an opinion column calling the UAW's demands "untenable" and refuting claims made by Fain that workers make poverty-level wages.
The bottom line: Fain is operating more like a politician — rallying the constituents — than a backroom union boss, and some industry observers wonder whether he is overpromising what he can deliver.
2. The AI pause that wasn't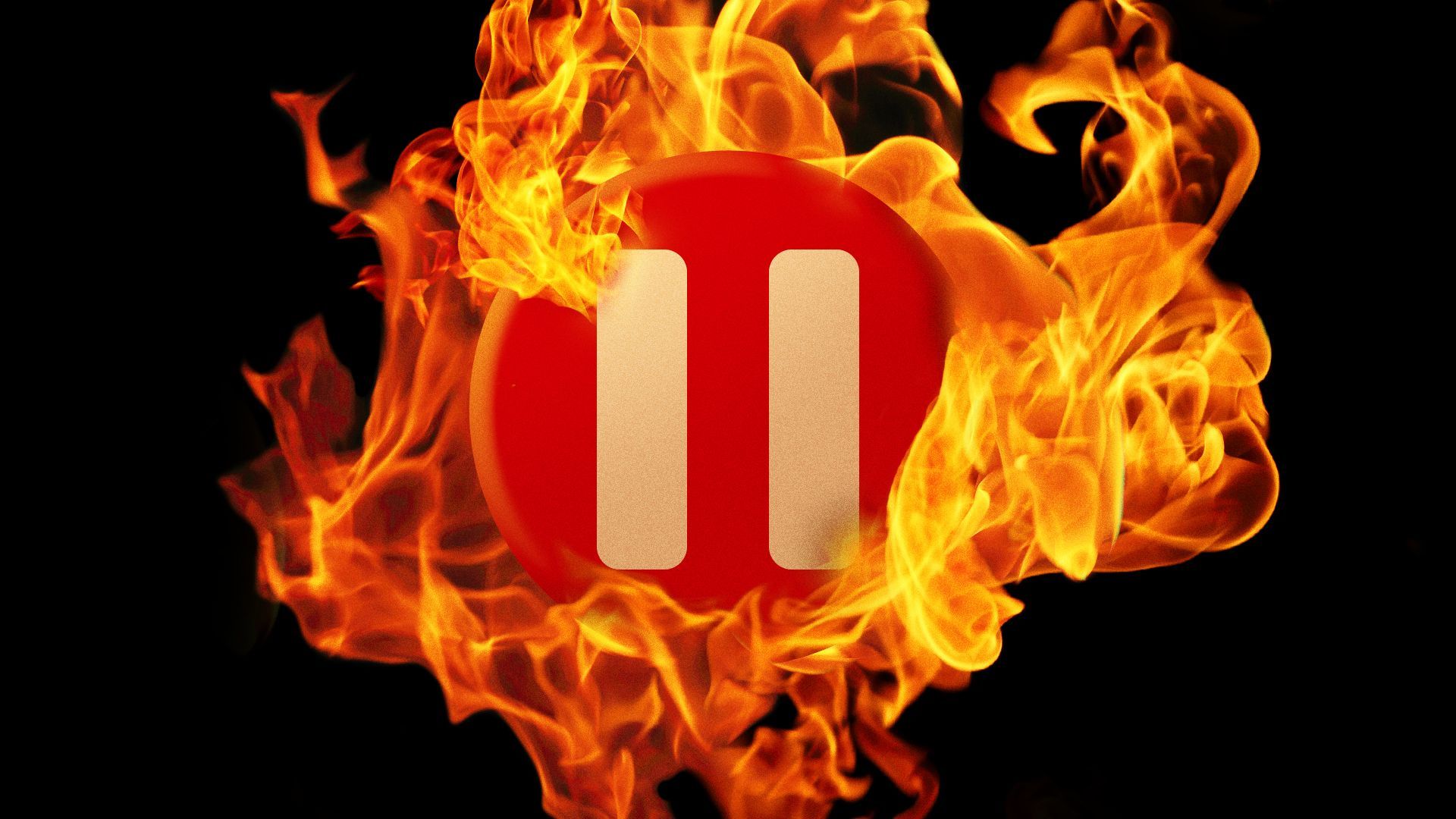 The organizers of a high-profile open letter last March calling for a "pause" in work on advanced artificial intelligence lost that battle, Axios AI+'s Ryan Heath reports — yet they could be winning a longer-term fight.
The big picture: Almost exactly six months after the Future of Life Institute's letter — signed by Elon Musk, Steve Wozniak and more than 1,000 others — called for a six-month moratorium on advanced AI, such work is still charging ahead.
But the ensuing massive debate deepened public unease with the technology.
Voters began to repeatedly express concern to pollsters, the White House mobilized tech CEOs to make safety commitments, and foreign regulators from Europe to China raced to finish AI regulations.
What's next: The British government is gathering a who's who of deep thinkers on AI safety at a global summit in November.
The event is "aimed specifically at frontier AI," U.K. Deputy Prime Minister Oliver Dowden said during a recent conference — a term used to distinguish the largest and potentially riskiest AI models from less capable technologies.
What they're saying: "You can never in one summit change the world, but you can take a step forward" and "create an institutional framework" for AI safety, Dowden said.
3. Climate split screen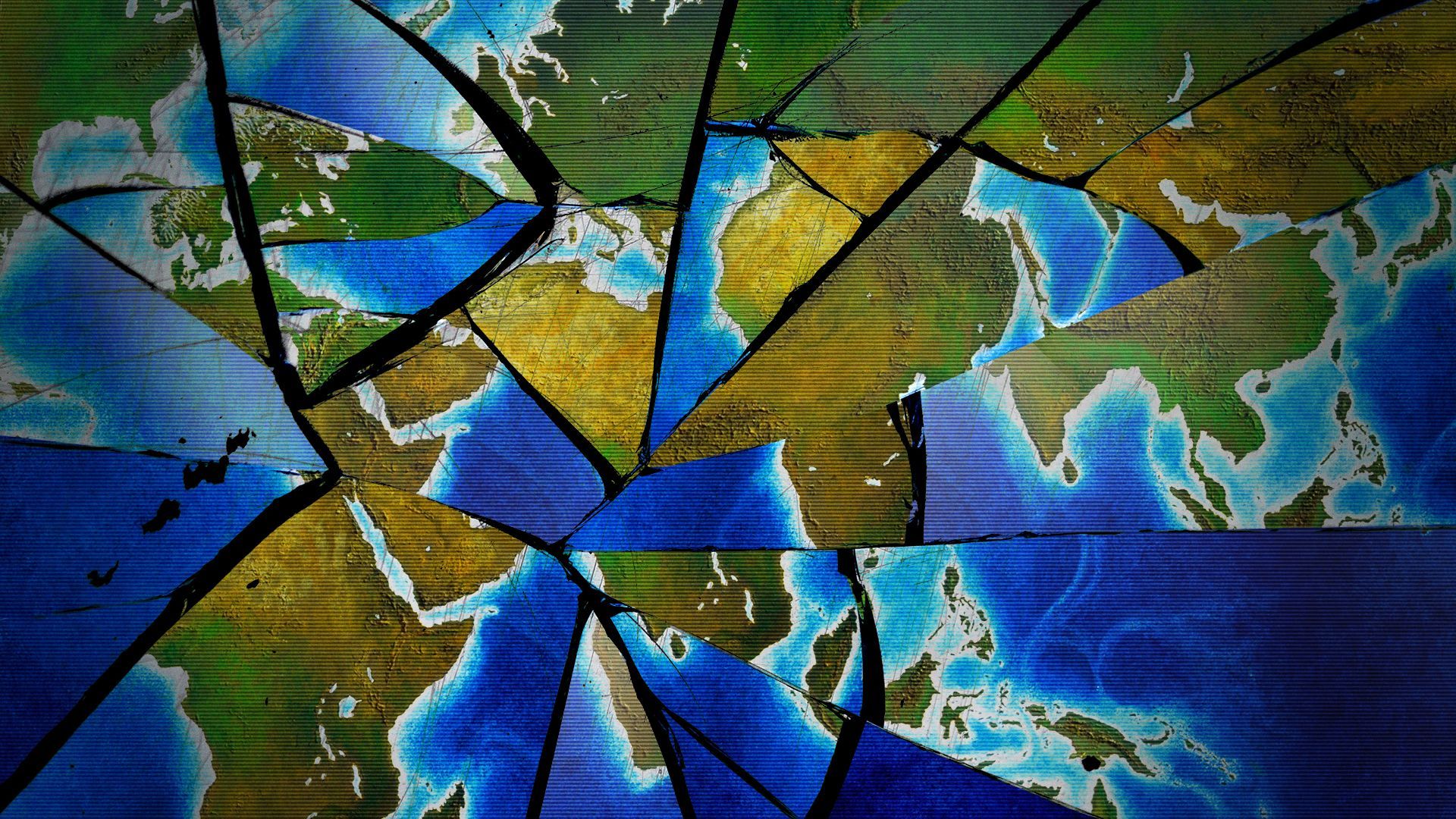 NYC's super-sized Climate Week featured a stark split screen between the official business of the week and a trade show-like glimpse into our lower carbon future, Axios Generate's Andrew Freedman reports.
The core message from all sides: Progress is being made to decarbonize economies, but the pace and scale are nowhere as fast or sweeping as needed.
Between the lines: Expect that idea to come up repeatedly at the U.N. Climate Summit in Dubai (COP28) later this year.
The private sector is emphasizing speed, while countries working within the U.N. process want speed plus a fossil fuel phaseout — and more money to help developing nations suffering the worst consequences.
Reality check: Although President Biden's signature climate law, enacted a little more than a year ago, has helped jump-start the process, the world is still hurtling toward exceeding the Paris climate targets.
That message was echoed by U.N. Secretary-General António Guterres as he led a climate summit last week.
"We are talking about something that can be real if we mobilize all our energies to make it happen," Guterres said. "Now, the conditions are not yet fully met. Clearly, they aren't. We are in many aspects even moving backwards."
4. Brightline launches Miami-Orlando trains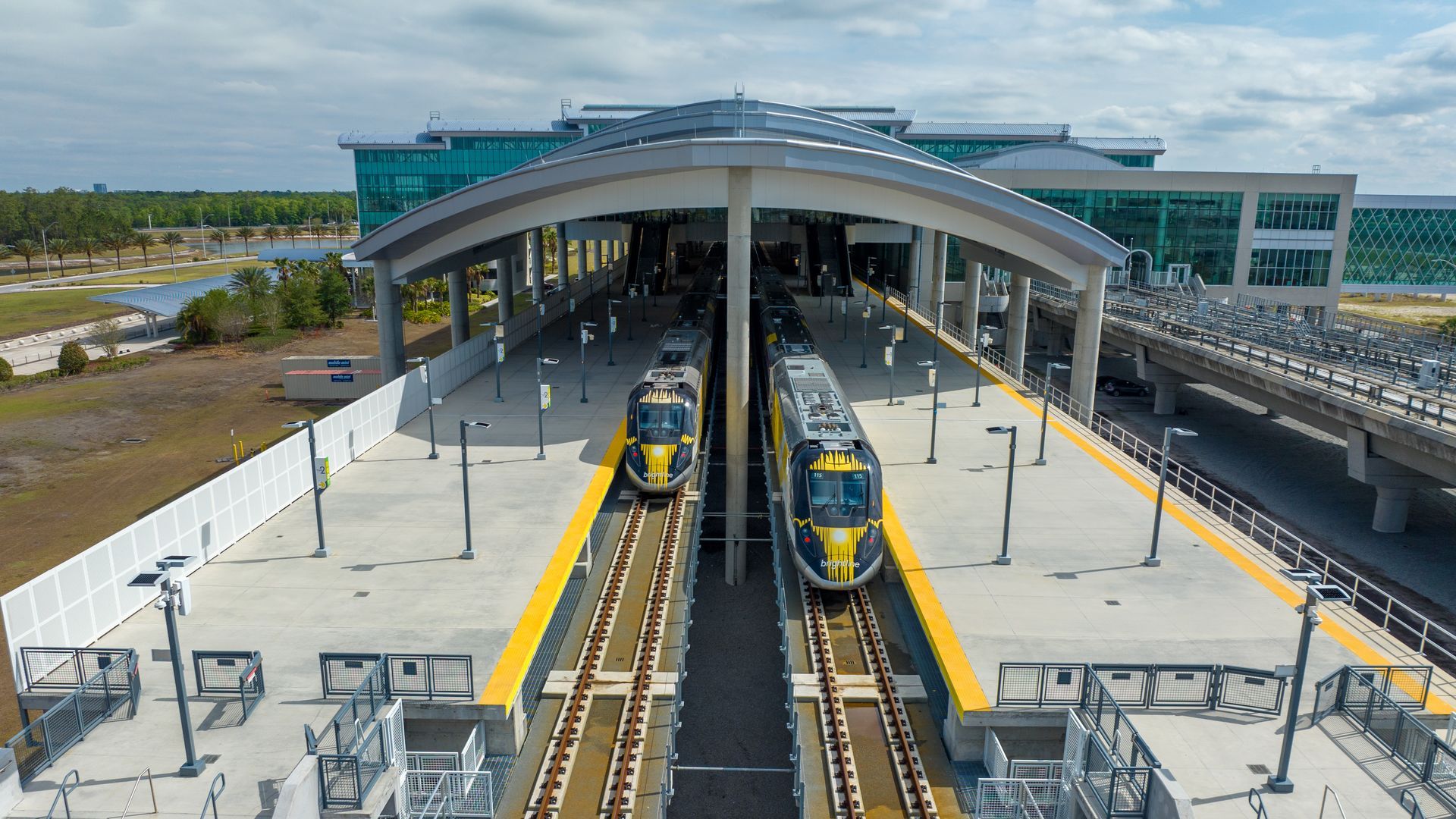 A long-awaited new rail option between Miami and Orlando is finally running, Axios Miami's Martin Vassolo reports.
Why it matters: Brightline, a privately owned high-speed rail company, is trying to win over some of the 40 million-plus people who travel between Miami and Orlando each year — with about 90% of them driving.
How it works: The company's biodiesel trains travel up to 79 mph in urban areas, 110 mph in more rural areas and 125 mph through central Florida's farmland.
A direct ride from Miami to Orlando takes about 3.5 hours, compared to a roughly 4-hour drive depending on traffic.
Yes, but: It's more expensive than driving, especially for families.
Round-trip business class tickets start at $158 for adults and $78 for kids ages 2-12, with groups of four or more saving 25%.
The big picture: Private train operators could fill some of the nationwide need left unserved or underserved by Amtrak.
Big thanks to What's Next copy editor Amy Stern.
Was this email forwarded to you? Get your daily dose of What's Next by signing up here for our free newsletter.