Axios What's Next
February 10, 2022
Guess what: We're having our first big event! 🎉 Please join Axios virtually at our inaugural What's Next Summit on April 5.
Register here to attend livestream sessions with discussions on trends that you read about in our newsletter every day — about the future of cities, transportation, the workplace and how we live.  
🥤 Situational awareness: There's a big shortage of disposable cups due to supply chain tie-ups, the WSJ reports — woe is us!
Today's Smart Brevity count: 1,1words ... 4.5 minutes.
1 big thing: Online betting comes for kids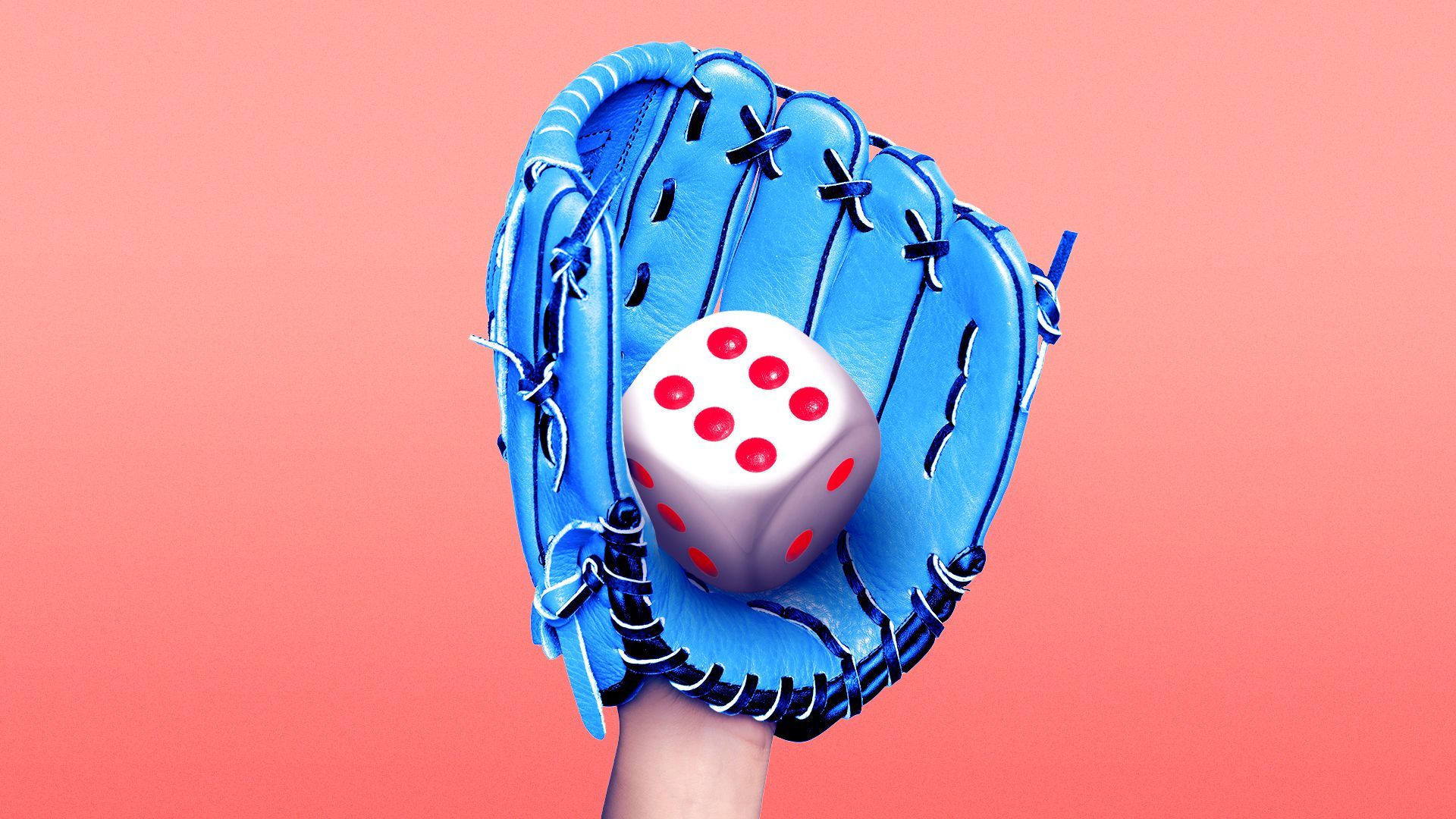 A slew of apps and games that simulate sports and casino betting are gaining popularity among children, Erica Pandey writes.
Why it matters: The line between gaming and gambling is getting blurrier — and social betting, which involves no real money, can lead kids to the real thing, experts say.
The big picture: "Gambling has become normalized in our society," says Jeff Derevensky, a professor of psychiatry at McGill University and director of the International Centre for Youth Gambling Problems and High-Risk Behaviors. "We're seeing a migration and an integration between gaming and gambling."
Global downloads of social gambling apps increased from 33 million in 2012 to 1.39 billion in 2020, according to an analysis by David Zendle, an expert on the effects of video games and gambling at the University of York.
Of the 1,132 "social casino" games analyzed, 1,107 — or nearly 98% — had an age rating of 12+ or lower.
Social casino games, which can be played for free through platforms like Facebook and Zynga, let players bet virtual money on games like slots, poker and blackjack.
What's happening: Sports betting is one of the fastest growing parts of the gambling industry, and that trend is reflected in the social betting world.
"Younger generations tend to view sports betting as a game of skill, rather than gambling, which has a more negative connotation," says Axios sports editor Kendall Baker.
Some sports betting-like games are marketed directly to kids. The National Football League and Nickelodeon have collaborated on a kids site that has cartoons, NFL trivia, and a feature that lets kids pick winners and get points for selecting correctly.
The stakes: "There's a massive exposure effect," says Keith Whyte, executive director of the National Council on Problem Gambling. "There's a habituation and grooming effect."
Studies have shown that kids who engage in social betting games are likelier to develop gambling problems later in life.
Yes, but: The solution isn't necessarily to do away with these apps, but for parents to be more aware of what their kids are doing, says Timothy Fong, a co-director of the Gambling Studies Program at UCLA.
2. At last, a pizza vending machine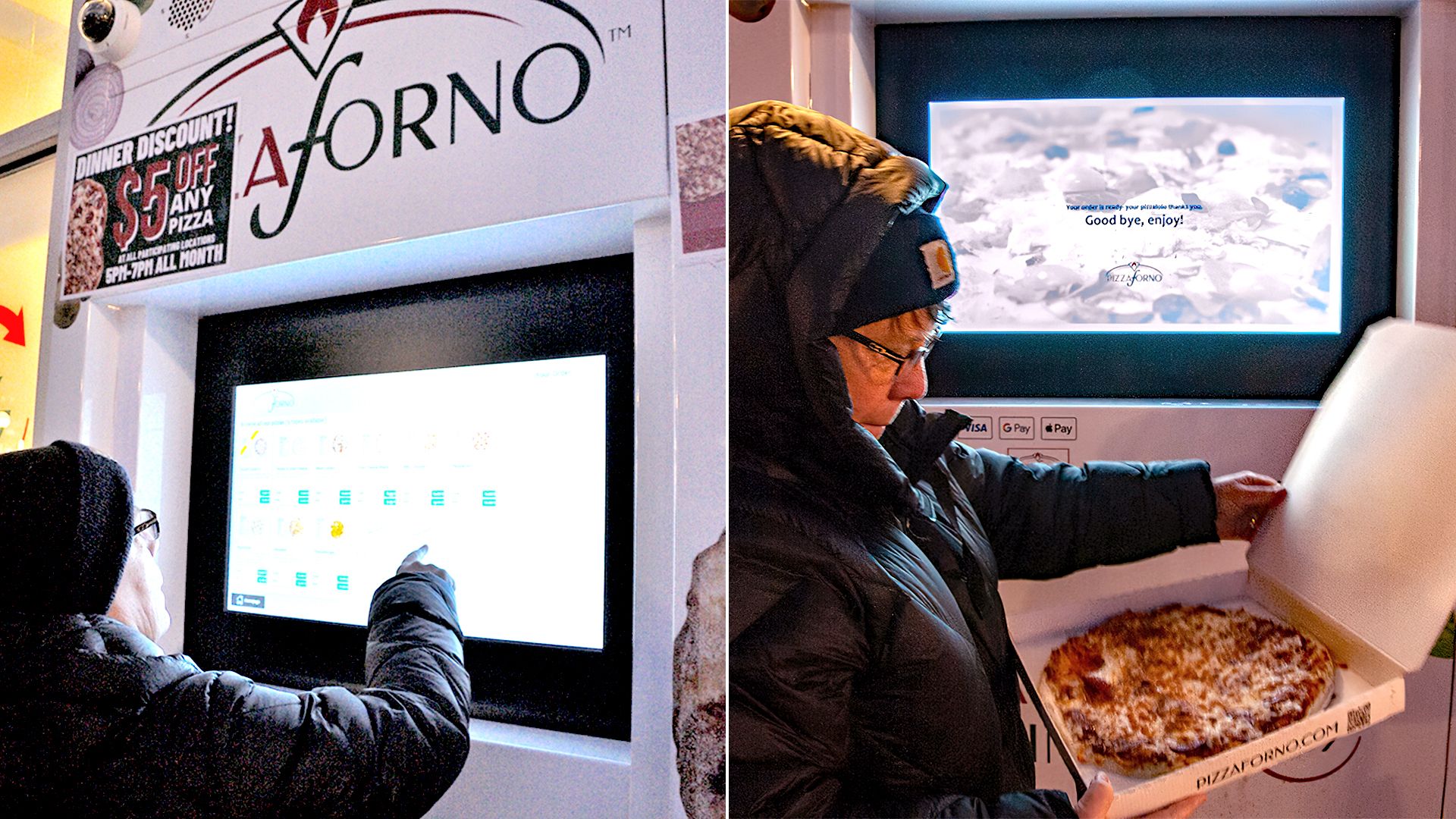 These days, pizza can arrive by car, delivery bot and even drone. Now you can also get a piping hot pie from a vending machine, Joann Muller reports.
What's happening: PizzaForno, a Toronto-based company, is rolling out its automated pizza vending machines across North America, including in Michigan and other U.S. locations.
For $10 to $13, they serve up hot, 12-inch pizzas in under three minutes.
How it works: The pizza is fresh, not frozen, and made by humans but served by a robot.
Assembled at a regional commissary "with hand-stretched crusts" and "locally sourced ingredients," the uncooked pizzas are loaded into the refrigerated section of PizzaForno's 65-square-foot automated oven.
The customer chooses a pizza from the menu, then behind the scenes a robotic arm transfers the selected pizza to the oven.
Once baked, it's placed in a box, which emerges from a slot in the storefront like money from an ATM.
Each vending machine holds 70 pizzas, which have a three-day shelf life. Workers restock the machine with fresh pizzas three times a week.
I selected a $12 pepperoni pizza the other night from a PizzaForno machine in Ann Arbor, near the University of Michigan campus.
It worked exactly as described, and the pizza looked and smelled delicious.
The dough was limp, though, and the flavors were lacking. Good in a pinch, maybe.
But why didn't the robot slice the pizza? It turns out there's a slot in the wall to grab a single-serve, biodegradable knife, but I didn't notice it. Not exactly customer-friendly.
You can also get an uncooked pizza to take home for $1 off.
3. Home foreclosures on the rise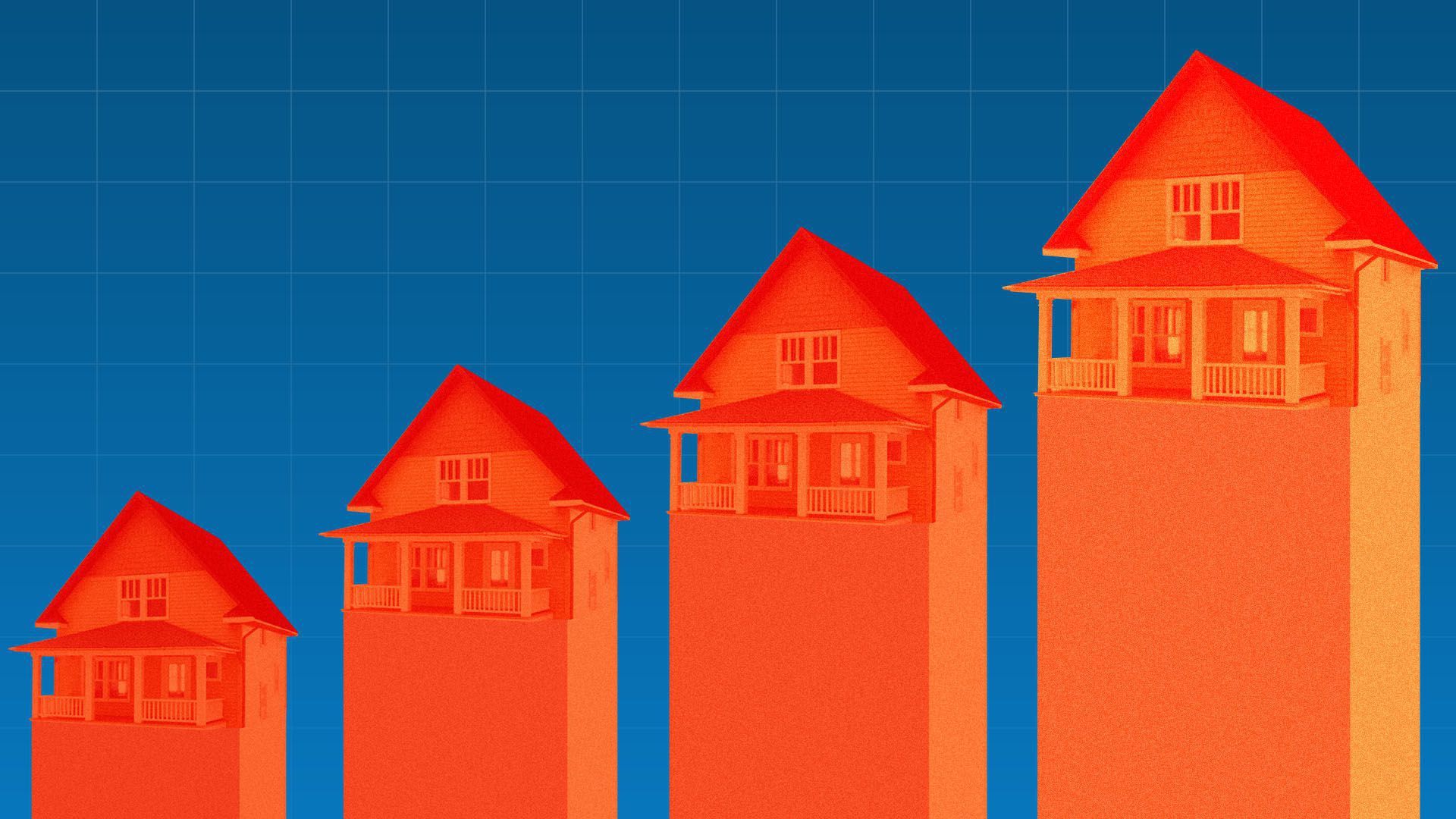 Foreclosure activity is the highest it's been since the beginning of the pandemic — March of 2020 — according to a new report from ATTOM, which maintains a national foreclosure database.
Why it matters: That translates to a lot of human suffering, Jennifer A. Kingson writes.
The number of U.S. properties in foreclosure — default notices, scheduled auctions or bank repossessions — was 23,204 in January, up 29% from December and 139% from a year ago.
January was the seventh month in a row that lenders repossessed more properties than they had in the same month a year ago — 4,784 — according to ATTOM.
Silver lining: The increase seems to be seasonal and circumstantial, not tied to any surprise consumer financial problems.
"Foreclosures typically slow down during the holidays in November and December and pick back up after the first of the year," says Rick Sharga, executive vice president of RealtyTrac, a division of ATTOM.
"This year, the increases were probably a little more dramatic than usual" because of the expiration at year-end of foreclosure restrictions placed on mortgage servicers by the Consumer Financial Protection Bureau.
Details: States with the highest foreclosure rates were New Jersey, Illinois, Nevada, Michigan and Ohio.
Cities with the highest foreclosure rates were Detroit; Atlantic City, N.J.; Cleveland; Columbia, S.C.; and Trenton, N.J.
4. Battle over government use of face recognition rages on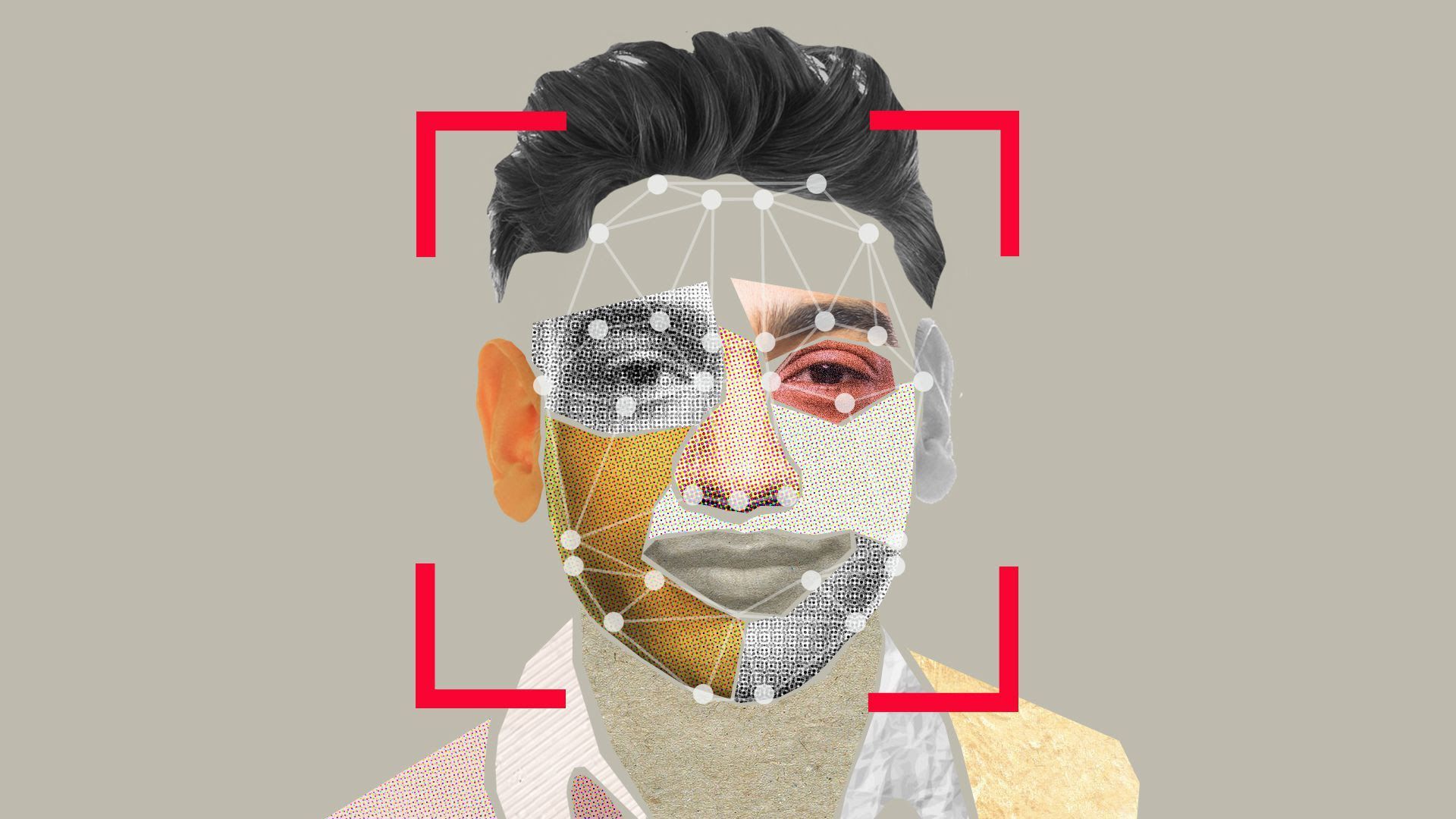 Fresh on the heels of getting the IRS to end a controversial use of facial recognition, politicians and civil liberties groups are trying to get other government agencies to drop their use of the technology, Ina Fried writes in Axios Login.
Why it matters: While a handful of cities have passed laws on government use of facial recognition, there are few limits on how the federal government can use such technology.
Driving the news:
Sens. Ed Markey and Jeff Merkley and Reps. Pramila Jayapal and Ayanna Pressley sent letters to the heads of the Department of Homeland Security and four other departments urging the agencies to stop using Clearview AI's facial recognition technology.
Meanwhile, ID.me said Tuesday it will offer government agency customers the option of allowing people to verify their identity without having to submit a selfie to its automated system.
The moves follow the IRS' decision to end use of ID.me's selfie-based identity verification system.

The tax agency's reversal followed a backlash from regulators and civil liberties groups who raised concerns about facial recognition technology broadly, as well as specific issues related to ID.me.
5. Coco food delivery bots arrive in Austin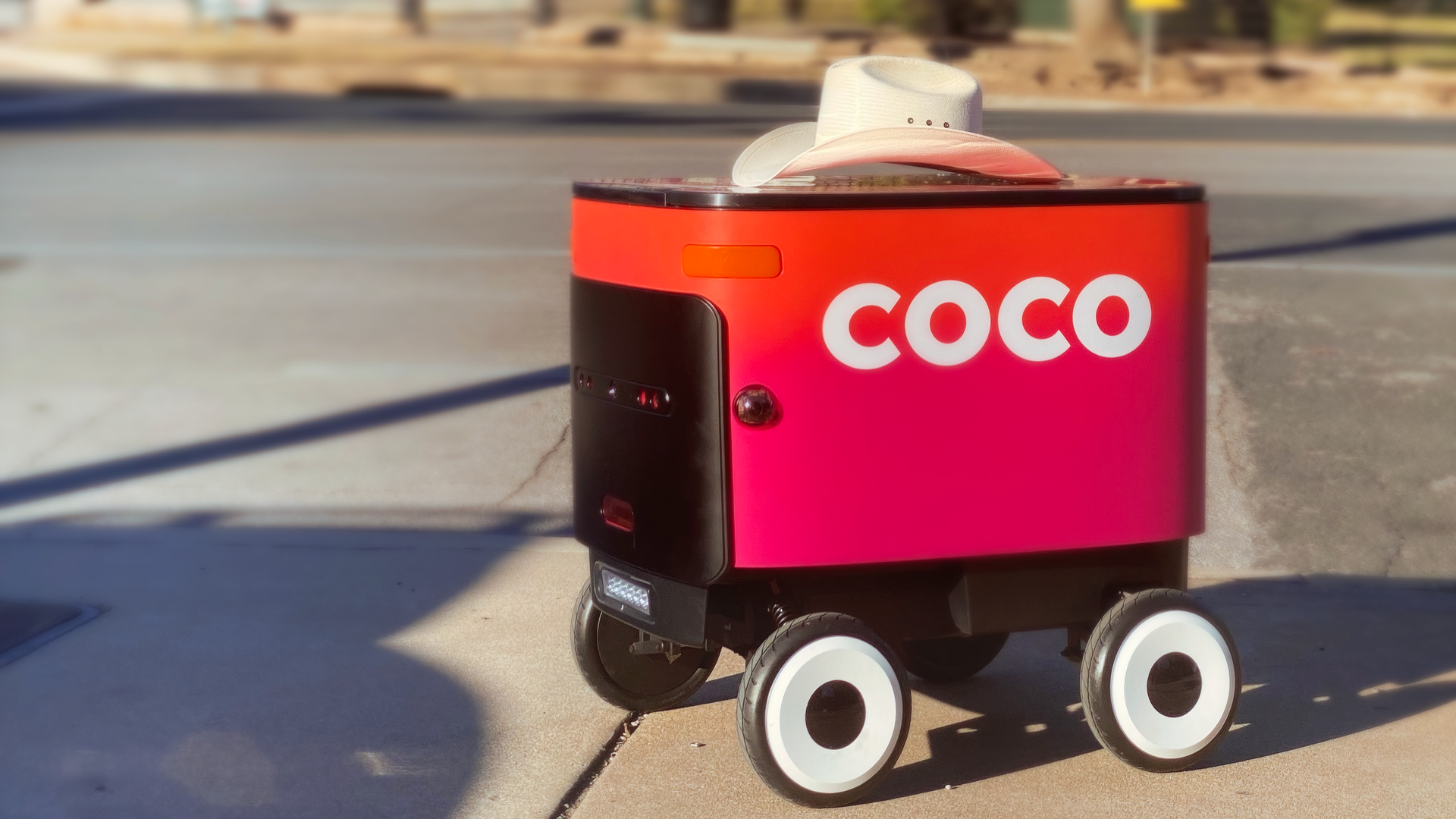 Los Angeles-based Coco, a remotely piloted delivery service, has officially expanded to Austin, Nicole Cobler writes in Axios Austin.
Where it stands: The Austin rollout is expected to include 50 new Coco 1 bots, which look like ice cream carts — minus a person pushing them — and schlep restaurant food to your doorstep.
The bots rely on remote operators to monitor the autonomous deliveries.
They promise delivery in 15 minutes or less.
The big picture: It's Coco's first operation outside LA, and the company has partnered with Austin favorites: Arpeggio Grill, Bamboo Bistro, Clay Pit, DeSano Pizzeria, Tuk Tuk Thai and Aviator Pizza.
What's next: Company officials said they are targeting Dallas, Houston and Miami in the next few months.
Was this email forwarded to you? Get your daily dose of What's Next magic by signing up for our free newsletter here.