Axios What's Next
September 14, 2021
Plant-based nuggets may be having their moment, as Erica Pandey reports: Meatless meat companies are courting carnivores with a new generation of "tastes-just-like ..." products.
And: Today's What's Next photo contest winner is Monica Waggoner, whose picture appears at the bottom.
Your photo could be next! Please send us a photo you took that tells us something about What's Next. What is next? Why? Send us your images and ideas at

[email protected]

.
Today's Smart Brevity count: 1,024 words ... 4 minutes.
1 big thing: Fake meat companies are hungry for meat-lovers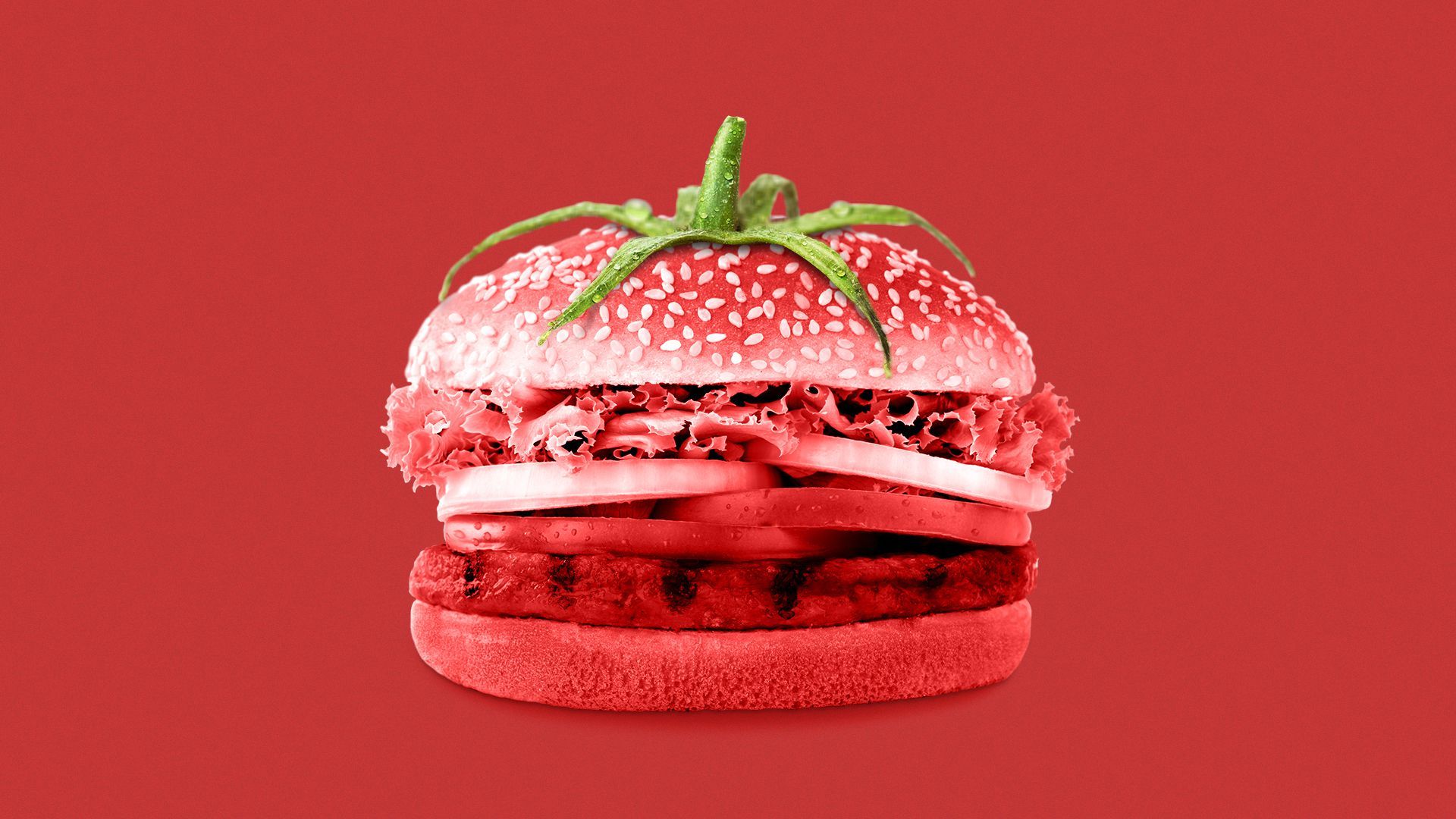 Plant-based meat firms aren't just going after vegans and vegetarians anymore. They're betting that closely mimicking the taste of meat will let them chip away at the meat-eating market too, Erica writes.
Why it matters: Diets that include meat — especially beef — have a steep climate impact. If plant-based protein gains popularity, more and more people could reduce or even halt their meat consumption.
Giving up meat "is the single largest thing an individual can do to reduce their carbon footprint," says Glenn Hurowitz, who runs the environmental advocacy organization Mighty Earth.
A diet that includes beef has 10 times the climate impact of a plant-based diet, he says.
A diet that includes chicken has three times the impact of a plant-based one.
For turkey and pork, it's four to six times.
The plant-based meat companies that are pouring money into approximating the taste and texture of meat are going for "a total transformation of the protein sector," Hurowitz says.
I got a taste of the latest fake meat product to hit shelves, Impossible Foods' chicken nuggets.
They were crunchy on the outside and meaty on the inside, and I could barely notice the difference between them and real chicken nuggets — especially when doused in dipping sauces.
These nuggets have perks beyond the environmental benefits: 40% less saturated fat and 25% less sodium than standard chicken nuggets.
They will compete with meatless chicken nuggets from other brands, including Beyond Meat and Tyson Foods.
Plant-based meat companies have fine-tuned the taste of other products as well, including breakfast sausages and burgers.
But, but, but: Plant-based meat is still not as affordable as real meat.
"The average price for a meat alternative sold in a grocers' meat department in the U.S. last year was $9.87/pound. The average price for beef? $4.82/pound. Chicken is even cheaper, at $2.33/pound," reports Vox's Kelsey Piper.
However: The cost gap seems likely to narrow.
Competition among plant-based meat companies "will continue to drive the price down," Hurowitz says.
Also, meat producers get government subsidies that drive their prices down. If political tides turn against the producers, those subsidies could disappear, he says.
What to watch: The plant-based meat companies still have a ways to go to crack open the meat-lovers market. It's easy enough to replicate the taste and texture of processed meat, like a sausage or patty or nugget, but a lot harder to mimic the muscle of an animal, says Ricardo San Martin, research director of the alternative meat program at UC Berkeley.
The real challenge will be to come out with a convincing fake filet mignon or roast bird. For now, meatless Thanksgiving is still far away.
2. What younger people want from their bosses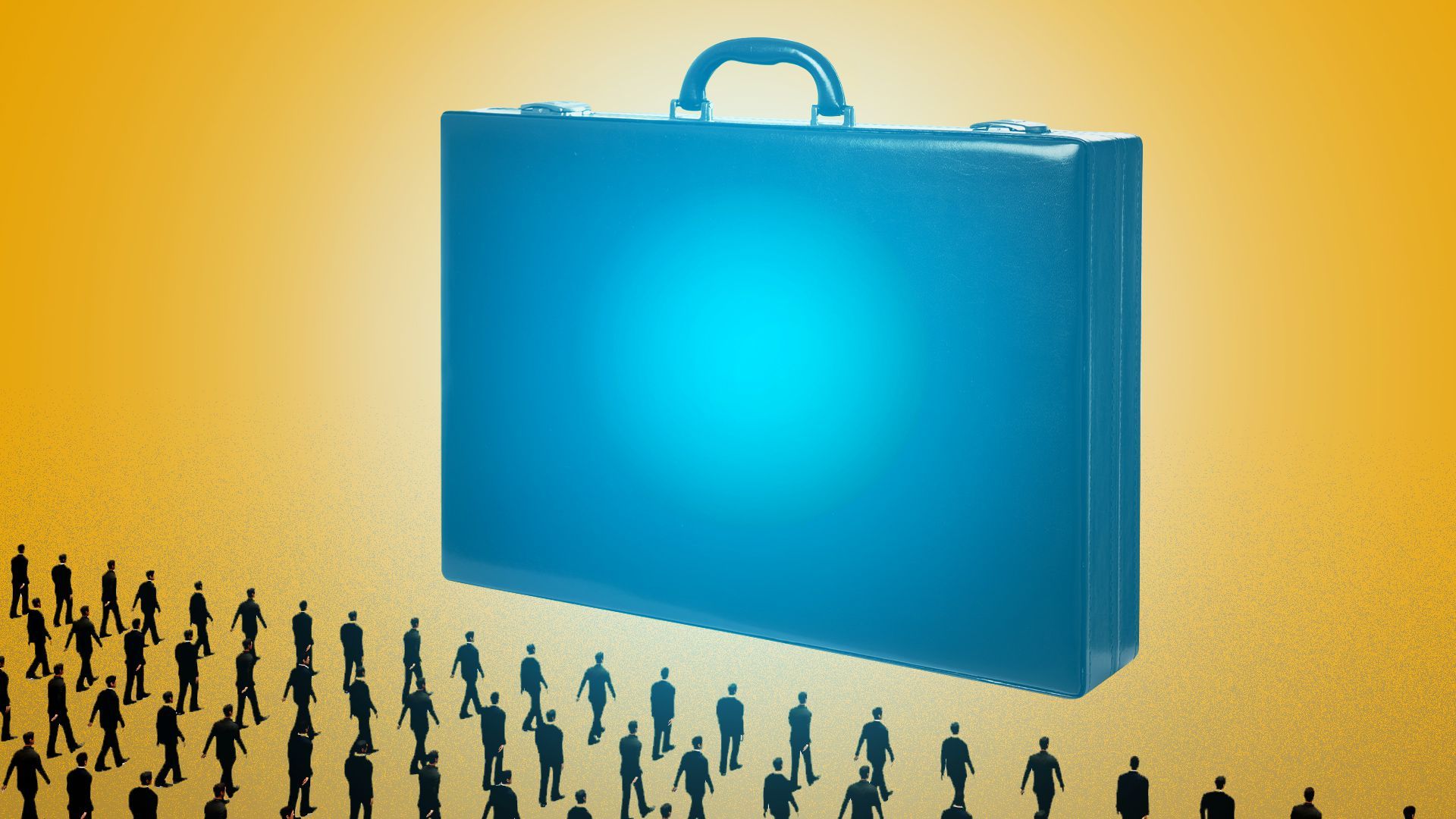 Workers increasingly want their companies to think bigger than profits and speak up on social issues — and it's younger employees driving the trend, Erica writes.
The big picture: As the next generation enters the workforce, companies will have to devote even more time and resources to tackling issues like systemic racism, income inequality and climate change.
Driving the news: There isn't a single issue that stands out when young people are asked what they expect their employers to care about, according to a new Axios/Generation Lab poll of college students. The range of causes include:
17% say companies need to pay most attention to racial diversity and inclusion
21% say climate change
22% say better pay for low-wage workers
16% say reskilling or upskilling
20% say better health care and child care benefits.
Overall, 68% say companies should take public stances on social issues and another 16% go as far as to say they wouldn't work for a company that doesn't.
"There is no silver bullet for companies," says Cyrus Beschloss, founder of Generation Lab.
The bottom line: Companies will have to broaden their mission statements as the war for talent is increasingly won on how firms respond to — and take action to remedy — societal issues.
3. 🎓 Women rule college
60% of college students were women, an all-time high, and 40% were men at the end of the 2020-21 academic year, Jennifer Kingson writes based on reporting by the Wall Street Journal's Doug Belkin (subscription):
"U.S. colleges and universities had 1.5 million fewer students compared with five years ago, and men accounted for 71% of the decline."
"This education gap, which holds at both two- and four-year colleges, has been slowly widening for 40 years."
What's next: In the next few years, if the trend continues, two women will earn a college degree for every man, Douglas Shapiro of the National Student Clearinghouse told WSJ.
4. Colorado legalized human composting — now what?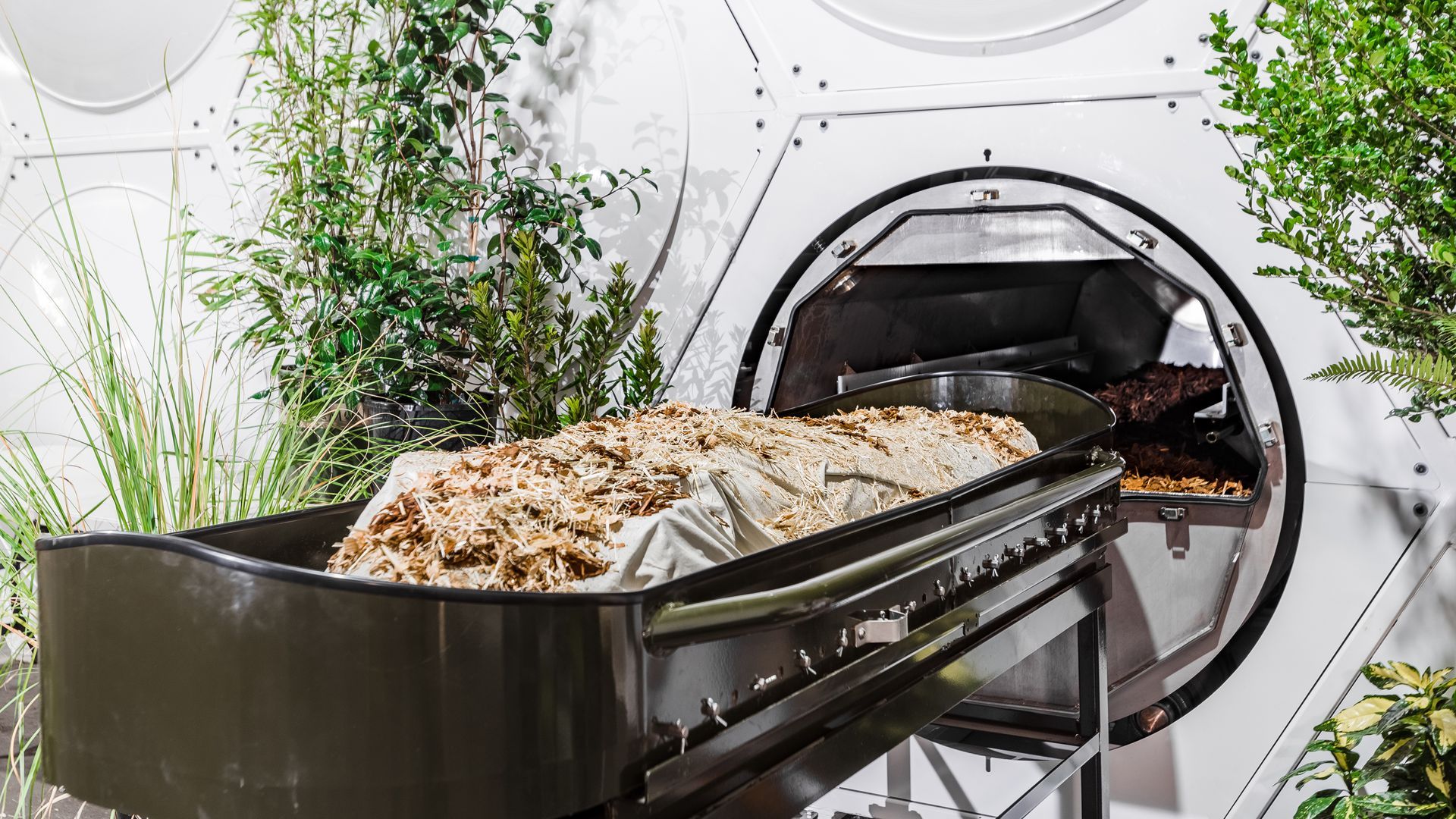 The world's first full-service funeral home specializing in human composting is planting seeds in Denver, writes Alayna Alvarez of Axios Denver.
Driving the news: Recompose, a company that offers human composting services in Washington state, plans to open a 50-vessel facility in Denver by fall 2022, spokesperson Anna Swenson says.
Context: Colorado became the second state in the country after Washington to legalize human composting after Democratic Gov. Jared Polis signed the bill in May.
The policy went into effect Tuesday, but experts tell Axios it could take about a year of ironing out legal logistics before a business can be licensed to operate.
Why it matters: Not only will the law give Coloradans a new death care option, but advocates say it will position the state as a pioneer in innovative environmental policy and practices.
Recompose estimates that 1 metric ton of carbon dioxide is saved from entering the environment for every person who chooses organic production over conventional burial or cremation.
That's because the soil created returns the nutrients from human bodies to the natural world, capable of helping restore forests, capture carbon and nourish new life.
State of play: Demand is clear in Denver, and Coloradans are actively contacting Recompose about its services, Swenson says.
5. Reader photo of the day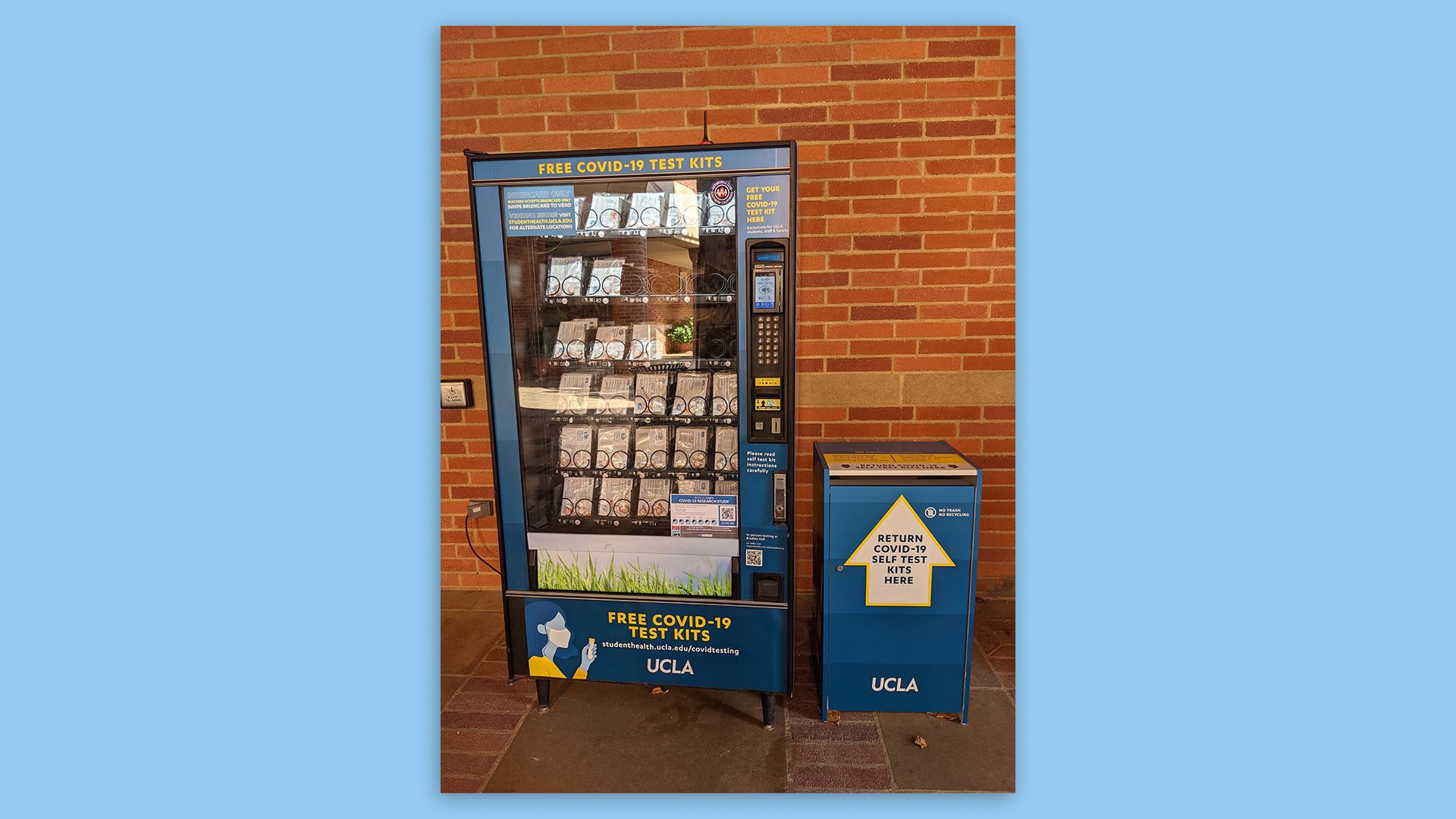 What's Next: Vending machines for COVID-19 tests
UCLA alum Monica Waggoner writes, after a recent visit to her alma mater with her husband and children: "On the UCLA campus. ... Get your test by swiping your BruinCard. No worries about when it's open or making a reservation."
Be on the lookout for photos that speak to What's Next in our lives. Send them to [email protected].
And please tell everyone at your cookout to sign up for Axios What's Next. Subscribe here.