Axios Vitals
December 07, 2021
Good morning, Vitals readers. Today's newsletter is 718 words, or a 3-minute read.
1 big thing: Americans embrace more jabs...
Vaccination rates have ticked higher since the discovery of the Omicron variant, CDC data shows.
By the numbers: The seven-day average for vaccinations in the U.S. reached about 1.8 million on Monday, up from an average of about 1.3 million a month ago.
Much of the growth is happening because vaccinated people are getting boosters, not because of a surge in unvaccinated people seeking their first shots, the Washington Post writes.
Where it stands: About 23% of American adults, or roughly 47 million people, completed their initial series and have also gotten boosted.
What they're saying: "Omicron has the potential to promote much-needed things to happen in the United States: vaccinations and boosters," tweeted Eric Topol, executive vice president of Scripps Research.
2. ...but less willing to make other changes
Most Americans aren't willing to make big changes in their behavior to minimize the risk from the Omicron variant, like avoiding indoor restaurant dining or canceling their holiday travel plans, Axios' David Nather writes from the latest Axios-Ipsos poll.
The big picture: The poll found support for broader public responses, including one — travel bans aimed at people from other countries — that was widely supported by people across the political spectrum.
Yes, but: It found Americans are only willing to do so much.
The poll shows "how much the behavior is already baked in" at this stage of the COVID-19 pandemic, with Americans mainly interested in ways to adapt to keep living their lives, said Ipsos senior vice president Chris Jackson.
"New facts don't seem to be changing people. They've already decided what they're going to do, and they're doing it."
What to watch: Larger numbers of Americans are open to broad public responses to Omicron, like businesses requiring customers to wear masks indoors (69%) and local governments requiring masks in all indoor public places (65%).
One thing Americans will not support: another round of lockdowns. Just 35% said they'd support temporary lockdowns and business closures to fight Omicron.
🎙 Tune in: The Axios Re:Cap podcast discusses Omicron's impact on air travel
3. Poor global equity likely in COVID pill access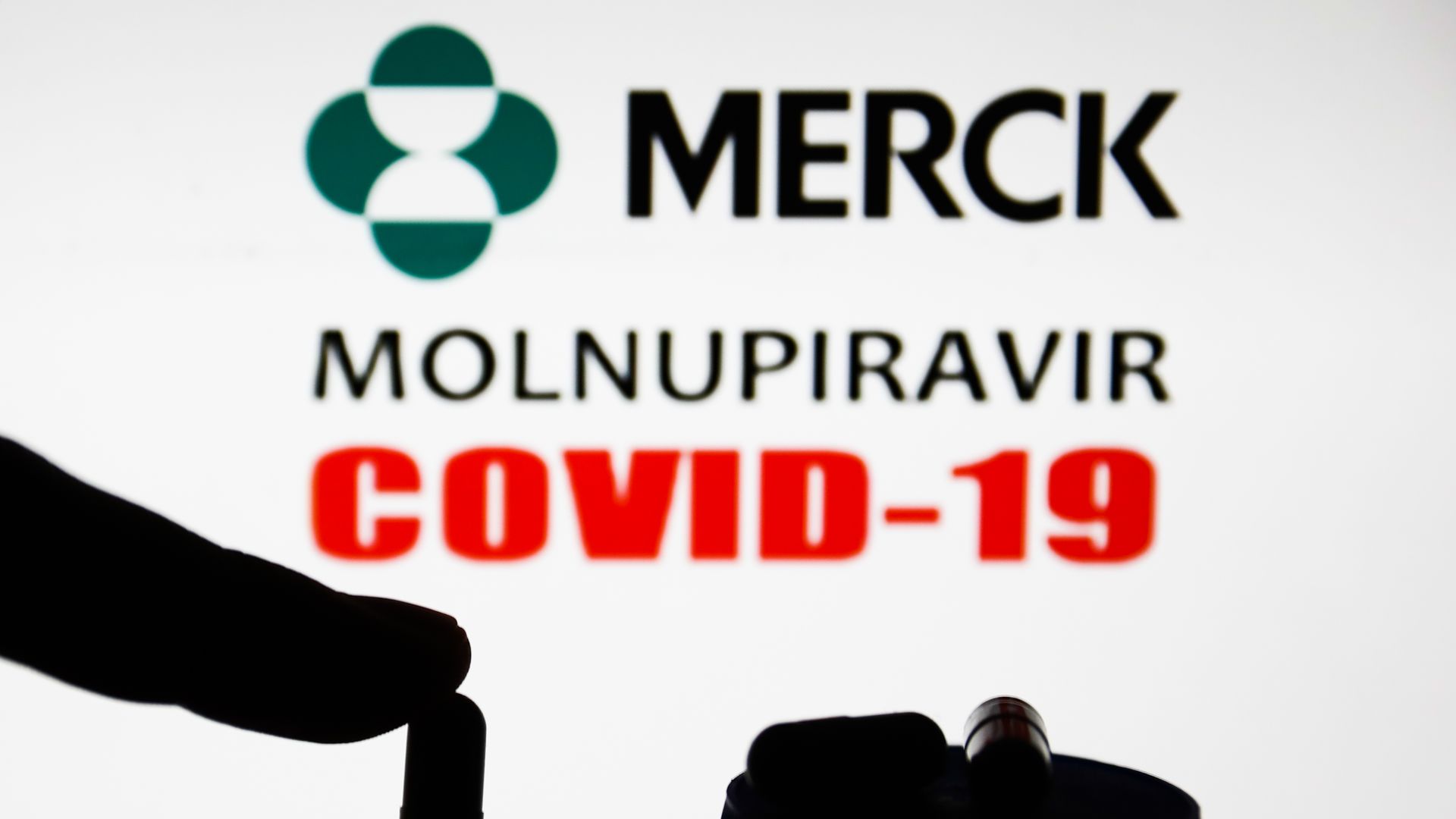 The same countries that have struggled to obtain coronavirus vaccines will also have to wait longer for new treatments, the WSJ reports.
Why it matters: These pills could keep unvaccinated people out of the hospital if taken soon after a person becomes infected with the virus, writes Axios' Caitlin Owens.
Between the lines: Pfizer and Merck, the companies developing the treatments, have licensed their formulas so generic companies can sell them at a much lower price. 
But low-income countries may still struggle to pay the generic prices, and generic manufacturers still need several months to ramp up production. 
For the pills to work, they need to be administered within days after a person develops symptoms. But many low-income countries also have inadequate testing systems, which will make it difficult to catch cases early enough.
The bottom line: The Omicron variant is probably about to drive a new wave of COVID cases around the world, but the most vulnerable parts of the world won't have access to these treatment options any time soon. 
Yes, but: If Omicron causes less severe disease — which some scientists believe will be the case — that would make the scenario much less dire.
4. Tweet du jour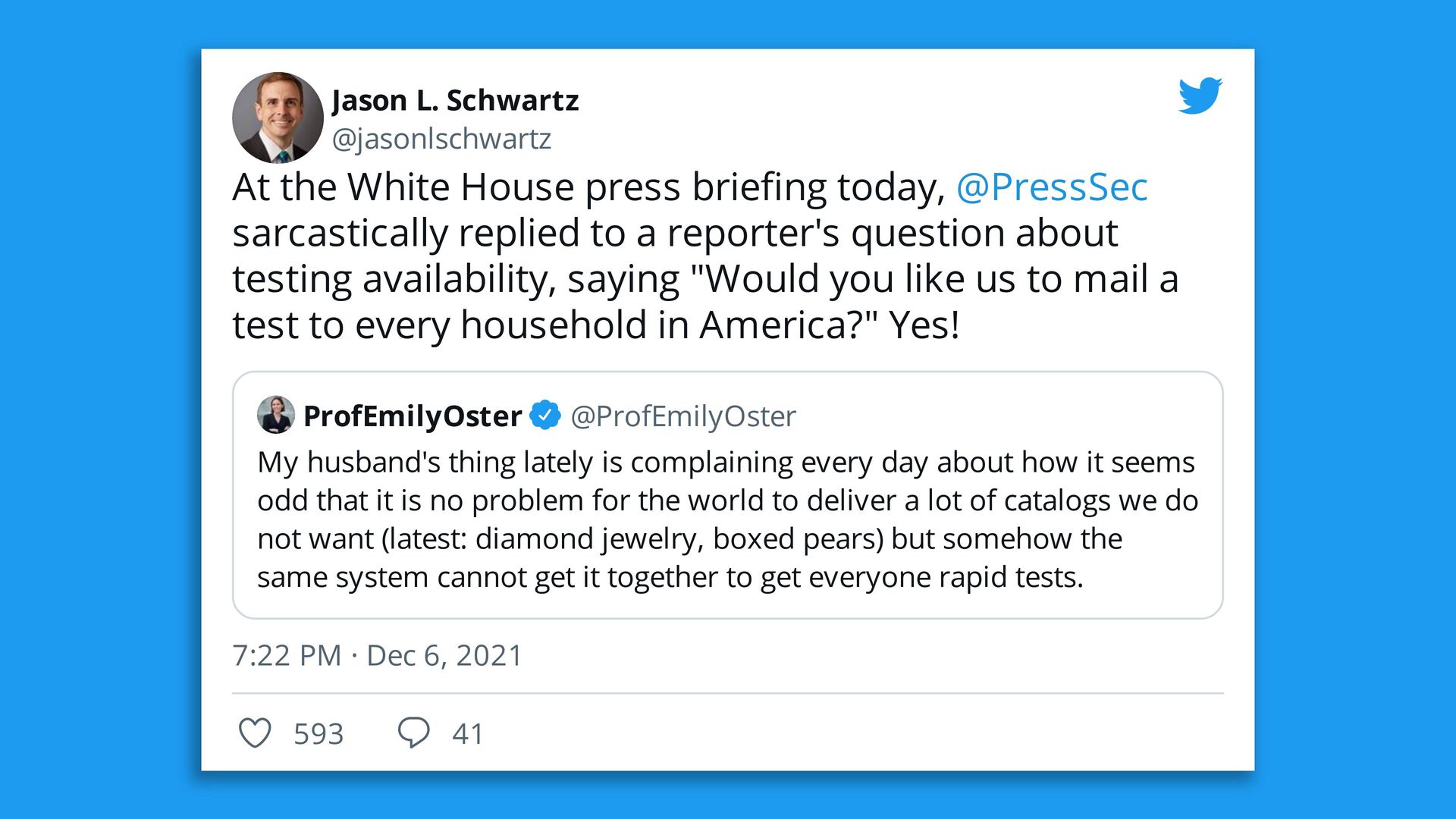 5. HSA M&A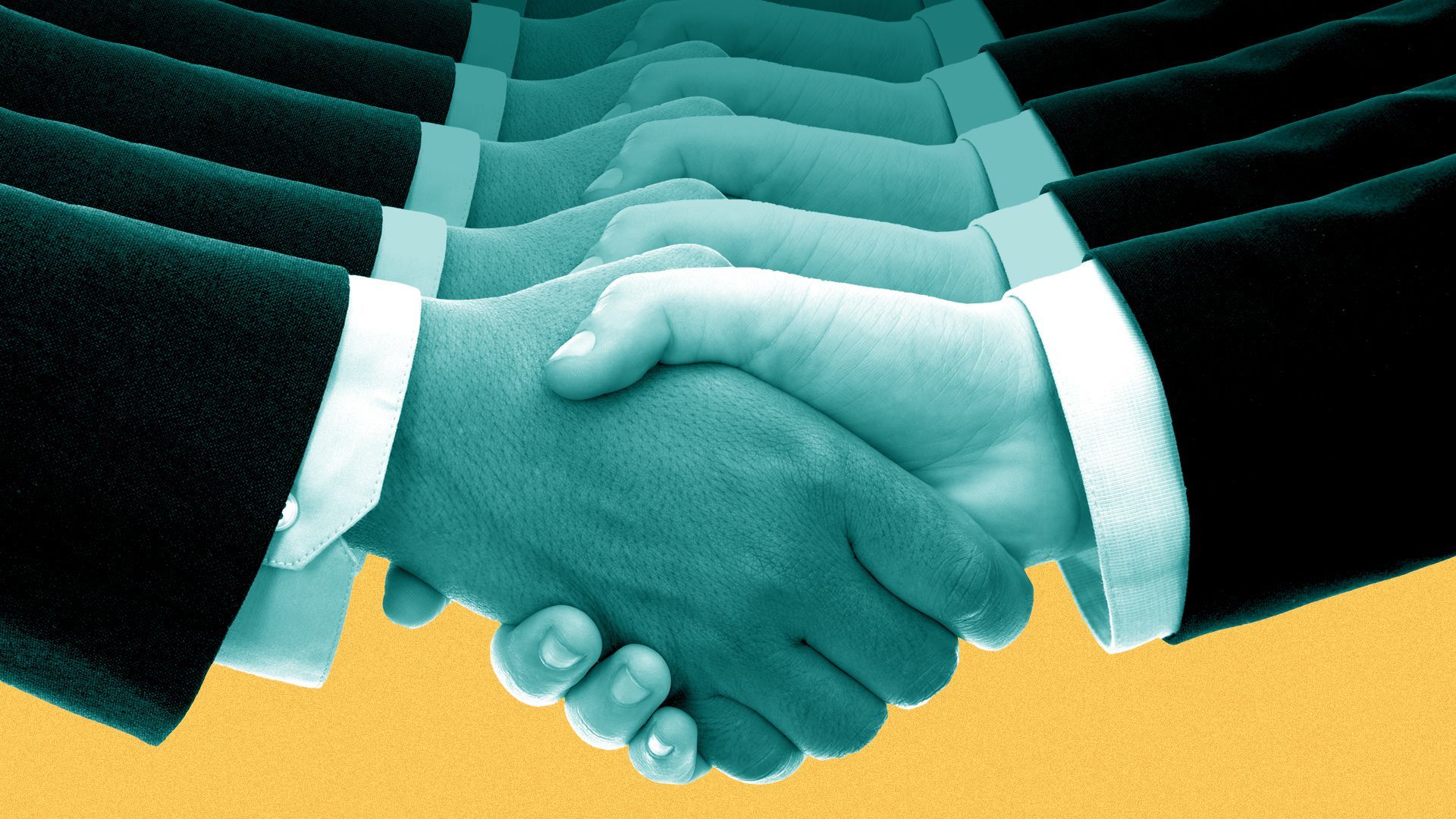 HealthEquity, a major provider of health savings accounts, is buying 87,000 HSAs from rival company HealthSavings Administrators for $60 million, Axios' Bob Herman writes.
Why it matters: The market for HSAs, which are paired with high-deductible health plans and also are used as investment accounts, gets more consolidated.
By the numbers: HealthEquity, Optum, Fidelity and HSA Bank dominated the market at the end of 2020, holding more than 60% of all cash parked in HSA accounts, according to financial analytics firm Morningstar.
HSA assets hit more than $82 billion by the end of 2020 and are on pace to top $100 billion by the end of this year, according to Morningstar.
Go deeper: The big business of health savings accounts
6. Catch up quick