Axios Vitals
September 18, 2018
Good morning … What's creepier than an industrial loudspeaker randomly playing nursery rhymes in the middle of the night? An industrial loudspeaker playing nursery rhymes in the middle of the night because spiders were activating it.
1 big thing: Cigna-Express Scripts merger is a go
Now that the Department of Justice has given its thumbs-up for Cigna's acquisition of Express Scripts, the merger is pretty much a done deal, Axios' Bob Herman reports.
Cigna now only needs to get approval from about a dozen states, which should be easy.
The bottom line: The deal survived opposition from Carl Icahn and now is about to make a lot of Express Scripts shareholders rich.
Makan Delrahim, DOJ's top antitrust official and a former health industry lobbyist, said the transaction "is unlikely to result in harm to competition or consumers."
Yes, but: Antitrust advocates remain concerned about how the combination of a major health insurer and pharmacy benefit manager (PBM) will save consumers money — and whether the new Cigna will find ways to lock out competitors with its size.
2. What's next for Congress' opioids bills
The Senate last night passed its bill to respond to the opioid crisis, 99-1 (with only Sen. Mike Lee of Utah dissenting). My colleague Caitlin Owens runs through 3 big differences the House and Senate will now need to resolve as they reconcile their legislation into a final package:
1. The IMD exclusion: The House bill lifts the so-called "IMD exclusion" — a ban on federal Medicaid funding for mental health treatment facilities with more than 16 beds. It would allow coverage for up to 30 days a year, until 2023.
The Senate bill does not include this provision, at least partially because it's expensive and senators didn't like the way it was paid for.
2. Mental health records: The House bill, unlike the Senate version, includes a provision that makes addiction-related health records easier to share between insurance plans and doctors. It updates a law that requires mental health records to remain separate from other health records.
3. Buprenorphine prescribing: The House bill expands the list of health care providers who can prescribe this form of medication-assisted treatment to include clinical nurse specialists, certified nurse midwives and certified registered nurse anesthetists.
3. Democrats press their advantage
Democrats are serious about making health care the centerpiece of their midterm election strategy. Every day brings new ads, press statements and other election-season positioning — from moderates and progressives alike — that slams Republicans over threats to the Affordable Care Act.
Why it matters: Democrats' health care strategy is well-established, so every new example of it isn't newsworthy. But it's still worth stepping back to appreciate just how quickly Democrats have gone back on offense on health care, after so many years of seeing mainly Republican ads about the issue.
What they're saying: Some red-state Democrats' ads are focused on protections for people with pre-existing conditions, but don't mention the ACA (or "Obamacare") by name, the New York Times' Margot Sanger-Katz notes.
Meanwhile, the Huffington Post's Jonathan Cohn details how big a role the ACA's Medicaid expansion is playing in Michigan's gubernatorial race, along with governor's races in Ohio and Nevada.
The other side: Republicans are also going back to the health care playbook, running against "Medicare for All" as they try to push back against Democrats' attacks and rile up a base that seems complacent about the midterms.
At least so far, that effort doesn't seem to be working as well as that of the Democrats. But I expect "Medicare for All" to be a bigger flashpoint — for both the left and the right — once we get into the 2020 cycle. (So, the minute the polls close on Nov. 6).
4. Hotel workers strike over health care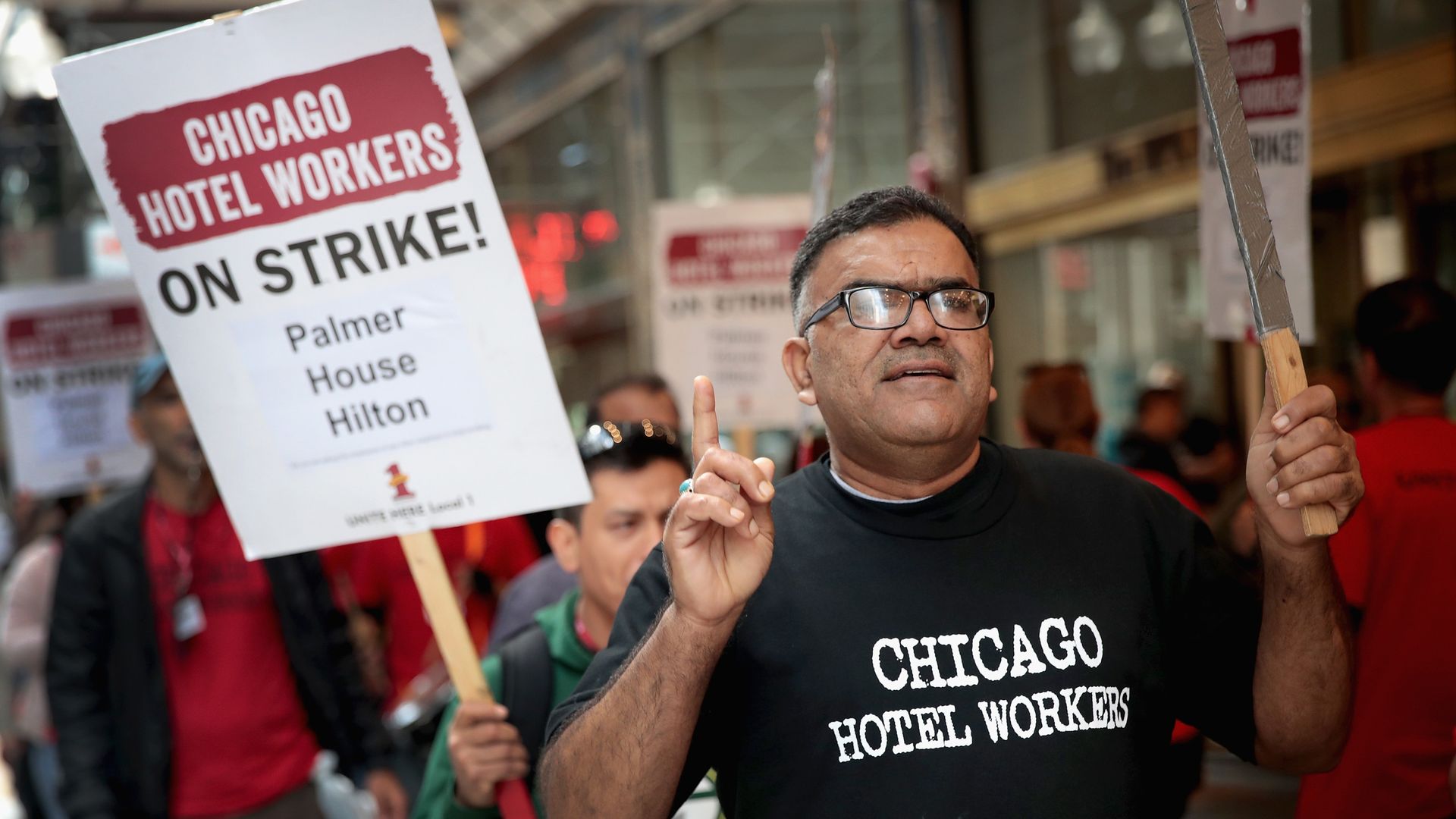 Workers at 26 hotels in downtown Chicago have been on strike for more than a week, primarily over their health benefits.
The details, via the Chicago Tribune: "Many hotel employees lose their health insurance when hotels temporarily lay people off during the slow season, generally October through March, and have coverage reinstated when they are brought back to work when the weather warms."
Flashback: Health benefits were also a big part of the West Virginia teachers' strike this past spring.
Health benefits are a bigger share of low-income workers' total compensation than high-wage workers', and rising health care costs are also eating up more and more of workers' paychecks.
No matter how these strikes are resolved on their own, together they're a reminder that frustration with the health care system is real and deep. And, it's a constant in politics because it's a constant in millions of people's everyday lives.
5. How new migraine medicines are covered
The FDA has approved a second drug to treat and prevent migraines, Bob reports, but there's still uncertainty about how PBMs and health insurers will cover the pricey new treatments.
By the numbers: Teva Pharmaceuticals makes Ajovy, the latest migraine drug to get FDA approval. Amgen makes Aimovig, which was approved in May. The list price for both drugs is $575 per month, or $6,900 per year.
How PBMs are responding:
Express Scripts is paying for Aimovig as a preferred medication on its national list of covered drugs, but the company recommends requiring patients to try other migraine prevention options first. The PBM is still reviewing Ajovy and expects to look at a pending migraine drug from Eli Lilly as well, a spokesperson said.
OptumRx does not make clinical drug decisions, but its sister company UnitedHealthcare is reviewing Aimovig and Ajovy and expects to make a coverage decision later this year, a spokesperson said.
Prime Therapeutics is reviewing all drugs in this migraine class in December.
CVS Health and MedImpact did not immediately respond to questions.
The big picture: The $6,900 price tag was lower than expected, and does not include rebates, but the drug still costs a lot more than existing migraine treatments.
6. Mixed reviews for bundled payments
Everyone in health care likes to talk about some version of value-based care, and Medicare's "bundled payments" initiative is one of the most concrete steps yet to actually push the system in that direction.
Where it stands: In NYT, health care economist Austin Frakt takes stock of several recent studies to try to figure out if it's working.
The research so far suggests that, yes, bundled payments are at least modestly effective. But it's not necessarily great research. And it's not getting any better.
The details: Bundled payments are exactly what they sound like: Rather than reimbursing each doctor for every individual service within, for example, a knee replacement, Medicare rolls all those payments together and just pays for a single knee replacement.
Studies have found that bundled payments do seem to save Medicare money.
But the program is voluntary, so it's possible that only the most efficient hospitals are signing up and the new payment structure itself isn't doing as much work.
Medicare seemed to be close to solving that problem in 2016, when it made the program mandatory for several markets. That would have aided a stronger randomized comparison.
But Medicare then rolled back mandatory participation last year.
The bottom line, per Frakt: "Do bundled payments work? They certainly appear promising, at least for some treatments. But it's important to conduct rigorous evaluations."