Good morning ... We've got a way for you to track the biggest changes that Republicans want to make to the Affordable Care Act, and we're going to help you tune in to the Senate health care working group that's working on the next steps.
And did you know we're about to launch two new Axios newsletters? Axios Science, by Alison Snyder, is going to tackle all kinds of issues for serious science readers — medicine, space, neuroscience, and physics. It's a weekly newsletter, and it starts this month. You can also sign up for another cool one down the road: Axios Future of Work, by Steve LeVine. You can sign up for both here.
https://www.axios.com/newsletters/axios-vitals-fb22f0f4-844b-4e93-b2fd-a6e21d7f30eb.html?chunk=0#story0
The Affordable Care Act repeal tracker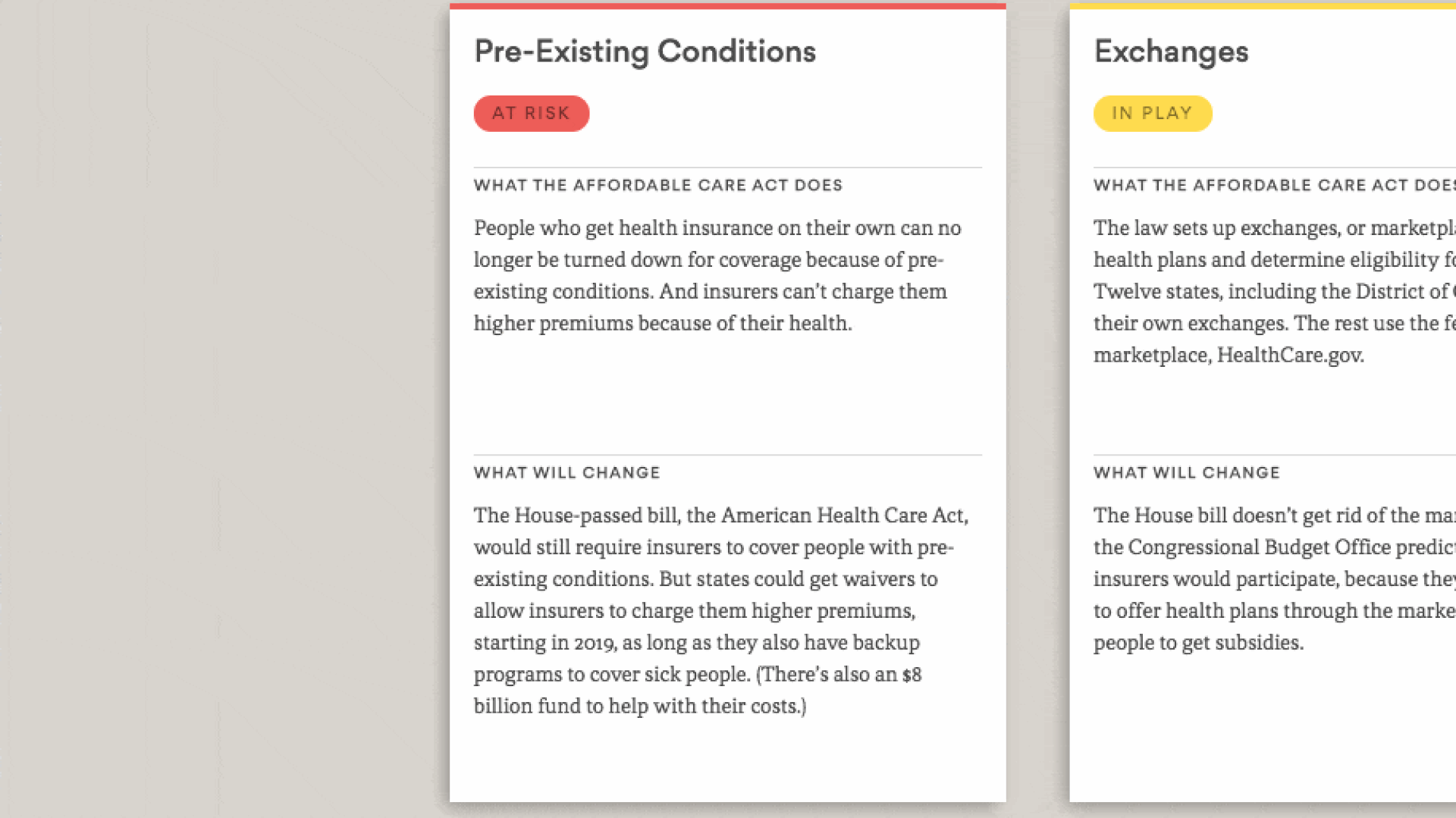 We admit it — we spend so much time chasing the latest tweaks to the Republican replacement plans that it's easy to lose track of the big picture. So here's our solution: a really simple guide to the main things the Affordable Care Act does and how they'd change under the House-passed bill. It's a set of cards — what could be simpler than that?
The quick rundown:
Red (at risk):
Pre-existing conditions
Individual mandate
Subsidies
Essential health benefits
Medicaid expansion
Age rating
Employer mandate
Taxes
Yellow (in play):
Green (safe):
Young adult coverage
Preventive care
Medicare "doughnut hole" closing
Medicare payment cuts
Let us know how we did on this: Our goal is to de-clutter your world while still giving you the information you need, and to show you the full scope of the health care changes ahead. We'll take another crack at this when we have a better sense of what the Senate is doing.
https://www.axios.com/newsletters/axios-vitals-fb22f0f4-844b-4e93-b2fd-a6e21d7f30eb.html?chunk=1#story1
Senate working group tackles an easy one: Medicaid
The working group consists of an ideologically diverse set of senators who will discuss Medicaid in its third meeting today, Caitlin Owens reports. While members will be able to bring up whatever they want, one senior aide said they expect a "healthy focus on the expansion policy." Another aide said the conversation will be "free flowing."
Our thought bubble: There was a lot of brutal press coverage over the weekend regarding the impact of the House bill's $880 billion Medicaid cut (per CBO's most recent estimate). Senators have surely been watching, including those like Rob Portman, Pat Toomey and Cory Gardner, all of whom represent states that have hundreds of thousands of low-income people newly enrolled in Medicaid through the Affordable Care Act expansion.
https://www.axios.com/newsletters/axios-vitals-fb22f0f4-844b-4e93-b2fd-a6e21d7f30eb.html?chunk=2#story2
The 'Jimmy Kimmel test': Cassidy vs. Kimmel
A week after his emotional monologue about his newborn son's heart defect, Jimmy Kimmel had a strikingly serious interview last night with Sen. Bill Cassidy, one of the Republicans who's trying to steer his party toward a more moderate health care plan. Cassidy has pledged to make sure any bill passes "the Jimmy Kimmel test," but Kimmel grilled him on what that should actually mean:
Cassidy: It should lower premiums so middle-class people can afford them (he acknowledged that the House bill doesn't). Also: "You have to have a health care program that not only works for the patient, but works for the taxpayer."
Kimmel: "Since I am Jimmy Kimmel, I'd like to make a suggestion as to what the Jimmy Kimmel test should be ... No family should be denied medical care, emergency or otherwise, because they can't afford it."
Kimmel on how to pay for it: "Don't give a huge tax cut to millionaires like me."
https://www.axios.com/newsletters/axios-vitals-fb22f0f4-844b-4e93-b2fd-a6e21d7f30eb.html?chunk=3#story3
Two big warning signs from the insurers
There are some new signs that health insurers are raising premiums because of problems with the fundamental design of the Affordable Care Act, not just because of the uncertainty over whether the Trump administration will keep paying for their cost-sharing reduction subsidies:
Both insurers in Connecticut's ACA marketplace proposed double-digit rate increases for next year (Anthem asked for nearly a 34 percent increase, while ConnectiCare wants a 15 percent rate hike). What's significant, as Bob Herman reported, was that these are the rate increases they want if they get the cost-sharing payments. Imagine what the increases might be if they don't get them.
When CareFirst BlueCross BlueShield asked last week for a more than 50 percent rate increase in Maryland, its chief executive, Chet Burrell, warned that the ACA was in the early stages of a death spiral, per the Washington Post: "The pool of beneficiaries is becoming sicker, in part because healthier people are not coming in at the same level we hoped."
What's next: Naturally, House Speaker Paul Ryan's press office blast emailed that story yesterday, and look for Republicans to publicize every rate, because it supports their case that the ACA marketplaces are in a crisis.
Yes, but: The Trump administration's actions aren't irrelevant. Even Burrell said the federal government could help stabilize the marketplace by guaranteeing that the cost-sharing payments will be made — and he told Vox's Sarah Kliff that CareFirst added an extra 15 percent to its premium request because it doesn't think the Trump administration will enforce the individual mandate.
https://www.axios.com/newsletters/axios-vitals-fb22f0f4-844b-4e93-b2fd-a6e21d7f30eb.html?chunk=4#story4
One more vote and Gottlieb has a job
Yeah yeah, Scott Gottlieb got through his Senate cloture vote yesterday (procedural vote that limits the debate time). He'll be confirmed as Food and Drug Administration commissioner today or tomorrow, depending how long senators want to talk about him.
https://www.axios.com/newsletters/axios-vitals-fb22f0f4-844b-4e93-b2fd-a6e21d7f30eb.html?chunk=5#story5
The art of spinning a high drug price
If you want proof that an incredibly high drug price can live beyond one news cycle, Bob Herman suggests you follow the muscular dystrophy drug Emflaza. PTC Therapeutics said Monday that the annual net price of Emflaza, an old steroid, would be around $35,000, according to the Wall Street Journal. That's down from the $54,000 net price tag that the drug's former owner and industry punching bag Marathon Pharmaceuticals had set before selling Emflaza to PTC in March after public outcry over the high price.
Fine print: However, PTC added this qualifier — The $35,000 net price is based on the average child patient weighing 55 pounds. As a highly followed biotech investor noted on Twitter, that's not a huge discount from Marathon's price since most patients taking the drug weigh more than that. PTC didn't get back to Axios to clarify how much the price of Emflaza is actually going down.
https://www.axios.com/newsletters/axios-vitals-fb22f0f4-844b-4e93-b2fd-a6e21d7f30eb.html?chunk=6#story6
WH biotech meeting turns into NIH cheering section
The big takeaway from yesterday's White House meeting with medical researchers is this: the National Institutes of Health got the best defense it could have wanted. Here's what Cori Bargmann of the Chan Zuckerberg Initiative posted on Facebook after the meeting:
"The message in the room was loud and clear: we need the NIH! ... Tools like the ones we're building at the Chan Zuckerberg Initiative will accelerate discovery, but we need the NIH and the research labs it supports to lead every area of biomedical science. This will only happen through strong federal support for the NIH."
Between the lines:
It was a breakthrough for NIH director Francis Collins, who led the meeting — he's trying to fight the 19 percent funding cut President Donald Trump proposed in his budget for next year. It doesn't mean he's totally safe, but when
Trump invites you
and your group to the Oval Office, it's a pretty good sign.